Mobile cloud computing i.e MCC stands next in the line to define the futuristic scope of cloud-based services. The union of MCC & cloud computing technology is an indisputable hit in the present era of digital mobilization. For those who're already familiar with the ground-breaking cloud-driven tech, conceiving an idea of cloud applications for mobile devices won't make their heads spin for a moment. But still, there is a myriad of know-how of mobile cloud computing that every business entity must consider as a new normal for software development.
A recent report reveals at least 77% of SMEs use cloud setup to run their business apps while 60% of emerging tech firms rely on cloud services for secure storage of confidential data. These stats are impressive but do you know why cloud computing is favored for developing custom mobile apps for business?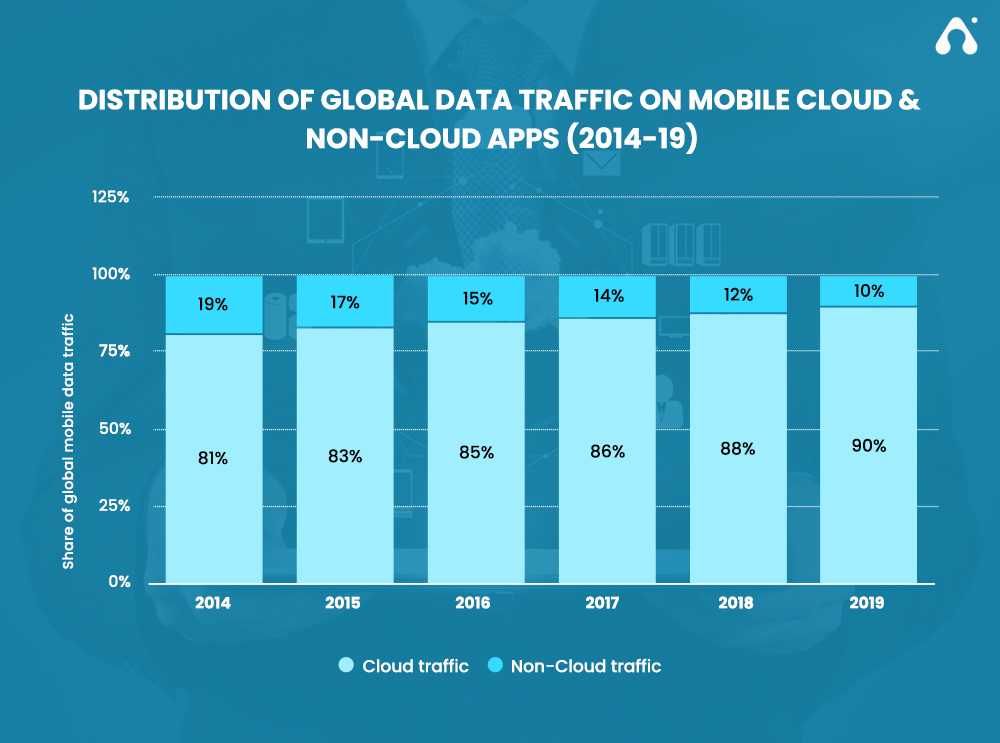 No matter if you're an emerging startup or a seasoned developer, all your questions will be answered in this article as it grabs all basics with major ins & outs of mobile cloud computing with impacts, challenges, & other worthful insights. 
The mobile app users are multiplying parallelly with the ascending count of smartphone users & cloud computing is a prominent factor to empower them with smart actions to store & access tons of data with no dependency on device type & storage. As cloud technology is merging with mobile app technology, we can foresee charismatic innovations coming on the way to transform the current landscapes of digital mobility. 
All About Mobile Cloud Computing & Its Role 
Switching from a complex & less secure database to a vast storage space of mobile cloud apps is broadly accepted by businesses intending to invest in mobile apps in enterprise digital transformation. To get a clear picture of mobile cloud computing, you must get a brief overview of cloud computing, its benefits, & services first. 
Considering the parameters of mobile app development for startups, cloud computing adds an oomph factor to the modern mobility solutions deployed to provide smarter, better, & faster data access to no. of mobile users.  
Now keep your notebook ready as you have to pen down some arenas where mobile cloud computing rules for result-driven cross-platform app development for Android, iOS, Windows, & other popular platforms:
1. To Transform The World Of Gamers
The gaming industry is a key driver behind the rise of the global mobile app market. No wonder how gaming technology is enhancing learning among young gamers who don't have PlayStations, consoles, & advanced gaming setups to resort to their minds. All the credit goes to the speedy connectivity to the cloud mobile apps equipped with a blend of eye-striking graphics & realistic animations for an incredible gaming experience. 
You will find 8 out of the best 10 apps in the Google Play & Apple store from the game category. And it's interesting to note that most of them use cloud connectivity to impart a mind-blowing gaming experience regardless of the device or OS used. Hence, we can't neglect the role of mobile cloud computing in the exponential growth of gaming businesses with a unity app development team for 3D, arcade, & games. 
2. To Get A Quick Fix For Complicated Actions
Apart from the gaming world, mobile cloud computing paved a way for fantastic app innovations to empower customers targeted by popular business verticals. Let's forget cloud games for a moment & get back to the significant role of mobile cloud services in varied aspects of day-to-day tasks people do on mobile apps. 
From booking taxis to navigating through the trafficked route, only cloud technology in mobile apps can efficiently impart the desired capabilities to utilize such advanced functionalities instantly on the cloud platform. In this way, cloud-based apps are also meant as a quick-fix tool to resolve general problems faced by users. Frustrated with your app's speed? Switching to cloud technology would be a worthful approach to get the best solution on how to improve react native performance for better speed & response. 
3. Less Dependency On Web-to-Store Model For Retail
The retail industry is amused by the top cloud computing trends to replace their traditional web-to-store method of selling their products with data-driven technologies. The eCommerce sector is one of the early adopters of cloud technology to deliver hassle-free & easy shopping experiences to customers with distinctive choices & preferences for every product or service they choose to avail themselves. If a selective item gets out of stock in the inventory or it doesn't match the description of the product you need, there is no option left for you other than visiting other stores to fulfill your shopping needs.
Mobile cloud computing or MCC emerged as a big savior for retailers struggling to retain their customers due to inefficient resources & outdated sales techniques. Cloud-based apps provide one-click access to inventory updates, exciting offers, the latest trends, & other featured services in real-time. Online shopping apps are vigorously using cloud services to bring their in-store updates with precise inventory counts to ensure that customers find all their needs in one place.
Hence, mobile cloud computing yet again makes its mark in reshaping the future of the eCommerce marketplace as similar to the role of artificial intelligence in the retail industry. 
How Cloud Computing Can Impact Mobile App Development? 
Over 80% of SMEs & emerging ventures are investing in Amazon Web services to switch their business systems to the mobile cloud. 
With a handful of cloud computing options to consider for your enterprise, you must know about these three primary types of mobile cloud services to consider for both Android & iOS app development:
Infrastructure as a Service (IaaS)
According to Gartner's survey report, IaaS has surpassed its market value with an average revenue share of approx $39.5 billion last year i.e 2020. As clear by its name, IaaS is a core component of cloud computing that covers a broader range of resources used to establish an organization's infrastructure including hardware, software, server connections, storage, & other technical integrations. 
The reason why business owners are increasingly using IaaS for mobile cloud app development reveals its potential to ensure easy maintenance, high security, & smart backup. 
Platform as a Service (PaaS)
Most programmers depend on low-code platforms & frameworks to simplify the mobile app development process. Besides having such developer-friendly tools, business owners can also try their hands at Platform as a Service, PaaS to craft, manage, & run their enterprise apps on the mobile cloud.  
Software as a Service (SaaS)
The key features of cloud computing of this specific type are powered by the functionalities of smart browsers or software used as a tool to access data or services over the cloud mobile app. 
Dropbox & Amazon Cloud Player are on the front edge of mobile cloud computing apps you can consider for Android app development. While the Dropbox app enables Android users to access their data or files on its cloud storage, Amazon Cloud Player brings a cloud drive to access & play MP3 files on the web as well as on their Android devices on the other hand.
By incorporating cloud services into your mobile app, you can reach maximum mobile-friendly customers or users with remote access to your services, data, & other integral resources.
Hold on! If you need a solid reason to make up your mind for cloud app development then take a moment to explore these major mobile cloud computing advantages to take a confident decision:
1. Mobile Cloud Apps Are Cross-platform Compatible 
Of course, the debate between cross-platform vs native app development makes you dilemmatic about the results of mobile app strategy. Relax! The popularity of several cutting-edge technologies & frameworks such as React Native, Flutter, Xamarin, etc. indicates that you've got the right direction to accomplish your business objectives. Such platforms are equipped with tools for Android app development & useful libraries for building hybrid apps for all platforms. Interestingly, mobile cloud computing empowers you to do the same thing no matter if you are a business owner or a programmer. 
Yes, you read it right, cloud technology can render ultimate platform compatibility to your application making it accessible across multiple devices, desktops, or platforms regardless of their screen sizes & technical requirements. Hence, if you can't afford a native app, cloud technology must be on your checklist for cost-efficient & agile mobile app development as per the new big data trends emerging in 2021. 
2. Cloud-based Mobile Apps Demand Low Budget
Startups & small and medium-scale enterprises are less likely to hire dedicated resources to leverage the next-gen enterprise mobility solutions technology. When the offshore app development cost goes beyond your budget limits, you can think of mobile cloud computing to get the desired mobility solutions at a reasonable expense. Although the overall expenditure in native mobile app development fairly depends on the complexity, technology, types, features, & resources utilized, you can expect a slight difference in the overall cost to develop iOS app & other trending platforms by implementing cloud technology.
Experts accept that cloud app development is less expensive than building native apps. You don't need to spend extra bucks to create apps for a specific platform as you already know that mobile cloud apps are compatible across all platforms. 
Keeping all kinds of development expenses aside, small businesses or new players in the industry are more concerned about app maintenance costs as they lack sufficient funds to handle them later. Mobile cloud computing is once again a problem solver for your post app launch investment for maintenance & support services. 
3. Cloud Mobile Apps Need No Installation At All 
For instance, if a user is running out of time & has no spare minutes to install an app at that time, a cloud-computing solution dissolves the necessity to run a complete installation process with direct access to the cloud platform. In simple words, users are unbound to visit an app store for downloading a cloud-centric application as they can download their interface right before installing it from the web browser. 
In comparison with native apps which are required to be installed separately on every particular device, cloud mobile apps allow users to get direct access with zero interference or dependence on other devices or platforms. Therefore, it gives us one more reason to favor mobile cloud computing for mobile app development. 
Note: Since cloud mobile apps behave like a modern web-based application, enterprises find it more profitable to opt for cloud app development over full-cycle web development services.  
4. Mobile Cloud-based Apps Are Fully Scalable & High Performing
All seasoned developers out there won't give a second thought to admire the unparalleled potentials of cloud-based apps to refine the traditional mobile app development lifecycle.  
One of the prime effects of cloud computing in mobile apps is added flexibility to update & upgrade a program or platform as preferred or requested by the users. It's not just about what activities are being done by users on your cloud-based app but it's also about how they're actually interacting with its UI UX design. Mobile cloud applications confirm their abilities to meet all critical requirements to deliver a mind-blowing user experience with every single click on the screen.
5. Cloud Apps For Mobile Guarantee Easy Data Recovery   
The loopholes in data security & backup keep the entire system at risk of security hazards. One of the gravest challenges for enterprises is handling inadequacy in securing sensitive data from external sources & hackers. Integrating mobile cloud computing with a secure web app architecture gives you a plus point in protecting your business system from malicious activities causing data breaches. 
Cloud-driven mobile computing solutions keep your systems on a safer side as they ensure full-proof security from the risks of data loss. Enterprises greatly depend on cloud-based systems to store bulks of data & effortless recovery of lost data. You can relate it with the functionality of VPN that literally hides the browsing history when a user makes searches on the web browser. 
The cloud applications for mobile devices store sensitive data on multiple services & store them securely for easy backup. In case of security mishaps or breaches, users can restore data without any worries of losing valuable data. Hence, mobile cloud computing gains credibility in secure data storage & recovery for businesses.
Tech Challenges Faced In Mobile Cloud Computing 
We've discussed so many points on the benefits of mobile cloud computing so far. Further in this section, we will highlight some major challenges of using mobile cloud services in your business as a part of top technology trends in 2021.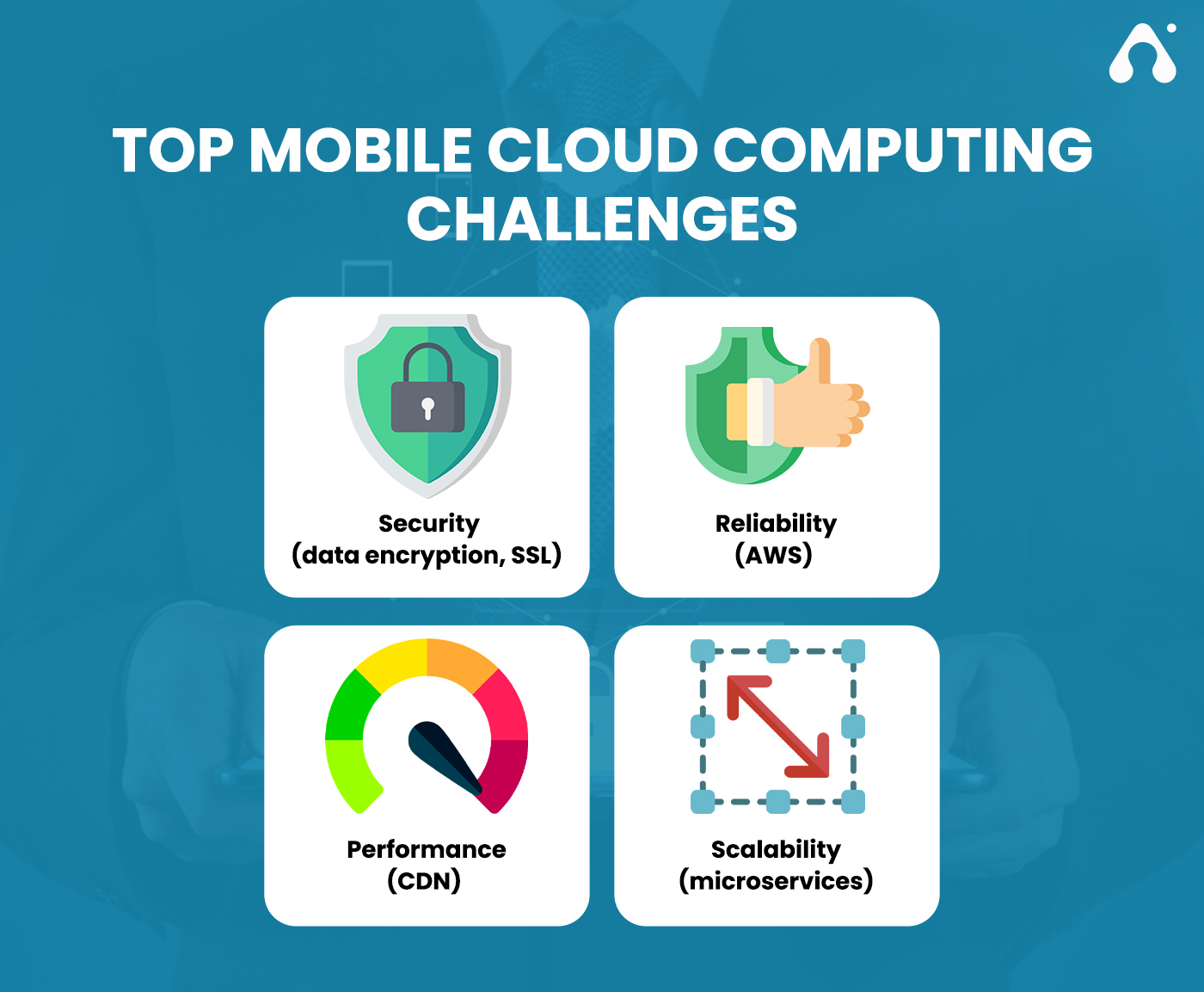 1. Security
As we've discussed security issues earlier in the previous section, we can categorize them as major cyber security challenges for MCC i.e mobile cloud computing. The confidential user data shared on cloud mobile apps or networks cannot be compromised at any point. Hence, data security issues & privacy concerns create barriers the way to successful cloud mobile app development. 
However, you don't need to worry about security concerns as you can get the most secure messaging app for your potential users with help of reliable & experienced app developers. 
2. Reliability
Not having a reliable cloud network could become a major setback for anyone who's considering mobile cloud computing for trending app ideas for businesses. In response to such security & accessibility concerns, developers are agreeing to use advanced & secure cloud frameworks to provide lag-free app access to users with no delays & errors. 
3. Performance
Upon analyzing your cloud mobile app performance metrics, you will realize certain lags in its speed & responsiveness due to remote server access on the cloud platform for public networks.
4. Scalability
Apart from inconsistent compatibility, programmers are often troubled with the recurrence of certain scalability issues in mobile app development. The scalability of your cloud mobile app tends to vary in accordance with the server's quality. Hence, one has to ensure that the cloud server is capable of handling interfaces for users with distinctive device preferences & needs. 
Some sorts of issues due to low internet connectivity, battery consumption due to heavy data usage, & bandwidth limitations create strain in connection b/w mobile device & cloud components. Therefore, programmers apply some handpicked mobile app development strategies to mitigate such challenges in mobile cloud computing.
What Is Cloud Computing & How Does It Work? 
In general terms, cloud computing enables users to access a bulk of required resources, apps, tools, or any software over a cloud platform without any restrictions to use a specific device. Those who are already aware of on-demand app development advantages need no introduction to the role of cloud computing in shaping the real-time functionality for diverse business apps. 
Let's make it simpler for those who're new to cloud-based services but keen to learn more about mobile cloud computing.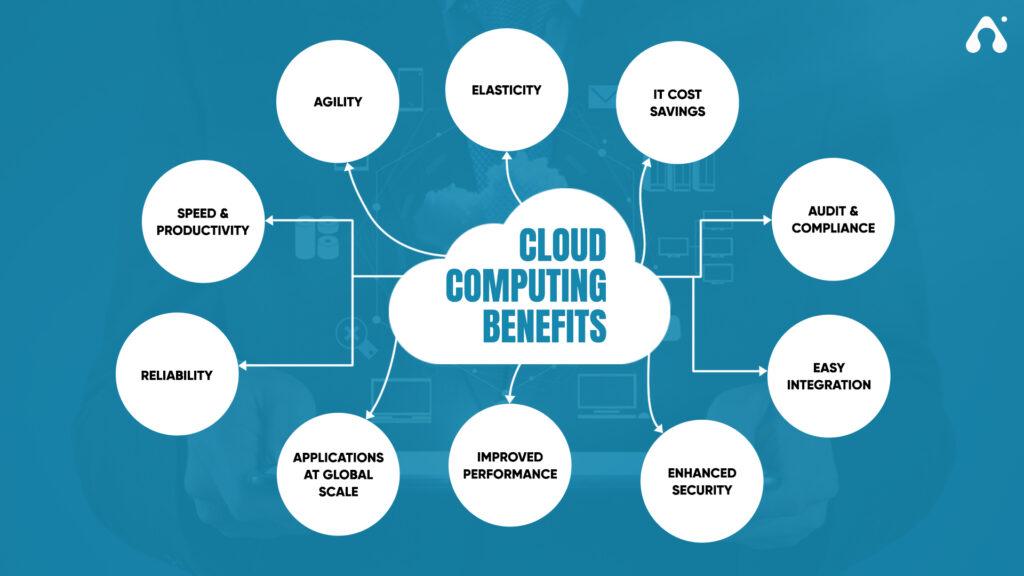 We can narrate a number of definitions of cloud computing with the evolution of technologies, services, uses, & businesses associated with it. Basically, cloud services are provided to deliver instant access to mobile apps or data that cannot be retrieved on physical computers or servers but is available in the cloud. Users can have direct access to apps or software on a cloud without getting them downloaded on their smartphones or devices they use. 
Cloud Computing & Mobile Cloud Computing, What's the Difference? 
The inescapable remark of the superfast internet led to the outbreak of numerous tech-inspired inventions to empower businesses,  cloud computing is one of them! Cloud-based mobile application development emerged as a dominant approach that utilizes cloud computing technology to build, run, & access cross-platform mobile apps for service industries that drive a demand economy.   
When it comes to the differences b/w mobile native apps & cloud mobile apps, here is a clear picture to clarify your doubts about native app development & mobile cloud computing.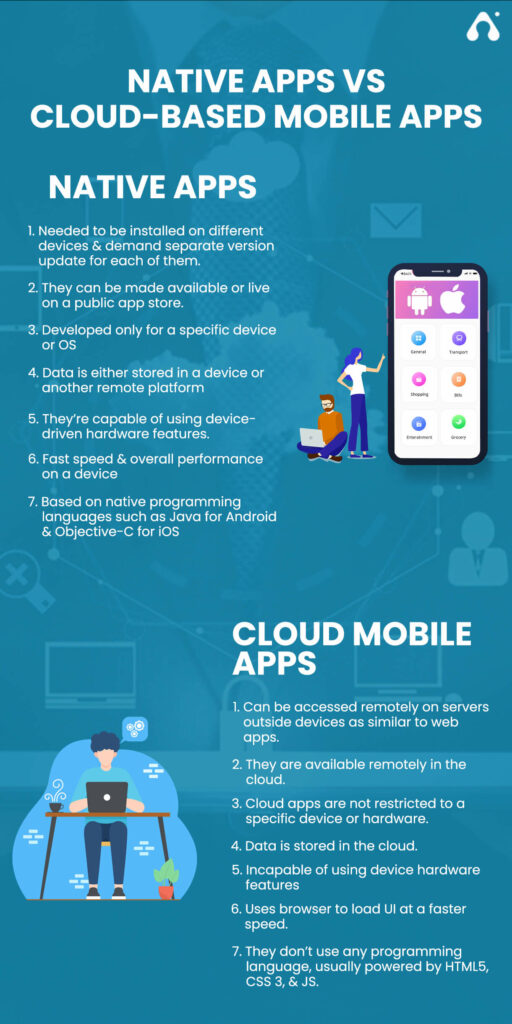 Why Trust Appventurez For Best-in-class Mobile Cloud Computing Solutions?
Mobile cloud computing is reigning over the digital horizons with greater competency to process & store data across a robust cloud network or platform that can collaborate with any device & browser. With a lot of things you need to know about progressive web app applications, you must consider all the noteworthy facts & details of mobile cloud computing that we've discussed in this article.
Mobile cloud computing is not restricted to a particular device, desktop, browser, or platform that makes it superior from the perspective of user experience & reliability in terms of data security. All you need is an integrated mobile cloud strategy to refine your app idea with the benefits of emerging technologies like cloud computing, IoT, AI, blockchain, & more. Hire dedicated resources & specialists at Appventurez to stay ahead in the tech-driven space filled with unbound competitive advantages. 

---

Ajay Kumar
CEO and Co-founder of Appventurez
Ajay Kumar has 15+ years of experience in entrepreneurship, project management, and team handling. He has technical expertise in software development and database management. He currently directs the company's day-to-day functioning and administration.
---