In the past 5 years, cloud computing has become one of the major technology trends. Corporates see it as a leverage for cost and IT infrastructure, resulting in successful business transformations.
Cloud computing is growing at a great pace, and now we have no idea how more it will evolve more in the future. However, there are some trends related to cloud computing that are gaining the attention of the tech leaders and will ultimately shape the technological models. 
Businesses are setting up a standard regarding their IT infrastructure using cloud computing trends. With increased compatibility and scope of endless upgrades, this technology is helping companies to stabilize their development processes.
To emphasize more on the evolution of cloud computing trends, let's jump on to some stats that are recently discovered by the experts:
Stats about CLOUD COMPUTING
From 2010 to 2021, there have been a lot of evolutions and changes in cloud computing trends. Most of the innovations seem to have a great impact on businesses and still provide huge benefits to them.
Here are some useful statistics that will elaborate on the above statements: 
The growth rate of Public cloud services was recorded at approx 18% in 2019, resulting in a $215 Bn market share which was $150 Bn more from 2018.
By the end of 2021, 83% of corporate workloads will be operated through Cloud. 41% of them will utilize Public Cloud services.
Moreover, financial companies and investors are putting their money in cloud-based services adoption apart from insurance and healthcare.
Even though the expected growth rate was expected to be average in the forecast period 2019-22, International Data Corporation (IDC) predicted that CAGR of Public Cloud services would be 33.7%.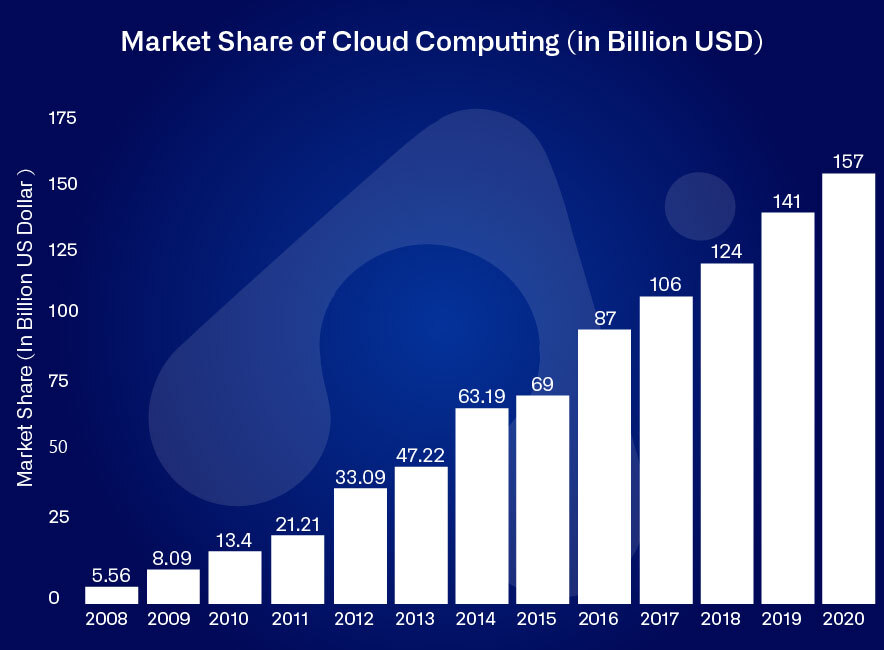 Cloud app development companies can bring a lot of success in the industry through advanced solutions. Now the question is what cloud computing trends are getting all this to happen. They have plenty of features to prove this. Let's jump to them:
Top 10 Cloud Computing Trends of 2021
Hybrid Cloud
Hybrid Cloud is one of the major cloud computing trends that consolidates an open cloud and a private cloud by permitting information and mobile applications to be shared between them.
When registering and preparing requests varies, this cloud platform enables organizations to flawlessly scale their on-premises framework up to the open cloud to deal with any flow of data—without giving other datacenters access to the sum of their information.
Associations gain the adaptability and increased intensity of the hybrid cloud premises for fundamental and non-delicate processing undertakings. Other business-basic mobile applications and information on-premises kept securely behind an organization firewall. 
Utilizing a hybrid cloud permits organizations to scale figuring assets. Additionally, it excludes the need of making huge capital investments to deal with short-term business processes. The future trends in cloud computing can be well-recognized by the essence of these hybrid systems.
Disaster-Recovery-as-a-Service
Disasters are inevitable, and businesses require high downtime costs when they get hit by one. Gartner examined that the average IT downtime costs near to $5k per minute. Moreover, it also depends on the type of business and the organization being handled.
On the other hand, companies need to maintain the security of data centers acquired through citizens with extreme protection. As a result, the organizations started implementing Disaster-Recovery-as-a-Service – a DR strategy automated with processes to reduce data recovery time. It is also one of the latest trends in cloud computing, especially in this scenario.
IDC predicted that DRaaS will reach the market share of $4.5 Bn by 2021 with a rate of 15.4%. Opposing data breaching is now the key focus for every major and minor organization across the world. Adopting DRaaS is coming as a positive tech asset as companies looking forward to reducing additional expenses.
AI as Data Centers
Artificial Intelligence (AI) is already in trending technologies, companies have a way to connect with huge data centers as a cloud platform. Using several characteristics such as pattern recognition and energy-saving usage, AI is going to save their business processes from complex data structures.
Among other cloud computing trends, AI-based data centers can help to establish distribution networks for more efficient operations. As predicted by Gartner, 75% of the companies utilize AI data centers to examine business interruptions due to IT infra and operational gaps.
The impact of AI-based data centers will be playing a major role to reduce human errors with respect to data breaching as emerging trends in cloud computing.
Companies that still haven't made a way to utilize AI-based techs might suffer economically or professionally by the end of 2021. AI data centers have some great leverages for the businesses that deal with a lot of data the whole year.
Private Cloud
With companies quickly moving to it, Private Cloud platforms are going to remain for quite a while. Among the latest technology in cloud computing, this cloud platform is making its mark in the industry with successful results.
Further, with the availability of data centers that advance compactness and improvements with workloads, this cloud platform will become a major asset for businesses. 
Different advancements that encourage application transportability are making it simpler for repatriation to private cloud platforms. Among the new developments in cloud computing, these platforms are becoming a profound option for corporates.
Omni-Cloud Services
As innovation keeps on obscuring the lines between our physical and virtual universes, omnichannel will turn out to be progressively significant in keeping up and improving customer and user engagement. This can be the most utilized trends in cloud computing due to its characteristics.
The omnichannel experience basically permits an individual to utilize numerous gadgets to finish an exchange or movement – all while having the option to get to the most recent adaptation of the information.
While distributed computing and omnichannel encounters can appear to be a simple fix-it for the moment delight time, we should likewise be careful that we are presently managing huge measures of hideous information that must be caught, put away, and erased in a capable way.
Therefore, multi-cloud is changing more into Omni-cloud with the infrastructure getting homogenous as emerging trends in cloud computing.
Quantum Computing
Innovation is continually advancing and totally modern. Obviously, the presentation of PCs is likewise constantly expected to improve with the progression of time. This is the place Quantum Computing becomes possibly the most important factor. 
Equipment-based improvements, problem analysis, and comparative quantum-mechanical operations are the way to powerful PCs. With the impact of Quantum Computing, PCs and servers can be worked to process data at fly speed. 
This latest technology in Cloud Computing 2021 warrants quick system frameworks that despite everything face accumulations. This is the reason later on it will even now stay as substantial as it is currently.
Container-based Storage
This 'Build once, run it at any place' technology has discovered enormous enthusiasm among associations. As they are easy to deploy, arrange, and operate, companies can rely upon to see an enormous ascent in their business. They can seek more development and growth as they deploy these platforms as their data centers. 
As indicated by Forrester, every 3rd corporate test containers for their business data management. Additionally, the Container market will hopefully raise at a yearly pace of 40% – reaching $2.7 in 2021.
Moreover, Cloud Foundry says 53% of associations will utilize or possibly look forward to utilizing these new developments in cloud computing trends.
Kubernetes Platform
Companies select the Kubernetes platform as one of the best cloud computing trends. Many organizations feel that this platform can meet their operational needs and abilities. In that capacity, Kubernetes isn't simply bringing a destroying ball to cloud hindrances, but on the other hand, it's making a bizarre market dynamic. 
The cloud framework programming merchant progressively being decoupled from the supplier that claims the structures that house the server racks is prompting a few contributions that would have been incredible a couple of years back. 
The Cloud Native Computing Foundation (CNCF), which keeps tight authority over the core Kubernetes venture, has been indulging with the latest trends in cloud computing to balance the stack.
This makes every other organization to update their on-premise hardware and techs with the latest Kubernetes platforms to stay competitive in the industry.
Intelligent SaaS
Smart clouds is another major innovation in cloud computing trends across the globe. Software-as-a-Service and other IT Ops are being indulged in different ways and to changing degrees, with AI—regardless of whether it needs it or not. 
As encountered previously by the major organizations that manual systems can create issues, AI automation can upgrade the business operations with intelligent SaaS platforms. From chatbots to data centralization, this can be the future of cloud computing platforms and can be a huge advantage for IT infrastructure across the globe.
What's more, from a chatbot to an induction motor to the prescient investigation, it's simple for AI to discover its way into pretty much any cloud-programming item. Companies are following the guide to SaaS development and establishing smart cloud platforms for better outcomes.
Some AI-based highlights are truly helpful; others simply benefit from the popular expression. Yet, by one year from now, it will be elusive as an item that is not charged as smart. Among the current trends in cloud computing, AI will be playing a major role supporting this major platform.
Cloud to Edge Computing
Cloud computing trends brought together information-based systems to run physical servers in huge numbers. The circulated foundation of them has various favorable circumstances when it comes to analyze and process a huge number of datasets. 
In any case, for undertakings that need to get to information or processing powers promptly, Edge Computing is a superior alternative. 
Each unit in an Edge Computing worldview has its own processing, systems, and capacitive frameworks. Together, they deal with the accompanying features: 
Switch b/w networks
Routing to systems 
Load balancing
Data Security 
The accuracy of these cloud computing trends and their activities warrant data preparing from fluctuated sources, transforming every one of them into a point of convergence of information. 
Since it is a processing worldview that permits figuring at or close to the information source, reaction time is brisk and data transfer utilization is low. Further, the framework is conveyed and progressively steady.
The cloud has drastically changed the manner in which the IT industry operates data processing. With the most recent patterns, higher adaptability is presently conceivable. There likewise are pay-more only as costs arise models that set aside time and cash. As of now, the future of cloud computing appears to be splendid and dynamic.
Benefits of Adopting Cloud Computing
Huge Network Access 
Businesses can get to the information of the cloud or transfer the information to the cloud from any place just with the assistance of a gadget and a web association. These abilities are accessible everywhere throughout the system and get to with the assistance of the web. 
Mechanized System 
Distributed computing naturally dissects the information required and underpins a metering capability at some degree of administrations. We can screen, control, and report the use. It will give straightforwardness to the host just as a corporate. 
Security 
Cloud Security is perhaps the best component of cloud computing. It makes a preview of the information put away with the goal that the information may not get lost regardless of whether one of the servers gets harmed.
The information is put away inside the cloud-based gadgets, which can't be hacked and used by some other individual. Their capacity and management are brisk and solid. 
Simple Maintenance 
The servers are effortlessly kept up and the personal time is exceptionally low and even at times, there is no vacation. Distributed computing thinks of updating each time bit by bit improving it.
The updates are progressively perfect with the gadgets and perform quicker than more established ones alongside the bugs which are fixed.
There are numerous benefits of Cloud Computing helping the companies to transform their infrastructure. There are heaps of security including which is a positive point alongside it the entrance time is extremely low and one can without much of a stretch transfer and download information rapidly.
Talking about a big technology, there are some highly popular brands across the globe that utilize cloud computing trends for a long time. Let's who are they:
Top Companies utilizing Cloud Computing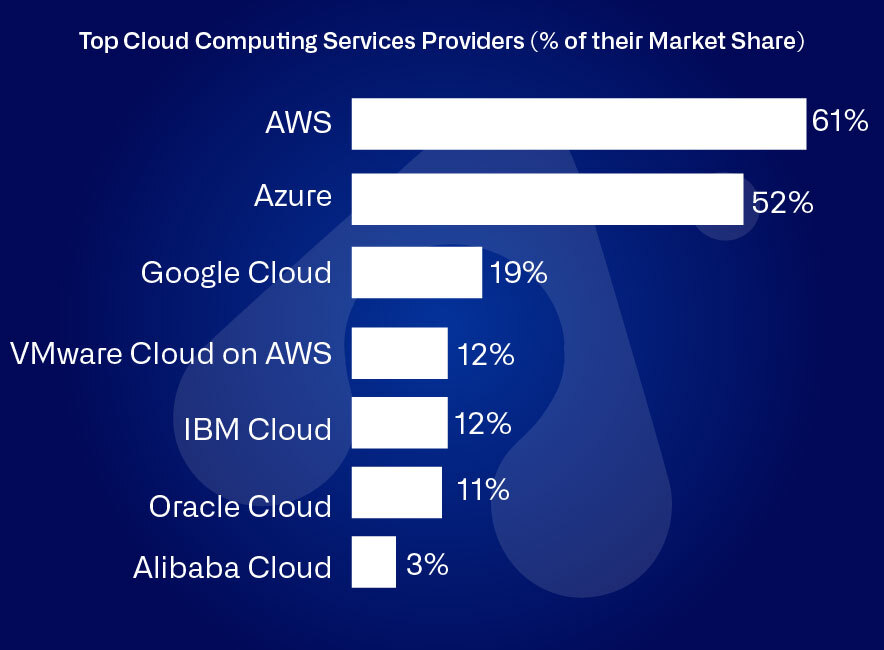 Aiven Raises Assets to Improve and Upgrade Business
The assets raised by Aiven will be utilized to improve its cloud information stage with increasingly incorporated arrangements and make its essence felt around the world. Among the latest cloud computing trends, this collaboration will form a new base for businesses to play with a huge number of datasets.
As per Oskari Saarenmaa, the fellow benefactor and CEO at Aiven, as a few firms are currently actualizing their constant information stages in the cloud, the assets would permit them to all the more likely serve their necessities. 
Infosys Accomplices with Huawei Cloud
Huawei Cloud and Infosys reported their vital association in April 2019. The arrangement is planned for pushing clients to securely and rapidly embrace cloud-based frameworks for their venture outstanding tasks at hand.
According to the understanding, Infosys teams up with the Huawei Cloud Partner Network (HCPN) to make new developments in cloud computing administrations for organizations by exploiting Huawei Cloud and Infosys items and administrations. 
VMware Works Together with Digital Asset
Advanced Asset as of late declared its organization with VMware. According to the partnership, the previous company joined it's Digital Asset Modeling Language (DAML) into the last blockchain stage.
The joining of the two contributions takes into account a greater reach and backing. Advanced Asset Modeling Language is known to be a language for shrewd agreements that can display exceptionally complex work processes at scale.
The market for cloud-based systems is encountering a fast blast as of late attributable to financial advantages offered by their benefits. Major cloud computing trends leading the IT companies towards stable business and growth.
Now, the current scenario makes these tech giants think what's more in the future for new developments in cloud computing. Whether it is restricted to artificial intelligence or mobility will take advantage to merge with cloud computing.
The Future of Cloud Computing is Mobile
The usage of smartphones is increasing every day and corporates are also looking to enhance the mobility of their businesses. These devices have been impacting the whole world as the number of users is increasing every year.
As the cloud-based platforms are being implemented with smart devices, organizations are fulfilling the requirements of the workforce. Mobile applications connected with the cloud can be accessed anywhere, any time. This enhances the workflow among the employees of several companies across the globe. 
An ever-increasing number of organizations are understanding the comfort and efficiency advantages of utilizing the latest trends in cloud computing applications to oversee business information. For instance, specialists foresee that in excess of 33% of business insight usefulness will be devoured by means of handheld gadgets by 2021.
As opposed to halting by the workplace to utilize their PCs, representatives can just sign into a mobile application with a web-empowered gadget like a cell phone or tablet and play out their errand in the cloud. 
Takeaways…
Given the crucial job that IT plays in the present business condition, distributed computing is additionally in a general sense changing the way that organizations work.
A huge number of organizations of all sizes in an expansive scope of businesses are using cloud-based programming, stages, and even foundation to smooth out procedures, lower IT intricacy, increase better perceivability, and lessen costs.
The future can be famously difficult to foresee, however, cloud computing trends are sure to keep the significant impact on business operations.
---
---