Assume that you are a shopkeeper running a small shop in a super-competitive supermarket. We understand it must be quite challenging. 
Just for a few minutes imagine- if a program or maybe the machine predicts what a customer wants or in what best ways you can offer them your service/product at a great price just by observing their behavior. The thought might have made you take a sigh of relief.
Come back to the practical world and accept the reality that the world is moving towards the digital era and traditional retailers are facing threats from eCommerce giants like Amazon and Walmart. To combat such threats, offline retailers are also turning towards Artificial Intelligence to offer a multichannel approach to shoppers. Not just retailers, nearly all the market segments like industries and business domains are actively showing interest in AI and looking out for ways to harness the technology for their business benefits and in their business operations. 
Sticking to the retail industry, though the industry hasn't changed much over the years Artificial Intelligence in the retail industry does have the potential to transform the traditional retail experience and take it to the next level with automation, increased efficiency, and personalization. Artificial Intelligence technology offers retailers and other big e-commerce giants the power to reduce costs while making the shopping experience much more delightful and efficient for consumers.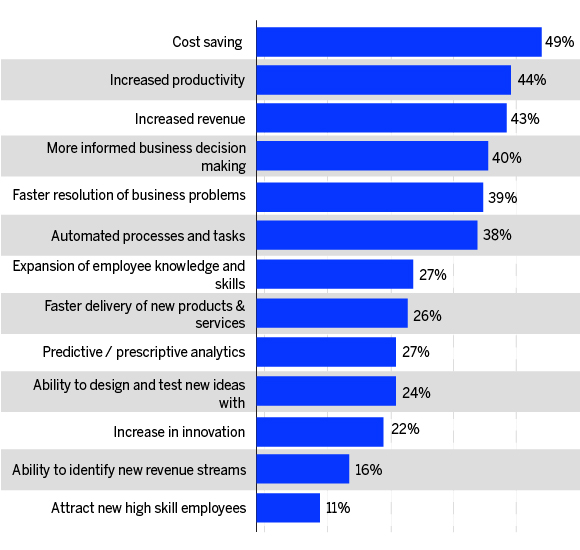 Companies and many eCommerce giants are investing hefty amounts in AI to stay ahead and always on top. Taking the same thought ahead, it is expected that the global annual spending on Artificial Intelligence in the retail industry by retailers will reach 7.3 billion by the year 2022. Companies like PayPal are using AI to spot fraudulent charges.
When we are praising AI and its role in transforming Retail, it is wise to validate the praise too-
Why AI is a Much-Needed Part of Retail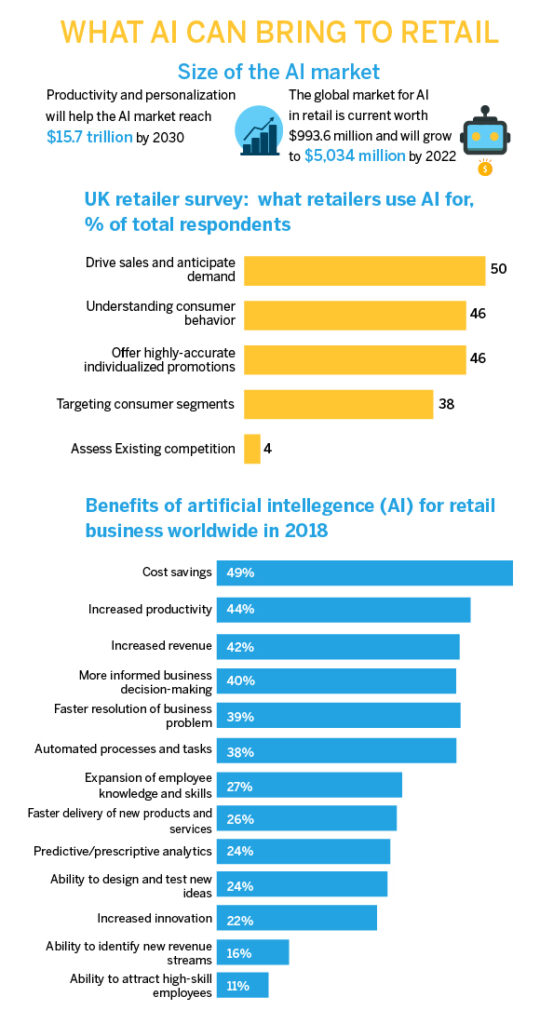 To understand the need for AI in Retail, here are some reasons why retailers are turning towards AI-
Apart from revolutionizing the Fintech domain, AI is the must-have technology, or better say Artificial intelligence retail carries the efficiency to replace humans. As humans are prone to errors, AI technology can easily eliminate inefficiencies that are caused by humans throughout operations. Also, repetitive tasks can be performed by automation offering great performance.  According to the report by Forrester, it is believed that AI will replace 7% of jobs in the U.S. by 2025.
Increased efficiency in the operations indicates higher profits for the company. Starting from reducing the production and shipping costs that go to providing a more personalized customer experience, the benefits of Artificial Intelligence can be seen greatly. Report by Tractica, automation, and AI together will increase global revenues from USD 643.7 million in 2016 to USD 36.8 billion by 2025. 
With the assistance of Artificial Intelligence in the retail industry, workers can focus majorly on high-priority tasks that require complete human attention. 
When one questions what are the benefits of artificial intelligence, below is a list of companies as examples that showcase how AI created a benchmark for them along with making their strong presence in the market among users.
Sephora's Virtual Artist app
Olay's Skin Advisor
IKEA's AI survey
Target's Pinterest Partnership
Knorr's Instagram integration
Wheelys Moveable Market
Walmart's Supply Chain Optimization
eBay's Personal Shopper
Amazon's AI Fashion
Alibaba's FashionAI Platform
How AI Revolutionizes Retail Industry
As per the report presented by IBM which surveyed 1900 retail and consumer product companies that too across 23 countries, 85% of the retail companies are planning to implement automation for the supply chain by the year 2021. Also, retailers do believe that integrating AI will result in a 10% annual growth.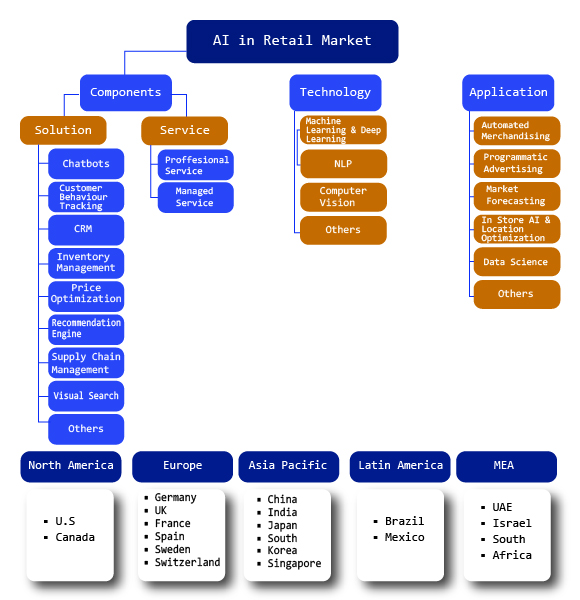 Tech giant Amazon was the first company that explored the potential of AI in the early 2000s and around 35% of the company's sales showed a great high in the graph due to AI innovations. 
There are many more examples in the list that made can us awestruck, so without further ado, let's check how Artificial Intelligence in the retail industry will get a transformation.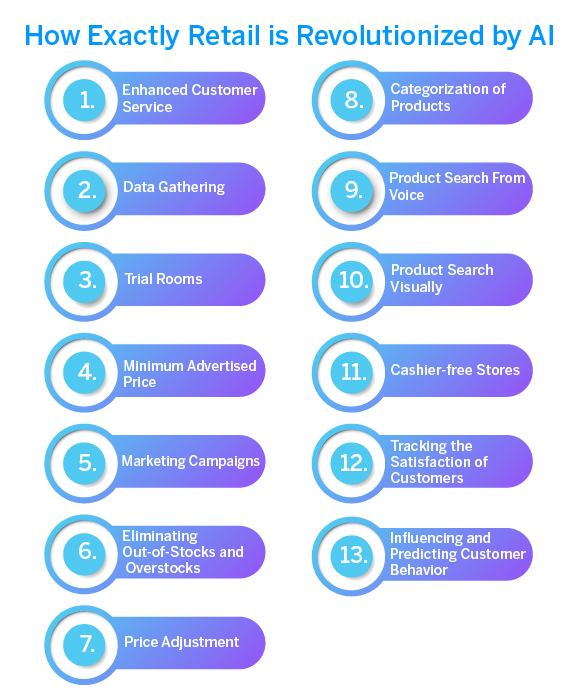 Enhanced Customer Service
The amalgamation of Artificial Intelligence in the retail industry has the potential to bring a revolution in it by helping eCommerce companies to sell their product based on consumers' last purchase, and search habits. Moreover, AI can help offline stores in several ways. There might be chances that the next time you will visit the shop, you might find a robot instead of a salesman selling items along with answering customers' queries.
Data Gathering
By using Artificial Intelligence in the Retail industry, companies can gather and organize massive customer data easily. By using this data, AI can bring out conclusions along with creating a more personalized shopping experience for the users. 
Also, with the help of AI, retailers can figure out the product's performance in the market just by learning from past experiences. And the result will automatically help them in making strategic ideas. 
Trial Rooms
No doubt, trying out different dresses is overwhelming and unfortunately time-consuming. Also, it is not possible to try out every clothing option you have or like the most. These things can come to reality with the help of Virtual Trial rooms integrated with AI. 
When one questions how AI will change the retail industry in 2020 and the coming years, well the answer can be given through Virtual Trial rooms that will be equipped with digital mirrors that can make users try out different outfits without the need to wear them.
Minimum Advertised Price
MAP is the price that a retailer pays for advertising the product. A product sold at a lower price than the MAP is a sign that the business is badly affected by the market force and thus lowers the reputation of a brand in the eyes of the customers. 
On the other hand, tracking sellers who violate MAP protocol is another required task to follow. In such a situation, AI can be used to prevent the violation of the MAP pricing. And further action can take place as per a violation of the rule against the seller.
Marketing Campaigns
With the help of AI algorithms, retailers can run marketing campaigns. Customer-specific ads that are based on the customer's region, preferences, and purchasing habits can higher the conversion rate. 
Businesses can increase the conversion rate from 2 to 3% by creating ads that are based on the user's interests. 
Eliminating Out-of-Stocks and Overstocks
Neither the excess of stocks nor out-of-stock is considered healthy for the company. It can affect the company's profitability along with costing retailers worldwide around $1.1 trillion each year. On one hand, the leftover stock is marked down which leads to low sales turnover whereas out-of-stock increases the number of dissatisfied customers.
By taking the help of AI, businesses can identify the demand for a particular product based on-
Sales history,
Weather,
Location,
Promotions,
Trends etc.
This way, the role of AI in retail can be highlighted as organizations can prevent underperforming products from building up while increasing the value of those that are preferred by the customers.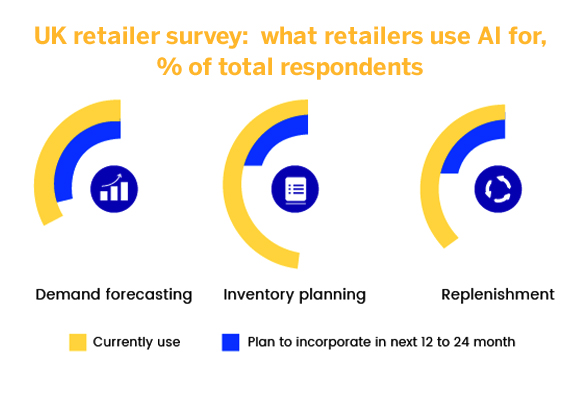 H & M uses AI for analyzing store returns, receipts, and loyalty cards to predict future demand whereas, on the other hand, Morrisons partnered with Blueyonder, one of the leading AI solutions providers for optimizing stock forecasting and replenishment across its 491 stores is making the use of AI. 
Price Adjustment
Artificial Intelligence in the retail industry can also help in determining the price by identifying the outcomes of different pricing strategies to choose the best one. To do this, AI algorithms collect data based on competitors' products, promotions, and sales along with collecting things like local events. 
For example- eBay uses AI-powered pricing and inventory algorithms to define the most appropriate prices for goods while notifying sellers about it. Kroger is another name that uses AI for price optimization. 
Categorization of Products
AI can also be used for classifying products. There is a site called LovetheSales.com that uses machine learning for product categorization. The algorithm tags products and sorts them into different product categories to display things that a customer is looking for. 
The process shows how AI and machine learning work together to offer great results in the end while enhancing the overall experience for the users. 
Product Search From Voice
AI made it possible to search for products based on voice. There are numerous brands like Kohl's, Tesco, Costco, Walmart, and Target use either Amazon or Google AI-based technology and smart devices for serving customers. 
With the help of voice search, customers can simply add things they want to have in their shopping bag along with knowing estimated arrival time and current delivery status.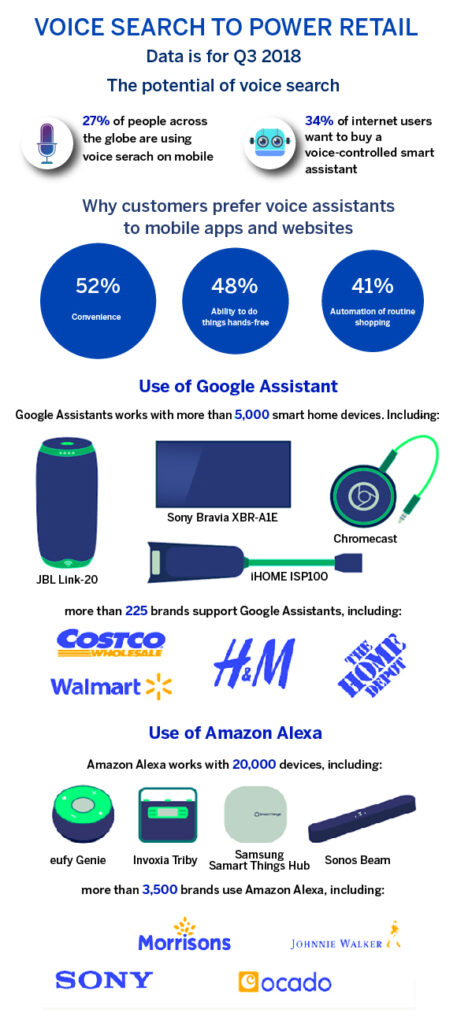 Visual Product Search
The role of AI in retail can also be highlighted through the customer's way of searching for a product. The integration of AI in the retail domain allows customers to upload images to find identical or similar products. Through algorithms, AI scans the picture along with analyzing colors, shapes, and patterns to identify the correct item.
Cortexica which is a London-based AI company has developed image recognition technology that provides 95% accuracy. American Eagle Outfitters is another company that offers visual search in its mobile application. AI certainly opens gates for mobile app development companies too for developing such applications. 
Cashier-Free Stores
No doubt, employing robots and AI-powered technology in stores will help in diminishing lines along with reducing the number of employees required while saving operational costs too.  
Amazon is one such example that adheres to the same concept. Amazon Go app with Just Walk Out Shopping technology automatically react to customer's action be it taking or returning the product. Alibaba, on the other hand, used AI in China to launch its first cashier and cash-free wine store, Tao Cafe.
Tracking the Satisfaction of Customers
Not just gathering feedback and offering recommendations, the role of AI in retail can also detect the actual mood of the customers in the store. For this purpose, Walmart has presented facial recognition software. 
Influencing and Predicting Customer Behavior
Platforms like Personali make it easy for retailers to leverage the behavioral patterns of users while reaching customers with an individual approach. 
iBeacon is another concept that is also reshaping the future of Retail marketing in a great way.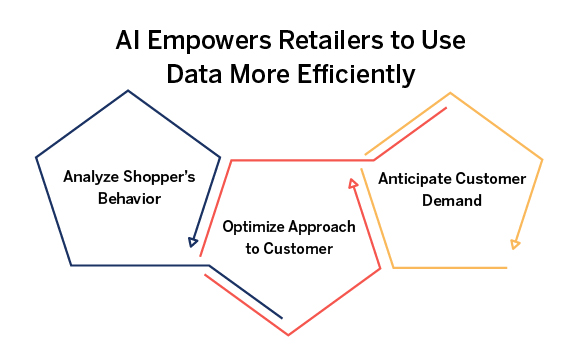 This is all about how the integration of Artificial Intelligence in the retail market is changing the retail section be it in the form of applications or be it in the form of other devices.
If you are not using AI in retail for your retail business, it is nothing but a sin. If you want to stay ahead in the league, choosing AI as a top priority is a must
No doubt, investing in it is quite a lucrative investment that can give you valuable insights about your user's buying habits and patterns while ultimately giving you the advantage of gaining great revenue. 
If you are willing to invest in the same, get in touch with us for more information.
---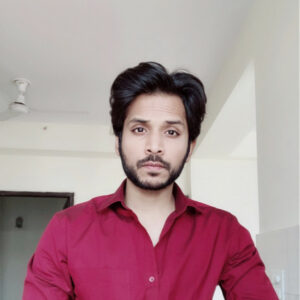 Anand Prakash
One of the Co-founders at Appventurez
Anand specializes in sales and business development as its VP - Sales and Presales. He supervises the pre-sales process by upscaling on establishing client relationships. He skillfully deploys instruments such as cloud computing, automation, data centers, information storage, and analytics to evaluate clients' business activities.
---