Digital transformation is a need for every business across the globe. It might seem too calculative, difficult & chaotic, however, it can be easy with the introduction of mobile applications.

Many companies have accepted the role of mobile apps in enterprise digital transformation success whereas more firms are entertaining the circle with mass reach and better revenue growth.

Also, with the coming of innovative and top-notch technologies like IoT, ML, AI, AR, VR, and others, mobile applications are getting stronger and integrated for a better outcome.

Getting an effective digital transformation synced with the business, there are so many things being entailed with it. So, here in this blog, we will be showcasing to you how mobile apps accelerate digital transformation success along with its aspects and how to get started with it.

According to Business of Apps, apps account for 57 % of digital media and traffic utilization.
Any smartphone user, on average, has over 80 applications, of which they utilize 40 per month.
Every day, 21% of millennials use a smartphone application 50 times or more.
While statistics show that mobile apps are growing in popularity, the focus of this essay is on the critical role mobile apps play in digital business transformation.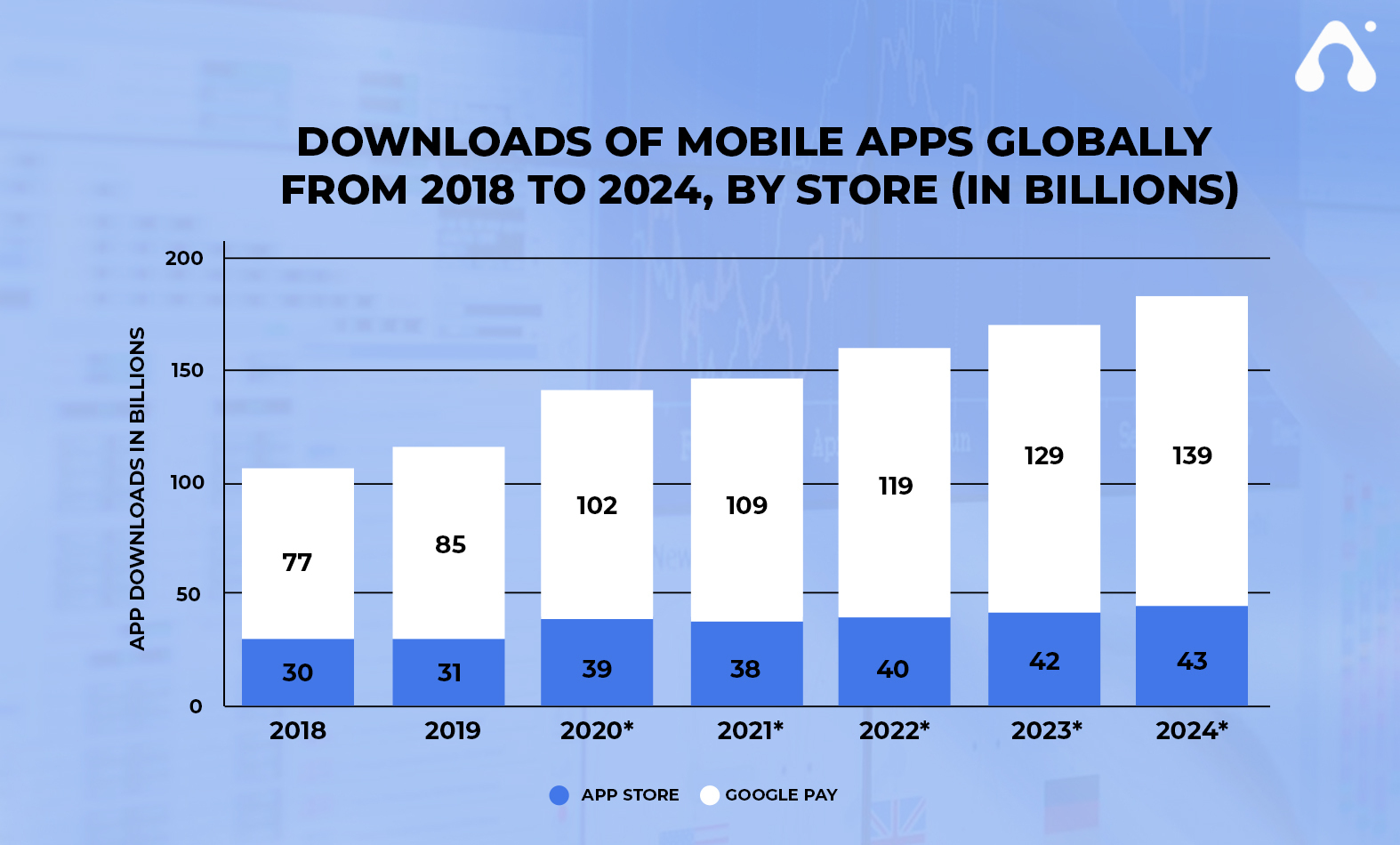 Table Of Contents
1. What Is Digital Transformation?
2. Why should businesses invest in mobile apps to help with digital transformation?
3. Benefits of adopting the digital model
4. Role Of Mobile Apps In Digital Transformation For Businesses
5. What is the best way to begin using mobile applications for digital transformation?
6. Top Apps With Mobility Solutions
7. How Appventurez will help in digital transformation through mobile apps?
What is Digital Transformation?
Digital transformation is about using digital technologies for the overall aspect of working. The role of mobile apps in enterprise digital transformation trends for success on the other hand helps in giving businesses the chance to understand their way of engaging with the customers, while working on the new process, and strengthening the delivery value. 

Know how outsourcing digital transformation basically helps businesses to make their process agile, lean, and competitive. 

Why should Businesses Invest in Mobile Apps to help with Digital Transformation?
Enterprise mobile applications enable employees to stay connected to the essential business processes even when they are not at their desks. This, in turn, leads to a better employee experience and higher team productivity. As a result, the role of mobile applications in the digital transformation lifecycle in business becomes critical.

1- Productivity & Efficiency
Allowing employees access to company apps is a wise decision. Such transformation apps increase their productivity by allowing them to execute activities while monitoring corporate operations from mobile devices. Employees can take the app with them wherever they go and respond quickly without being tied to their desks.

2- Workflow Optimization
With the help of mobile software systems, team leaders can analyze the team's performance with future optimizations in mind. Organizations can also automate repetitive monotonous activities and set predefined rules through workflow optimization apps to reduce human error.
3- Increased Customer Satisfaction
Mobile applications help organizations improve customer engagement by monitoring client journeys, generating customized messaging, and sending personalized push alerts, among other things. Businesses always need user & customer experience by using their feedback service that has been transformed by digital mobile applications and chatbots, which provide consumers with rapid responses to their inquiries or demands. In summary, adopting digital apps into businesses significantly improves the user experience.

4- Transparency
Users may access and share material on the move with the aid of mobile applications at any time and from anywhere. Employees receive real-time updates as a consequence, allowing them to make informed decisions. Team members' tasks may be tracked and their real-time location can be displayed via digital applications.

Benefits of Adopting the Digital Model
We have already mentioned a few points showcasing the importance of digital transformation, however, there are more reasons portraying the importance of the same-
As per research, there are organizations that are digitally mature are 23% profitable as per the competitors with no digital transformation assistance
Another survey showed that digital transformation is capable of bringing improvements in operational efficiencies by 40%, 36% faster time to market, and with the ability to enhance customer experience by 35%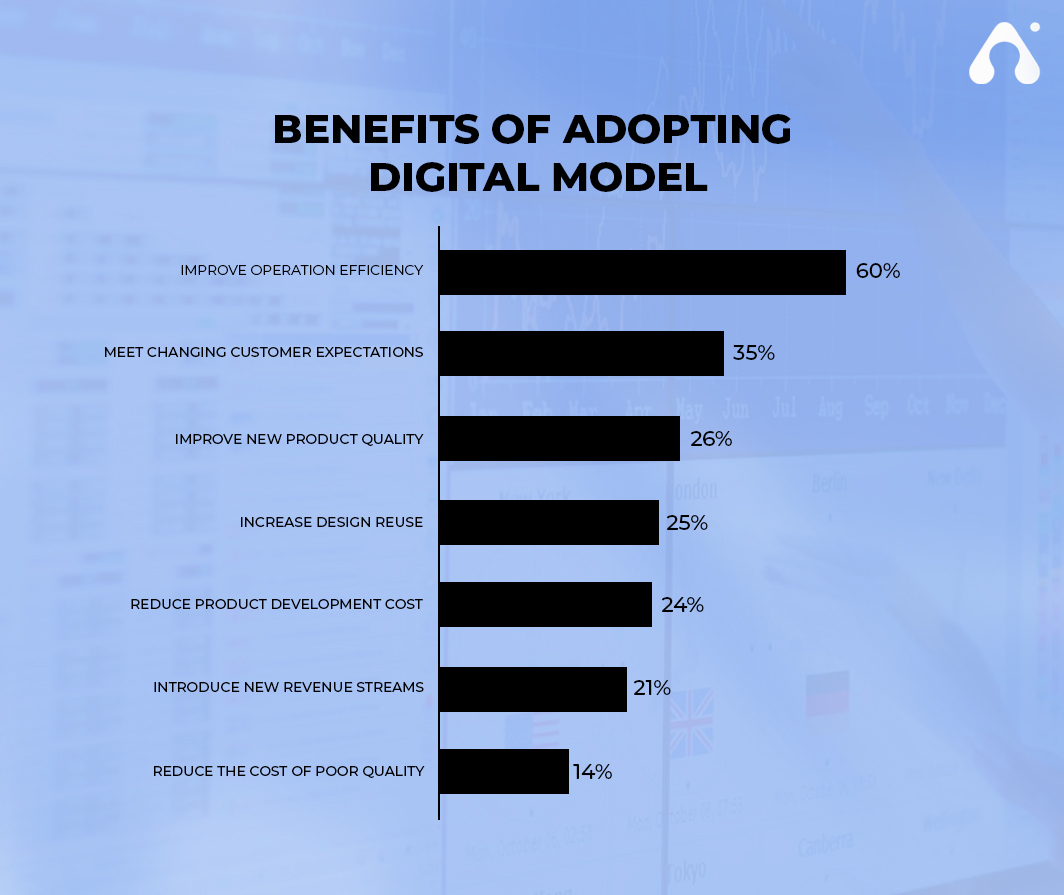 Role Of Mobile Apps In Digital Transformation For Businesses
The rise of mobile internet and devices has changed the overall structure of the many sectors till now and more are adopting it for a better change. Mobile brings in more new audiences, products, services, and industries.

Before understanding the benefits of enterprise mobility app development solutions, there are a few things you should consider- 

According to Strategy Analytics, the enterprise mobility market is expected to grow from $2.2 billion by the end of 2022.
Companies investing in feature-rich mobile apps expect their business growth to be 35%.
IT experts and 67% of CIOs see Enterprise mobile applications making an impact on the business. 
Looking at the statistics and their effect on the business, here are a few benefits of enterprise mobility solutions for businesses

Keeping this in mind, we'll go through some of the ways mobile applications might help your company's digital transformation efforts. So let's get started!

1- Using Artificial Intelligence in Mobile Apps
The merits of employing AI & ML in development to improve consumer experience are undeniable. Businesses have begun to use AI to produce intuitive mobile apps employing technologies such as natural language processing, natural language production, speech recognition technology, chatbots development, and biometrics for marketing transformation. 

Employees will be excited, smarter, and more productive as a consequence of AI-powered corporate mobility applications, which will provide them with new intelligence and skills. AI can help with process automation and predictive, preventive, and predictive analyses, as well as providing consumers with the way they want to be serviced.

2- Using IoT in Mobile Apps
The era of IoT being utilized to showcase items and share information is quickly passing us by. Mobile app application cases in the IoT area are continually growing. IoT transformation apps are being used by businesses to make smart equipment in their workplaces and supply chains more efficient and transparent.

IoT app development in the digital era is finding methods to improve their place in the corporate world, despite the fact that they are still a relatively new entry.

3- Using real-time analytics to make educated judgments
Access to real-time data analytics can provide you with a significant competitive advantage in today's corporate environment. In corporate digital transformation, mobile applications are a wonderful tool for organizations to capture user data and connect with them through marketing transformation messaging based on their app journey statistics.

You can utilize real-time analytics to see how your teams are doing, examine their productivity, and get a firsthand look at the issues they're having with a job and how it's affecting the overall company value.

4- Increasing Portability
Employees may work when and where they choose in a business ecosystem because of portability. While it has a smaller influence in the short term, it has a significant impact on a team's productivity over time.

By giving employees the space to work as per the time and location of their choice, you give them the space to boost their creativity and productivity.

5- Taking on the role of the digital face
Mobile applications not only change the way businesses operate but also open up a slew of new possibilities. Businesses may use a mobile app digital strategy to keep in touch with their current and new clients. As a result, they've evolved into a digital face for your company, providing the first and most important experience to your potential customers.

As customers become increasingly reliant on their mobile devices, including mobile apps into your company strategy may help you improve customer engagement and gain a competitive advantage over your competition.

What is the best way to begin using Mobile Apps for Digital Transformation?
Know that the top mobile app UI design trends are an important aspect of your digital transformation strategy, here are some pointers to assist you to improve the ROI on your corporate app:

1- Adopt a Mobile-first strategy
The main difference between winning workplace applications and those that don't is how companies don't approach apps as extensions of their websites. Their mobile app development methodology is only focused on mobile devices. As a result, their whole design, mobile app development, and testing processes are shaped by this.

2- Identifying the mobility's scope
The next piece of advice from digital transformation consulting firms is to examine your operations and workflows to determine which teams, departments, or activities might benefit the most from mobility. Instead of redesigning a process that is already working, look for places where you can simplify, automate, and add value through mobility.

3- Digital transformation activities should be outsourced
We looked at numerous benefits of outsourcing digital transformation to digital transformation technologies using the strategy for consulting business when producing an entrepreneur's guide on outsourcing digital transformation. However, the main benefit was that it saved organizations time and effort in addressing issues such as a lack of digital expertise, constraints in the agile transformation process, and the unwillingness to let go of outdated systems.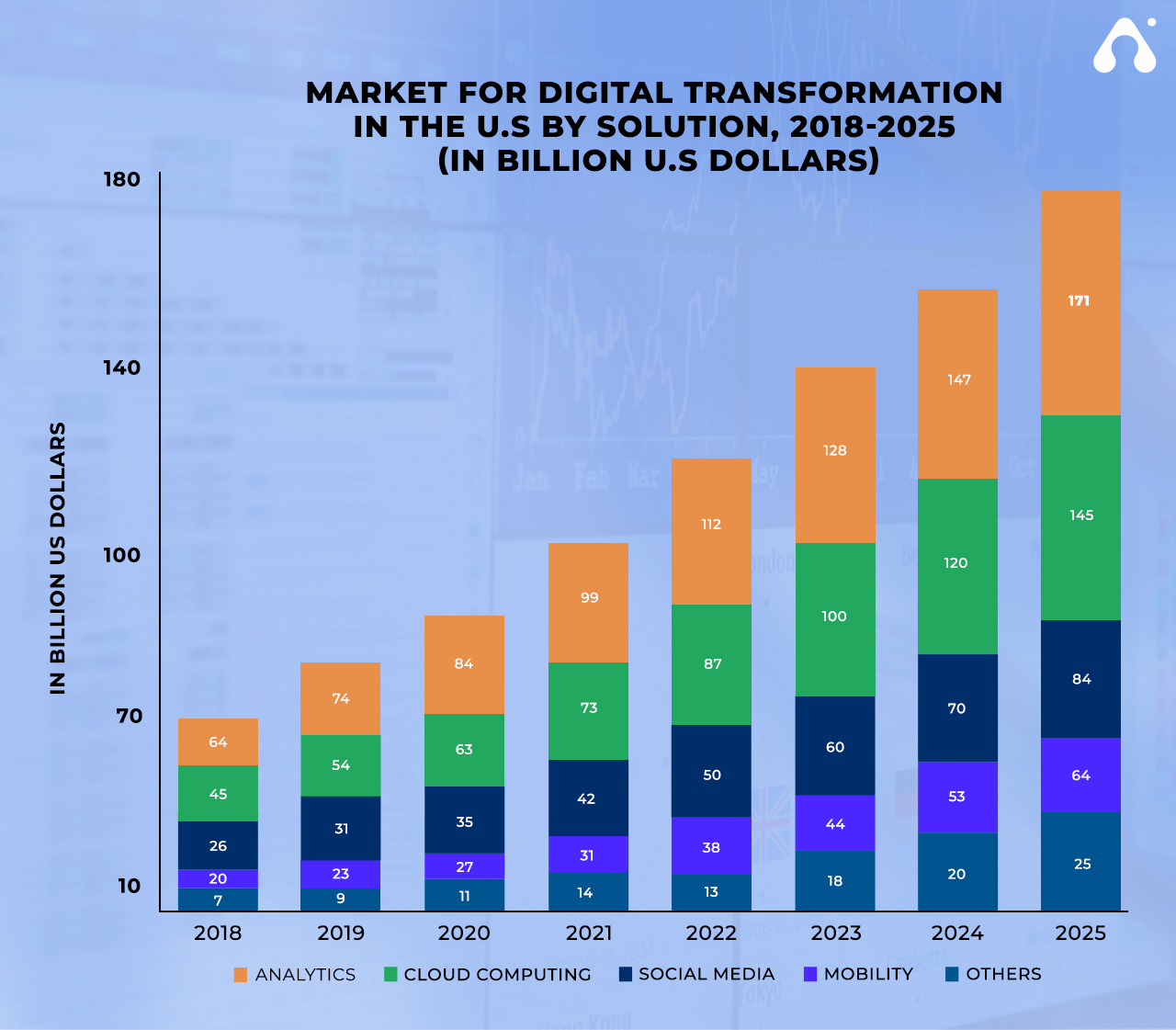 Top Apps With Mobility Solutions
1- Dominos
The well-known pizza company has shifted its entire business model after hitting some low time. For that same reason, the company invested in digital transformation initiatives along with creating a mobile application too. With the help of an on-demand app guide, the customers can simply order pizza and track their orders too along with getting delivery or collected reports. 
2- Walgreens
Walgreens is the 100 years old US-based pharmacy chain that made a digital investment to be as cutting edge as possible. Walgreens is now offering its customers an application that renders an outstanding user experience while making their purchase processes more efficient.

3- Nike Fit
As per Nike, 60% of their users wear the wrong size shoes. Thus, to eliminate this issue of its users, Nike decided to release mobile applications as part of their digital marketing initiatives. Users scan their feet through the camera to find a perfect shoe fit for them. The app made by them allows users to create a practice scan and then build a map of both feet.

The app by combining the latest technology guide of machine learning, algorithms, computer vision makes the overall experience smoother. Other than that, the app also further provides users personalized and targeted suggestions for ideal shoe sizes. 

How Appventurez will help in Digital Transformation through Mobile Apps?
We have produced several scalable mobile apps depending on the needs of our clients as a top software and mobile app development business. Appventurez has a highly competent team of app developers that have mastered all of the newest technologies, such as AI, ML, IoT, and Cloud, that are required to produce top-notch mobile apps that will help you achieve your digital transformation goals.

We assisted them with mobile app development as part of their digital transformation. Here is a link to our whole portfolio. Alternatively, contact us with our specialists to learn more about how we can assist you with enterprise app development for your specific company use case.

FAQ's
1- What is digital in digital transformation?
To meet changing business and market requirements, digital transformation is the process of employing digital technology to build new — or adapt current — business processes, culture, and consumer experiences. Digital transformation is the redesigning of business in the digital era.

2- What is the role of applications in digital transformation?
Increased productivity and efficiency are two of the most important functions of apps in digital transformation. Encourage staff to be more open. Assist in the optimization of workflow.

3- How do you transform an organization into a digital one?
Our experts construct a digital transformation strategy that provides a starting point for corporate executives. It serves as a checklist of what has to be done as well as a step-by-step guide. We work with our clients from the beginning to the finish to make sure their digital transformation is a success.

---
---