"Mobility isn't going anywhere. It will only expand and become more interconnected."
In a highly competitive company environment, digitization and automation are the most effective strategies to succeed. An interactive website, user-friendly application, and online marketing may transform your business and help you automate processes. Enterprise mobility solutions enter the scene at this point. 
Enterprise mobility solutions are the universe of linked digital devices. Mobility entails the ability to reimagine company processes by providing access to information that is relevant and timely at the time. It leads to improved productivity at a lower cost, generating new income streams and allowing customers to be engaged in new and more adaptable ways.
The benefits of enterprise mobility solutions will focus on a big transformation that turns a system of record into a system of engagement by unlocking values in backend data and delivering user-centric data in content to experience. Enterprise IT requires a solution to move toward more agile mobile app development and deployment.
Table Of Contents
1. What is Enterprise Mobility Solution Strategy?
2. Need for Enterprise Mobility Solutions In An Organization
3. Benefits of implementing a mobility solution with your enterprise
4. Enterprise Mobility's Crucial Stages To Strike A Chord Within An Organization
5. Enterprise Mobility Solution Future Trends
6. What More To Accept From Enterprise Mobility Solutions?
7. How Appventurez will help you with Enterprise Mobility Solution?
What is Enterprise Mobility Solution Strategy?
Enterprise mobility is a concept that allows firms to establish and manage a remote workforce using contemporary technologies. It enables managers and employees of the company to access business data via mobile applications that play a role in digital transformation at any time and from any location.
There are two methods to define the strategy:
A technique or plan has been chosen to attain the desired outcome, such as the accomplishment of a goal or the resolution of a problem.
The art and science of arranging and marshaling resources in order to make the most use of them.
There are new trends of enterprise mobility solutions available for businesses of all sizes and in a variety of industries throughout the world. By 2022, it is predicted that the worldwide enterprise market would produce revenue of over 500 billion dollars, a significant increase from the 85 billion dollars generated in 2014. Enterprise mobility services provide benefits to the IT and communication, BFSI, government, education, retail, hospitality, and manufacturing sectors the most.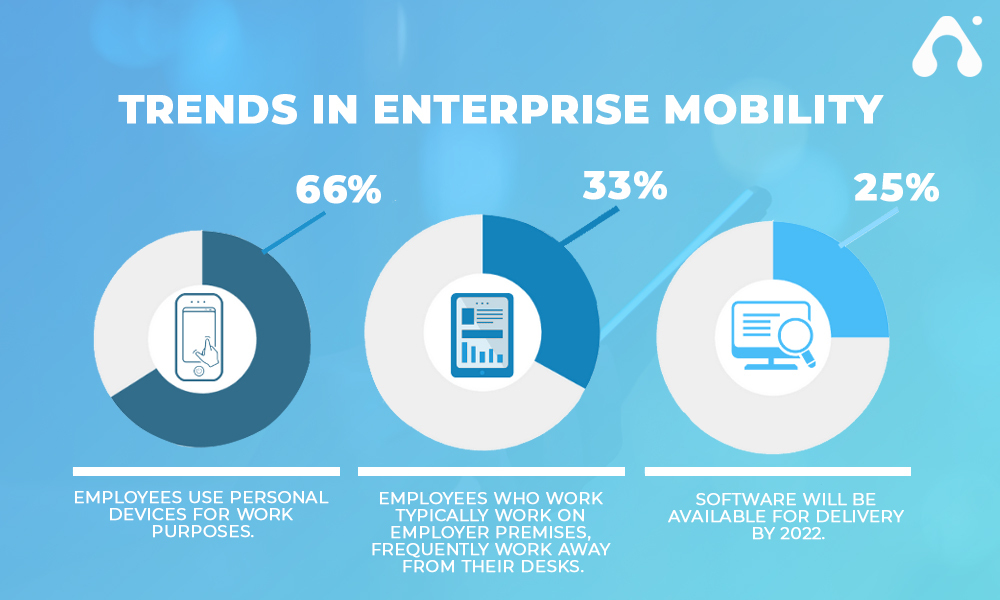 Need for Enterprise Mobility Solutions In An Organization
Let's have a look at the reasons below to see why EMS is necessary for a company. The enterprise application development services plan secures and assesses the mobility of employees.
The organization's current mobile landscape
Currently, the organization's mobile capabilities are limited.
Threats to the organization's mobility that might arise
Identifying and assessing the risks associated with the security of information both within the company and via corporate devices.
Analyzing the potential influence of the mobility strategy on the organization's operations
What effect will mobility have on the organization's partners, vendors, and clients, and how much will it affect them?
Enterprise mobility solutions will guarantee that the organization's mobile infrastructure is well-structured and maintained. EMS should be incorporated into the organization's strategic plan to secure executive ownership. 
The entire trend is moving toward a work culture in which people work on business chores from home using cell phones and cloud storage services.
Benefits of Implementing a Mobility Solution with your Enterprise
1- Efficient data collection
Every company model relies heavily on data. Mobility solutions can help your company collect data more efficiently using many data touchpoints on a mobile app. And, to deliver better value to your clients, manage massive data even more effectively.
Because workplace mobility solutions make it easier to maintain track of data, they also make it easier to make timely data-driven business choices about productivity, attendance, and performance.
2- Increase productivity
Your staff will be able to work from anywhere using enterprise mobility. Employees can also use mobile applications to access critical company data from anywhere and at any time. You may communicate with your staff regardless of time, allowing them to work at their own pace. As a result, total employee productivity rises while employee satisfaction and data security remain unaffected.
3- Reduce operational cost
You must be spending a lot of money on your company's infrastructure and upkeep. Implementing corporate mobility might allow your workers to work from home, lowering your infrastructure costs significantly. Your Enterprise Mobility Management (EMM) solution may also provide workplace collaboration for your mobile environment across numerous devices and platforms in instances when certain workers must attend the office.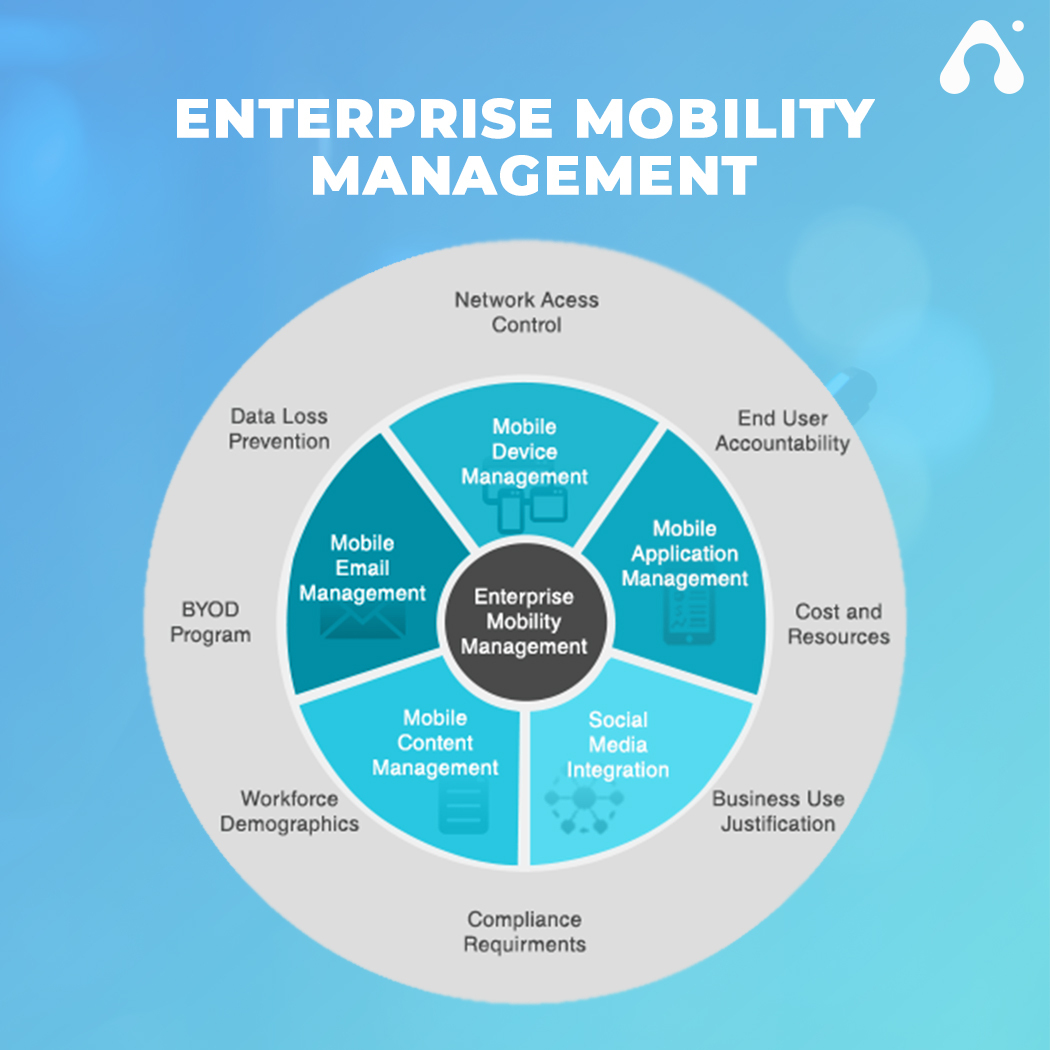 4- Provides customer satisfaction
Customer service is the most important aspect of any organization. A mobile application allows you to reach out to your clients in real-time and respond to their requirements, such as answering their complaints, taking measures to rectify difficulties, promoting offers and discounts, and so on. Overall, corporate mobility enables rapid customer support in less time, hence enhancing consumer confidence in a company.
5- Enables faster reporting
Your staff will be able to read and share their project reports more quickly if you include an enterprise mobile reporting system into your mobility solution. Furthermore, you and other decision-makers may examine these reports on any device at any time to assess your company KPIs as well as your workers' performance.
6- Data security
One of the most significant issues and requirements of every business is security. Mobile Device Management (MDM), identity and access management (IAM), and mobile application management (MAM) are all part of a corporate mobility management system that provides your company with the appropriate levels of data protection and risk management. These systems provide a secure communication channel that restricts access to corporate data centers to authorized workers, limiting data breaches and theft.
Enterprise Mobility's Crucial Stages to Strike a Chord Within an Organization
The overall concept is to easily connect people, processes, and technology over wireless networks, allowing for easier management of mobile devices and other computer services in the context of businesses facing enterprise app development challenges. Enterprise mobility services are aimed at apps that aid in the completion of tasks using smart devices such as smartphones or tablets.
Enterprise mobility is a cutting-edge technology that provides a potential platform for cooperation and productivity for today's businesses. The following are the four major stages of enterprise mobility:
1- Target User
The first and most important aspect to consider is the precise profile of the target user and where there is a chance of obtaining business. The user's profile should be in line with industry goals, taking into account the type of business the company wishes to do using EMS.
2- Objectives to be achieved
The company must do a thorough study into areas where mobility solutions may be incorporated into everyday business procedures via linked devices. Prior to adopting mobility solution strategies, the company should have predetermined objectives that outline the objectives that must be met. 
3-Approach
Following the alignment of the company objectives with the target group of users, operational techniques should be devised and implemented to satisfy the firm's primary objectives.
4- Technology
For mobility projects, selecting the appropriate technology is critical. It would also aid in the selection of the appropriate platform and mobile devices.
Enterprise Mobility Solution Future Trends
With the passage of time, the future of enterprise mobility solutions is becoming more advanced. Mobility solutions will be implemented into the organizational architecture of all multinational organizations and business enterprises in the near future, allowing for a smooth workflow. The goal of mobility solutions is to improve employee comfort, which will lead to increased productivity in a pleasant working environment.
Enterprise mobility has grown rapidly and has evolved greatly in the past few years.
1- Bring-Your-Own-Device (BYOD) Culture Spread Far and Wide
The "Bring-Your-Own-Device" movement is gaining traction in the workplace, with numerous companies encouraging employees to do so. The BYOD culture has aided in the improvement of worker and employee efficiency, hence enhancing corporate productivity. Within the next several years, this approach will be extensively adopted around the world.
2- Development of Artificial Intelligence
Artificial Intelligence is getting a lot of traction in the commercial sector as companies like Apple, Amazon, and Google turns their attention to using more AI/ ML technology for development. AI-based security is quickly becoming a game-changer in terms of establishing a safe environment in which the BYOD trend may flourish.
3- Innovations Powdered by the Internet of Things
The steady expansion of IoT and its deployment in numerous aspects of an organization's organizational structure will eventually eclipse the Smartphone era. Other electronic gadgets, such as smartphones, desktops, laptops, and smartwatches, are expected to be connected to the Internet of Things (IoT) in the coming years.
4- Increased Popularity of Chatbots
Chatbots development will become increasingly popular in the next few years as they assure maximum customer happiness and provide significant business benefits. Chatbots make it easier for businesses to respond to client questions quickly. As a result, consumers may receive concerns and requests such as payment approval, appointments, and any other information while retaining substance and quality. 
Chatbots' role in the enterprise will be considered as a means of inter-departmental engagement between multiple teams within a company in the next few years, enhancing project productivity.
What More to Accept from Enterprise Mobility Solutions?
Enterprise mobility solutions are critical for establishing a connection between the many parts of a company. Let's have a look at how EMS interacts with the critical components of the organization's infrastructure:
In this cutthroat competitive market, EMS implementation can assist to boost the efficiency of many divisions inside the corporation and support corporate growth.
By developing mobile apps, EMS creates a business-friendly work culture in the organization with creative flexibility standards, allowing the company to reach its target group far and wide while maximizing the use of technology.
The firm is prepared to manage each and every business duty with the greatest care thanks to enterprise mobility. Password protection, data loss prevention technologies, and remote wipe capabilities can all help you avoid security blunders.
The constraints of location, time, and position have been greatly reduced because of EMS. Businesses are now linked to internet media, which is available to millions of clients across the world. As they are actively operating in the worldwide market, this would aid in the gaining of profits for the company.

How Appventurez will help you with Enterprise Mobility Solution?
Enterprise mobility solutions aren't going away anytime soon. Mobility solutions should be considered if you want your firm to stay ahead of the curve. Customized mobility solutions can help firms take a fresh approach while increasing staff productivity and efficiency. Emerging technologies such as artificial intelligence (AI) and the Internet of Things (IoT) will elevate corporate mobility to new heights. It's fascinating to watch how mobility helps modern businesses become more employee-centric and customer-focused. 
Appventurez is a mobile app development company. For modern enterprise app development services, we provide top-notch mobility solutions. Do you need a dependable mobility solutions supplier for your business? Contact us to help your company prosper in the face of increasing competition.

FAQs
1- What is an enterprise mobility solution?
Enterprise Mobility Service (EMS) is a service that allows businesses to securely enable their workers to utilize mobile devices. The practice of safeguarding company data on workers' mobile devices is known as enterprise mobility management. It includes a variety of mobile management services and technology.
2- What are the stages of implementing a mobility solution?
Know your policies and regulations.
Identify the mobility challenges.
Decide your mobility management approach.
Choose your Mobile Device Management solution.
Securely implement Enterprise Mobility with the MDM solution.
Actively monitor mobile ecosystem and make changes if necessary
3- What is the use of enterprise mobility management?
Enterprise mobility management (EMM) is a combination of technologies, procedures, and rules that a company uses to protect and control the use of corporate and employee-owned mobile devices. EMM is always changing to keep up with the ever-changing collection of device platforms and workplace mobility trends.
---
---