What are the top 10 cyber security threats? Cybersecurity has been a widespread priority since the latter half of the '90s when the dot-com boom brought the world online.
Cybersecurity has emerged as a key worry for organizations all around the world. The threat landscape is rapidly evolving, and hackers are always devising new ways to attack system weaknesses.
More than 20 years later, extraordinary events like the COVID-19 pandemic, disputed elections, and rising socio-political turmoil have resulted in an increase in the frequency and severity of cybercrimes in only a few years. Security threats are anticipated to get more complex and hence more expensive over time: analysts project that worldwide cybercrime expenses will reach $10.5 trillion by 2025, up 15% from $3 trillion in 2015.
Proactive protection is the key to avoiding a cybersecurity attack. Take a look at what experts say are the top cyber security threats and challenges facing the world in 2022, and learn what you can do to protect yourself and your business from becoming targets.
Table Of Contents
Top 10 Cyber Security Challenges Faced By Business In 2022
Undoubtedly, malicious Malware, Ransomware, and Phishing attacks are a few terms that should be taken aware of. Being prepared for any cyber security challenges can protect your business from unpredictable threats.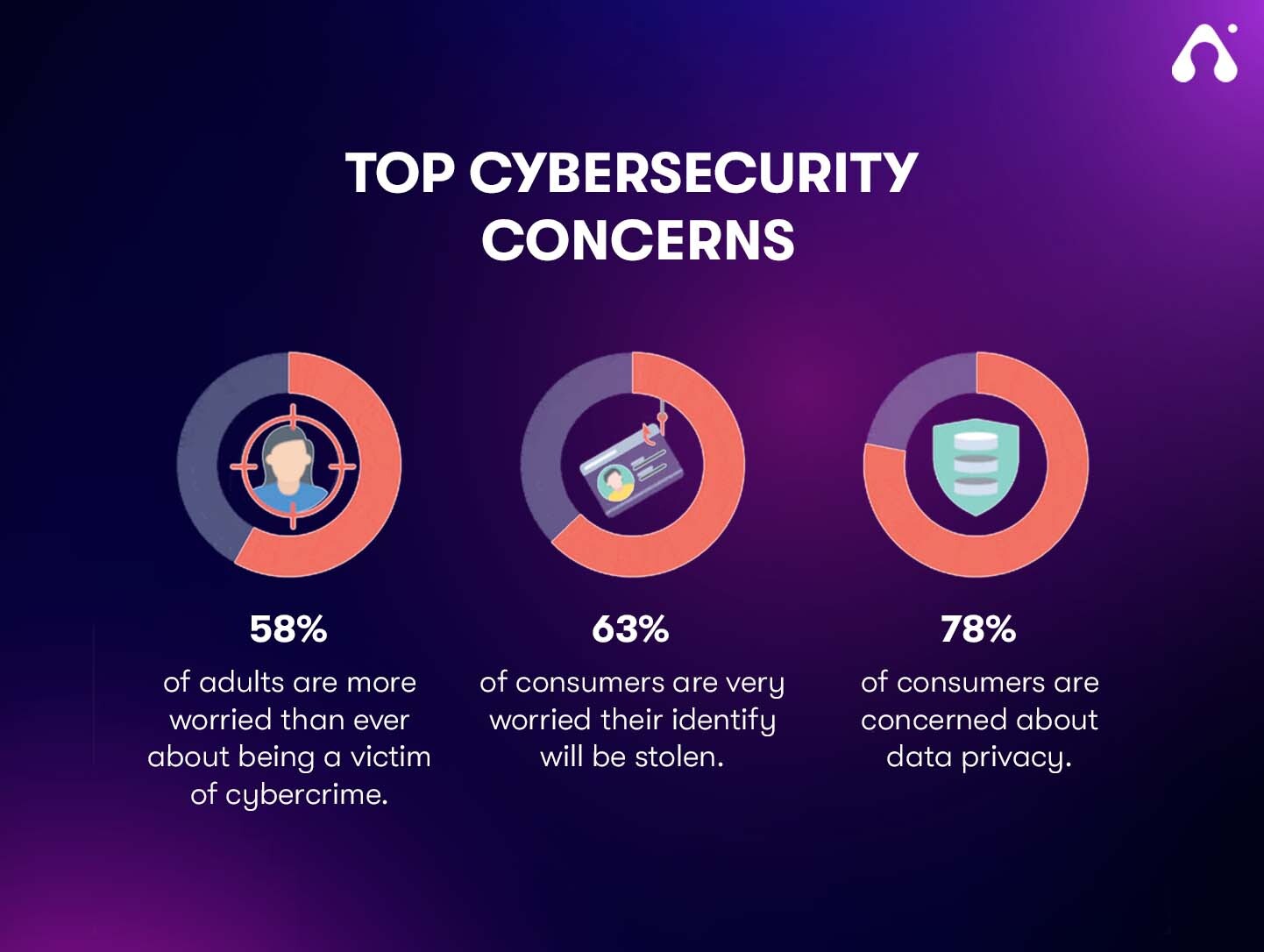 You need to have proper knowledge about the cybersecurity challenges for small businesses are facing in 2022. Here are the top cyber security attacks points listed:
Challenge 1 – It's human, not a machine
Without any malicious purpose, your employees may mistakenly end up with all types of data breaches. They have privileged access to your company's data, leading to IT security mistakes. After all, it's humans and not the machines who pose your business's most significant cybersecurity issues. 
Challenge 2 – Phishing & spear phishing threats
Nowadays, criminals use phishing & spear threats to introduce malware into businesses. Spear phishing threat is a highly targeted form of phishing that involves bespoke emails being sent to well-researched victims. So, it's challenging to spot without close inspection and with technical controls alone. If you want to avoid the risk posed by ransomware and other malware, a business must ensure staff are aware of the dangers and know how to spot phishing emails. 
Challenge 3 – Adopting cloud-based infrastructure
Today, many people use cloud services for both personal and business needs. With the increased popularity of cloud app development, hacking cloud platforms to steal user data is one of the biggest threats in cybersecurity for businesses.
You are probably all aware of the massive iCloud breach in 2014 that exposed private photos of celebrities through the internet like wildfire. That shocking invasion of privacy caused embarrassment and damage to many celebrities' reputations. If such a threat is carried out on enterprise data, it could pose a massive threat to the business and maybe even lead to its collapse. 
To make your business successful in today's competitive world, read about top cloud computing trends.
So, as a small to mid-sized business owner, you should pay attention to proper cloud storage configuration, APIs, and end-user actions on cloud devices to strengthen mobile cloud computing defenses in the future. 
Challenge 4 – Integrating AI with cybersecurity
AI (Artificial Intelligence) is introduced in all market segments. With machine learning, AI has brought significant changes in cybersecurity. This technology has gained popularity in developing automated security systems, natural language processing, and other automatic threat detection. The major concern is "how to integrate AI & ML into your app?" For that, you can get in touch with experienced developers. 
AI creates innovative malware and attacks to bypass the latest security protocols in controlling data. AI-enabled threat detection systems can predict new attacks and notify admins of any data violence quickly, making it the following cybersecurity trend in 2022. 
Challenge 5 – IoT Vulnerability
All types of companies have willingly IoT app development to help analyze consumer and client behavior and assist them in more efficient marketing processes. Unfortunately, the incredible popularity of IoT devices sharply increases the threat of data breaches.
As the Internet of Things trends usage sharply upward without the corresponding technology development to protect against cybercrime, this problem increases continuously. 
Challenge 6 – Rise In Sophisticated Ransomware Attacks
Cybercriminals have become more skilled with their ransomware threats – encryption-based malware. This threat has continued to target small and medium-sized businesses and is expected to continue increasing into 2022.
Even businesses are more likely to pay a ransom to have their data unencrypted than large businesses due to the improper backing up of business-critical data. 
As we know, hackers took in $20 billion via successful ransomware threats in 2021, and experts forecast this figure will enhance substantially in 2022. The increased use of Bitcoin and other cryptocurrencies has made it easier for hackers to steal organizations' stories and data. 
Challenge 7 – Insider threats
According to a Verizon report, 34% of cyber threats in 2019 came about because of internal employees' intentional or unintentional behavior. Many things are more disturbing to a company than dissatisfied current or previous employees infecting critical systems, selling sensitive information, or enabling bad actors to access the company network. Accordingly, organizations should take the time to limit access to their sensitive data. 
Challenge 8 – Fifth-generation network (5G)
While the 5G network deployment will make it easy for humanity to use beloved IoT market trends gadgets, it will also make society more vulnerable to cyber-attacks. These networks have a complicated architecture, resulting in the requirement of appropriate security measures. Hackers can detect unsecured spots to compromise personal and enterprise data.
If you are planning to build an IoT app, you need to know the impact of IoT on mobile app development. 
Challenge 9 – Extended Detection and Response (XDR)
With growing data breaches, cybersecurity professionals are forced to get visibility of enterprise and customer data across networks, cloud workloads, apps, and emails. The XDR is set to gain momentum as it can automatically gather data from various endpoints and correlate them to facilitate immediate threat detection and incident response.
For example, a cyber threat can be combined and connected to enable visibility and context into the event. 
Challenge 10 – Automation and Integration
The security team works under pressure to complete the task in less time. Automation and integration are better ways to increase overall productivity. Organizations that follow DevOps trends and CI/CD processes can reach effective risk management at the required development speed and quality. 
Keep in mind that, many developers are curious about how to improve code quality in DevOps with immense precision & speed. 

Listing out some of the most common types of cyber-attacks
1-  Ransomware Attacks
Ransomware attacks entail breaking into a user's data and blocking access to it until a ransom is paid. Ransomware attacks are critical for individual users, but much more so for cybersecurity for small and medium enterprises that are unable to access data necessary for everyday operations.
However, in the majority of ransomware assaults, the attackers do not release the data even after payment is made, instead attempting to extort more money.
2- IoT Attacks
The issues of cyber security are growing at an unprecedented rate along with the deployment of IoT devices. Sensitive user information may be compromised as a result of attacks against IoT devices.
3- Cloud Attacks
Today, the majority of us utilize cloud services for both personal and business purposes. One of the difficulties in commercial cyber security is the hacking of cloud platforms to steal customer data. We are all familiar with cloud app development services the notorious iCloud breach that made celebrities' private images public.
4-  Phishing Attacks
Phishing is a form of social engineering assault that is frequently employed to obtain user information, such as login passwords and credit card details. In contrast to ransomware attacks, the hacker doesn't restrict the user data once they have access to it. Instead, they make use of it for their gains, such as for illegal money transfers and online shopping.
5-Blockchain And Cryptocurrency Attacks
While the ordinary internet user may not understand what blockchain development and bitcoin are, companies value these technologies greatly. Because assaults on these frameworks have the potential to harm consumer data and corporate processes, they provide significant problems for enterprises in terms of cyber security.
How To Prevent Business From Cyber Threats?
Small and medium-sized enterprises use potent factors such as broadband and information technology to reach new markets and increase productivity and efficiency. However, to protect your business, customers, and data from growing cyber threats, you need a successful cybersecurity strategy. Here are some general best practices that SMEs adopt to reduce vulnerability to a cyberattack. 
1 – Work with Experts
The best thing SMEs can do to stay safe from cyber attacks is to rely on experts. For that, you can outsource the complicated tasks to an IT expert or managed service provider. Many small & medium-sized enterprise owners complain about the cost of taking proper cybersecurity measures. 
2 – Complete a Risk Assessment
Companies should perform a thorough risk assessment that evaluates all possible vulnerabilities and establishes a blueprint for privacy and security policies. Risk assessments also aid companies in understanding which actions they can reasonably address themselves or outsource to experts.
We recommend you review your risk assessment annually and perform one from starting or when you have had any significant changes in your systems. 
3 – Backup Data
Hackers pressurize business owners into paying large amounts of money to release their data. Always ask your clients: how long can they live without your data? Many businesses would be ruined to lose even a week of material. Besides, covered entities must retain PHI for a minimum of six years, so secure storage is a must. 
4 – Secure Email
While it may be better to use a free version of an email service, it can put your company at risk. On the other hand, paid email services to protect users from spam, malware, and other phishing threats thanks to their cybersecurity features like filtering and warning labels.
While employees should be trained to identify and resolve these malicious email attacks, preventing them from interacting with such messages together is ideal.
5 – Beefing up existing Cybersecurity Protections
If you want to prevent hackers from gaining access to your data, you need to change passwords with strong ones made up of random letters, numbers, and special characters. In addition, you can use multiple factors authentication for your accounts and services. You can also update your antivirus software to secure your Wi-Fi networks. 
Also, you can read about steps to enhance mobile app security as mobile apps are also important for your business's reputation.
Importance Of Cybersecurity In Businesses
Here are some reasons you need to take cybersecurity seriously as a small & mid-sized business owner. If you are still unsure about your cyber security risks for businesses, here are some convincing reasons for what impact cyber-attacks have on businesses.
1 – It allows employees to work safely
If you don't have the best cybersecurity solution for your business, you and your employees can risk a potential cyber-attack. Even cyber attacks can infect your systems which can hamper your productivity. With cybersecurity, your employees can work safely without worrying about any types of threats.
2 – It stops websites from going down
As a business owner, there are more chances you are hosting your website. A cyber threat can shut down your website, resulting in losing money and customer trust. But, you won't have to worry about your website and business reputation when you continue with the best cybersecurity solution. 
3 – It prevents Adware
The best cybersecurity solution can prevent your organization's assets from Adware. Adware is a computer virus that can have an impact on your business' productivity. Once you have accidentally clicked on them, it can allow other viruses into your system.
4 – It inspires confidence in your customers
If your business is effectively protected against all types of cyberattacks, you can inspire your customers and clients' trust. They will feel more confident when purchasing your products and services.
What are the impacts of Cyber Threats on your Business?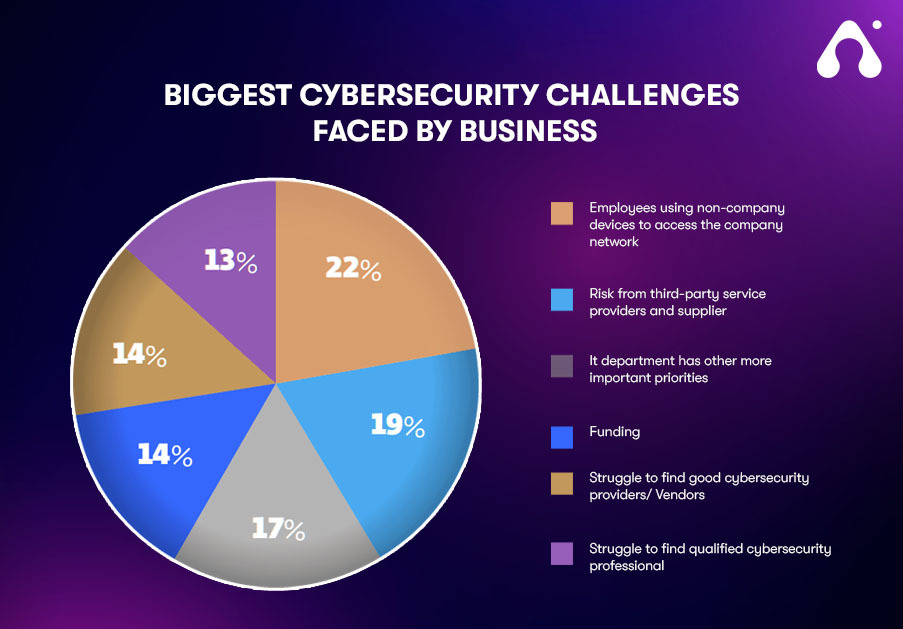 Undoubtedly, it would help if you focused on your business to grow in the market as a lack of future cyber security threats can damage your business in different ways, including:
Economic costs:

Theft of intellectual property, corporate information, and the cost of repairing damaged systems.

Reputational costs:

Loss of consumer trust, loss of current and potential customers to competitors, and inadequate media coverage.

Regulatory costs:

GDPR and other data breach laws mean that your organization could suffer from regulatory fines or sanctions as a result of cybercrimes
All sizes of businesses must ensure staff understands cyber security threats and how to reduce them. For that, you need to include regular training and the right mobile app development framework. It is challenging to understand the direct and indirect costs of many security breaches. 
As cybersecurity trends keep changing, organizations must accept a proactive IT security approach to support business security. They must become more accessible, more flexible, and more collaborative as they promise to secure their essential assets.
Cybersecurity for business is not as challenging as it seems if you need help! So, why not hand things over to the experts for the sake of your business? Get in touch with Appventurez! 
How Does Appventurez Seek Cyber Security Measures?
As a business improvement partner, Appventurez is a cloud application development company that works with you to understand your key business challenges. It allows us to select the best practice approaches that suit your business and build remarkable resilience in the changing cyber landscape. 
From the best practice management system to testing physical infrastructure, we have a range of solutions to meet your business requirements. We are proud to offer a wide range of cyber security challenges with features & solutions to help you enjoy high levels of security throughout your business. 
For more information or to take advantage of great cybersecurity options today, get in touch with our experts!

FAQs
1- How can businesses prevent cyber-attacks? 
By putting up firewalls and encrypting data, you can safeguard your networks. By doing this, the possibility of private information being accessed by cybercriminals will be reduced. Make sure your Wi-Fi network is password-protected and concealed.
2- What are the effects of cyber-attacks on businesses?
Businesses that experience a cyberattack also pay more due to operational interruption and modified business procedures. The largest damages result from harm to one's reputation. Millions of dollars have been spent on settlements by businesses that have lost control of their consumers' data.
3- Why do businesses need cyber security?
All types of data are protected against theft and harm by this system. Your company cannot protect itself from online dangers without a cyber security plan, making it exposed to unscrupulous actors who will see your company as an easy target.
---
---