Starting this year, WhatsApp faced widespread criticism for forcing users to accept its new data-sharing policies. For that reason, the majority of users are now looking for alternative most secure messaging apps like Signal.

Earlier in January this year, WhatsApp released a privacy update that spooked its users. The new policy has urged its two billion users to hit 'Accept' to allow the popular messaging app to share their data such as location, battery level, IMEI number, mobile network and related information with its parent company, Facebook. The disagreement to the same will lead to the deletion of their accounts.

Not only this, but the in-app notification also stated, 'WhatsApp must receive or collect some information to operate, provide, improve, understand, customise, support, and market our services, including when you install, access, or use our services. The types of information we receive and collect depend on how you use our services."

As might be expected, it offended and angered billions of WhatsApp users worldwide, leading to wide outrage and backlash. There was a loud hue and cry all over the internet against the app and its parent company, Facebook.

But WhatsApp's loss became others' gain.

Most Secure Messaging App
After the world's most preferred messaging app has become an issue of debate and broken many people's trust over its updated privacy policy, other messaging apps, like Signal, are having a moment in the sun.

In the light of security threats, data breaching and account hacking, security has become the most fundamental factor to consider during the mobile app development lifecycle. Henceforth, it has become a priority to develop secure encrypted messaging apps like Signal.

Not so long ago, the use of Signal was confined to tech evangelists, techies, cybersecurity enthusiasts and so. But over the past few months, the encrypted messaging app has seen massive growth. A lot of it was accelerated by Tesla's CEO Elon Musk who tweeted just two words and the fate of Signal hit the jackpot.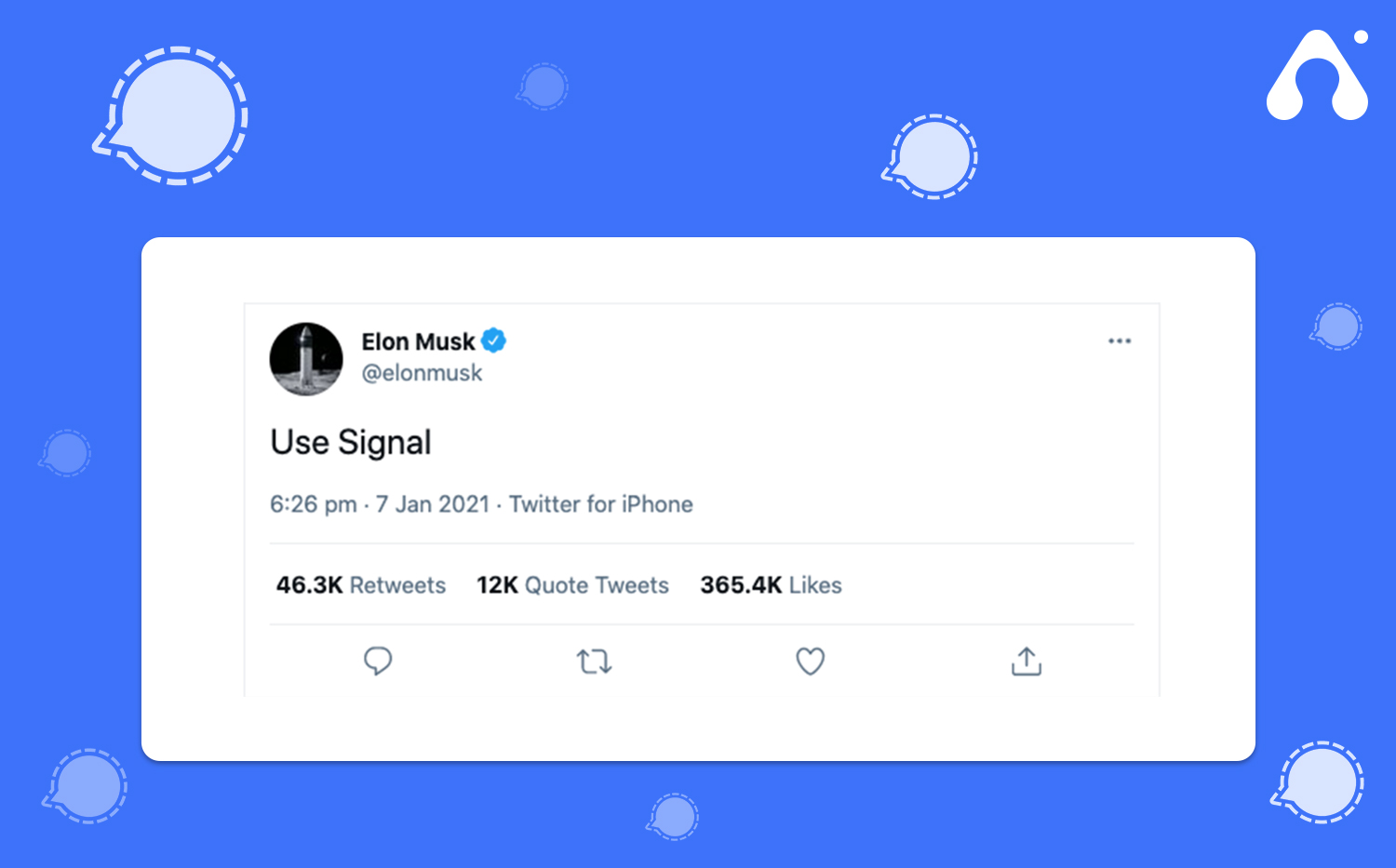 And lo and behold, the messaging app that was veiled till date, appeared forefront. Its encrypted messaging feature earned it accolades and recognitions.

In fact, the popularity of Signal rose to the extent that it resulted in outages. As per Sensor Tower Data, 'App downloads grew 62-fold to nearly 18 million in a week.'

'We've seen unprecedented growth. It's safe to say that because of this record growth, we're even more interested in finding talented people.' Acton (Founder, Telegram) was quoted as saying.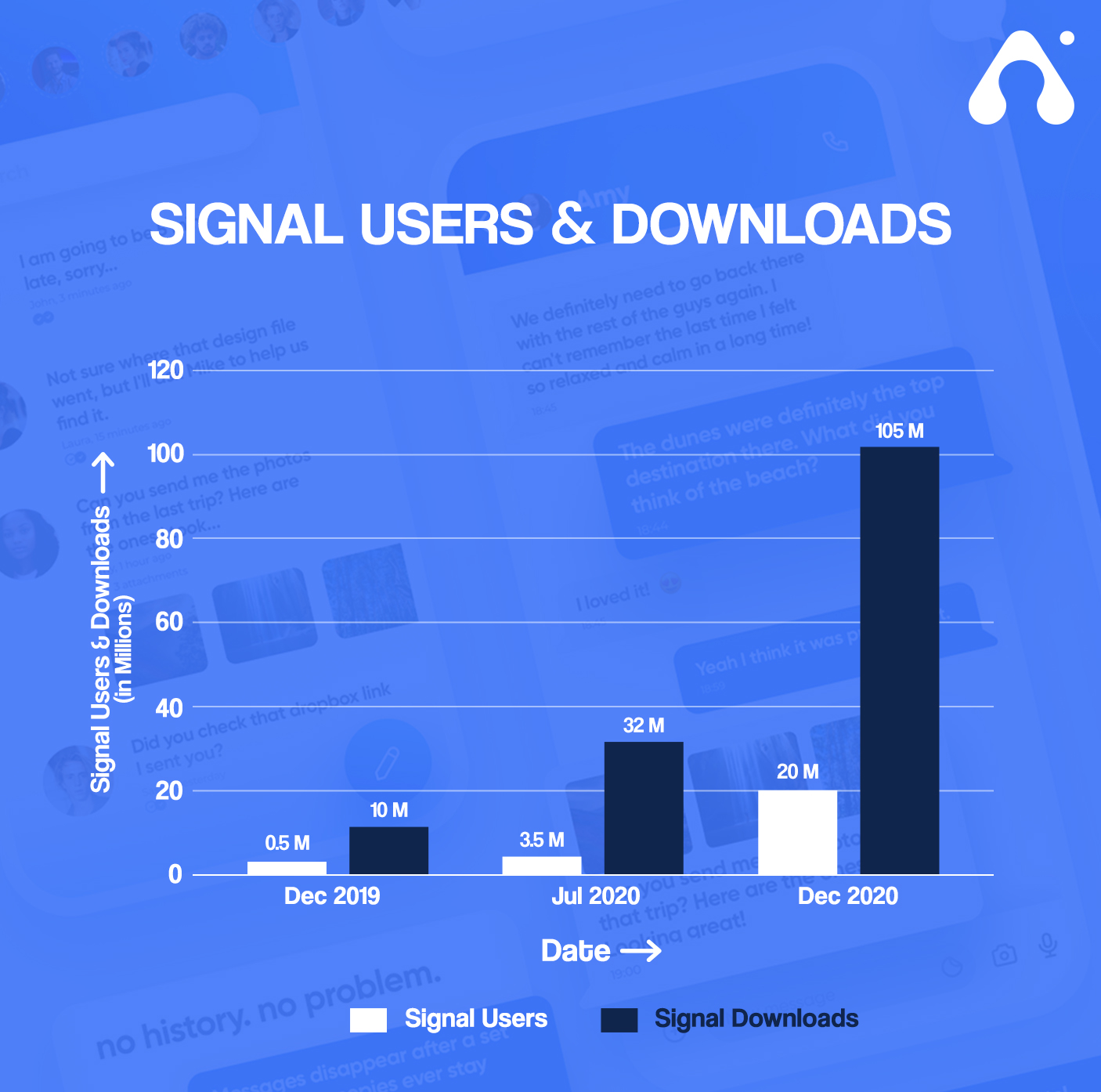 To build an app like Signal, it is better to understand the application first. So, let us dive into a detailed account of Signal and its basic features.

What Is a Signal App?
The 'private' messenger app, Signal, was founded by Brian Acton (co-founder of WhatsApp). The encrypted messaging app was first rolled out in the year 2014 that only stores the users' contact information.

The Signal is an open-source, centralized encrypted messaging service application, that uses the internet to share one-to-one or group messages like audio, video, images, files and documents.
It is available on both Google Play Store and Apple's App Store.

Keeping in mind privacy as the topmost priority, all messages and calls on the app are end-to-end encrypted i.e. no third-party, not even Signal, can access those messages.

In addition, to make sure that WhatsApp's users find Signal familiar, the app has been rolling out an array of features (animated stickers, chat wallpapers, image editing tools, etc.) that impersonate the Facebook-acquired app.

Let's move to the features which make Signal the most secure messaging app in existence.

Features of The Signal App
Signal gained the title of the most secure messaging app following WhatsApp's privacy policy nightmare in January 2021. Besides privacy, Signal offers some excellent features that amplify the user experience. Here are the best ones:

#1- Strong End-to-End Encryption & no User Records
How secure is a signal app? The Signal received its newfound popularity due to its end-to-end encrypted communication feature. As already discussed, this means that all the messages exchanged are end-to-end encrypted. Privacy and security in the Signal app stay at the top of its features.

The app doesn't track your calls, except the time you last logged onto it. Every message or data shared will be visible only to you and the person you are chatting with & no one else.

#2- Screen Lock PIN
Every smartphone comes with a screen lock PIN. In Signal, you can add an extra layer of security by putting an additional screen lock PIN. You can also use Touch ID to open the app.

To add a screen lock PIN, navigate to Settings -> Privacy. Swipe down to Screen Lock and switch the toggle so it is ON. Further, you will also be asked when you want the screen lock to time out. Choose the most suitable option. Our personal recommendation – Instant.

#3- Block Screenshots on Signal
Adding another layer of privacy protection, Signal offers a feature to block screenshots within the app. Similar to Snapchat, you can prevent other users from capturing screenshots of chats or anything inside the app, even from the recent chat menu.

To enable this feature, go to the app's privacy settings by tapping on the profile icon. Profile icon stays at the top left corner of the screen. Here, locate and toggle on the setting that says 'Screen Security'.

#4- Hide Messages from the Lock Screen
Don't you hate it when messages start popping up on your lock screen and worse of all, a person nearby trying to catch a glimpse of them!

So instead of seeing the entire message on the screen, you can instead be notified only of the name of the sender or notification which only says 'New Message'.

To activate the feature, Settings -> Notifications -> Notification Content.

#5- Self-Destructing or Disappearing Messages
If you don't want to get caught, you need to get rid of the evidence.

You can delete messages you don't want to get surfaced but let's accept it, we forget to do it sometimes. That is when Signal's 'Disappearing Messages' can save your day.

The feature wipes off the message from your device and your friend's device once it has been read. There is no way to get it back.

To enable 'Disappearing Messages', tap on the contact's name. Now, scroll down to 'Disappearing Messages' and turn it ON. Below, you will see a slider where you can specify when the messages should disappear. Set it according to your preference.

Also, read | How to increase app user engagement

All these features let you utilize the Signal app to its full capacity. There are tons of other cool features (Registration lock, 2FA, Incognito keyboard, Note to self, etc.) that give Signal an upper hand over WhatsApp and other similar messaging apps when it comes to the most secure messaging app.

How do Secure Messengers like Signal work?
The key principle behind the working of these secure messaging apps is end-to-end encryption. It means the messages are encrypted on one device and then decrypted on another.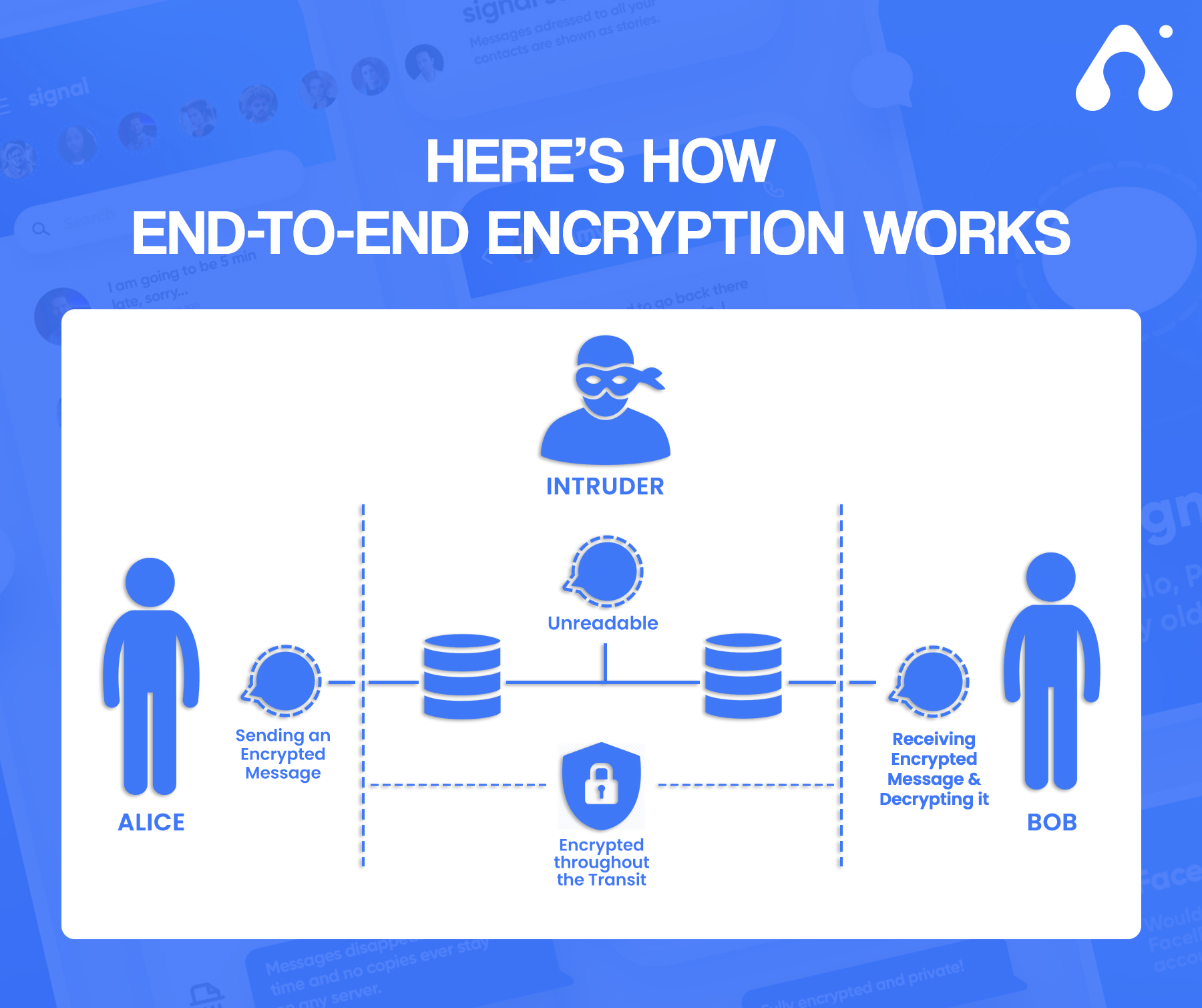 Here's how end-to-end encryption works:
Two users begin a conversation that results in the creation of two sets of keys.
The private key that remains on the user's device.
The public key is stored on the service provider's server.
When user A writes to user B – the public key is retrieved and used to encrypt the message. This is done to ensure that it is available only through the private key.
Next, the message is sent to the user via server and decrypted with the private key to User B.
In its encrypted form, the data stored on the server is of no use. It is not readable without the private key and deciphering it is too complex to invest time into. Even the servers that circulate those messages cannot see/read what users actually say.

When we talk about encrypted communication, it can be anything digital. For example, an email, image, text, voice call or even video call.

An important thing to consider here is that both sides of the transmission should be using the same app. You cannot send a message from Signal and receive it on WhatsApp. To communicate on Signal, both the parties should be using Signal. And so on.

So, how does Signal work? This most secure messaging app uses its own encryption method – Whisper Protocol. This type of encryption makes the app more secure by using a multi-layered approach that makes the scope of data breaches nearly impossible.

Apart from the encryption protocol, several other things that make Signal the most secure messaging application are:

Registration lock
Blurred photos
Disappearing messages
Encrypted calls
Now that we have looked into the features and encryption model that makes up for Signal's recent popularity, let's know how this app earns revenue.

How Does Signal App Make Money?
The Signal messenger app is the brainchild of the Signal Foundation, a non-profit organization. Being a non-profit organization, Signal doesn't focus on making a profit (or any money, really). Its prime focus is on encryption and privacy i.e. keeping user data secure that goes beyond money-making schemes. Respecting and securing people's privacy is what Signal swears by and operates on.

This open-source project uses grants and donations from investors and various foundations to keep running. Till now they've received millions in donations and are likely to operate pretty well for years to come. Some of the most notable investors of those donations include Elon Musk, the Shuttleworth Foundation, the Knight Foundation, Freedom of the Press Foundation and the US-government sponsored Open Technology Fund.

Now that you are aware of the ins and outs of this most secure messaging app, let's know how to create a messaging app like Signal; the question that often leaves people scratching their heads.

How to Create a Messaging App like Signal?
Today, most mobile owners use more than one messaging app because of their convenience. There are n-number of features that contribute to the app development process to that of Signal.

If you are new to the field, here's a complete guide to mobile app development for startups in 2021.

In this section, we have briefed the basic set of features that should be incorporated to build the most secure messaging app. Let us look into what they are.

Features
Description
Sign Up /
Log In
There are generally three options users can
Sign In to your app – their phone number, email and social
media account. A messenger account is usually
phone-number based.
User profile
setting &
customization
A user profile stores personal information along with
other important features like contacts, settings and FAQs.
Users should be able to change profile pictures and turn
off notifications in case they don't wish to be disturbed.
Allow block contact option and pinning of the favorite
contacts.
Push
notifications
Push notifications are known to threefold your retention rate
and boost user engagement. Not only does it alert the users
of received messages, push notifications can be used to inform
users when their favorites come online, contact joining the
app, messages received and read & many more.
If you wish to get deets on how push notifications can
make/break your business, read
how push notification value increases with Intensity.
Settings
Let users adjust the messenger as per their convenience.
Messages &
group chats
The best messaging app is required to support both
one-on-one and group chats.
File
transfer
Users like to exchange messages as well as share
digital files such as images, audios, videos and documents.
Allow them to attach files to their messages.
Audio &
Video calls
A very important feature as texting is allowing
audio and video calls within the app. This will keep them
inside the app and fulfill their needs with a single convenient
product. Maintain high-quality communications while
incorporating such features.
Disappearing
messages
In case someone gets a hold of someone's phone, they can
see all messages unless the user has deleted them. That is why it is
important to add an option for the users to set a timer to
destroy the messages and/or media files.
Sync
As discussed, the majority of people have more than
one messaging app installed on their smartphones. For users
to switch between devices easily as they see fit, integrate a
sync feature in your app.
Two-step
authentication factor
Two-step authentication protects users' data in case
his/her device is stolen. Offer two-step authentication via PIN, password, fingerprint or verification code or link.
If you want to build a peer-to-peer messaging app that stands out from the crowd, consider these features: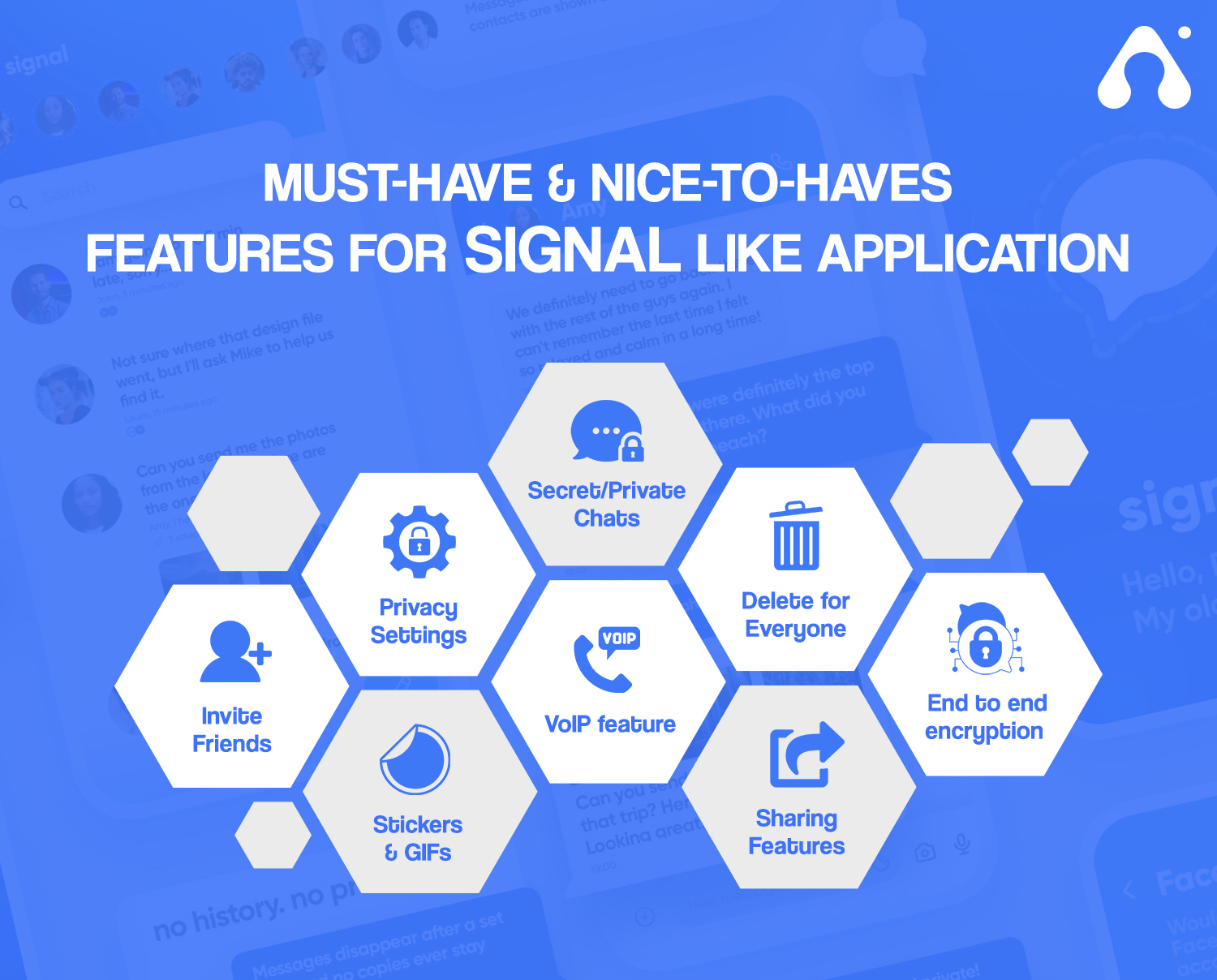 #1- Invite Friends
The option to invite friends and create a new group is the very first thing users check for when they open a social media messenger app. The invite friends option is a must-have feature to give the app access to the users' contact book.

#2- Privacy Settings
Signal has earned the tag of the most secure messaging app owing to its series of privacy settings like screen lock, incognito keyboard, etc. Following WhatsApp's policies giving users a second thought on whether their data will be secured or not, privacy settings have deemed to become a must-have element of answers around how to create a messaging app like Signal.

Also, read | How to develop a taxi booking app like Uber


#3- Stickers & GIFs
Stickers and GIFs are fun to use and complement the text/message. Stickers and GIFs were popular during FB messenger times but attracted attention when Telegram started offering them for free. Before that, Viber was also offering stickers but only a few of them were free.

Additionally, messengers can include customization options like wallpapers, filters, themes, etc.

#4- Voice Over Internet Protocol (VoIP) Feature
Messenger apps like Signal provide a stable internet connection even if your internet speed is very slow.

#5- Secret/Private Chats
Incorporating disappearing or lockable chats could be your key to success. Telegram offers secret chats that disappear automatically if you log out of Telegram on your device. Such chats aren't stored on Telegram's cloud servers. Hence, they cannot be backed up or synced even if you log in to more than one device.


#6- Sharing Features
Signal makes the sharing process quite easier for the users by letting them share media, documents, status changes, contacts and location with their contacts or in a group.

#7- Delete for Everyone
Signal lets you delete a message (for both the parties or for everyone) sent by mistake. A good mobile app development company will know how to integrate the feature that lets the sender delete/erase the message shared before it is read. It has become a must-have and absolute necessary feature.

#8- End to End Encryption
How to secure a messaging app? End-to-end encryption is the answer. Privacy and data security in the Signal app is its forte. The end-to-end encrypted feature of Signal private messenger app makes it impossible for invaders, third-party, advertisers and even Signal to read users' chats or keep track of their activity.

So, these are some of the important features when building a secure messaging app like Signal.

If you are just getting started with mobile app development, here are the top mobile application development mistakes to avoid.

How Much Does it Cost to Build a Messaging App like Signal?
Like every mobile app development cost estimate, signal app development cost range depends on a number of factors. The major being:

Set of features
UI/UX design
Back-end development
App testing
Team size
Location
When talking about Signal app development cost, the amount depends on various factors. Roughly, the development cost of such messaging apps can cost you anywhere between USD 30,000 to USD 60,000.

The cost varies as per the platform as well; For iOS App: USD 40,000 – USD 45,000 and for Android App: USD 45,000 – USD 55,000

Please note that these are only estimates. The cost will vary based on a wide range of factors such as the agency you hire, what technology you use and what platform you develop for.

Based on these estimations, developing an app like Signal will cost you anywhere between five figures (USD).

How Appventurez can Help you with the Development of a Secure Messaging App like Signal? 
Security and privacy are what a person demands in today's digital world. And, in many ways, real-time messaging apps are fulfilling the user's demands. All in all, we know that messaging apps are here to stay and you can trust them with your money.

Though the market is already ruled by a few messaging giants, there is still so much room for high-quality apps with unique features.

To develop a secure real-time messaging app like Signal, you'll need the assistance of the developers experienced in this niche. Our mobile app developers can make you shine brightly in this niche. Discuss your messenger app idea with us today!

---
---