In a world where the growth of mobile apps is moving at an unprecedented rate, determining the exact cost of development can help you make the best one.
"How much does it cost to make an app for your business?" It's the first question that almost every business owner asks to optimize their app development budget. But is it that easy to figure out the exact cost of development?
Well, the world has already witnessed the 'over-the-decade' anniversaries of both the most popular mobile application stores – having more than 8.93 million apps combined. It indicates that the publishing of apps is in no way coming to rest.
With such a whopping growth in the mobile app market, there is no doubt about how dynamically the development strategies are transforming, impacting the overall app development cost. Consequently, it becomes crucial to be aware of the essential factors that impact the cost of developing an app before stepping into the market.
Table of Contents
What Are the
App Development Cost Benchmarks
in the Market?
Determining the benchmarks for app development cost is not a simple task, especially when there are so many variables. A mobile app can cost you from tens to thousands depending on what and how it does something. This price range can be anywhere between $15,000 and $500,000. However, based on the complexity of an application, the app development cost benchmarks can be:
For a basic mobile application –

$15,000 to $50,000

For a medium-complex application –

$50,000 to $150,000

For a complex application –

$150,000 to $500,000

(or more)
Broadly speaking, determining the cost to develop an application largely depends on the features present in the application. It will help you get an estimated cost of development; the rest you can figure out with free app cost calculators.
However, the above-mentioned benchmarks are far-ranging. For exact numbers regarding the cost of development, you need to evaluate the total time taken to develop the application and the types of services used.
Significant
Factors Influencing the Cost of Developing an App
Developing an application is not as easy as it seems. You have to look at different aspects and consider them before initiating the app development process. Subsequently, all these points of consideration will impact the time and cost to develop an app.
For instance, design elements such as buttons, animations, and screens make an app look visually appealing. However, each of these additional components can affect your overall app development budget.
Also, it's not just the development and deployment phase that solely affects the app-building expenses. In fact, several studies have concluded that the design process and project management combined contribute to almost 30% of the overall cost of app development.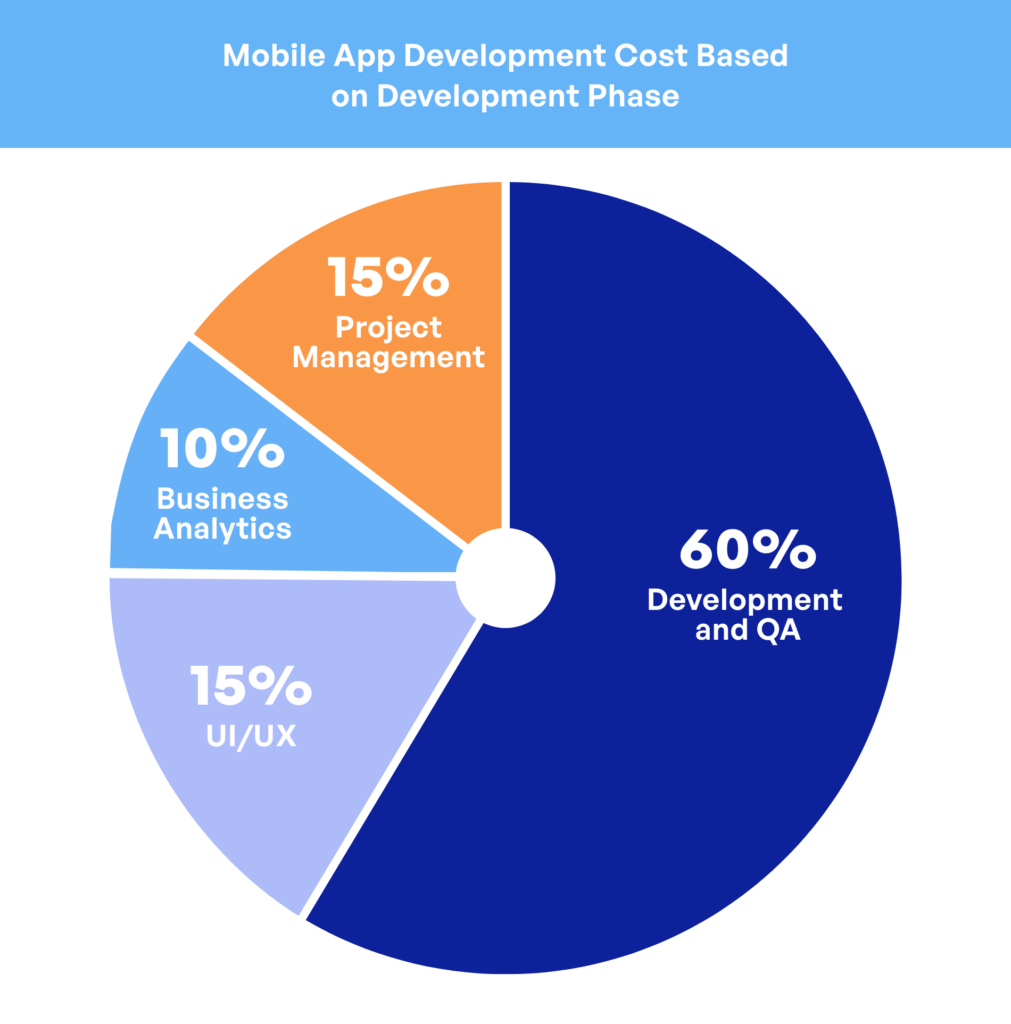 Generally speaking, the primary factors that impact application costs are:
The design and structure of the application

The complexity level of the application

The platform for which the application is developed
The following sections will highlight all these factors influencing the cost to develop an app in detail.
How Does the Design and Structure of the Application Impact the
App Development Cost
?
There is no doubt in saying that designing is one of the most integral stages of app development. When you build an app, you prefer a design that aligns with your brand image. 
Apart from that, you will also want to include the design elements that increase the responsiveness and interactivity of the app. All these customizations raise the overall app development expenses and time. While designing your app, here are a few things to consider:
User Experience
User experience (UX) explains how convenient and appealing an application is in terms of performance. The ultimate objective of a UX-based design is to make an application easy to access and engaging for the end users.
Maintaining user experience is important in order to attract new users and retain the existing ones. Over 90% of users even stop using an app just because of its bad performance.
However, if spent efficiently on the UX, it can do wonders for businesses. It is reported that every $1 spent on the user experience comes back as a return of $100 (at an ROI of 9900%).
Due to this, you must ensure that the app design is so perfect that it catches the user's eye in the first go. The more your app performs, the better will be the user experience. Consequently, greater will be user engagement and ROI.
User Interface
Since the user first interacts with the app's UI, businesses often prioritize it. The UI allows users to interact with the app, based on which they form perceptions about it. That's why designers often begin with creating different mockups to come up with the final design. How an app will look and what will be its design greatly depends on your business objectives. You have to ask yourself – 'What do I expect from the app?'
For instance, you can seek high engagement, increased brand awareness, or better call-to-action opportunities.
These goals will help the design team to pick the specific visual elements to create the perfect UI designs businesses want. These design elements include typography, colors, layouts, templates, shapes, and many others. Understanding this can also help businesses determine the cost of developing an app from the design perspective.
Branding
What comes to your mind when someone talks about Apple, Mcdonald's, or Nike? Well, talking about Apple Inc., an image of a bitten apple will immediately turn up in your head. Similarly, a big yellow-colored 'M' and black 'speedy-tick' symbol will emerge for the other two companies, respectively.
That's the magic of powerful branding. These giants have become so popular in their respective industries that almost everyone will recall what their brand image looks like. 
No doubt strong branding will incur heavy expenses, but the results will be more satisfying and profitable. In fact, you can use nominal branding techniques to start with and leverage complex strategies once you scale your business.
How Does the Complexity Level of the Application Impact the
Cost to Develop an App
?
The thumb rule of app development is simple – the more basic and smaller your app is, the less time and investment it will take to develop. As the complexity increases, it becomes necessary to hire more resources in your team to fulfill the specific requirements you want in the app.
The app development team needed to develop an MVP or a basic version of an application mainly consists of software developers, UI/UX designers, project managers, and QA testers. However, for a complex app with extended functionalities, the development team will be considerably larger.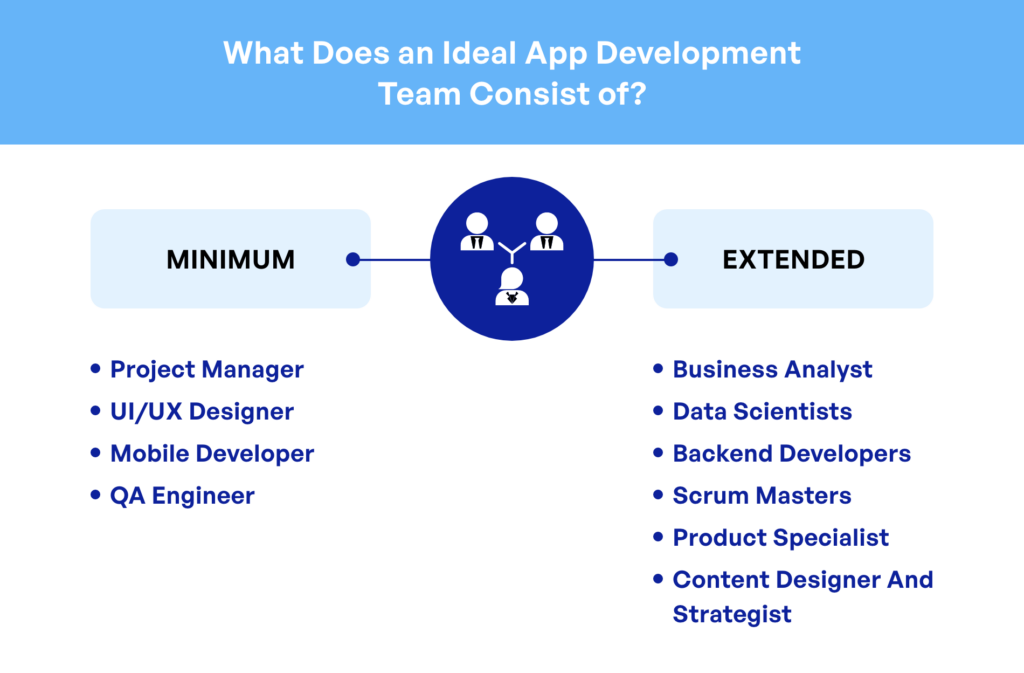 Below are some common types of app complexities:
Simple Applications
These apps consist of all the essential features

Contain necessary UI solutions

Have a low-tech screen with a basic UI design

Created without any additional functionalities
Mid-Complex Applications
These apps have some additional features along with the ones present in a simple app.

Contain more screens with custom UI design

Integrated with APIs for better functionality
Complex Applications
These apps have multi-functional capabilities

Contain advanced features like real-time synchronization, data analytics, AI chatbots, etc.

Have media processing capabilities

Support UI animations, high-quality graphics, and much more
Besides this, the time consumed in developing each category of applications also varies to a large extent. Here are the average figures for the same:
Simple Applications –

8 to 16

weeks

Mid-complex Applications –

24 to 40

weeks

Complex Applications –

32 to 48

weeks or more
Since the complexity depends largely on the number of features in the application, the cost will be higher when more advanced functionalities are included. The following section will discuss the cost of making an app based on features.
How Much Does It Cost to Build an Application
Based on Features?
An application can be integrated with several features to make it more engaging and responsive. Below is the list of the most common yet effective features that influence the cost of building an app to a large extent.
Multiple Devices Support with UI Optimization
Today, the demand for tablets and other smart devices has also increased along with the ever-growing popularity of mobile phones. Due to this, businesses look for efficient UI solutions that help an app to adapt to different screen sizes.
However, optimizing the UI can increase the overall development cost by 1.5 times the original budget. That's the reason not all businesses opt for apps that support multiple devices.
Different Orientations 
Most of the applications work only in portrait mode, which is the default orientation. Only a few applications offer landscape mode as well for a better visual experience. On average, offering support for landscape mode can increase the overall app development budget by 30%.
Offline Mode
Many users want mobile apps to work without network connectivity. However, it is not that easy to make an app available to work in offline mode. Developers have to include several cache algorithms in the database to make it work. No doubt it offers a remarkable user experience, but at a certain cost. This functionality can cost around $8,000 to $12,000. 
Push Notifications
Notifications, be they in-app or push, have become an integral part of mobile apps to increase user engagement. These push notifications have the potential to enhance business growth and increase brand awareness.
You can integrate in-app notifications that appear while using the app. Besides this, you can also incorporate location- or time-based notifications that are specifically scheduled for specific positions. However, the cost of developing an app will increase by $1,500 to $2,500 by including push notifications as a feature.
Authorization Using Social Media
Currently, most users prefer signing into an app through their social networking handles to skip the long registration process. It can cost you around $500 to integrate the social login feature into the application.
Multi-language Support and Localization
If you want to target your app beyond a specific country, you must integrate the feature of multi-language support into it. It helps the interface to change into the language preferred in a particular country. App localization can cost you around $500.
Chat Support
Including chat support has become one of the most common yet important features in a mobile app. WhatsApp, Instagram, TikTok, and Discord are some popular examples having chat support. This feature helps users to connect and communicate with each other, increasing user experience and engagement immensely.
In order to integrate chat support, developers often need third-party chat SDKs, such as Sendbird and Layer. With these tools, you can include the following functionalities in your app:
Public chat rooms

One-to-one chats

Group chats

Filters for obscene language and graphics

Spam protection
A third-party chat SDK will cost you somewhere around $2,500. However, creating a custom chat module will be around $12,000.

How Does the Development Platform Impact the
Cost to Develop an Application
?
Till now, you might have got an idea about how the design, features, and complexity level of an application impact the mobile app development cost. Now, let's understand how the app development platform can affect the overall cost.
So, there are primarily two kinds of options that businesses often get in terms of app development platforms – cross-platform and native.
Before making a decision for the choice of platform, three critical factors must be considered in advance:
The market share of a specific platform

Device fragmentation

The platform's pervasiveness among the target audience
Depending on these key factors, you can easily make an informed decision regarding what platform you would like to develop your app for.
Cost of Developing an App
for a Hybrid or Cross-platform Platform
A hybrid or cross-platform app is one capable of running on multiple platforms, specifically speaking, over Android and iOS. This platform is beneficial for businesses targeting both Android and iOS users.
Hybrid applications are comparatively easy to develop than native ones. They are known for smooth operations, inexpensive cost of development, and leveraging platform-specific features. 
The reason for the low app development cost for cross-platform apps is that you don't need two separate resources and tools to build an application. You can pick any of the top-notch cross-platform app development frameworks, such as React Native, Flutter, Swift, etc. to develop a hybrid app with ease.
Cost of Developing an App
for a Native Platform
Unlike cross-platform applications, a native app runs only on a single platform for which the app is developed. It means if you want to develop an app for both platforms you would need two separate teams, frameworks, tools, and other resources. Ultimately, the cost of development will be high.
On average, for an iOS application, the mobile application development cost will range somewhere between $55,000 and $300,000. The app-building cost for an Android application could be the same or a little less than for an iOS app.
What is the
Cost of App Development by Type
of Application?
The type of application you want to develop for your business significantly impacts the app development cost. Given below is a list of some examples of app development costs based on the types of applications and a rough cost breakdown for each of them: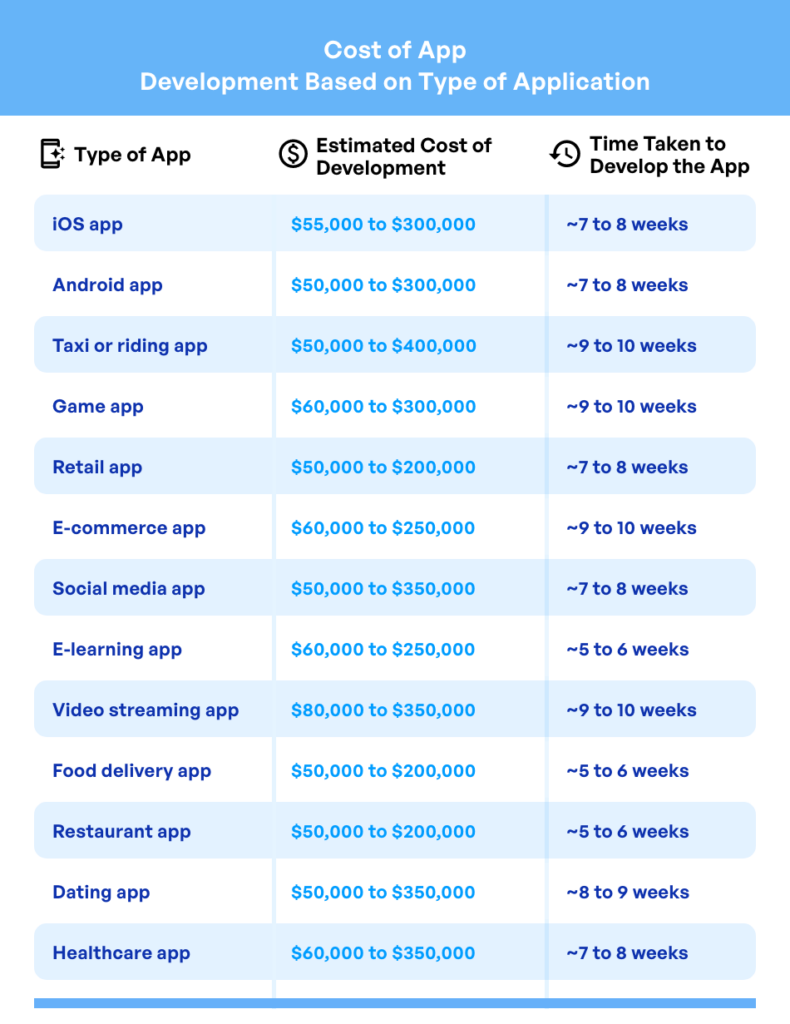 What is the
Cost of App Development by Region
?
Another crucial aspect that influences the cost of app development is the location of the development team. The hourly charges of developers vary in different countries. It's just that the hourly pay of developers has a large variation region-wise.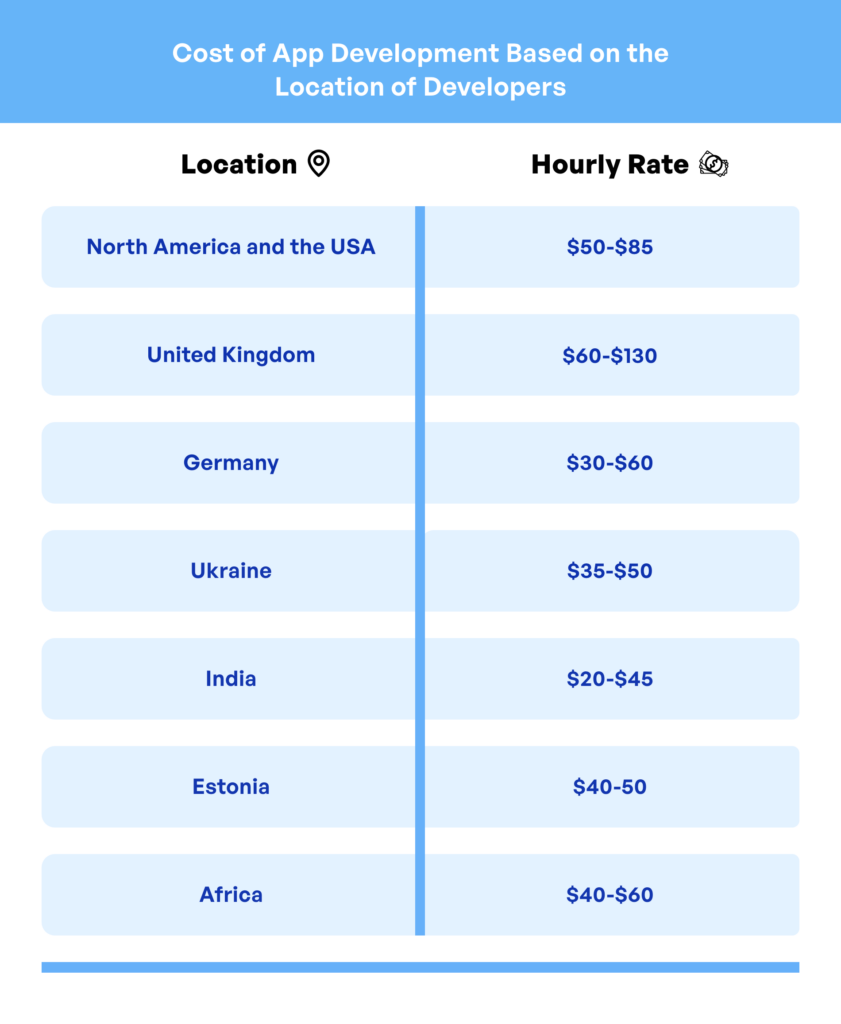 The primary basis on which these development charges differ other than just the location of developers is:
Type of programming languages and tools used by developers

The qualifications and experience of the developers

Specific expectations from the projects and requirements of experts in a particular domain
Some
Hidden App Development Costs
You Must Be Aware Of
When you calculate the overall cost of building an app, you might consider only the primary aspects associated with it. However, some hidden app development costs might skip from your mind but are added to the final invoice. By hidden costs, it does not mean they are charged incorrectly. But they are additional costs that may or may not be directly linked with the development part. A few such kinds of additional expenses are:
Functional Costs
These costs are incurred for third-party integrations needed to improve the functionalities of the app. For example, push notifications, SMS alert integration, payment gateways, geolocation tracking, etc.
Management or Administration Costs
These costs include the fees paid to the admin or project manager to administer the app development process.
Infrastructural Charges
Besides app development and maintenance costs, you need to include the expenses for the app's infrastructure in your budget as well. These costs include charges for content delivery networks (CDN), servers, and data structure integrations such as Redis.
Support Charges
Support and maintenance charges primarily deal with post-development expenses. These additional charges are required for fixing bugs in the app, updating it, and making further improvements for enhanced performance.
What Are the Best Practices for Reducing
Mobile App Development Costs
?
There are certain ways through which you can reduce or at least optimize your app development budget. Some of the best and most effective practices are mentioned below: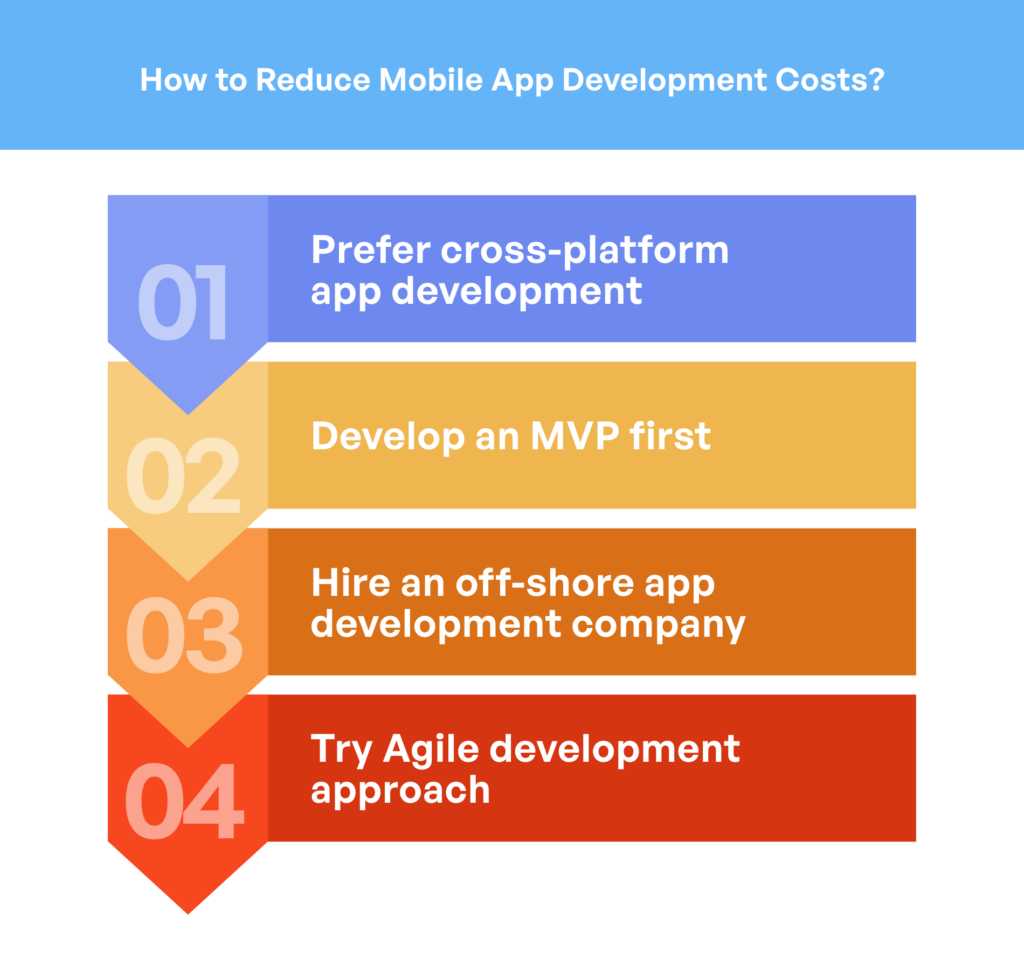 Prefer cross-platform app development
Although choosing the one option from the native vs. cross-platform app development approach is entirely the client's call, the latter is recommended, especially for startups. On average, leveraging the cross-platform approach can save businesses up to 10% to 30% of their overall app development budget.
All you need is to choose the right and trending cross-platform framework that eases your workload to a large extent. Swift, Kotlin, Xamarin, React Native, and Sencha are some of the popular cross-platform app frameworks.
Go for an MVP approach
Beginning with an MVP is a viable method to evaluate your app idea among real users, even at a low cost. The feedback you receive from the target audience can be implemented for improving the performance of your final product.
The best thing is that the cost to develop an MVP is much less than what you will pay for a full-fledged application. Consequently, you can save a lot of additional expenses that can be invested in app marketing and maintenance.
Use offshore app development solutions
Businesses often get three options to pick from for application development – building an in-house team, hiring a professional app development company, or outsourcing the app development project.
All three of these are go-to options; however, it depends on your budget what suits you the best. For startups, to be specific, experts often recommend outsourcing or off-shore app development, since it is comparatively a cheaper and easily approachable method. Although there are factors that impact the cost of off-shore app development too, with a clear understanding of your project, you can easily manage it.
Choose Agile development over the Waterfall approach
Over the years, there have been two prominent methodologies to develop software applications – Agile and Waterfall. Comparatively, between agile vs. waterfall, the former offers more flexibility and faster get-to-market options.
The initial investments in the agile approach could be a little expensive, but the results could be more productive than the waterfall methodology.
How Can Appventurez Help You with Robust App Development?
Determining the app development cost is a complex process, especially when you are new to the industry. So many factors have a different impact on the overall cost to develop an app. Besides this, estimating costs could be mind-boggling when you consider the type and platform of your app. The best option here is to consult a professional mobile app development company that helps you in every stage of app development.
Appventurez has got years of experience in developing mobile applications for businesses across different industries. The app development team of the company is well-versed in all the major technologies and leverages the best development practices to derive optimal results. Besides this, one thing that makes Appventurez different from others is its communication level with the clients. They will walk you through each step of the development process while keeping aspects of high performance and on-time delivery in mind.

FAQs
Q. What is the average cost to develop an app?
Ans. The average cost of developing an application lies somewhere between $5,000 and $500,000. However, it could vary depending on several factors, such as the type of application, features to be incorporated, development platform, developer's location, etc. Calculating and adding these expenses can offer a rough estimate of the overall app development cost.
Q. What are some app development influential factors?
Ans. Some of the major app development influential factors include the purpose and functionalities of an app, supported devices and platforms, UI/UX design, and integration points. Besides this, the usage of specific visual elements and customizations from the client's end can also influence the app-building process and cost.
Q. Does app marketing also impact the overall cost of developing an application?
Ans. App marketing has a significant impact on the cost of application development. Strategies like advertising, cross-promotion, app store optimization, and social networking come under this category. On average, businesses must keep aside at least a $10,000 budget for their app's go-to-market strategy.