If you try to google "MVP development costs" and read a few articles on this topic you'll eventually be even more confused than before doing your little research.
For example, you may stumble upon such fabulous insights as:
MVP cost may start at as low as $500.

Spoiler: impossible.

MVP software costs may be as high as $1.5 million. 

A Prototype is a type of MVP.

Spoiler: it's two absolutely different concepts.
If this will be the case, building a minimum viable product for startups and other businesses is the most utilized and effective idea. MVP app development is becoming popular and a much-needed approach. It is not just productive for small-medium and startup businesses but well-established companies can see a lot of success through it.
So to achieve this objective, it is crucial to know MVP app development company costs at first and manage the overall development process appropriately. In this guide, you will get to know how much it costs to build an MVP app, and what factors you should consider while estimating the cost.
Therefore, in this article, we'll provide you with real insights into how much it costs to build an MVP. Despite it is usually considered a "first version" of the app, MVP pricing is not that different from a usual mobile MVP app cost.
Table Of Contents
However, let's first know about an MVP app and the main reasons for choosing it:
What is an MVP App & Why should you go for it?
The idea of mobile apps shouldn't be brushed aside. Furthermore, they cannot be created more inexpensively or with ease of app maintenance cost. Therefore, developing and launching a Minimum Viable Product (MVP) before moving on to the final product would be a progressive and profitable technique.
This strategy will result in decreased costs and risk for the design, development, and testing of the product. Making an MVP app enables you to test the marketability of your idea and how well it will resonate with your target audience.
By executing a single core function, the MVP app development meets user and market demand. For product development, combining the "viable" and "minimal" guarantees that users will utilize the app to address real-world issues.
An MVP app creation aids in identifying data proving consumers' interest in your product and its market potential.
The main justifications for investing in MVP app development are listed below.
By confirming that your proposal has a good chance of succeeding, you can save resources like time and money.

Ensuring that potential customers will find your goods interesting and helpful.

Identifying the popular app ideas for business that you may use as a resource when creating the finished product.

Establishing a base of potential users and customers to drive early product acceptance.

Estimating the cost and duration of constructing the ultimate mobile application.

Luring in and interacting with investors earlier.
What Is the Cost to Build an MVP App?
The price of creating an MVP cost calculator depends on a number of important aspects.
Many entrepreneurs believe that the price of developing an app depends on the kind of technology being used, however, this is untrue.
Your budget for product development is only one aspect of the whole picture. Both the timely completion of the project and its sound conceptual foundation are essential.
Making intelligent developer selections is essential if the product owner wants to produce a top-notch product.
Let's examine some of your alternatives.
1- Hire Freelancers
It is a quick, affordable, and simple approach to getting a project going.
You can locate developers who can meet your needs on a variety of freelance sites. The websites freelancer.com, upwork.com, and fiverr.com are good places to start.
The primary issue with hiring independent developers is their lack of commitment to the project.
They are free to depart if something goes wrong. Additionally, it implies that you must take on the role of project manager, making you solely responsible for coordination and communication.
It's challenging to deal with this problem. My recommendation is to work with local developers if you still want to use freelancers. You would need to recruit a full-time team for a typical project. Let's think about the pay for independent software developers.
A full-stack developer typically has a monthly salary of $6,000. All stages of the project's development demand the services of this specialist.

An average designer makes $5 000 a month. The project needs this specialist from the outset.

Throughout the entire development phase, you will require a tester. You will pay this professional about $2 500 a month.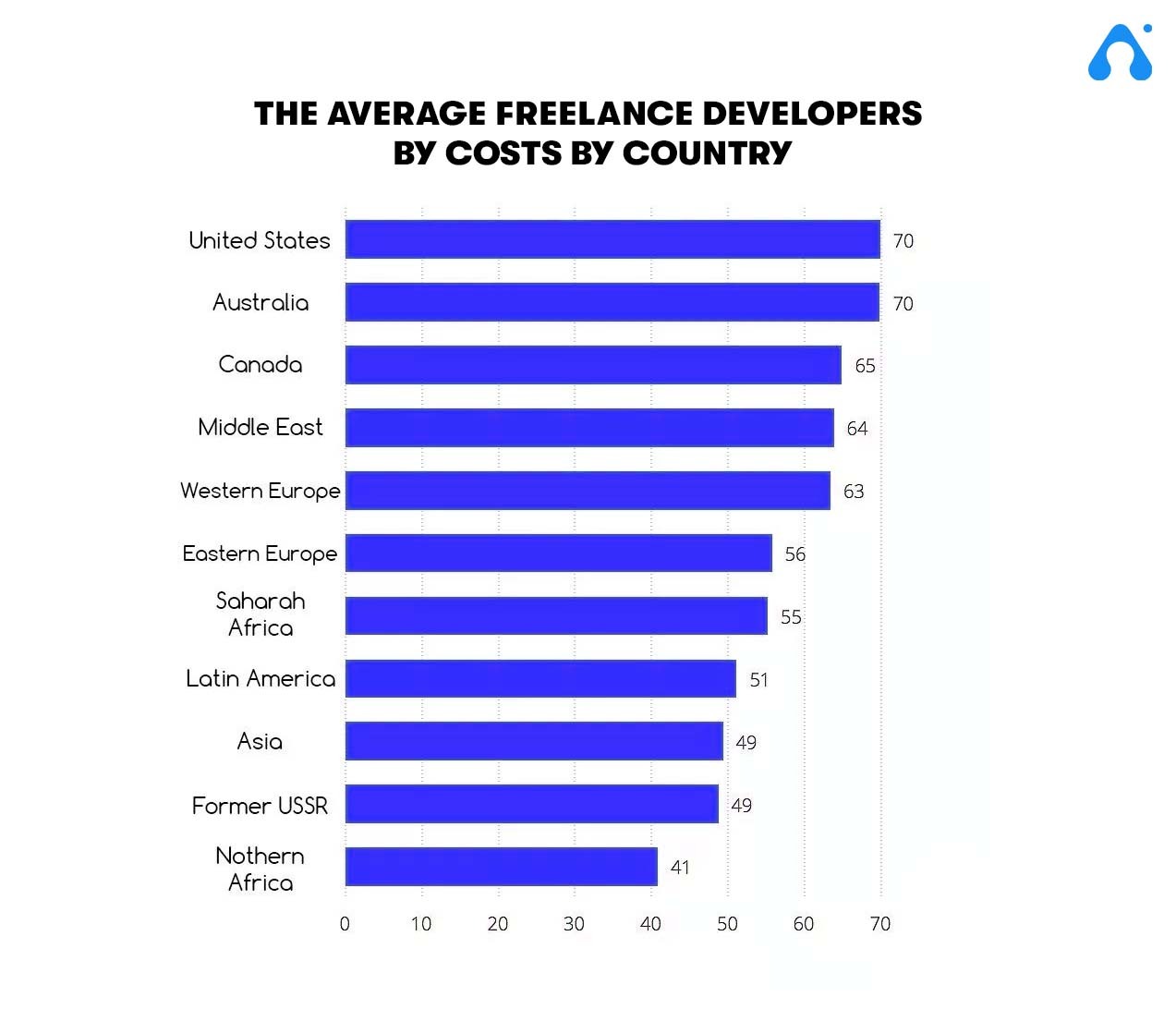 2- Build an In-House Team
Founders occasionally decide to develop their own software in-house. It offers open communication and truthful relationships.
The team can participate completely in the project when it is developed internally. You are still in charge of the quality. However, the success of the application and business is what drives your developers the most.
Additionally, organizing an internal team is much simpler.
The cost of this alternative is by far its biggest drawback. If you have a little starting budget, it can be an issue.
You must cover hiring costs, holiday costs, and a variety of other expenses when hiring full-time developers. Make sure this amount of spending is necessary for your project at the MVP stage.
What would the price be? Take the same group of players.
An average full-stack developer pays $9,200 a month.

A designer's monthly salary is $3,600.

A tester has a monthly cost of $4,100.

A project manager also has a monthly cost of $7,500.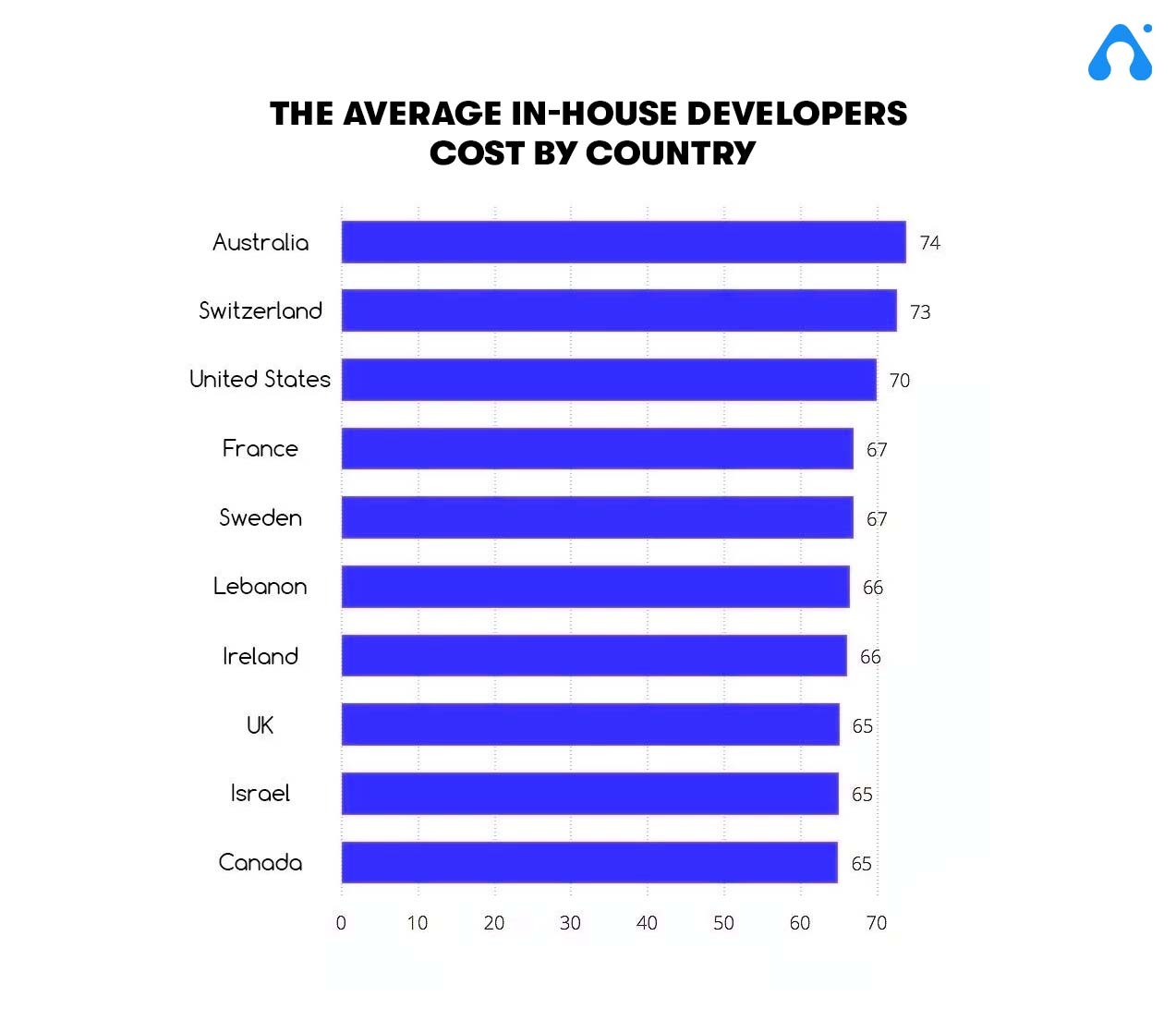 3- Hire a Local Team
The cost of local product development is another consideration. However, the cost covers advanced commercial and technological procedures.
With the amount of involvement and legally established procedures, you would have a specialized development team, a project manager, and a tester.
The website Clutch. co and GoodFirms.com are both useful places to look for a reputable local firm. To assist you in selecting a knowledgeable and trustworthy staff, these websites include ratings and comments from former clients.
The hourly costs for one specialist at the agency range from $100 to $250. This implies that you will pay the same crew at least $400 per hour.
To test your business assumptions, you must decide if you are willing to pay up to $64,000 every month. If you answered "yes," then this.
4- Outsource MVP Development
Many MVP products for startups favor outsourcing as a strategy. It is comparable to using a local agency, but costs twice as little.
When outsourcing product development, there are two key obstacles to overcome:
building trust,

and involving the team.
Both of these problems can be readily resolved, though. Before hiring any possible agency, make sure you have done enough research on them. You can do this by looking at recent case studies, corporate websites, and review sites.
How much does it cost to construct an MVP using an outsourcing company?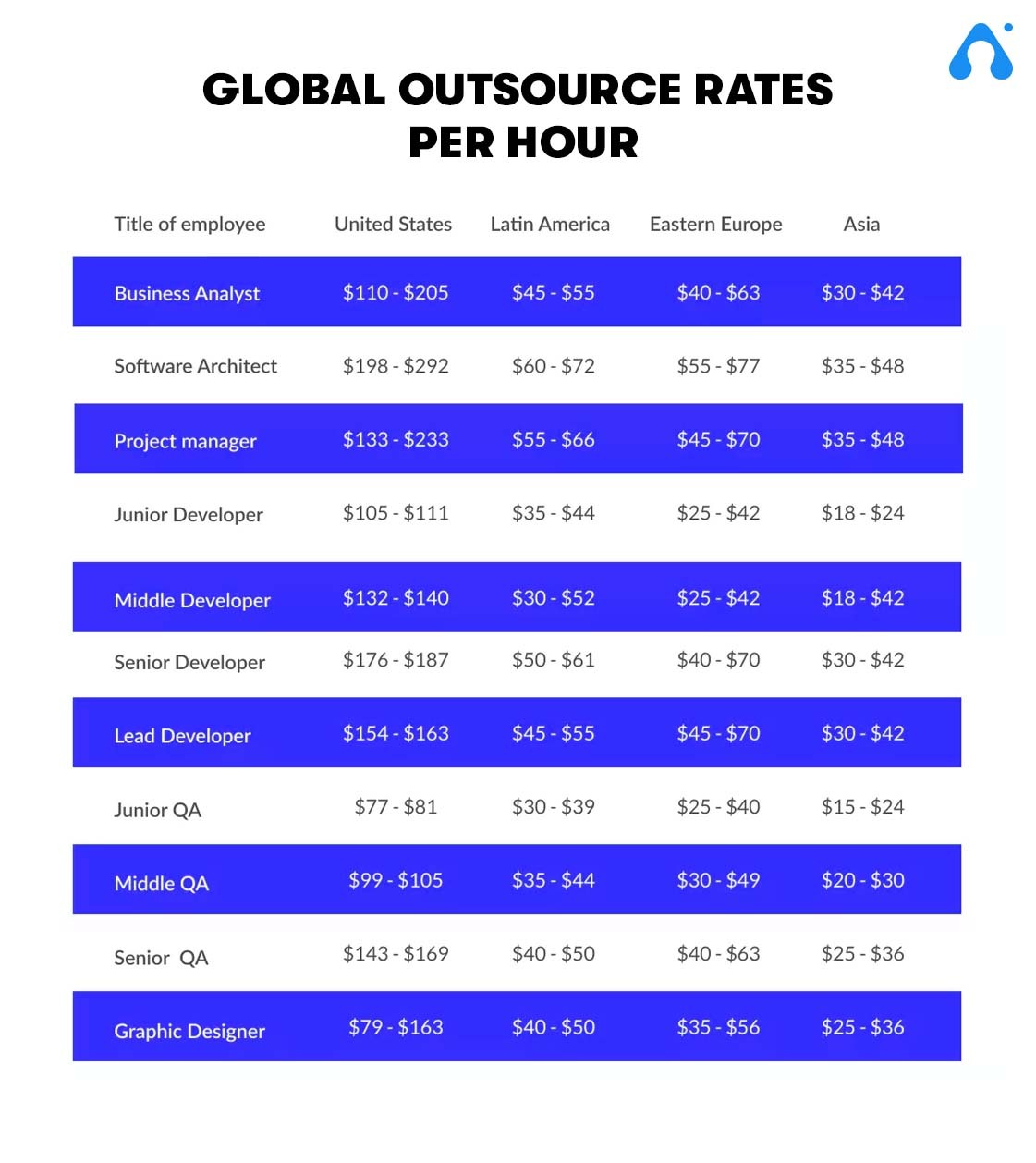 Consider Ukrainian outsourcers app development as an illustration. They charge $30 an hour on average. A four-person team will therefore be charged $120 per hour. That implies that the cost to develop an MVP may reach $19,000 per month.

Factors to include in MVP App Development Cost
1- Determine an Initial Budget
There are several ways to create an MVP app cost for your startup, including hiring consultants, handling the development on your own, or working with a mobile app development firm. In any event, each option involves a time and financial investment.
The budget for hiring a development firm with an experienced team can be anything from $5,000 and $50,000. The price may change depending on your needs and budget.
2- Approaching User's Point of View
Understanding the customers properly is one of the essential principles of every business. Therefore, it is important to combine the development of MVP apps and customer experiences in a methodical way to produce the precise product you need for implementation in the real world.
By testing your product, you can avoid thinking about what your people need and how well it meets consumer demand. Choosing customer segments wisely enables tailoring the advertising mix to more engaged user wants.
3- Costs for MVP Design
The complexity of the structure affects the design expenses. The requirements for the User Interface (UI) are the best way to estimate the MVP app's design cost. Remember that there is a different expense for the underlying structure.
The design must be simple and adaptable to access in order to maintain user engagement and ensure the best User Experience (UX).
1- Preparing UX Design
Making plans entails playing a crucial role in deciding how much it will cost to create a mobile application. Engage the MVP app development teams and work to clarify the requirements if you need to save time and money.
When the plans are finalized, you can begin creating the wireframe and mockups to ensure that everything is on target.
2- Wireframing
The wireframe can be considered the skeleton of your MVP app. Designers might even draw this outline on paper to determine the screens and navigations. There are various wireframing and mobile app prototyping tools for UX designs that can be utilized. 
3- Mockup
A mockup is a significant part of the design and present undertakings dependent on ideas to the customers for a superior experience. Whenever introduced well, a decent mockup can enable you to succeed in the MVP app development process.
4- Interaction within the pages
Along with the mockups, there should be proper alignments within the pages for better user interaction. From navigation to link access, every aspect is considered during this page optimization.
4- Features to be included
The following factor in determining the cost of MVP app development is the need to organize and list the number of significant features. Here are the features which should be integrated into the MVP app development process: 
1- Login/Signup Page
This is one of the must-have features to be included in MVP app development cost. Users will be able to create accounts and sign in anytime for managing their profiles.
2- Notification Center
Email, SMS, or mobile pop-up messages with updates will assist users with the latest alerts and more information. This feature integration will add up to the MVP how much does app development cost as it will be combined with SMS, emails, and other notification systems.
3- Location services
GPS and location-based services are applied to assist users with tracking their present movement course. This feature guarantees the dynamic working of the MVP app while estimating the exact location.
4- Priority task management
The feature helps to upgrade the process management system and prioritize the tasks that are essentially required to be executed. Adding the feature in MVP app development will help users to cope with their scheduled work.
5- Profile management
Users will require a framework to sort out and search the tasks utilizing labels and channels. Priority labels will assist them with handling critical and imperative assignments without dividing their concentration into minor tasks.
5- Choosing the Technology Stack
Recognize and choose the right technology stack for your mobile app. Regardless of whether you are a geek or a beginner, you can generally request proposals, and see what your improvement group recommends. 
While building the minimum viable product you can consider a couple of custom-made arrangements that can be handily organized.
Ruby on Rails development for your backend on the grounds that it's 30–40% quicker to create with Ruby on Rails contrasted with comparative innovations. 
6- Time Required to build an MVP app
On average, the time for MVP app development takes between 12 to 15 days, including the estimation of the stakeholder map, persona, MVP backlog, and user journey integration. And the generic cost is estimated at around $15-$20 for every hour.
For instance, an organization labors for 2 months with 8 developers at a cost of $20/hour, and another organization labors for 4 months with 4 designers at a cost of $20/hour. That's where you can play smartly and keep the cost of MVP app development controlled as long as your team is working qualitatively.
Timeline for MVP Development
MVP development costs are inversely correlated with a budget. Additionally, the budget directly correlates to the number of features to be developed. However, you must keep in mind that time is not on your side.
There are a lot of factors that define the complexity of an application:
the platform – web, mobile, or hybrid app, 

the number of app roles,

the number and complexity of features,

iOS-based or Android-based development and so on.
Therefore, the specificity of the project's requirements and milestones aids in the quick validation of concepts. Because the more quickly you can adjust to changes, the more likely it is that you will succeed and outperform your rivals.
MVP development typically takes 1-2 months. The entire development cycle—from business analysis through product maintenance—is covered.
The entire product of MVP development process takes six to twelve months.
The interval between updates should be as little as feasible. Iterations for developers often last 1-2 weeks. That gives ample time to update and test out the new features in order to successfully launch an MVP.
Examples of Popular Start-ups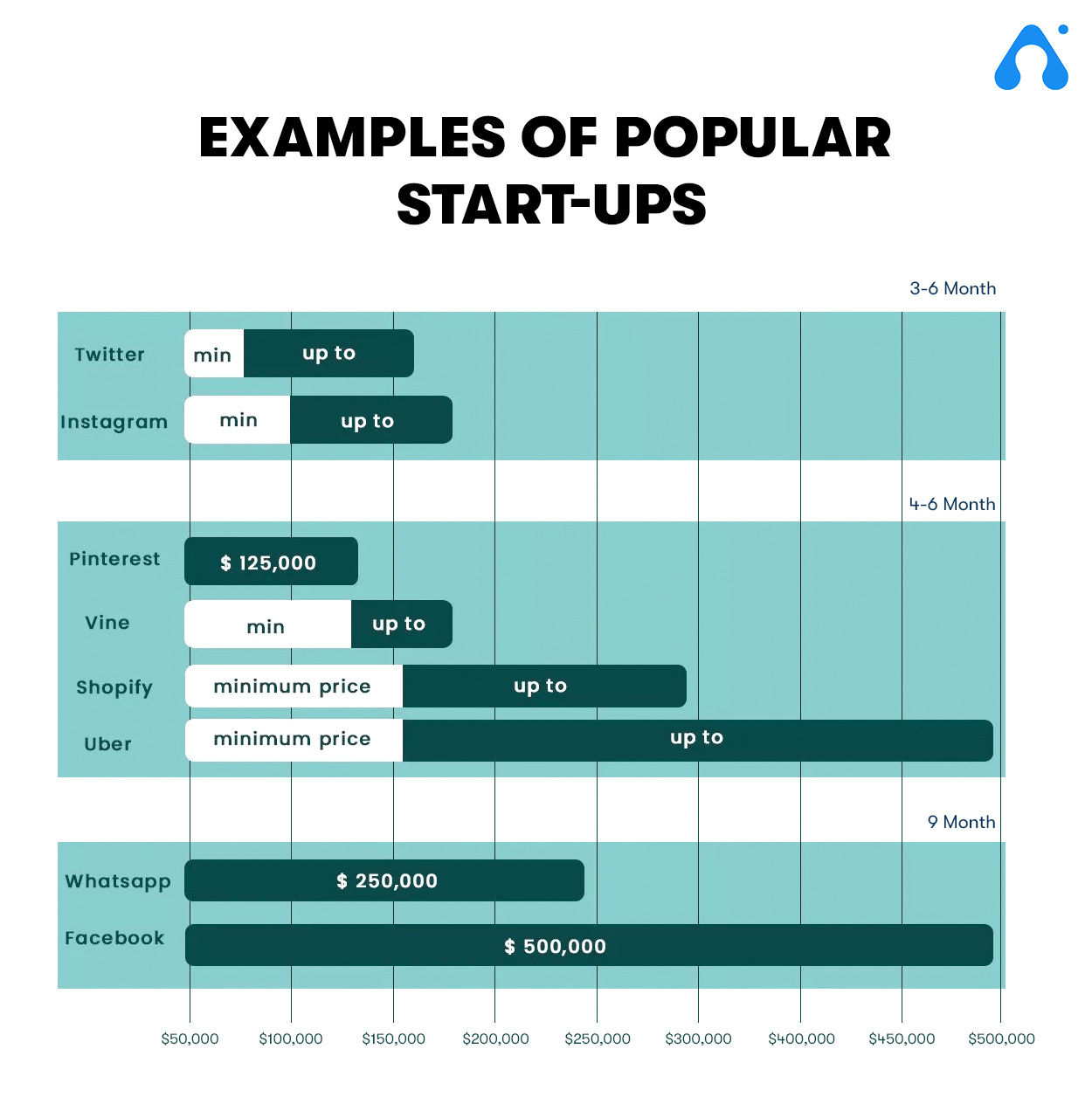 How Appventurez Can Help You?
When it comes to making your idea successful and effective for your businesses, Appventurez mobile app development services make no mistake in delivering the right solution for your success. MVP app development is a crucial process, which we initiate, implement, and execute with the perfect platforms and technologies. Our approach consistently focuses on the quality, innovation, and success of your venture.

FAQs
1- How do you build MVP without coding?
Gaining an understanding of the issue and the solution is the first step in the no-code MVP creation process. Utilizing a product/market fit method will help you understand your target market, value proposition, feature set, unmet needs, and user experience.
2- How much does MVP app development cost?
A freelancer will estimate the price to be between $5,000 and $15,000. A seasoned CTO will advise you that the price should fall between $50,000 and $150,000.
3- What costs are involved in making an app?
Developer licenses are required, and they are available from Apple and Google Play for $99 and $25, respectively. What does it cost to create an app alone? You are free to understand the procedure and create your app for free if you want to avoid paying a professional app developer.
---
---