The real sense of user experience and customer experience is often misinterpreted in the present-day domains of digital mobility. With no confusion, both UX & CX are too similar but slightly contrastive from the perspective of business as far as online experiences are taken into consideration.
Temkin Group's survey highlights that a company generating an annual turnover of around $1 billion can generate revenues of an additional $700 million within 3 years of investment in customer experience.
Whereas, it's also worth noticing that a big eCommerce brand made tremendous success with a record growth of $300 million revenues with a mere change of button on the site resulting in enhanced user experience.
It seems like such organizations may have taken serious lessons on how to improve customer experience along with UX. 
Table of Contents
–Overview of User Experience & Customer Experience
–Importance of User experience with respect to Customer experience
–Why is UX important for your business?
–Why is CX important for your business?
–What's differentiable & relatable b/w UX & CX?
–Get a blend of immersive UX for great CX & business success with Appventurez
–FAQs
Both customer experience & user experience play a crucial role in driving the overall success of leading entrepreneurs who got filthy rich through an app or a website.
While most people confuse the meaning of UX & CX, there is a fine line of difference b/w customer experience & user experience that every entrepreneur must find out.
With strategies to establish your brand awareness & customers' loyalty toward it, business owners must not overlook the importance of how to improve customer experience and user experience.
Well, this article is all about how the amalgamation of UX & CX can benefit businesses to spearhead with their popular app ideas for business model.
Overview of User Experience & Customer Experience
The definitions of user experience and customer experience may vary in every industry but yes, both of them remain a priority for startups adapting top mobile app development technologies to reach out to their customers.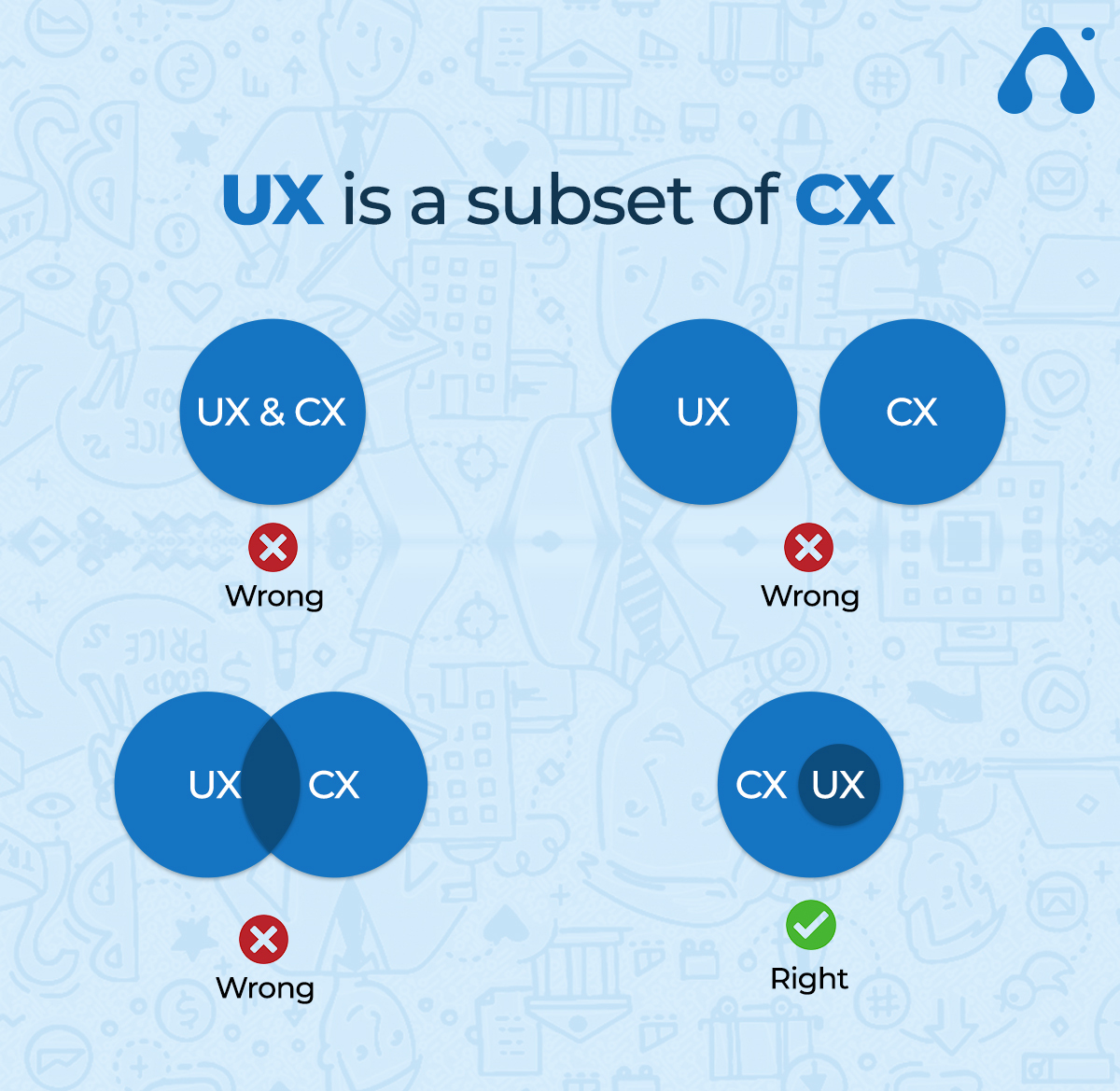 So, What is User Experience (UX)?
In simple terms, user experience is determined to be the way the end-user interacts with the company, services, & the facilities offered.
In other words, user experience (UX) is focused on how a user connects with a brand, product, website, a mobile app and its agenda reflects the experience they achieve from that interaction.
If the user experience is impactful then your customers are more likely to engage with your company that will further encourage them to stick with your brand. Having a good UX means high possibilities of attaining positive perceptions from your customers.
Besides using the best UX tools for mobile apps & websites, user experience design must prioritize usability, navigation, visual hierarchy, design flow, information architecture, etc.
Good digital user experience design guides customers to:
Explore & search for the desired information more efficiently & easily.
 Browse & find webpages effortlessly in no time.  
 Make a quick selection of products or services confidently.
And What is Customer Experience (CX)?
According to Forrester, the true meaning of customer experience is how customers are reacting or perceiving their interaction with your product or service.
Somewhere & somehow, CX remains an important aspect to determine the secret ways to increase app user engagement. In general terms, customer experience outlines as usual experience a customer receives with a company.
CX basically emphasizes all sorts of customer interaction with a particular brand. If you take inspiration from the top 5 billionaires & their success stories, the importance of how to improve customer experience comes at the forefront to benefit every small business & growing organization with ultimate adequacy.
Alongside encouraging customer satisfaction, customer experience design is determined to strengthen customer loyalty & overall experience driven by mobile app usability & performance.
A perfect customer experience ensures continual user engagement, usage, & conversions with capabilities to:
Impart eye-striking, professional, & immersive interaction with people working within an organization.
To disperse optimistic feelings of positive experience shared by a company & other areas of operations associated with it.
Upon getting a brief overview of what is CX and UX, you may still face a dilemma in sorting the differences b/w the two. However, one thing is crystal clear that customer experience design concentrates on the end-users and user experience design solely focuses on the end-user.
Importance Of User Experience With Respect To Customer Experience
CX & UX go hand in hand & both are featured among top tech upgrades for businesses to prosper in 2021.
Why Is CX Important For Your Business?
#1 Maximum customer satisfaction
As per McKinsey survey report, businesses focused on escalating customer satisfaction, with regard to the routes of the customer journey, hold the potential to raise customer satisfaction by 20%.
However, the company should make sure that it offers consistent & sophisticated CX design throughout the key touchpoints focused on how to improve customer experience. This will be a great attempt to deliver an uninterrupted yet wonderful experience through all aspects of the customer journey.
#2 Improves customer retention
A mind-blowing customer experience design is more than a blessing for the customer as well as a brand they're being connected to. Moreover, it is a key point of differentiation for a company intending to win over its competitors.
This further shapes up solid customer loyalty.
A good customer experience design for users ensures that an individual or a company will have a long-lasting partnership with a brand that ensures positive word of mouth among potential customers.
#3 Great for competitive advantage
Having sound knowledge of how to improve customer experience is proven to be a big competitive advantage for businesses with mobile apps.
The two key perks for the company working on their customer experience are said to be reduced prices and the foundation of incredible CX with a precise analysis of improvement in mobile app performance metrics.
#4 Reduces customer churn
Price cannot be the sole reason for high customer churn. The reality is the low quality of customer service that increases the chances of customer churn.
A survey by CEI says that 86% of buyers will be more interested to pay for a service or product that matches the parameters of how to improve customer experience.
#4 Enhances sales profits
It is an undeniable fact that every customer is most likely to spend more on the company or services that offer a high-quality customer experience. This eventually upscales a company's sales & revenue to the next level that proves the value of understanding how to improve customer experience for a business.
Why Is UX Important For Your Business?
#1 High ROI & Revenues
The key objective of every business is greatly centered on strategies to earn money through apps & websites. It's arguable to say that the success of any business resides with profitability.
And it is only possible with the right investment in a well-thought-out user experience that can serve you a significant advantage of a high return on investment (ROI).
Just look at the following vivid example of UX.
Even a minor change in the user experience will greatly emphasize & demonstrate why UX matters for your business.
If we recall a real-world scenario, it sounds unbelievable how an e-retail company generated $300 million within the first year of recreating their UI/UX designs with fruitful investment in on-demand app development that resulted in a constant drop in shopping carts abandonment & an increase in sales by 45%.
#2 Strong Brand Reputation
Since it's impossible to neglect great UX, make sure that your interfaces are truly flawless & awe-so-perfect.
One popular research shows that buyers tend to share their negative experiences with their friends rather than a positive ones. So poor UX could be a big disappointment for both existing & new customers and absolutely a major setback for a business that needs to understand how to make an app global in the shortest time frame.
If you desire to solidify your brand reputation then take inspiration from the websites of well-known companies like Google & Amazon that are exceptionally engaging & user-friendly for all ages.
When a good user experience design is maintained with customer experience metrics, every business website or mobile app establishes credible brand visibility among its target client base.
This will not only attract users but also create a sensational buzz regarding your company, brand, services, & everything about your organization.
#3 Builds Customer Loyalty
As per a report by HelpScout, there are 70% more chances of selling goods or services to existing customers than potential customers as only 20% of them will choose to go ahead with a brand.
Having loyal customers is 10 times more valuable than their first purchase. Presenting great user experiences is a key to achieving customer loyalty with great satisfaction. A positive UX is a plus point to captivate users with strong emotions to get back to you again & again.
Hence, UX must not be compromised if you want to build loyal customers through top apps that generate revenues for businesses.
 #4 Boost User Engagement
A slow-loading website or mobile app may lose users' attention within a matter of 9 seconds. The site's performance matters a lot to keep up a mesmerizing user experience in the minds of users. Therefore, you must learn how to increase speed of a website & mobile app to stay ahead in the race. 
Businesses must know how to speed up the loading speed of an app & the overall response rate of their website or application to mitigate the risk of losing their potential customer once for all. 
Online customers are too impatient. Hence, it's forever important to keep a simple & minimalistic website design for a seamless & immersive user experience.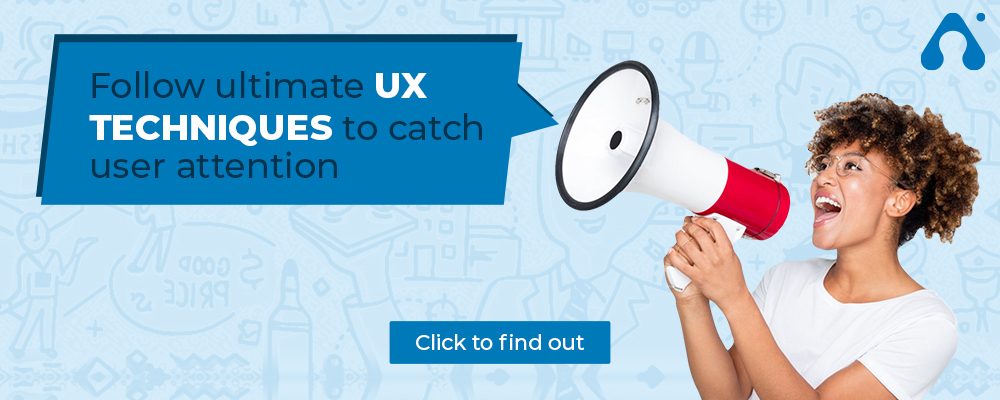 What's Differentiable & Relatable b/w UX & CX?
To get more clarity over the topic, it's imperative for every business owner to understand how UX & CX  strategies are relatable & still differentiable.
While user experience is all about end-users or an individual using a particular product or service, customer experience is more about those who either make a purchase for personal usage or for someone else.
Now let's highlight some key differences b/w customer experience vs user experience to dissolve further confusion:
CX involves customer's interactions with every facet of a brand (app, website, or software) while UX is limited to product entities only.
Most UXers usually belong to diverse backgrounds & interests while the majority of businesses who're interested to know how to improve CX are from a marketing segment.
 UXers are more interested in the usability of a product or service while CXers are more determined to generate revenues through advertising along with high brand value & customer service.
CX is focused on the overall experience in various areas of the brand while UX is restricted to a specific app or a website.
CX is commonly termed for service-based business sectors such as retail or hospitality whereas UX is mostly used for industries related to digital products or software.

Now dig into some peculiar similarities between CX & UX so that businesses can use customer experience & user experience harmonically as one of the best tricks for entrepreneurs to successfully pivot their startups. 
Both CX & UX greatly emphasize research & individual preferences to deliver the ultimate experience for better ROI.
CX & UX intersect together to keep a match with IoT & AI-powered systems as leveraged by Amazon for customer experience and also embrace omnichannel support for a seamless experience across a company's website, app, or digital product.
Get A Blend Of Immersive UX For Great CX & Business Success With Appventurez
Taking the key pointers of differences & similarities b/w UX and CX, it's unarguable to accept the fact that both customer experience & user experience will get closer together in the constantly evolving tech-driven world.
Well, every entrepreneur like you must harmonize the CX & UX integration to grow their business exponentially. In the end, profits matter more than everything in the competitive marketplace, which can be achieved with an amazing blend of customer experience and user experience. Don't take stress, hire experts at Appventurez to build a successful UX & CX strategy for your big project. Get in touch now!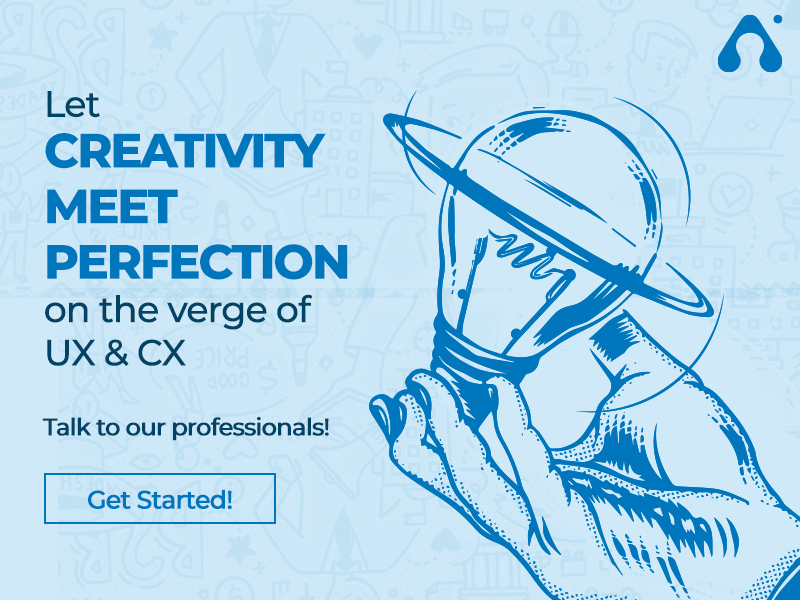 FAQs
Q.1- What are the key elements of a successful UX & CX strategy?
A well-defined UX strategy implements profit-driven ideas & approaches alongside keeping the value of the entire CX strategy. The three major pillars of shaping a robust UX & CX strategy go around conversational user interface designs, implementation of relevant interaction design principles, and quality product design solutions.
Q.2- What are the best CX tools to use for enhanced customer experience?

Here is a list of popular customer experience tools preferred by the majority of businesses these days:
HubSpot Service Software
Satmetrix
Tealeaf
 Khoros
 Walkme
 Podium
Whatfix
Q.3- How do businesses measure the quality of customer experience on their apps and sites?

The right approach to measure CX for your business involves the below-mentioned factors:
Conducting a survey to analyze customer satisfaction. 
Identify the loopholes in business-to-customer interactions that cause customer churn
Encouraging customers to share their opinions, feedback, & online experiences on a forum
Follow up with customer requests & review each of them to ensure a satisfying & seamless customer experience. 
---
---