One of the biggest fears of an app entrepreneur who has launched their app in the market after it took its own sweet development time and a tagged cost is users not engaging with it. And the app goes straight to the graveyards which are crowded by apps which users refused to interact with after a few openings.
This fear is more of a horror reality than a horror fiction story for millions of app entrepreneurs who enter the industry with one dream but leaves it with something grimmer in return – A complete waste of money and the time that went into knowing how much does app development costs.
In this article, we are going to give you some time-tested ways to promote an increased mobile app engagement rate. By using core mobile app performance metrics this post will help you find ways on how to increase app user engagement. An event that has become one of the top problems of an app marketer.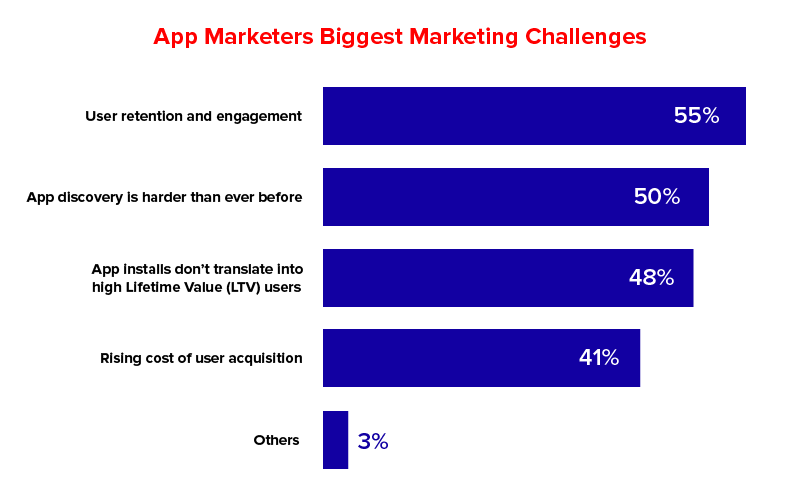 Now before we move to the stage where we look into the ways you can keep your app user engagement levels in check, let us first try to understand the reasoning behind lowering mobile app engagement rates.
Why Are Users Not Engaging With Your Application
The biggest reason why users don't engage with an application even when the precise mobile app promotion strategies are followed is not that they don't find it useful, as commonly believed, the biggest reason why people don't interact with an application is that they forget using it.
But people don't forget their favorite apps, no? So what makes other apps so easily forgettable?
Let us try to find answers as to why people stop engaging with an app and uninstall it sooner than later. Though, the issues that you are going to read here are some that are outside the control of an app entrepreneur. In short, you can only do so much under the umbrella of mobile app development strategies.
A. Apps Don't Come in Frequent Use
One of the biggest reasons why users stop engaging with your application is that the application no more come in their frequent use or they have found an alternative to those applications, which offer something of greater value.
One thing that app entrepreneurs can do in this case is relooking at their offerings and give something more than what is seasonal. This will also make mobile app onboarding easier and more users will come for experiencing quality features.


B. Storage Space Runs Out
The next issue that almost everyone faces in one point of their life or another – the storage space running out. When the clock starts ticking on the device's storage space, the axe gets fallen on the least used or value offering application.
What businesses can do in this case is cut down the app size and optimize the offering in the best way possible so as to help users save some major device space
C. Excessive Ads
The next big reason behind users first ignoring and then uninstalling your application altogether is the amount of advertisement that you show.
But what is the way out? After all, in-app advertisements are one of the most trusted modes of earning revenue.
Well, the solution is to make people see advertisements in return for something – a level jump, coins, free viewing of paid content, etc.
D. Excessive Notifications
Let's be clear straight on. There is no solution to this problem than to simply alter your notification scheme to the T. Notifications in itself is a very tricky game, done less it can make you miss out on making the most of your users' presence on the app and done more it can push them away.
Know how push notification value increases with intensity.
The only solution is to plan it properly – both when the users are inside the app and out. As a general rule of thumb, when users are not inside the app, send then notification only twice a day and when they are in the application, give them timed pop-ups i.e. find events when they are immersed enough but still okay being disturbed.
E. Confusion in Understanding Value
This happens when the users install your app in anticipation of one value but get something entirely different in return. As seen normally in the case of unity app development for games, this can be a big turn-off for the users. 
The solution around it is precautionary – telling users exactly what to expect in the app description page itself.
F. Technical Issue
Technical glitches and issues are something that might occur if you forget mobile application development mistakes to avoid. But what is a lot more obvious about their occurrence is the fact that users rarely take them lightly and on multiple repeat instances, they will uninstall your application. 
The only way out around it is to make sure your application is glitch and bug-free.
So, these are the reasons why users don't think twice or maybe thrice before disengaging with your application and eventually uninstalling it. The reasons that are behind the growing average mobile app retention rate in the mobility industry.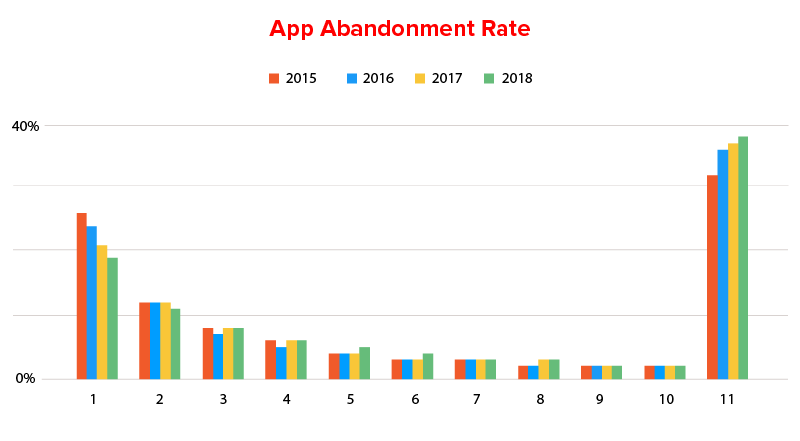 And now that we have looked into what those reasons are, let us shift our attention to finding an answer to how to increase app user engagement.
How to Increase the User Engagement Rates In your Mobile App
With app user retention becoming a global issue, app retention methods are seeing a rise in number across the globe. Businesses are following professional tips to increase the mobile app response rate to improve engagement. It is something that has made it necessary to look at such mobile app retention strategies that have been time-tested to work exactly as expected.
Having relied on a majority of them for over 50+ apps finding it difficult to engage app users, we can say with utmost guarantee that you can use the following strategies to re-engage users with an app.
Let us start with looking into modes that should be a part of your app engagement strategy
1. Offer Great Quality From Day One
The foremost way to ensure that your user engagement rates are not just intact but also increasing goes through your partnered team of iOS or Android app developers. The more surety you have in the fact that the application is developed perfectly, the more confident your users would be in investing their time inside the application.
You will have to offer great quality from day one and not wait for your users' feedback to tell you what is needed in the app still. You will 100% have to be on your A-game when it comes to your app quality.
2. Show Your App's Real Value in the App Store Listing Itself
As we saw in the reasons why users are not engaging with your app section, one of the reasons behind this abandoning app user behavior is them finding a difference in what they expected and what they got. One way to solve this is by showing the worth of your application in the app store listing itself and letting people know what they would be getting into when they install your application.
So, in addition to highlighting your app's main features and pretty designs in the store listing, add this one factor as well.
3. Easy On-Boarding
Keeping the app's onboarding stage easy flowing and quick can be one of the main ways you can retain app users.
In fact, at this stage, you should make use of a social media API using which they would be able to enter the app in one click. Make sure you are following mobile app onboarding best practices to keep your business fluent.
Once they enter the app, create provision for a free-flowing app onboarding explainers, which would help users know where to go next and what to do next.
4. A Planned Notification Mechanism
Frequent pop-ups and off screen notifications are something that ticks the users off beyond measures. It is very important for you to time the notification appearance right. Wait for the user to reach a certain point in the application before you give them the notification to take the next step. Also, if yours is an app that runs on reminders, try to keep the number to only two or maximum three times a day.
The one approach that the users love and appreciate is the functionality of opting out of the notifications. When you give them this freedom, they feel less annoyed and more in power of their app experience.
5. Personalize Their Experience
The one factor that differentiates a well-performing application from a non-performing one is that the former understands the importance of recognition. They understand that humans love being recognized, so something as simple as taking their name can do wonders to improve in-app engagement graphs.
So no matter what your mobile app marketing gimmick is, add their name in every message that reaches them.
Follow our detailed guide to mobile app localization.
6. Give Incentives
Mobile app users, at a time when they have the option to choose from the fifties of similar service offering applications, need something in return of their loyalty.
While top apps have this sorted because of their established value, it doesn't come as easy for new applications that have newly made appearance in the mobility domain. So, if you are serious about your mobile app user retention plan, ensure that you are giving something to your users to keep coming to your app and choosing it out of several others.
The incentive can be anything – gaming coins, free timed access to a paid feature, free rides, discounts, etc. This feature also integrated into mobile app monetization models by the companies.


7. Keep the Communication Line Open
Give your users the way to keep the line of communication open. Make it as easy for them to contact you as easily you send them emails when necessary.
Now, it doesn't take effort to give them a mode to contact, what takes effort is to be available when they contact you. So, be there.
8. Keep Upgrading the App UI
The one dire mistake that you can ever make is getting fixated on one app design and not upgrading it ever. What is of utmost importance is that you keep upgrading the UI-UX design to know what is working in your app and what isn't. 
The one efficient process that you should make a part of the process when answering how to increase app user engagement is to keep AB testing what works and what doesn't.
To know more, read our mobile app testing guide.
9. Skip Tutorial
The next less thought of ways to engage app users is giving them the functionality to skip tutorial. Although seemingly easy, this is something that a number of app entrepreneurs miss out.
By skipping the tutorial, you give users the freedom to act on the app at their own pace.
10. Increase App Speed
Next in line in increasing the app user engagement metrics are increasing the app speed exponentially. You will have to ensure that the app speed is such that your users will not even have to wait a single extra minute before experiencing your app's value.
When you give the power of speed to your users you leave them with a feeling of pure satisfaction, specially in terms of the fact that their time is being valued.
Now that you know the ways to increase the app's user engagement rate, it is time to rework on your application accordingly. Let us help you. Get in touch with our team of mobile app developers, today.
How Appventurez Ensures Maximum User Engagement On Your App?
Mobile app user engagement is one of the metrics that decides the success of any application. Appventurez takes care of every crucial aspect that can enhance the performance of mobile apps through latest features. Our team of app developers is meant to integrate necessary elements for impressive outcomes. We craft user experience by originating opportunities of experiencing tremendous interfaces.