Due to the rapid digitalization, it's imperative to keep track of top tech upgrades for businesses. Businesses are looking to shift towards digital solutions. The reason for this is to keep pace with the competition and to embrace technology to have exponential growth.

Having a digital transformation of the business is the need of the hour. Therefore, knowing about the tech upgrades for businesses will be quite helpful and beneficial for business growth.

Let's now understand more about the technologies and their working that are digitally transforming businesses.

Table of Content:

Why is it Important to Upgrade our Technology!
Some Amazing Modern Tools for the High Tech Office!
What Signs Lead to Top Tech Upgrades for Businesses?
Transform your Home Office for Greater Productivity!
A Quick Look at some Challenges in Tech Upgrades!
How Appventurez can Help in Tech Upgrade Development for Your Business?
Why is it Important to Upgrade our Technology!
In the age of the internet, it has become a necessity for a business to go the digital way. High competition among businesses has led them in adopting technologies to expand. This is due to many factors which will be discussed right below to give you a clear picture.
#1 – Efficacy Rate is High
Due to devices connected to the internet, tracking and doing work becomes comparatively easier than the traditional SOP. This ensures that more amount of work can be done in a lesser time thereby increasing the efficacy rate.

Having technologies like mobile monitoring and project management applications is a boon for a company.

#2 – Cost-Savings
Due to digital transformation, you can have various apps and a dedicated website for saving additional costs. You can promote your business by having an online presence as it offers you more views than traditional marketing.

This is due to the fact that the number of internet users is increasing day by day. This results in cost-savings of your marketing expenditures.
#3 – Customer-Friendly Experience
Having a website allows you to interact with potential customers. A website can have an in-built chat option where you can talk to your customers. In addition to that, a customer can also use your apps to check out more products and services that you've to offer.

In a nutshell, digital transformation leaves the customer satisfied.
#4 – Flexibility
Digitalization of your business also gives the employees to be flexible. They have the option to work from home as they can send in their reports to their seniors. During COVID, it's seen that companies that are digitally transformed have not suffered much loss due to work from home option. These reasons show why you should add technology and software to your business arsenal.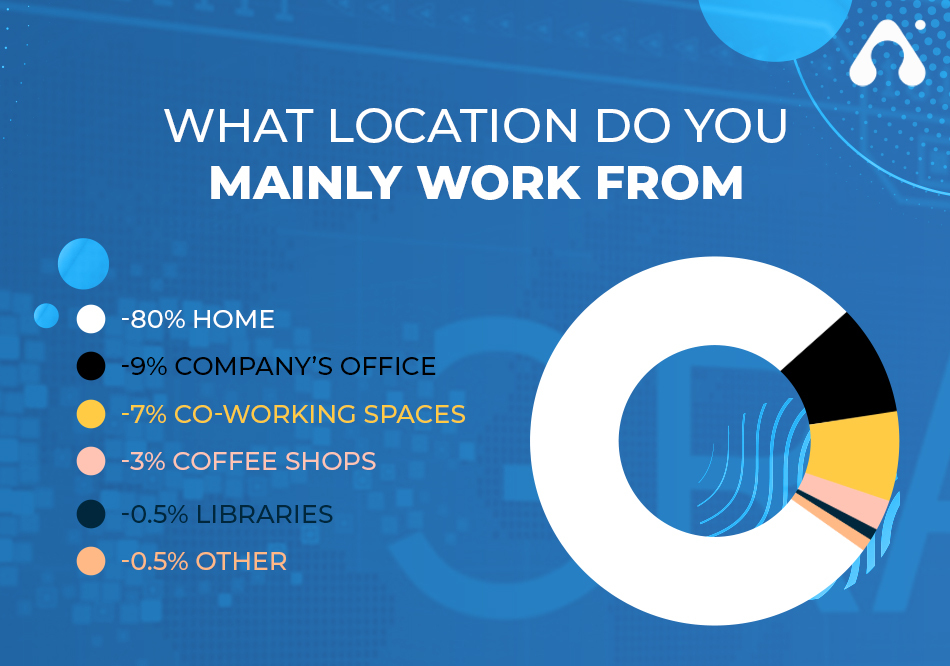 #1 – Office Automation
Having a modern office requires you to have a task manager. Instead of an old-school traditional task manager, you can opt for office automation. The best example of office automation is Amazon's voice assistant, Alexa. Google Assistant VS. Alexa has become the hottest debate topic among people.

Having a voice assistant will save you the trouble of allocating resources to the manpower. Instead, you can just give a command to the device to get the task done or managed.
#2 – Personalized Lighting
If you're looking for digital transformation technologies for your office, then personalized lighting can't be overlooked. Proper lighting ensures that productivity is maximized. There are places in the office where there might be not much light provided by the common lighting. Therefore, to overcome such a situation, a modern office must have smart bulbs at each desk.

Having a smart bulb at every desk allows the worker to adjust the brightness of the light accordingly.
#3 – Visitor Management System (VMS)
To enhance the interaction between a visitor and a receptionist and to make it more modern a VMS is needed. It makes sure that the visitor sign in using a device, attached to the reception desk, instead of on a register. The visitor feeds information to the device and sends a notification to the host. On receiving the notification, the host knows who to expect.
#4 – Treadmill Desks
Looking for a modern solution for traditional desks that makes you tired? In that case, treadmill desks are the answer. To make the employees feel comfortable, you can have treadmill desks at your office. Due to the sedimentary lifestyle of employees, they're at risk of having diseases. Therefore, a treadmill desk will ensure that they walk and stay healthy by not compromising on their work.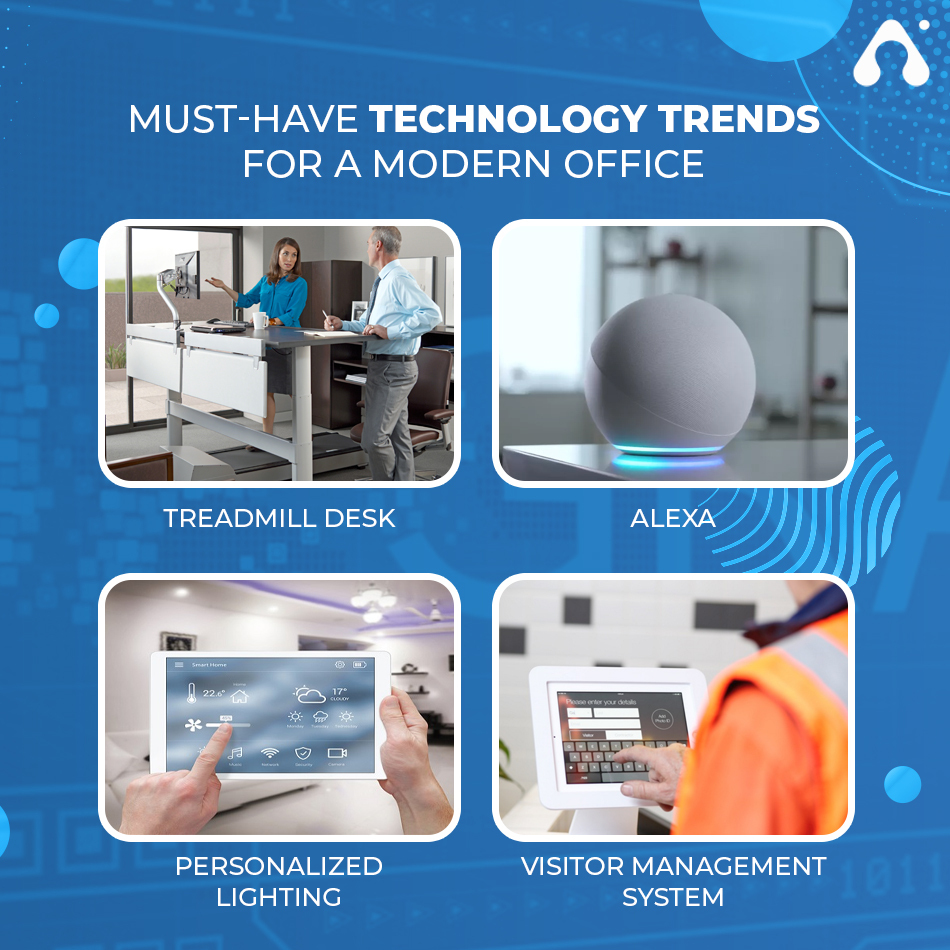 What Signs Lead to Top Tech Upgrades for Businesses?
Living in a digital world where even the business is connected to the web is a necessity these days. You can't afford to lag behind and not adopt tech upgrades if you're targeting business expansion. This is the reason why you must check out the signs you need to upgrade your business's technology. Below is a checklist that you must have a glance at.
#1 – Productivity Suffers
Having a company and running it is a matter of immense pride. However, if the company's productivity is suffering, then you must introspect. Having new technologies in place can solve the issue. Take, for example, a voice assistant can reduce the workload of an HR by managing tasks of the day.
#2 – Security is an Issue
A business can only succeed if the practices are confidential. This is why it becomes necessary to monitor the activity of the employees by using customized security apps. Some steps to enhance mobile app security are provided by app development companies. By getting installed such security features, you can boost productivity.
#3 – Ignored Software Updates
The reason why business isn't performing as per the expectations can be due to a lack of software updates. This results in the adverse performance of the tasks and leads to issues. Having a company that is dependent on technology you must prioritize software updates. The efficiency after the updates will definitely increase.
#4 – Business Growing Rapidly
It's always nice to have rapid business growth, however, it itself comes with some challenges. To take care of the needs of the rise in demands, you need to have the technology to ease the workload. Therefore, having acquiring tools will make sure that business doesn't get hampered.
Transform your Home Office for Greater Productivity!
With the COVID-19 pandemic affecting work, it's important for everyone to have a dedicated home office. Therefore, there are some must-have digital transformation trends to boost your productivity while you're working from home. Having these will ensure that you're efficiency of doing work increases by manifolds. Therefore, take a look at some of the things below for transforming your home office.
#1 – Good Communication Equipment
Working from home can be challenging for those having studio-dependent jobs. Therefore, investing in communication equipment will make your presentation look more professional. Having a good setup definitely creates a positive impression on your assessor(s).

You can find decent mics on eCommerce websites, that'll make your voice prominent. The eCommerce website will also provide you with other communication equipment of your choice.
#2 – Green Screen
It's always a challenge for having a decent background when you're scheduled for a meeting. Since most of the professionals live in rented accommodation, having a nice background can be tough. To solve this issue, you can have a green screen purchased from any eCommerce website.

The background immediately makes your onscreen presence appeasing. You can also add special effects too. It's one of the top tech upgrades for businesses.
#3 – Sound Buffering Panels
There are distractions and compromises that you have to make working from home. Therefore, to cut down on distraction(noise), you can use the sound buffering panels. These panels are available on eCommerce platforms for a reasonable price.

Using soundproof panels will allow you to not get distracted from unnecessary background noise. It uses sound-absorbing materials to give you an unhindered workplace in your home.

These are some must-have home office gadgets and technology upgrades, that'll boost your productivity. Therefore, investing in them will be a wise decision.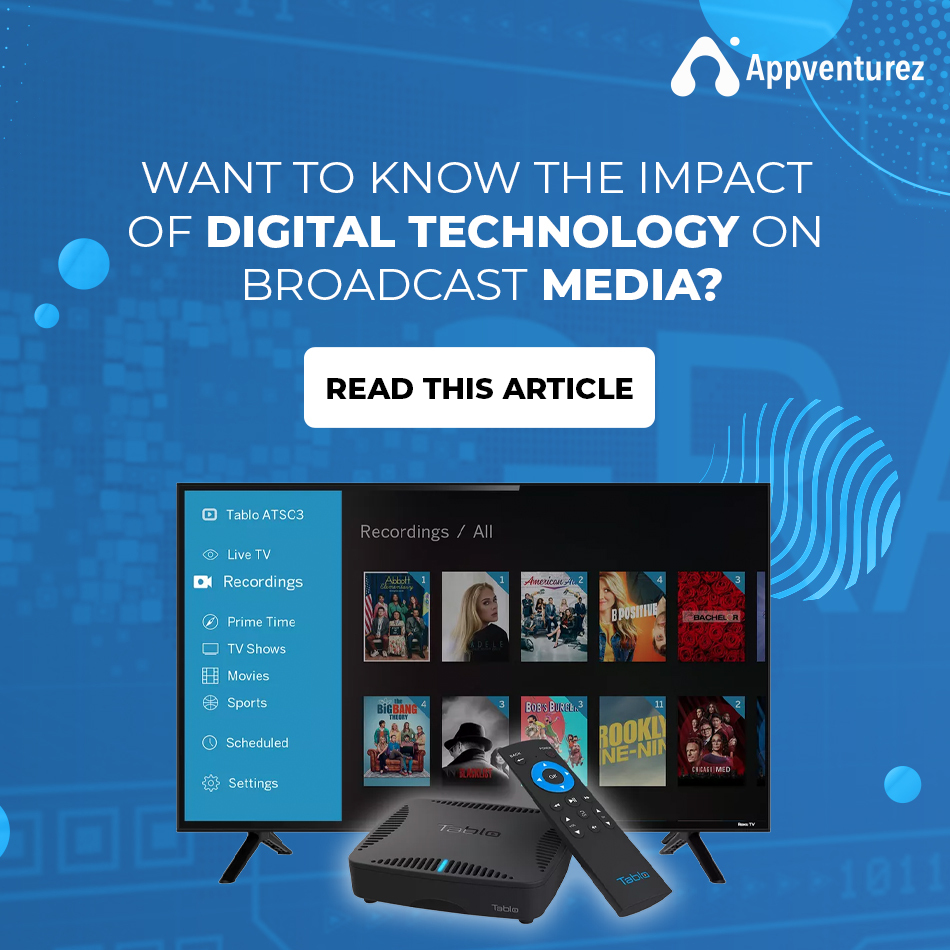 A Quick Look at Some Challenges in Tech Upgrades!
Having a small business and wanting to implement technology trends in 2021, can be quite a challenge. Therefore, having a clear understanding of what problems you can face while tech upgrades can lift some burden off your shoulders. We present to you some of the issues that you can face while going for tech upgrades.
#1 – Integration
Once you've decided to go for a tech upgrade, the main challenge that can arise is integration. To get the issue resolved, you need to do a complete analysis of the software's system requirements. This will make you completely sure whether the upgrade will work or not. Integration is one of the challenges that can be stressful because of limited system requirements.
#2 – Non-Disruptive Performance
When you're looking for seamless integration and performance of upgrades, then a thorough analysis is needed. It's the challenge that most people face when they're going for a tech upgrade. Therefore, a knowledge of the upgrade and the hardware installed in the office will help you.
#3 – Cost
Moving forward to having a tech upgrade for your business is a prudent decision. This will ensure that your operations run smoothly without a glitch and your customers are happy. However, a cost analysis is needed as you might have budgetary restrictions. It can be a challenge to allocate money for the entire upgrade. However, if a cost analysis is done, then these minor issues can be resolved.
#4 – Ease of Using
The upgrades that you're planning to install in your systems must be user-friendly. Having easy-to-use software will allow your employees to work quickly and efficiently. They'll not have to waste their time over tech issues and can invest in more productive ideas.

So, if you are facing challenges in tech upgrades for your business, get in touch with a reputed mobile app development company such as Appventurez.
How Appventurez can Help in Tech Upgrade Development for Your Business?
We offer the best technology trends for your upcoming business projects. Our dedicated team of iOS and Android app developers uses the right technology that can meet your business needs. Our professionals work to use several platforms to build native, hybrid, and web apps for iOS and Android phones.


Here are some technology stacks for several services:

Backend Engineering
Ruby
Node.js
Ruby on Rails
Go
Frontend Engineering
JavaScript
HTML5
CSS3
Angular
React
Databases
Cloud & DevOps
Data & Analytics
Kafka
Spark mllib
Power BI
Qlik
FAQs
Q1. What are the new technologies that the business should be using?
When launching a startup, having the right and trendy technologies in place can set you up for success. CRM system, online data storage, financial management tools, cybersecurity software are some must-have technologies for a brand new business.
Q2. What kind of technology can you use to make your business powerful?

Whether you are a CEO, entrepreneur, or small business owner, there are several technologies – CRM system, cybersecurity software, and financial management tools – that give your business unmatched growth. Technology can enhance your business by managing projects more easily, efficiently, making use of productivity apps, benefiting from web-based payments, and making use of virtual assistants.
---
---