AI customer experience is emerging as one of the dominant trends in customer service.

More and more organizations are interested in learning about the fundamental mechanics of AI and how to apply the technology to improve consumer engagement and experience.

Is technology, however, truly effective? And, more importantly, will it make a difference in improving your customer experience strategy? How are businesses incorporating AI technology to meet their business objectives?

AI integrated apps are poised to change the way businesses interact with their customers. Amazon, the e-commerce behemoth, is developing an AI-powered system to manage inquiries.

The automated agent's vocabulary is controlled by a template ranker in the customer-facing AI system.

Table Of Contents
1. Why Should Businesses Focus on Customer Experience?
2. Techniques For Improving Customer Experience With AI
3. Steps to Use AI for Delivering Better Customer Experience
4. Future of Artificial Intelligence in Customer Experience
5. Other Technologies That Are Innovating Customer Experience in 2019-2022 & Beyond
6. How Appventurez Can Drive Customer Success With AI-integrated Apps?
Why Should Businesses Focus on Customer Experience?
People are starting to realize the difference between User Experience and Customer Experience, and the latter is becoming the key to unlocking unrivaled commercial potential. It has become critical to the process of gaining a better knowledge of your consumers and developing a marketing strategy based on those insights in order to provide a more personalized experience.

As a result, it has become critical to achieving more commercial success.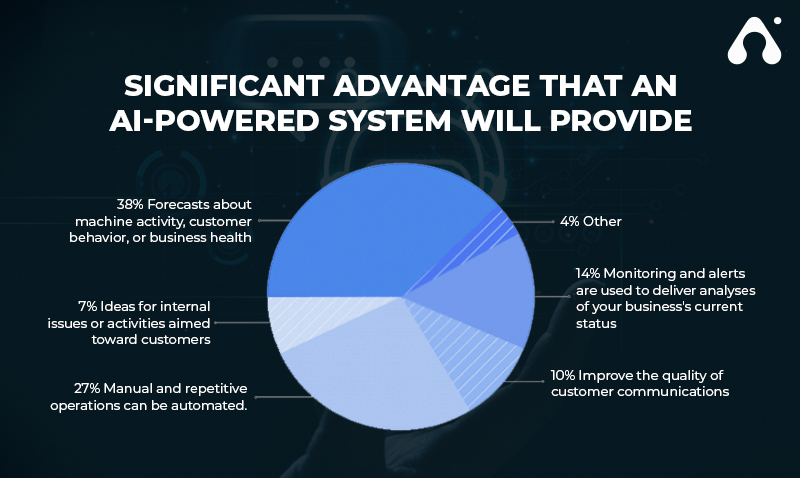 Techniques For Improving Customer Experience With AI
If the stats are any indication, chatbots and voice assistants are on their way to conquering the globe. Nearly a quarter of organizations have boosted their expenditure on artificial intelligence for growth. 75% plan to continue or launch new efforts after it is over. By 2024, global AI spending is likely to double.

AI is only worth integrating if it improves the user experience, according to the forward-thinking of AI in business. Here are four strategies to incorporate AI into your customer experience.

1- Improve The Customer Experience With Artificial Intelligence (AI)
Companies are turning AI to improve the quality of their customers' online shopping experiences as the online retail business grows more competitive. With its "Customers also bought" feature, Amazon was the first to employ AI to deliver personalized buy recommendations. It also uses AI to ensure that its price is always competitive.

These innovations aren't only about increasing revenue. Personalized recommendations make buying more enjoyable, and consistently low prices add an extra element of security. Customers are certain that they will find something they enjoy at a reasonable price.

2- Assist Customers In Solving Difficulties More Quickly
Customers demand not only immediate gratification when completing a purchase, but also lightning-fast customer service. According to a recent survey, the delayed response time or sitting on hold is the most aggravating component of customer service for more than half of the participants. Getting an instant response to a customer-service inquiry is now considered "essential" or "extremely important" by 90% of consumers.

Amazon uses chatbots of being accessible to assist your consumers 24*7. Which can assist consumers by answering frequently asked questions, directing them to helpful materials, or initiating a return. This not only saves you money on labor, but it also helps your customers solve problems faster by converting AI to Ml. 

3- Analyze Customer Feedback Using Sentiment Analysis
It is difficult to decide which customer communications to prioritize and escalate when a representative is dealing with hundreds of them each day. However, categorizing messages as "frustrated" or "enthusiastic" sentiment analysis might assist workers in determining the urgency of a client query.

Two-thirds of businesses believe sentiment analysis helps them save money on customer care, and 72% say it enhances customer experience. To finish the consumer feedback loop, Amazon began doing sentiment analysis on its CX data. You may add sentiment analysis into the customer journey at any point and utilize the result for customer experience.

4- Use AI As A Customer Service Assistant
While AI tools spreadsheets at answering simple customer questions and performing simple tasks, humans are still the best choice for more complex issues. In these situations, AI can be helpful in supporting human agents. While the agent is on the phone, AI tools can generate support tickets and call summaries. By taking up these responsibilities, the agent may devote all of their attention to assisting the customer.

A chatbot can also act as a client concierge in some instances. The role of chatbots in enterprises can assist with simple operations like updating a customer's contact information, placing an order, or scheduling a service call without the customer having to wait on hold.

A chatbot can also act as a client concierge in some instances. To measure the performance of chatbots which can assist with simple operations like updating a customer's contact information, placing an order, or scheduling a service call without the customer having to wait on hold. 

Steps to Use AI for Delivering Better Customer Experience
1- Design a Customer Experience (CX) Strategy
Before delving into how AI may improve customer experience, it's important to have a firm grasp of your company's CX vision and strategy. Bring your team on board to talk about your 'CX-based' expectations and the strategies you'll use to fulfill them. Create/update a strong Customer Experience and know why a business needs to plan based on the insights collected.   

2- Plan and Analyze User Journeys
A user interacts with your brand at several touchpoints and platforms, from discovery through pre-sales, sales, customer support, and beyond. So put in the time and effort to gain a thorough understanding of all those interconnected points, and create an AI-powered omnichannel consumer experience.

3- Have a Clear Understanding of AI solutions
The first step in managing an AI project is to recognize that the technology may be applied in a variety of ways to improve customer experience strategy, including recommendation engines, virtual assistants, predictive search engines, computer vision, sentiment analysis tools, and so on. However, not all of them will be a good fit for your company's objectives and goals.

So, the next stage in incorporating AI into your customer experience plan is to figure out what kind of technologies you can include in your company model.

4- Decide Whether to Create/Buy AI solutions
When considering how to improve customer experience with AI, the next step is to decide whether to incorporate AI into an existing application or purchase a ready-made CX/AI solution.

If you have a well-qualified AI expert team in-house or have a collaboration with the correct AI specialist mobile application development service, the former will be the best option for your organization. When you have less time to create an application and the vendor knows your customer's needs and has the capability to focus on crucial aspects, the latter choice might be a profitable agreement.

5- Track and Measure Success
Finally, putting Artificial Intelligence on the back burner after implementing it into your CX strategy is not enough. To measure the success ratio of mixing Artificial Intelligence (AI) with customer experience, keep an eye on key performance indicators (KPIs) and metrics. As a result, refine your approach for a brighter future.

While this discussion has focused on how Artificial Intelligence in Customer Experience may improve outcomes and what measures to take to include it into your plan, let's expand on this topic by looking at additional options.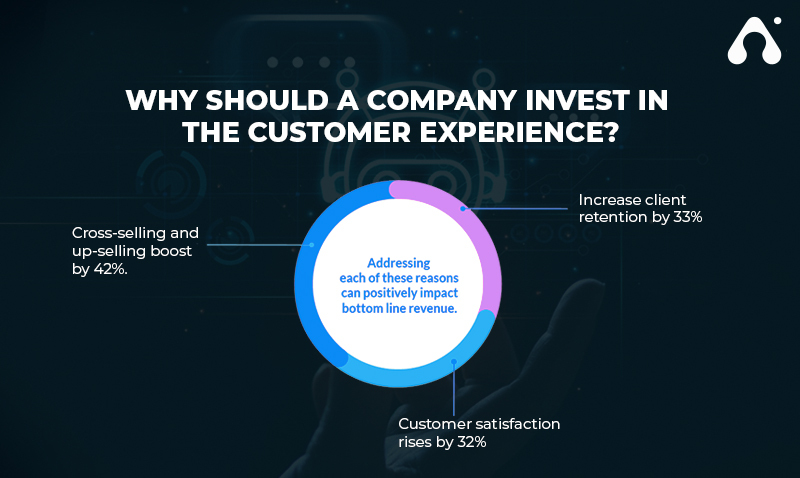 Future of Artificial Intelligence in Customer Experience
In the last several years, the AI market has evolved at a breakneck pace. Over 1,500 firms, including Microsoft, Google, IBM, and Amazon, have invested in building next-generation applications to improve the consumer experience, and many more are anticipated to follow suit. Many more businesses will believe in AI's capacity to increase productivity while reducing time and expense – as seen by the data presented below.

In several ways, technology will alter the future of the company and the consumer experience, including:-

It will automate regular tasks while encouraging individuals to concentrate on more creative endeavors. It will allow them to focus on their vision rather than on every tiny production detail.
It will transform business-customer interactions from 'one click' to 'zero-click,' providing the target user base with a seamless and timeless experience.
AI will have a huge influence on a network connection. It will promote the use of pattern analysis to troubleshoot any issue, as well as the extraction of essential user data from numerous channels to swiftly and efficiently determine what consumers require.
Other Technologies that are Innovating Customer Experience in 2019-2022 & Beyond
The number of linked IoT devices will reach 26 billion in 2019-2022. Furthermore, with high-speed, low-latency, and other qualities, 5G technology will become more important in the industry.

2- Machine Learning
Machine learning, with its self-learning algorithms, will help businesses to better respond to data and identify new ways to boost consumer satisfaction.

3- Blockchain
In the process of enhancing customer experience, blockchain development is also functioning as a catalyst. With essential characteristics like decentralization, transparency, and immutability, the technology allows businesses to securely store user behavioral and demographic data on blocks, make them portable, and let users choose who they share their immutable information with.

4- AR/VR
The AR and VR technology for development to transport consumers to a virtual environment, enhancing their customer experience. It presents the feedback form in a variety of ways, increasing the likelihood of a favorable response.

How Appventurez Can Drive Customer Success With AI-integrated Apps?
Artificial intelligence (AI) has done wonders in several industries, and businesses continuously improve their assets with this innovation. By analyzing and enhancing the customer experience with chatbot developments along with AI-integrated apps function according to the expectations of target audiences. And that's what Appventurez does to improve business performance.

Our dedicated developers are well-experienced in integrating the latest technologies during the AI app development of a business app. With customer-oriented features and enhanced designs, we assure to deliver a product that is worth gaining acquisitions from target audiences. You just need to connect with us and convey your idea. After that, we have all the tech stack to transform it into a futuristic application.
FAQ's

1- What is the Role of AI in Customer Experience?
In the commercial sphere, AI plays a critical role in enhancing customer experience by automating monotonous operations, optimizing procedures, lowering the risk of fraud, and, most importantly, providing individualized alternatives to each individual.

2- Why use AI to improve Customer Experience?
Artificial Intelligence, with its power to gather and analyze customer data in real-time, is helping in getting a better understanding of customer behavior and needs, and eventually creating a personalized customer experience strategy.

3- How AI and Machine Learning are improving Customer Experience?
AI and machine learning are improving the consumer experience in a variety of ways, including speeding shopping, lowering fraud risk, and offering targeted marketing strategies.

---
---