After great market research, competitor analysis, targeting the audience, and going through all the mobile app launch checklist, you are finally donning the app industry!

Now what?

You like your app, the audience is downloading it, commenting on it, reviewing it, and giving feedback too, now what next is the question here.

Obviously, revenue, more downloads, active users, global reach & so many other things might be there in your list but without measuring mobile app performance metrics, getting all these is challenging if not difficult.

Your expectation and efforts to reach them is high, however, not knowing the perfect insights and parameters, achieving what dreamt is next to impossible.

Thus, if you want to gain everything you want from your application, this blog is exclusively made for you to get started with.

Bookmark it as it is going to be lengthy yet important and explaining.

If you are done bookmarking, let us begin with the very basics of mobile app performance metrics to enhance mobile strategy.

So, let's get started-

What Are Mobile App Performance Metrics?
Mobile app performance metrics provide information about the mobile app performance along with giving insight around app retention, revenue generation, conversion, app usage and engagement metrics, potential.

Thus, metrics help in informing about the app health performance, however, not all the metrics provide similar results to various applications. As every application is different from the other one, opting for the same set of mobile app metrics for different apps is not recommended.

To match the metrics as per the mobile application, it is crucial to have an idea about how the numbers will look for you against every single metric.

Get to know- Mobile app onboarding best practices to follow

Now, the question that arises here is why the mobile app performance metrics for mobile strategy is important, well it is important because-

Why Mobile App Performance Metrics Are Important ?
A finance based application will be different from music streaming mobile application, hence, the metrics used for both the applications will be different. Also, both the apps are used differently by a different set of people, thus analyzing the performance varies too.

It is crucial to understand which metrics are worth mapping for the brand and which will not affect the bottom line like user app usage and engagement metrics, conversion, revenue, global reach, etc.

Check out- How much does it cost to develop a finance application and how much does it cost to develop music streaming applications.

Understanding what is mobile app metrics, let us begin the journey with what mobile app performance metrics are there to be used for different applications.

Top Mobile App Performance Metrics To Enhance Mobile App Strategy
User Acquisition Metrics
Everything is connected to each other when it comes to mobile applications. Your app idea is connected to users, your users are connected to the market, and the market is then connected to your revenue and ultimately to you.

Thus, answering how to measure app success, you simply can't make your app a success if you don't win over your potential users and retain the earlier ones- and you can never win over the users if you don't understand their needs and their origin.

In order to let your ideas work great, you need to track the number of download counts, and attributing them to specific channels.

Take for example- $5,000 on Google AdWords lets you 125 downloads in 3 weeks, however, the same investment on the Google Play Store will let you get 10x in 3 days only. By analyzing and tracking where to invest in your marketing campaign in order to meet the expected results.

Here are Key User Acquisition Metrics to track
New downloads- new downloads on a daily, weekly, and monthly basis.
Cost per install- Total amount for Ad spend/number of new installs counted by the advertiser's server.
Download attribution- The channel from where the users are approaching. This will help in the optimization of market spending along with improving ROI, and customer LTV.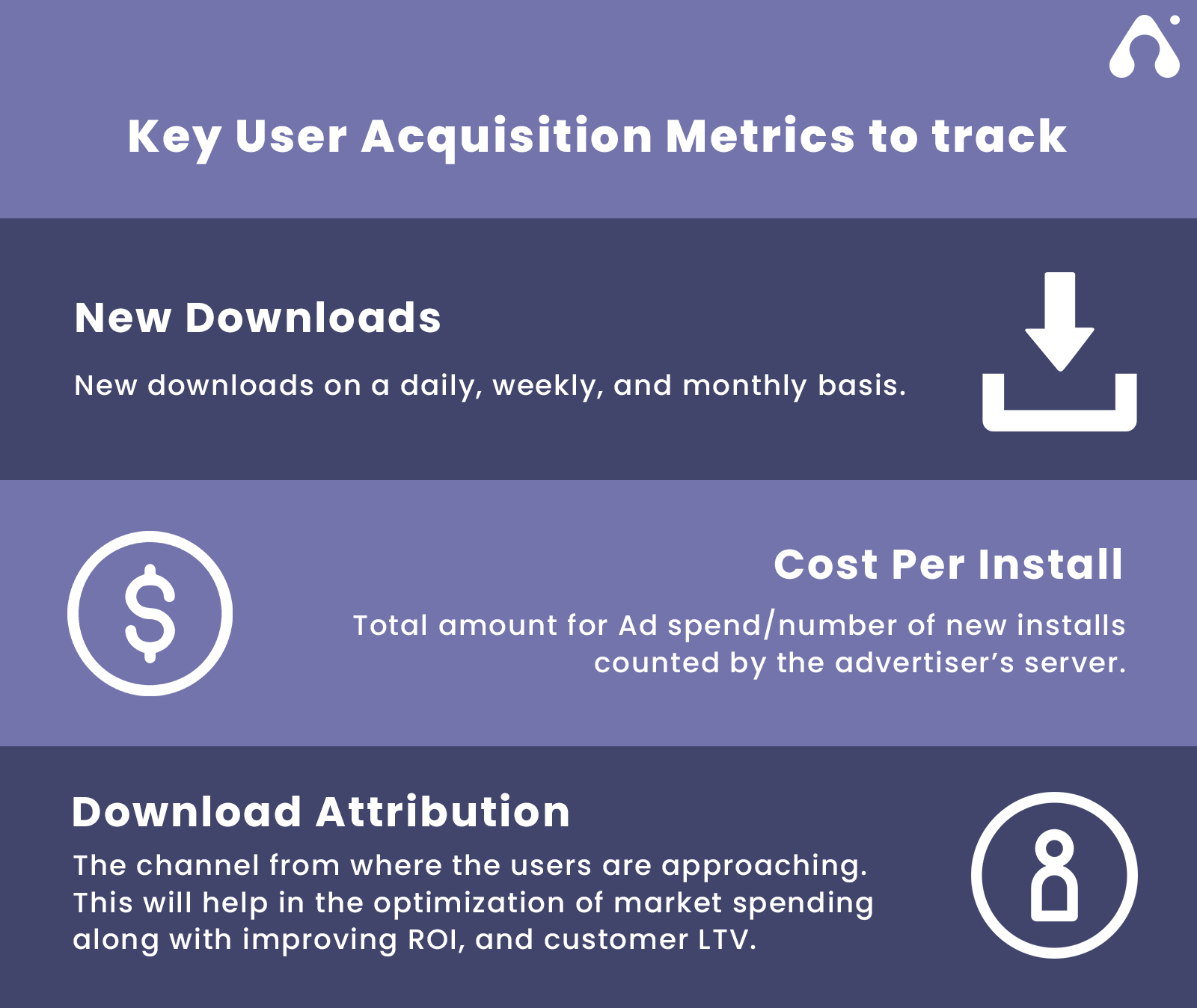 Now that we have mentioned that a few metrics to look at, it is now the time to know some more User Acquisition strategies too.
User Acquisition Strategies To Work On
For acquiring more number of audience, it is good to turn website visitors into mobile users. For doing that, you can encourage web visitors to download your application by adding a message "Download the App". Also, offer them incentives in the form of discounts, loyalty points, deals whenever they make their first in-app purchases.
You can also opt for a Referral Program as people trust referrals from friends. Thus, with the help of offering them good things, you can expand your user base, too.
App Store Optimization effectiveness here will make your app reach higher rankings and higher rankings mean better chances of getting featured along with greater visibility, downloads, and responses.
Use the top ranking keywords, showcase your app's top features & functionalities, let people know the benefits of your app through app description, add screenshots, the Video thing, and so on. No doubt, the app which is maintained nicely always attracts people.

User Activation Metrics
It is generally considered that if the activation rate is higher, the app is doing good and if it is not, it is the time to investigate the app health status, identifying it, and fixing all the activation based issues.
Here are a few things to keep in mind-
Icons- Draw the icon as per the name of the application. Ensure you are portraying the intent of the app.
Typography- In order to decorate the app, it should be kept in mind that you are not playing with a lot of typos. Also, Typos are important, as there are app malware persistent in the market, and users often demand the app's authenticity for encountering typos.
Sign up process- If not necessary, do not let your users go through the signup process. Also if possible, opt for social media integrations like Facebook, Instagram, Twitter, and others. This will make users simply log in to the app without filling the information one more time.
Check out- Top Mobile app UI design trends to keep in mind for app development designing

Key User Activation Metrics to opt for
Rate of Activation- Number of Activations/ Number of Downloads x 100
From Download to Launch Rate- Number of the First-time app launched/ number of New downloads
Installation to Registration rate- Number of new registered users/ number of installations.
Cost per Registration- Total amount on ad spend/Number of registrations.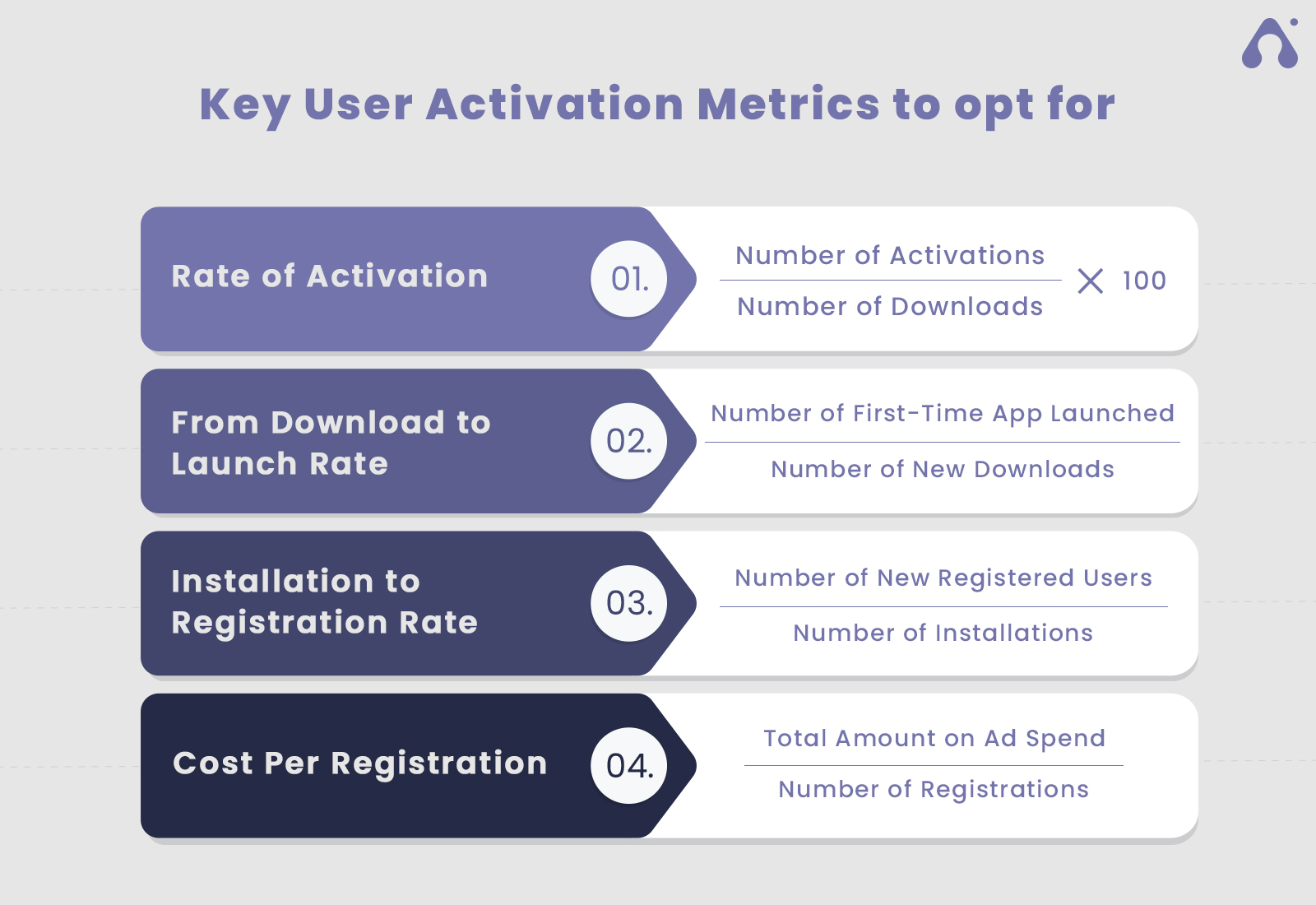 Having a look at them, it is now the time to look at User Activation metrics strategies.
User Activation Metrics Strategies To Work Upon
It is good to offer users mobile app onboarding messages highlighting the app's benefits, features, functionalities, and others. Push notifications here will highly help you. 
Get to know- Top mobile app onboarding best practices for the coming years.

Give users incentives, offer them something in return for using your application. It can be discounts, deals, coupons, or free in-app purchases.
Let your users enjoy in-app purchases for accessing exclusive content or the integral features of the application.
User Retention Metrics
Surging the retention rates by 5% can help you see profitability in the business. However, there is no doubt that hooking users for the long run is just a difficult task. As per Google Play Store Statistics, an app loses over 77% of daily active users just within 3 days after the app download.

The situation can be handled by getting the user data trackable via various sources. Instead of seeing all the users from the same lens, break them into some category, and then track their behavior for the app. From there you will get insightful details about the onboarding flows, how your app is enticing users, and what is the user experience.

Once done with the insightful data, the next thing you can go ahead with is giving lifetime value.

Giving lifetime value involves monetary things also in order to retain valuable customers. It revolves around loyalty programs. Here Customer Lifetime Value Calculator for calculating the cost while managing

Key User Retention Metrics to opt for
Customer Lifetime Value (LTV)- The annual revenue generated from user X Number of years customers retained (average)- Initial cost of customer acquisition.
N Day retention- % of users who installed your app on a specific day.
Promoter Score (Net) = [Total number of Promoters – Number of Detractors/ (number of respondents) x 100]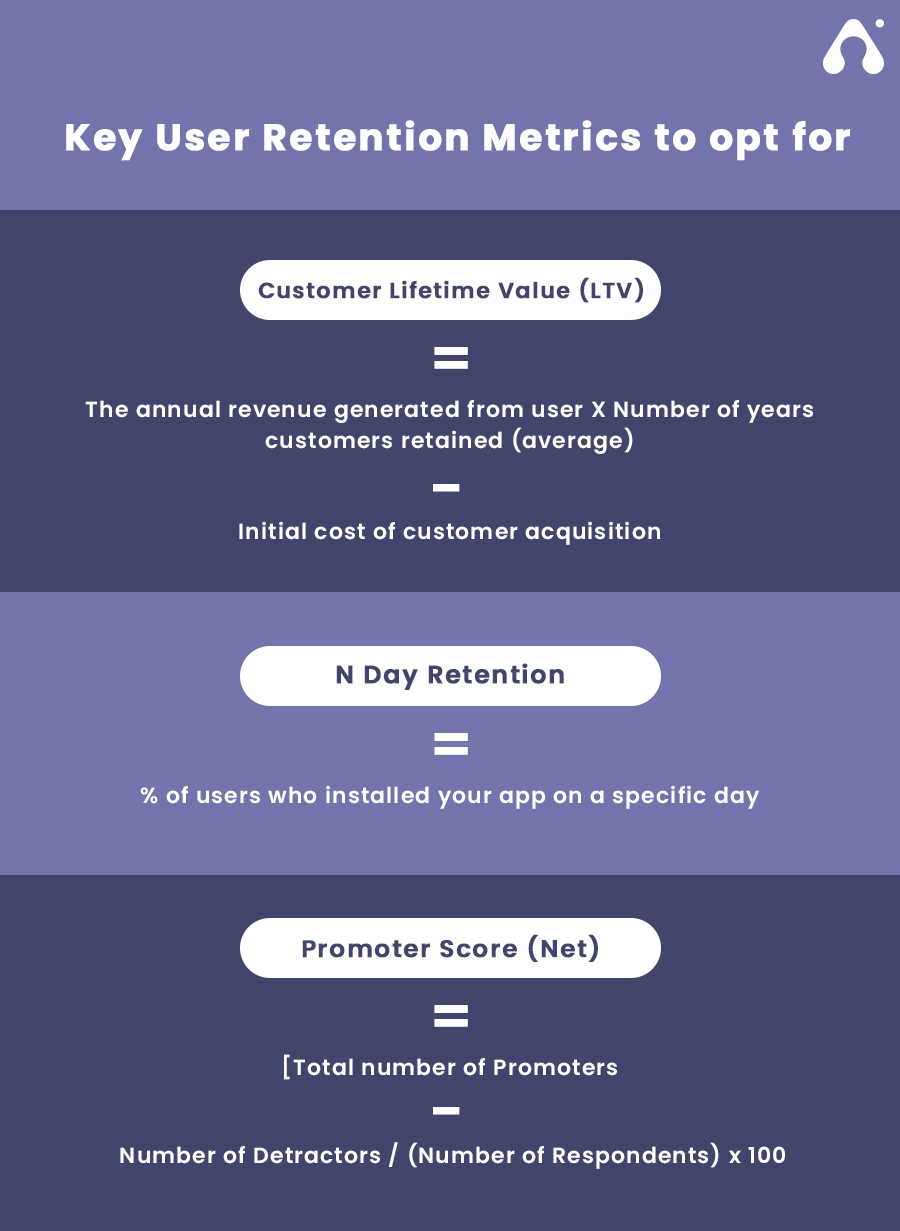 With it, let us gauge User Retention Strategies to excel in-
Active User Retention Strategies To Work Upon
It is crucial to ask for feedback in order to get what and how your app is giving experience to the users. Encourage users to give feedback to your app.
Give your users some loyalty points, deals, and discounts in order to let them spend more time on your app than to your competitors. This is considered one of the best ways to retain users.
Either go ahead with the MVP version of the app or add a few new features, functionality to the app in order to give some freshness to the app.
Mobile App Engagement Metrics
Engagement and mobile app engagement metrics for users support each other and result in greater numbers of revenue growth.

However, many apps are used just only 10 times before abandonment.

Hence, in order to track user mobile engagement metrics, there are a few things to consider for sure-

Daily Active Users (DAU) – # total number of users active on a given day.
Weekly Active Users (WAU)- # total number of users active on a given week.
Monthly Active Users (MAU)- # total number of users active on a given month.
The data will help you gain insights into the user's active days along with the app's stickiness.


Key User Engagement Metrics to look at-
DAU/MAU (as per your app's ideology)
DAU/MAU per DAU to see how often your users use the app.
The Session length of the app made by the users.
CTRs for emails, push notification, and other messaging prospects.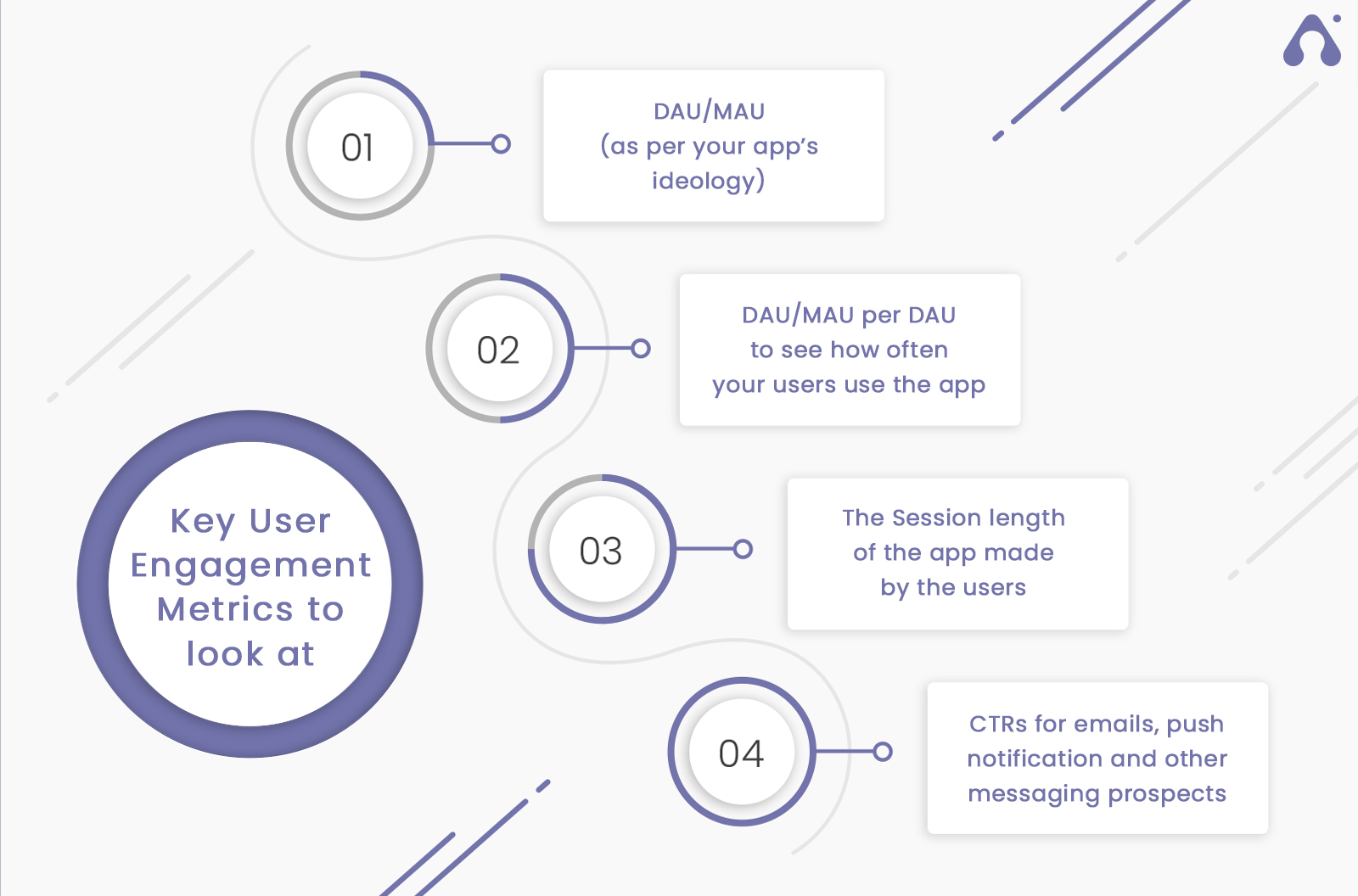 With it, it is the time to look for User Engagement Strategies to opt for-
User Engagement Strategies To Follow
Go for push notifications, however, ensures that you are not irritating users with constant notifications. Send them friendly notifications without forcing them to open the app.
Trace user steps, check out where and how you are losing users and what next should you do to gain them back.
Bug fixing, error correction, adding new features, functionality will always do the magic hooking users to the app, and ultimately surging high the user engagement rate.
User Conversion Metrics
Conversion is what is called the top achievement of Marketing- be it traditional or digital marketing.


Take for example- You are spending 10% off on push notifications to over 8,500 users, if at least 400 users are responding to them, your conversion rate will reach around 5.5%.

By tracking the conversion rates, you can check out if the messages you are offering are moving towards the sales needles or not. Once, tracking the conversion rates, you can simply get started with A/B tests for optimization and see if the messages are resonating with the users' needs or not.

After it, here are a few conversion tricks to look at-

Key User Conversion Metrics to know
The user conversion rate for new users
Cost per conversion
Returning user conversion rate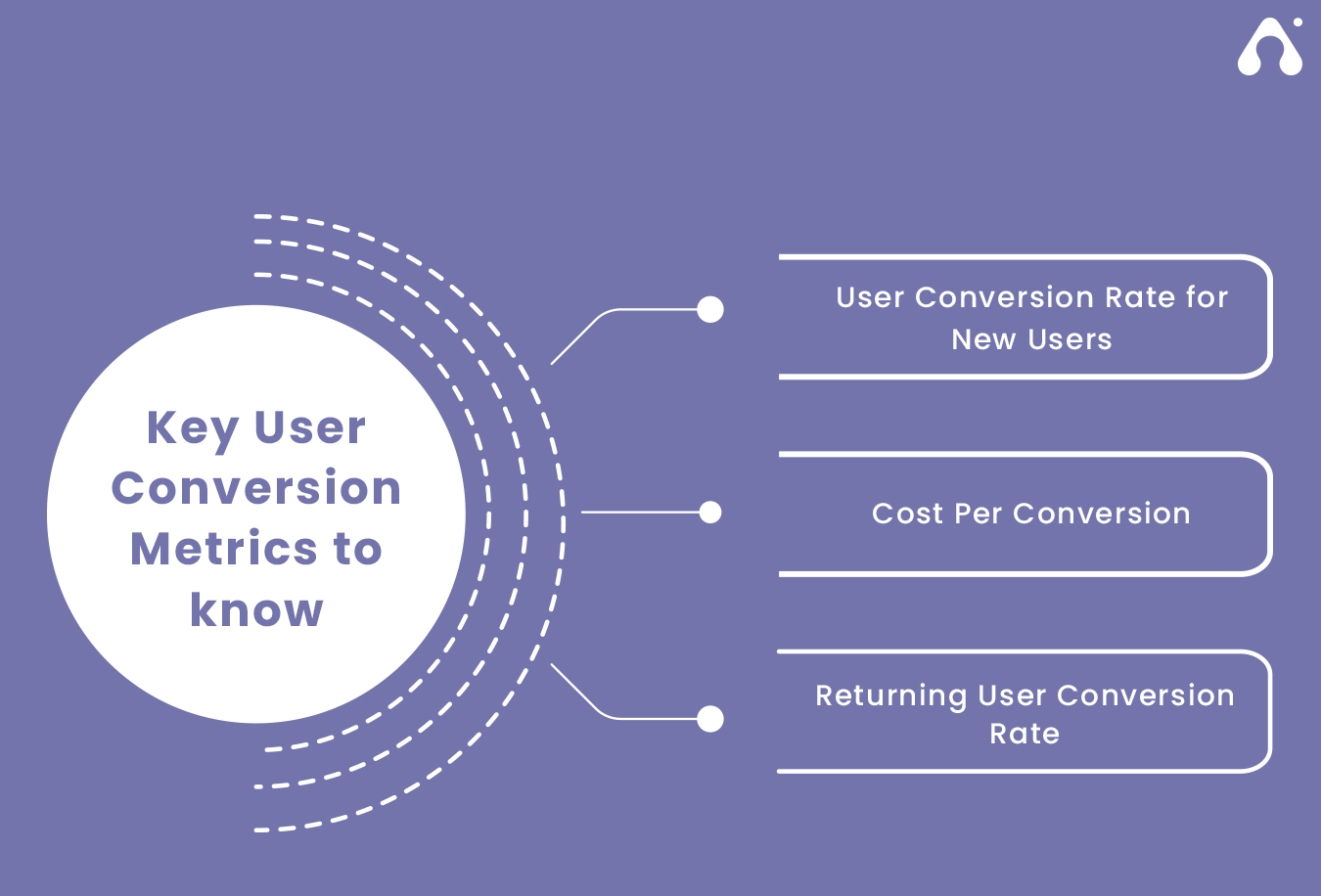 Keeping these things in mind, it is now the time to look at conversion strategies

Conversion Strategies To Follow For Enhanced UX
Before knowing the ultimate conversion strategies to look at, it is crucial to understand what type of conversion you want- Subscription, Purchases, Ad impressions, or other.

After gaining the perspective, now look for conversion strategies like-

For your application, think like your use only. Just pretend that it is for the first time you are launching your application in the market. What as a user can annoy you or turn you off. What steps should be taken to narrow down the funnel for easier navigation? Eliminate unnecessary features, buttons, links or etc, and create a soothing UI.
These things can make you satisfy the needs of the users ultimately.

Figure out any leaked drop-offs. There are high chances that people stop using app applications or skip when they are asked for credit or debit cards. Also, the final stage of the purchase process like a shipping address, if there is a bug or UI issue, it is important to prevent users from choosing other apps.
User Churn Metrics
Even the top ranking mobile apps and mobile app analytics best practices fail to hook users 100% of the time.

Thus, to maintain their app statistics, it is good to track even the number of uninstalls made.

Take for example- You have 35 new activated users to your app and 10 are uninstalling the application, it means your app represents upstick of 25 users every day. However, if the number gets reversed, there is a serious issue with the app.

Here are some performance issues that lead to churn rate-

Bugs and Errors- Over 80% of the apps are being uninstalled by the users after 1-3 uses.
Latency- About 49% of the app's users expect the app screen to load in 2 seconds or less than that.
Battery drainage issue- Almost 39% of the users report heavy battery usage and this becomes one of the reasons for app uninstallation.
Always remember that users download apps by first looking at the reviews, ratings, feedback.

There is one full-proof key to track churn metrics is to –


Now, what is the solution to the above-mentioned churn issues?

Well, they are opting for re-engagement strategies.

Re-Engagement Strategies are-
Retargeting users through social media platforms via discounts, deals, loyalty points, and others.
Opt for surveys, there are many reasons why users abandon using apps. Go for surveys and check out the concrete reasons.
As per Google Study, there are chances of 38% user re-engagement, if they are given some sort of deals, discounts, or offers.
"Check out- How to increase app user engagement"
Concluding everything together, it is now the time to understand the metrics and their sub categorizations in more detail.

Let's understand them for enhancing user experience.

Multiple Mobile App Marketing KPIs And Performance Metrics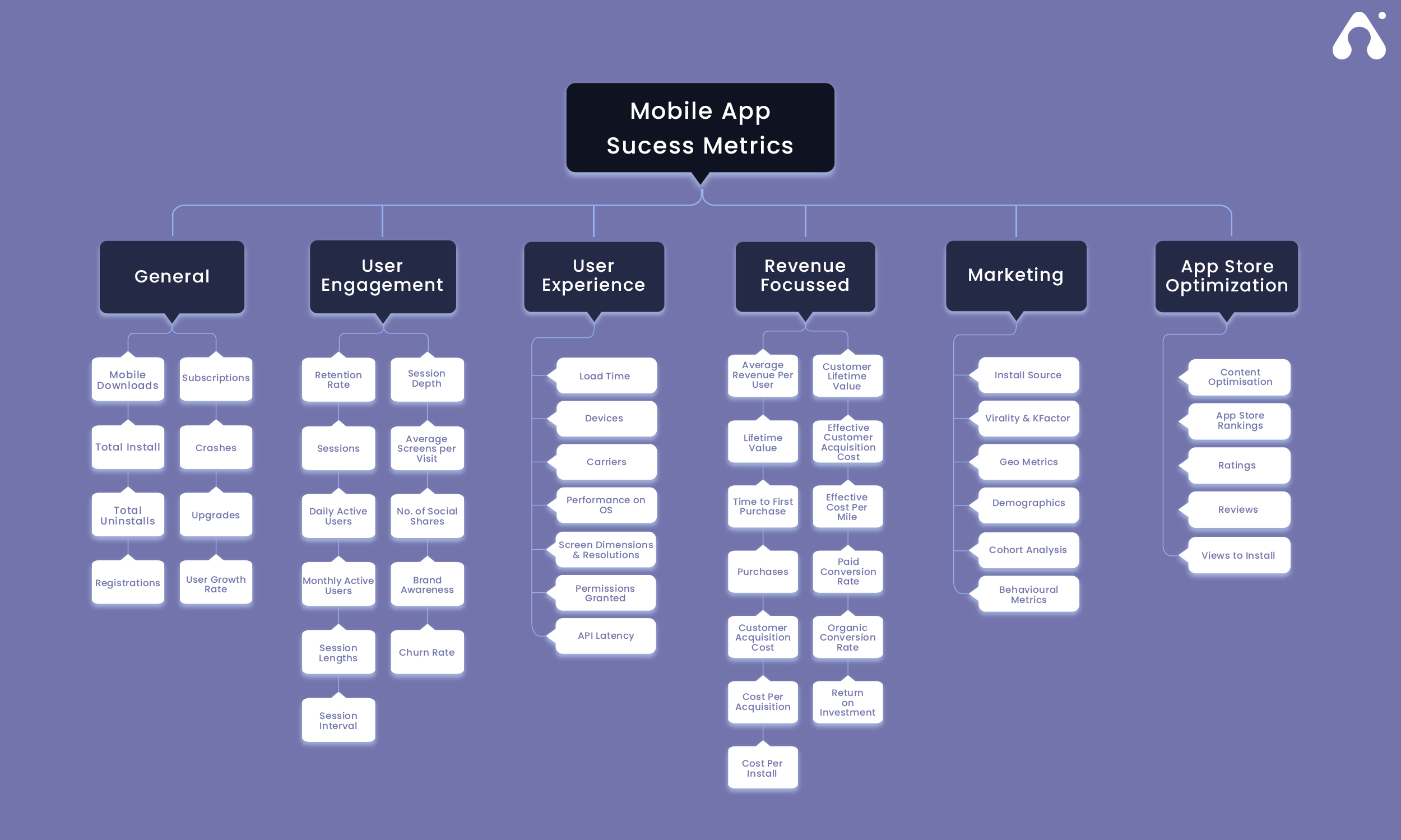 There are multiple mobile app marketing KPIs and performance metrics that are broadly categorized into various segments.

Those are-
General mobile app analytics metrics
User Engagement Metrics
User Experience Metrics
Financial KPIs or the Revenue Focussed KPIs
Mobile App Marketing KPIs
App Store Optimisation (ASO)
Let's understand them in depth.

General Mobile App Analytics Metrics
The general mobile app analytics best practices are basically tracked by each and every person in the team. The KPI here basically revolves around the complete overview of the performance of the application.

So, to keep track of things, the General mobile app analytics metrics are further divided into subcategories like-

The total number of app downloads is one of the most obvious ways to how to measure app success. This app download metrics when used in a given time period even offer more precise results.

App download metrics also lets you figure out the loopholes or the areas of improvement. A leading Mobile app development company like us always recommends you to opt for this step for sure.
Total Number Of App Installs
Not only downloads, but you also need to figure out the total number of installations of the app as well.

For doing that, you can use Google Analytics for both the platform like iOS, Android. Also, get to know the difference between iPhone vs Android– the startup's first choice.

Total Number Of Uninstalls
Just like the total number of installs, you need to also figure out the total number of uninstalls too. There are a number of reasons for app installation, and there are many cases when users don't even leave feedback. In both situations, you need to look for all the obvious reasons.
It is a victory for any app owner if users are willing to register to your app with their personal details. Increasing the number of registrations is a positive sign of user trust and loyalty to the app encouraging users to make purchases from the app.

The gathered data can be further used for marketing purposes too.
Once done with the above steps, it is crucial to check subscriptions taken by the mobile app users. How to know if an app is successful can be checked if your subscription rate is high and still there are a decent number of users, this shows, users are willing to spend more money on your product.

Tracking when users are subscribing to the app, you can understand the user behaviors nicely.
This is the technical side of the application, hence, eliminating apps from the bugs, errors should be done nicely.

Keeping track of all the crashes should be done for improving the overall performance of the application.
Offering users with newness and freshness into the app is really important. By doing so, you can also offer premium things from the app which will result in users paying for upgrades too.

By adding features, functionality, and upgrades into the app can make you gain more number of potential users while hooking the existing ones.

User Engagement Metrics
User engagement is the crucial factor for how to measure app success or failure too. To retain and engage users to the app along with figuring how to know if an app is successful, here are a few things you can follow-

Daily active is the extension of the Total Daily Sessions and is calculated by tracking the users on the app on a daily basis. DAU is often seen as the primary measure of growth or engagement for both mobile apps and websites.
Monthly Active Users (MAU)
Somehow similar to the DAU app, the MAU app is the total number of active users over a monthly period. The concept helps in tracking the growth of the app on a monthly basis.

MAU is tracked as total unique visitors visiting the app for multiple sessions in a month.
Sessions are explained as how many times a user is opening the app or interacting with it from their smartphones.

The sessions made by the app indicates the popularity of the app and is also known as "app stickiness".
Another metric for tracking the app and the total number of sessions. Sessions length is referred to as the total number of users spending time on the application per session.
Session Interval makes you understand how users are opening the mobile application. It tracks the consecutive sessions between the app. This will make you figure out how often users are visiting your application, either multiple times in a day or daily/weekly or monthly.

The shorter session interval is considered better, however, interval depends upon the content or product updates.
The depth of the session showcases how successful a session is meant for the users. Here how to measure app success application also defines the goals, objectives, and ideology of the business.

Also, the session depth defines the number of interactions per session made by the users. This metric here will determine how many conversions are made or the session is only made for the browsing purposes etc.
Retention showcases if the user is returning to the app in a given amount of time. This will also make you understand how much time period the user is coming to the app.

Always know that the retention rate for the app is an indication of how sticky or amazing your app is for the users. The higher will the retention rate is, the more positive will be the result of it.

Here is the formula for mobile app retention rate-


Here,
CS = number of customers at the beginning of the period.
CE = number of customers at the period end.
CN = number of new customers during the acquired period.
User Experience Metrics
User experience metrics is further divided into several sub-factors like-
Loading time is something that either attracts users or lets them skip the app over others. It is basically a way that shows how much time your app takes to get loaded. Load time revolves around when a user is opening the app to a certain performing function and also reflects the time taken between app screens.
As there are various devices from which your app can be utilized, hence, it is a nice metric to keep a hold upon.

With it, you can check out if users are using tablets, smartphones, or other devices or are into Android apps or iOS ones.
Screen Resolutions/Dimensions
The mobile app marketing KPIs depend upon the devices from where the users are accessing and operating the app. Mobile app KPI is related to the performance and user metrics related to uninstalls, crashes, bug fixing while offering insights about the app's future updates.

The Financial Mobile App KPI
Your first focus might be revenue but it is still the requirement and that is why you are making efforts to do it also.

The financial mobile app marketing KPIs are divided into few segments like-
Lifetime Value or LTV is the amount of money generated by the user from the mobile application.

Lifetime Value = Average value of a conversion X average no of conversion during the time period X average customer lifetime value.
The time taken by a user from installing the application to making its first purchase is called first time purchase.

Depending upon the app and business objective, users are given access to in-app purchases. Here the purchase looks like-

Date/ First Time Purchase – Date/ Time Registered

App Store Optimization
ASO is an important part of marketing and promotion of the application but how to list it down is challenging and strategic.

Here are a few ways to get started with it-
Content Optimization And Keywords
Your app needs keyword-based content so that users can easily search about what they are looking for. The keywords should be based on the search queries of the users in order to let them easily discover the app and then download it.

As per the keywords, the app content should be made precisely showcasing the top and important features of the application without skipping the core ones. Ensure you are making a balance between both- the content optimization and keywords.
It revolves around the app's ranking on the app store. By monitoring the app raking onto the app store helps in understanding the app's performance.
Always open the rating bar to the users in order to understand how they are reacting to your application. Once you analyze their ratings, you will be able to track down the loopholes, errors along with finding ways to come up with better solutions.

This will make you understand the performance of the app while maintaining its stardom in the market too.
Let users review your app and let them write down their reviews. It will work the same as a rating system from where you can figure out everything about the app be it app performance, loopholes, features users are struggling with, and so on.

This way you will come up with solutions and things to make the app more engaging.

Conclusion
Concluding each and every point together, the answer about what are app metrics is clear while understanding why it is important for enhancing the mobile strategy and performance. However, there are some more technicalities taken into consideration when opting for app metrics. You can discuss everything about them with our experts.

Connect with us and let us together make your app AWESOME!

---
---