iOS has managed to stick in people's memories among the sea of operating systems. Apple's demand in the market is supported by the fact that there are currently around 1.4 billion active Apple gadgets, including iPhones, Macs, iPads, Apple TVs, iPods, and Apple Watches.
The hoopla around iOS or Apple apps is justified in every way. The features that Apple devices have are exceptional, and the programs that can be found in the Apple store are deserving of praise.
According to App Store data, there are over 2.2 million apps in the App Store. This is because businesses have long recognized the advantages of creating apps for the iOS platform.
To understand why iOS app development for businesses is so advantageous, let's first go through some of the perks in more detail.
Fear not; we are aware of your concerns over the price of creating an iPhone app and other unforeseen costs, and we will address them as we progress.
Table Of Contents
Why Should Businesses Choose iOS Over Android?
1. More Payment On Your Way
Although Android still takes the bigger bite of the market share as compared to Apple still Apple triumphs over Android when it comes to monetization. 
Apple users are more willing to pay for an app as compared to Android users. 
2. Higher Security Standards 
Data security was a concern and it is still a concern. Among other flexibility often offered by mobile platforms, data security always tops the chart. 
And when choosing iOS, it comes up with a high level of data security. iOS provides businesses with robust iPhone apps that provide security against viruses, malware, theft, hacking, breaches, phishing, and other external threats.
3. Enhanced User Experience
Apple is different from Android due to its interface guidelines that all the iOS app UI/UX cost designers need to follow to get approval for the App Store. 
Bypassing the guidelines, businesses can offer enjoyable interfaces and pleasant experiences to the users through the application. Also, focusing majorly on the interface can engage new prospects while retaining the existing customers.
4. Easy and Effective Testing
Apple has its policy, this is the reason, it usually releases one update of its existing operating system in a year. 
Also, the number of iOS devices is limited as compared to its rival Android making the former one win in terms of testing. Android apps have to be tested comprehensively for different versions to check if the app is working fine on all the versions. Compared to Android, less time is required to test developed iPhone apps, thus speeding up the product time to market. 
5. Low Fragmentation
Developing an Android application makes the business invest a lot of time in determining whether the app will work effectively on different platform versions or not.
Compared to Android's latest OS version used by only 0.7% of users, almost 76% of iPhone users use the latest iOS version. Hence, with iPhone app development, businesses can reach a larger audience. 
Meanwhile, another root string to low fragmentation is scalability. It allows businesses to develop new features rapidly along with launching them in the existing apps also. 
6. Brilliant Quality App
To register your app in the app store, it is worthwhile to hire the same iOS app development company that has developed your app as per Apple's pre-defined quality standards. 
Also, the iPhone apps, developed by thoroughly following the highest quality standards, help businesses enrich their overall brand's identity.  
7. Less Development Time
Compared to Android app development, iOS development takes around 28% less time even after sharing the same development parameters. 
Also, it costs to develop Android apps that require more time for testing than too on a wider range of devices, versions, and screen resolutions whereas, on iOS, time is saved. 
8. Tech-savvy Audience
It is often said that iPhone users are more tech-savvy and are also open to innovations. Because of acceptance and openness, businesses develop highly dynamic iPhone apps with high-end features. To this, there are higher chances of driving more productivity and profitability through iPhone apps. 
9. More Secure Transactions
Making online transactions is the most obvious thing but no matter what there is always a minor financial risk associated with online transactions. 
To curb such a situation, iPhone apps are developed to ensure secure in-app purchases and app-based transactions. 
10. Penetrating A Larger Market
iOS devices are quite popular in developed countries like the UK, the US, Australia, etc. Hence, if you are planning to target developed nations while targeting a developing audience also, choosing iOS-based applications will never disappoint you when it comes to expanding the business. 
These are a few of the reasons why businesses should choose the iOS platform over Android. Now that you have chosen the platform, let us now indulge ourselves with the factors affecting the cost of iOS app development.
Before that, let us quickly check out how app development cost is estimated.
iPhone App Development Cost Estimation Formula
The cost of each mobile app, whether Android or iOS, is estimated by multiplying the number of hours it takes to produce by the number of billable hours of resources invested.
The iOS app development cost calculator formula appears to be as follows:

Factors That Affect The Cost Of iOS App Development
1. App Discovery
The very first reason to figure out the cost to build an iOS app is App discovery. This is the stage where your app idea will bloom and validate. 
Before the process of mobile app development takes place and rough cost estimation is shared with the clients, validating the app idea is the foremost thing.
2. Analysis and Scope
The next point in understanding how much it costs to make an app for your business goes to Analysis and Scope. It is the stage where the documentation of the app is presented along with the features and choose the right tech stack for the application.
The process is divided into several layers to bring out the accurate analysis and scoping of the app. 
3. App Complexity
The app becomes complex when it is clad with several features and functionality. Though several features can ultimately make the overall iOS app development cost higher, there are 5 clubbed iOS app categories that can simplify the cost breakdown.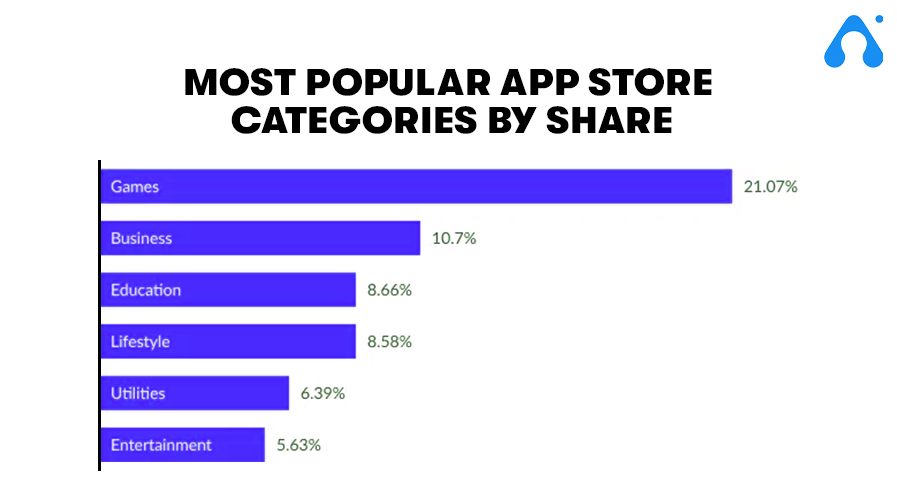 a. Deployment Architecture Model
There are two backend development options available, i.e.- Custom or BaaS. 
Custom backend development is about giving the whole architecture to the client whereas, with BaaS, the clients are authenticated for readymade backed architecture. 
b. Admin Panel Development
Admin panel development is the backbone of the app which is liable for managing the app, keeping track of the activity, viewing the stats, and updating the app content without the aid of the ios mobile app developer.
c. Third-Party Integration
Most of the time, your app needs to interact with other third-party apps like Google login, Facebook login, or PayPal payment gateways to make the overall process easier and more efficient. 
4. In-App Purchase
The maximum number of mobile applications available in the market has in-app purchase functionality. Hence, adding this functionality to your application can possess a great advantage to the overall success of the app. 
5. Use of Device's Hardware
Be it smartphones or tablets, these smart gadgets are crammed with several features like GPS, Bluetooth, Barometers, Nearby, etc. Including these features in your application can power up the overall performance of the app. 
6. iOS Developer's Hourly Rates
When determining the budget for your project, you should also consider the hourly rates of software developers. One of the key determinants of project cost estimates is the location of the engineers. While American programmers may agree to work for $100 per hour, Ukrainian IT professionals' ios development services are available for twice as less. Another great option is developers in France or Finland, albeit their costs are still much higher than in Eastern European nations. Not to mention the taxes that developers must pay, which vary from nation to nation but are much greater in the EU countries than in Ukraine.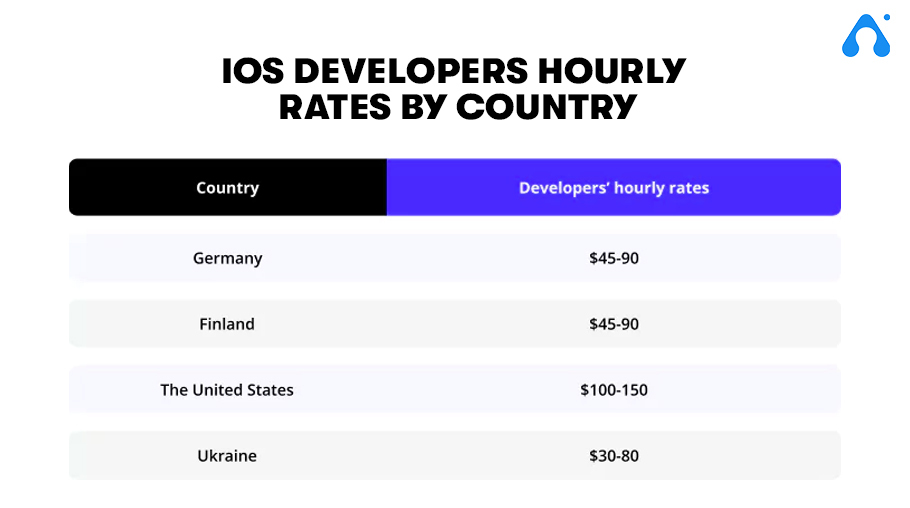 7. Design Of The App and Animation
Now comes the number of designs and animations. Mobile app design works as a magnet, the more fluid and smooth it will be, the more users will get attracted to it. As per the ios app design cost, the iOS app development cost budget also varies. There are a few factors that weave the design mobile app cost and animation story together. Those are-
a. Wireframing
Wireframing is the actual framing of the user experience map and features in the app which is drafted with the help of tools like Photoshop, MARVEL, and Balsamiq. Each wireframe of the application requires the client's approval before developing a fully-fledged application. 
b. UI Design
When it comes to iOS App Development, the usage of a Flat Design is considered the most appropriate option to provide clarity and depth to the application. 
c. Animations
Though not so needed in a maximum number of applications, applications do hold prominence in some apps like gaming or social media apps. 
Coding and design animation is tossed under one of the complicated processes and the complexity in working higher the cost of iOS app development. 
d. Application Deployment
One of the other factors that affect the cost of iOS app development is application deployment.
An iOS app should be ideated and developed in such a way that it adheres to the predefined guidelines of the App Store. If the app does not match the guidelines, the chances of rejection top the chart. 
8. Maintenance Of The App
One of the other Reasons to Choose the iOS Platform For Business is app maintenance cost and support. 
Always remember, that developing an application is not the last or final step. To compete with other applications, making users stick to the apps while generating higher revenue, apps are required to be updated timely and also according to the market trends and changes. 
Meanwhile, other elements come with a tagged cost of iOS app maintenance-
a. App Update
The need for constant updates and updated OS is important to make the app stand tall in the market while offering a smooth and flawless experience to the user without any barriers in between.
b. Bug Proof App
No application is independent of bugs. Most of the time, bugs are often noticed after the app gets published in the App store. Hence, fixing bugs comes with its own cost, and not investing in it will obstruct the smooth functioning of the app. 
c. Change In Design
One which is quite popular today will get outdated with time. Similar is the concept with app design, after some time, the overall design of the app will require a complete revamp of it as users do not stick longer to things that diminish with time. 
9. Size Of The Team
The Cost of iOS app development will vary as per who you are selecting for developing your app- it could be a freelancer, a reliable iOS mobile app development company, or choosing the outsourcing way. 
A startup with 5 to 10 people on its side or a freelancer can charge you less for creating their work profile, whereas a well-established mobile app with thousands of employees will pay more attention to clients who are willing to pay the asked amount. 
Different team sizes affect the overall Cost of iOS app development. Meanwhile, the team structure of high-end firms looks like this-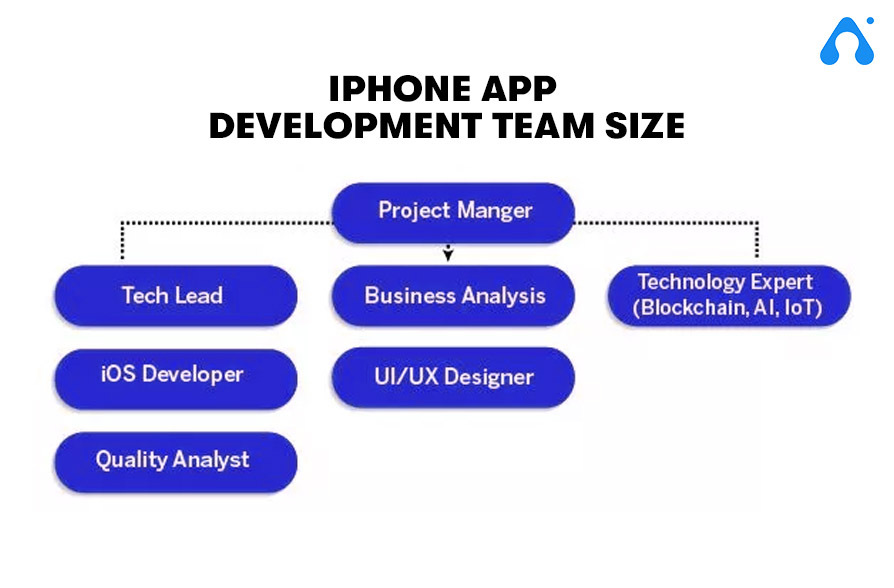 How Much Does it Cost to Develop an iOS App?
In Eastern Europe, developing a mobile app typically costs around $7500.
What does it cost to create an iOS application? Here, we present the results of our in-depth investigation (analysis) of the Elance-based IT market. Mobile app development is priced differently per hour in industrialized and developing nations by independent contractors and outsourcing IT firms.
The market researchers advise choosing a performer based on the best possible balancing act between the asking price and the quality delivered.
In Belarus, Ukraine, Russia, Moldova, and Armenia, it is preferable to engage with independent contractors and businesses that charge at least $31-$49 per hour. They offer the best value in terms of both price and quality.

You should get in touch with specialists in the Baltic nations (Latvia, Lithuania, and Estonia) who charge $ 41–$50 per hour and more.

It is preferable to order app development from someone who charges around $ 40 per hour in Eastern European nations (such as Romania, Poland, the Czech Republic, and others).

IT professionals on the Balkan Peninsula are well-known for charging between $ 31 and $ 40 per hour (Albania, Bosnia, Serbia, and Macedonia) and $ 41 and $ 50 per hour (the rest of the region) (Croatia, Greece, Slovenia).

The average price of IT services in Scandinavia is between $39 and $55 per hour.

The quality price is high in Central and Western European nations (such as Great Britain and Ireland) and ranges from $51 to $100 per hour.

Quality IT services in Southern Europe (Italy, Spain, and Portugal) will run you roughly $50 per hour.
Stages of iOS App Development and Work With AppStore
The process of developing an app goes through several steps that must be completed for every project. They are independent of complexity and labor intensity, though.
Typical app development goes through the following stages:
Free cost estimate (1-3 days)

Detailed study of the problem, analysis of the market and competitors (1-5 days)

Prototyping. Writing a technical assignment (5-15 days)

Design (5-15 days)

Programming (18-60 + days)

Testing (5-10 days)
How Does Appventurez Estimate The Cost of iOS App Development?
After understanding your requirements and expectations regarding the application, draft a rough ios app development company cost estimate based on the hours it would take to complete the app along with the technologies we will be using and the resource team that will be allocated to work on your project. 
Once our client approves a rough ios app development cost estimate, we then draft a detailed ios app development cost breakdown structure document stating the scope of work requirements, creating a framework, and also preparing the other project-related documentation.
So, this is the answer to your question- "How much does it cost to develop an iOS application". If you want to earn money by developing a mobile app then also we can help you out with the monetization methods.

FAQs
1. How to estimate iPhone app development cost?
Well, there is no one-word answer for the cost of iPhone app development, but the formula has been devised for calculating the cost of developing the iOS app. It is based on the hours taken in the development process and then multiplies by the billable hours of resources spent.
2. Is there any price difference in developing apps for iOS or Android?
The answer to this question is yes. There is a price difference between the average ios app development cost. Due to fragmentation, Android apps can cost you a bit more since the testing process becomes tediously long, and there are so many devices you would need to cater to.
---
---