During the past few decades, 'Big Data' has become a thoughtful concept in all the major technical terms. Moreover, the availability of wireless connections and other advances have eased the analysis of large data sets. Companies and large organizations are gaining strength every year by enhancing their data analytics and platforms. 
The reason behind this evolution of trends in big data analytics is the increased complexity of information that companies used to extract and monitor. Big Data comprises all the processing of these data sets that are different from traditional data processing.
As the number of data processing devices increases every year, the processing of large data sets also increases every year. With the essence of mobile technologies and the Internet of Things (IoT), companies are able to monitor these data sets and utilize the core analytics with information exerted through big data processing.
As the data processing industry is widely covering every domain across the globe, there are various big data trends that will rule the upcoming years.
Before we move onto them, let's dive into the concepts and usefulness of big data.
What is Big DATA?
As the data comprises numerous information, whether structures or unstructured, big data comprises a plethora of data. For better business analytics and strategic patterns, corporates and organizations use it according to their core objectives. The corporates leverage the data for making better decisions in terms of productivity and customer satisfaction.
Addition of big data trends in the industry brought three core features along:
Volume, 
Variety, and 
Velocity. 
However, with upcoming years, the features were integrated and become 4 = which additionally raise the question:
What are the 4V's of Big Data:
Volume refers to the Scale of Data
Variety refers to different forms of Data
Velocity refers to the analysis of streaming data
Veracity refers to the trustworthiness of data
As the data proceeds to grow consistently, applications and software produce more information for processing, organizations will be going for cloud systems for storage, and managing these enormous datasets. Big data turned out to be progressively mainstream with the approach of the latest technologies like Artificial Intelligence (AI) and Machine Learning (ML) development.
The need to process these large data sets is increasing, and hence it is important to utilize big data trends and analytics for various purposes. Let's see how it got into action during the past few years.
What makes Big Data so Important?
Customers live in a computing universe of instant desires. From advanced software to prompting application development, everything in the present is cloud-based as the world moves quickly. And that rapid evolution in the technologies produces immense data to process.
Utilizing this data in an effective and progressive way seems like benefiting business for a 360-degree perspective or losing clients to contenders who do. 
The conceivable outcomes (and potential traps) of overseeing and using big data tasks are unending. Here are a couple of the most significant ways big data can change an organization:
Business Insight
When it comes to store, monitor and process a large number of information for a company, business intelligence is a basic weapon in cutting edge technologies. By outlining and foreseeing the challenge, it makes large data sets something to do for the benefit of the businesses.
Advancement 
Big data trends can give plenty of innovative applications to process business data and analytics. This can be done by predicting and following different patterns of the industries that drive the life of a corporate. As a result, more companies will be able to foresee and overcome their challenges with these applications. 
Brought Down Expense of Proprietorship
Big data carries the possibility to procure financial loads. IT experts measure activities not by the sticker prices on products, yet on an assortment of components, including yearly agreements, permitting, and workforce overhead. 
The bits of knowledge uncovered from big data tasks can rapidly crystalize the time of resource utilization and what areas need optimization. The collected data enables directors to keep financial plans adaptable enough to work in a cutting edge condition.
Associations and brands in pretty much every industry are utilizing huge information to kick off something new. Businesses utilizing blockchain in supply chain and logistics businesses depend on it to figure travel times and set rates. Big data is the foundation of pivotal logical and clinical research, carrying the capacity to investigate and learn at less time.
That's how you learn to utilize big data technology stack and other tools for bettering your business progress.
In order to know how all this operation related to big data happen or work, let's move to another section
Working of Big Data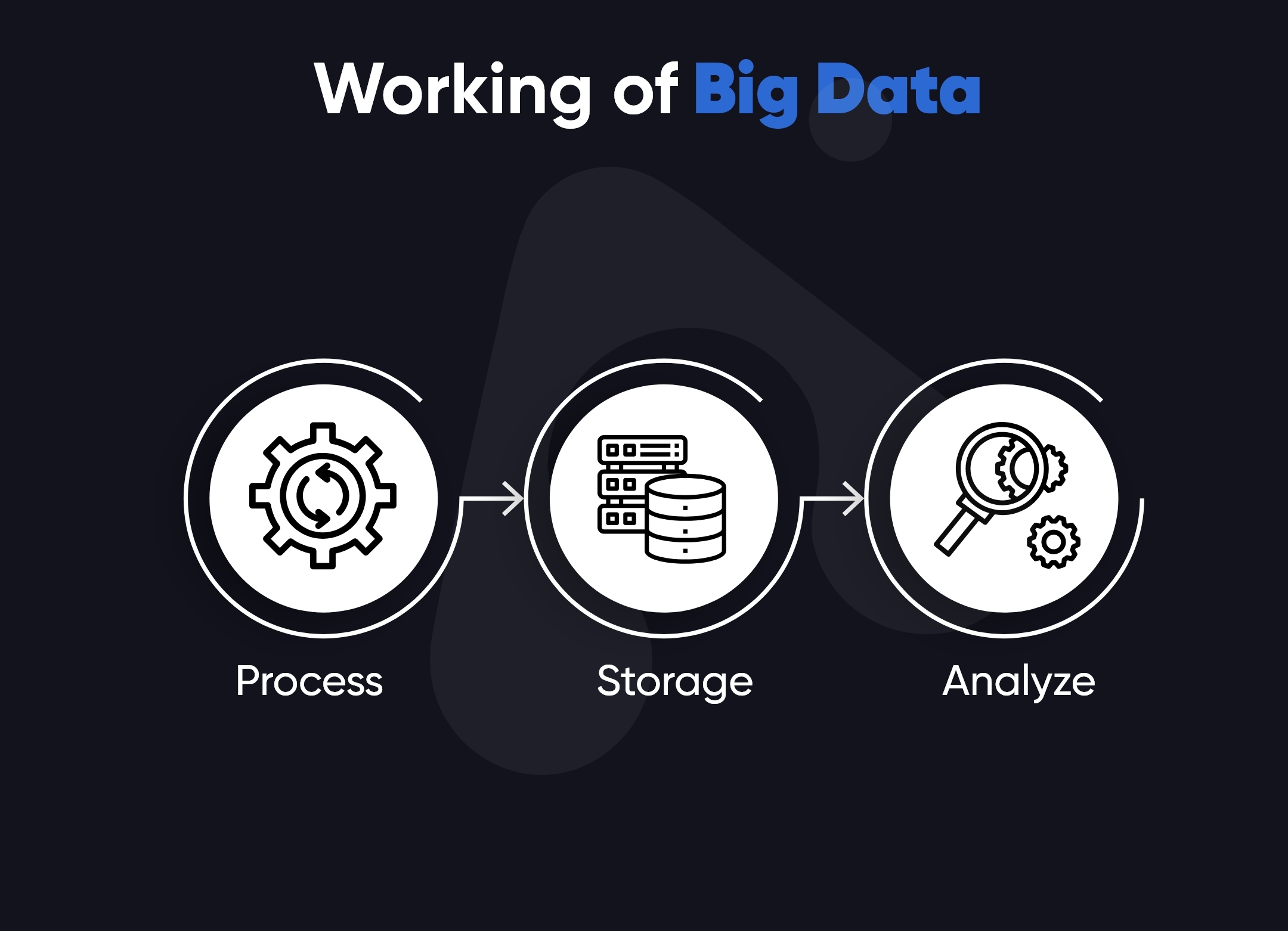 The primary thought behind Big Data is that the more you think about anything, the more you can pick up bits of knowledge and settle on a choice or discover an answer. The need to deal with a plethora of data requires a steady and all around organized foundation. 
It should rapidly process gigantic volumes and various sorts of information and this can over-burden a solitary server or group. This is the reason you have to have a perfect big data technology stack and framework. 
Integration 
Big Data is constantly gathered from numerous sources and as we are representing gigantic heaps of data, new procedures, and advances to deal with it should be found.  Sometimes, we are discussing petabytes of data streaming into your framework, so it will be a test to incorporate such a volume of data into your framework. 
Processing 
What else may you require for such an enormous volume of data? You will require a spot to store it. Your capacity arrangement can be in the cloud, on-premises, or both. You can likewise pick in what structure your data will be put away, so you can have it accessible continuously through on-request procedures. 
Analysis 
As you have the information gotten and put away, yet you have to break down it so you can utilize it. Investigate your information and use it to settle on any significant choices, for example, comprehending what highlights are for the most part looked into from your clients or use it to share inquiries about. 
Companies across the globe are closely watching the change and advances in the technology and so they might be well aware of what's coming in the future. Henceforth, this article clears the way of upcoming big data trends 2021 that will shape the data handling and processing industry. Let's get started with them!
Top Big Data Trends in 2021
Chief Data Officers (CDOs) to be in Limelight
The places of Data Scientists and Chief Data Officers (CDOs) are moderately new, however the requirement for these authorities on the work is now high. As the volume of data keeps on growing, the need for data professionals also reaches a certain limit of business requirements.. 
CDO is a C-level official liable for information accessibility, integrity, and security in an organization. As more entrepreneurs understand the significance of this job, recruiting a CDO is turning into the standard. The requirement for these experts will remain to be in big data trends for quite a long time.
An ever-increasing number of organizations will anticipate them at the cutting edge of information adaptation. Further, a noteworthy result of raising CDOs to profoundly mindful situations as they can be instrumental in associating corporate information resources with line-of-business clients.
Actionable Data will be quickened
Another innovation in reference to big data trends 2021 identified to be 'actionable data' for faster processing.
This data denotes the missing connection between business prepositions and big data. As it was referenced before, big data in itself is useless without examination since it is excessively mind-boggling, multi-organized, and voluminous. 
In contrast to big data trends, normally depending on Hadoop and NoSQL databases to examine data in the clump mode, quick information takes into consideration preparing continuous streams.
Due to this data stream handling, information can be broken down instantly, within a little time just as only one millisecond. This carries more value to associations that can settle on business choices and initiate processes more quickly when data is decluttered. 
By preparing information with the assistance of logical stages, businesses can make the data exact, normalized, and significant. These experiences assist organizations with settling on progressively appropriate business decisions, improve their activities, and plan all the more enormous information use cases.
DataOps & Self-Analytics
Trends in big data analytics are as of now effectively executed on the business level with present-day self-administration devices. With DataOps, an agile arrangement is currently accessible for information to the executives. This implies that businesses can enhance the speed and quality of data processing by utilizing mechanized and process-situated innovations. 
With DataOps and self-administrations, one of the significant big data trends 2021, it is conceivable to utilize information dispersed all through the organization. DataOps can be utilized to robotize whatever number phases of the information stream as would be prudent, including:
Business Intelligence 
Information science 
Information investigation 
Advancements, for example, continuous data integration, change data capture (CDC), and processing data pipelines structure forms its establishment. Along these streamlines, DataOps in operational information, the executives, and self-administration analytics of the business set up a smooth procedure over the whole data esteem chain. 
These big data trends are somewhat new, and we can evaluate that its improvement ought to be tallied from 2017. It was a critical year for DataOps because at this time significant ecosystem system advancement occurred. Without a second thought of uncertainty, it's an innovation worth viewing.
IoT & Big Data: Synced Future
There are such huge numbers of innovations that aim to change the present business scenarios in 2021. It is difficult to stay aware of all that but IoT and Digital devices are required to get a footing in big data trends 2021.
The role of IoT in healthcare can be seen today, similarly, the technology combining with Big data is pushing organizations to gain better results. 
According to the surveys, 42% of associations that have IoT solutions underway or IoT production in progress are intending to utilize digitized portables within the following three years. 
Digital Twins are another an advanced portrayal of a physical system or framework. Business applications and framework pioneers can utilize these frameworks to diminish complexity within their IoT production. They can run several simulation processes before real-time gadgets are manufactured and produced. 
Trends in big data analytics are rising as vital aspects for breaking down IoT-based information gathered from "connected devices" that can help to improve dynamics. The task of big data in IoT is to process a lot of information consistently and put it away for utilizing distinctive storage technologies.
Machine Learning will remain in Focus
Being a profound technology in big data trends 2021, machine learning (ML) is another innovation expected to impact our future radically. ML is a quickly growing innovation used to expand regular activities and business processes.
ML projects have gotten the most investments in 2019, contrasted with all other AI frameworks joined. The accompanying realities have demonstrated how organizations are putting more in these applications: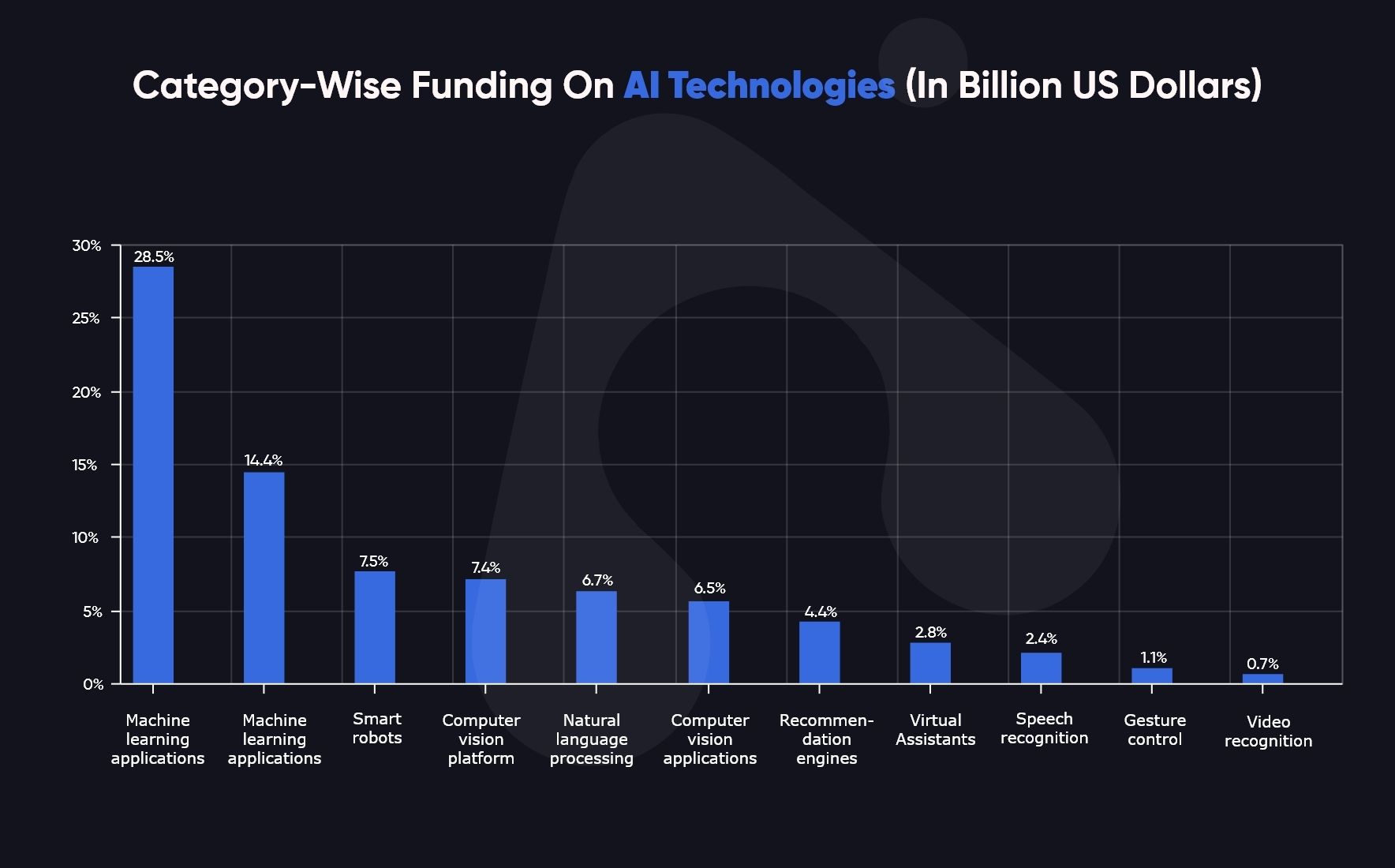 Automated ML tools help in creating bits of knowledge that would be hard to extract by different techniques, even by expert analysts. This big data technology stack gives quicker outcomes and lifts both general productivity and response times.
Metadata System will be Smarter
Metadata is organized information that contains data about the attributes of other information. This permits enormous measures of data or sensitive information to be restricted, caught, blended, and, most importantly, consequently handled in the distributive and different data stocks. 
Smart functions of AI and ML utilize data management, coordinated effort in data assignments, and an enhanced work process. Since the whole process is safeguarded, the data is increasingly available and can likewise be utilized for future undertakings. 
This is one of the emerging big data trends that lead to automated metadata processing. They will be progressively outfitted with AI in 2021 to empower dynamic, versatile, and quicker data arrangements.
Simulation of Quantum Computing
Getting to analyze and process billions of data and extracted information can take a great deal of time with the present techs we are utilizing. Processing and handling them once at a time can help to reduce the time of data management. This will allow organizations to settle on convenient choices for accomplishing better outcomes. 
This immense endeavor must be conceivable through the impact of quantum computing. In spite of being in its outset, tests are carried out on quantum devices with an end goal to help in useful and hypothetical research across various businesses. 
The leading tech organizations like Google, IBM, and Microsoft are also experimenting with this big data technology stack to implement them into productive business analytics.
Growth of Natural Language Processing (NLP)
Speech-recognized applications have not progressed quickly in the recent years. The challenges with these applications occurred due to the insignificant process of voices and speech, giving a thought on the accuracy of these systems
Fortunately, natural language processing leads to better understanding and processing of voice-based data. This will process every speech query required to get a better command over the tasks. 
This is among the trending big data trends 2021, leading to better conditions of distribution centers and logistics in different circumstances. NLP systems likewise function admirably for executives and directors who need to get data by utilizing voice orders from their cell phones.
Augmented Analytics will be the new Data Analytics
Another technology that can overcome the big data challenges is Augmented analytics. It enhances the process of extracting core business insights through AI and ML devices with automated operations. An augmented analytics engine dive deep into an organization's data, refreshes it, and then processes it for better business decisions.
When the data becomes arrangeable, it converts the information into actions as handled by a supervised person of the company. Augmented analytics can make the processing accessible to littler organizations by making it more easy to use. 
In 2021, this big data technology stack will turn into the essential acquisition of organizations managing business insights and values. Online enterprises will be planning to anticipate augmented analytics as their foundation develops more outcomes.
The innovation has better data processing for the businesses by combining ML and AI strategies to build, optimize and analyze data in simpler ways.
Cloud Management of Increased Data Volumes
Data experts have agreed that the current rate of increasing data volumes might make companies utilize big data trends 2021 for better businesses decisions. However, the challenge will be rising for the storage and management as the companies move towards cloud computing.
Cloud-based platforms are well suited for handling billions of data in just a second. Since most of the portable devices are now running on cloud platforms, so opting cloud computing is not a choice but a necessity for companies across the globe.
Collaborating with the big data, these technologies are making it easy for the companies to come up with flexible solutions for handling enormous data sets. 
Moreover, this evolution makes way for the rise of open-source biological systems, for example, Hadoop and NoSQL. 
Being startling and captivating simultaneously, the future trends in big data analytics vows to change the process of handling business operations, manufacturing, logistics, and other leading industries across the world. 
As the big data analytics holds the barrier for cyber security as well, there is a steep growth in the investors looking forward for a secure data processing platforms.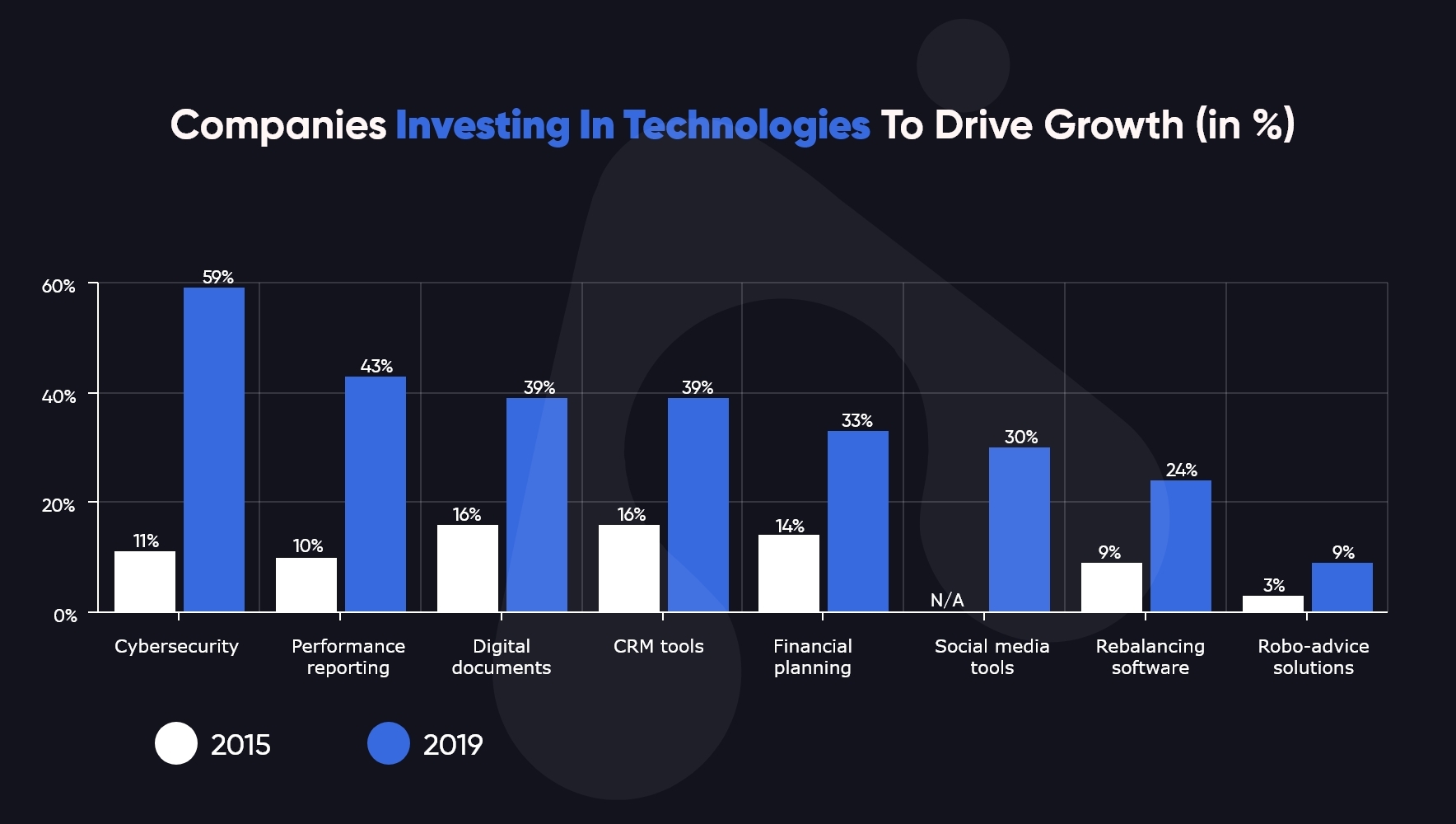 The mind-boggling size of big data may make extra difficulties later on, including information protection and security dangers, lack of information experts, and troubles in information stockpiling and handling.
Along with the rise of big data trends 2021, there are some tools for implementing and executing big data analytics for the businesses. They are emerging due to the capacity of handling and processing large amounts of data sets. Let's get to know about them better:
Emerging Big Data Technologies
As the amount of data grows from sensors, clickstreams, and social media, businesses often turn to new technologies to capture and analyze that data for business insight. These are the top big data technology stacks that are being utilized today:
Hadoop
Hadoop is by a long shot the most mainstream usage of MapReduce, being a totally open-source stage for taking care of Big Data. It is adaptable enough to have the option to work with various information sources – 
either accumulating numerous wellsprings of information so as to do huge scope preparing or 
in any event, perusing information from a database so as to run processor-concentrated AI employments. 
Platfora
Between getting ready, testing, and running occupations, a full cycle can take hours, wiping out the intelligence that clients appreciated with traditional databases. PLATFORA is a stage that transforms the client's inquiries into Hadoop employments naturally, subsequently making a reflection layer that anybody can adventure to improve and sort out informational indexes put away in Hadoop.
Hive
Hive is a "SQL-like" connection that permits traditional BI applications to run inquiries against a Hadoop bunch. It was grown initially by Facebook yet has been made open hotspot for quite a while, and it's a more significant level deliberation of the Hadoop structure that permits anybody to make questions against information put away in a Hadoop group similarly as though they were controlling a regular information store. 
MapReduce
This is a programming worldview that takes into account huge employment execution versatility against a large number of servers or bunches of servers. Any MapReduce usage comprises of two assignments: 
The "Guide" task, where an info dataset is changed over into an alternate arrangement of key/esteem sets or tuples; 
The "Decrease" task, where a few of the yields of the "Guide" task are consolidated to shape a diminished arrangement of tuples (henceforth the name).
PIG
In contrast to Hive, in any case, PIG comprises a "Perl-like" language that takes into account question execution over information put away on a Hadoop group, rather than a "SQL-like" language.
PIG is another scaffold that attempts to bring Hadoop closer to the real factors of engineers and business clients, like Hive. PIG was created by Yahoo!, and, much the same as Hive, has likewise been made completely open source.
The big data technology stack is really about optimizing new features and benefits to process the data effectively. These tools are capable of monitoring and handling a large number of data sets with different patterns.
With the ease of data management, many companies are being benefited through these tools. Let's have a look at the big names using big data trends for their businesses:
Who are using Big data-Top Players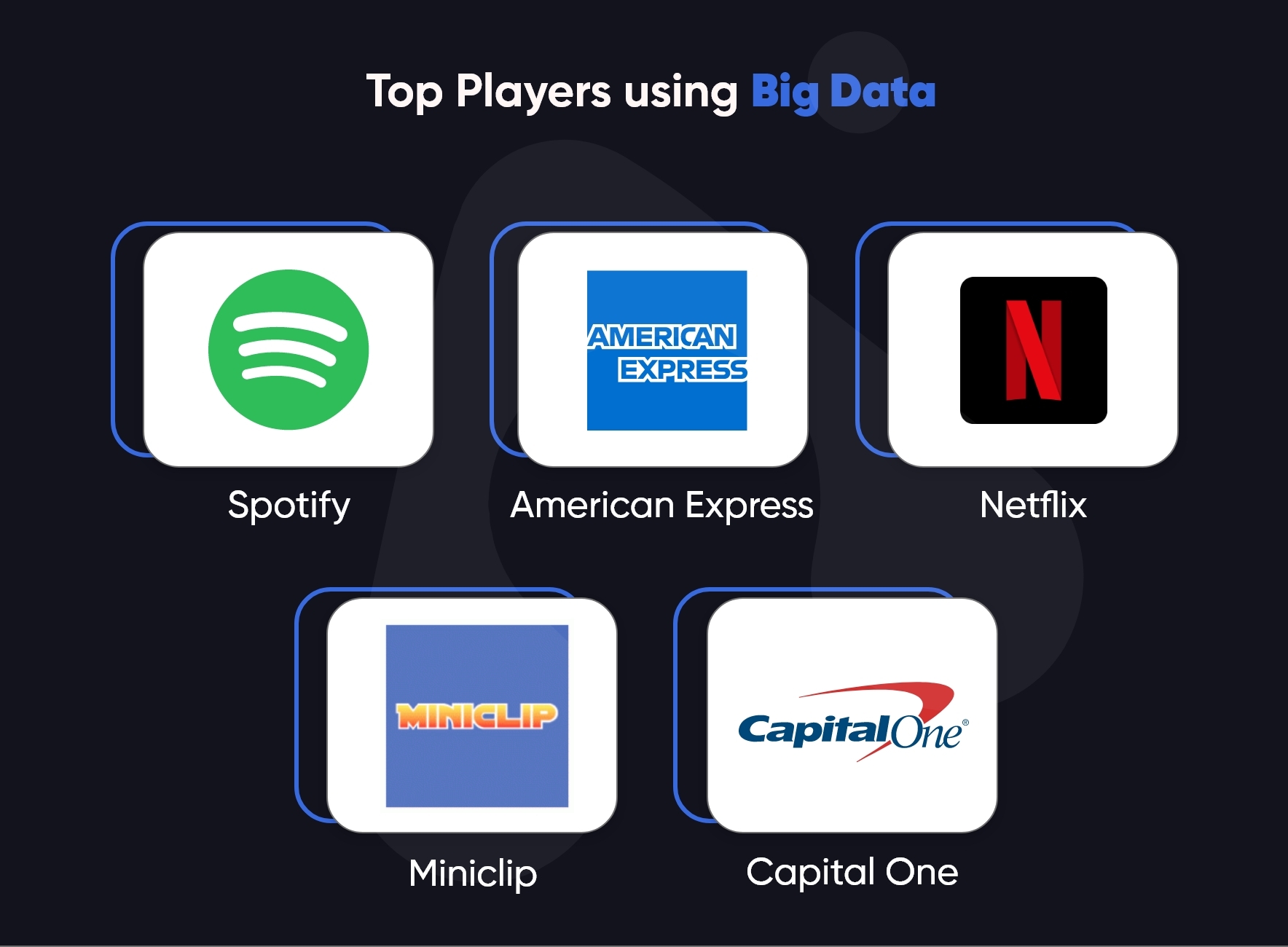 Just to show you a bit of the force behind these advancements, we're going to investigate a few organizations and brands utilizing such stages to improve execution and proficiency and convey better client encounters. 
Here are 5 genuine instances of organizations utilizing big data benefits and AI to help deals, convey customized encounters, and improve their items.
Spotify 
Every week, Spotify offers each client a customized playlist with music proposals dependent on their tuning in and perusing history. It's sort of like a curated mixtape from the stage, offering new tracks and specialists, demonstrating new kinds you may appreciate or in any event, refreshing you on your preferred music. 
This component is conceivable gratitude to an immense trove of data and information they gather from their client base. At the point when you have a large number of individuals tuning in to music consistently, you increase some entirely profound bits of knowledge into client propensities and inclinations. 
American Express 
The American Express Company is additionally encountering enormous information advantages to break down and anticipate shopper conduct. By taking a gander at authentic exchanges and joining in excess of 100 factors, the organization utilizes modern prescient models instead of conventional business insight based knowing the past announcements. 
This permits an increasingly exact figure of potential agitate and client dependability. Truth be told, American Express has guaranteed that, in their Australian market, they can anticipate 24% of records that will close inside four months. 
Netflix 
The amusement spilling administration has an abundance of information and investigation giving knowledge into the review propensities for many global customers. Netflix utilizes this information to commission unique programming content that interests all around just as buying the rights to movies and arrangement box sets that they realize will perform well with specific crowds. 
For instance, Adam Sandler has demonstrated dislike in the US and UK showcases as of late yet Netflix green-lit four new movies with the on-screen character in 2015, equipped with the information that his past work had been effective in Latin America. 
Miniclip 
Miniclip, who creates, distributes, and appropriates computerized games universally, utilizes huge information to screen and improve client experience. Because of the idea of the organization and segment, client maintenance is a need for Miniclip so as to make games progressively gainful and, subsequently, to help business development. 
Huge information revealing, investigation, experimentation, and AI information items permit the organization to quantify the effective components of their items and execute them in future endeavors, while likewise disposing of or improving the risky parts. 
Capital One 
Showcasing is one of the most widely recognized utilizations for huge information and Capital One is at the highest point of the game, using huge information the board to assist them with guaranteeing the achievement of all client contributions. 
Through investigation of the socioeconomics and ways of managing money of clients, Capital One decides the ideal occasions to introduce different proposals to customers, in this way expanding the transformation rates from their interchanges. 
In addition to the fact that these results are taken from the perspective of their growth, big data trends are really meant to be perfect business assets. From multiple points of view, these advances will improve execution and proficiency for business while all the while modernizing encounters for shoppers.
Simply consider the horde manners by which you would now be able to get profoundly customized and logically applicable substance or proposals, in view of something as basic as your ongoing buy history.
Big Data – A key for future analytics (Conclusion)
Knowledge is power, and the power is BIG DATA. Lots of it. 
Following the core insights of business operations, customer behaviors, or industry trends, Appventurez can help corporates to stay competitive with the use of big data analytics.We integrate their systems with beneficial tools and emerging technologies of big data trends. 
Our approach to big data is straightforward: we deliver data you can trust, at the speed of business. Our goal is to give you all the tools your team needs to capture and integrate data from virtually any source, so you can extract its maximum value. 
We help data experts with learning and adaptation of complete technology stacks. With increased processing time and faster execution, our platform is:
Native
Open
Unified
Cost-saving
"Big data isn't just an important part of the future, it may be the future itself".
---
---