Turning your existing website into an app or getting into full-fledged mobile app development, what will be a more viable decision for your business? Puzzled? Well, you're not the sole entrepreneur having this dilemma in mind! 
Having noticed that the world is intrigued with the aura of digital mobility, most website owners find it feasible to invest in web-to-app conversion. Irrespective of the reasons you give to get a mobile app as a strategy for top-tech upgrades for businesses, you must be eying on some super-easy ways to develop a mobile app from your business website. 
Let's take you on a tour to a guide to convert a website to a mobile app on this descriptive blog. 
Quick links to the content
The growing dependence on smartphones makes it nearly impossible to imagine our lives in their absence. Every individual out there is most likely to scroll through a mobile app screen rather than browse a website. Have you ever wondered why? Let's give you some hints before you find the answer!
On average, Americans spend almost 4 hours a day on their mobile phones. Moreover, the mobile app market value which was estimated as $920 million in 2017 is now projected to go beyond $3,798 million by 2025. Interestingly, 89% of audiences bank on mobile app usability to consume online data while only 11% of them bother to visit a website for the same reason. There are innumerable facts & figures to speak in favor of the fantastic benefits of converting a website into a mobile app.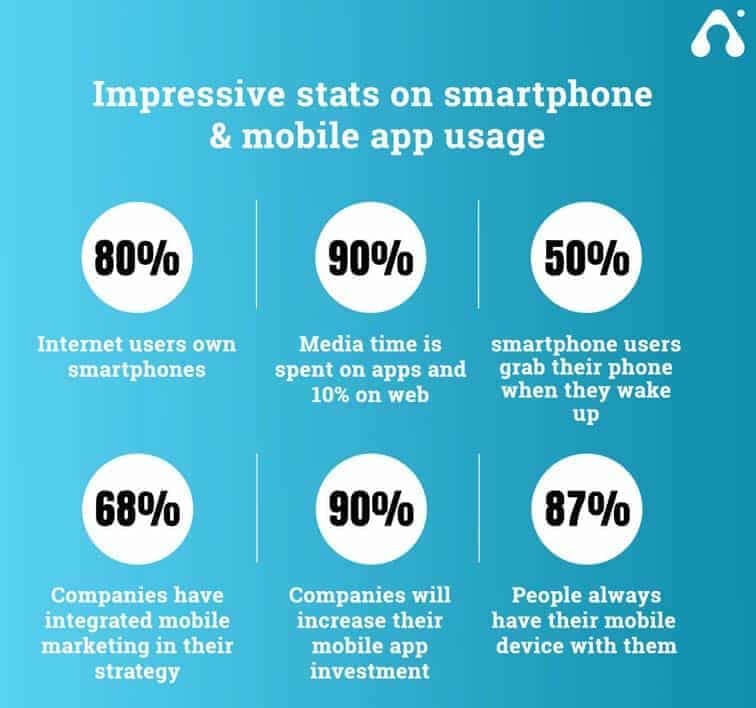 If you believe that your website is doing well, it won't take you a long time to realize that it's high time to approach a dependable software development partner.   
Clever Approaches to Transform a Website into a Mobile App
A responsive website is the first step to appearing online but a business-ready mobile app is an entire ladder to achieving a strong brand value. The convenience of having personalized mobile app experiences is incomparable to any online platform active to portray your eCommerce business. Hence, the concept of taking inspiration from websites for Android developers is taking rounds in everyone's mind. 
Take your time to note the best ways to convert a website to a mobile app. Do follow these smart approaches to stay productive in the mobile app development lifecycle centered on a website-to-app conversion:
Approach 1: Building an MVP for a Mobile App 
Creating a minimum viable product for startups is a great strategy to convert a website to a mobile app. It's a kind of functional prototype that comprises core functionalities & features of an envisioned mobile app. The plus point is that an MVP can be updated as per the feedback of the clients. 
Are bothered about how much does it cost to build an MVP? No worries, getting an MVP to convert a website to a mobile app won't going to be a costly affair. It will be more rewarding if you invest in an MVP that delivers high-end mobile app solutions at a relatively lower cost. 
Some big brands like Airbnb, Uber, DropBox, Buffer, etc. have chosen to bring an MVP strategy in a digital transformation lifecycle. So, what else you're waiting for? These benefits of getting an MVP while planning to convert a website to a mobile app will surely convince you to consider this approach:
1. It simplifies the process to get accurate mobile app performance metrics.  
2. Brings opportunities to gather profit-driven & risk-free investments with custom mobile apps for business from the marketplace. 
3. Provides relevant insights to inspect the demands & popularity of a mobile app in the target market. 
4. Makes it easy & quick to learn genuine feedback or reviews from the customers. 
5. Introduces pragmatic yet cost-effective ways to test the feasibility of mobile app strategy like top trending app ideas for businesses.  
6. Helps you in identifying security lags & resolving them with no difficulties at all. 
7. One can effectively outline a worthful strategy to implement a fruitful mobile app monetization model & measure its efficacy in delivering the desired outcomes. 
Approach 2: Using Web-to-App Converters 
There are ample options to try if you're hunting for a free tool to convert a website to a mobile app. The cost of website development may go out of your budget due to resources, timeline, complexity, features, & technologies involved in the project. 
Now when we're talking about conversion, let's make you familiar with a trend that most apprenuers are eying on to boost their brand presence in the mobile app market. With maximum app owners aiming to convert iOS to Android app & vice versa, such easy-to-use web & app converters gaining importance among budding developers. 
Wanna know about these best web-to-app converters? Here is a list of the 4 most preferred tools you can use to turn your website into a mobile app.  
Appy Pie
AppsEazy
iBuild App Converter
Website2APK
Let's reveal some peculiar features of these tools or platforms to convert a website to a mobile app with minimum effort & time:
a) Appy Pie
Not all business owners are looking forward for outsource app development these days. App Pie is a much-needed tool for such businesses to convert a website to a mobile app in the shortest timeframe & the lowest budget. 
It comes with tons of easy-to-integrate features alongside cost-effective premium plans. Small businesses & startups consider using Appy Pie over dedicated mobile app developers to conduct website-to-app conversions without spending a huge amount with high offshore app development costs. 
One can convert a website to Android as well as iOS apps using Appy Pie. Just copy & paste your site's URL, add a unique name for your app, follow the conversion process, & quickly publish it in the respective app store. Voila, it's done!! 
Appy Pie supports cloud computing functionality with incredible addons to enable payment gateway integration, social media integration, in-app purchases, & other customizations.
b) AppsEazy 
If you're thinking about no-code apps & tools, AppsEazy is all you need as a free tool to convert a website to a mobile app. It's basically a suite of built-in software for creating both Android & iOS apps from websites. 
Besides turning your existing website into a mobile app for free, you've to pay separately for publishing your application on the Google play store & Apple app store.  
c) iBuildApp convertor 
Entrepreneurs with no intention to invest in full-fledged Android & iOS app development can use this web-to-mobile app converter to make it easy peasy. Simply pick the desired layout, add desired elements for widgets, buttons, graphics, audio, video, social media links, & other features, & transform your website into a mobile app on the go!
Use its drag & drop feature to make your mobile app development entirely codeless & agile.  And don't forget to go through the guidelines before publishing converted apps for Android & iOS platforms. 
d) Website2APK
Keeping some common mobile app development challenges aside, there are certain difficulties that most app owners face while maintaining & monitoring their app's performance as per the market trends. Website 2 APK has a lot more to offer as a useful web-to-app converter with a series of interesting add-ons to:
Directly synchronize the website's data with your mobile app. 
Put your own brand along with a feature to enable push notifications in your app. 
Monetize your app like other best-rated revenue-generating apps available in the market. 
Get your own virtual Keystore to eliminate dependency on the service provider. 
Conduct full-cycle Android app development efficiently with zero coding efforts.
There are many web-to-app converters such as Convertify, AppGeyser, Pandasuites, GoNative, etc. to help you convert a website to a mobile app without coding.    
Approach 3: Getting Started with Custom Coding 
This DIY approach demands you to use your coding skills to create a lucrative retail app or any business-centric application on your own. As far as the benefits of converting your website into a mobile app are taken into consideration, getting started with custom coding is beneficial from the perspectives of cost-effectiveness, efficiency, efforts, & resources required. 
Just like your website design, you can leverage some must-have features in your brand-new mobile app for social media integrations, payment gateway which is a powerful technology that revolutionized the payment market segment, & other addons using APIs. To do so, you can use MBaas providers to integrate your website's APIs in the mobile app development process. 
Accept it or not, things may turn trickier if you're required to add more than basic features. Integrating platform-specific functionalities for particular services & target users will induce complexities resulting in the implementation of double-fold coding practices, technical requirements, & mobile app development strategies.  
So, if you're heading to code & convert a website to a mobile app yourself then be prepared to cope with all the major enterprise app development challenges. And if you're bothered with writing long lines of code then proceed with the next approach to productive web-to-app conversion. 
Approach 4: Hire a Mobile App Development Company 
All sorts of ideation, conceptualization, brainstorming, & planning for mobile app development for startups are adequately done with a team of dedicated resources you hired to handle your project. These well-versed professionals are familiar with the ins & outs of turning a website into a mobile app with maximum efficiency & minimum budget. 
Any venture with an active website can rely on these expert mobile app strategists & consultants to get a clear answer to understand why add technology and software to your business arsenal. 
The involvement of project managers, UI/UX designers, developers, QA testers, & mobile app marketers makes it highly favorable for those who're willing to spend a few bucks to escape the potential hardships of doing it on your own!!
Crucial Things to Keep in Mind while Converting a Website into an App
Once you get clarity on the best approach to convert a website into a mobile app, you must work on this checklist of essentials to make the most out of your mobile app development practices.  Here are the top factors to consider before converting a website to an app:
Let us discuss each of these factors in detail……
a) UX Design & Screen Patterns 
The first impression is the last impression indeed! The same concept is applied to the way UI/UX design & patterns of a mobile app are customized by the designers. 
Both consistency & creativity go hand in hand while customizing the components of an app. A developer is already aware of the fact that a website comprises multiple web pages with a pool of visual elements like text blocks, buttons, graphics, videos, & more. It may seem to be quite easy for a while but it's no piece of cake to migrate all these components from a website to a mobile app.
The best UX techniques to follow for web-to-app conversion put emphasis on screen sizes, resolutions, & other parameters to deliver a mobile-ready user interface design with added scalability across varied screen sizes. 
b) Hamburger Menu 
The hamburger menu takes you back to the top mobile app UI design trends that leverage a hidden tab or menu. Modern websites do carry a hamburger button that unfolds across a screen space only when a user taps over it.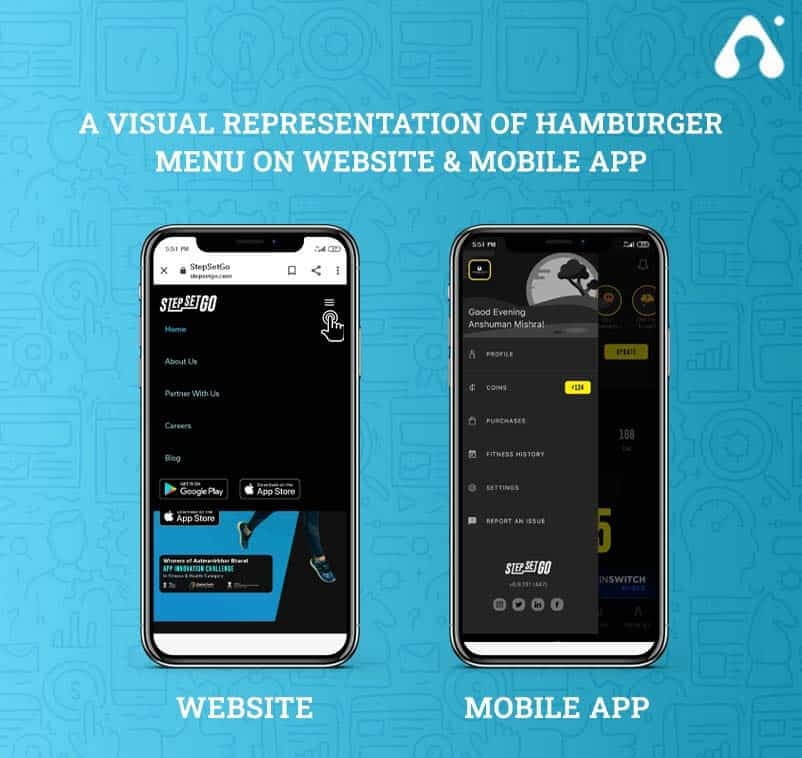 Instead of overcrowding the screen with too many visual elements & content, which is quite discomforting for an online visitor, it's better to place a single tab bar on the top of your app's screen consisting of multiple navigational options.  
c) Gesture-based Navigation
Another important aspect to customize your app's design goes around using gestures when a user navigates or swipes through the screen. Designers do consider this specific function when they convert a website to a mobile app rather than placing usual menus & icons over the layout.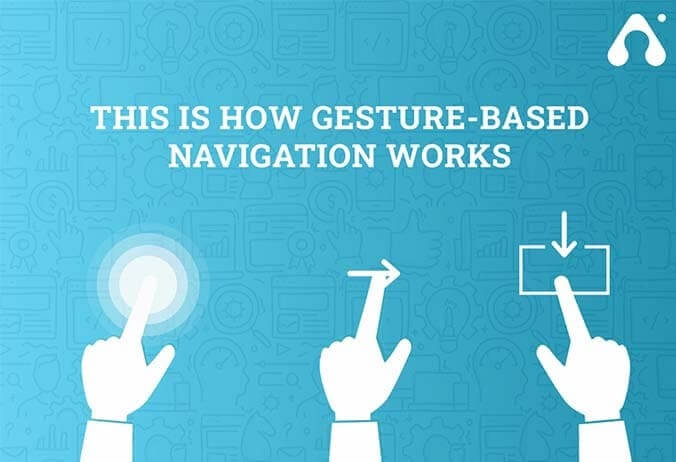 d) Simplicity & Consistency
No one would ever like to view cluttered content on the screen. UI/UX designers who know why white space is important in the design must have a deep understanding of how to maintain simplicity & consistency while designing an app's UI. 
To render seamless navigation, mobile app designers stay on a minimalist approach to position each element perfectly on the layout. Try to include only a handful of app screens with a few buttons, blocks, & other components so that the contents remain readable, catchy, & less complicated for the eyes of app users. 
e) Eye-catchy CTAs
Have you ever imagined getting an app that runs like a website? Well, the benefits of PWAs in eCommerce will surely push you to do so while planning to convert a website to a mobile app. 
Let's come to the point, that the reason why we're discussing progressive web apps in this section is the impact of CTAs in attracting more organic traffic to your online platform. As similar you put a CTA on your web pages, placing a call-to-action button with relevant content in a mobile app will direct users to visit your website, product, or any related service page. 
A UI/UX designer needs to focus on these points to create a compelling CTA for mobile apps:
Make it distinctive in contrasting shades as per the color of the background chosen. 
Customize it in a form of a geometric structure.
Try using a different font to place the content.
Keep the fonts in bold.  
Make sure that you're using one theme across all screens of your mobile app's UI. This will strike the users' minds to keep them engaged with your application. 
f) Faster Response Time
How to make apps load faster? This question will bother you later if you neglect it when you came across the benefits of converting a website into a mobile app. User engagement greatly depends on the loading speed of your website as well as a mobile application. No one would ever stay on a page that takes forever to load on the screen!
An app user would rather choose to switch to another app rather than waste a few minutes waiting for your app to load. 
Even with the fastest internet connectivity, your online portal may fail to keep customers engaged due to technical glitches & this will give you a reason to think about how to increase website speed. 
Beware, a similar problem shall arise if you overuse graphics, videos, & other elements turning your app slower in the end. 
g) Screen Size
Although we're yet to describe the reasons to convert a website to a mobile app, the compatibility of your dynamic mobile app will make you wonder about the mindblowing uses of cross-platform app development.  
Modern online platforms such as PWAs are fully optimized to adjust varied screen sizes & scale adequately with zero navigation flaws. Unlike in websites where responsiveness is being compromised at some point, you can bring a mobile app with flawless & scalable user interfaces to impart a stunning mobile app experience regardless of the varying screen sizes & type of device used.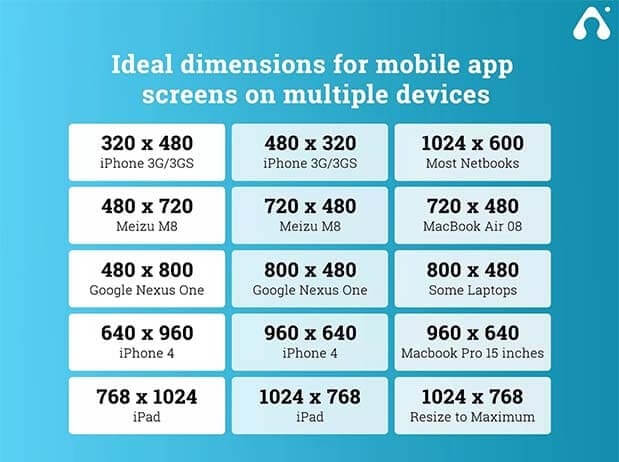 To cope with screen-related issues, you must apply some essential mobile app architecture best practices while implementing the best way to convert a website to a mobile app. Choose some handpicked features from your website to add them to your mobile app initially & update it later on with more add-ons.  
Offline Capabilities 
What strikes in your mind when it comes to offline mobile application development? It's as simple as that an app with offline capabilities shall enable users to continue browsing even with a slow or no internet connection. So, you must mind that one of your web-to-app conversion practices involves uninterrupted app access in offline mode.  
Important Options to Consider when Turning a Website into a Mobile App
Looking forward to the best strategy for web-to-app conversion? Read on to explore some possible options to consider along with the benefits of converting websites into mobile apps. 
a) Progressive Web Apps 
From Twitter to Flipkart, Forbes, Pinterest, Starbucks, & many leading brands ruling the global market, PWA technology is spearheading businesses relying on mobile apps in enterprise digital transformation over the edge of competition.  
To transform your existing website into a mobile app, most developers admire progressive web app frameworks to create stellar PWAs for web-like experiences on mobile devices. 
Read here to know how PWA technology dominates native app development
For now, PWAs are meant for Android users only. Foreseeing progressive web apps future, it will be a great business decision if you plan to opt for web-to-app conversion. 

Hybrid Apps (React Native, Ionic, & Flutter)
The term multi-platform support prompts one prominent reason for investing in cross-platform app development for your business. If you've ever been on the technology grounds of mobile app development then you definitely don't need any introduction to the perks of getting hybrid apps over native ones. 
Hybrid app development could be on your checklist of options to keep in your mind if you intend to convert a website into a mobile app. Hybrid apps combine both native & cross-platform capabilities. 
Just take a moment to check these 3 most preferred cross-platform app development frameworks to deliver high-performing mobile apps for universal platforms.  
React Native
We truly agree on the react-native future of hybrid apps. An open-source framework to develop cross-platform apps with added efficiency. If you're running a website based on React Js then you can simply migrate it to a mobile app using this easy-to-use framework. 
Some of the top trending mobile apps like Facebook, Instagram, Tesla, Skype, Pinterest, etc. are powered by React Native. 
Ionic
Stuck on the way to picking the right cross-platform framework to convert a website into a mobile app? You may keep scratching your head as it's quite hard to choose b/w ionic & react native development for your web-to-app conversion project. 
Ionic takes a step ahead of other existing tools & technologies used for building hybrid apps. It's an open-source SDK that facilitates single codebases to develop apps in HTML, CSS, & JavaScript programming languages. 
The Ionic framework is itself based on Apache Cordova & AngularJs. Moreover, you've to leverage PhoneGap & Cordova to run ionic to convert a website into a mobile app. 
Flutter
It's one more master UI framework to highlight as an option to simplify web-to-app conversion for present-day programmers. 
Google introduced Flutter as an open-source platform to build apps that can deliver native-like user experiences on both Android & iOS devices. Flutter app development is worth your investment if you're desirous to use a free tool to convert a website into a mobile app.  
The battle b/w ionic vs react native vs xamarin can bring a series of confusions to you. No worries, the next option will resolve your concerns with the best framework to use for developing fully functional hybrid apps from the website. 
Native apps 
The advantage of native app development will yield max benefits of converting a website to a mobile app. The best approach to create a platform-specific mobile app will inspire you to look upon cross-platform vs native app development as native apps are restricted to a particular operating system only. 
Need Developers for Web-to-app Conversion? Meet Them at Appventurez!
At this point, you've gained comprehensive knowledge about knows hows & the best ways to convert a website into a mobile app. In our conclusive statement, we suggest you either choose app builders or take consultations from expert mobile app strategists & developers at Appventurez. 
Buckle up to get connect with an award-winning mobile app design & development company to help you with the most promising web-to-app conversion outcomes to earn money by developing mobile app for your business. We're here to help you anytime, anywhere!!
General FAQs on How to Convert a Website to an App
1. What are the benefits of converting a website into a mobile app?
Every business owner seeks solid reasons to go ahead with the web-to-app conversion. Check out the top reasons to convert a website into a mobile app:
To Optimize user experience
To Encourage loyalty & engagement
To Boost mobile app revenues 
To enable push notifications
To establish an app store presence 
To strengthen brand reputation
2. How mobile app performs better than a website in terms of user experience?
Mobile apps provide a personalized user experience while websites stay behind from the performance point of view. Having a responsive web design guarantees to bring in online traffic from varied devices but a mobile app always takes a step closer to delivering a better user experience with the integration of value-added features like social media integration, GPS functions, click-to-call actions, one-click payments, push notifications, & more.
All credit goes to the developers who are concerned about how to increase app user engagement post converting a website into a mobile app successfully.  
3. Is it possible to build a mobile website? 
Of course, it's possible to develop a mobile website on WordPress. But you need expert hands to help you in launching a website with no ifs & buts for quality, performance, timeline, & technical requirements. It's much better to hire a dedicated developer to make a safe investment in website development for sure!

---
---