Two decades ago, websites dominated digital contact with clients on a global scale. Mobile apps were then made available on the market.
But even after the introduction of mobile apps, we still can't overlook how important websites are. Users are more likely to trust mobile applications that have a website.
There are three ways to build a website: with a website builder, with WordPress, or by hiring a professional designer. The route you pick will affect the overall cost of building your website.
If you utilize a website builder, you could pay as little as $6 per month, but WordPress will cost you somewhere between $11 and $50 each month. Hiring a website designer is the most expensive choice, with an initial cost of more than $10,000.
Below, we'll go in-depth on each of the three approaches and break down all the associated expenses so you can decide which is most cost-effective for your budget.
Table Of Contents
Basics Of Website Development
The cost of website development is still a brief of the overall cost. Some technical aspects and features are included in the total cost that must be kept in mind.
Let us give you an insight into the world of website development on a deeper level and get you some answers to "how much does it cost to build a website". Or know the answer to "how much should I charge to build a website".
1. Technology & Development Approach
Developers need to choose the right technology stack for their mobile app and website very carefully which has a lot of effect on the costing factor.
How much can technology and software affect the total cost of website development?
Website Building Software – The ready-made solutions are famous in the market. More than 30% of websites are developed using WordPress and others use Drupal, Shopify, and Joomla. These websites already have the necessary building process and ingredients that can help in delivering the smacking product when elements are assembled in the right order.
Drag & Drop Web Builders – Drag & drop is usually the doing-it-yourself development form that is explained later in detail. There are different tools like Weebly and Wix that are famous for building a website easily with predefined web modules. With tools like this, the owners don't have to require designing or development skills. However, there will be limitations in terms of functionalities and website design when it comes to tools.
2. Web Design Complexities
Now comes the determining the average cost of website design for small businesses that influences the overall cost. Let us settle down on the major aspects.
Custom Website Design – The website design includes mockups and wireframes that will be explained in detail in the piece. These also play a major part when it comes to budgeting.
Pre-made Design Template – If you are running on a limited budget then several design themes can come in handy to you. However, it is a bit difficult to go for design customization since not everyone is aware of website design. It is essential to hire designers that know the hook of ready-made designs by services.
Branding, Animations, & Illustration – The images and dynamic objects are other factors that affect the average cost of website design for small businesses including banding material and logos that can be an extra spend on the budget. 
The website can be responsive, fluid, or static depending upon design optimization. In the present world, we usually go for website responsiveness that makes it easy to use a website on different devices making it adaptable.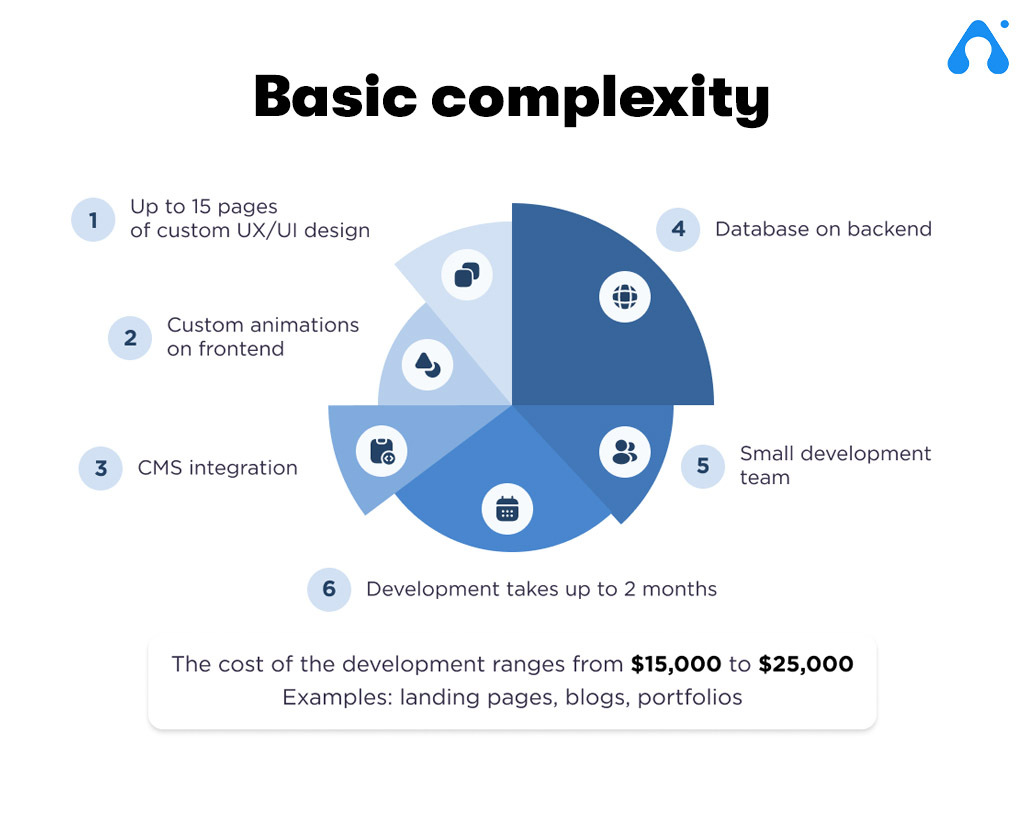 To know more about UI/UX designs on the website, you can also read 
3. Website Development & Functionality Complexities
The website functionalities include complexities that determine its overall costing factor or you can say a large portion of it. The website development costs include the basic features for the website that almost everyone goes for such as contact us, informative web pages (FAQs, About us), portfolio, blogs, service pages, admin panel, and so on.
The editable and dynamic content includes complex website functionalities. The admin panel is used to manage the content depending upon the complexity and variety of websites. In addition to this, a sophisticated backend website infrastructure is needed to streamline the website development.
How Much Does Building a Website Typically Cost?
However, on average, you should expect to pay roughly $200 to develop a website, with a continuing cost of around $50 per month to maintain it. If you employ a designer or developer, the initial cost will be roughly $6,000, with an ongoing cost of $1,000 per year.
| | |
| --- | --- |
| Website Features | Upfront Website Cost |
| Website Domain | $12- $60 |
| Website Hosting | $35- $600 |
| SSL Certificate | $0- $200 |
| Website Template or Theme | $0 – $200 |
| Ecommerce Functionality | $20- $24,000 |
| Website Content | $0 – $5000 |
| Apps and Integration | $0- $100 |
| SEO and Marketing | $0- $90 |
You can create a website in one of three ways: with a website builder, WordPress, or by hiring a web designer. Your website's cost will be significantly affected by the strategy you select. For instance, using a website builder might make developing content free, but hiring a web designer will set you back over $5,000.
The least expensive option to create a website is typical with website builders. Although WordPress is an open-source, free platform, there are costs associated with hosting, themes, plugins, and even hiring a developer, which can raise the overall cost.
The most expensive alternative is to hire a web designer, but it's the best one if you require complete control over how the site is built and customized or if it needs to have really sophisticated functionality.
It might be challenging to discover accurate pricing information for web design online, therefore we advise using our web design comparison tool, which is run by one of our most reliable partners, Expert Market.

Factors that Determine the Website Development Cost
The following are some key elements that affect the typical price of creating a custom website development:
1 Factor by Types and Purpose
Finding your website's purpose is one of the first things you should do. A clear purpose will help you create a decent website design, which in turn will make it easier to achieve your main aim, which is to attract as many potential consumers as possible. Here are eight different categories of websites that are popular right now.
A website and blog for personal
You can think about using individual websites used as personal blogs or educational web pages to give news and advice to your potential customers.
A booklet (Landing web page)
For small businesses, a brochure website that includes contact information, an "About Us" page, and the ability to email requests or other calls to action is excellent (CTA).
A few web pages make up the website, which aims to draw in new clients and boost sales. However, some websites are designed to spread news and information.
Corporate websites attract visitors and communicate the company's values to customers online. They are closely related to website marketing costs objectives and must convey a company's mission and highlight its portfolio.
The website focuses on online payment exchanges for goods and services.
The website is perfect for vendors who want to sell their wares online and is comparable to shops that sell to many customers or on a compound platform. Examples from the past include Amazon and eBay.
This category includes informational websites, which also provide emails, forums, search engines, and other online services. Yahoo and AOL are two instances from the past.
2- Factors by Phases
Before getting into the actual expenditures, we must first assess the various stages of constructing a website. We can only estimate their value after we know what components go into creating a website.
Let's take a closer look at each of the variables.
1- User Interface and User Experience Design (UI/UX)
A beautiful website design is a success indicator for the good or service. Simply put, UI/UX design is extremely important to the success of your website.
What goes into creating a website that will appeal to potential customers? The steps in this technique are as follows:
Researching

Wireframing

UI/UX designing
In conclusion, the UI/UX phase may take one to two weeks on average and cost $750-$4,000 or more. The length of time would depend on the complexity and requirements of the project.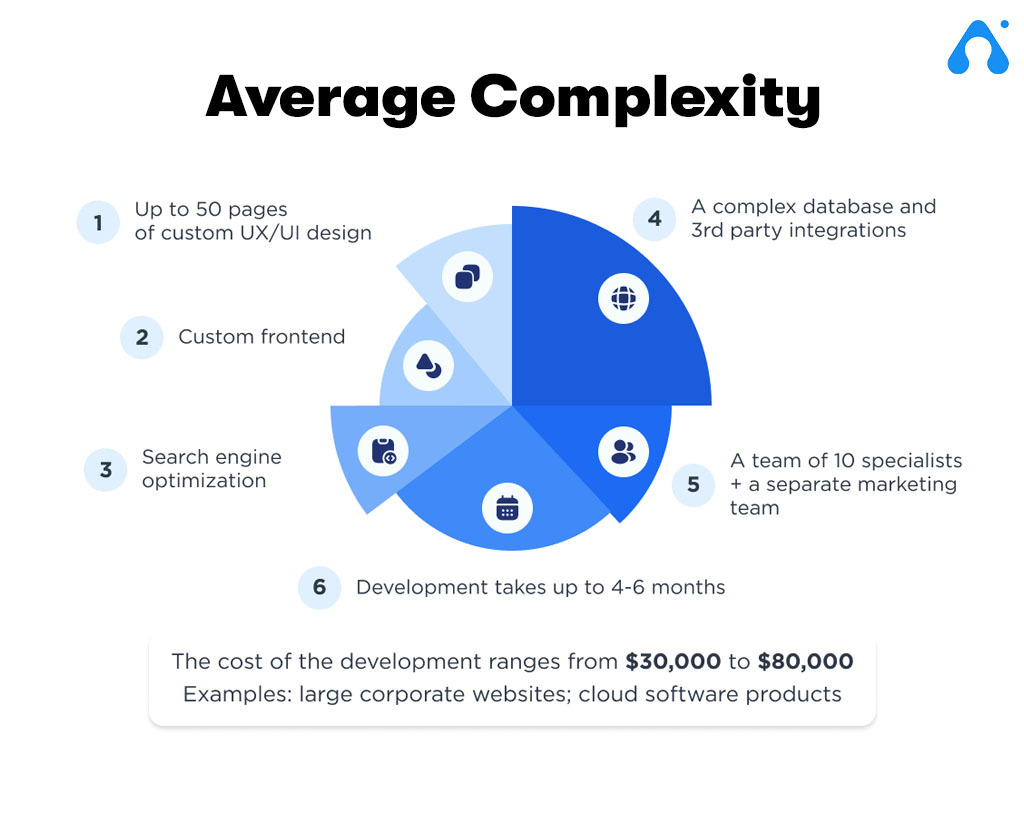 2- Front-End Development
Visitors to websites recognize the interface and initial visual touchpoint as the front end. Design is the first step in the phase, which then includes QA testing.
The complexity of the animations and the responsiveness of the website are two cost-influencing elements in this stage.
In conclusion, the front-end development process may last two to six weeks on average and cost $1,000 to $12,500 or more.
3- Back-End Development
When the user has interacted with the visual website interface through buttons and other elements, the back-end comes into play. Any website's back end, often known as the server side, is its heart and is in charge of its efficient operation.
The integration with third-party services, complicated queries, data processing duties, and other elements are the key cost determinants for this phase.
In conclusion, the front-end development process may last three to eight weeks on average and cost $4,000 to $12,500 or more.
4- Content Management Systems (CMS) Development
Occasionally, you might want to write, edit, and manage the website's content. Additionally, you shouldn't contact engineers every time you wish to make a small adjustment.
For all of the aforementioned activities to be completed successfully, CMS software is required.
Top CMS platform for website development and you might run into some CMS tools like Shopify, Drupal, and WordPress. Even though they are intended to shorten development times and lower the cost of website creation, you will find that they are functionally constrained.
How much does it cost to design a CMS? It might cost up to $9,000 and take an average of three to eight weeks.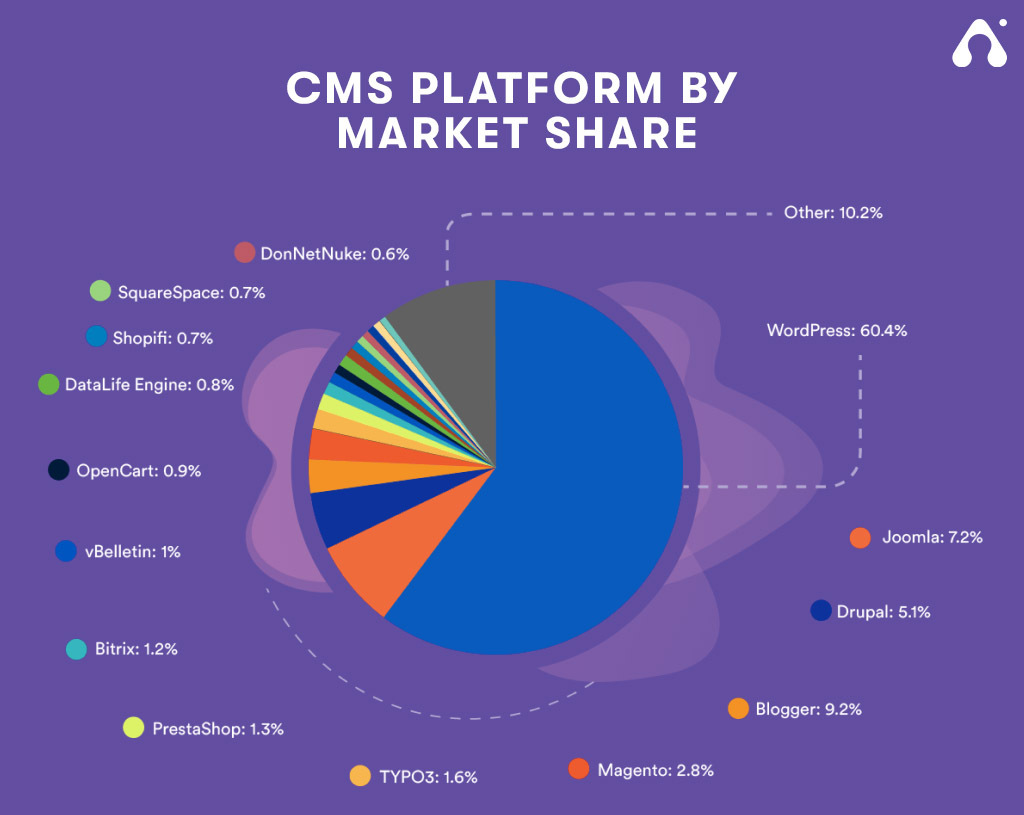 Cost Of Hiring A Vendor For Website Development
The above aspects showcase the overall cost of website development but what will hit the nail is choosing the vendor time. Are you going to hire a professional? Outsource a company to which they provide website development solutions. Do it yourself? How much does it cost to hire someone to build a website?
Let us give you a better insight into the world. 
1- Hire A Professional Cost
Running your business and understanding technical jargon are two different things. Just because you are a great business doesn't mean that you know the tech trends, programming languages, frameworks, third-party integrations, etc.
As a result, it is best to hire professionals that know the hooks of website development and come up with the actual cost. Not only this but to determine the cost, you need to understand how long it takes to develop an app (or website), since both work in the same way.
While determining the cost, you will get two aspects, ridiculously crazy or cheap prices and no listing at all. The website design and development work on the blueprint that experts can prepare to get an inclusive cost.
How much does it cost to hire someone to build a website? There are different aspects that professionals can take care of that also determine the cost of website development such as:
Custom Logo

Custom Site Layout

Page Volume

Image & Graphics

Design Revisions

Programming

Content Development

Custom Programming
2- Do-It-Yourself Cost
You can do it yourself as well if you have a basic knowledge of technology. It is not that expensive if you are doing it on your own but it is not ideal. There are so many things that you need to keep in mind and might not even be that easy to maintain.
Website Hosting

Domain Name

Premium Plugins

SSL Certificate

Website Theme

Education

Stock Photos
There are Websites for Android Developers, iOS, and even for website developers that you can check out if you want to learn it is going to take a lot of time in total. 
Then there are options of freelancers and in-house teams that are not much cheaper as compared to hiring a professional for website maintenance costs. Just keep in mind the most common mistakes that you must avoid while developing the website. This will fall under "how much does it cost to create a website".
Conclusion
The best thing to do is just hire someone capable enough to take care of your whole web development project while you sit back and reap benefits while focusing on other tasks. You might feel that we are getting biased. But the fact is that it is the most ideal thing that you can go for.
To understand the cost of website development, you can also go through:
Now, we have given you all the aspects of the cost of website development and design through Appventurez as a web development company through which you can estimate it easily. However, the cost of a website is not just money, it includes tech skills, time, resources, design skills, and so on.
In addition to this, you need to think of a website development agency that is best for your business and be realistic with your website as the best option.
FAQs
1- How long does it take to develop a website?
The total time of website development depends upon the type of website development. A landing page can be ready in a maximum of 50 hours whereas the business website will take approximately 250+ hours. The time can vary as per the website features, functionalities, pages, and so on.
2- How to develop a website from scratch?
As mentioned above, everything depends upon the functionalities and requirements of the website. The cost can be calculated on an hourly basis or even the whole project depending upon who you are hiring. So, know the requirements and then go for the hiring.
3. How much should I charge for programming?
If you consider yourself a novice right now, don't charge people less than $50 an hour, but if you want to get to the point where you can charge someone a higher price, like $200 to $300 an hour, you'll need to make sure you're well knowledgeable and good at what you do.
---
---