The on-demand economy is increasingly changing the way traditional serving solutions are used. Mobile apps based on the on-demand economy are transforming the ways that businesses serve their customers.
Organizations lack the advantages of specialization, thus their primary goal is to combine specialist cooperatives, create an internet portal with an easy-to-use interface, and market their image to capture a significant share of the total industry.
The rise of on-demand services has accelerated the growth of a number of sectors. Shoppers, for example, require everything to be at their fingertips.
On-demand services applications provide the much-needed interconnection between enterprises and users. Purchasers use them as tools that are available across a variety of divisions to enhance instant access to various things or services.
Table of Content
Industries Driving On-Demand Economy
1. Food Delivery
The food industry is regarded as an evergreen business model. The distribution of meals to consumers' doorsteps quickly becomes the norm in India. UberEats, for example, used the greatest food delivery app development guide and approaches to integrate all of the measures for assisting customers.
The meal delivery business is worth €83 billion, accounting for 1% of the total food market and 4% of food sold in cafes and restaurants. And right now, more companies are setting up the cost to develop an on-demand delivery app and getting their objectives aligned to stay competitive.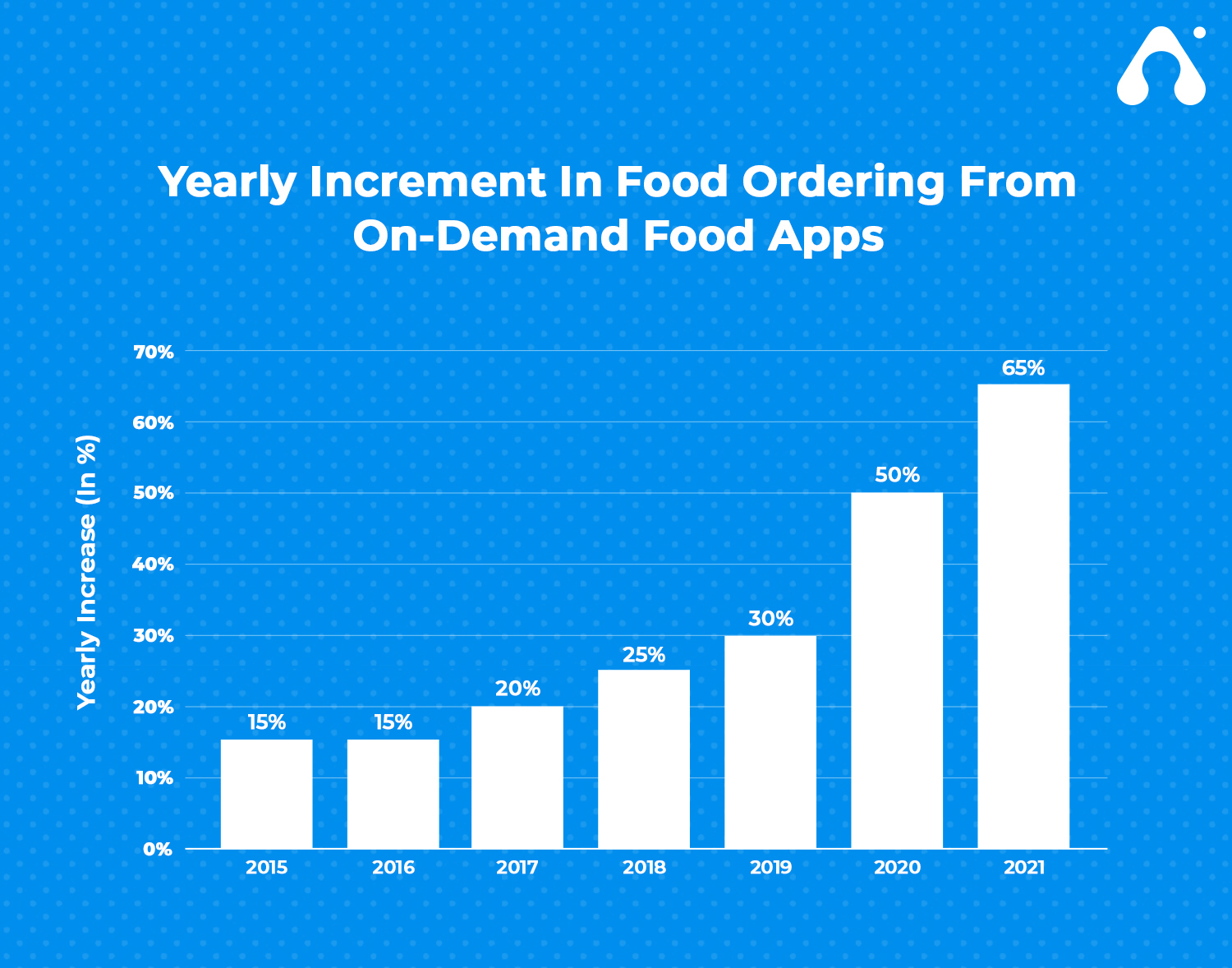 The aggregators simply collect orders from customers and route them to restaurants, maintaining the legacy of conventional delivery methods while embracing digital infrastructure. The restaurant is in charge of the delivery.
2. Transportation and travel
Thanks to companies like Uber and Airbnb, the transportation industry dominates the on-demand economy. This is the area where the majority of VC money is invested.
According to reports, more than 75% of financing has gone to only five "on-demand" firms, four of which are in the travel and transportation industry. 
However, the majority of on-demand taxi booking apps include answers for all types of travel needs. As a result, they're climbing the ranks of the most popular mobile app categories throughout the world. 
3. Entertainment
The On-demand application development that will rise in the economy has likewise changed the scene of media outlets. Today, there are different video-on-demand apps and music-spilling stages. 
They let users investigate a wide scope of tracks, solutions, and assets over the globe, get moment access to them continuously, share their own work, pay flawlessly, and substantially more. 
4. Finance
The Finance (or Fintech) segment has additionally assumed an imperative job in supporting the on-demand app economy by encouraging proficient, fast, and practical answers for the current and built-up money-related framework you can estimate the cost of finance app development. 
Indeed, a more extensive scope of adaptable APIs is letting on-demand organizations effectively incorporate installment forms into their apps, upgrade installments, guarantee straightforwardness and security, and just as improve the user experience.
5. Healthcare
Healthcare was one business that desperately needed on-demand service apps. Patients used to have to go to hospitals and wait in never-ending lines to see a doctor. 
The advent of on-demand services in healthcare has dealt with and rectified the majority of the challenges on its own. Medicines are now only a few mouse clicks away from the patient. On-demand services have gained mobile app healthcare advantages among patients as well as experts.
Additionally, the app allows you to schedule doctor appointments and get medical reports.
There are mobile applications in healthcare services that cater to all of your medical needs. Here are some of the most popular applications to think about while developing a health app.
6. Real Estate
The land business is also contributing to the growth of on-demand services. Real estate agents and customers are turning to the on-demand app market to find solutions to common problems and to gain rewards, such as cash.
No requirement for agents 
Lower cost 
Time-effectiveness 
Decreasing the requirement for an on-location specialist 
Digitized offer-accommodation process, and 
The simplicity of purchasing/selling items. 
The advantages of utilizing the features of an on-demand economy are not limited to the present; however, the future has a similar narrative to tell, with high details to flaunt and progressively larger company possibilities.
Rising Industries Seeking On-Demand Services App
1. Vehicle Rental 
The interest in vehicle and bicycle rental apps is likewise rising and financial specialists are additionally hoping to put resources into various portions that are not in the market. There is still space for new companies who are carrying something new to the table, so in the event that you have a thought, at that point research it to make it a reality. 
2. Vehicle Parking 
Each individual has their own vehicle, isn't that so? Also, now and then it gets chaotic to search for a stopping area. To diminish the difficulty users can book their parking space through an app. No compelling reason to meander around to search for an ideal spot to leave a vehicle. 
3. Fuel Delivery 
With a fuel delivery app, users can get the tanks of their vehicles filled and make their drive trouble-free. By using an on demand fuel delivery app, they can present interest, and the supply of the fuel will show up at their reference zones inside the surveyed time. 
The users need to enlist their nuances in the app, share zones, and demand fuel necessities. The driver type of the app will help fuel with shipping drivers investigating to the referenced zone and top off your vehicle. 
4. Lifestyle & Fashion
The lifestyle and fashion business are also growing; gone are the days when customers had to travel to parlors to get all of their services. Services such as beauty and back rubs may and do provide benefits to users.
There are some other experts that put in their efforts to get benefits in the industry such as on-demand stationary delivery apps, laundry ordering apps, and a lot more. Different business individuals and speculators are focused on joining this business sector and fitting their services accordingly, being the prospering on-demand economy firms that will reform it.
They are anticipating and getting engaged with these services. However, they need to follow on-demand service provider app guidelines to get the desired outcomes.
Top On-Demand Services Apps Leading Industrial Growth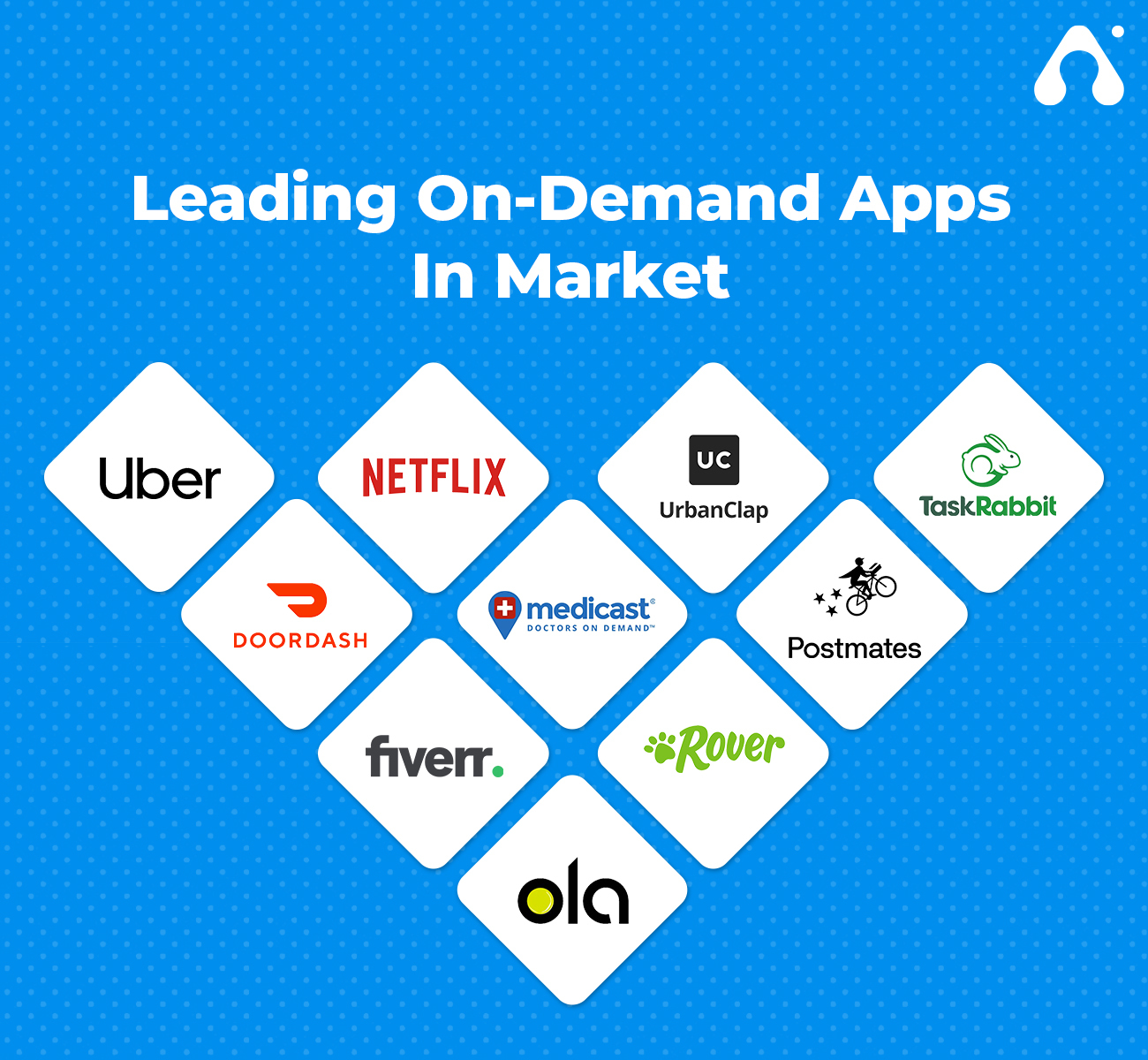 1. Uber
Rating: 4.6
Downloads: 600,000,000+
Uber is a renowned term individuals these days use as an action word: 'Lets Uber'. 
Uber's success may be attributed to its rationality, uniqueness, quickness, and convenience. They provide low-cost on-demand services that do not need you to pay any additional fees while riding. 
The service is speedy enough that customers can quickly benefit from the nearest vehicle and track its progress as it approaches them to develop taxi booking apps like uber.
2. Netflix
Ratings: 4.5
Downloads: 550,000,000+
Netflix is a video-on-demand service that is available to Netflix users. It's the world's first subscription service that allows customers to view movies and TV series on their phones. This mobile app provides the greatest experience at any time and in any location.
A digital transformation in Netflix for better than some other video-on-demand services app, which gives a wide assortment of motion pictures, shows, and classes to look over
3. UrbanClap
Ratings: 4.1
Downloads: 10,000,000+
UrbanClap, sometimes known as Urban Company, is one of the most popular on-demand service applications. You may hire services ranging from splendor to assistance in your house. This app offers over 50 services, all of which may be booked for a pre-approved price. From on-demand laundry service to furniture repair, it will get you everything related to your premises.
4. Medicash
Ratings: 4.4
Installs: 20,000+
Medicash is the best on-demand services app in the medicinal services industry right now.
You can utilize Medicash to send an interest with a couple of taps and you will associate with a certified authority to talk about the case shortly. This is also one of the reasons why hospitals need an app.
5. Rover
Ratings: 3.9
Installs: 1,000,000+
Rover is another focused doggy daycare app with house-sitting offices. Highlights given in the app are committed to expanding comfort and diminishing the family unit worry by helping you deal with your pet. 
6. DoorDash
Ratings: 5.0
Downloads: 11,000,000+
Fulfill your cravings anytime you want and explore the world of cuisine with your favourite restaurants at your fingertips by doordash buys food delivery app caviar from square. There are about 110,000+ menus and 600+ urban communities that the app addresses, with daily reporting on new places.
7. TaskRabbit
Ratings: 4.5
Installs: 500,000+
If you need to construct an on-demand services app, TaskRabbit is a fantastic source of inspiration. TaskRabbit, like Handy, can help you with household chores such as cleaning, furniture, and fixture maintenance.
8. Postmates
Ratings: 4.0
Installs: 10,000,000+
Postmates was launched in 2011 to help transfer various family unit products and furniture. The app later evolved into a food delivery service. Postmates is the driving force behind the enormous success of the market for meal delivery app development.
The app has several fantastic features that allow you to order meals from restaurants as well as supermarkets at a reasonable cost. This office is a huge benefit to people who require time to go to a store or eat at a restaurant to place an order.
9. Fiverr
Ratings: 4.5
Installs: 5,000,000+
Fiverr is becoming more and more as a recruitment company focused on on-demand services, where customers may save their creativity to win money and add to their experience. Fiverr can showcase your composition, technology, altering, photography, or interpretation abilities, among other things.
Ease of accessibility to projects, finding freelancers, and other money-making assignments – all the key reasons to choose on-demand staffing apps and freelancing apps.
10. OLA
Ratings: 4.5
Installs:- 11,00,000+
Ola is India's leading mobility platform and one of the world's top ride-hailing companies, with operations in more than 250 locations across India, Australia, New Zealand, and the United Kingdom.
The Ola app connects clients to drivers and a variety of vehicles, including motorcycles, auto-rickshaws, metered taxis, and cabs, allowing hundreds of millions of customers and over 1.5 million driver-partners to enjoy convenience and transparency.
On-Demand Economy Statistics
From low-cost meals to personalized automobiles, more and more of the things and services we use on a daily basis are being transformed into on-demand services. Consider the rise of ride-hailing companies like Taxify, Uber, and Lyft, which allow us to order transportation as a service with a swipe of our phone.
Take a look at the graph below to see how on-demand economy businesses are being swiftly financed:
Conclusion
The on-demand economy is quickly gaining traction throughout the world. Existing businesses must either embrace this market and alter their processes to match customer demand, or risk being disrupted by those who do.
They are undergoing further changes to guarantee that they are accessible, secure, and mobile-friendly, as well as to tap into the potential pool of providers that want to engage in the on-demand apps that received funding.
How Appventurez Will Help In Building On-Demand Applications?
The ambition to produce on-demand services apps continues to affect sectors other than the traditional ones. The greatest of the conventional industries has a bright future thanks to these applications.
If you want to create an on-demand app, Appventurez is one of the top solutions that can deliver your idea into reality. We have experience in android application development and have a skillful team that has vast knowledge to create versatile platforms.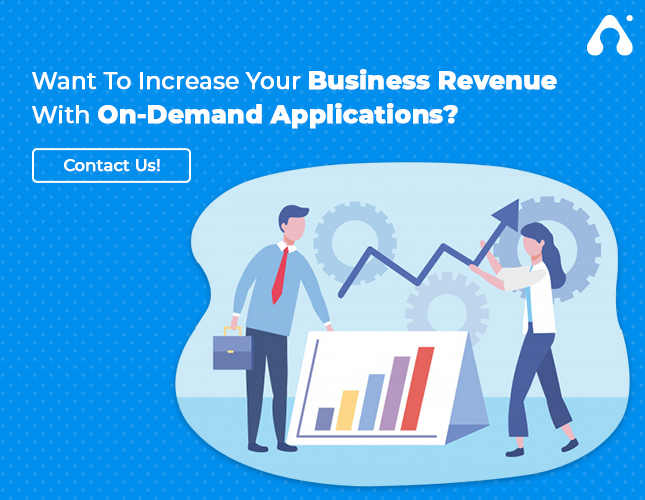 FAQ's
Q. What is an on-demand economy?
The on-demand economy is a business concept in which digital technology and services are linked. On the list are food delivery, taxis, maintenance services, and online tutors. This is normally accomplished through the use of technology services. For instance, via a website or a smartphone app.
Q. How does on-demand delivery work?
On-demand delivery is a collection of sales and logistics operations that enable retailers, manufacturers, eCommerce providers, restaurants, and supermarket chains, among others, to meet a customer's desire to purchase something and have it delivered to her doorstep or a preferred location.
---
---