It was difficult to imagine, ten years ago, that we would ever be picked up from our doorway. And we're not even lifting our hands to signal for a car. Receiving the desired cuisine delivered to your home was unthinkable.
Since the advent of Uber, Domino's, and other on-demand doorstep service apps, everything has seemed completely feasible. By making goods and services easily accessible to us and providing what we need right away, all businesses have seen tremendous success.
We happily live in the world of the on-demand app economy today.
Harvard Business Review claims that the on-demand app economy brings in over 2.4 million users and $57.6 billion in annual spending.
Startups are rushing toward the concept of connecting people with products or services while making their lives more comfortable. Developing an on-demand fuel delivery app is one such addition to the category. And the idea is getting into the limelight because it's completely focused on the convenience of consumers.
But before you choose the right on-demand app development model for your fuel delivery business, it is critical to dig deep in the industry.
Table Of Content
The Ideology behind on-demand Fuel Delivery App
With an on-demand fuel delivery app, customers will fill the tanks of their vehicles and enjoy a hassle-free trip using a fuel delivery application. They will make a request using an app for on-demand fuel delivery, and the fuel will be delivered to their specific locations within the estimated time.
Customers must enter their information into the app, give their location, and request their fuel needs. The application's driver form will help fuel-transporting truckers locate the specified place and top up their car.
Knowingly, on-demand apps are shaping the world by eliminating the consumption of time, resources and money. And with an on-demand fuel delivery app, you can transform this process with more convenience for the end users.
Conclusively, the idea is simple yet effective – to leverage on-demand app development technology and deliver fuel to consumers in need.
How to Start a Fuel Delivery Business?
Now that you know the key ideology of building an on-demand fuel delivery app, you should move towards starting this business with the prerequisites. Here are some crucial aspects you need to understand to become a part of this industry:
1. Pre-work On Business Plan
Since you'll be entering the oil and gas industry, there are some major tasks that need to be transacted before going straight for app development.
a) Collaborate with the aggregators & distributors: Creating alliances with local gas and fuel suppliers will be your crucial move. To increase your network and cater to your business requirements, get in touch with retail businesses and gas station owners to see if they'd be open to partnering with a fuel delivery service.
b) Obtain a permit: The laws and regulations of a specific nation govern the oil and gas businesses. Before starting your business, be sure you abide by them. If you require help navigating the complexities of your local legislation, hire an attorney.
c) Buy a carrier fleet: To deliver fuel among end consumers, you will require vehicles, drivers, and a fleet management system. They should all be outfitted with GPS navigation systems and the vehicles should only be operated by licensed drivers.
2. Building & Deploying An On-demand Fuel Delivery App
Now that you have cracked the basic requirements to start a fuel delivery business, the next step is to build your business app. The app should be developed by experts so that you won't be disappointed with the end product.
To begin with, just follow these helpful tips:
a) Partner with the experts: First, you need to choose a team of reliable on-demand app developers that can really transform your vision into a performance-oriented business product. Our developers have developed multiple on-demand apps for various industries. You can check our portfolio to know our core expertise.
b) Know the latest tech stack: Trending technologies like AI and machine learning development ensure to embrace the working of your on-demand fuel delivery app. So, to bring value to your business, here is the complete tech stack that will be enabled in the app development process.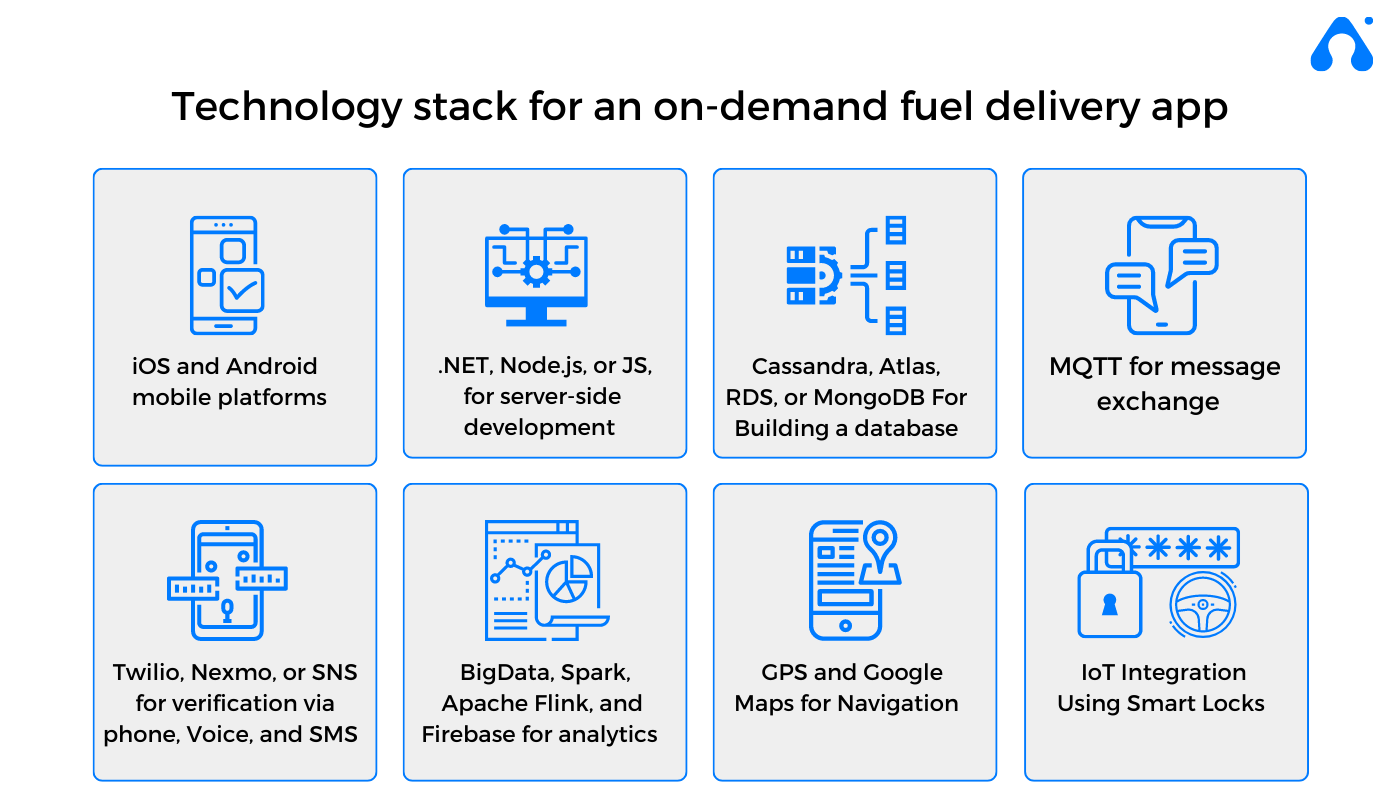 3. Attract, keep, & retain customers
The following stage is to advertise your service and build your customer base in the market. Before you complete the last phases of application development, launch the advertising campaign. This will allow you to build a community of early adopters for your app and, once they start adapting your business, you'll be able to grow gradually with your on-demand fuel delivery business.
4. Keep track of important metrics
Utilizing big data solutions to continuously improve the caliber of your offerings will help you track the performance of your app. The fuel's amount, purity, and carrier temperature will all be monitored. These integrations will make your business more dynamic and performance-oriented, keeping its liability for consumers on top.
Apart from the above-mentioned crucial steps for starting an on-demand fuel delivery business, you should also know how your application will work.
How does a Fuel-on-demand Application Work?
Fuel delivery applications function according to the requirements and requests of end users. Generally, the procedure is divided into the following steps:
Signup –

The user must first download the app and create an account by entering the required information to signup. They can also use email accounts or social media profiles to sign up more quickly.

Place the Order –

Placing the order is the next step. The customer can place an order by choosing the quantity of fuel by searching the nearest delivery hub. Also, the delivery addresses will be asked so the applications can reflect the expected delivery time from nearby delivery hubs.

Choose Payment Mode –

By integrating multiple payment options like

trending digital wallets

, cash-on-delivery (COD), cash cards (credit/debit), and online transfers, you can provide better convenience to consumers.

Order Processing –

After the payment process, the order will be placed and the user can track it through real-time GPS tracking. From assigning the delivery executive to reaching the end user, everything will be shared through the application.

Order Delivery & Fulfillment –

Once the delivery executive reaches and fulfills the order, the application will reflect the order completion status. If the order is taken through the COD option then the delivery person will first collect the payment, and then close the order, resulting in its fulfillment.

Feedback & Rating:

Your on-demand fuel delivery app will ask for reviews and ratings for the delivery. This feature will make this application preferable in terms of gaining customer loyalty.
These procedures are quite simple, yet effective, and fuel delivery companies provide even more options and services to make the delivery convenient.
Now that you know the steps to establish this business and gained knowledge about the functionality of on-demand fuel delivery apps,  it is crucial to get insights about "Why you should go for it?".
Crucial Benefits of an On-demand Fuel Delivery App 
1. Convenience & Comfort
The principal focus behind the on-demand fuel delivery app development is to provide convenience to consumers. All they need is a smartphone. By tapping only a finger, they can arrange fuel from the application anytime, anywhere 
2. Minimal Carbon Footprints
One huge benefit, not just for your business or consumers, but for the environment is that this application can reduce the formation of long waiting queues at fuel stations. The more vehicles gather at these stations, the more carbon emissions will occur, resulting in risking environmental balance.
3. Minimize Cost
There is a huge scope for consumers to save on fuel purchases. Instead of storing it in bulk, consumers can utilize the app and save about 30% to 50% on overall expenses. This can eliminate the need for fuel storage infrastructure effectively.
4. Fulfills Emergency Request
When it comes to delivering fuel in emergency cases, this application will work as a savior. This situation occurs several times, especially when vehicles are in the long run. Customers can simply utilize your on-demand fuel delivery app, order the required fuel, and avoid these circumstances.
5. Save more time
Charging your vehicle from nearby fuel stations can be hectic for consumers as there might be long queues. Long queues, unavoidable congestion, and increasing demand for refilling are consuming more time for the consumers. This application can help to battle this situation even better. Just place your requirement, and you'll get the fuel delivered.
Challenges for an On-demand Fuel Delivery Business
Opportunities always accompany challenges. The on-demand fuel app is no exception. Here is a list of the hurdles it symbolizes.
a) Managing a large fleet: Since on-demand fuel delivery business will require the support of a huge fleet. You need to find reliable drivers, attain a set of vehicles and then manage all the infrastructure together. This can be hectic and challenging in the beginning.

Solution: Partner with a fleet management company or agency that can provide you with the right resources with a reliable workforce. 
b) Competing with major players: It can't be possible that you won't face competition in an on-demand market. There are big players who have already established a stable footprint in the industry. So, you need to keep your game always above the bars,
Solution: Collaborate with promoters, influencers, and industrial specialists to showcase your on-demand fuel delivery business more effectively. You can merge this strategy with customer loyalty programs to gain instant hype in the market.
c) Finding appropriate tech & funding: In the current scenarios, businesses are always keen to leverage advanced technologies to be successful. And for an on-demand app idea like fuel delivery, you will also require a digital infrastructure to establish your vision in the market. This will require funding, partnerships, and financial collaborations – which itself is a huge task.
Solution: Find an expert and diversified on-demand app development company that can provide you both or deploy the best resources at your end. As they will understand the to-and-fro of the on-demand industry better, you will have the leverage to build your business more efficiently.
These challenges can be overcome by the given solutions. And to stabilize all these processes you should understand the significance of digital transformation for your fuel delivery business.
To leverage the benefits of technology more effectively, you should focus on the set of features that will play a crucial role in serving the actual purpose of your on-demand fuel delivery app. Have a look:
Much-needed Features of a Fuel Delivery App
Apps for gas delivery often feature two separate user interfaces for drivers and customers. These interfaces will each have unique characteristics. Additionally, a platform for the supply of digital gas must include an admin interface with a unique set of features for businesses.
1. Customer Interface
The standard user interface for a user-focused app should have the following features:
1. Registration/Login
Users must be able to swiftly complete a straightforward registration procedure and gain access to their accounts in a simple and rapid manner.
2. Customer profile
Name, residence address, and payment methods are the three pieces of essential information that should be included in a user profile.
3. Order for fuel delivery
Customers should be able to order the fuel type and quantity, use the delivery scheduler, and track its whereabouts.
4. Price
Customers should be able to examine the final pricing and confirm it prior to the execution of their order when using a car gas delivery service.
5. Receipts
There should be an electronic version of the receipts and invoices proving that customers have paid for the gas supply services.
6. Order Monitoring
Real-time order execution tracking is made possible by this functionality. The user should be able to examine information on the fuel carrier's present location as well as other order-related specifics.
7. Supporting & Assisting
If required, customers should be able to request help and assistance.
2. Driver Interface
The usual driver-side interface must have the following components:
1. Registration/Login
The driver should be able to register and use the app immediately thanks to a simple login and signup process.
2. Profile
Basic information and contact information should be on the driver's profile. It should be simple for drivers to edit their profiles and add personal information.
3. Status
Drivers should state whether or not they are available to deliver orders and their current status.
4. Manage user requests
Since there will be multiple requests from different locations that drivers will receive, this feature will allow them to manage all of them (approve/transfer) consequently.
5. Details about the user
Drivers should have access to consumer information, including name and location.
6. Navigation
With the integration of the geolocation app, drivers can navigate their route directly toward the customers who placed orders for fuel delivery.
7. Dashboards
The driver will have access to information on all previously fulfilled fuel delivery requests through dashboards.
8. Help and backing
Support officers should be accessible to drivers anytime they want assistance.
3. Admin Panel
1. Login
 Admin may safely log in using the web-based panel.
2. Dashboard
 The data from this web panel will be used by the administrator. A few examples are total fuel tankers, total passengers, and total customers.
3. Fuel Tankers
 In the admin panel, the admin may quickly add or amend fuel tankers.
4. Drivers
From the admin panel, the admin will monitor the drivers and their real-time whereabouts on a map.
5. Customers
 In the admin panel, the admin can deal with approved customers.
6. Fuel Pricing
 In the admin panel, the admin will monitor and alter the prices of several fuel categories.
7. Order History
 In the admin panel, the admin may view the prior orders of customers.
While these are the much-need features for on-demand fuel delivery app development, you surely need additional functionalities that can really make your app 
Additional Integrations to Fuel up your On-demand App
People who use an app to receive fuel delivery rely on its use and simplicity.  The application will become even more convenient and user-friendly with these extra features:
1. GPS-enabled car location tracking
This feature plays a crucial role in tracking the accurate location of the customers, whether they move a bit (let's say 100 meters) or might want to relocate from their actual position. It can reduce resistance between delivery executives and end users when it comes to finding each other in unknown locations.
2. IoT-based integrations
With the help of IoT app development, users can receive real-time updates on their smart devices. It can include delivery time, notifications, and other alerts.
3. Social media integrations
To enable the registration/signup of users through more convenient options, your on-demand fuel delivery app will be integrated with social media platforms. Users can choose Facebook, Gmail, Outlook, or any other favorable platform available.
4. Secure Payment APIs
In this modern era, most consumers are favoring digital payment options. So, we make sure to integrate the most secure payment APIs like Paypal, Google Pay, Apple Pay, Samsung Pay, and a lot more.
5. Cloud-based Data Management
Since a lot of data will be processed through the cross-functional process in the application, your on-demand fuel delivery app will be integrated with the latest cloud app development technologies. Even from hosting to managing users' data, the app will work smoothly in terms of quick response and data security.
Conclusively, you must ensure to include every necessary feature, functionality, and integration to your on-demand fuel delivery app that can make it stand out in the market.

Popular players in the On-demand Fuel Delivery Business
If you're thinking about developing an on-demand fuel app, looking at the existing options for contemporary fuel delivery providers might inspire you to create something original.
How much will it Cost to Develop an On-demand Fuel Delivery App?
The cost of an on-demand delivery app is determined by several factors, including the features you want in the app and when you want to implement it.
Aside from that, UI/UX experience, app platform, front, and back-end development, technologies used, and testing tools all play an important role.
If you choose an on-demand app development company for your online fuel delivery app development cost between $8000 and $20000.
This is an estimate, and it may alter if you want any more features or other bespoke services.
On-demand Fuel Delivery Solution with Appventurez
On-demand fuel apps are slowly making their way across the globe. In the next few years, we will see many more players step forward and establish their own fuel-delivery firms. Yet, the complex processes and challenges to build an on-demand fuel delivery app can only be handled when you have the right tech partner alongside.
Under the vision of our experts, we have built products that redefined the infrastructure of our clients globally. We have already deployed several on-demand applications across various industries. And building a fuel delivery app for your business won't be a challenge for us.
At Appventurez we can help you with one of the most important facets of on-demand fuel delivery app development and starting a gas-on-demand business. Thinking about launching a mobile fuel service? Get in touch with us now for a free consultation!

FAQs
1. What is an on-demand fuel delivery app?
When your automobile needs petrol, this service will bring it right to you. On-demand fuel delivery eliminates the need to visit a fuel station and wait in long queues for your tank to be filled.
2 How do I start my On-demand fuel delivery business?
Starting a fuel delivery business with an on-demand app requires analysis of the market, partnering with the fuel distributors, collaborating with fleet management professionals, building an on-demand app, and establishing your customer base in the market. Moreover, you will require funding and resources to drive all these processes successfully.
3. How do I create an on-demand fuel delivery app?
You should have a team of experts that can build an on-demand fuel delivery app or you are required to partner with a tech company that knows about the industry well. At Appventurez, we have deployed several on-demand products and solutions with a blend of trending technologies like IoT, AI, big data, and a lot more. You just need to share all the requirements, and our best resources will help you get your end product ready for the market.
---
---