The global literacy percentage is scaling up at a rate of knots. Consequently, it led to the expansion of the stationery market, especially in the digital domain.
Like any other emerging industry in the market, the global stationery market has also evolved at an unprecedented rate in the last few years. According to a study, the global stationery market size is estimated to reach $128.5 billion by 2025 at a CAGR of 5.1%.
One of the key reasons that lead to the high increase in the expansion of the stationery market is market digitization. Gone are the days when consumers used to buy the essentials by stepping into brick-and-mortar stores. Today, almost everything is available online, and stationery items are no different.
That's why business owners in this market are looking for more effective options to expand their business and reach the maximum potential consumers. Here's when on-demand stationery delivery apps will be a savior for you. These applications, when developed and released correctly, have the potential to scale up your books and stationery business online.
Let's dive deep into the context of stationery delivery app development and understand everything you need to know before developing one for your business.
Table of Contents
Factors That Lead to the Expansion of the Global Stationery Market
The technological advancement and augmentation of the digital space have severely impacted most industries, including the stationery market. However, there are some other factors too that lead to the wide-scale expansion of this industry.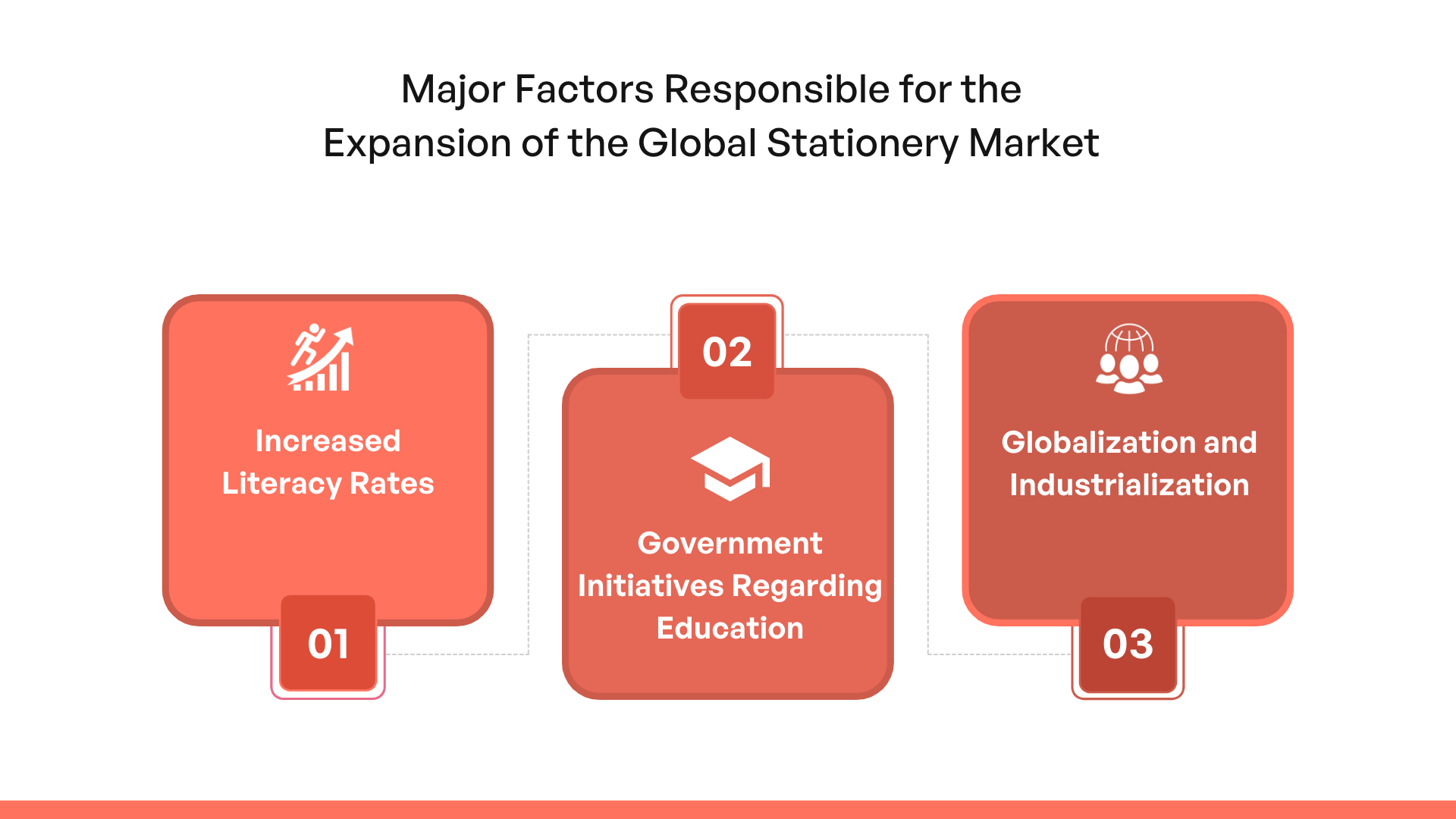 Improvement in Literacy Rates Worldwide
Today, people are inclining more toward education and it has severely increased the literacy rate across the globe. Additionally, youngsters prioritizing higher education also significantly contribute to the growth of the stationery market.
With the increasing government initiatives promoting education, the requirement for stationery products and books has also increased. Making the right use of this opportunity, many business owners set their foot in developing apps for books & stationery businesses, scaling up their operations to an entirely new level.
Globalization and Industrialization
Globalization and industrialization are also believed to be significant factors for the expansion of the stationery industry. The upsurge in the establishment of multinational corporations has led to the rise in personalized office supplies, which further fueled the overall worldwide growth of the stationery market. 
On-Demand Stationery Delivery Apps
: A Beginning of a New Era
For any business, the first thing that needs to be focused on is what your target audience expects and whether your product is efficient enough to fulfill their expectations. There's no doubt that stationery has become one of the crucial resources that people need for their day-to-day activities. That's why businesses started investing in this domain and the stationery marketplace expanded to a great extent.
However, in the era of door-to-door distribution and express deliveries, everyone wants their products to be delivered in the blink of an eye.
So, now you know what the market demands are, and you are already an established stationery retailer or at least have a great idea that can easily suffice those demands. What's lacking is an online app for stationery items to level up your business in the digital domain. Therefore, let's discuss how to build one and know how it can benefit your company.
What Are
On-Demand Stationery Delivery Apps
?
Actually, before learning about a stationery delivery app, you probably need to know what an on-demand delivery app or service is.
So, an on-demand service or application is a mediator between you and a specific service provider. It works the same way Uber works as a cab service and Grubhub as a food delivery platform. 
Similarly, on-demand stationery delivery apps provide users with the most convenient and accessible medium to get books and stationery items whenever they require them.
How
On-Demand Stationery Delivery Apps
Benefit Businesses?
Today, customers want everything at their fingertips. In fact, if you will notice, you will probably find an application for everything users want.
Books and stationery are one of those crucial needs required in almost every industry. In such a scenario, having an online stationery delivery service can benefit your business extensively. Here are some advantages of implementing on-demand stationery delivery app solutions into your business:
Simplified Operations and Convenient Medium
Do you know when people usually give a green flag to a particular innovation? When it simplifies the processes and mitigates the complexities associated with them.
Developing an on-demand stationery and book delivery service could be a win-win for everyone. For users, it would be the most convenient way to order their stationery requirements at their doorstep. When it comes to the service provider, the operations related to ordering and deliveries become smooth with a digital order management system.
Ultimately, when both of these parties are satisfied, getting satisfactory results is assured.
Reduction in Costs
The intervention of cutting-edge technologies and digital management systems reduces the need for human resources, saving a lot of time and money.
In addition, you can also use your on-demand stationery delivery app as a marketing tool to enhance brand awareness and business promotions. This might reduce the cost of marketing and promoting your products and services.
Enhanced Business Opportunities
In the time of the COVID-19 pandemic when nobody has an idea when they have to quarantine or stay under lockdown, delivery apps could be the most effective and profitable medium to maximize revenue. On-demand stationery delivery apps can connect your customers with the outside world virtually and provide them with an option to purchase required stationery items.
In this way, on-demand stationery delivery app solutions turn out to be one of the best business opportunities for you and offer high ROI, especially during this period. 
How to Develop a
Stationery Delivery App
?
Developing an app for stationery items can completely transform the way you do business and enhance your brand presence significantly. And the best part is, crafting a stationery on-demand application is not a tough nut to crack. All you need is the right guidance and a team of professionals who have expertise in creating on-demand applications. Here are the steps to develop an on-demand stationery delivery app:
Research Like a Pro
What do you think: how do companies like Uber, Instacart, and GrubHub become the most popular on-demand delivery platforms in their respective domains? Well, there could be multiple answers to this question, here you will find one of the prominent ones — through profound research!
Yes, research is the first and foremost step required whenever you develop or launch a new product in the market, and your stationery delivery app also comes in that category. Most successful on-demand delivery platforms have done their homework well enough to understand the ongoing trends and sustain their brand in the market. Some of the critical factors they focused on (and you need to keep in mind, too) for the development of their on-demand delivery apps are:
A profound analysis of competitors' strategies

Consumer demands and expectations from your product

Product-based research

A unique but practically possible app idea

Marketing strategies to follow
Research regarding all these factors can prove beneficial during the time of development in reducing the time, effort, and cost to develop the stationery delivery app.
Build a CJM and Proto-Persona
The number of apps for books & stationery business to be specific is limited. Hence developing one with the right functionalities that make the purchase journey effortless for the customers can increase its chances of success.
For that, it is essential to keep the customer experience at the center. Customer journey mapping (CJM) helps you understand what your target audience is seeking the most in an app on average. Moreover, create a proto-persona to evaluate how your app is progressing.
Building a proto-persona helps you test how your app is working against customer expectations (based on the research).
Identify Distributors and Retailers to Partner with
It is one of the most challenging parts of the on-demand stationery delivery app development. You need to put in effort and time to find distributors and retailers that align with your business objectives and appreciate a mutually beneficial relationship.
Even if you find one, the next challenge is to determine the location in which they could supply the stationery products. No matter how perfect they appear as a business partner, if they can't fit into your logistics system, they couldn't be an ideal match.
Once you get your preferred stationery distributors, you need to convey your supply requirements and ask them if they can fulfill them. You might need to incorporate an automated tracking system for such operations as one of the key on-demand stationery app features.
In addition to all this, you also need stakeholders and investors who can collaborate with you to fund a segment of the supply cost.
Focus on the Technical Part
Here comes the stage when the actual development of your on-demand stationery delivery app begins. Without advanced features and seamless design, your app will not be able to please your users.
Some of the things you need to keep in mind while focusing on the technical aspects of your app are:
UI/UX design of your stationery app

Integration of a wide range of convenient payment options

Tech stack and API integrations

Chat support

Order/delivery cart management
Remember, your primary objective is to provide your users with the best shopping experience possible. Therefore, choosing the right tech stack for delivery apps and interactive design layouts becomes the most important technical aspect.
Find Out a Development Team with Expertise
After deciding the right tech stack based on the features you want in your delivery app for stationery items, it's time to look for a development team that specializes in on-demand app development. For this purpose, you can either hire an in-house development team having professional developers or outsource your project to freelancers or off-shore developers. Based on your business requirements, budget, and project duration, you can opt for any one of the aforementioned options.

Create an MVP, to Begin with
Although on-demand stationery delivery app development is trending, yet not many people are aware of it. Therefore, it is better to develop an MVP of your original idea first if you are unsure of its success or want to start with minimum resources in the beginning. This way you can attract early adopters with your unique idea of customized stationery on-demand applications and collect their feedback to be implemented in the final product.
After testing the basic stationery delivery app features on the target audience, you can go for a fully-featured on-demand stationery mobile application. Post-launch, you can scale your app around what users expect more of it to keep the experience beyond the best.
Critical Features to be Included in Your On-demand
Stationery Delivery App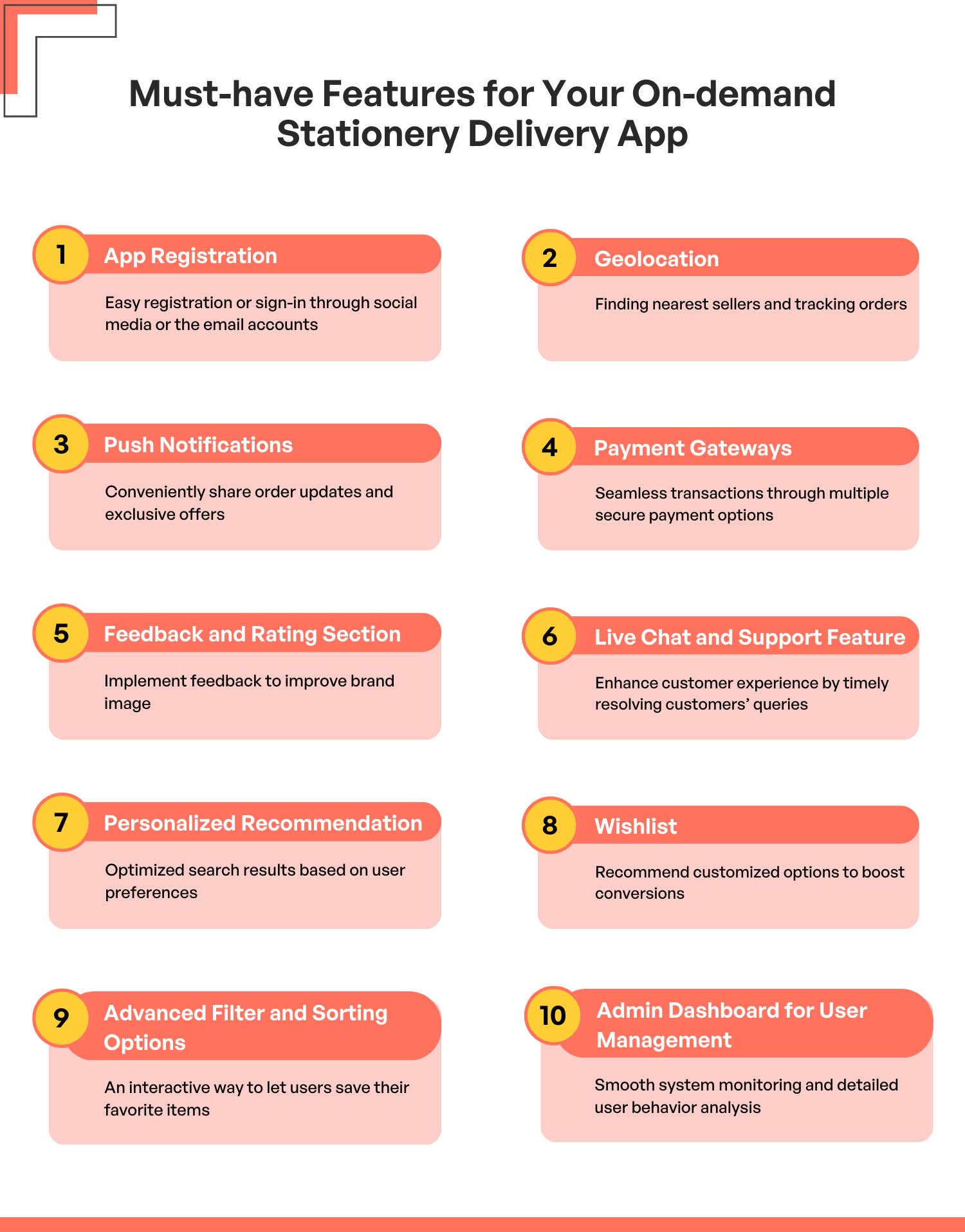 Before developing an on-demand service app, every business concentrates on specific functionalities based on its customer demands and business goals. For a stationery delivery service, some features must be incorporated to make the purchase process easy and seamless. Here are some stationery delivery app features that you can include in your application:
App Registration
When users install a mobile app, the first thing the system usually asks is to create an account. Since users are generally in a hurry, they prefer signing in through their existing email or social media accounts. Therefore, you must offer your users an option to register on the app through different mediums, such as their Phone number, Facebook, Google, or any email account.
Geolocation 
For a stationery delivery app, it is crucial to integrate geolocation APIs that help identify the nearest sellers, track your order, and find the direction to deliver the order. You can incorporate geolocation through the Core Location framework for iOS platforms and Google's Location APIs for Android devices.
Push Notifications
In order to make your user's shopping experience seamless, you must keep them updated about everything regarding your order. With the help of pop-up notifications, you can inform them about their order updates, transaction status, latest offers, etc.
For online notifications, you need to integrate Apple Push Notification Services for iOS devices and Google Cloud Messaging for Android platforms. Implementing notifications via SMS can be a perfect option when the devices go offline.
Payment Gateways
One of the critical features that users look for and that you must include in your on-demand stationery delivery app is secure payment methods. Since every customer has their own preferences, it is crucial to integrate as many payment options as possible for smooth transactions. However, ensure that user data security is the priority.
Feedback and Rating Section
There is always room for improvement in everything you do. And that applies to your stationery delivery app, as well. You might be delivering the best services you could, but there is always a chance that your users expect more from you. That's when the feedback and reviews section helps you in improving the customer experience and satisfaction levels.
Live Chat and Support Feature
On-time service and 24/7 support are one of the prominent features contributing to the enhancement of your brand image. Moreover, by resolving your customers' queries timely and offering them the right customer service, you can also expect an increase in app downloads and revenue maximization.
Advanced Filter and Sorting Options
Imagine one of your customers wants to buy a blue ball-point pen from Parker company below $20. How will one find it in the wide range of pens you offer?
Well, you can integrate advanced search and sorting algorithms in your app for that. It will help your users to filter out the products they want as per their preferences. In the above example, the user can select the specific filter categories they want and the system will show the results according to the filters applied. In fact, they can also sort the results based on several parameters, like price, newly launched, or location.
Personalized Recommendation
This is one of the advanced on-demand stationery app features that can help boost the conversion rate. A recommendation engine for a stationery app can work the same way it works for Netflix or TripAdvisor. Using the right algorithms and integration of AI-based systems, you can analyze user behavior and show them customized recommendations.
Wishlist
There may be times when your customers are accessing your app just for window shopping and do not actually want to buy something. Sometimes, they only search for the products to put them on their 'wish-to-buy' list. Therefore, offering them a feature to wishlist the stationery items or books they want to buy later can help enhance your customer retention rate.
Admin Dashboard for User Management
Well, this feature is specifically for app administrators. An easily navigable dashboard can help businesses to monitor the distributors, delivery valets, and users at the same time. 
Moreover, it can also help them access critical information, such as the orders placed, users' payment status, a record of canceled orders along with the reasons, etc. All these details are essential for managing the customer base and improving the services to increase their satisfaction level.
How Appventurez Can Help You with
Stationery Delivery App Development
Delivering sterling customer experience is not an easy task, especially when you are shifting towards something new to what you do or how you usually do it. Being a product owner in the books and stationery business, you know how fierce the competition is in this domain.
In such a competitive landscape, having the right on-demand stationery delivery app solutions can transform your business's productivity in the best way possible. A stationery delivery app not only streamlines your business processes but also scales up your brand presence in the digital sphere.
However, building an app for your books and stationery business includes complexities, for which a professional approach and guidance would be needed. Therefore, in such a case, it is better to consult an experienced on-demand mobile application development company well-versed in creating mobile-friendly app solutions.
With over years of experience in mobile application development, Appventurez can be your app partner in developing an interactive platform for books and stationery buyers. Our professionals will be by your side and assist you in every possible way throughout the development process.

FAQs
Q1. What are on-demand delivery platforms?
Ans. On-demand delivery platforms are software applications or web portals that allow and fulfill your instant requests for deliveries of specific products or services. They act as a mediator between you and a particular service provider. Uber, GrubHub, Airbnb, Instacart, etc. are some of the popular on-demand delivery platforms.
Q2. What is a stationery app?
Ans. Stationery apps provide you with a platform to search, pick and order specific stationery items and books directly from retailers through online mediums. E-stationary and Topperskit are some of the top stationery delivery apps on the Google Play Store.
Q3. Is it profitable to sell stationery online?
Ans. According to several experts, selling stationery through a digital platform can be profitable in many ways. It reduces the cost of operations which further increases the profit margin by 30-40% on average.
---
---