Let's start with a few questions before going ahead- How many times did you get lost when finding the direction to your destination? Asking the local vendor or the one who is nearby was another traditional approach to reach to your relocated restaurant? Or maybe switching news channels for weather reports in the country you are about to visit? These were a few of the traditional mediums to reach what you approach. 
And soon came geolocation apps as a savior cutting all those dilemmas of "to go this way or not". 
Starting from looking up for directions on Google Maps to booking a cab via Uber, Ola, checking out rooms available in your favorite hotel to many more things, geolocations apps are becoming the backbone of many thriving businesses around the globe. 
Geolocation based app has expanded its boundary beyond the scope of local discovery while changing the lives of people in a comfortable and amusing way. This is the reason, the integration of geolocation in mobile apps are bringing in better treatment of goods and services and a whole new level of marketing tricks and strategies. 
In short, the geolocation-based mobile application is changing the way a customer used to interact with services earlier. And this is just a chunk of whole awesomeness associated with geolocations apps and there is more in the bucket list to check out. 
So, without further ado, let's indulge in everything about Geolocation and Geolocation based mobile app development. 
The blog will go to great depths to answer all you might ask for, hence, before indulging, sit on a comfy sofa, take a coffee mug or any other beverage that charges you, and get started- 
A Quick Insight Of What Geolocation Is
Before understanding how mobile apps integrated geolocation is making the findings easier, it is essential to look at the exact definition of geolocation. 
Question like why does your app essentially require Geo-location lies here- Geolocation is the automated procedure of finding out the current geographical position of an electronic device. Also, one can use the advantage of the feature without having an internet connection. On the other hand, apps that take the benefit of these applications serve different purposes including emergency applications, social media applications, concierge services, etc. 
Furthermore, special categories of applications like Instagram provide the additional benefit of attracting more number of customers in a smoother way.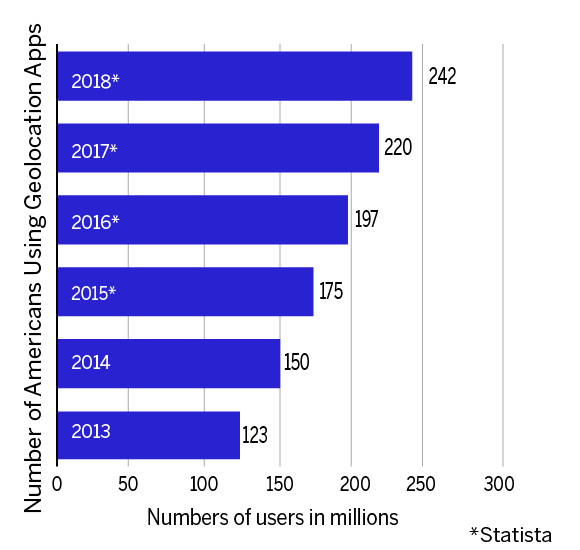 Number of Americans using Geolocation Apps; Statista.com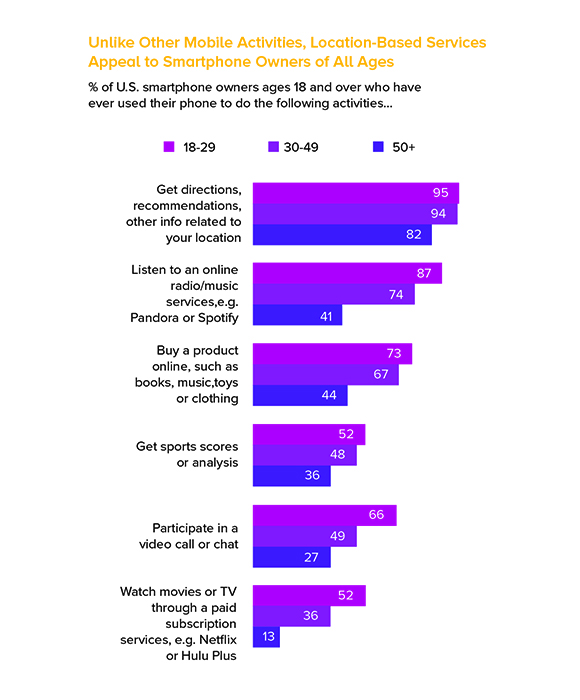 With back support ready, let us now dig deeper to understand the benefits taken from Geolocation features. Here goes the list-
Benefits of Geo Location-Based Applications
Maps and Navigation
When we talk about what is geolocation based mobile app development, the first thing that comes in the mind is to navigate the boundaries. Navigating the boundaries includes Google Maps, Waze along with a variety of compasses, schedules, etc. 
Travel and Tourism
Visiting a new city, a place or checking out some unfamiliar place for the very first time, it would be better to keep a few things handy like-
Your current location or moment
How to reach from one place to another while checking out the shortcuts to reach the place.
The expected weather in the place
If there are any interesting or worthy places to visit nearby the place or not.
For offering such things to the users, mobile app development companies are required to develop the app in such a way that digging out the necessary information and data does not feel like cracking the nuts with teeth. 
Delivery Services
Ordering food online is just a click away, again thanks to the revolution that came in the form of mobile applications integrated with geolocation services. By using so, users can easily track the order delivery status along with knowing when it was sent and what is the expected time of arrival. 
One of the best examples of this feature is the courier Delivery app development. 
Transport Service
Another advantage of geolocation in mobile apps is booking a cab from the mobile phone. By using the same, customers can easily look at the exact location of their car along with inquiring or checking out the time to the driver to reach the destination. Similarly, the driver, on the other hand, will also get the client's whereabouts. The credit for such ease goes to Geolocation in mobile applications. 
Apart from that, geolocation is also helpful for services and companies that are engaged in logistics too. It can track the driver's location while providing the ease to make changes in routes along with predicting delivery time. 
Event Management Planning
For an event management company, sending in invitations to potential participants who are about to show up for the event is easy. Also, those users who use to show interest in offline activities in their respective cities can easily find out events and shows to look up to. 
The event feature on Facebook is not an escape.
Community Building
By using the geolocation feature, it becomes extremely easier for social groups to share and discuss their local content. Also, it is a tool that can help in creating communities to create additional value for the following members in the group. 
Finding interesting people, or looking for a date or maybe arranging a business meeting, geolocation serves every requirement. 
Recommendations Apps
There is nothing great for a business than flaunting off the 5-star reviews from satisfied customers. This is the reason, recommendation for a friend is something we often pay more attention to, especially when they are near to the respective place. 
Furthermore, these apps can be used for recommending places to visit along with showing offline stores based on the stated location. 
Local Services
Geolocation can also be used as a marketing tool for promoting a business's products and services. To do so, targeting audiences that are situated around the geographical location allows businesses to retain existing customers along with attracting new ones effectively. 
Fitness
Those who are sports enthusiastic or the ones who actively take part in sports-related activities must-have used geolocated tracking apps like Runtastic, Nike+, and many others.
These apps via phone's GPS data to map the routes, track speed along with connecting one with the fellow runners or sportsperson in the area for the bout. 
Get a look at- Things to keep in mind when designing for wearable
Games 
Games are no exception from using Geolocation. Popular games like Pokemon Go, Mini Militia use Geolocation to offer a great experience to their users. 
Geosocial Applications
Putting an address to a hangout place or a place one might have visited, geotagging to photos and videos is the new wave of change.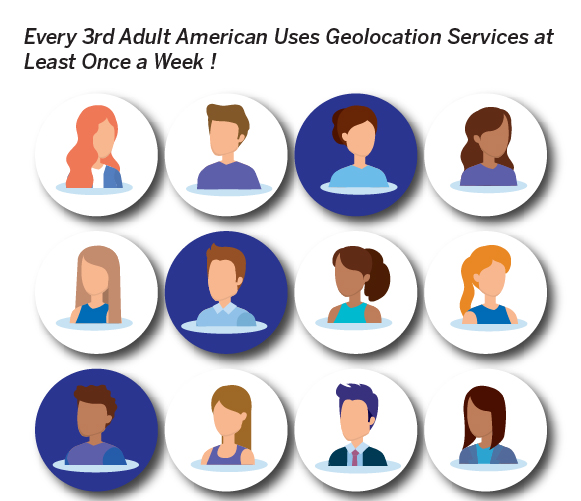 Weather Forecasting Apps
Weather forecasting apps are the apps meant for those who do not take outside before checking out the weather. Geolocation integrated applications thus, provide real-time information about the weather one is intended to know. 
On-Demand Applications
Apart from offering entertainment, mobile apps are the best way to assist us in our everyday lives. 
Uber, Zomato like applications are making a round of applause in the market to fulfill what a user looks for. The geolocation feature in the application obtains the information of the user while offering the required information in revert. 
eCommerce Apps
When it comes to online shopping, geolocation is something that cannot be ignored at any cost. By using the same, users can track their orders while keeping a close eye on the estimated delivery of the product and costing a thing. 
Retail stores like IKEA, Target, Walmart do use geolocation tracking apps in order to help customers to find the nearest store, delivery and pickup locations. Also, iBeacons can never be outdated. 
By accumulating all the possible usage of geolocation or better say the benefits of having geolocation in your mobile app, here at Appventurez, we tend to use technologies that give a better edge to the overall geolocation-based mobile application. 
Technologies For Building Geolocation Integrated Apps
For developing a location-based application, we tend to majorly focus on two components apart from other necessary things- location services and maps.
Here are the most talked-about ones-
GPS
The emergence of better technology does not leave any smartphone from the equipped feature called Global Positioning System(GPS) chip inside. GPS through information sent from satellites precisely uses the information about the location and timing. Apart from that, smartphones require data from at least 4 satellites in order to determine position with the accuracy of 60 feet.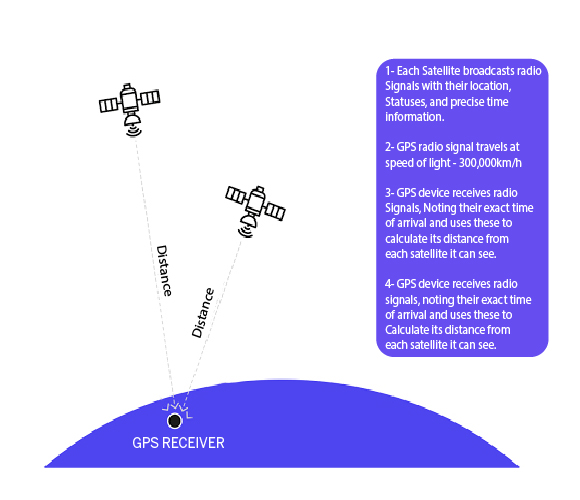 Cell ID
When GPS signals are unavailable due to any reason, taking information from cell towers is the best way. Also, mobile networks help in determining the cell usage of the customer along with comparing it with a base-station database. The practice is quite workable in cities where there is a vast amount of cell availability. 
Assisted GPS
Assisted GPS is basically an approach that combines GPS and Cell ID tools and the duo are often considered more precise than the GPS itself. 
Wi-Fi
Similar to the cell ID, Wi-Fi also determines the actual position of the users. It is more precise and accurate as it covers smaller areas too. 
In the whole process of identifying the current position of the users, there are two ways to determine the Wi-Fi enabled location. The first one is RSSI (Receive a Signal Strength Indication) which is about signals from the phone with Wi-Fi points database whereas the second one is used in places that are frequently visited. 
Once we are done with finding out the location of the user, the next step we follow is to use Google Maps geolocation or some other Map Kit Framework in order to put them on a real map. And this is just the beginning, there is more into the process that can only be shared once you are connected with us. 
Now, comes the role of Indoor Geolocation Technologies
Before going ahead, let us quickly check out a few facts about location-based market in 2019 for 2020.
A look at Location-Based App Development Market
Location data is still an effective tool for marketers as around 9 in 10 marketers prefer using location-based advertising that leads to higher sales along with a followed growth in their customer base (86%) and higher customer engagement too (84%).
Around 24% of the marketers are using location-based data for measurement and attribution, whereas 51% are planning to increase their use of location data in the coming year.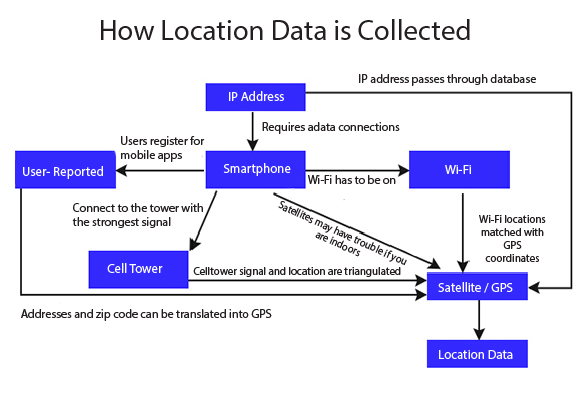 One of the primary uses of location-based data is meant for targeting (67%) and the other half around 52% is used for audience engagements, customer experience/personalization and for campaign strategy.
Mobile phones are the channel in which location data leverages. Meanwhile, marketers are taking a shift and focusing majorly on other emerging channels like advanced TV, digital out-of-home, voice/connected speakers and automotive and there are many more revealings to show how location-based data is a boon for marketers. 
Let's get started with Indoor Geolocation based technologies one by one-
Geofencing
Geofencing is the first indoor technology that uses GPS in user's mobile devices in order to figure out who close they are to a particular point. It could be figuring out whether a user is still inside the shop or outside or entering it or leaving the same. 
Furthermore, geofencing can also be used to send coupons and discounts to consumers. There are basically three types of geofencing triggers-
The first one is static triggers that are based on the user's position in a particular place. For instance- the message being received by users when entering a shop.
The second one states as Dynamic triggers that are entirely based on the user's location while letting them know about the changing data stream too. For example- a notification pops up about free parking space to the users nearby.  
The last one is the combined approach between them which is based on the user's location over other users. For instance- a quick notification about a friend's check-in with apps like Facebook, Yelp, etc. 
Here are the advantages and disadvantages of Geofencing-
Advantages
High speed when determining the location.
Due to the high accuracy of GPS-receivers, one can determine the altitude above sea level too. 
Disadvantages 
Mobile app developers are still working hard for reducing the GPS power consumption which will still take a good time to conquer. 
GPS performance is prominently affected by the ability of the device to interact with orbit satellites. This is the reason, tunnel or basement are the places where GPS does not actively work.
GPS is also influenced by atmospheric conditions and obstacles too. 
Eddystone and iBeacon
Google's Eddystone and Apple's iBeacon are the technologies that do not deliver offers or other related content by themselves. These technologies are meant to send out identifiers like Bluetooth Low Energy signals, BLE, etc that trigger actions in custom-designed mobile apps for both Eddystone and iBeacon.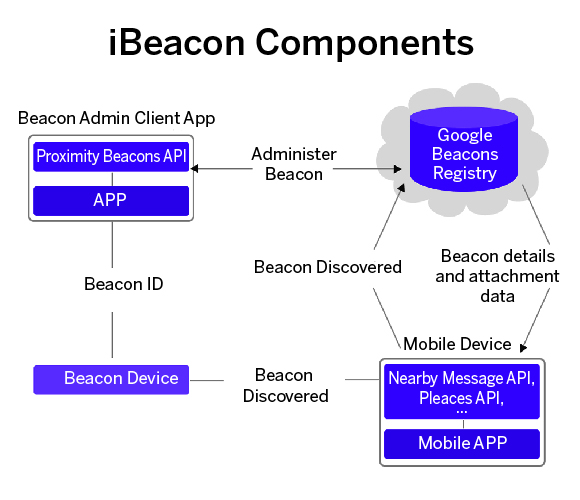 Geolocation for IoT
The introduction of both geofencing and iBeacon led to a new round of IoT development. IoT, on the other hand, is also growing fast and rapidly changing the industrial landscape too along with retail. The technology connects a number of devices inside the shop in order to provide a better shopping experience. 
Also, as per experts, its seems that the market or better say the future of IoT geolocation is about to increase up to $1.7 trillion this year along with 29.5 billion connected devices (( as compared to 16.9 billion in 2014).
Now comes the entry of the duo- Geolocation, and Security
Geolocation certainly is a boon but it does come up with its own set of privacy concerns. This is the reason, many of the users refuse to give access to their data as they believe a minor leakage can cause great trouble to their personal data. Seeing the concern, companies are juggling to offer a balance of benefits and guaranteed information security. 
Here are the statistics about the user's behavior regarding security concerns-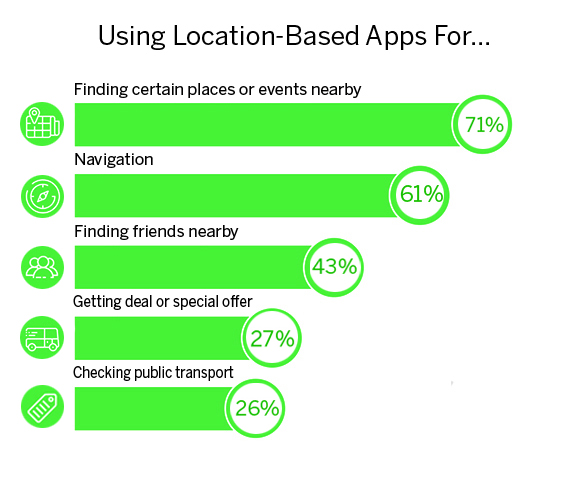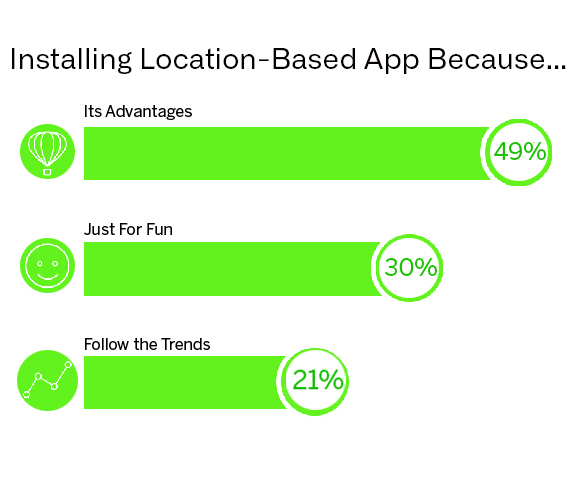 Takeaway
There is no denying location-based applications are giving better opportunities to mobile app development companies and also to businesses too. Creating a geolocation app for the business can bring in better ROI, the greatest benefits to the audience at the right time and right place.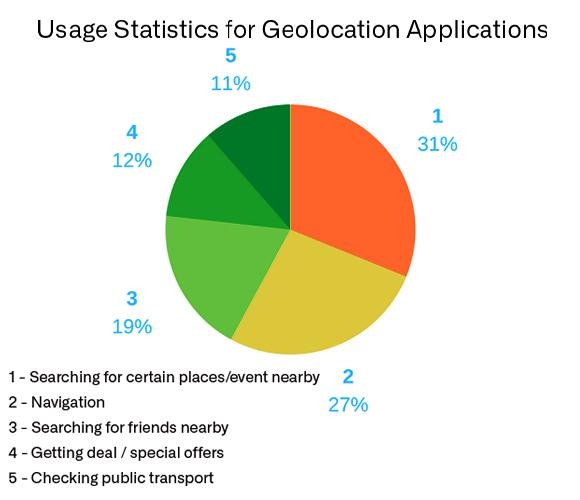 Gaining trust while ensuring customers about their private information being safeguarded is what we call the secret ingredient of the geolocation app. 
With the background ready, here is the list of location-based services-
Impressive Location-Based Services App
Scope
It is one of the simplest mobile applications with GPS (Geolocation) allows one to see the happening of different parts of the globe that too at a particular moment.
LastQuake
LastQuake is the official location-based mobile application of the European Mediterranean Seismological Center (EMSC-CSEM) developed by seismologists which are aimed to alert the public along with collecting evidence in real-time. 
For the detection of an earthquake, EMSC make use of latest techniques based on-
Reports of earthquake witnesses
Internet and mobile technologies which allow seismologists to collect the information on manifestations of the earthquake reported and observed by witnesses. 
Furthermore, LastQuake also offer-
It provides real-time information
It also provides customizable notification levels 
It allows access to photos, comments, videos that are made by witnesses
Exchange of information through social networks
Ease of sending in SMS to friends and family when one is in the affected area. 
Recommendations on precautionary measures after the earthquake.
Snapchat
Snapchat is one of the most popular messaging apps that allows one to create photos and videos for a short pre-set time. 
On July 2014, Geofilters were added to Snapchat allows users to take advantage of special graphics overlays that are only available when he/she is in a certain geographic location. 
Trigger 
The trigger is another application that is associated with (GPS) Geolocation based mobile app development. The app simply automates the process of performing the simplest of the primary tasks be it turning off the sound in the phone or muting it, adjusting the display brightness as per the time of the day, setting alarms and much more.
Foursquare Swarm
It is one of the best apps to track places you visited once. By using the app, there is no need to look for faded memories and then recalling the name of the cafe or a salon or maybe a restaurant. So, if you are a local or a tourist, Foursquare Swarm is the app made for you. 
WherezMoney
Another app in the list of GPS enabled apps. WherezMoney is the app that is designed for improving financial management while controlling the budget, managing cost, and geolocation cost too. The app allows users to trace where they have spent their money. 
Bizzy
Bizzy is another entry that is trying a different angle by collecting ratings and reviews of the places as and when users leave the venue via check-out feature. 
Yobongo 
Yobongo is the app that is ruling in the U.S. It is the app that is meant to create connections with nearby strangers by using the location of a user in order to show another user around the former one. 
Glympse
It is an app that is designed to enable sharing location data with the people you know. By using email or SMS, one can send a Glympse to any of the pre-loaded contacts by showing them the information regarding the places to be visited or the destination. 
So, this was all about how geolocation mobile apps can become the first choice to attract more number of customers while increasing revenue and setting opportunities to geolocation based mobile app development companies. It is time to hit the complexity that occurs in the geolocation app development process. 
The Complexity Arises During A Geolocation App Development Project
Among many issues that arise during the geolocation-based mobile app development project, security concerns always remain on the top. We understand that the simplest leak on the public's personal information can cause great trouble to the users. 
This is the reason, our geolocation-based mobile app experts always pay attention to the following factors-
As per the law, all the data which is being collected and processes should be depersonalized.
The information is collected, processed and analyzed but we always assure that even the minimalistic of the information should not be leaked.
We emphasize the quality of the mobile app while giving the most priority to security clauses.
We work as per the law and stated rules and regulations. 
Apart from that, security is something which should not be overlooked, this is the reason, we have a team of experts who carries vast knowledge about geolocation and location based services. You can also connect with our developers too. 

Figuring out all the related aspects of geolocation based mobile application was apple's pie in comparison to how much does to cost to develop a geolocation based mobile application.
Before we dig down how much geolocation based mobile app will cost, get a closer look at how much does app development cost to understand diameters and parameters of it too.
Once done with that, figuring out the cost of a geolocation app is not a big deal. Let's get started-
Tech stack Of The Famous Geolocation Based Mobile Applications
 Ideally, the right use of tech stack, stages are the most essential step in order to reach the last destination- cost.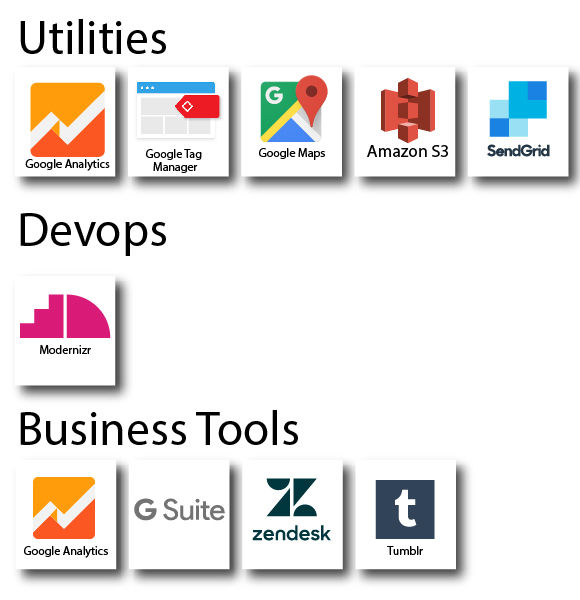 To make the task of accomplishing the fully-functional and out of the box geolocation application, figuring out the right strategy to choose a technology stack is a nothing but a priority. 
Location-Based Application Development Stages
Here, we divide the overall project into different stages stated below-
Market Search And Competitor Analysis
There are two ways to get started- the first one is from the information given by you and the second one is lies with a formed request. In case, if you are not sure of your potential to bring out the information required, it is best advisable to go for geolocation-based mobile app development companies. 
Prototyping 
Prototyping is the phase that shows the rough and logical structure of the app. Once nodding yes to the prototyping phase, the next practice comes is MVP, if preferred by the clients. 
Geolocation Mobile Apps Designing
Designing the UI/UX of the app is a challenging task because too much noise or better say distraction in the app can cause users to abandon the app after a few uses. Thus, hiring experienced UI/UX designers becomes the mandate need as they got the idea to make the app clean, understandable, readable and intuitive. 
The Coding Is The Key
Having experienced iOS, Android and Web mobile app developers on the side can cater to the need required for developing geolocation based applications. Geolocation is already a tricky business and coding in it should be precisely made and intelligently placed. 
Testing 
When someone asks how to create a location based app, among many other parameters, one should never underestimate the power of testing when developing a geolocation based application. A single skip in the testing process of the app becomes useless for no reason. And the tale of app failure will keep flowing till a user will abandon the app fully. This is the reason, here we follow strict testing processes in order to deliver nothing but the best to the user. 
How Much does It Cost to Develop a Geolocation-Based Mobile Application?
Just like understanding how much does it cost to develop an application, understanding a few factors we consider when developing a geolocation based mobile application can throw some light on the overall costing quote. Here we go-
Country
If you are planning to develop a geolocation-based mobile application along with hiring the best mobile app developers, make sure you are done with the list of developers charging in various countries. 
Different countries ask for different values as per their tools, techniques, and technology. Here at Appventurez, we charge 20$ – 25$ Without negotiating with high quality of the end result.
Functionalities In The App
There is no denying, the number of functions in the app, the more costly the app will become. For example- if you are willing to create an application for different purposes and services(fitness, restaurant, retail, etc), showing a certain value is impossible. Also, how long does it take to develop an app is another factor that piles up in the pre-decided cost of the application? 
With the maximum of things covered, let us now check out if Geolocations apps hold any future in the coming years?
Future of Geolocation Based Mobile Applications
There are already so many innovations taking place in geolocation and there are more expectations from the technology in the coming years. Here are the innovations we strongly believe are going to change the whole domain of geolocation. 
User-generated information about a place somewhat like location-based Wikipedia is going to bring a revolution in the market.
Mobile check-in for flights, bypassing the long check-in counter queues
Mobile-check-in at clinics, hospitals or sending an automation based notification of one's arrival.
Identification of things that comes under an adults-only category like nightclubs, bars, etc.
Bookmarking places with push notifications in order to check out cafes and restaurants in order to recommend them to friends and family. 
Maps that are attached to promotional material, for example- you can find out the junk corner that has sent you a coupon or promotional thing via mail. 
This is our take about Geolocation based mobile application and there are many more things we haven't revealed to let you discuss with them. 
It is your time to embrace the trend and mark your presence all over the world. For doing so, connect with our geolocation-based mobile app experts to get all your queries solved.
---
---