Over the last two decades, the business world has changed rapidly, especially, with a plethora of opportunities and technologies available. The top technologies include Machine Learning, Data Analysis, Artificial Intelligence, and so on.
The companies are taking leverage of them to grow using the raw data gathered from the users. In addition to this, companies use Machine Learning for data analysis to dive deeper into the data and understand the exact meaning behind it. 
The motive is to increase efficiency, boost business, and have a competitive advantage in the market. Due to this, the companies are embracing Artificial Intelligence and Machine Learning in data analysis.
They use a comprehensive analytics strategy to dig deeper and ensure that they can meet their business goals. The first and foremost step is to learn how to use machine learning in data analysis. This helps the employees to get a better understanding of the customers with the help of speech and engagement analytics platforms. 
Table of Content:
Machine Learning for Data Analysis
Benefits of using Machine Learning for Data Analytics
How to use Machine Learning for Data Analysis?
How Appventurez can help in machine learning solutions for data analysis?
Machine Learning For Data Analysis
Do you think it is easy to analyze large data sets and complex data manually?
Image, thousands of users ordering and searching the products that are generating raw data. How are you going to go through it to come up with a conclusion with each and every dataset manually? It will take years for you and by then more data will be piled up.
To overcome this issue of data analysis, the incorporation of machine learning is necessary. Beginners' guide to machine learning app development solutions can help you to keep updated with the aspects of it that are used for data analysis.
Machine learning development is now adopted to easily analyze the data that has altered the way customer-based companies used to work. The systems are developed in a way that can learn from the data itself. In addition to this, the pattern of customer working is analyzed and then decisions are made with little to no interference from the consumers. This has automated the working process of Machine Learning as a service for data analysis.
Machine Learning for data analysis is a cost-effective way that can save a lot of time and can reduce the effort in analyzing plenty of data. Machines can easily analyze the data, process it, and perform regression testing to come up with accurate solutions.
In addition to this, the businesses can also work in real-time to build statistical models through which data analyses are performed.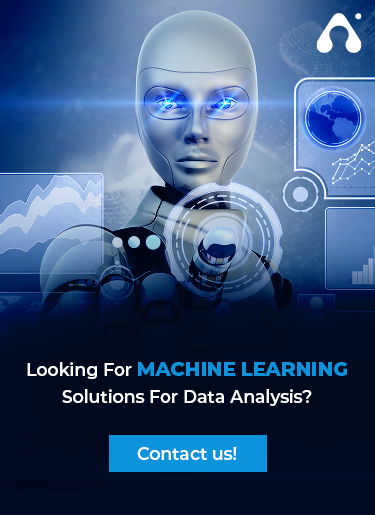 Benefits of using Machine Learning for Data Analytics
With technology like AI-ML solutions at the service, data analysis has altered the way companies work. It is rapidly becoming the major part especially with the involvement of Machine Learning for data analysis.
The motive is to offer the best and feasible solutions to the companies and come up with a plan that can help them in growing their business. The motive is to increase sales, reduce churn, and generate revenue.  But for this, it is best to be aware of data analysis, machine learning, and big data solutions.
With this said, here are some major benefits of using Machine Learning for data analysis.
#1 Detects Fraudulent Transactions
Machine learning is the major technology that is changing the world for years now with data analysis helping companies to make the right decisions for their customers. The companies are now able to establish an algorithm with the help of machine learning that analyses the data sets.
This helps in finding the hidden correlations between fraudulent activities and behavioral patterns. The best thing about Machine Learning for data analysis is that they work automatically once the process starts. It can easily identify fake profiles by accessing personal information.
Another important aspect is the use of smart machine learning algorithms for data analytics that help in detecting the activities. This tracks the inconsistencies in the datasets to ensure that customers are safe and secure. This type of algorithm is widely used in payment gateways to detect fraudulent activities.
#2 Reducing Customer Churn
You launched a product, customers purchased it, and one day they lost interest in it. This is the most common issue faced by companies at the present time. As a result, the companies face a fall in total revenue.
The fact is that many companies depend upon the consumer space while others on subscription policies are influenced due to the churning. The major fact about churning is that it will give companies an idea of whether the customers are happy with their product or not. Through this data, companies can easily find out the actual result and predict what their next steps must be.
The giants including Netflix, Google, and Amazon, use predictive analysis to increase revenue and ensure to avoid customer churning as much as possible. In addition to this, the information of the customers is tracked to maintain the satisfaction level and prevent churning. 
#3 Customer Experience
Machine Learning for data analysis, sometimes uses the big data trends that help in generating leads and giving a kickstart to sales using the customer experience as a major aspect. The customer feedback and surveys are analyzed using ML algorithms with the motive to increase the experience of users. Through this data, companies can know about the consumers that might have an issue in the future that help them to take preventive measures in the earlier stage.
#4 Customer Acquisition
Companies can get better results by using the right machine learning algorithms for data analytics to acquire potential customers. The fact is that companies understand that the customers are becoming smarter and their requirements are also changing with time. This is making companies adopt the tactics using the data analysis mechanism to generate leads and convert them. 
The data is used to analyze personalization and use it in a manner that can change the way companies think for customers. This quickens the whole process helps in onboarding the customers smoothly. The machine learning algorithms help in capturing the data using messaging and channels to ensure that the right product is launched in the market. With the right product comes the potential audience. These are some ways how big data and machine learning drove disney magic globally. 
How to use Machine Learning for Data Analysis?
There is a great impact of big data on mobile app development. And machine learning works on the step-by-step process to analyze the data precisely. However, the work depends upon two major factors that summarize data, visualize data, and data mining. These help in describing the data and creating the graphic representation to understand it in a better way.
The actual data structure is summarized using automated tools to distribute it as per the attributes. However, in order to perform data structure and data distribution, we need to have an understanding of them. 
#1 Data Structure
Machine Learning for data analysis, the data is summarized in the attributes of data types and numbers. The motive is to get the ideas highlighted making it easy to convert the data if necessary. It depends upon the data types that can be real, integer, ordinal, or nominal. In addition to this, the instances and attributes are other factors added to it.
#2 Data Attributes
The attributes are distributed and then summarized in a way that makes it easy to work on the Data Preparation. It depends upon the effects and needs of standardization, normalization, and discretization. This means that it is essential to include the mean, mode, median, maximum, and minimum values as well along with standard deviation.
The major aspects that are covered are that the real-value attributes are used to create a five-number summary. The predictive model is usually used to perform the summarization and define minimum accuracy. Then comes the non-parametric and parametric approach that is used to work on the correlation coefficient with the pairwise attribute correlations.
#3 – Visualize Data
As the name suggests, visualizing is more of the visual representation of the data in a form that can be read and understood easily. The data is summarized in the form of a graph where it is captured and studied to form a structure. This works in different forms that include histograms and scatter plots. These attributes will help you understand the rise of finance automation with machine learning solutions. 
If you want a machine learning solution for data analysis, you need to get in touch with a dedicated mobile app development company such as Appventurez.

How Appventurez can Help in Machine Learning Development Solutions for Data Analysis?
As a Machine Learning software development company, Appventurez will be glad to provide effective ML-based solutions for your data analysis & business needs. We have a dedicated team of machine learning software development experts that can help you rethink your business & build new approaches. We have smart data scientists who perform deep data analysis and build predictive models to examine the gathered data using advanced machine learning algorithms. 
Frequently Asked Questions:
Q.1- How does machine learning improve data analysis?
Machine learning automates the complete data analysis process to provide deeper, faster & many more. These ML algorithms operate without human bias or time restrictions, computing every data combination to understand the data comprehensively. 
Q.2- How is machine learning used in big data analytics?
If you want to maximize your data's potential value, using machine learning algorithms for data analytics is a logical step. These tools use data-driven algorithms & statistical methods to analyze data sets. And finally, draw inferences from recognized patterns or make predictions as per their requirements.
Q.3- Why is machine learning useful in data analysis?
Machine learning allows organizations to transfer human processes into automatic processes. This algorithm also scales to tackle big issues and technical questions. Think image detection for self-driving cars, forecasting natural disaster locations, timelines and understanding the potential interaction of drugs with medical conditions before clinical trials. That's why machine learning is useful in data analytics.