With 2.6 billion people using smartphones, the on-demand solution is the next step for startups. Digitizing your business with innovative on-demand apps is the high-quality mobility solution for other services & delivery businesses. 
From multi-million dollar retention programs to startups releasing their next Android/iOS on-demand apps, they need support from on-demand app development companies. In this post, you will learn about how on-demand app development will modernize a startup into a multi-million organization.
Table of content:
1- Surprising Facts of the on-demand app development market
2- 8 Ways how on-demand app development transformations & modernizes business
3- Future of on-demand apps in the business
4- Key technological drivers help on-demand app ecosystem grow
5- How Appventurez can help in on-demand app development solutions?
6- Frequently Asked Questions:
What are eminent features to include in on-demand app development?
What are the benefits of on-demand apps solutions for your business?
What factors affect the on-demand app business model?
Surprising Facts Of The On-demand App Development Market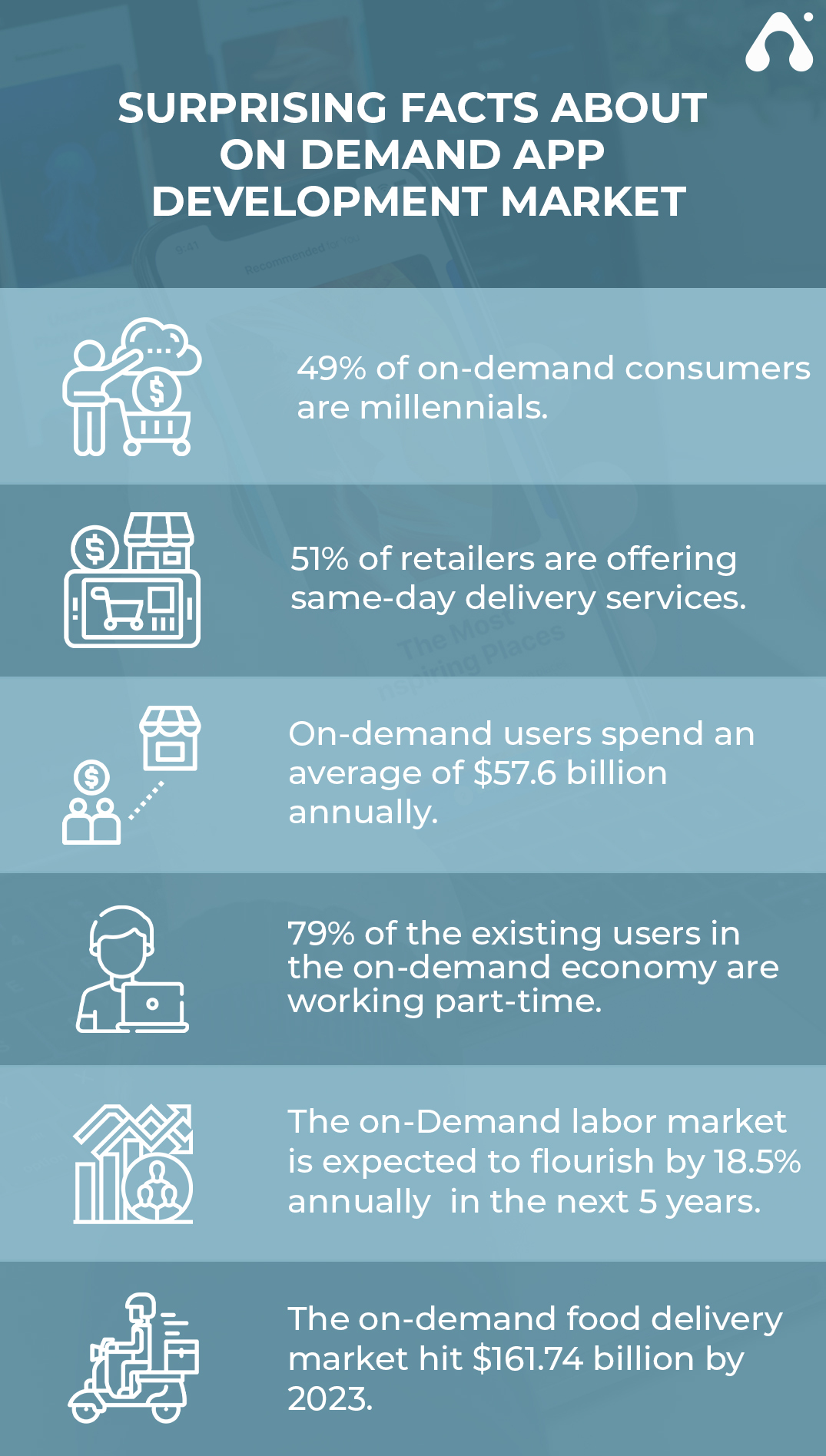 The same figure for all on-demand apps in 2014 was a mere USD 14bn and is expected to exceed USD 335bn by 2025
Millennials represent 49% of users for on-demand apps and 30% belong to the age group of 35 to 54 years
More than 45% of users of on-demand app solutions have an annual income of less than $50,000
According to the Statista.com report, the on-demand food delivery app revenue will cross USD 182bn by 2024
On-demand app users spend an average of $57.6bn per annum
The on-demand food & grocery delivery market will reach $161.74bn by 2023
8 Ways How On-demand App Development Transformations & Modernizes Business
Here is a list of eight ways how on-demand app development solutions transform & modernize business:
Promoted entrepreneurship
Personalization
Furnished flexibility and simplicity
Savings
Improved outreach
Multiple payment options
Ratings and reviews
Promising customer services
Let's talk about them in detail:
#1 – Promoted Entrepreneurship
When it comes to how on-demand apps are shaping the world, promoting entrepreneurship plays a vital role. On-demand have bridged the gap between business owners & their career. The employer can choose their timings of work & get paid accordingly. 
#2 – Personalization Services
With the on-demand market growing, more companies are moving towards it, resulting in additional competition in the market. All are doing efforts to make strong direct bonds with customers, understanding their requirements and then offering services. In simple language, personalization has been emerging as a highly essential factor in the on-demand app development market. You need to know about the cost to develop an on-demand delivery app before investing in this project. 
#3 – Added Flexibility & Simplicity
With flexible working hours, the on-demand app guide has helped the professional to do several assignments at a time. This service has not only improved the work performance but also modified the work environment. It has simplified the tasks of customers & service providers. Many records can be kept to examine the shortcomings in business & customers can easily avail facilities. 
#4 – Saving Time & Money
With the minimum-viable product model of business, you can save & easily update the apps with new features to meet your customer's requirements. On-demand apps also serve as a great marketing tool in offering discounts and better deals. It will help you increase your customer base at a very small expense. 
#5 – Improved Outreach
On-demand applications have been helping professionals to reach a large crowd. These solutions are highly secure as they can help customers to easily reach them. And the service provider can help in fulfilling different requirements of customers. 
#6 – Multiple Payment Options
A payment gateway was one of the best solutions which were improved by an on-demand app. Now customers can make payments as per their choices whether it's online or offline. While payment gateways are very challenging but by engaging with an efficient mobile app development company. You can go through on-demand service provider app guidelines to choose the right one for your solutions. 
#7 – Ratings & Reviews
The feedback system is another best way how your on-demand apps can transform a startup into a multi-million dollar business. With ratings and reviews provided by the customers, providers can enrich their services without any hassle. It results in building trust among the customers. 
#8 – Promising Customer Services
With on-demand app services, the customers are at their right convenience. Without moving an inch, the solutions come to their doorstep.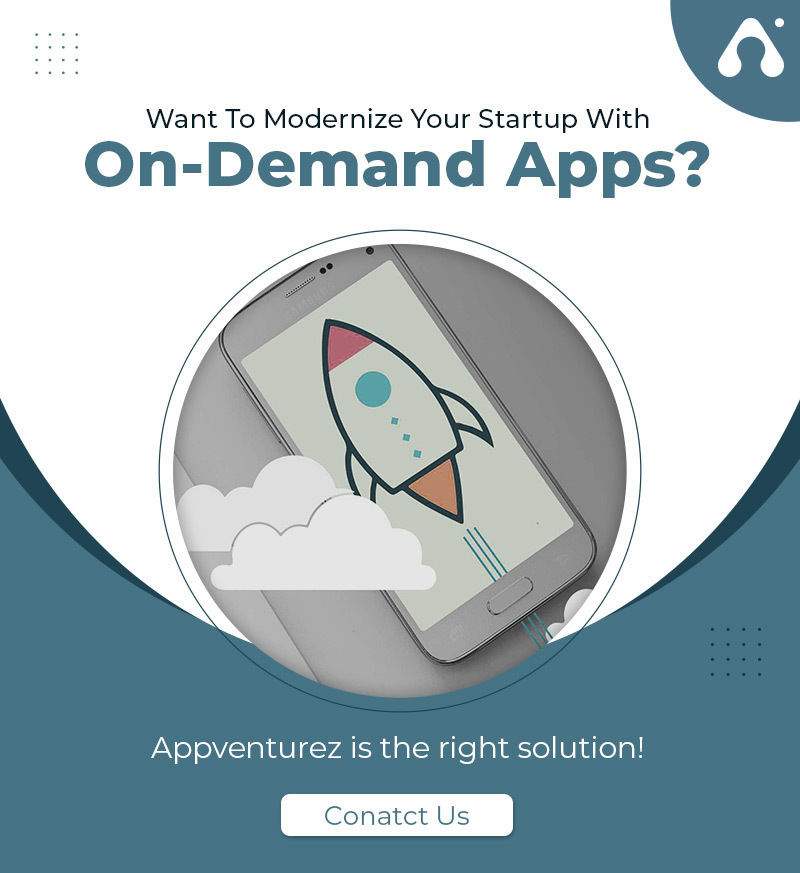 Key Technological Drivers Help On-demand App Ecosystem Grow
Here are some of these key technological drivers helping the on-demand app ecosystem grow:
#1 – Wearables
Wearables are computer-like systems that you can wear like normal apparel & accessories. They are embedded microcontrollers devices that are used in regular life such as watches, glasses and even clothes. These systems are connected to your smartphone via Bluetooth or NFC so that you can track your important vitals such as pulse rate, calories, oxygen levels & sugar levels. 
Many on-demand businesses are shifting towards wearable app development solutions to track the progress of their patients or trainees. 
#2 – AI & Chatbots
Many businesses use AI solutions to minimize the costs of maintaining professionals to get customer calls for orders, requests or complaints. AI-integrated chatbots take loads of these insignificant routine tasks. And they free human agents to handle serious issues that customers face. Using the input from chatbot development services, businesses can process orders at a greater rate and efficiency than human agents. 
#3 – Data Analytics & Machine Learning
Using data analytics & machine learning to drive business is a new thing that is getting popular day by day. Understanding customers' needs to serve them better create targeted customers' personas. Data analytics & machine learning development solutions can help to improve workflows, order processing, remove cancellations and automate different tasks to speed up the system. 
#4 – Blockchain
The fintech & payments system is hugely driven by concerns for the security & safety of capital. The blockchain development solution provides a highly secured & encrypted decentralized ledger to maintain records. 
Future Of On-demand Apps In The Business
In today's digital world, businesses from every sector are shifting towards Android or iOS app development solutions. Companies are using different tools to help them flourish in their businesses. Even the new startups are now focusing on starting new ventures using on-demand applications. 
Undoubtedly, these on-demand apps will surely go a long way. With the success stories of Uber and other on-demand taxi booking apps, the business models of such on-demand apps will be effectively adopted. They will gain more popularity with every passing year. Even with the market trends evolving, these apps will help to increase the future of business. That's why every startup is thinking about investing in on-demand apps to offer reliable customer support. 
So, hopefully, you have understood how on-demand app development is transforming & modernizing a startup into a multi-million company. But to get success in today's competitive world, you need a unique, effective and user-friendly on-demand app. For that, you need to get in touch with an experienced mobile app development company such as Appventurez. 
How Appventurez Can Help In On-demand App Development Solutions?
Appventurez is a mobile & web app development company with great experience in on-demand mobile application development services for different sectors. Our trustworthy methods can help you in creating high-quality & highly functional on-demand apps for your company. 
On-demand App Development Model Process We Follow:
Our on-demand app developers follow a defined process to ensure that your mobile app development solutions are up to the mark as per the user's requirements. We have a dedicated team of iOS & highly skilled android developers who have many years of experience in delivering reliable on-demand apps to every sector. They work on efficiency, operations & minimal costs to ensure you launch a high-quality delivery app in the market. Here is some development model process our experts follow:
#1 – On-Demand Apps Plan
Our highly skilled on-demand app developers plan and document every feature to ensure that nothing is missed out. 
#2 – Development & Design
We cater to excellent quality on-demand app development solutions to ensure your user experience is increased to offer unique & reliable solutions. 
#3 – Implementation & Deployment
After completing the on-demand app development project we ensure to test every feature to deliver bug-free on-demand apps in the market. 
Frequently Asked Questions:
Q.1- What are eminent features to include in on-demand app development?
The features & functionalities find out how an app will perform in the marketplace. If you are planning to get started with an on-demand application development project, you must consider several features such as Content Management, Booking Management, Interactive Dashboard, Push notifications, tracking facility, ratings & reviews & multiple payment options.
Q.2- What are the benefits of on-demand app development for your business?

According to the statistics, more than 80% of the businesses are into on-demand app development for their business. If you are planning to develop on-demand apps for your business, make sure you get the right features and functionalities involved in it. 
On-demand apps will be really helpful in improving your business' ROI and adding value to it. Here are other more benefits of on-demand apps:
Capitalize The Potential Of Mobile Period
Employee Happiness & Productivity
Scalability & Security
Get Access To Limitless Business Opportunities
Easy To Affordable
Q.3- What factors affect the on-demand app business model?

Before starting the on-demand app development process for your business idea, you must be aware of different factors that have a bearing on success. These factors are commoditization of the services, supply chain, pricing structure, identifying key stakeholders, fleet management & scheduled vs instant deliveries.