We live in a fast-paced society where we are all so preoccupied with our jobs that we can't accomplish simple things like grocery shopping or dinner preparation. We often wonder where we find the time to sleep. These fast-paced chores, on the other hand, have led us to a point where everything can be solved with a single click.

Our phone has turned into a magic wand for us, allowing us to have anything delivered to our door, thanks to on-demand service applications.

However, on-demand apps have effectively simplified the work while keeping us abreast of the fast-paced world.

On-demand apps cater to each and every requirement of the individual and offer services right at the doorstep with a few taps over the screen.

Table of Content
What are the Steps to have a Successful On-Demand App?
What Makes On-Demand Apps So Popular?
On-Demand Apps – Shaping The World
Tech Stack For On-demand Mobile App Development
On-demand App Development Cost
How Appventurez Will Help In Shaping The World With On-demand Applications?
As a result, it helps in enhancing the overall economy while catering to the customer's demand with immediate results, services, and goods.

What is an On-demand App?
On-demand apps connect customers with different service providers and vice versa. They let users order any kind of service and strive to deliver it in minutes, like booking a ride with Uber, Ordering food from Zomato.

Why Build an On-demand App?
There is no doubt that on-demand app development is becoming the backbone for businesses making entrepreneurs jump right into it.
However, if the idea is not unique then it might go in vain due to highly popular apps present in the market.

A unique idea is a basic requirement for the on-demand app that helps in changing the business demand and boosting the productivity rate.

When it comes to the why factor of developing an on-demand app then it is essential to understand the uniqueness in mind.

More than 50% of service providers state that apps have actually increased the total annual income in a year.
The financial status of such apps will increase more in the next year as per the service providers.
These are the major reasons that make people go for on-demand apps that will receive funding to take their business in a way that allows growth and financial productivity.

What are the Steps to have a Successful On-demand App?
There is no hidden formula when it is about on-demand apps since it all sums up to the app category and On-Demand Mobile App Ideas.

There are several on-demand apps in the market that have taken the business a step forward and in the coming years, it will gradually increase the overall output.

The above-mentioned apps are just a small glimpse into the world of on-demand app development.

The categories include:
Entertainment
Health
Food Ordering & Delivery
Salon & Beauty
These are just a few categories that compel small-scale businesses to go for the on-demand apps.

However, if you are diving into the on-demand business then it is essential to keep the essential tips in mind.
Make sure to have an out of the box ideas
Right guidance to develop an on-demand app
Industry knowledge
Marketing strategy to increase the overall outcome
The fact is that if the idea doesn't have some additional spice to it then it will be considered as a general idea that is already present in the market.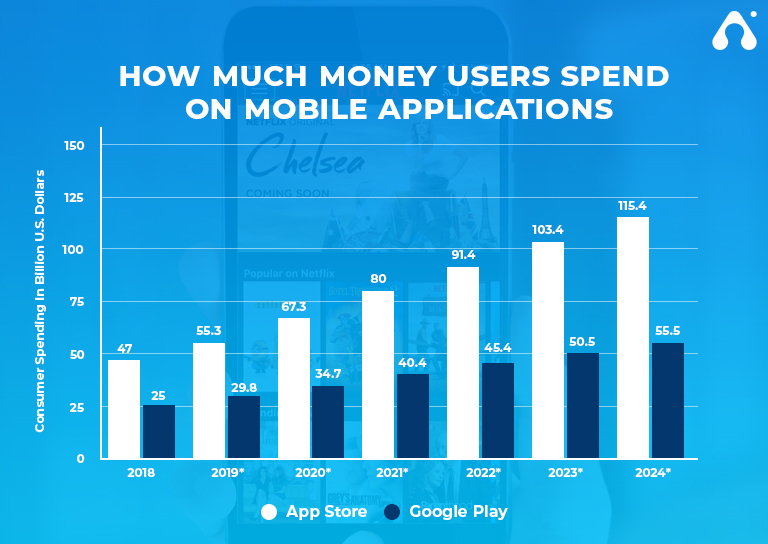 What makes On-Demand Apps so Popular?
The adaptability of on-demand apps is undeniable. This means that this notion may be used in a variety of sectors. So, here are some of the most compelling reasons to invest in on-demand app development for your company:
1#- Scalability
You might begin by developing on-demand apps just for your company. However, you may eventually add additional businesses and make it into an on-demand marketplace. You may make money off your platform by taking a cut of every transaction that happens on your on-demand marketplace.
2#- User satisfaction
You can better meet their needs by allowing them to book a service or purchase a product with just one click. On-demand app development can help you retain customers and expand your business in this aspect.
3#- Comprehensive analytics
It provides you with useful information about your consumers' behavior. You can figure out what services they want and what keeps them from making purchases by analyzing the data. You'll be able to enhance your solutions and give better client service with this information.
4#-Improved online presence
To help your clients locate your business online, it's no longer enough to have a website. You may boost your internet visibility by investing in on-demand service app development.
5#-Focus on mobile users
Statista predicts that the number of mobile users will reach 7.49 billion by 2025. This data provides compelling evidence for investing in on-demand app development to give mobile consumers an exceptional user experience with mobile cloud computing.

What is an On-demand Economy?
The on-demand economy is the working model or trend to satisfy the requirements of the customers. In addition to this, the main purpose of the technological trend is to offer instant products and services to customers.

This revolutionizing idea of the on-demand app is changing the way customers live and witness product-based apps. The classifications, services, and development phase have a huge impact on industries in the fast-evolving world.

In the present time, on-demand apps are aggressively moving forward when it comes to the on-demand economy. You can try exploring the different industries and you can have an on-demand app for each of them like the Nike fitness training app reach success through an on-demand application.

This is the scenario in which we are living where the only motto of companies is to fulfill the demand of customers. Though there are companies that have achieved a milestone of million dollars with their app idea, people still have misconceptions.

It is essential to keep in mind that on-demand is not going anywhere, anytime soon. It is going to survive in between us with the evolution of time as shown below.

Consumers spend a lot on on-demand services going up to $57.6 billion annually.
The same-day delivery system has altered the way and preferences of the customers as well as retailers.
By 2023, it is expected that the on-demand market will cross the bar of $161.74 billion.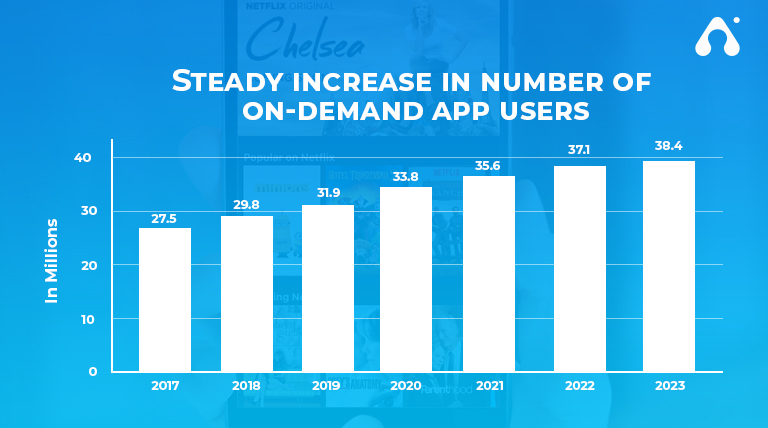 On-demand Apps – Shaping the World
Over the past 5 years, on-demand has gained a lot of popularity and people depend on on-demand apps to avail themselves of services such as logistics, laundry, healthcare, transportation, beauty, and food.

The majority of business owners are opting for on-demand and implementing the technology to attract an audience at a wider platform.

As per the experts, $57.6 billion are spent annually by 22.4 million consumers with on-demand mobile app development technology.

Companies cater to different sectors that include:

Food – This is one of the biggest domains considered by the companies to get food ordering and delivery online through on-demand apps during a pandemic. The international popularity of this domain has made restaurants and even grocery outlets launch on-demand apps in the market.
Healthcare & Beauty – There is no longer a hassle to get an appointment from the physician, spa, and salon. The queue of on-demand services for healthcare and beauty is an ideal way to target potential consumers.
Delivery – This on-demand platform holds a lot of value in the delivery services with the involvement of services for customers with just a few clicks.
Tech Stack for On-demand Mobile App Development
1# iOS
For iOS app development, we utilize Swift as our primary on-demand mobile app development language. Since the iOS operating system was created by Apple, it has a native programming language. Beginners were made to feel at ease by the firm. It's also recognized for being secure, open-source, quick, and in demand.

To ensure optimum efficiency, we employ Objective-C, C++, and C in addition to Swift.

2# Android
For on-demand Android app development, Kotlin is our preferred language. This programming language is used by us because it helps our developers to write less code and comprehend the code generated by their colleagues.

We also like Kotlin because of its higher-level security, Java compatibility, and ease of use.

If your on-demand service's app requires a different programming language, such as Java, C++, or C, we can help.

On-demand App Development Cost
Based on our experience, we can confidently state that the cost of developing an MVP version on-demand app begins at $80,784 for a mobile native app and $71,712 for a cross-platform app.

The cost of developing a fully-fledged on-demand app will begin at $123,984 for a mobile native app and $104,544 for a cross-platform app.

We produced a table for your convenience that shows the relationship between the primary on-demand application features and the length of time it will take on-demand app developers to construct them.

How Appventurez will Help in Shaping the World with On-demand Applications?
On-demand applications are for you if you are a startup entrepreneur interested in owning an app that can transform their startup with on-demand applications. The world's economy is shaped by on-demand applications. They have a wide user base, and investing in On-Demand Apps can benefit you as a business owner, service provider, and, of course, customers.

The Future of On-Demand Apps is extremely bright. So, don't wait up when you have the chance to get the topmost on-demand app in the market. Have an idea? Share with Appventurez an on-demand mobile application development company.

FAQ's
1- What are the most happening trends of App development?
Consumers love these applications because they make it simple and flexible to pick services with only a few clicks. Many firms have begun to consider investing in this segment as a result of the accompanying benefits. The on-demand business is rapidly expanding, and apps like these will be hugely successful in the next few years.

2- What are the benefits of On-Demand mobile app development?
On-demand app development offers the following benefits for your business
Scalability
Easily accessible booking
Flexible offers
Customer service improvement
User activity analytics
Revenue gross
Developing your online presence
3-What is the future of On-Demand home services in the business world?
On-demand services are those that you may order and get from the comfort of your own home. It functions as a platform for hiring specialists at your fingertips for all of your domestic tasks, as its name indicates, and is constructed with all of the necessary capabilities, just like all other requests.

---
---