To be or not to be has become the permanent question now!
1- Does your team include the resources and expertise required to meet your goals, needs, and target audience?
2- Do you have enough resources to run product support?
3- Do you need to broaden existing software to a new platform or language?
If you answer 'No' to two or more of these questions, your project is outsourceable.
We believe everyone would agree with the fact that the year 2021 was the catastrophic year of the century (well 2022 isn't going to be any special). Instead, it became the year of digital transformation.
Digital transformation is a worldwide phenomenon that business leaders are eager to join. Many firms outsource digital transformation initiatives to implement technology more rapidly and efficiently. Continue reading if you're still undecided about outsourcing digital transformation.
Table Of Content
What Is Digital Transformation?
The word "digital transformation" refers to a variety of online procedures, interactions, and technical advancements that employ the power of current technologies to help businesses and organizations connect and interact with their consumers or customers more quickly.
When businesses follow digital trends for digitalization, they will change how they operate, interact, and, most crucially, deliver.
Benefits of Digital Transformation for a Business
Easy remote access, automated process, lower cost, higher revenue – You can transform your business and services inside out via digital technology lifecycle. Some of its benefits include:  
1- Better Customer Experience
Customer satisfaction is the ultimate destination any organization aims for. The better the customer satisfaction levels; the faster the turnaround times and the faster the turnaround times; the higher the digital transformation success rate will be. Enterprise uses mobile apps for digital transformation for their customers.
2- Higher Efficiency
Digitization eliminates time-consuming manual labor and ultimately, results in cost-saving through process automation that works as a stepping stone for the organization.
3- Improved Data Collection & Analysis
Another benefit includes the collection of online data. It becomes easier to collect mountains of data, analyze and monitor the customer data and further enhance business strategies. As of now, digital technology is revamping the media.
What Is Outsourcing?
Outsourcing is a type of agreement where a company hires a vendor (freelancers or a team) to complete a particular task or project. On the other hand, a vendor offers a company with all the requisite resources i.e. a skilled team, complete strategy and tech tools.
According to research by Accenture, '90% of companies take assistance from a third-party solution provider to help them with at least one element of business digitization.' 
Before you decide upon whether it will be right for you to outsource your digital transformation project, get a clear understanding of both In-house vs Outsourcing comparisons by taking a look at their advantages and disadvantages.
With that said, outsourcing is not just about passing on your responsibilities to another company, rather, it focuses more on sharing and collaborating. Both of the involved parties share the responsibility in the process.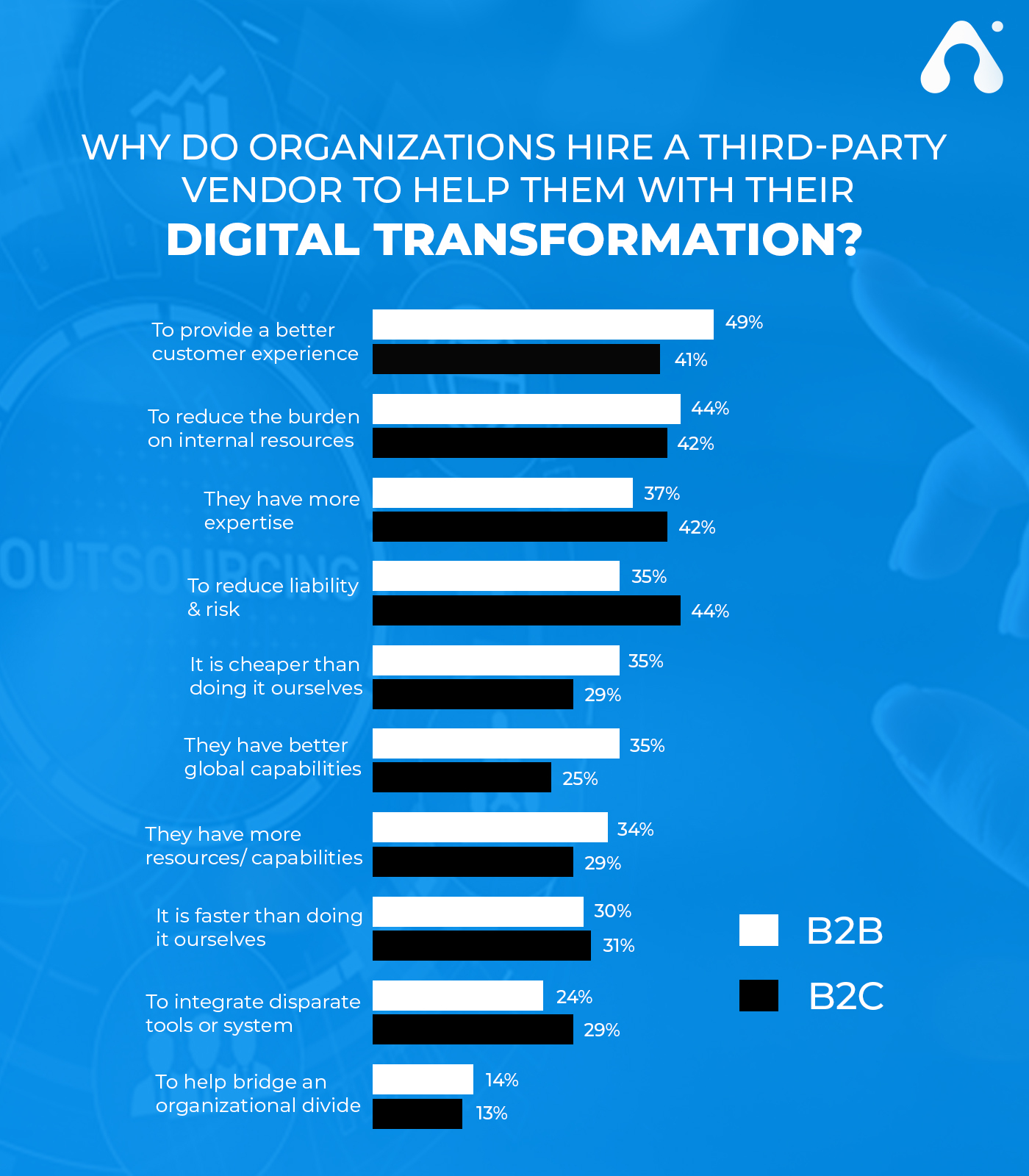 Appventurez is a top-rated on-demand mobile app development company you can trust to outsource your next app development project.
What are the Challenges Involved in Performing Digital Transformation In-House?
To help you make up your mind and be 100% sure, listed below are some of the common challenges you come across when performing digital transformation in-house:
Presence of complexity due to multiple systems
Lack of digital skillset 
Fundamental limitations of the Agile Transformation process
Lack of a safety-first digital transformation process
Digital transformation is a long-term play where leaders face (and will continue to face) these hurdles that are sure to slow down the growth of the business.
This is why companies outsource digital transformation. They know the impact of digital technology on businesses during pandemics because they tackle these challenges effectively. 
Now that we have emphasized enough the benefits of outsourcing digital transformation projects, scroll down to find the most common digital transformation processes that businesses are outsourcing.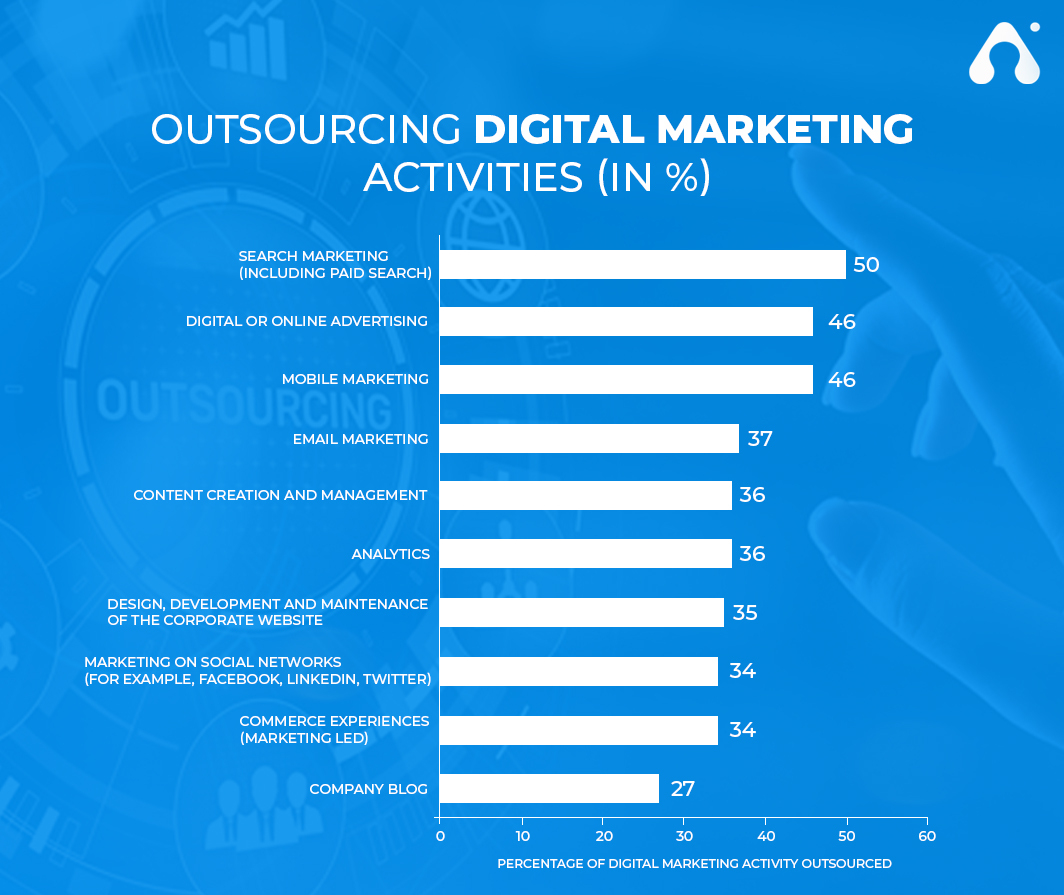 Which Digital Transformation Projects Are Most Frequently Outsourced?
Since digital transformation with technology is fruitful in providing better, advanced and digitally-backed custom experiences, companies are investing more and more in it. 
Here are some of the top digital transformation projects that are outsourced the most: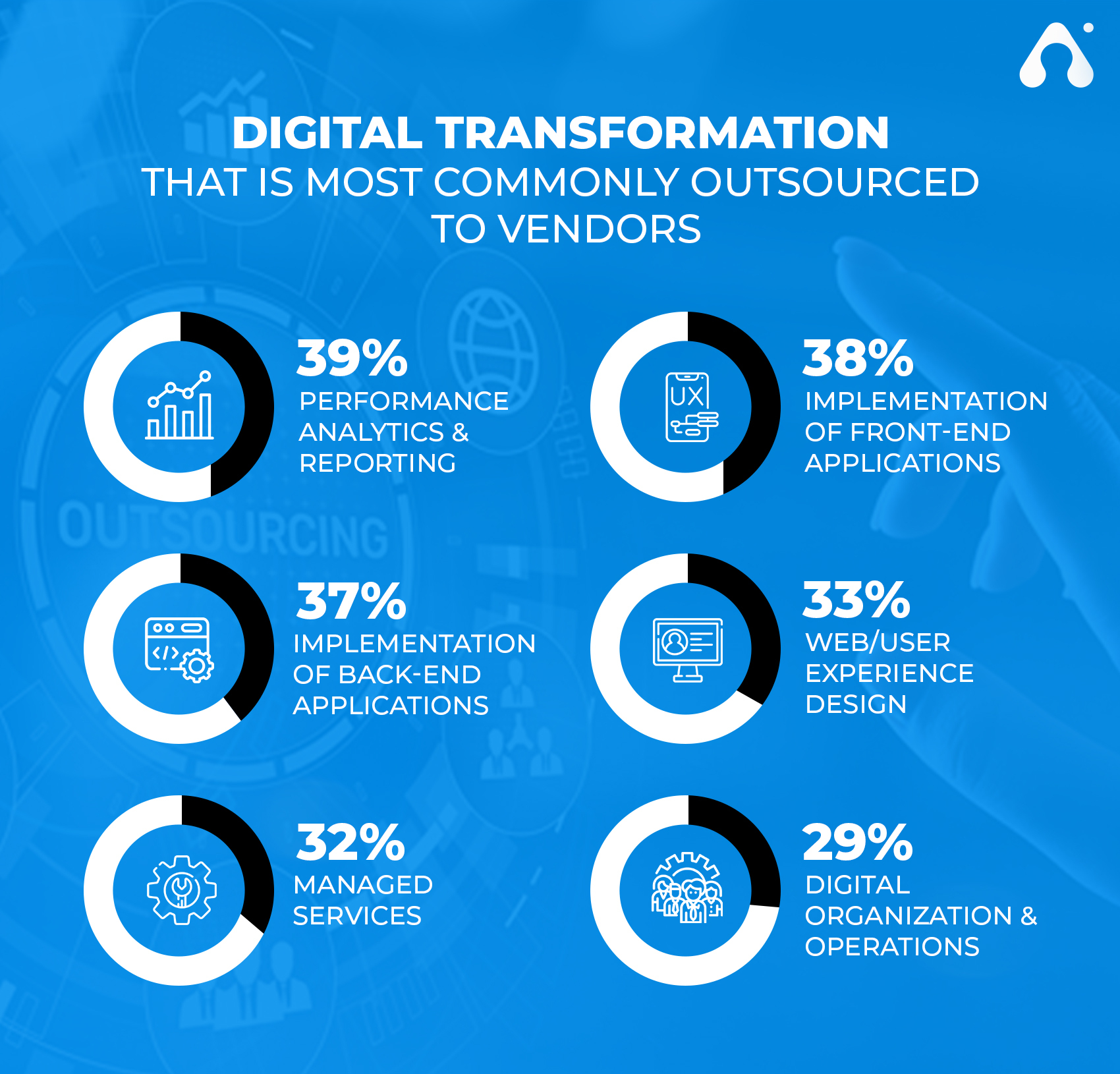 We, at Appventurez, go all out and grease the wheels to ensure your business touchdown all the technology-enabled revolution, tap into the highest potential and place it at the forefront of digital transformation. Check out our technology stack.
Things to Think About When Outsourcing Out Digital Transformation Projects
Outsourcing your digital transformation successfully depends on several aspects. The process is not simple as it looks and comprises certain hidden points that should be considered beforehand. 
1-Knowing Your Goals 
A company with clearly defined goals and objectives is already halfway done and a step closer to its vision. Know how to outsource app development If you have a clearly defined set of goals and have already determined your needs (staff, resources, goals), you will be able to search for the right partner that meets your expectations.
2-A Defined Budget
Before outsourcing your digital transformation process, roll out the project plan and budget that has been set according to your present company needs. This will liberate you from the overhead costs.
Furthermore, to get the best outsourcing services, it is important to narrow down your list and talk to a few companies to find out the service they are offering and whether they meet your business requirements or not.  
A reputed digital transformation strategy consulting firm utilizes a proof of concept in development that will also assist you in cost calculation in terms of service affordability and the end results.
3- Selecting Outsourcing Model
Define the particular skills your project needs. This will make it easier for your HR and managerial teams to select the right outsourcing model (outsourcing, dedicated team, IT staffing, staff augmentation, etc.)
A set collaboration model run business with a distributed agile team will fasten the process and save a lot of time and effort.
4- Establishing Relationships
Maintaining effective communication can be a bit challenging when outsourcing your digital transformation process due to certain differences such as distance and language barriers.
That is why establishing a friendly relationship and open communication is essential when it comes to outsourcing. This way both the parties are able to adapt to each other's working schedule, environment and work effectively.
5- Transparency
While hiring an outsourcing partner, do not hold yourself back in asking questions related to the project that you intend to assign to the company. Communicate directly and to the point.
Also, creating a set of deadlines and a time frame for the completion of projects is important for the smooth execution of the project. Additionally, it is important to be clear about the working hours if you are hiring a company that belongs to a different time zone.
For the companies to fully achieve digital maturity, they need the right partner who can leverage innovations and assist in transformation. Once you are almost on the way to finalizing your best digital transformation partner, listed below are some of the other strategies to consider:   
Review the firm's website. Check for client testimonials, case studies, references, and reviews on sites like Clutch, GoodFirms, etc.
Don't forget to check for the agency's credibility and experience.
When evaluating, consider the collective experience of the team as well. Are they professionals with experience in project management, product development, strategy, and so on?
You can even ask for a comprehensive insight on what would be their workflow or how they will manage their project scope and budget as per the decided timeline or what strategy they will follow to give your business a competitive advantage.
How Appventurez Can Help You Get Started With Effective Management Of Digital Tasks?
Are you fed up with spending money on outdated marketing ways and on the voyage for result-driven digital marketing solutions for your brand?
Well, Appventurez can help you excel. We are a leading mobile app development company that houses a bunch of creative digital marketing experts with proven industry knowledge. 
You can avail the listed professional digital marketing services if you decide to associate with us:
Goal setting & strategising
Web design & development
eCommerce services
Regular website updates or maintenance
SEO services
Landing page optimization
Content creation
Online Reputation management
Discover the leading-edge technologies and amalgamate your brand with avant-garde digital marketing techniques that are sure to generate a huge amount of leads, traffic, engagements and customers.

Get in touch with us to skyrocket your brand's digital identity by getting your hands on all digital marketing services under a single roof.
FAQ's
1- Why do businesses need digital transformation?
A company's digital transformation allows it to keep up with changing customer demands and, as a result, prosper in the future. It allows organizations to compete more successfully in a constantly changing economic environment due to technological improvements.
2- What's in a digital strategy?
A company's digital transformation allows it to keep up with changing customer demands and, as a result, prosper in the future. It allows organizations to compete more successfully in a constantly changing economic environment due to technological improvements.
---
---