Although digitalization poses a serious challenge with digital transformation in logistics industry, it may also be able to help the sector improve its efficiency and lessen its negative environmental effects.
Our everyday lives have gotten more digital during the past two decades as the Internet revolution swept the globe. This could have struck a fatal blow to the logistics sector, with email surpassing "snail mail" and digital downloads replacing tangible goods. However, a surprising development has taken place: more parcels than ever are currently being shipped. A whopping 85 million shipments and documents are sent worldwide on any given day.
Growth is being fueled by demographic and digital trends, but logistics companies cannot afford to relax and reap the benefits of this surge in international exports.
When we discuss the digital transformation of supply chain management, we must keep in mind that the degree of change necessitates continuous process improvement, the assessment considers all integrations and their effects on the supply chain, and the transformation roadmap necessitates specific timeframes for scaling up with digital solutions.
Table Of Contents
What Is Digital Transformation?
Before we get started, let's clarify what digital transformation is. It involves converting a company from its conventional, analog condition to a digital one. It entails switching from outdated systems and procedures to more modern, effective ones that make use of digital technologies.
Digital transformation technologies in logistics and supply chains can mean many different things, including:
Using digital technologies to enhance communication between and within businesses. SCM, or supply chain management, is the term used for this.

Enhancing the client experience with digital technology. Customer experience or CX management is a common name for this.

Company process management, or BPM, is the process of incorporating digital technologies to streamline business procedures.

Digital business, often known as DX, is the practice of using digital technologies to develop new business models and paradigms.
What Is Digital Logistics?
The automation and digitization of processes connected to the movement of products is referred to as digital logistics.
There is a chance to digitize and automate any normal logistical activity that relies on pen and paper and repetitive manual work. This is where digital logistics come into play. Cloud-based, Internet of Things (IoT), artificial intelligence, machine learning, and even blockchain technologies are frequently used by businesses to harness the full power of digital logistics for the supply chain management.
Digital logistics can impact any part of a business's supply chain, including:
Inventory management

Transportation management

Warehousing and warehouse management systems (WMS)

Supply chain forecasting and analytics

Customer notifications and real-time shipment tracking.
Developing an Effective Strategy for Supply Chain Digital Transformation
The following are the three simple steps to value chain optimization for business logistics: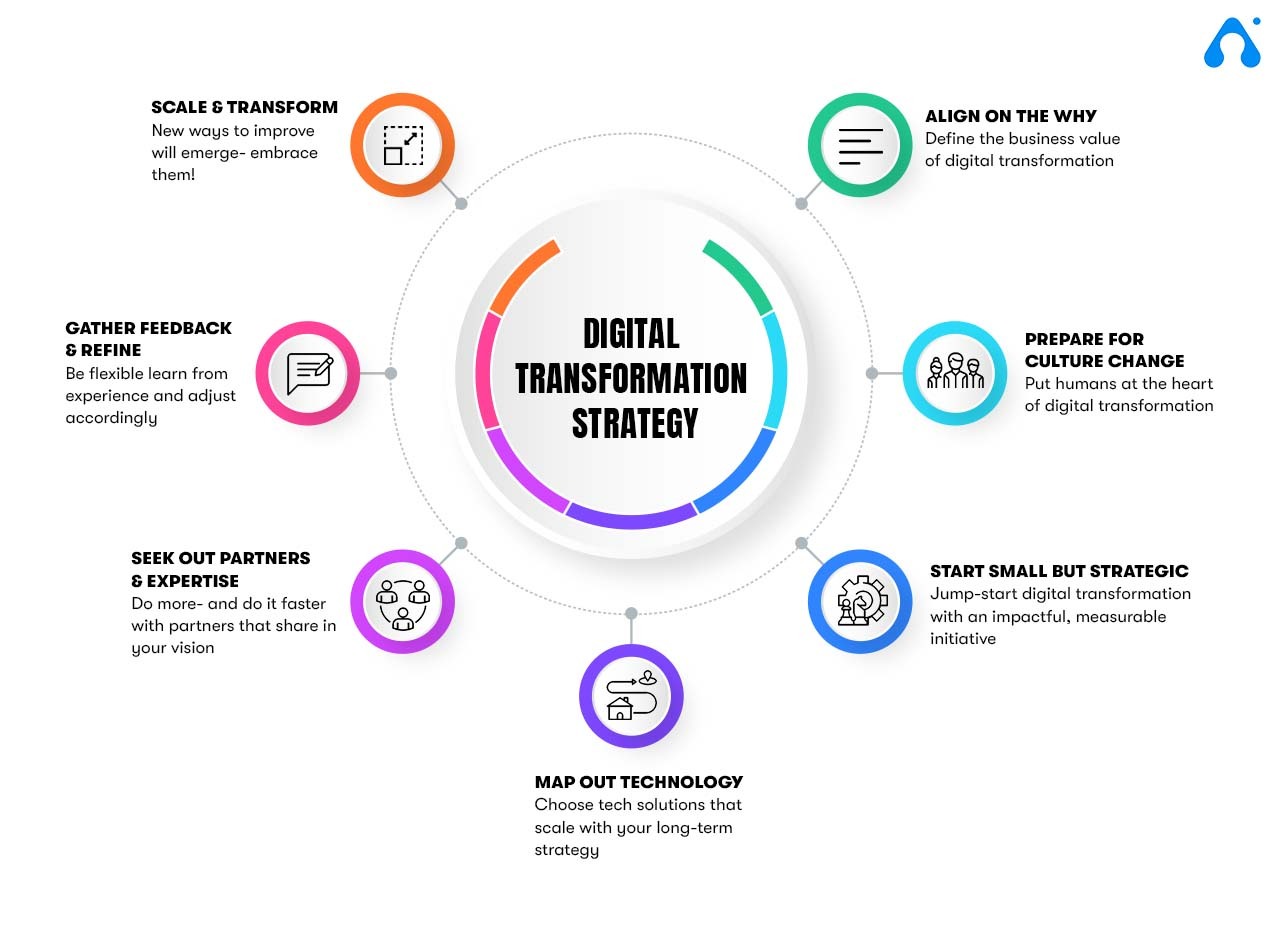 1. Planning an Effective Supply Chain Transformation
Your starting point should be the organizational digital vision. Define the digital vision in accordance with other business executives in your organization. Determine the kind of digital experience you want to offer your clients and the value chain opportunities that will enable you to do so.
As Gartner noted in their 2018 survey of 460 CEOs, the CEO's priority is at a crucial crossroads at this time. The survey shows that although the business leader's only concern is company growth, they are open to using innovative operating methods and corporate structures.
After establishing a digital vision for its supply chain, your digital transformation company should articulate that vision in terms of business and technological capabilities.
These may consist of the following:-
Improved decision-making through machine learning.

Process automation for S&OP preparation and workflow management.

Live notification for continuous, end-to-end customer engagement.

Supply chain automation method and seamless ERP integration business innovation approach.

The skills needed to enable and develop digital applications.
The establishment of performance metrics brings the company's supply chain transformation objective to fruition. The business must assess its existing performance, identify its weak points, and then create realistic improvement objectives.
2. Supply Chain Business Model Alignment with your Digital Vision
In the vicinity of 25% of supply chain businesses, a single governance procedure is used. Lack of alignment clarity limits the supply chain's ability to serve any industrial or retail company's primary digital goal. The business must match the operational model for the supply chain with the digital vision.
When it comes to the practical implementation of this example, HP's Instant Ink fits the bill nicely. With a subscription-based ink or toner model, easy delivery, and pre-paid recycling, the manufacturer assures that the printers are always online.
You need a digitized supply chain to deliver such digital business priorities! Machine learning in supply chain business digitization encompasses more than just fulfilling orders for replacement parts. Avoid unneeded downtime, it involves anticipating potential problems, ensuring a smooth supply of spare parts, and offering service throughout the partner geological ecosystem.
Manufacturers and retail companies must spend money on technology like these in order to establish such a supply chain infrastructure:
Data analytics for monitoring and forecasting failure in real-time performance

Machine learning (ML) and

Artificial Intelligence in development

for effective process automation

API integrations for collaborating on data sharing
3. Prioritizing your Technology Investments
Due to automation, predictability, and survivability, the current pandemic has demonstrated to the business world that digitizing operations is the first step toward a safer future. In order to increase their bottom line and generate enough money to secure investment possibilities in future top-line technology, supply chain businesses must concentrate on operational improvements.
To meet the needs of contemporary, broader corporate goals and priorities, business executives must alter their traditional, conservative approach. They must redesign a digital supply chain that is future-proof and provides exceptional customer service in addition to high-quality products.
Digital Transformation in Logistics: a $4 Trillion Opportunity
Our value-at-risk analysis seeks to assess the potential for digital transformation initiatives in how to develop the logistics app sector to generate benefits for the industry, its customers, and society as a whole over the next decade (2016-2025).
According to our analysis, digitalization in logistics industry could unlock $1.5 trillion in value for logistics players and an additional $2.4 trillion in societal benefits over the next decade (to 2025).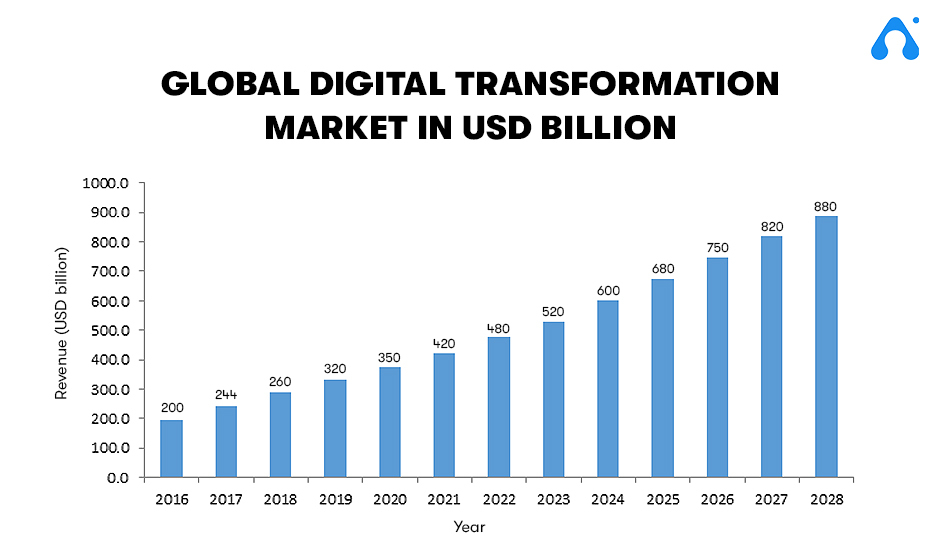 1. Data-driven Information Services
The industry will benefit from this endeavor to the tune of $810 billion. Analytics will be used by business players to enhance utilization, cut maintenance costs, and optimize routes. The major players will adopt control tower systems to add real-time insight to these advantages, which would increase profitability by lowering downtime and recovery expenses.
2. Crowdsourcing
The use of crowdsourcing has the potential to revolutionize the sector. The industry will become more competitive as a result, and large transportation corporations may stand to lose $310 billion in operating profits to participants on crowdsourcing platforms.
3. Digitally Enhanced Cross-border Platforms
Through the simplification of import-export procedures, this digital project will boost trade flows. Commissions from these digital logistics platforms might be worth $120 billion. This rise in trade might result in an additional $50 billion in earnings for the digital transformation of logistics companies.
4. Long-term Bold Play Capabilities
Once the legislative barriers are cleared and widespread deployment is made possible, autonomous trucks and drones will boost the industry's productivity and have a substantial positive impact on society. They will provide a relatively lower contribution of around $50 billion during the following ten years, though.

Top 5 Logistics Technologies
Digital transformation in the logistics industry is constantly changing. We have to know what technology is used in logistics efficiency, responsiveness, and competitiveness are being increased daily by new supply chain innovations and technologies. The following types of technologies used in logistics:
Robotics

Advanced inventory management systems

Collaborative logistics
Five Steps To A Digital Supply Chain
Moving from a traditional supply chain to a digital supply chain is a complex process, but taking the first step is essential if you want to reap the maximum benefits of digital transformation trends. Here are the steps that will help you prepare for digital transformation in your supply chains. 
1. Define a Vision
Creating a clear vision is the first step in adopting a digital transformation lifecycle in the supply chain. Make sure the vision is in line with the objectives of your business. These objectives may be connected to those of your company, such as increased supply chain visibility, automated operations, and better and quicker decision-making.
a) Assess Resources and Existing Systems:
Determine the gaps and the competencies you'll need to fulfill your transformational objectives. 
b) Legacy Systems
Make sure your current systems utilize technology that can help you achieve your new objectives. Is the technology you employ in line with your corporate goals? Find the digital solutions that will assist in achieving the necessary company results.
c) Data Collection and Analysis
Analyze the systems' capacity for producing, gathering, and analyzing data. To obtain useful insights, see if the data is accessible.
d) Workforce Skills
Check to see if your team is equipped with the abilities needed to cooperate with and adapt to the new business model.
2. Unify Data and Processes
Gain complete, end-to-end supply chain visibility by using a unified platform. Utilize increased transparency to streamline key processes such as logistics, demand forecasting, inventory management, and warehouse management. The key goal is to make every job and process in the extended supply chain more visible.
3. Automate the Planning Process
You can streamline tasks and extract meaning from massive amounts of data with automated planning. Automated procedures should be used to replace repetitive or regular tasks. Automation should not be used for procedures that involve difficult circumstances or call for coordination among planners.
4. Use Data and Analytics
To make wise judgments, supply chain professionals require access to real-time data. Additionally, it enables them to work efficiently with suppliers, partners, and other related roles. Real-time data also improves visibility throughout the supply chain and aids in the detection of possible problems.
Additionally, AI-powered analytical tools can be used to enhance planning procedures and produce useful insights. As an illustration, you can use analytics to prevent an out-of-stock issue and modify inventory as necessary.
5. Align people with Processes
It wouldn't matter if you switched to a digital supply chain if your team wasn't on board with the new methods and procedures.
Technology should be integrated with processes, people, and management in this change. Teams might not be able to produce the appropriate outcomes under the new business model without such integration.
Conclusion
Companies are aware of the potential advantages of employing contemporary technologies, but they are still having trouble choosing the best strategy for transformation and implementation. When companies create a thorough roadmap for the prospects, they may improve processes, reduce extra transit costs, and provide flexibility and resilience to their supply chain operations.
Businesses can more effectively realize the potential value that digital technology can offer by doing a thorough analysis of current processes and developing a long-term transformation road map.
Appventurez is a digital transformation company that helps many businesses including retail manufacturing and other industries with their supply chain transformation. We partner with global brands to provide them with seamless digital products for smoother operation and real-time data derivation.
Our digital products enable businesses to overcome their initial resistance to moving toward digitalization. Want to discuss your next digital transformation opportunity? Get in touch with us, we would love to build your digital future with you.

FAQs
1. What is the roadmap for digital transformation?
In order to leverage digital technology to accomplish short- and long-term business goals, organizations might follow a roadmap for their digital transformation. The roadmap starts with comprehending business requirements and identifying holes in the current system in order to develop a plan that fills these gaps.
2. How do you create a good digital strategy?
A strong digital strategy gives leaders the direction they need to oversee digital activities, assess their progress, and adjust their course as necessary. Choosing between a customer interaction strategy and a plan for digitized solutions is the first step in determining this route.
3. What are digital logistics examples?
Implementing concrete, consumer-focused digital solutions like mobile applications or websites that enhance the customer journey is one example of digital transformation. Others incorporate the use of machine learning algorithms to convert an established company into a digital one.
---
---