Planning to start your business in the mobile healthcare industry? If so, we must say you have a good sense of market analysis! Even before the pandemic, the Mhealth market was growing exponentially. As per the mHealth Times report, the global mobile health market has experienced an annual growth rate of 33.5% between 2015-2020. This surge in demand has inspired medical startups to hire healthcare app developers for their android or iOS app development projects. In this blog, we will focus on how to hire healthcare app developers!
Table of Content
1. How to hire healthcare app developers
2. Why choose healthcare app developers?
3. Why choose Appventurez for mobile healthcare app experts?
4. FAQs Related To Healthcare App Development
If you are planning to digitize your medical startup with an on-demand healthcare application, here are some statistics in the figure you should check. ( Just in case you are wondering why you should invest in healthcare app development.)
Also Read: On-Demand App Guide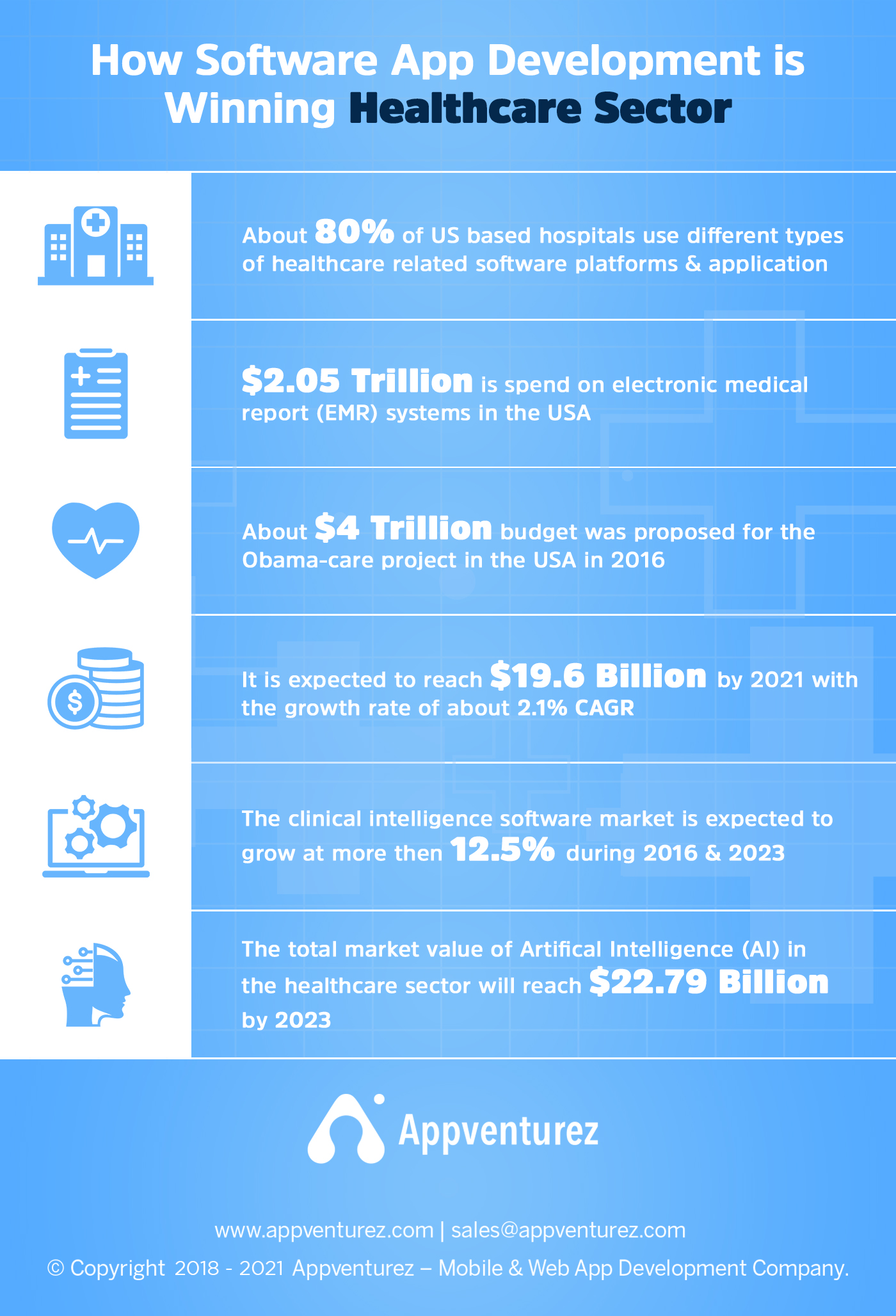 Knowing programming languages is essential to be a developer, but it isn't enough for a healthcare app developer. Because healthcare software is not just about coding, it is way beyond that. It's about integration, interoperability and compliance which require dedicated skills and expertise. 
In this blog, we will discuss ways to find the right app developers and must-have skills for healthcare app development experts. So, if you have a great medical startup idea and want to invest it into a reliable team, this blog is a must-read. 
How To Hire Healthcare App Developers?
Here are some ways you can follow to hire the right healthcare software professionals for your business in 2021. 
1. Hire developers who think your healthcare business beyond coding
Make sure you hire mobile app developers who think beyond coding. Hiring creative health app professionals will guide you throughout the healthcare development process. Also, they know what works better for your app as they have experience working with many clients in the same industry. 
2. Check out for client's reviews & the past work experience
Looking for client reviews and past work experience is the right answer to your question, "How to hire the right healthcare app developer?" For that, you must explore their website, check their testimonials page or find out the review posted about the developers. 
What's more, Ask developers about their past work experience before hiring them for your healthcare projects. Check out their previous work to understand their proficiency in building innovative healthcare mobile apps. Hence, you will know the expertise of your developers and even can expect work accordingly. 
3. Expertise to develop an app that runs on different platforms
Launching an app that runs on major platforms like Android, iOS and Windows is one of the best ways to target a large user base. So, if you want to stay ahead of your competitors, make sure you hire developers who are experts in developing apps for different platforms. 
4. Ask for Monetizing an app
The best monetization mobile app model gives you a chance to leverage your user base in such a way that you can earn money. So, if you are looking for developers for your digital healthcare startup, make sure they suggest the best way to monetize your app as per your app development purpose.  
Here are some ways you can monetize your app:
Ad revenue for monetizing an app
Upgrade to remove ads
Affiliate programs
Mobile marketing automation
In-app purchase
Bonus Tips – 
Make sure you hire for the whole package instead of only coding
Perfect mobile app development is not just about code. Your hired developer creates a functional design and also thinks about creating a great user experience. Don't take steps toward hiring a healthcare app professional until you have access to a team for design, usability and testing performance. 
App's appearance plays an important role in the success of the healthcare industry. Make sure you hire iOS and Android app developers who create an app that attracts users and delivers a seamless user experience. 
So, these are some ways for how to hire healthcare app developers. Aside from having the right mix of talent, the mobile app development team should have essential skills to build an innovative healthcare app. 
Must-have Skills for Healthcare App Developers
It must be your million-dollar project or a dream project, So, you need to be very conscious when hiring healthcare app developers. Because a wrong decision may convert your dream into a nightmare. So, always look for the following skills before hiring professionals for your mobile healthcare app development project. 
1. Interoperability in Healthcare-
a) Integration standards
It is also known as the glue of the healthcare technology industry. Health level-7 2.x is the widest interoperability standard with the popularity of HL7-FHIR. However, as per the solution area, the healthcare software developer might be required to know other standards such as ANSI X12n 5010, NCPDP SCRIPT, DICOM and HL7 v3 CDA.
b) Semantic vocabularies
Semantic vocabularies complement the syntactic standards just discussed in the first skill. These vocabularies ensure that clinical data is interpreted as it must. Some of the widely used vocabularies such as ICD9/10, LOINC, RxNorm, and SNOMED-CT among others.
c) Integration frameworks 
Integration frameworks compel the existing interoperability standards. They provide an accurate mechanism for syntactic and semantic interoperability, covering a complete clinical workflow. Popular frameworks are Healthcare Information Technology Standards Panel (HITSP) and the highly popular Integrating the Healthcare Enterprise (IHE). Given those major EHR vendors engaged in IHE Connectathon, it makes sense for healthcare software developers to get familiarized with the IHE standards.
An EHR garners and saves several patients' data from multiple healthcare service providers. On the other hand, the EMR stores all data of patients related to a single healthcare provider within its healthcare facility. EHR/EMR integration enables your mobile app to store all patient data securely in real-time. 
2. Technical Skills-
a) Big data AI
With the emergence of the health management population, you need to focus on extracting from the existing healthcare data both structured and unstructured. Large EHR players and insurance organizations are well suited to understand and implement risk models. Healthcare developers can invest in big data and AI in the healthcare sector. 
b) Data security
No need to mention that data security is essential for the healthcare industry. So, a mobile app developer must possess knowledge of strong encryption tools, libraries and secure coding practices.
c) Third-party integrations
All players in the healthcare industry including big EHR vendors have started to realize that they can offer solutions to the entire care delivery workflow. EHR vendors are now promoting small niche players to partner and use their systems as a solution platform. All major players including Allscripts, Practice Fusion and Athenahealth have started to offer what they want in marketplaces. So, it becomes beneficial for a health app developer to learn integration standards such as HL7 FHIR, SOAP and REST framework.
Read More: IoT HealthCare Future Scope
3. Domain Concepts-
a) Health Insurance Portability and Accountability Act (HIPAA)
HIPAA compliance checklist is the most regulatory aspect which is an essential skill for a healthcare software developer. It helps developers not only to implement solutions compliant with the regulatory framework but also to follow secure development practices. 
b) Revenue Cycle Workflows:
Healthcare solutions must understand how a revenue cycle workflow operates. It includes understanding ideas such as billing schedules, payment models and denial workflows. Its knowledge relies on the working area of software developers. 
c) Food and Drug Administration (FDA)
Not as popular as HIPAA, FDA regulations are researching enhancing relevance in the core care delivery space. Also, software developers working in mhealth industry need to understand when an app falls under FDA scope. IT projects including FDA approval have a process with knowledge of FDA nuances. 
d) Other standards & certifications
Often healthcare technology services need functional completeness standards. Whether they are mandated by regulatory authorities such as ARRA HITECH or can be by industry-standard bodies such as CCHIT. As per context, healthcare mobile app developers should know and understand the applicable standards. 
4. Soft Skills-
a) Planning & Coordination
As noted in the introduction above, healthcare is all about interoperability. This project includes multiple stakeholders and various moving parts. During the implementation phase, a mobile app developer will have the necessary skills to identify dependencies and coordinate with other stakeholders. 
b) Interpersonal
As a software developer, you might be involved in planning and coordination. Ample interpersonal skills will help to pull that smoothly. 
c) Usability
Usability features in big projects are often assumed by usability experts instead of software developers. But, it still makes sense for healthcare solution professionals to gain knowledge about usability and its applicability in healthcare solutions. It is best for developers who are working for startups or small projects. In addition, it helps professionals to interact with usability experts and offer them inputs for improving the workflow. 
Common Pitfalls when choosing Healthcare App Developers
Here are some mistakes that you should try to avoid when hiring developers for your healthcare mobile app development project. 
1. Not verifying their credentials
Never go with app developers without verifying their credentials. For that, you need to ask questions such as "How many mobile applications have professionals used at the time?" "Who were their clients?". Apart from this, you can knock on some other door. 
2. Selecting cost over skills
Cost is the most important factor especially for small businesses when hiring app developers. But it doesn't mean costly developers are best for your project. So, always try to avoid the mistake of prioritizing price over skills while hiring good professionals. 
3. Too fast is too bad
Developing a successful mHealth app is a complicated process. It needs a designer, developer and tester required for a common platform. They promise to build an app in the next few days as they have little knowledge about the ecosystem. So, hiring the right developer is one of the smartest decisions as it is responsible for your business towards success. 
4. Not considering product life cycle
Mobile app development is a continuous process where healthcare applications would need to be upgraded with time and bugs resolved whenever they occur. Many healthcare organizations and enterprises are so overwhelmed with mobile app development that they completely ignore its future! So, you need to consider the proper mobile app development lifecycle while hiring healthcare software developers for projects. 
5. No previous experience in Niche
Not having prior experience in a niche is one of the most common mistakes you should avoid when hiring healthcare app developers. Getting in touch with an experienced developer who has great knowledge about your industry and customer behavior can result in poorly built apps. 
By avoiding these mistakes, you can find the right developers for your healthcare app development projects. There is also the best way for how to hire the right healthcare app developers for your development project is by asking a few questions. Here are some questions you can ask when hiring developers for medical app development projects. 
Top 5 Questions you should ask when Hiring the Healthcare App Developers
1. How much experience do your developers have?
This counts a lot, whether a developer has developed healthcare apps in the past or not. If you got the answer to this question is yes, it is essential to ask how many apps and what types of apps they have developers. Types of healthcare apps are:
Clinical use or diagnosis apps
Apps for serious diseases such as ECG views, monitoring of the heart, and telemedical services
Prescription reminder apps
Medical referencing apps
Make sure your developers know the features and several API integrating processes essential to building such apps. For that, you need a detailed guide to API integration. 
2. What is the process for healthcare app development they use?
Before hiring the right app developers, you need to know how much time they took to develop the last app. Plus, what were the challenges they dealt with while developing it. The main question is what counterattacking process they adopted to overcome those challenges. By getting answers to these questions, you can predict the development cost escalation parameters. 
3. What is the availability of developers at an important time?
If your app requires changes after development, you will need developers to work on it. One or more developers must always be available to make changes to your developed app whenever required. You can evaluate it by several new projects they are working on as well as their manpower availability. 
4. What is the UI/UX design process they adopt?
Proper UI/UX design is essential for an interesting healthcare application. This design process makes your apps stand out from the crows of several healthcare apps. So, make sure your mhealth developers have great UI/UX design experience. Plus, there are some UX mistakes to avoid when designing an app. These mistakes are forgetting about UI, directionless design, no feedback adaption and assumptions made.
5. What are their coding standards?
Make sure your medical app developers use the web frameworks where the coding systems are organized, which helps in maintaining the codes. If your developers don't use this, it may cause an issue when changes and updating of built apps are required. Even when you hire other developers for this task, they could have to face the challenges of understanding the coding used by your previous developer. 
Now, you know the questions which will help you the right answer to how to find one of the best healthcare app developers. So, you must be ready to start your quest. But, hold on a sec. Are you still confused between an in-house team or an outsourced developer? If so, here is a convincing comparison image.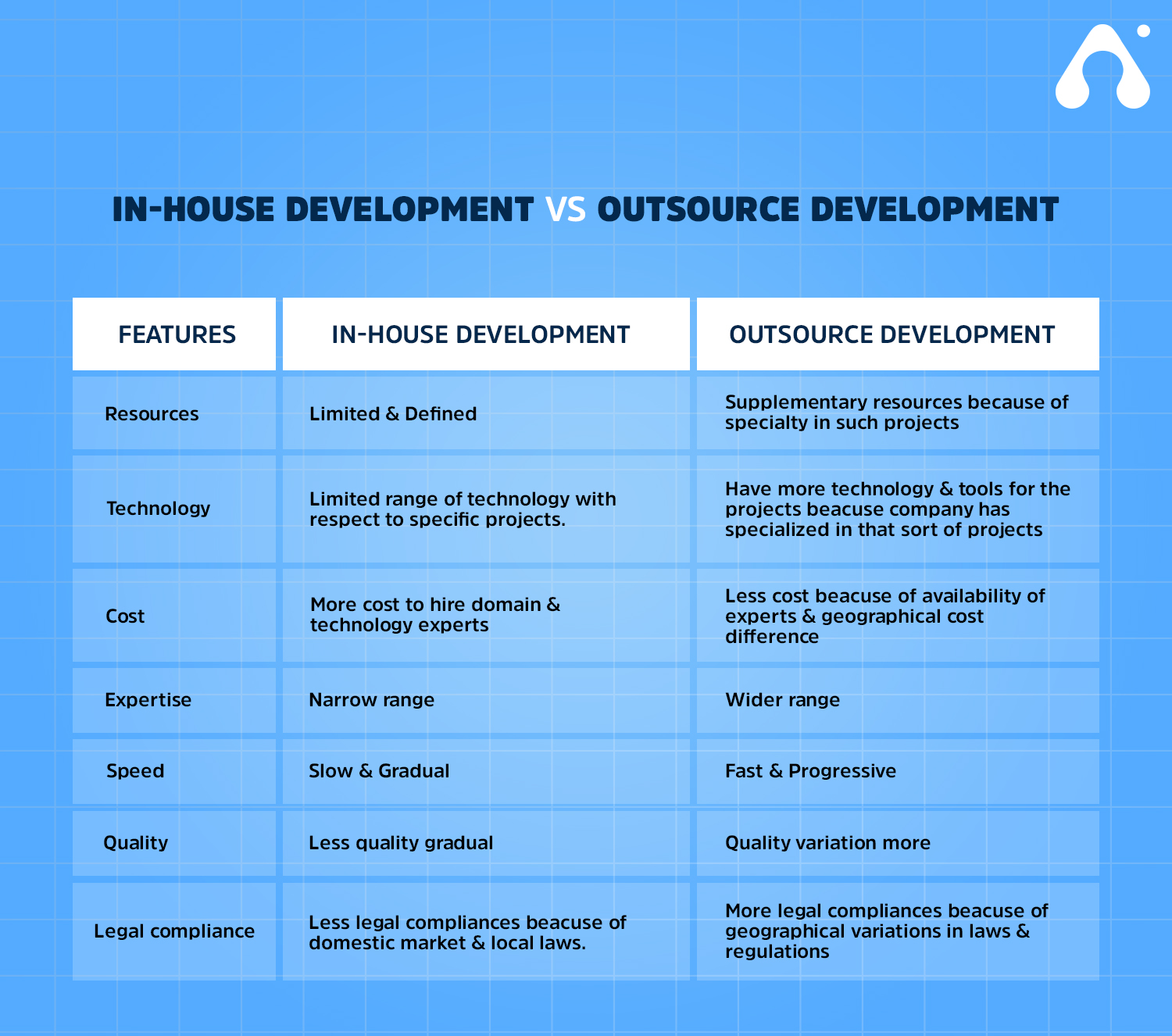 Why Choose Healthcare App Developers?
Let's have a look at some reasons to hire the right healthcare app developer.
1. They Save Money & Time
There are several mobile app healthcare advantages you will get when outsourcing an experienced healthcare developer. But, saving time and money are the most important benefits. That's why many companies today prefer to hire outsourced developers. For your healthcare business, you just need that skill set of limited projects, especially if you are a small business owner or startup. Hence, hiring outsourcing highly skilled healthcare app developers may be the best option. What's more, they have the human capital and specialized experience to complete the job quickly. 

2. They are experts in the Healthcare App Development Industry
Sports fans wanted to watch Micheal Jordan play basketball instead of baseball. That's because he was an expert on the court. Simultaneously, hiring a developer who has proper experience in developing different types of healthcare apps will garner better results than other field experts. 
3. They allow you to keep your Focus on Company Goals
If you create a mobile app that uses valuable time and resources,  you can better spend on your primary business goals. That's where outsourcing healthcare mobile app developers come into the picture. They will let you remain focused on your core business while leaving the app development up to the experts. 
Below are some facts (in images) that are showing the increased growth of mobile applications in healthcare. Ultimately, the demand for healthcare app developers is increasing in the market.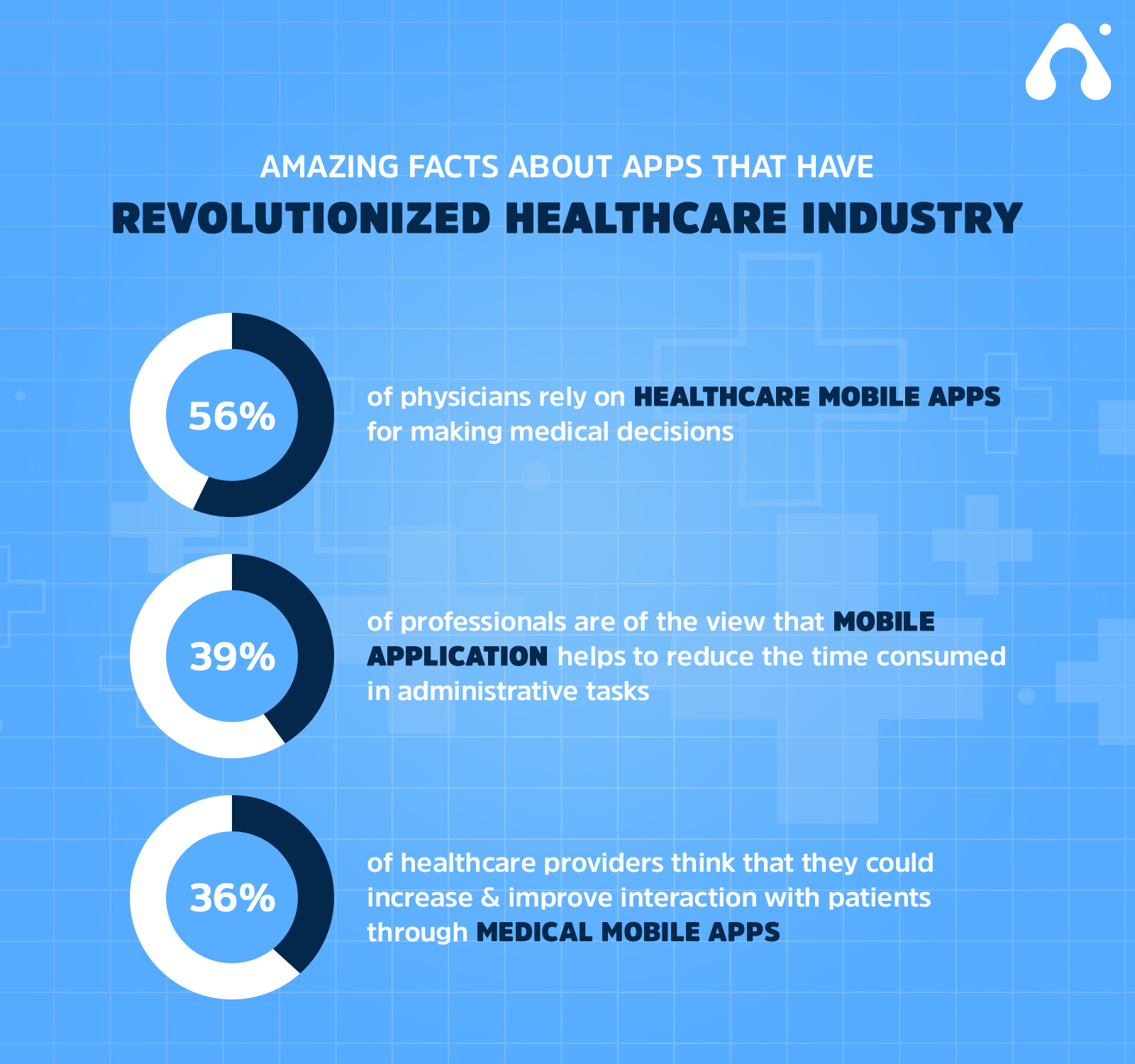 Get Experienced Healthcare Mobile App Developers With This Guide!
You can also enjoy these benefits and make your business thrive in today's competitive medical sector with incredible health apps. For that, you need developers who are experts in innovative and user-friendly apps for your healthcare business. Having gone through this guide, you will find experienced professionals for your healthcare mobile app development projects. But, if you need health apps like PharmEasy, HealthDirect or DoctorAnywhere for your medical business, Appventurez is the right place for you!
Why choose Appventurez for Mobile Healthcare App Experts?
Appventurez is one of the best healthcare app development companies that leverage the technology power for boosting healthcare service for scalable and robust on-demand medical app development. We have a dedicated team of mobile app developers who have the domain and functional expertise in medical mobile app development. It will help in creating an app strategy that caters to your business goals. 
Our app experts adopt AI (Artificial Intelligence), IoT(Internet of Things), cloud computing and blockchain technologies in healthcare apps. They have developed several healthcare apps including the M-health app, Telemedicine app, Health monitoring app, Wellness app, Fitness app, Wearable healthcare app and many more. 
Also Read: Impact on Telemedicine apps amid Covid-19
What sets Appventurez apart from competitors in healthcare app development?
Our expertise in medical app development encompasses a wide span of high-quality features and functionalities that help you become market leaders. Here are some benefits our developed apps provide:
Real-Time Interaction
Convenience and Accessibility
Improved Efficiency
Seamless Data Flow
All-In-One Solution
Highly Secure
User-friendly UI/UX Design
Local Compliance Supported
Blessing in Remote Regions
Hassle-Free Payments

1. How much does it Cost to Develop a Healthcare App?
It depends on a wide range of factors, from app types to their features, to the developers you select. It costs $425,000 to build a feature-rich and trendy mobile health app. $425,000 is just the average investment including internal and external development costs as well as marketing costs. These expenditures don't include maintenance or follow-up development cost after launch. 
2. What are the must-have Features of Healthcare Apps?
If you are a healthcare business owner looking to build your app, you need to incorporate features that would be beneficial to both patients and caregivers. Here are some must-have features to include when developing top mHealth apps:
Video Conferencing Features with Telemedicine
Search feature
Listings feature
Booking feature
Medicinal record and calculation feature
AI and blockchain integration feature
Medicinal record and calculation feature
Messaging or chat feature
3. What are the Types of Healthcare Medical Apps with Features?
Healthcare apps are usually separated into two broad categories:
For healthcare providers
For users (Patients and general users)
Let's understand in detail about them:
Mobile apps for healthcare providers:
Patient monitoring
Healthcare Reference & Database
Professional Networking
Doctor Appointment & Clinical Assistance Apps
Doctor-on-Demand
Health apps for users:
Patient Health Education
Fitness & Wellness
Mental Health
Women's Health
Health Monitoring
---
---