Big data and AI in healthcare sector – an intelligent blend of new-age necessity and technology. The healthcare industry is booming at a faster rate and the dire need to attend to and manage patients is also getting increased.
To curb such a situation, more new technologies are required and need to be implemented. The minimalist issue that arises here is storing and analyzing the humongous data of the patients.
Big data in the healthcare sector here has the potential to take over the procedure keeping everything streamlined and handy. The report by International Data Corporation (IDC) found that big data is projected to grow way faster in the healthcare domain as compared to Manufacturing, financial services, media, and others. Apart from that, big data will experience a compound annual growth rate (CAGR) of 36% by 2025.
The global AI in healthcare statistics was valued at USD 10.4 billion in 2021 and is expected to expand at a compound annual growth rate (CAGR) of 38.4% from 2022 to 2030.
Big data and AI in healthcare sector, with their features and mechanisms, are making the healthcare domain extremely intelligent and quick.
To understand their what and how- a few scrolls and you will get to know big data and AI in healthcare sector dominance.
Table Of Contents
1. What is Big Data in the Healthcare Sector?
3. Role of AI in the Healthcare Sector
4. Challenges with AI In Healthcare Sector
5. Role of Big Data in Healthcare
6. Challenges with Big Data in Healthcare?
7. Companies using AI & BigData in Healthcare Sector
8. How Appventurez will help you in using AI & BigData technology in the healthcare sector?
9. FAQs
What is Big Data in the Healthcare Sector?
Big data analytics in healthcare carry a lot of importance offering life-saving outcomes. In a simplistic language, Big Data technologies are used to store vast quantities of information created by the digitization of a system that further gets analyzed by specific technologies.
When used in the healthcare industry, Big data solutions use the health data of patients and help further to prevent epidemics, costs, cure diseases, etc.
What is AI in Healthcare?
Artificial intelligence is what a human can do, perform, and say. When it comes to artificial intelligence in healthcare domain, technology can simplify the tasks of both the patient and the doctors by performing various tasks.
Artificial Intelligence and Machine Learning in healthcare have the potential to offer data-driven clinical decision support to healthcare professionals and physicians. The ML technology also helps AI to identify patterns, algorithms, and data for more precise automated insights for healthcare professionals. 
Role of AI in the Healthcare Sector
1-Unifying Minds
Computers are not just a means of communication but also a way to create direct interfaces between technology & the human mind eliminating the need for keywords, and monitors.
Moving to Traumas and neurological disorders- something that can take patients' ability to move, speak, or interact properly with their surroundings. Thankfully, brain-computer interfaces (BCIs) made with the help of AI have the potential to restore fundamental experiences.
2- Next-Gen Radiology Tools
As per experts, the use of artificial intelligence in healthcare can enable the next generation of radiology tools- detailed and accurate can replace the need for tissue samples in many cases.
3- Expanding Access to the Region
Healthcare is something that works 24*7 and shortages of doctors can cause a severe threat to the lives of people. Now, when it comes to ultrasound technicians' and radiologists' limitations, it is a great threat.
Luckily, the role of ai in healthcare in 2022 can mitigate the impacts of the deficiency of qualified staff by performing diagnostic duties. Diagnostic duties are meant to be done by humans only.
4- Electronic Health Records
Just like the role of artificial intelligence in the retail industry, AI is considered the best asset for healthcare too. Its EHRs are considered the best known for playing a great role in the healthcare industry. But it does come up with its own set of issues.
To curb any kind of related issue, using AI & ML development, EHR developers are using AI for creating more intuitive interfaces to automate repetitive and routine tasks.
Challenges with AI In Healthcare Sector
1- Accuracy & Safety
One of the very first challenges of artificial intelligence in healthcare sector is accuracy & safety. Though AI has the potential to provide more accurate and reliable information. As the healthcare documents consist of patient-sensitive data, thus it has to be reliable enough to safeguard data.
2- Risk in Cases
The right use of AI in healthcare requires it to be accurate & safe along with providing instant information with the new health cases. For that matter, a program needs to be trained and developed intelligently. Also, feeding intelligence with constant updates is important.
3- Risk for Healthcare Professionals
The role of AI in healthcare is a boon for healthcare professionals but at the same time, it can never replace the importance of doctors and patients. Doctors can never rely fully on AI and still need to make decisions based on their knowledge and experience.
Role of Big Data in Healthcare
1- Patient Predictions
One of the major concerns of healthcare professionals is to make a balance between how many workers should be made available at a given point in time.
Here, big data analytics in healthcare helps in solving such issues. The use of big data for a variety of sources to gain predictions of how many patients are expected to come up to the hospitals. The analysis allows researchers to understand relevant patterns in patients' admission rates.
2- Electronic Health Records
Big data analytics in healthcare consists of Electronic health records- acknowledged as the second most widespread application of big data made into the healthcare domain. Every patient has digital records that include medical history, test results, past diagnosis, demographics, and so on. These records are then shared via a secure information system that is made available to both providers.
A McKinsey report on big data healthcare states that "The integrated system has improved outcomes in cardiovascular disease and achieved an estimated $1 billion in savings from reduced office visits and lab tests."
3- Real-time Alerts
One of the best advantages of big data analytics in healthcare is timely real-time alerts. Clinical Decision Support (CDS) software intelligently analyzes medical reports at a given point in time and then forwards them to healthcare practitioners to let them make prescriptive decisions.
Wearable technology trends are the best way that can easily collect patients' health data accordingly and then send that data to the cloud storage. Additional information can also be accessed in the database, helping doctors to compare the healthcare data based on socioeconomic content. The data can be further modified for delivery strategies.
4- Patient Engagement
Starting from healthcare professionals to the patients, everyone's interest has started in smart devices. Smart devices can record every step, heart rate, health monitoring, sleeping habits, walking distance, etc daily.
5- Informed Strategic Planning
Just like Iot in healthcare, Big data in healthcare allows strategic planning to gain insights into the patient's health and motivations. Using the insights of patients' health check-up results residing in different demographic groups, it becomes easy for healthcare professionals to understand what's discouraging people from taking up treatments.
Using big data trends and informed strategic planning makes it streamlined to understand what arises as an issue for the patient. Once gaining such insights, figuring out solutions and ways becomes less challenging.
6- Fraud and Enhance Security
The Healthcare industry is more prone to 200% of data breach experiences than any other domain. But this situation can be prevented by big data analytics in healthcare. The analytics can prevent security threats by correctly identifying changes in network traffic and other cybersecurity issues.
The Centers for Medicare and Medicaid Services said they saved over $210.7 million in fraud in just a year.
7-Reduction in Cost
Big data in the healthcare sector is the best way to save a few bucks on hospitals when it comes to over or booking staff members. With the help of predictive analysis, getting a prediction of admission rates will help staffing allocations.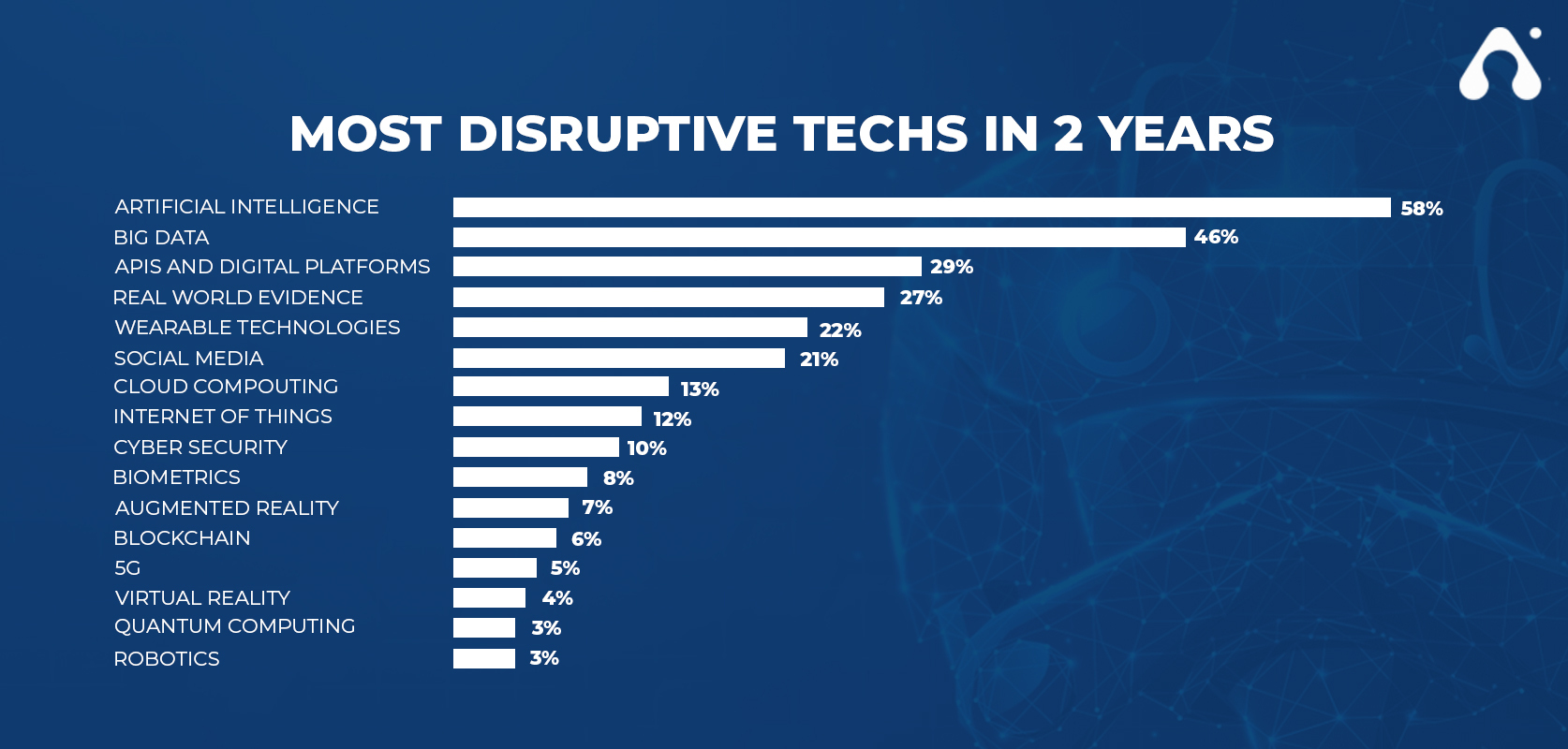 Challenges with Big Data in Healthcare?
1- Storage
One of the biggest challenges of big data in healthcare is storage. Storing enormous data on an everyday basis is nothing less than a challenge. Though, big data is also filled with a plethora of advantages in terms of control over security, up-time, access, and more. However, an on-site server network is expensive to scale and difficult to maintain as well.
2- Cleaning
For accuracy in results, correctness, relevancy, consistency, and purity, the big data in the healthcare sector is also required to be cleansed. This is the next challenge that is required to be curbed using either an automated process or through manual cleaning approach. Using sophisticated and precise tools help in reducing time and expenses.
3- Unified Format
A vast amount of patient data is produced every day and it is not easy to store data using the traditional EHR approach. The tasks become more challenging when it comes to managing big data for billing purposes, clinical analytics, claims, and so on.
Hence, medical coding systems like the International Classification of Diseases (ICD) code and Current Procedural Terminology (CPT) sets were developed for representing core clinical concepts.
4- Data Accuracy
There are many chances when the data recorded from EMRs or EHRs often doesn't carry accurate information. The reason can be the complexity of workflows. Such reasons can become an issue for big data in the healthcare sector. As everything is stored in big data, a minor miss in the data accuracy can present different results. Due to differences in automated results, further processes will also get affected.
Companies using AI & BigData in Healthcare Sector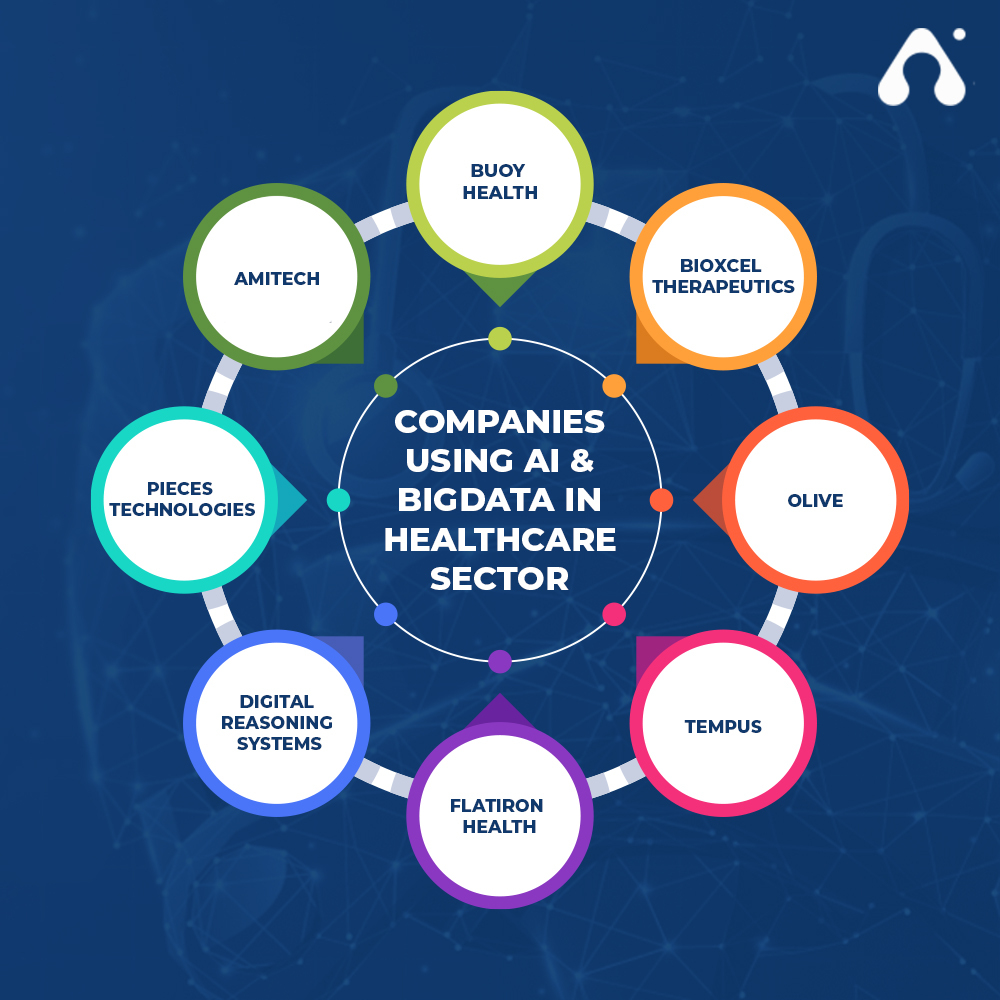 How Appventurez will help you in using AI & BigData technology in the healthcare sector?
Both big data and AI in the healthcare sector are quite capable of transforming the whole healthcare domain into intelligent & automatic systems. In the coming years, with the advancement in technology & expertise, together the technologies will remain on the top.
If you are looking to add in big data & AI technology to your business and are looking for support to get started, get in touch with our data analysis team. Appventurez a Big Data development company will sit with you to identify the areas where big data can be most beneficial and work on its incorporation.
FAQ's
1- How does big data work with AI?
AI makes big data analytics simpler by automating and enhancing data preparation, data visualization, predictive modeling, and other complex analytical tasks that would otherwise be labor-intensive and time-consuming.
2- Why is big data important in AI?
Big data is giving organizations the power to spot patterns and trends early and know how those trends will impact future performance. It's helping companies make better decisions by giving organizations more information about what could potentially happen in the future with greater likelihood.
3- Is big data a part of artificial intelligence?
AI's ability to expertly work with data analytics is the primary reason why artificial intelligence and big data are now seemingly inseparable. AI machine learning and deep learning are pulling from every data input and using those inputs to generate new rules for future business analytics.
---
---