Business process optimization is becoming increasingly important every year, especially when they are dealing with a lot of data volumes. As the companies need to be more adaptive about their decision-making processes and analytical part, they need advanced solutions to implement. This is where business intelligence tools come into action.
Getting into in-depth detail, business intelligence is related to the utilization of processes, systems, and technologies that can transform raw and unstructured data into relevant and accessible information. As a whole, start-ups, SMEs, and large enterprises will get immense help from the best BI tools for making crucial business decisions.
And that's where Business intelligence tools play an important role in corporate success. They are all about helping you understand trends and deriving insights from your data so that you can make tactical and strategic business decisions through big data solutions.
Before we read more about these tools, let's first know what BI tools are and how they work for the corporates in various processes:
What are Business Intelligence tools?
Business intelligence tools are basically software applications that help to analyze, align, process, monitor, and extract different types of data for making better decisions. There are various features like data visualization, statistical analysis, dashboard visualization, and KPI scorecards that help to reach the objectives of the best BI tools.
Moreover, these tools are very useful to adopt automated reporting along with the predictive analysis of the large data volumes. As business intelligence tools are clearly associated with automation technology, the business won't need traditional means of handling data. 
And this is not just the story – you will get the latest insights from the data analytics and monitoring feature of these tools. As a result, businesses can consistently focus on growth-oriented objectives and implement the enterprise mobility solutions at several stages.
Utilizing the best BI tools can profitably help your business grow consistently and bring more scope of embracing the brand reputation. Here is how:
How Business Intelligence Tools Boost Business Growth?
Growth and success are two major factors for any business looking to stabilize its reputation and recognition in the industry. BI tools in demand will help to reach these objectives more effectively due to their accurate predictions and analysis. These tools will gather all the relevant data to analyze and predict the scope of optimization, which can further lead to qualitative results.
Know why machine learning is right for data analysis.
In addition, business intelligence tools help to determine the trending corporate factors that are being utilized by competitors and other leading brands. By recognizing the top insights, such as big data trends and technologies, these tools will gather and process data and help to make the strategic decisions of business growth.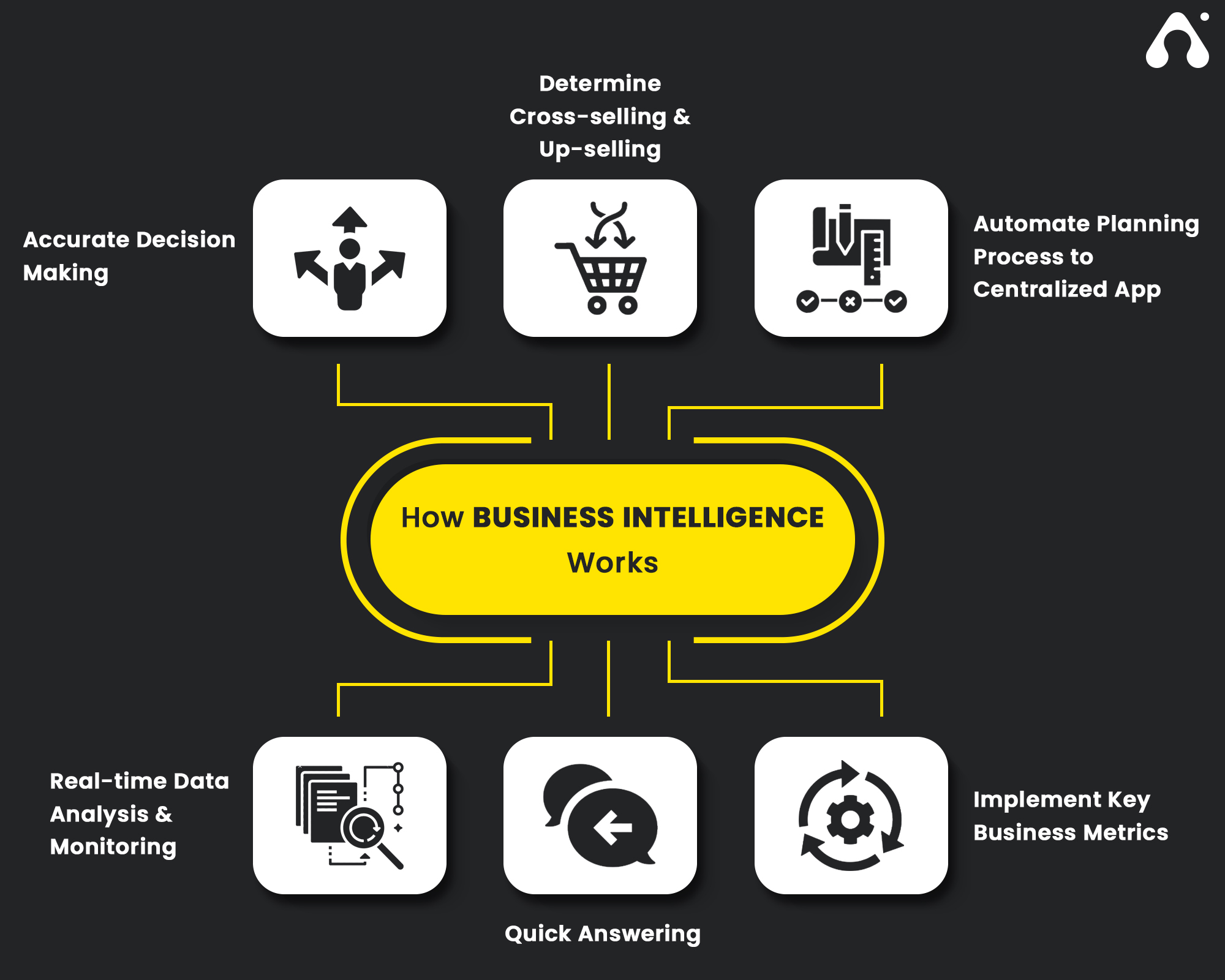 Identifying trends, enabling self-service analytics, utilizing powerful visualizations, and offering real-time online data analysis are becoming the standard in business operations, strategic development, and, ultimately, indispensable tools in increasing profit.
These tools step up into collecting, analyzing, monitoring, and predicting future business scenarios by creating a clear perspective of all the data a company manages. 
Top 10 Business Intelligence Tools
#1 Clear Analytics
Clear Analytics is a self-start, one of the best BI tools intended for Microsoft Excel. It gathers information from different sources and imports it into Excel. It adds Excel includes and gives direct admittance to information utilizing a unique inquiry monitoring function. Dominate fledglings can construct inquiries and reports utilizing program simplified features. 
Features:
— Offers a self-managing analytical solution to help Excel users
— Manage users' on-premise accessibility through various permissions
— Often installed on the existing application server, but dedicated server is preferred
— Gathers and transfer data from various  reliable sources outside Excel
— Allows the utilization of dynamic query builder to access data directly
— Offers User-friendly dashboards with drag and drop option, visualization and reporting features along with mobile app onboarding
— Connected to centralized storage for keeping spreadsheets and other crucial reports
A centralized distribution center keeps the report/recorded pages and representations, making them simple to share. Utilizing the BI tools in demand helps Proprietors control who can see reports and who has the approval to make corrections.  
#2 IBM Congo Analytics
IBM Cognos Analytics is one of the best cloud-based business intelligence tools currently. Its online exclusive features and functions are accessible on-premise or in the cloud. In most cases, small-medium as well as large enterprises will get this tool perfect fit for their business. It is also among the top cloud computing trends that can help businesses grow consistently.
Features:
— Offers a cloud-based business intelligence solution for advanced analytics
— Mostly installed with on-premise or in the cloud
— Provides accessibility with on-premise or cloud
— Don't require any specialized or professional expertise
— Offers sharing of dashboard and reports using a web page
— Allow the sharing of visualizations through Slack and email
— Data importing from every type of source
— Provides access through machine learning for combining related sources
— Offers interactive dashboards, analytical reports and visualizations with AI-based preferences
Cognos Analytics imports information from a wide assortment of sources. The implicit AI-as-a-service preferences control information accuracy and bits of knowledge, which help make intuitive dashboards, perceptions, and reports. These advantages make it one of the best business intelligence tools, especially for growing enterprises and start-ups. 
#3 Microsoft Power BI
Another powerful platform in the business intelligence tools list is Microsoft Power BI. It is a web-based or on-premises business intelligence platform specializing in complete enterprise analytics. A collection of five products offer increasing levels of service. Each transforms data and explores and analyzes data, on-premises, and in the cloud.
Features:
— Offers user-friendly features as the best BI tool for small business
— Availability of different choices: Power BI mobile, Power BI Pro, Power BI Premium, and, Power BI Report Server
— Compatibility with web and mobile app usability
— Offers connectivity with all data sources – on-premises & the cloud
— Storage connected with a centralized location of cloud platform
— Supports the expansion of suite products according to organizational growth
— Develops real-time visualizations accessible on several devices
— Exporting reports to merge with other visualizations
This one of the best BI tools has customized dashboards and interactive reports in all the Power BI versions. It connects to your data sources to provide real-time analytics. Progress to Power BI Pro and Power BI Premium depending on your enterprise needs. Users range from small to large businesses.
#4 Datapine
Datapine is one of the famous BI tools in demand that allows you to relate business and other data from different sources. This tool uses its leading advanced analytics features (including predictive) to analyze the data. Getting its mobile apps in enterprise digital transformation, Datapine is playing a crucial role in the industry. 
Features:
— Allows the drag and drop feature for user-friendly interaction
— Advanced analytics to predict the data optimization scopes
— Offers multiple features like sorting and filtering data, chart visualization, widget integration, etc
— Helps to generate multiple viewpoints related to growth, revenue, value preferences, and upcoming trends 
Being one of the best BI tools, it can develop enticing dashboards for business process management, customized reports, and a lot more. In addition, it possesses user-friendly features for advanced analytics and average business users.
#5 ClicData
Another cloud-based BI tool in demand is ClicData, which is also a complete business analytics platform. It caters the transformation of large data sets gathered from various sources through it's ETL software. With simple drag and drop features, users can easily create dashboards as per product design, visualize the data, and store multiple reports. 
Features:
— Provides a cloud-based data analytics and business intelligence solution
— Allows on-web, mobile, and cloud access
— Uses ETL software to clean and transform data from multiple sources
— Centralizes data in a hosted cloud data warehouse
— Provides drag and drop tools to create dashboards, visualizations, and reports
— Shares dashboards in emails with ClicData's Live Link or via export as PDFs and images
— Protects shared content with owner-assigned permissions
— Diverse subscription options for users of all sizes
The proprietors set authorizations, which help shield information from unapproved users. Customers are basically little to moderate size endeavors in assorted ventures. As one of the best business intelligence tools, ClicData offers four membership alternatives to coordinate its requirements.
#6 SAS business intelligence
SAS Business Intelligence is one of the top of the line Business Intelligence tools that offers various arrangements identified with items and advancements. This tool is best for information researchers, information engineers, text experts, gauging investigators, etc. This tool was established during the 70s. At Capterra, this device got 4.5 evaluations. 
Key Features:
– Holds distinctive BI items and innovations zeroed in on visual information investigation. 
– Easy examination, intelligent announcing, and dashboards. 
– Automated investigation upheld by AI coordinated in intuitive perceptions 
– Dynamic visuals that are incorporated into intuitive reports and dashboards. 
– Integration scope with different applications, for example, Microsoft Office.
Being a BI tool in demand, it can fulfil various purposes and meet the requirements of the enterprises with no hesitation. Make sure you utilize it with full extent to experience an automated data analytical experience.
#7 MicroStrategy
MicroStrategy is another huge name in business intelligence tools list that offers a self-assistance information disclosure measure. You can utilize it to gather information from all sources with no specialized aptitude. Change information utilizing simplified devices and make dashboards, representations, and reports. 
Top features: 
– Robust business intelligence and investigation tools 
– Allows on-reason, versatile, and cloud access 
– Collects information from every one of your sources 
– Provides intuitive dashboards, representations, and reports 
– Integrates outsider graphs 
– Offers progress monitoring tools 
– Delivers on the web and versatile cooperation utilizing worked in tools 
– Provides answers for endeavors in different ventures, from little to enormous organizations 
Influence external diagrams to extend the analysis process and construct progressed measurements varying is one of the key roles of this BI tool in demand. Work together with others on the web and through versatile applications. Access information from the work area, or cloud app development.
 #8 Zoho Analytics
Zoho Analytics is one of the most utilized business intelligence tools . It is a cloud-based framework with a possibility for on-premise establishment. It associates with a wide assortment of sources to gather information. 
Features: 
– Provides a cloud-based, self-administration, business intelligence platform 
– Installs on-reason or cloud 
– Allows admittance to on-reason, portable, and cloud 
– Requires negligible skill 
– Collects information from numerous sources 
– Synchronizes programmed information takes care of 
– Provides simplified tools to make dashboards, representations, and reports 
– Shares reports and dashboards through the page and application 
– Provides a workspace for joint effort 
– Provides answers for undertakings of all sizes in different enterprises 
Zoho Analytics can auto-blend information from famous business programming or through Zoho's self-analytics tools. Being one of the best bi tools, it can help in utilizing simplified devices make dashboards, perceptions, and reports, requiring no specialized abilities.
#9 DOMO
Here is another one of the top cloud-based business intelligence tools, which incorporates data gathering sources and gets ready information for monitoring and analysis. It at that point conveys bits of knowledge, empowers coordinated effort, and gives prescient examination. 
Key Features: 
– Provides a self-administration, cloud-based business insight arrangement 
– Installs in the Domo cloud 
– Allows getting to through web and cell phones 
– Connects all information sources, on-premises or in the cloud, utilizing Domo Integration Studio 
– Requires no specialized aptitude 
– Provides intuitive functions for information exchange, moderation, and prediction 
– Creates ongoing perceptions accessible on all gadgets 
– Can trade representations for cooperation with others 
– Offers answers for endeavors, all things considered, in assorted ventures 
Domo's simplified combination and change highlights produce continuous representations, making it one of the best BI tools. You needn't bother with specialized skill to modify perceptions and pre-fabricated dashboards. users remember little to enormous organizations for assorted businesses.
#10 Yellowfin BI
Yellowfin BI is an automated, instinctive, start to finish business intelligence tool. It deals with premise or in the cloud, contingent upon big business needs. 
Features: 
– Provides an electronic, natural, start to finish arrangement 
– Installs on-reason or cloud 
– Allows getting to by means of web and cell phones 
– Offers singular parts or an incorporated examination suite 
– Integrates information from numerous sources 
– Delivers an instinctive intuitive interface ideal for non-specialized users 
– Provides AI-driven dashboards 
– Allows joint effort through reports and representations 
– Provides answers for endeavors of all sizes in assorted businesses 
Yellowfin suite items incorporate data planning, monitoring, AI-driven dashboards, and coordinated effort through reports. Users purchase what their organizations require. It is also a BI tool in demand for several corporates. Dashboards present constant information and drill-downs for additional data.
Also, read why you should invest in AI application development.
Whichever you choose, the insights you gain from these best BI tools will ultimately lead to better market decision making. In order to use these BI tools, you need to have accurate, prepared data from an outside source such as a data warehouse.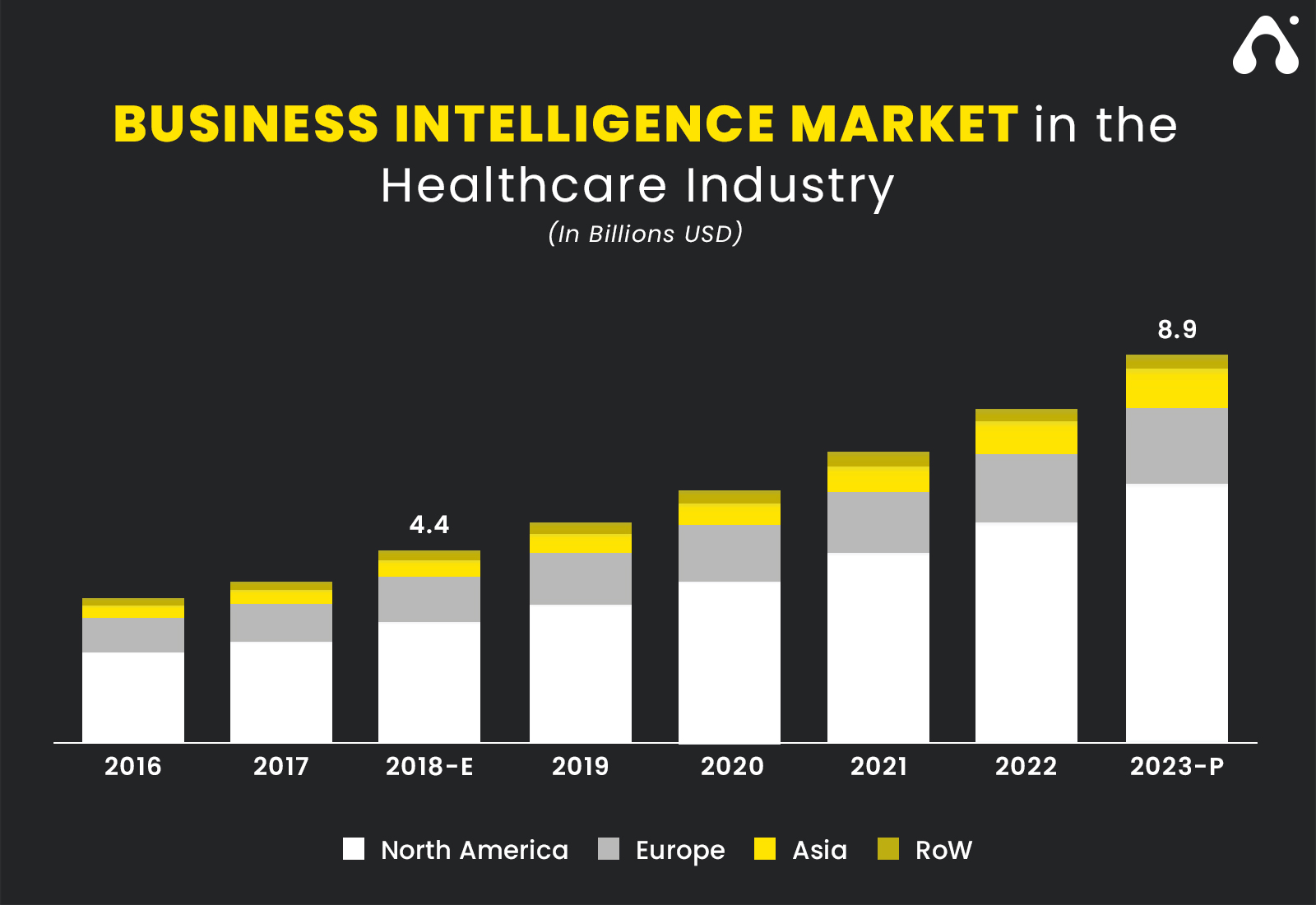 Top Benefits of Business Intelligence Tools
#1 Accurate Data Predictions
Organizations experience obstacles in each turn, however you should simply "think carefully" to conquer them. Be that as it may, imagine a scenario where the trouble can be anticipated priorly. Business intelligence tools can likewise assist organizations with foreseeing impending danger factors. They are coordinated with gauge motors that help create future situations, which at last brings down the business hazard factor. 
#2 Minimal Business Expenses
Beginning from deals arranging, users conduct investigation to ongoing best BI tools help in all undertakings. As per the BI review, over half of business intelligence tools users expressed that these are the most unmistakable advantages that lessen costs. 
#3 Capturing Necessary Datasets
Regardless of whether you work in a little, moderate, or enormous undertaking, you can accumulate information from different gateways like ERPs, CRM development, level documents, information bases, APIs, and so forth To break down and associate the information of various assets, you need the best BI tools. These devices assist organizations with recognizing issues and patterns.
#4 Automated Task Management
For dealing with the business information, users use accounting pages and static introductions, yet now a large portion of the organizations incline toward utilizing the BI tools in demand that spares the representatives time and helps in assessing exact information.
These business intelligence tools are centered both around little organizations and huge undertakings. On the off chance that you need to control your information and understand what's happening in your organization, business intelligence is the best approach to do as such. 
Final Thoughts: Recommendations from Appventurez
Enormous data is surrounding us and consistently expanding with every year. By using business intelligence tools, you remain to receive incredible benefits. Data management will turn out to be more firm, steady, nimble, and unsurprising with various functionalities that these devices have on offer. 
Our point was to assist you with thinking about the best devices available, and we trust we have given a broad survey of every item that will motivate you to begin selecting business intelligence tools and locate an ideal fit for your organization or division.
---
---