We were introduced to a fair share of Artificial Intelligence products, gadgets, and apps for years. However, the use of AI is increasing with time, and we are slowly moving towards economic growth where AI as a Service will be a common thing.
Millions and trillions of money are invested in the projects for Artificial Intelligence integration. Now, AI can be used as an integral part of the business and take it to new heights of success.
Not only this, but companies also invest in AI application development. As per Markets and Markets Research about AI as a Service, it has a lot of scopes to grow in the market and thrive. To give you a proper insight, here is everything:
Table of content:
3 – Why It's Time for AI as a Service?
4 – Difference Between MLaaS and AIaaS
5 – How can Appventurez help in AI-as-a-Service solutions?
6 – FAQs
What is AI as a Service?
As software as a Service, Platform as a Service, and Infrastructure as a Service, AI as a Service is the services offered to the business by a third party. The third-party outsources their artificial intelligence services to others in AIaaS.
This makes it easy for the business to enjoy AI as a Service without investing a lot of money. The International Data Corporation predicts that by 2021, the reach of AI as a Service will cross the bar of 75%.
The global AIaaS market size is expected to reach $77,047.7 million in 2025, from $2,397.2 million in 2017, growing at a CAGR of 56.7% from 2018 to 2025
The fact is that companies depend upon the latest technology to grow, and adding AI is not a surprise. It not only helps in automating the production but targets the potential audience. As a result, it increases the productivity and profitability of the companies.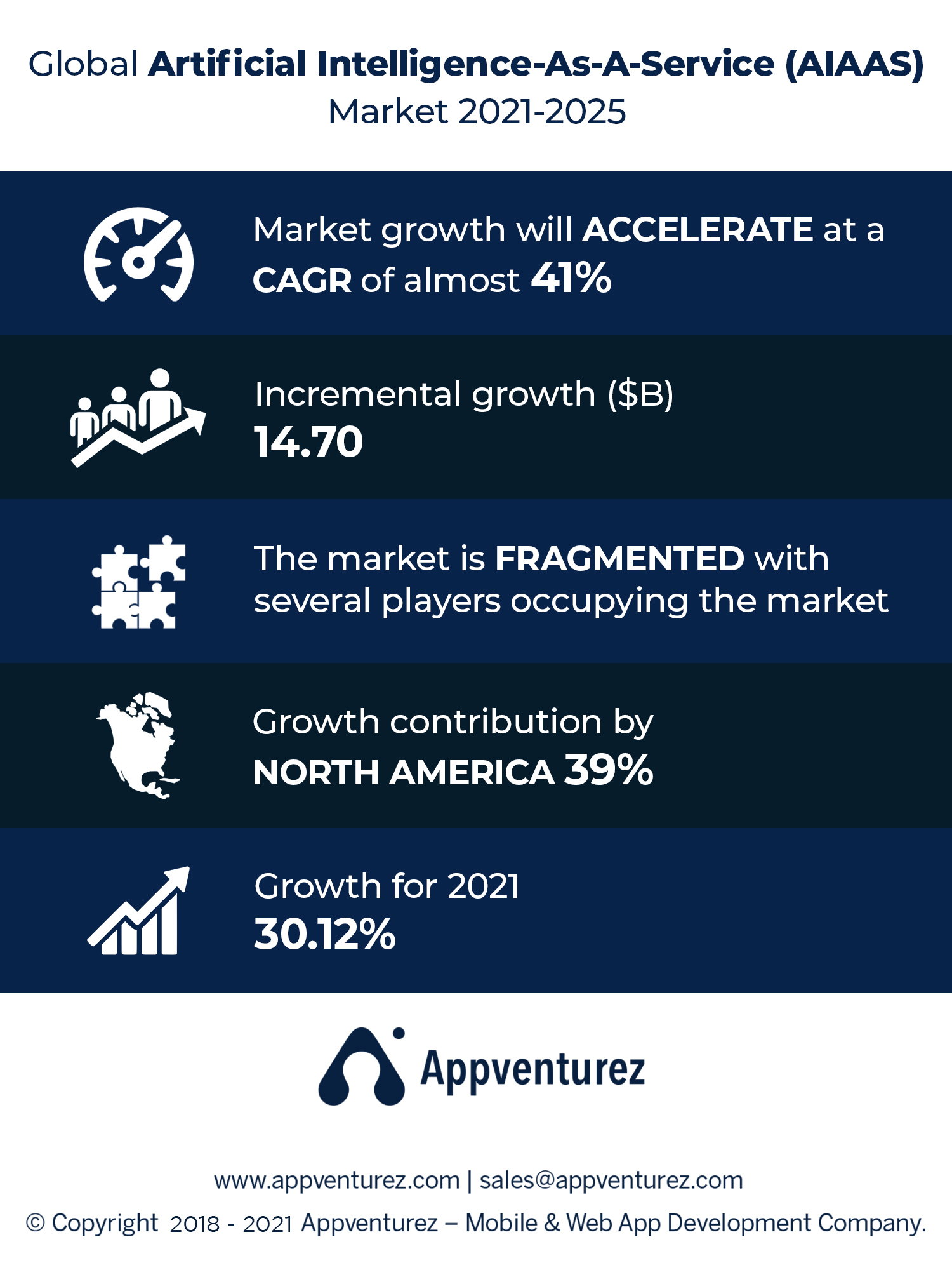 AIaaS follows the common approach of all "as a service" options, including:
Keeping transparency with costs
Focusing on core businesses instead of becoming an expert in machine learning and data
Using data to increase business efficiency and benefits
Lover investment risks
Working on the business flexibility and dynamic model with major strategies
Now let us understand it's beginning to understand what it looked like during the initial stage and its evolution. 
How Does AIaaS Begin?
Microsoft, Amazon, Google, IBM, and other technical giants and Fataiku and BigML startups worked on AI. But its evolution was much earlier than that of the Blockchain.
Since the 1960s, the role of AI in business has been growing rapidly in terms of networking and graphics processing units. As a result, big data has become a major part of the companies that started to find ways to make the process easier to understand.
The increase in data gives a kickstart to many other technological advancements such as IoT trends for businesses that depend widely on real-time decisions. Amidst this, AI is growing remarkably, becoming a differentiator and prerequisite for cloud providers.
AI works on several algorithms to complete a task and facilitate the datasets. However, it was costly to build technical aspects and infrastructure for the AI, as mentioned above.
This gives rise to AI as a Service that has minimized the cost and development time for the companies. AIaaS or AI off-the-shelf product algorithm is written to analyze the data and work on the tasks accordingly.
Vendors of AI as a Service
AIaaS may be a new concept for many, but it thrives in the market for a longer period. This depends upon the AI as a Service business model followed by the giants that offer this service. The major advancement in the AIaaS field is done in the form of:
#1 Amazon Web Services
AWS is the on-demand mobile cloud computing platform that has been in the market since 2006. It helps in personalizing the customer experience, performing video and image analysis, creating a precise forecasting model, using natural language processing for text analysis, etc.
In addition to this, there is Amazon SageMaker that is efficiently used by data scientists and developers to train, build, and deploy the models based on machine learning. The best thing about this product is that it doesn't require any heavy lifting when models are developed from the initial phase.
#2 Google Cloud
It is an AI hub solution that offers several features to companies, such as end-to-end AI pipelines with sharing capabilities. In addition, the companies can use the Google Cloud AI building blocks can help in including several technologies such as Speech recognition, Natural Language Processing, Computer Vision, and Translation.
In addition to this, developers with limited experience in machine leading can also use Cloud AutoML easily that have trained ML models as per the company's requirements.
#3 Microsoft Azure
The Microsoft-owned tool is used to train, build, and deploy the ML models with the help of ONNX, Azure Databricks, and Azure Machine Learning. The companies also use Azure Cognitive Search to discover the relationships and patterns in the datasets. In addition, they work on the AI capabilities built-in tool used in the cloud search service.
With the help of Azure Cognitive Services, it is possible for the companies to speech, make decisions, and embed vision in the application. The best thing is that the developers don't have to be an expert in Machine Learning. s
#4 IBM Watson Cloud
This software allows the companies to make precise predictions, obtain optimized solutions, and automate the business processes & decisions. In addition to this, there are other types of AI as a Service under Watson application, including Watson Natural Language Understandings, Watson Speech to Text, and Watson Assistant.
In addition to this, this tool gives an insight into data extraction, the use of AI in Fintech services and enhances the customer experience. It also includes AI for cybersecurity to manage the response time and analyze the risk data. 
Types of AI as a Service
To understand the whole concert of Ai off the shelf, we need to understand the different types of AI as a Service. These includes:
#1 Cognitive Computing APIs
It is the guide to API development or Application Programming Interface is used to add a specific service or technology to the code instead of writing the code from the initial stage. However, when it comes to AI as a Service, APIs are used with different options such as translation, computer vision, computer speech, NLP, emotion detection, search, and knowledge mapping.
#2 Digital Assistance & Bots
Chatbots are the most common form of Artificial Intelligence that we all are very much aware of. It uses the NLP or Natural Language Processing examples that use the datasets to interact with humans and solve the queries.
The digital assistant or Bot is mainly used to solve customers' issues using language patterns and eliminating the human workload. On the other hand, the human force can be used for the much-complicated tasks not solved by AIaaS.
#3 Machine Learning Services
This is the best option that developers opt for when building machine learning frameworks. It helps in reaching machine learning capabilities using pre-built models, templates, and drag-drop tools. These are used to develop customized machine learning frameworks for assisting developers. 
#4 Machine Learning Framework
The mobile app developers use the framework to easily build models with the help of already available datasets. Big Data and Machine Learning are connected that use the framework easily. The best thing about the ML framework is that it doesn't use the big data environment. 
Major Factors Added In AI as a Service
AI as a Service model is extremely popular due to its potential for driving business. In addition, the unmatched efficiency of this type of 'as a Service" is extremely remarkable that drives the owners to increase the business value.
#1 – Major Opportunities
In 2018, the AI-based software revenue was around $9.5 billion whereas, by 2025, it is expected to reach $118.6 billion. Businesses are now opting for the AI as a Service business model that gives a competitive edge. Every business knows the value of data but doesn't know how and where to use it.
However, business owners know that machines are more than capable of covering the aspects that researchers might miss out on. But the devices included complex algorithms to build reliable AI and ML solutions as per the business requirements.
It is essential to work with expert data scientists to develop the solution that compiles the data to deliver promising results. So what makes this approach not ideal? First, the total money required to create the model makes it difficult for the organization to built-in-house solutions.
Let us give you an insight into how AI-based solutions have gained momentum with this out. As a result, the companies started to depend upon the AIaaS solutions as their sophisticated models and vertical industries.
These solutions are used to refine, access, and expand the data as per the business model that was indecipherable manually. The major opportunity of the AIaaS has increased with its funding rate increased up to $7.4 billion in the 2019 second quarter. And after that, the number is only growing. 
#2 – Targeted Industries
AI as a Service platform is not limited to a single platform and is growing fast. It fosters the AI-based solution covering all the major concerns and regulations of the industries. In addition to this, it also covers up the digitization journey of the businesses to enhance user experience.
The business processes now depend widely upon the AI-based solution to decipher the data with the integration of machine learning. It also includes the adoption of machine learning in the whole work process. As a result, the technologies depend widely on the process requirements that businesses work upon and day-to-day operations.

Why It's Time for AI as a Service?
Enough explained about AI as a Service now let's get to why businesses should go for AIaaS now. As described above, AIaaS is the artificial intelligence software offered to companies by a third party that can be used to cover all the major requirements.
Business owners can invest a minimum amount in using the AIaaS platform for the business. The companies can get better customer insights and great efficiencies with the help of AIaaS. AI as a Service is a digital transformation for the business world that has become a necessity, not some nice-to-have technology.
AI is already a well-known technology similar to blockchain development solutions or 5G and is rapidly growing with the Internet of Things innovations. Out of all these innovations, AI is impacting companies be it small-scale, medium-sized, or enterprise.
The major factor that is making companies jump into the AI as a Service is explained below in detail for you to understand. 
#1 Market Demand
The surge in market demand is not hidden from anyone. Customers are expecting something new from companies now and then. As a result, churning up the data rapidly is becoming a major part of the business world. Customer expectation is essential for companies to maintain their competitiveness. Therefore, the companies are headed towards AI-powered services to support customer requirements. 
#2 Economy
The economy is slowly expanding with the optimization of AI software in businesses. In addition to this, the business world understands that they have to depend upon the vendors for the top-notch AI & ML app development solutions that they can implement in their processes.
The dependencies upon the technologies have made businesses partner up with the third party to move towards their common goals. As a result, more companies are now adopting the AIaaS platform with the increase in solution providers' number, drastically encouraging the economy. 
#3 Business Users
Companies are embracing top AI trends with its demand in society with modern technological advancement. As a result, businesses are taking advantage of AI solutions becoming the next-gen tech trend. In addition to this, the AIaaS platform is setting new standards of industry that potential to take the business to the next level with the help of cloud-based integration. 
#4 Small & Medium Companies
The infrastructure of the AI as a Service is developed at a minimal cost. That is what midsize and small businesses depend upon. These businesses can't directly compete with the top tech giants that already have a well-established reputation. But with AIaaS, they can power up to be in the market with no need for expertise.
Difference Between MLaaS and AIaaS
With this said, let us give you an overview of the AI as a Service platform and how it is different from Machine Learning as a Service. The MLaaS works on, Computer Vision, Speech Recognition, Image & Video Analysis, and Natural Language Processing solutions. 
The machine learns in the machine learning concept, whereas Artificial Intelligence works on both application and acquisition data. The simulated data is proceeding in AI to solve complex problems with natural intelligence.
AIaaS broadens the whole setup of Machine Learning as a Service with the cognitive capabilities by enabling machines in a certain flow. 
How Appventurez Can Help In AI-as-a-Service Solutions?
Appventurez is the foremost AI-as-a-Service company, enabling AI solutions for enterprises to drive efficient business processes. Our experts have solid knowledge on artificial intelligence implementation of technology in different industries such as health care, education, and financial services. In addition, our professionals extend their seamless support for existing businesses to increase ROI by automating business processes.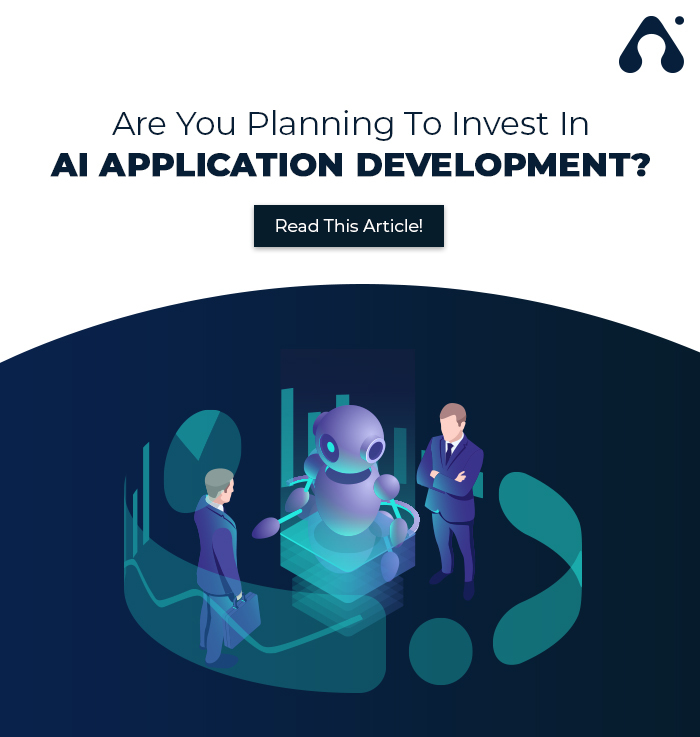 FAQs
Q1. What is the next big thing after AI?
Blockchain, Cryptocurrency, emotional AI/computing, AI Cloud Services, Data-as-a-service / AI-as-a-service, and connected smart homes are the next big things after artificial intelligence technology.
Q2. Why is AI the next big technology trend?

Artificial intelligence is more than just a unique technology. It makes devices smarter, data more valuable and cloud-based tools more efficient. In addition, this technology enables human capabilities including understanding, reasoning, planning, communication & perception.
Q3. What are AI technologies being used the most in the industry?

Several industries, including transportation, healthcare, finance, and manufacturing rely heavily on AI technology.