Every day we all are moving a step closer to advanced technology.

Initially, mobile phones were the talk of the town but with the passage of time, they become part of our daily lives. Similarly, wearables are also becoming the most essential part of our life making life way more organized and static.

It is noticed that one in 6 consumers own and use wearable technology, meanwhile more than 70% of the mid-20s people want to purchase a wearable device.
Seeing the market demand and need for these technologies, well-known brands like Apple, Samsung, Sony are coming up with sophisticated wearable gadgets. Right now, wearable technology is limited to certain market areas and size but it is growing steadily as more and more consumers are showing interest in it.

Carrying the most amazing side of it intact, wearable technology presents a unique set of challenges when it comes to designing for wearable and its developing. Moreover, the devices also come with some sort of limitations like smaller screen space, less density for information, limited battery life, etc.

In short, wearables are the future and the ultimate revolution when it comes to a changed lifestyle.

But what are wearables? Are these just smartwatches or is the technology is more than just smartwatches?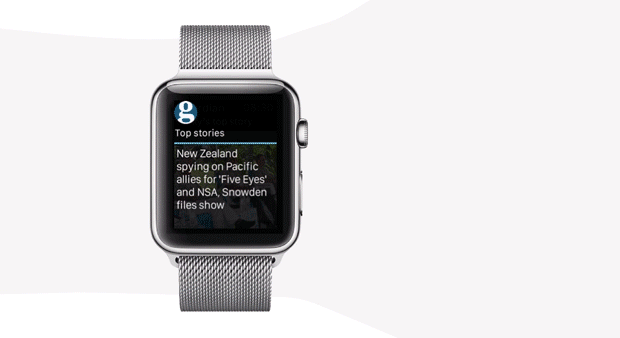 Let's figure them out one by one.

What Are Wearables?

Wearables are basically electronic technology or devices incorporate into things that can be worn on a body comfortably. These devices are used for tracking information on a real-time basis. They carry motion sensors that record the snapshot of our day to day activity while syncing the information with mobile devices or laptop screens.
Types Of Wearables Devices
Smart Watches: A watch that does more than just telling time. These provide users notifications on their calls, messages, emails, social media updates, etc.
Fitness Tracker: This helps in keeping a track of the number of steps the user walks each day while continuously monitoring the heart rate. Furthermore, by using this information, the devices can calculate and report accurate data on calorie burn and exercise done by the user.
Head-Mounted Display: Takes you to a different world of virtual reality. It provides virtual information directly to your eyes.
Sports Watches: The wearable devices are specially built for sports personnel who do running, cycling, swimming, etc. These devices come with GPS trackers and record information on the user's pace, heart rate, etc.
Smart Jewelry: Smartwatches are designed in the form of jewelry especially targeting women. These jewelry notify the users of their text messages, calls or emails when their phone is out of reach.
Smart Clothing: The smart electronic devices are incorporated into the Wearable Clothing to give an interesting and fashionable look.
Implantable: These wearable devices are surgically implanted under the skin. These devices are usually used for medical reasons like tracking contraception, insulin levels, etc.
Why Do We Need Wearables Technology
In a layman language, Wearable technology aims to influence the fields of health and medicine, aging, disability, education, finance, transportation, gaming, enterprise, fitness, music, etc. The goal is to smoothly enter the daily lives of individuals and become a functional part of them. Furthermore, the hands-free nature of wearable computing devices makes it very useful for users.
What Is The Purpose Of Wearable Devices
Tracker
The wearable devices collect data about the wearer activity or physiological condition. Moreover, the data can be used for monitoring the users' state while encouraging them to improve their fitness, movement, and other health factors.
Messenger
The wearable devices are readily accessible to the user displaying them selected alerts and events from that device, like phone calls, incoming messages, or meeting reminders. The reader can decide to take action through the device also.
Facilitator
The wearable facilitates certain communication, media, or other activities that are already available on the smartphone or other devices by offering a simpler, more convenient experience.
Enhancer
The wearable device augments the real world with information that is laid on the environment and its objects in order to interact and digitally manipulate that information.
Advantages Of Designing For A Wearable Technology
Let's You Stay Connected
Wearables can alert you of incoming calls, messages, emails, and much more without the need for checking the phone. Also, it can also help you locate the lost phone or even connect to IoT enabled devices in the home.
Meanwhile, IoT is also becoming a huge buzz in the town making people more excited to use it. The statistical graphs are showing its worth in the market and also among users.
Accuracy of Data
Wearables enable tracking of your data, health, and exercise habits for your overall well-being. These devices provide accurate information by using techniques and machine learning technology in order to provide actual information about the health of a person.
Efficiency
Wearables are set to make our lives safer and more efficient. They are going to make our life easier and way smoother and also more organized. Not just for the health records, these devices also help in the packaging and industrial processes.
Instant Information
Not just the health data and record, your basic looking yet intelligent smartwatch can answer your numerous questions accurately like the temperature outside, how many steps you have taken, asking for directions when lost, etc. Meanwhile, through its customizable options, one can access their favorite apps also.
Although these wearables are changing our lifestyle smartly and will make our life more organized in the coming future, the technology is opening their gates for mobile app development companies also and has given birth to the wearable mobile app development company.
As we are done with advantages, of wearable technology and covered its types and other things necessary. But designing for a wearable is no less than a challenge.
This is why we at Appventures always make sure to keep a few things in mind when designing wearable based applications for our clients. We understand the need for it. Hence, we are sharing a few to let you know how we work.
Tips To Keep In Mind When Designing For A Wearable App
Keeping Users in Mind
When designing an application for wearable, never neglect the importance of users.
Offer them ease and convenience when they are using your application. When the user realizes that it is easy to interact with your app, they will automatically fall in love with the app which will ultimately increase the demand for your application.
The App Should Tell "What's Next"
Most of the time, users abandon certain tasks just because they are unfamiliar with their tasks. Hence, if you are designing an application, make sure the app appears friendly along with acting smart enough to predict what the user is expecting and thus function accordingly.
How Are You Going To Present It
One of the major aspects of designing for a wearable app is to focus on making it visually appealing to the users. The way you present the information that your people are looking for needs visual perfection.
Therefore, the color, the layout, the overall presentation should synch well with the functionality, creativity, and usability of the application. In short, the UI of the wearable mobile app should offer an enhanced user experience.
Luring The Users
One of the most important steps to make an app popular is to lure users. For this, you need to get your users like your app. For finishing this purpose, the app should be something that the user wants to know, explore and learn about.
In this situation, the need of user persona can be seen that will answer the questions of users' 5 W's( What, Where, When, Who, Why) and 1 H(How) in a more accurate way.
Managing The Power
Make sure to design your app in such a way that users would not need to face power issues frequently while using your app.
If you are using a basic layout mode for your app then ensure that there is less power consumption required from your application. Lacking this will make the point come under the category of Design issues with wearables.
Easy Interface
Almost every device has something different when it comes to design, hardware or features and functionalities.
When you are designing for a wearable app, make sure it works perfectly as per the hardware and software of the device while giving equal consideration to the physical components of each device.
The design of the application should be able to work with all the physical parts which a device will be carrying.
Voice Controlling
Tap and touch do work on wearable devices, offering voice commands will give more comfort to the user.
As the screen size is small, voice commands are something more preferred by users to control while interacting with their wearable devices.
Not So Irritating Vibration
How do you interact with wearable technology? Well, in order to do that efficiently, you can include vibration in wearables.
Even a simple buzz or movement can be used to let the user interact with the app.
Make sure it does not irritates the users and for this, the vibrations should be mild and must happen in a way that should be obvious, but not uncomfortable to the user.
Go For Minimal Design
One of the most important aspects of wearable designs is minimalism.
Be it the color, typography, imagery, almost everything should be simple and easy to read as the screen size is small.
Simple Yet Trendy And Cool
You might have put in a lot of effort when including various functionalities that work perfectly and smoothly.
But if it doesn't look good on screen for users all the effort will go in vain. The information on the display has to look like it actually belongs there.
These are a few of the tips for designing wearables among many which we have shared with you, but this is not the end of the whole article or better say the process of designing wearables.
Although wearables are the future, there are certain challenges associated with these devices also.

Key Challenges Faced While Designing Wearables
The biggest challenge for the wearable industry is to get sustainable customer engagement.
Bad quality, pain to sync with smartphones, poor battery life, uncomfortable and awful design, UX problems, are some of the functional reasons which make the user abandon the device. And the abandonment of the device will directly impact the overall wearable app industry.
Secondly, wearable technology is looked upon as a disruption in the world of business. However, the growth and popularity of wearable technology always come with data security, privacy risk.
The technology is still emerging and it is obvious that it will face numerous challenges coming in its way. But one thing is sure that Wearable will impact the lives of people globally in a more active style.
So, how does the future of wearable looks like? Let's check it out-

What Is The Future of Wearable Technology Holding
Smart shoes could charge your phone's battery while you rush to work.
Your shirt through vibration will help you find your way.
A personal assistant could be embedded in contact lenses for many purposes.
Smart earrings will track your heart rate along with body temperature and blood oxygen levels in order to provide you vital health statistics.
Sensors in your shirt will monitor your physiology, broadcasting it to the world letting people near you respond appropriately.
Your smart shoes will convert movement into energy while powering internal sensors. The sensors will help the shoes remain cool while heating your feet as required while tracking your weight gain/loss.
A virtual assistant built into your contact lenses will keep your life organized. The assistant will be able to analyze your tears in order to understand your emotional balance while predicting your thoughts and intentions, and thus will react accordingly.
Microchips in nail polish or underneath the fingernails will allow the smart contact lenses to track your movements.
The button will have embedded GPS to track movements along with learning your habits.
Last but not least, intelligent earrings could find the perfect songs that will match your mood.
Innovation and invention for a better future will keep on happening as more and more people require it for their personal safety, a well-organized life, and mood swings issues. These devices are the future of wearable technology as well as the upcoming trends users are excited for.
Meanwhile, if you are willing to invest in the wearable mobile app development, we are the one-stop destination. Get in touch with us today…!

Vinod Kumar
AVP UI/UX at Appventurez with a background in designing user interface for Mobile apps and websites, logos, storyboarding, etc. A visual designer & storyteller driven by a need to understand and influence clients and a relentless problem solver with outstanding creativity.
Hey there! This is Vinod, author of this blog. Leave your email address and we'll keep you posted on what we're up to.
This will subscribe you to Appventurez once-a-month newsletter. You can unsubscribe anytime. And we promise not to pester you or share your data :)
Hey there, wondering where this article came from? It was produced by some people at Appventurez, a Mobile & Web App Development Company. We are here for solutioning of your technological needs.
Our Latest Blog
In the financial sector, buy now pay later(BNPL) has become a hot topic. In Jan...
Read more