Many startups are making successful leaps with mobile apps that strengthen their customer base and profit margin. Stats why as a startup you should have your own business app:

Startups with mobile apps attracted more funding. As per the data from Crunchbase, startups with
Android or iOS apps amassed 26% of total global funding.
Customers spent $143 billion in apps in 2020, up 20% from the previous year
Total mobile Ad spend grew 26% to hit $240 billion in 2020
Success isn't automatic, however, so when deciding to have an app, what questions for startups do you need to ask? In this post, here is an overview of questions that can help you analyze the confusion!

Table of Content:

1- 6 important questions for startups before they decide to have an app
2- Why choose Appventurez for your next mobile app development project?
3- Frequently Asked Questions:
6 Important Questions For Startups Before Deciding On An App
Here is a list of seven questions that you should ask before deciding to have an app:
Let's know about them in detail: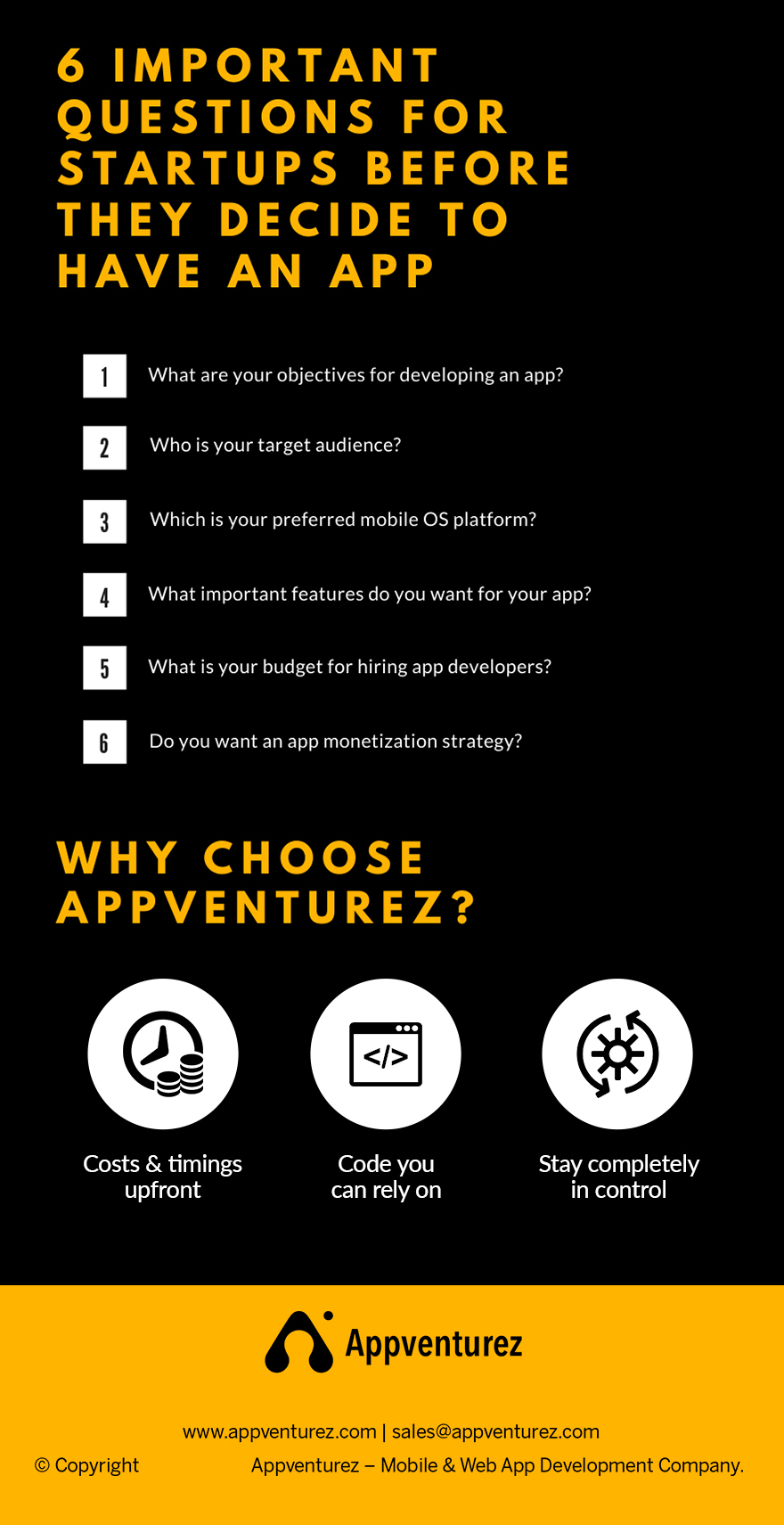 Question #1 – What Are Your Objectives For Developing An App?
What is the main motto of your mobile app development project? Money & Fame! Right? But would they be enough to make your business thrive? No, You need to have to understand that the app shouldn't be developed just because every business wants to be successful. It should serve a well-defined & logical purpose.

Is your app idea unique? Is there anything in your app idea specific that can make it stand out from others in the competitive market?

Only defining the purpose is not enough, make sure your idea is feasible. For that, carry out a practical study that includes market research with data, statistics & predictive analysis. This information will help you get an idea of prospects and profitability.
Question #2 – Who Is Your Target Audience?
Now the questions are who are the target audiences for your app? What issue is your app going to resolve? Answers to these questions will help you build a successful mobile app for your startup. Here are some other questions you need to ask before deciding to have a mobile app:

Will a responsive website be fine or do you need an app to resolve the issue?
What type of platforms will you use as there are some real demographic differences between Android or iOS?

If you can't understand your demographic target, you will fail to optimize your app presence.
Question #3 – Which Is Your Preferred Mobile OS Platform?
In the battle of Google Play vs App Store, many startups prefer to build an Android app first. The reason is pretty obvious, the Google Play Store has more apps than the Apple App Store. Besides, it is easy to add those features in an Android app that are not supported by iOS.

Also, there are many interesting Google Play Store Statistics you should be aware of.

When it comes to the competition between iPhone vs Android startup's first choice, iOS holds a strong position in front of Android in terms of development process and cost. Not just because they are considered as more consumer-oriented, at your early stage, you can match the key demographics for better results as well. By getting these answers, you may plan the platform you need for your mobile app.

Also, there are many impressive Apple App Store Statistics in 2021 yet to reveal. 
Question #4 – What Is Your Budget For Hiring App Developers?
To get a high-quality app for your startup, you need to hire a reliable iOS or Android app developer. Before hiring the right developer for your app, you need to know your budget. But why? The market is flooded with several developers who claim that they are trustworthy and experienced. But the fact is that all of them are not! Unfortunately, if you choose the wrong one for your business app, you will have to face failure and even have to spend a lot of money which will be worthless in the end. The right developer uses great technologies, stacks, tools and methods to deliver a unique & highly functional app. But they are expensive, so before considering the right mobile app developer, you need to know your budget. It will help you to choose the best one as per your app's requirements.

Estimate rough cost to develop an android app or iOS app includes the expenses of design, maintenance, support & post-launching marketing. Always make sure you start with your app development idea only if the budget estimation fits as per your pocket.

The cost of an app relies on different factors:

What type of security features should you integrate into your app?
Which are the external APIs for interaction?
Do you want any analytic functionalities in your app?
Which are the payment processing options it offers?
Do end-users have to log in to your app?
What level of detailing is required in the app's UI/UX design solutions?
All these factors decide the complexity & the scalability of your app.
Question #5 – What Important Features Do You Want For Your App?
Make sure your startups need to inspect the feature-set necessary in the app to be developed. The app idea with unique features will stand out from the competitors and get success. You also need to ensure whether your app requires a payment facility or in-app purchases. But Why? It requires extra mobile app development efforts to ensure safety. Here are some features of different apps you can choose for your apps:

Features for On-demand delivery app:

Registration
Search
Order placing and checkout
Order tracking
Safe payment
Ratings and Reviews
Notifications
Features for eCommerce app:

Registration process
Support multiple payment options
Push notifications
Custom branding
Social media integration
Great user experience
Google Analytics
Rating and feedback
Restaurant Management app:

User-friendly order management
Easy menu design and setup
Fully-integrated credit card and NFC processing
Streamlined inventory management
GPS tracking of delivery drivers for safety and customer tracking of order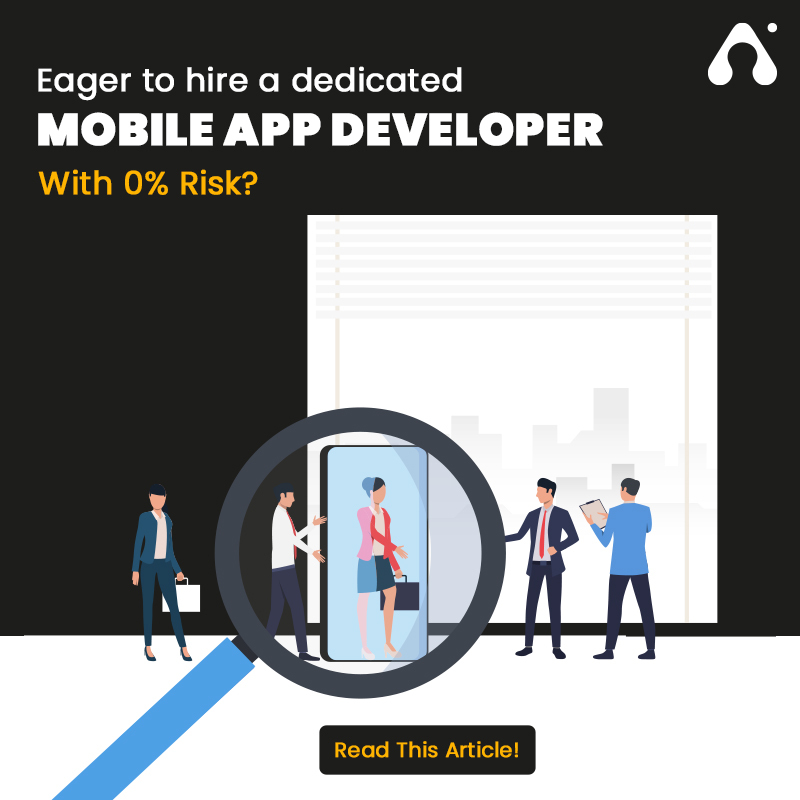 Question #6 – Are You Planning To Earn Revenue From Your App?
If yes, you need to know about an app monetization strategy.

You should have some money for investing into Android or iOS app development solutions for increasing your productivity. Whether you are a B2B or B2C startup owner, if your app aims to increase your business revenue, the app developer will ask you these questions. Would you like to install in-app purchases, subscriptions, mobile app monetization models and locked features with staged payments? Would you want to use in-app advertising to monetize your app traffic?
The Final Crux!
Answers to all of these queries will help you get the right app as per your business goal. It will also help you clarify your vision and keep you on track during the development process. To simplify the entire process and to make the result worth all the time and effort, you need to hire a dedicated mobile app development company such as Appventurez. They can guide you about all the things regarding the mobile application development process.


Why Choose Appventurez For Your Mobile App Development Project?
As a reliable mobile app development company, Appventurez delivers many android & iOS apps to thousands of clients. We have dedicated teams of expert developers who have experience in android and iOS mobile application development solutions. Our dedicated software development team's roles & responsibilities help company owners to fulfill the dreams of hitting the high notes of success & growth in the competitive marketplace. So, no matter what is the purpose of your app development, you will get the best possible user experience with us.
Reasons To Choose Appventurez As A Trustworthy App Development Company
#1 – Costs & Timings Upfront

We deliver exactly what you want with guaranteed costs and within a fixed time.

#2 – Code You Can Rely On

We use automatic code analysis tools to improve the quality and security of your code.

#3 – Stay Completely In Control

You can track your project closely via a simple dashboard. You can now make changes to your app whenever you want. Besides, you can chat with our experts 24/7.
#4 – An Experienced Team Of Expert Developers

We have a dedicated team of expert android & iOS developers who have many years of experience in delivering customer-satisfied projects in their respective fields.
Frequently Asked Questions:
Q.1- What are the reasons to build an app?
If you want to make your startup thrive in today's competitive digital world, mobile app integration with your business is the best way. But why? The reasons are more sales, reduced marketing costs, enhanced customer experience, faster delivery, and broader market coverage.
Q.2- When do you plan to launch your app?
If you are planning to develop a mobile app, you might have a release schedule. You need to tell your developer if you want to have different releases. Or think if you want to launch them altogether. For that, be relaxed and work back on the App Store submission, development, testing, ideation, creative and practical approaches.
---
---