Are you set to kick start your business journey? Irrespective of being a startup or a well-established venture, every product owner dreams to hit the high notes of success & growth in the competitive marketplace. As soon as an enterprise appears in the corporate circle, it demands a solid marketing strategy to strengthen its foothold in the presence of existing rivals. 
Amongst so many definitive practices and a new normal for software development to establish your brand in the industry, software development appears to be a preliminary requirement for value addition for product owners. 
Irrespective of being a business enthusiast or wannabe entrepreneur then you've landed on the right page to discover how to add value to a company for being a product owner. Despite having a team of strategies to build your brand, every business setup calls for future-proof & fully functional software solutions to ace above the ground. 
Before elaborating on the topic, we really feel a need to describe some peculiarities of considering a mobile app development company as a product owner. 
A story of a product from ideation to evolution….
Let us call the journey of Steve Jobs from an ideator & innovator of Apple that evolved steadily from a basic computer to a full-fledged operating system with majestic features to rule other existing OS. Being a product owner with a forward-thinking mindset & expertise in software development, Jobs took inspiration from various top-running technologies such as Xerox, HP, Atari, etc. Even in the emergence of numerous competitors, Steve Jobs combined to transform his idea with a futuristic approach & joined hands with Steve Wozniak to add some technical attributes to his product. 
The very first version of their creation was finally launched & tested under the name of the Apple company. Soon after the inception, the leaders of the company started getting feedback, reviews, and tons of data regarding their product. This helped them to evolve their product as per the market requirements & preferences of their target audience. Now the present state of Apple OS & its related products reflects its irreplaceable mark in the era of the digital revolution. 
Similarly, a number of top-notch brands, startups, SMEs, & other business entities prioritize the role of software development solutions not only to grow their revenues but also to make a constant transformation to their product that adds value to their brand ultimately.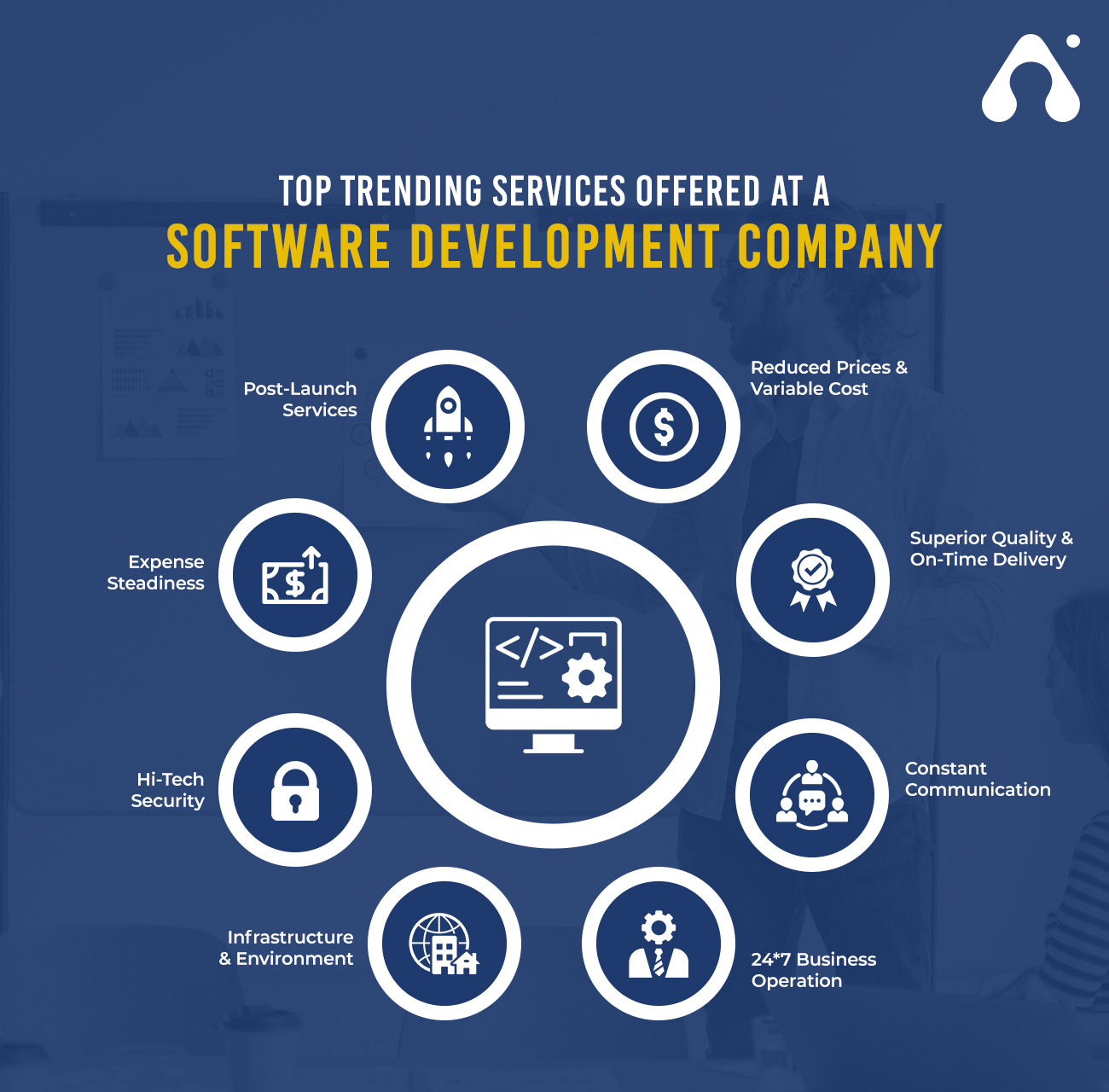 Every brand narrates a story from its initial variant to a well-known name in the industry. You must be intending to be a future leader but have you ever imagined how? No worries if you have no idea about the software development roles & responsibilities as we are yet to discuss all of them next.
In-brief Role of Product Owner in Software Development
The factor behind the growth of any modern business depends on the strategies implemented to marketize its core services or products. Knowing that every company reflects the ideology of its founder & the people working for it, one must understand the crucial role of a product owner in taking it to the heights of success in the shortest time frame.
You can't imagine foolproof product design, development, & delivery without sufficient research work & brainstorming done with the one who imagined its core concept. Shaping a top trending app idea is not everyone's cup of tea, only experienced & big players can do that. Hence, the importance of involving a product owner in a scrum team or software development is what every startup & growing enterprise must keep at a front desk.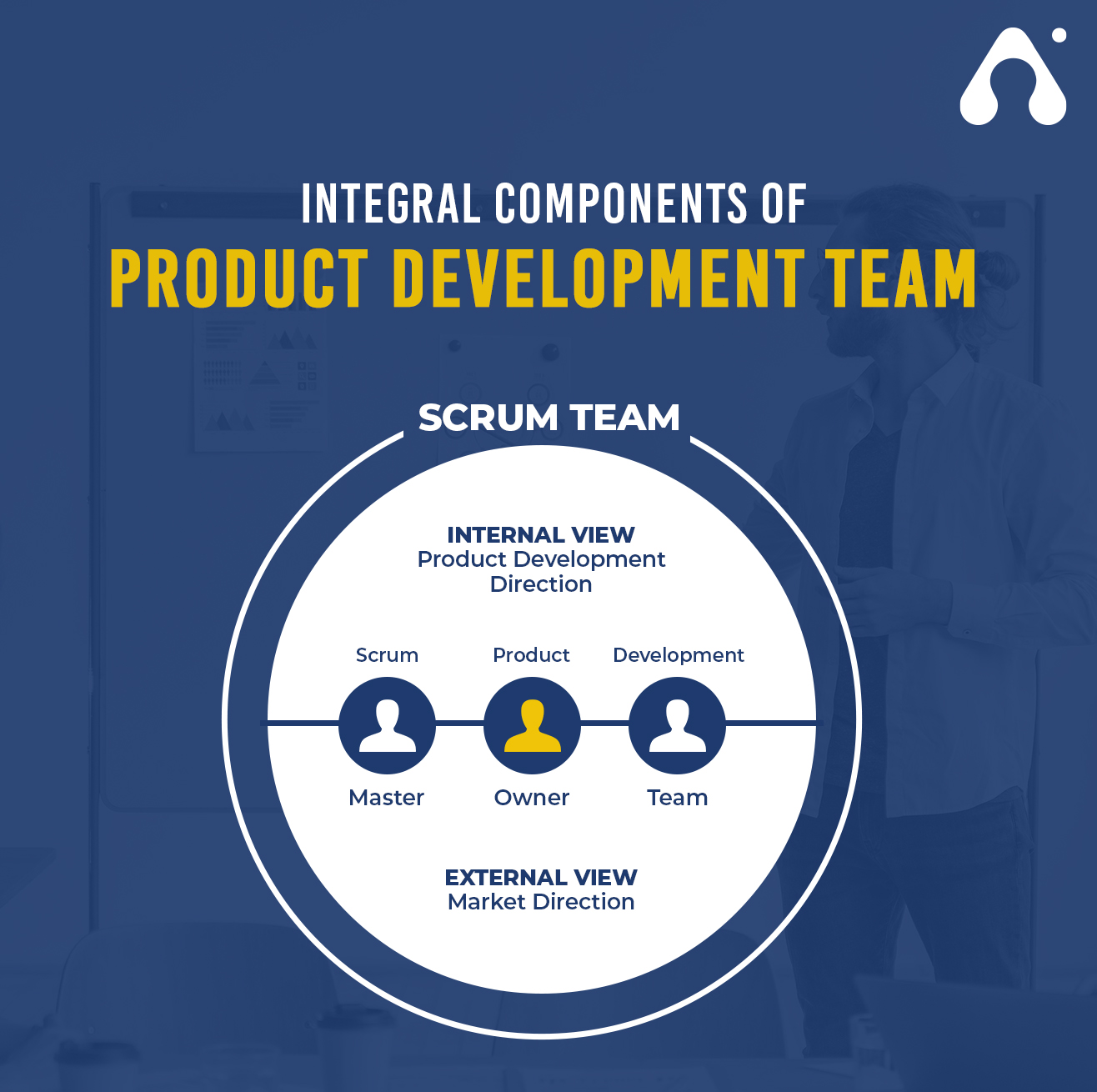 No more anticipations, let us declare key pointers to define the real job of a product owner in flourishing a fruitful business strategy with a top mobile app development company:
1. Outlining the Purpose of Product Development
The best way to learn the purpose of creating software or the reason behind investing in enterprise mobility app development is to clarify its vision. And to do so, you have to be serious about the product owner's role in software development. The entire product development cycle is centered around the one who actually conceived its idea. The product owner can help you divulge into the ideology defined for the proposed project. 
Right from building to organizing & monitoring the realm of a product, all the core practices of the full-scale software development cycle demand the involvement of a product owner. The vision of a product cannot be determined in a single thought, you actually need to do your homework & market exploration to meet the exemplary vision of the project. 
2. Monitoring Product Backlog
The product backlog comes under the management of a product owner. All sorts of data regarding users' preferences & their behavior or reaction towards a brand new product or service are highlighted in the product backlog. A product owner takes a lead in deploying all elements of a product in a backlog & takes care of ensuring their relevance to the business objectives. 
3. Getting a Priority List of Items from the Product Backlog 
It's a duty of a product owner to mark the key components of the product stakeholders. The product owner goes through the product backlog & categorizes the priority items to upscale the productivity & feasibility of their resultant outcomes. The product owner stays in touch with the concerned team to get familiarized with the essential requisites of the project under the guidance of a reliable Saas development service provider. Moreover, FYI if you are working on a software development project based on the Saas model then all you need is to check our exclusive guide to Saas development. 
4. Redefining the Stages of Product Development
Once a product owner gets a clear roadmap of product backlog & the main purpose behind its innovation, the software development team gets in action to go ahead with the further process. These participants ensure that each & every element of the software development process takes place in the right sequence of stages. 
All stages are defined in a transparent way to the team of product development who collaborate with the product owner to apply vital methodologies of the product development & its respective phases.
5. Interpreting the Clients' Requirements 
The future of your business depends on how you interpret the preferences of your customers. A product owner gathers adequate insights based on the market demands & feedback of the target audience. The opinion of a product owner matters a lot in determining the expectations of the clientele from the proposed software or product. 
If you still desire to think about what do product owners own the product development process then you must consider the role of in-depth research work, strategy building, competitive analysis, & other considerable parameters to depict the clients' requirements. A software development partner simplifies these procedures for a product owner to make them more efficient, accurate, & worthful for the entire team. Overall, this helps developers & project managers in outlining the best-suited features for a product & integrate them in accordance with the much-needed functionalities of the product. In case of any misunderstanding, the product owner ensures clear communication between both parties. 
Phases of Value Addition & Evolution Under Software Development Company
A product undergoes a lot of changes right from being an initial raw idea to becoming a final end product. The engineers at any software development company stay in touch with product designers & clients to come up with the best version of the proposed software product. The consistency in the product evolution adds value to the purpose for which the product is being developed. 
The course of product development also involves wireframing & prototyping that are responsible for consistent product evolution under the direction of experts intending to come up with value-added ideas in software development. 
Now, it's crystal clear that product evolution & value addition go hand in hand. They both are primary factors to encourage the success of the software or application you tend to present for your valuable customers. Whether it's about sharing the software development roles & responsibilities with a client or discussing key duties of a mobile app developer, every product owner stands ahead to evolve existing software solutions into a next-gen product with fabulous features.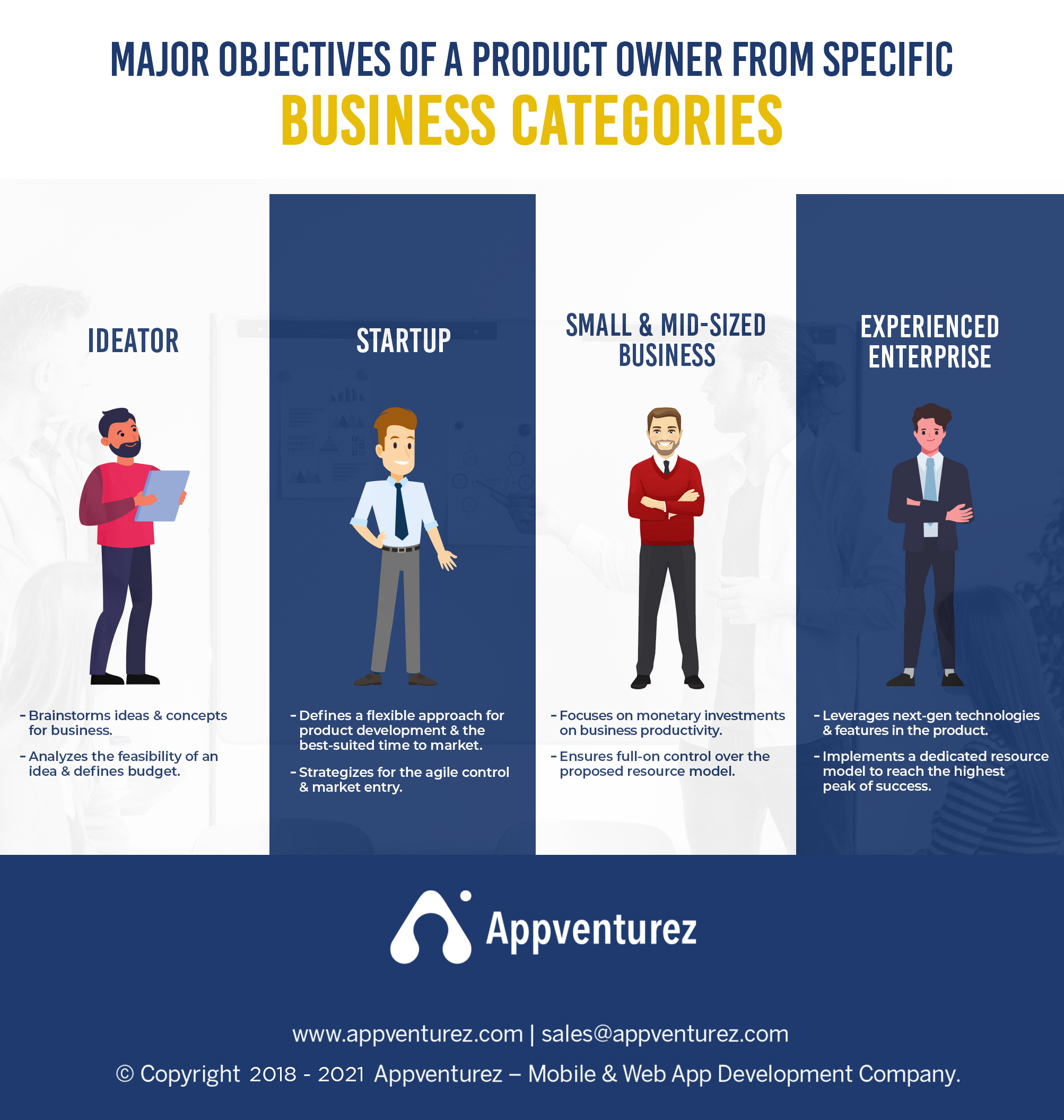 A software development company possesses a group of product engineers who know how to add value to a company. They are well-versed in transforming business ideas into powerful programs to fuel up the evolution of a startup into a growing SME. 
Also read, a detailed guide to mobile app development for startups
Let's have a look at some important stages of product evolution for businesses at different levels:
Stage 1:  Brainstorming & Ideation  
The very first stage of ideation begins when a unique concept strikes in one's mind. Although you've got a creative mindset to conceive an innovative business idea, you can't go ahead with it without having consultations from the right technology partner.
Only a certified & experienced software development company can handle your project at this point as they can foresee the future of your mobile app idea. Whenever an individual or independent business enthusiast presents a raw idea for business app development, a squad of highly competent software development teams is opportune to provide value-added services to meet the project requirements. 
They inspect the feasibility of the idea & choose the right technology stack for your mobile app or a fully customized software product with fantastic features & functions. 
Stage 2: A New Startup
At this stage, you might be curious to know how you will bring value to a company you have been running for a while. Being a recent entrant in the competitive space, startups keep on updating their business strategies & planning to establish a strong brand reputation in the industry. 
Once your startup begins emerging as a growing startup, the concerned team of business strategists drafts new plans to create MVP i.e Minimum viable product for startups to get launched in the market. Therefore, it is important to move from technical aspects to a group of individuals who will be using the software product in the future. 
Now you have to either pick an independent developer or a professional iOS & Android app development company. Such modern software development agencies are specialized in delivering custom mobile apps for businesses from different domains.  They also take care of monitoring the business operations, the productivity of in-house teams, tracking project progress, leveraging testing tools, installing or arranging equipment at the workplace, & more. 
Apart from the aforesaid tasks, a top-notch software development company can offer value-added options to benefit a product owner. They sketch out a plan to reduce costs & ensure faster time-to-market the product without compromising with the projected budget.   
Stage 3: Growing SMEs
The vitality of the continuous evolution of your product will always push you to keep improving it on a timely basis. Programmers won't resist making changes to the mobile or web application architecture to escalate the performance of the software product. The never-ending cycle of product evolution is greatly admired to keep it on top of existing & upcoming competitors. The advent of new technologies & updates also makes it crucial to hire developers who are committed to serve all software development roles & responsibilities. 
Most experienced startups showcase new & updated versions of the product they use to fulfill their business goals. The emergence of new business rivals is one of the major factors to influence growing & experienced businesses to invest their time in upgrading their active software. With the addition of new features & new requirements from customers, product owners focus on integrating technical add-ons to the product on the basis of ongoing development.
As soon as you know that an existing software product is already accepted by the target audience, you can trust a leading Android & iOS app development company to revamp your present product. The role of teamwork & project management cannot be ignored when a business is evolving speedily in this stage. This kind of evolution & engagement model is proposed by the majority of software development companies to step up their technology expertise & adeptness in product evolution. 
A technology partner aka software developer will give a brief on how their value-added ideas in software development would foster innovation to their products:
Full-fledged software development.
A dedicated project manager is assigned to keep you (as a product owner/client) updated with regular project progress reports.
Assurance to maintain non-disclosure of project details excluding the team members.
In case if a team is on the way to complete a project before the scheduled timeline, it's possible to replace one of the members from the mobile app development team.  
You can also share some suggestions from your technology or business partners to guide the team of developers.
You are being facilitated by a group of talented & skilled minds who work for the quality & satisfaction of their clientele. They are reputed & recognized as reliable partners for creating powerful software solutions that are well-versed in applying mobile app architecture best practices. 
Stage 4: Well-established Enterprises
A product still demands periodic developments to keep in sync with the latest technologies & advancements. Even after a long year of commencing your business operations, every well-established company relies upon new strategies & approaches to win over the global market share. In this scenario, a product owner seeks a team to serve software development roles & responsibilities to revive their existing software program with some exemplary add-ons & technical elements. The involvement of more stakeholders, product creators, business strategists appears to monitor pre-defined methodologies & techniques to speed up the mobile app development lifecycle.
Explore key strategies to run business with distributed agile team 
Best-suited Engagement Model for Software Development
Why stress yourself while selecting an engagement model for your product when you can choose the best options with a broad range of value-added services provided by a software development company? Once you choose the right team of professionals to work on your project, you expect them to bring multiple engagement models to continue with the agile approaches for product development.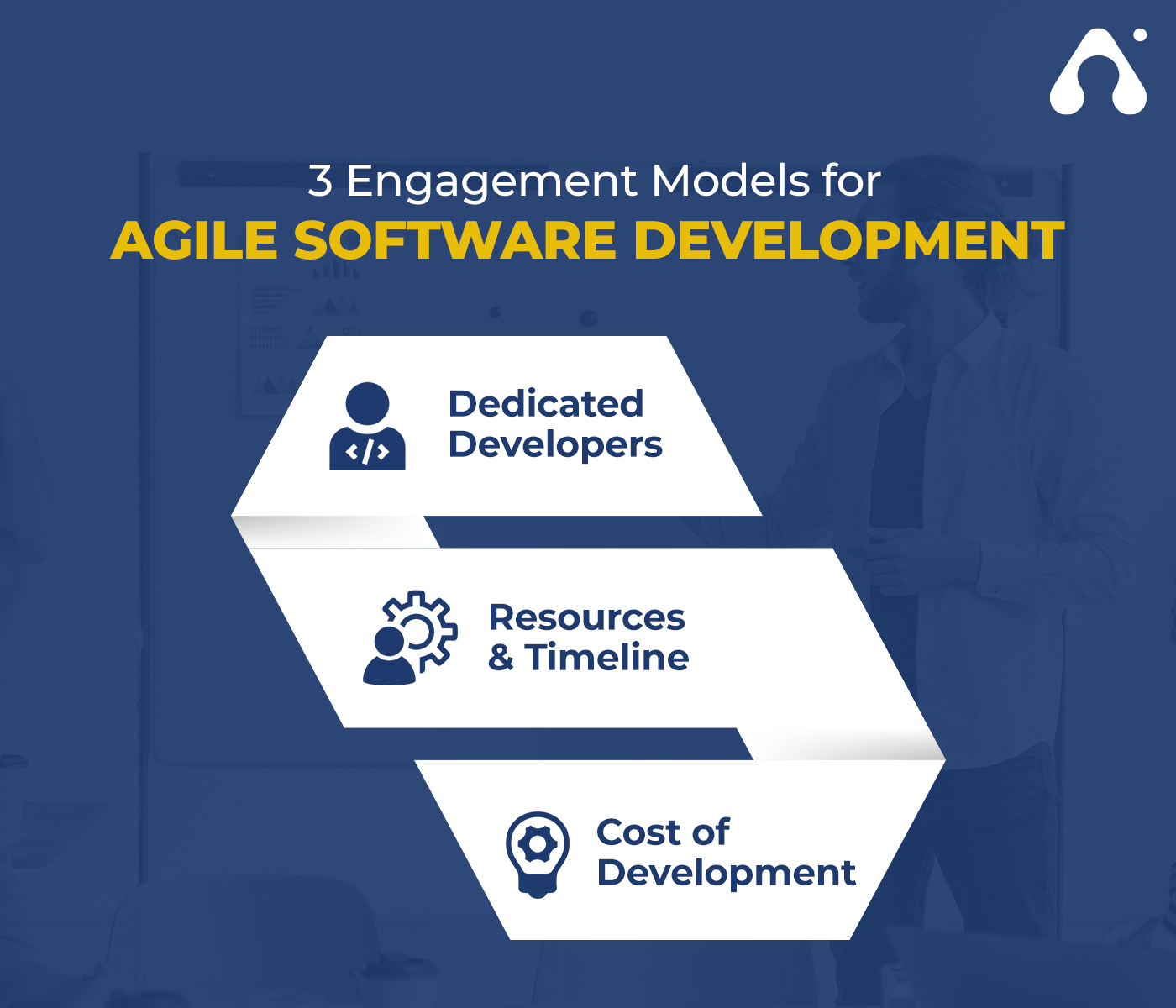 For now, these 3 engagement models are standardized for agile app development. 
Also read why choose agile app development methods for your product
1. Dedicated Developers
One of the most predominant engagement models circumscribes the role of a software development team. These dedicated developers utilize their expertness & creative skills to restructure a product's architecture in a new form. They are highly determined to shape value-added ideas to create a distinctive version of an existing product with ultimate control over the product development resources. In this specific model, a product owner enjoys the freedom to select the desired team of expert programmers & project managers to track the project progress along with regular reporting from the team lead. 
2. Resources & Timeline
Both resources & the timeline of any project play a significant role in product development strategy. The availability of technical setups or tools & other most-used resources is one of the primary requirements to get started with the project. In addition to this, on-time completion of a project is also taken into account to analyze the efficiency of the development team. The timeline & cost to develop an iOS app varies with the no. of hours taken to complete a particular task assigned to the concerned team member. 
3. Costs of Development
As discussed in the last engagement model, the costs of the entire development cycle depend on the resources, team of developers, timeframe, technologies, & complexities of the project. A software product with basic features will cost less than a mobile app that uses avant-garde technologies for its advanced features. However, a dependable mobile app development service provider takes a charge to deliver the project within the proposed budget limits. 
How Appventurez Benefits Modern Product Owners with Value-added Software Development
One may come across a bundle of favorable reasons to hire a software development company to grab maximum pros of hiring a professional team of product engineers at a software development company who can add value to the product owner's business. The supremacy of reputable Android & iOS app development agencies like Appventurez signifies the prominence of our group to emerge as an award-winning organization with a pool of talented tech brainiacs who are dedicated to profit our clients with quality-driven software & mobility solutions. 

---
---