Do you know that there are more than 3.2 billion smartphone users across the world out of which nearly 90% spend time on mobile apps? Now you can deliberate how important mobile apps are eventually becoming.

Google and Apple are the two most viable app stores across the globe making the mobile market grow even more competitive. With Google Play and Apple Apps dominating the app store market with a high percentage, each of them is placing their stature in the market with prominent facts and figures. Under the aegis of Google Play or Apple App Store statistics, the developers are able to get sufficient knowledge to settle their decision of going with either of the development platforms.

Also, it has become a source of strategizing long-term growth and development for many business owners. However, deploying the latest cutting-edge technologies, the iOS platform is appearing to be quite a lucrative and dynamic option to developers comparatively not because it is sustainable and drives more revenue but due to the successful position of the store at present.

The success of the Apple app store is not unseeable to the developers and marketers. Despite a long, drawn-out approval process and fierce competition in the business space, the Apple App Store has proved its worth and appears to be a great investment option for marketers. But reaching a conclusion without any substantial proof will be like appearing in an exam without preparing for the same.

With that said, the Appventurez team wants to bestow you with facts and figures concerning Apple app store download statistics and other important data that will be helpful and ultimately allow you to make sound decisions while keeping abreast of the market. So without any further ado, let's dive right into the world of Apple app store statistics, data and interpretations.

Check this post – Top Google Play Store Statistics 2021
What Is The Apple App Store?
Before we begin with supplying some topmost Apple app store statistics for current and yesteryears, let us allow you to explain the bits of the Apple app store and how it particularly operates. Launched back in the year 2008, the Apple app store is basically a digital distribution platform for mobile apps on its iOS and iPad operating systems. The platform allows users to browse and download apps for different categories.

The biggest advantage of downloading apps from the Apple app store is its approval from the store operator. Submitting an app to the Apple app store is easier contrasting to the other platforms. All the apps offered by Apple app stores are conformed to the device guidelines and therefore bestow greater consistency of interface and user experience.
10 Significant Mobile App Usage & Download Statistics 2021 (Latest)
Also, Read – Top Mobile App Distribution Platforms & Their Stats
Apple App Store Statistics: Total Number of Apps & Downloads
Since we know that the Apple App store is the second-highest app store distribution platform followed by the Google Play Store, the apps available on the platform have made great strides so far now. When the Apple app store was launched, Steve Jobs touted it as the biggest launch of his career which somewhere seems to be proven true as the store is emerging powerful with one of the largest registered developers. As per the recently released Statista reports, the worldwide app store downloads will grow by 2 billion in the year 2022.

There are nearly 2.09 million apps available for download in the Apple app store. As the exact number for the platform keeps on fluctuating, the figures are usually anticipated to grow in the forthcoming years by leaps and bounds adding feathers to the Apple App Store statistics in the future. Where the total number of apps that are added to the Google Play Store on a daily basis remains approximately 3000 to 3700, the data for the Apple App Store persevere quite low which is nearly 700 to 900 in total.
Also Read – Why Should Business Roll Out Next iOS App Development Using Swift 5

When it comes to choosing between Android and iOS app development, Google Play Store vs iOS app statistics plays a major role in which things become more practical and data-oriented and eventually emerges as the deciding factor for the developers. Forecasting the Apple app store download statistics, the download figures are anticipated to grow by 45 billion by 2024.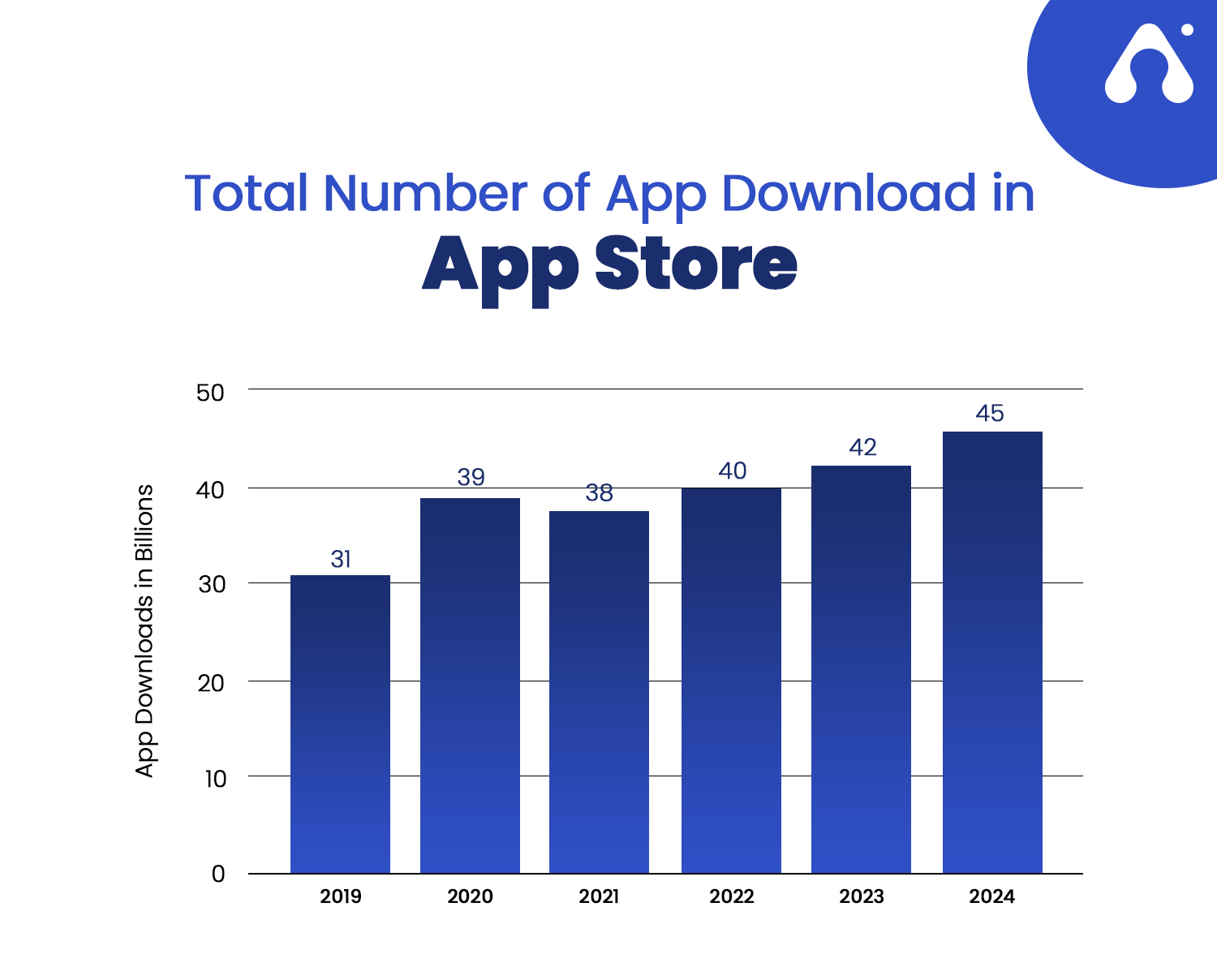 Apple App Store Statistics: Worldwide Gross App Revenue Figures
Smartphones have seen an exponential rise in recent years. This is partly why mobile devices are becoming a major focus for app developers, allowing the marketplace to get overwhelmed with the number of apps being released every month. Before interpreting some estimated App store revenue for yester and forthcoming years, let's fix our gaze on a few jaw-dropping app revenue stats overall.

Anticipatedly, mobile apps are projected to generate more than 935 billion U.S. dollars in revenues via paid downloads and in-app advertising.
According to trade analysts, App Store sales growth accelerated strongly during the Covid-19 pandemic.
The recent report disclosed by the leading news channel claims that the revenue share which was 3.1% in 2019 grew explosively to 28% in the year 2020.
Apple App Store generated $55.5 billion gross revenue in the year 2019 which grew by $16.8 billion by 2020.
Consolidating in-app purchases, subscriptions, and premium apps, users spent around 72.3 billion dollars in the year 2020.
Believing the marketers, Apple App Store statistics in terms of revenue is expected to rise to $85+ dollars in 2021 (however, the official figures are yet to be disclosed).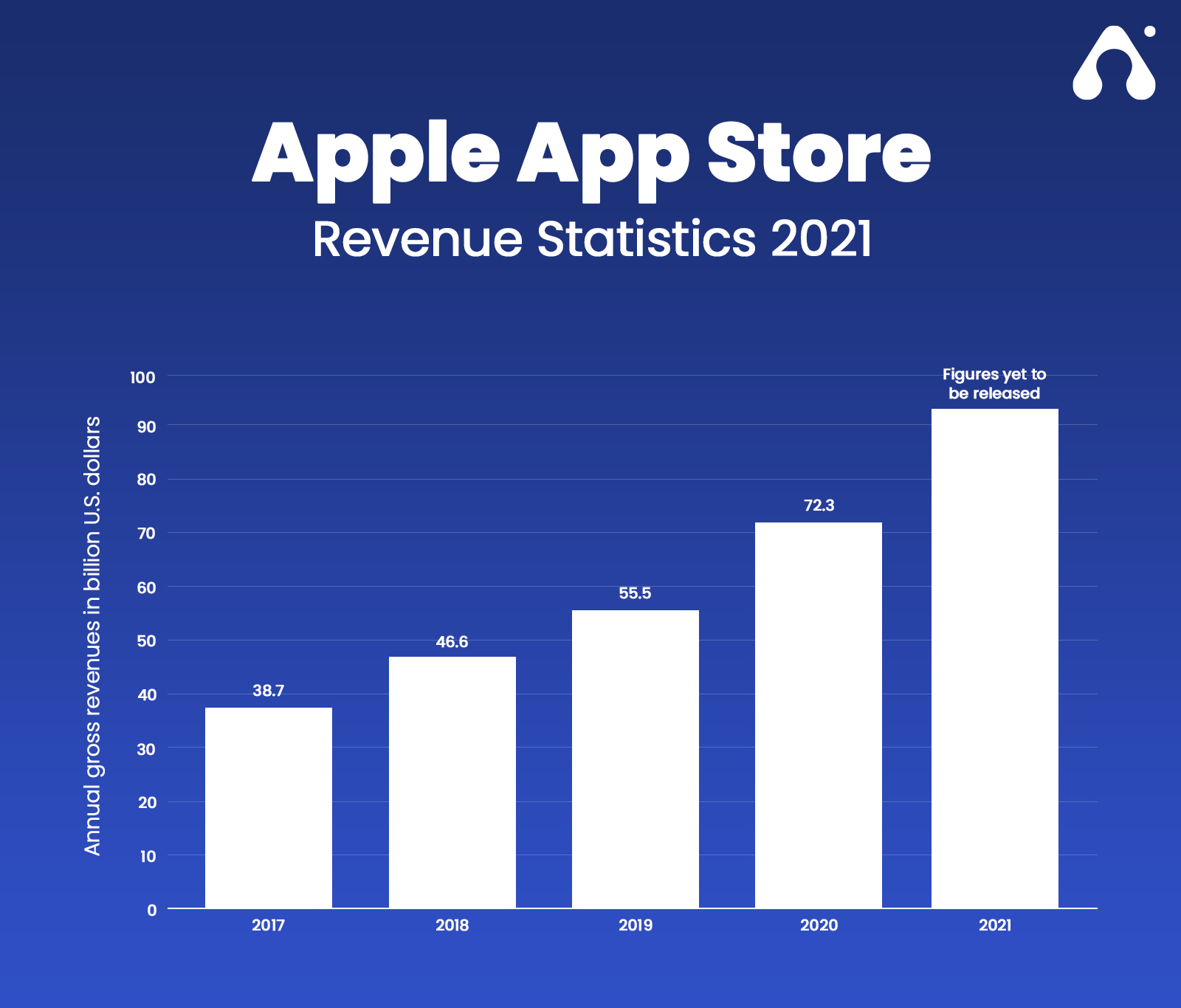 Know more about – iOS 13: The Next-Generation OS for iPad and iPhones
Apple App Store Statistics: Category Wise Distribution of Apps
Mobile games are big business and no business can deny that. The global gaming market is expected to reach a value of USD 295.63 billion by the year 2026. Gaming is also an app category with high mobile user engagement. In fact, one of the studies of MarketWatch reveals that video games are seemingly a bigger industry than the movies themselves. Since games with 21.53% of share, are leading the app store market for quite some time now, you might be wondering about the other mobile application categories that are conquering the market exponentially.

If we look at the stats for the Apple app store categories, we realize that business and education are the second and third most popular app category with 10.11% and 8.67% share respectively while the reference (1.93%) and the news (1.83%) remains the lowest of all. Even though the total number of apps continues to rise, the top categories seem to maintain steady figures. Let's have a look at the given Apple App Store statistics to know the in-depth distribution share of each app category.

Also, Read – Top 10 Useful Open Source iOS Libraries For App Development
Google Play Store vs iOS App Statistics: Who Takes the Glory?
The enterprises of the 21st century are looking forward to streamlining their business operations, boost productivity and reduce needless costs to the company. Though there are so many tactics they can employ in order to accomplish all the aforementioned objectives, investing in mobile app development seems to be a modern and successful way of reaching a wider group of target audiences, become more competitive in the market, and achieve greater heights in business space. The emerging trend of mobile apps gives a fair reason to companies to invest in mobile apps.

Since both the app stores have wide audiences, ensuring good visibility for every category, the major challenge faced by the developers registered with Google Play Store is monetization as the majority of Android users prefer free apps. On the other hand, Google Play Store is the biggest app store market overshadowing every platform with a huge margin. Hence, the major competition of who's-conquering-the-app-store-market largely comes down between Google Play and Apple App Store. The data given below shows the comparison of the Apple App Store statistics vs Google Play reviewing different fields.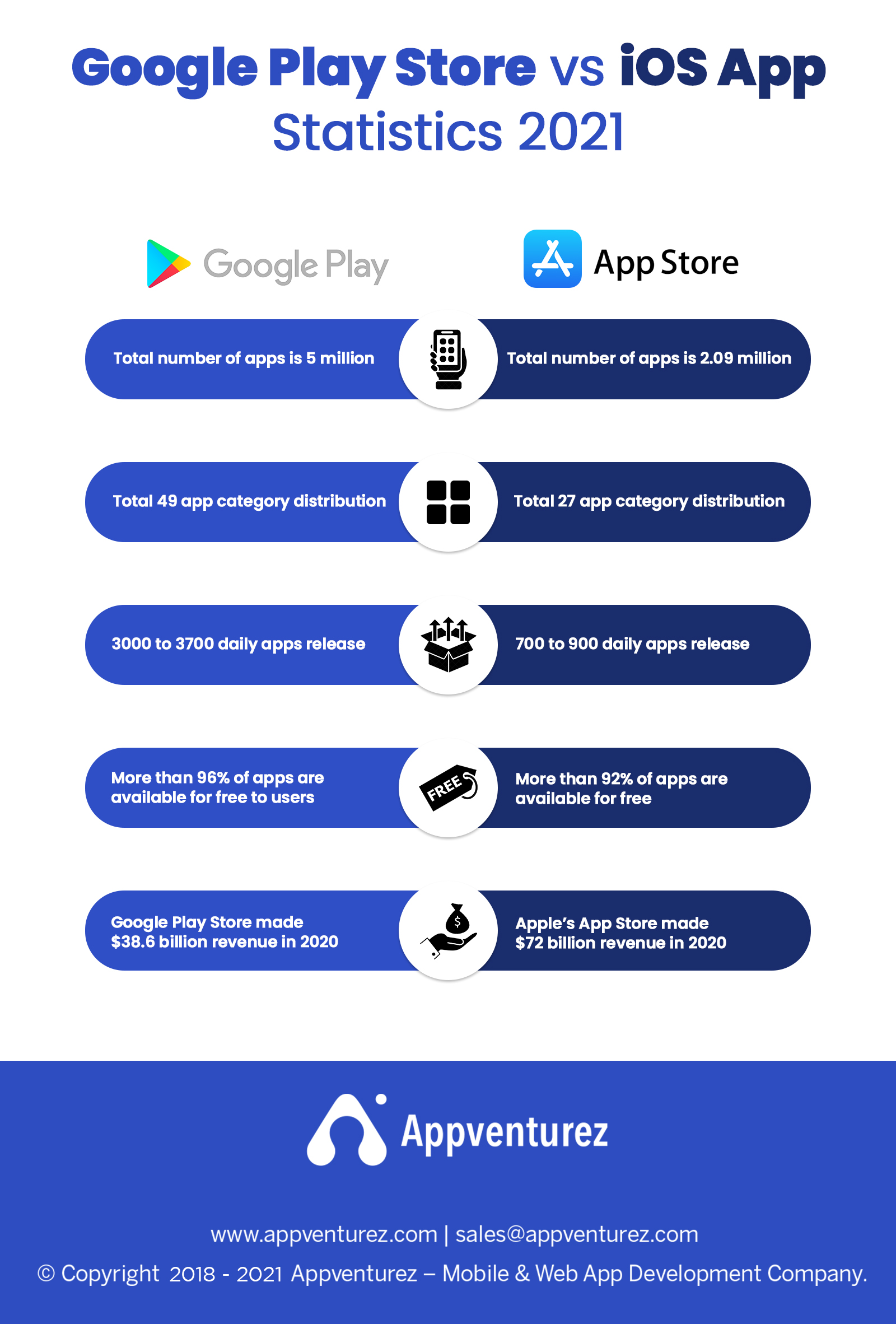 Check this post – Android vs iOS App: Which one to choose!
Top 10 Most Downloaded Free Apps in the Apple App Store
Keeping in mind the recent COVID-19 pandemic, the category and nature of apps that have garnered exponential rise have seen a massive shift. The world grappling with lockdown measures and physical distancing guidelines inflicted by the government was one of the major reasons why many apps, which were unbeknownst to the users earlier, became their go-to companions. Apple App Store statistics in worldwide downloaded apps show that Zoom was the most downloaded app in the year 2020 for the App Store platform.

Do you think that Zoom, an incredibly popular video chat tool, bagging Apple's most downloaded app spot in 2020 was a mere coincidence? Not at all. There were many apps like Zoom that people enticed towards during lockdown while some of them have been in the top 10 most downloaded apps in the App Store for years. Have a look at them.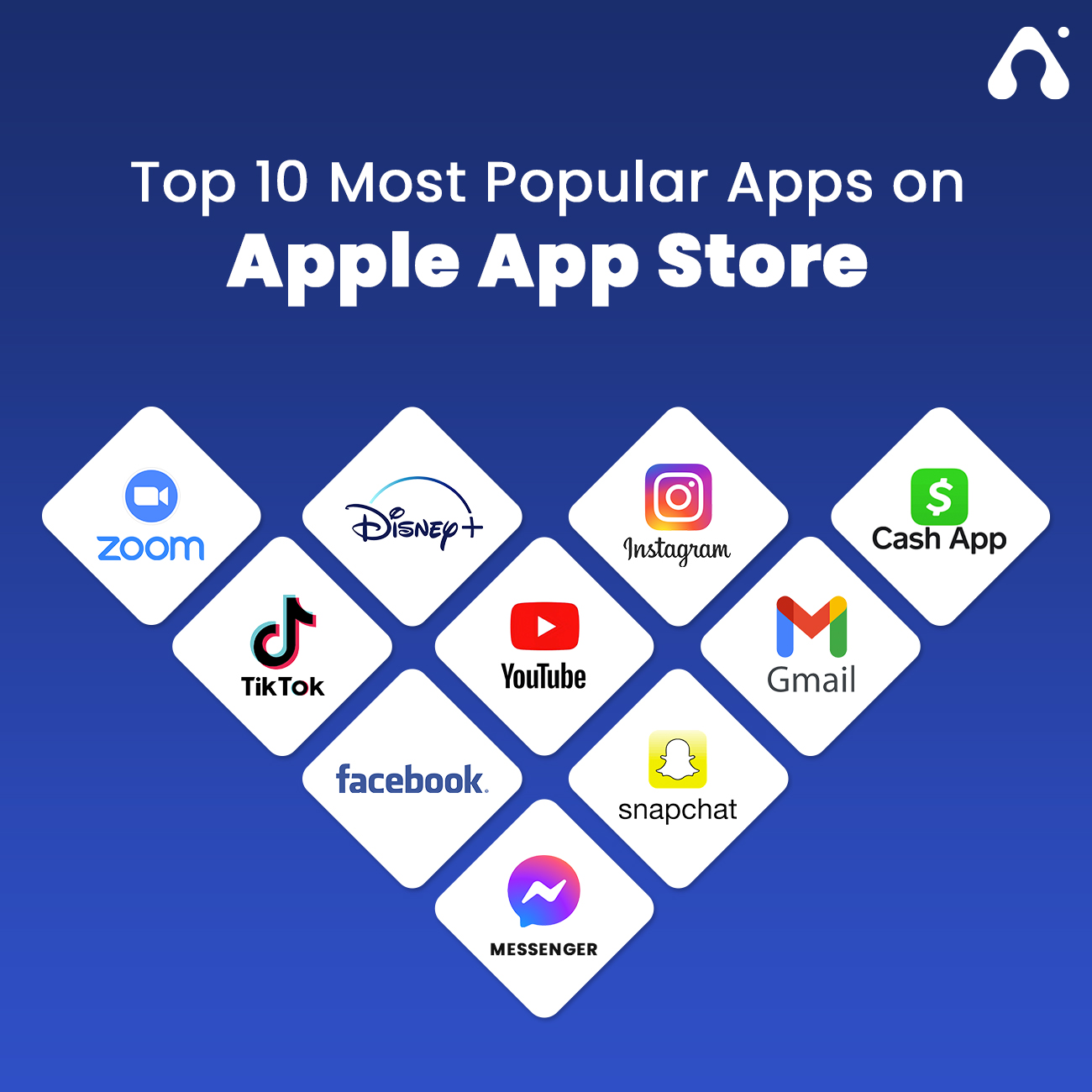 1- Zoom
A cloud-based video conferencing tool launched in the year 2011, Zoom is a go-to video communication platform for regular people and startups. This app is available for Mac, Windows, Linux, iOS, and Android allowing people to set up virtual video and audio conferencing, webinars, screen-sharing, and other collaborative capabilities.
2- TikTok
TikTok is a social media video-sharing app that enables users to create and share 15-second videos. Rich in features like sound effects, music snippets, filters, and lip-syncing, iOS app download statistics reveal that TikTok garnered popularity among iPhone users in a very short span of time. This app was created by Chinese entrepreneurs in the year 2014.
Visit Us For Software Development Services:
3- Disney+
Like any other popular streaming platform, Disney+ is an American subscription video OTT service owned by The Walt Disney Company. It houses so much content from The Walt Disney and other esteemed studios. The Disney Plus streaming platform was recently launched in the year 2019.
4- YouTube
An online video sharing platform founded in the year 2005, YouTube is an app that needs no introduction. Owned by Google now, it is the second largest search engine followed by Google. YouTube is a free platform that lets users watch and upload videos.
5- Instagram
Going by the Apple App Store statistics, another name in the list is Instagram. It is a free social media platform for sharing photos and videos with many newly added features. This one-of-its-kind platform was initiated by Kevin Systrom and Mike Krieger now acquired by Facebook. Instagram is compatible with Apple, Android, and Windows OS.
6- Facebook
Founded by Mark Zuckerberg, Facebook is one of the most popular social networking sites that enable users to connect and share moments with friends and family. Features like Marketplace, Groups, Events, Pages, etc. make Facebook unique of all. There is a range of privacy options offered to its members.
7- Snapchat
Released in the year 2011, Snapchat is a multimedia messaging app that allows users to exchange pictures and videos with some filters. These shares disappear soon after a short period of time. Since Snapchat is a mobile-based app, it is available for both iOS and Android.
8- Messenger
Messenger, also known as Facebook Messenger, is an instant messaging app that is created to connect the users with the Facebook database. The core objective of the messenger is to eliminate the use of in-app Facebook messaging services.
9- Gmail
Gmail is a free email service owned by Google. Employing the advanced cloud-computing technology, Google made Gmail a one-of-its-kind platform where the email is stored in the cloud safe and sound. Gmail is available for Android and iOS both and emerges as the most popular email platform among the users.
10- Cash App
Like any other mobile payment merchant, Cash App is a mobile payment service that allows users to direct peer-to-peer payment using smartphones. In simple words, Cash App is the easiest way to send, spend, save, and invest your money.
Check this post – Mobile App Growth Statistics in 2021
Frequently Asked Questions
1- How Does Apple App Store Show Statistics for an App?
Apple app store statistics for a particular app is disclosed after gathering different key insights and data that regularly sync with their servers. These data eventually help the team to gain app analytics. Besides, there are many other aspects such as consumer behavior, download pattern, etc. that decide the app performance and converts into app stats.

2- Google Play Store vs iOS App, Which One Has Higher Revenue?
Comparing both of them with previous year data, Google Play Store made $38.6 billion in revenue last year while App Store revenue was $72 billion. However, the figures keep on fluctuating and this is why there could be no particular winner in terms of revenue generation.

3- How Much Does It Cost to Develop an iOS Application?
The budget of an app depends upon the type of app you want to develop and therefore involves several factors that developers take into consideration. The cost also varies to developers and where they are based out at. For eg- hiring a US-based company for Swift app development would cost around $50k to $60k.
Also Read – Cost to develop an iOS app

4- How Much Time Does It Take to Develop an iOS App?
Different Apple App Store statistics, data, and figures reveal that iOS apps are high in demand and therefore the companies aspire to hire iOS developers. The development time of an app underpins the complexity and nature of the app. However, the average or an estimated time that an iOS app-building mechanism takes is 7 to 8 months.

5- What Is the Use of Apple App Store Statistics?
Basically, whether it is about Apple app store download statistics or Google Play Store revenue data, the tables, charts help people know about the current trends and help them draw an accurate conclusion based on the same.
Wrapping Up!
There's no denying that mobile apps have become an integral part of our lives and will continue to become mainstream in 2021 and beyond. While the majority of influential enterprises already have a mobile product on the market, the newly-launched companies are looking forward to having one for their business for which they are not willing to compromise with anything. This is why either it comes to evaluate Apple App Store statistics, Google Play Store data, or any other app store report, they are not flinching in probing into each of them deliberately. The piece of data helps marketers understand the upward trend and usage perspective for different platforms. Hence, this statistics guide will surely be helpful to those who aspire to get the latest research and trends for Apple App and Google Play Store.

If you're an organization aspiring to get an app for your company in 2021, get in touch with our team of experts who will help you with all your queries and requirements.

---
---