There is hardly any industry left where digital transformation has not left its impression. Wherever you look, you will find consumers leveraging easily accessible and more convenient mobile-driven solutions.
The impact is easily visible in all the major business sectors, and that includes the media and entertainment industries, too. Especially since the emergence of over-the-top services, the face of this industry has completely transformed.
Today, the popularity of OTT app development is rising at an unmatchable pace. The global market size in the OTT video segment is estimated to touch the $316 billion mark by 2023. Moreover, it is often reported that users prefer mobile apps and smart TVs to access OTT content rather than browsers, 65% of the time to be specific.
As the trends and industry keep on expanding, businesses started focusing on OTT video streaming development more than ever. The benefits are immense and the results could be highly productive; the only issue is not knowing where to start. From integrated features to monetization models, there's a lot to consider before creating an OTT app.
Table of Contents
A Brief Introduction to OTT Applications
OTT applications are a type of digital service that makes different kinds of content accessible to users. Unlike conventional TV platforms that broadcast content through traditional distribution channels like cable, IPTV, etc., OTT apps rely on the internet for the same. It eliminates the hassle of installing huge and complicated setups to watch your favorite shows and movies. With an OTT solution, all you need is an internet-powered, plug-in device and an OTT app installed into it.
Today, most companies in the media and entertainment industry are leveraging OTT solutions for the benefits of high user engagement and easy accessibility. Especially after the digital transformation in Netflix and other major OTT platforms, the potential of OTT app development saw no halt. For the record, currently, Netflix, Disney+ Hotstar, and Amazon Prime Video are the leading giants in the OTT market by brand share.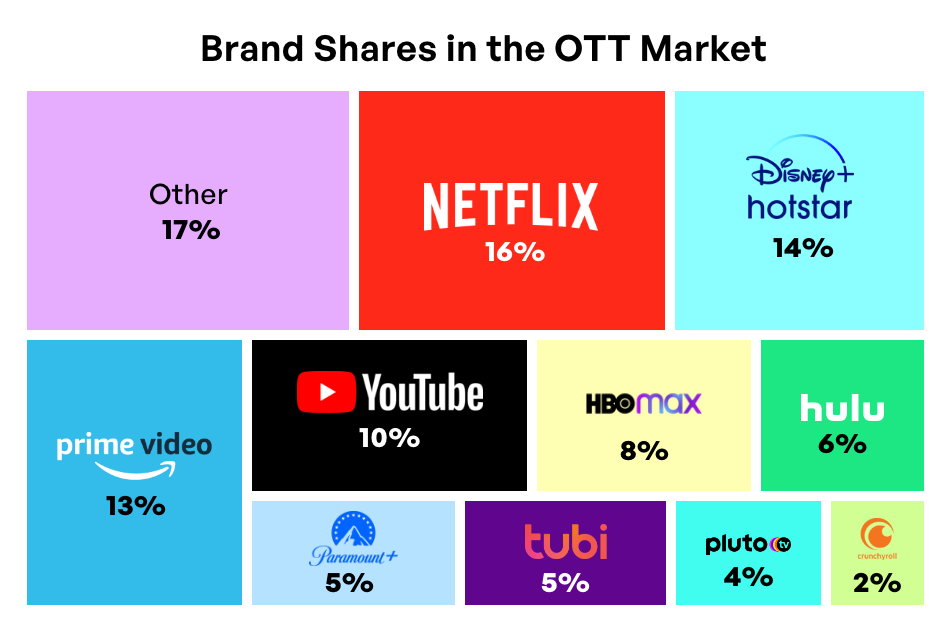 Why Do Users Prefer OTT Apps Over Conventional Entertainment Platforms?
The popularity of OTT applications is showing no signs of slowing down. This could be understood because 70% of users have subscriptions to at least one significant OTT platform – Amazon Prime Video, Netflix, Disney Hotstar, or Hulu. This is also one of the primary reasons why the OTT app development market is rising exponentially.
But what leads to a major shift from traditional TV platforms to OTT applications? Well, here are some OTT app development benefits that highlight the major reasons why businesses started investing in OTT app development:

Scope of Flexibility
The first thing that attracts users to OTT platforms is a great deal of control over what content they watch and when they want to watch it. In contrast to conventional TV platforms which consist of pre-scheduled programs, OTT applications enable users to view content on demand.
Content Variety
One of the intuitive things about OTT platforms is that they offer a wide range of content compared to conventional TV platforms. Since OTT applications have a massive library of TV shows, movies, documentaries, and other forms of original content, they can easily cater to diverse user preferences.
Convenient to Use
OTT applications can be accessed easily on various devices, making it convenient for users to watch their favorite content anytime, anywhere. This is one of the most important benefits of OTT apps over traditional TV platforms.
High Affordability
When it comes to the cost of service, OTT applications are comparatively more affordable than conventional TV platforms. Since most OTT platforms leverage subscription-based monetization models, users have to pay only once and they can uninterruptedly access the content for a specific period. Moreover, they can also cancel or upgrade their subscription plans whenever they want to. All these benefits offer users great flexibility and control over the expenses spent on OTT content.
Massive Reach
OTT platforms provide users with a more personalized viewing experience and a convenient medium to access content. Due to this, OTT applications offer businesses a great opportunity to reach a potential user base.
Must-have Features to Be Incorporated in OTT App Development
Features are one of the prominent things that a consumer always looks for in a product, and that goes with OTT platforms, as well. If your OTT app is not enriched with features that ease things for users, sustaining in this competitive market would become highly challenging for you. Here is a list of must-have features for OTT applications that businesses must consider:
Registration and Login
Like any other app, your OTT platform must allow users to create an account in order to stream content. For this purpose, you must offer them multiple options to sign up, such as a mobile number, email ID, or any other social media account. The more options you offer, the more convenient it will be for your users to access the app.
You can also provide them with an option to create multiple profiles in the same account so that different users accessing it can watch their content separately.
Smart Search Options
It is one of the most crucial features of OTT apps. With smart search, users can easily search for different types of content as per their preferences. It prevents them from scouring the entire platform to watch their favorite picks. Additionally, you can also integrate analytics tools to examine their search behavior and recommend personalized results to increase user engagement.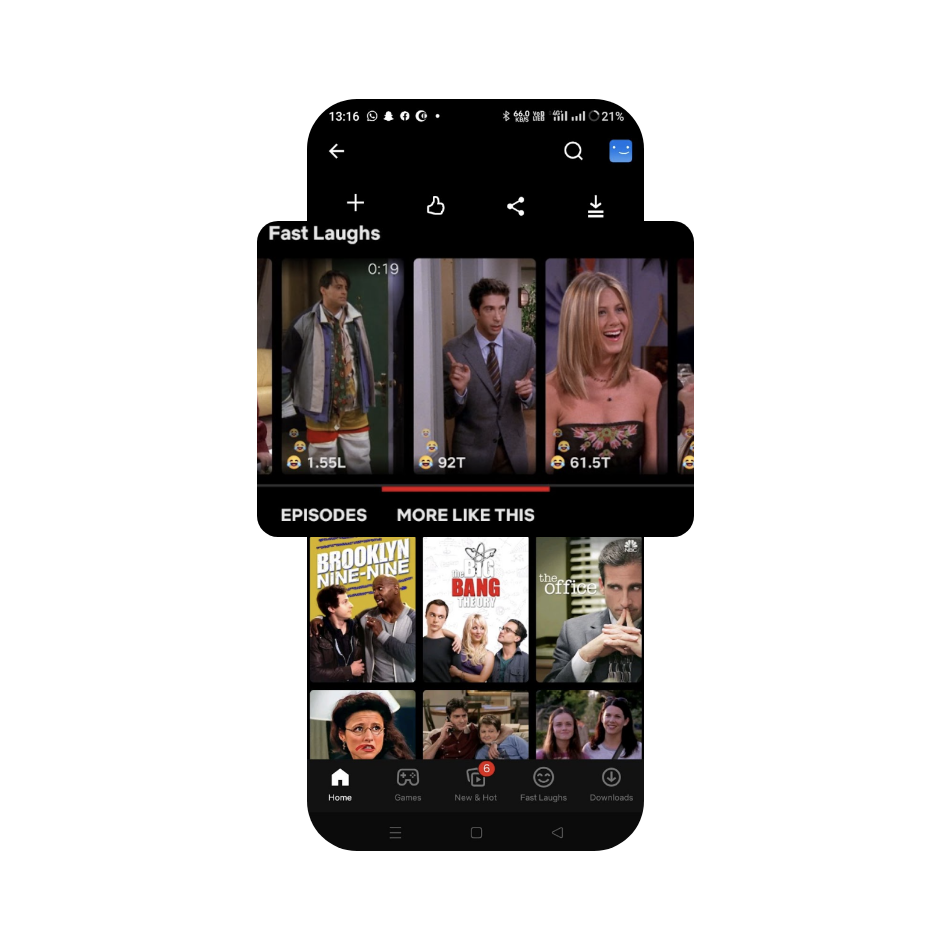 Multilingual Support
It is one of those features that distinguish your OTT app from other platforms. By offering content in multiple languages, you can easily scale your business beyond the location you primarily operate in. Besides this, you can also provide your users with subtitles and soundtracks in different languages for better understanding. Netflix and Disney are some of the most popular examples known for multilingual content.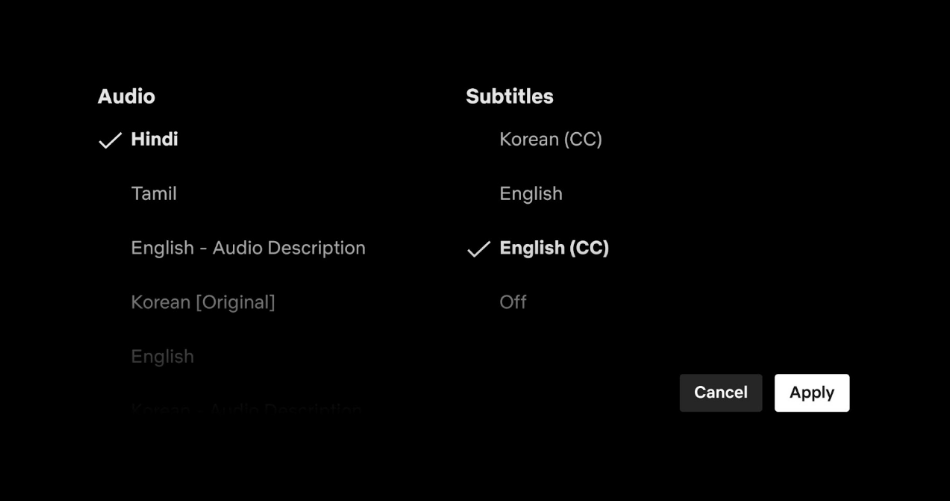 Payment Modes and Integration
In order to access the content on your OTT app, your users need to subscribe to specific plans. For this, you must provide them with different payment options, such as credit cards, trending digital wallets, internet banking, etc for smooth and easy payment processing.
Push Notifications
Push notifications are one of the must-have features that almost no app skips. The reason is that push notifications offer businesses a convenient way to remarket their services and products. In the case of OTT apps, you always want to make sure that your users are notified about new content, repayment status, or subscription alerts.
Watchlist
This feature allows users to add their favorite shows, movies, or series in a specific area so that they can watch them later. You can customize this feature in a way that users can pick and add even those options that are yet to be streamed.
For instance, Netflix users can simply include their preferable picks in the 'My List' option and turn on the bell icon to add a reminder for the same.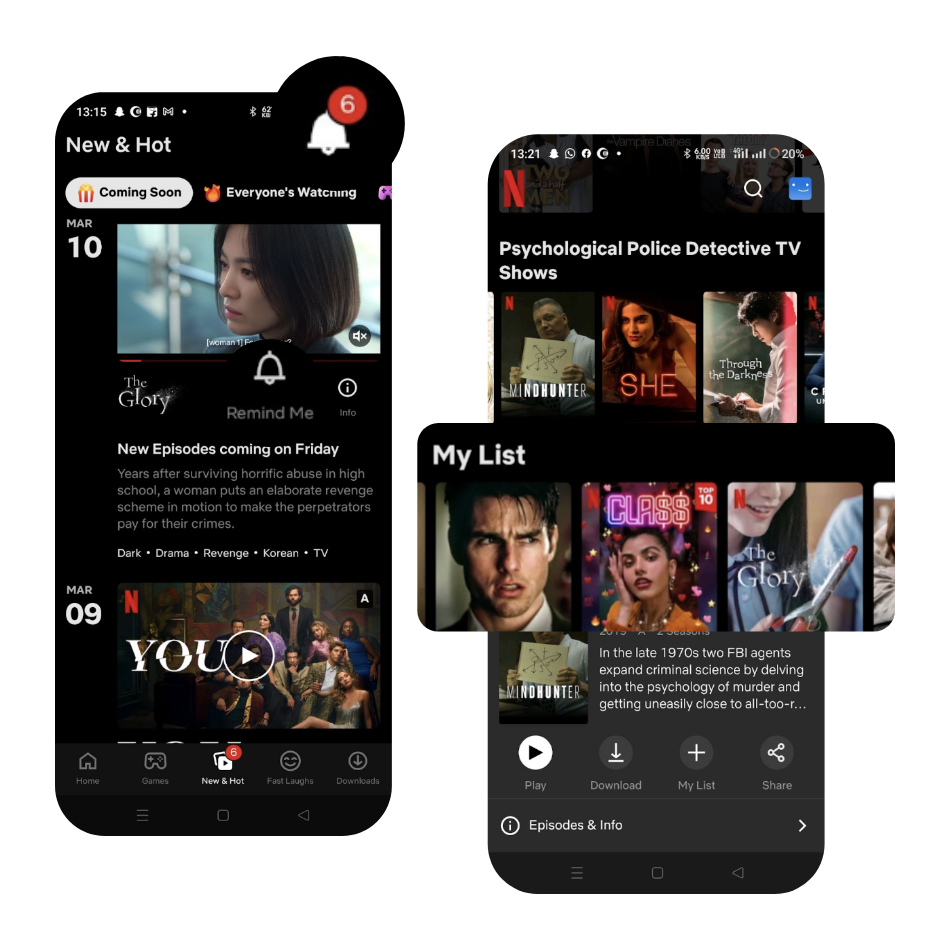 Content Categorization
Businesses can enhance the experience of their users by systematically categorizing the content based on genre, year of release, or language. This helps their audience conveniently discover the shows or movies they are looking for.
Screencasting
In order to improve user engagement on your OTT app, businesses must provide users with an option to watch their content on other big-screen devices, such as televisions or desktops. Screen casting or mirroring with suitable tools like Google Cast SDK or AirPlay can be used for this purpose.
Download Feature
To make your OTT platform more user-centric, you can also include an option to download or save content that could be watched later without internet access. This feature works best for those people who are traveling long routes, especially on flights.
What Are the Most Popular Monetization Models for
OTT Application Development
?
Your marketing and monetization practices profoundly impact the process of making a viewer turn into a subscriber. Hence, it is important to use one or multiple app revenue models and monetization strategies to scale your OTT business. Below are some of the most popular OTT app development monetization strategies businesses can consider: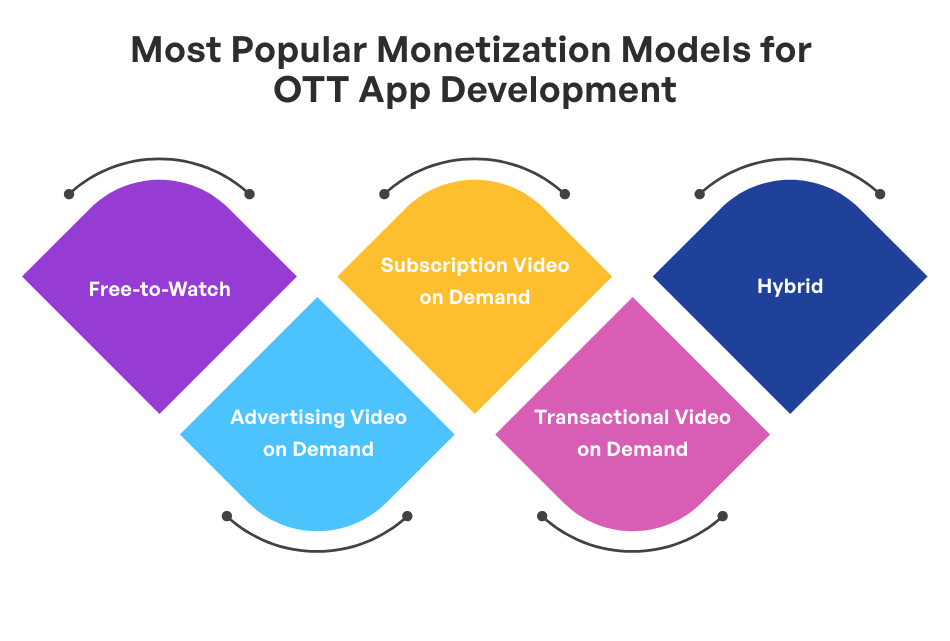 Free-to-watch model
The free-to-watch business model provides users with content that is free to access. It is like a trial version of any service which is intended to increase brand awareness and create a strong user base by offering video content at no cost. Majorly, the content in this model is in the form of short video clips or teasers. Some companies that use this business model are MX Player, Viki, and Roku.
Advertising Video on Demand (AVOD)
It is an ad-based monetization model that provides viewers with access to free content in exchange for watching targeted advertisements. Businesses generate revenue through this model by charging advertisers for showcasing the ad commercials on their OTT platforms.
This revenue model is best for users who are interested in your content but not willing to pay for it. In fact, 62% of viewers have no issues watching an ad if that helps them watch content for free. Some popular AVOD-based OTT platforms include Youtube (non-premium) and Pluto TV.
Subscription Video on Demand (SVOD)
As the name implies, viewers are given unlimited access to the content available on an  OTT platform for a specific period. In exchange, the users need to pay a regular subscription fee. Businesses can make subscription plans based on the following aspects:
The number of devices that can access the content simultaneously,

The video quality (SD, HD, or Full HD),

Ad-free or ad-rich experience, and

Validity and accessibility to content (monthly, quarterly, or yearly).
Users who choose constant streaming over advertising will prefer the SVOD model. However, these subscription-based models must incorporate digitally-oriented and customer-centric features like secure payment gateways and plan renewal reminders for a better user experience. Some of the top OTT platforms based on SVOD models include Netflix, Disney+, Amazon, HBO Max, etc.
Transactional Video on Demand (TVOD)
In TVOD monetization mode, instead of selecting a time-based subscription, users just pay for the content they want to view. They specifically subscribe to exclusive content that they are interested in rather than paying for everything available on the platform.
In the OTT space, there are two different kinds of transaction-based models:
One is Electronic Sale Through (EST), in which customers make a single-time payment and receive lifetime access to particular content.

The other is Download to Rent (DTR), which gives them temporary access to a specific piece of content.
Companies like Hulu and Sky Box Office rely on TVOD business models.
Hybrid Model
This model is an amalgamation of all the revenue strategies mentioned above. Hybrid models generally offer some content for free, while others could be accessed by paying a specific access fee.
Besides this, businesses can also generate revenue through advertisements. Due to multiple features and benefits, this monetization model is often used by companies to increase customer retention and multiply revenue.
What Are the Steps to
Develop OTT Apps
?
In order to create a successful OTT app, you must prepare a plan beforehand and focus on the strategies that streamline the overall development process. Moreover, it's crucial to have a complete understanding of the tools and technologies that would be suitable to fulfill your business objectives.
Pick a Specific Niche
OTT platform app development is a general concept, and you have to pick a niche first before entering into this domain. Therefore, the first and foremost step is to pinpoint the right target audience and spend time analyzing the insights regarding the chosen market. You can choose specific categories of content, like sports, entertainment, news, or all of them.
In fact, you can pick one or more genres based on the demography of your users. For example, consider that the major segment of your target audience prefers movies and shows based on Asian background. In such a case it could be beneficial to include K-dramas or C-dramas considering their global popularity. The more specific you will be, the better the chances to achieve success. 
Analyze Your Competition and Market
After choosing a niche, the next step is to get a clear understanding of the market you are stepping into. Investing time in analyzing the changing market trends becomes a must.
Besides this, you also need to keep a tab on your competitor's strategies, especially when you are a new entity in the market. The best way, in the beginning, is to understand how they are targeting and holding their users. Once you understand the process, you can perform experiments for better engagement and productivity.
Create the Content Repository
Good genuine video content is the soul and heart of OTT live-streaming platforms. Therefore, you must ensure developing a repository for the same to stream content once your OTT app is ready to be launched.
However, make sure you develop content that aligns with the interest and preferences of your users. Here's when your study about the market and target audience comes in handy. Also, ensure that you keep updating your content regularly to keep your subscribers engaged.
Choose a Suitable Business Model
The next step in the OTT app development process is to pick the right business model for your OTT platform. Mainly, there are five VoD monetization strategies that a business can choose from:
Free-to-watch Model

AVOD (Advertising Video on Demand) Model

SVOD (Subscription Video on Demand) Model

TVOD (Transactional Video on Demand) Model

Hybrid Model
All these models are already covered in detail in the above section. Pick a model that aligns with your business objectives and needs.
Select the Desired Features and Platform
After performing a market analysis and choosing a monetization strategy, you need to select the features you want in your OTT app. In addition, you also need to finalize the platforms and devices for which you want to develop your app. For example, you can have a web app, mobile app, TV app, or a cross-platform app that works on all kinds of devices.
Choose a Suitable Tech Stack
The right tech stack and development tools play an important role in making or breaking your app's performance. Therefore, when you create an OTT app, make sure you pick the appropriate development technologies that help integrate the functionalities you want in the app.
It could be challenging to choose the right tech stack, especially when you don't have much experience in the software development field. In such a case, the best option is to hire a professional OTT app development company having expertise in creating robust OTT platforms.

How Much Does It Cost to Develop an OTT App?
Analyzing the app development cost irrespective of the industry is something that every business owner considers before making a move. Well, it's important because businesses can not invest all their resources just in developing an app. Therefore, having prior knowledge about all the key factors that impact the OTT app development cost becomes crucial. Below are the primary factors that can significantly influence the overall cost of building your OTT platform.
App type and complexity
The kind of OTT app you want and the features you want to incorporate into it greatly impact the development cost. For instance, a fully-fledged OTT app like Netflix with all the additional features and advanced functionalities can cost you a good amount of investment. However, as a startup with a limited budget, you can go with a basic application with all the major functions an OTT platform should have.
Tech stack and technologies used for the specific platform
For an OTT app, you need a specific set of tools and technologies to ensure a smooth development process and integrate the right features that make it intuitive. Since both Android and iOS platforms require different technologies, the cost of development might differ, as well.
Onboarding developers
Depending on your budget and project specifications, you can choose from different ways through which you can get the OTT platform developed. For instance, you can share your project idea with a freelance team in case you have a limited budget. However, this way might not work if your app needs to have complex functionalities.
Another option is outsourcing your app development project to a team of developers and designers proficient in their own fields. The last and most recommended option is hiring a professional on-demand app development company having expertise in building OTT applications. Although the last option might put a load on your pockets, the results will be worth the cost.
The location of the development team
This is another crucial aspect that can impact your overall OTT platform development cost. The app development expenses vary from location to location. For example, app developers and designers in developed countries like the US and the UK will cost more than the ones in developing nations.
The average cost to develop a fully-fledged OTT platform like Netflix, HBO Max, or Hulu ranges somewhere around $25000 to $150,000. However, a clear understanding of these factors in advance can help businesses determine the exact OTT app development cost. Apart from the app-building expenses, the time taken to create a custom OTT application would be around four to eight months, depending on the app's complexity and specifications.
What Are the Major
OTT App Development Challenges
?
No doubt the potential of OTT app development is high and can unlock new doors of opportunities for businesses. But along with a bucket full of benefits, it can also bring significant risks and challenges that you must know in advance.
Developing an OTT App Can Cost You a Massive Capital Investment
It is believed that creating a professional OTT platform needs a considerable amount of investment. This is because an OTT platform should be highly interactive and engaging, especially when there are industry leaders dominating the market.
Moreover, building an app from scratch can be a complex process. Handing such a project to freelancers might be risky from a quality perspective. In case your app fails due to such reasons, the covering up cost could even extend beyond the expenses incurred in development.
Building an OTT Platform is a Time-Taking Process
Well, this is not a fact, but mostly it happens. The reason is that when you offer your OTT app development project to an inexperienced development team, it usually takes more time to complete the project without compromising the quality aspect.
Moreover, it also depends on how complex your app is. A hi-tech OTT platform with best-in-class functionalities requires specific experts for a successful implementation. In such a scenario, even searching for the right people becomes a time-taking process.
There is Always the Risk of Getting Rejected
One thing that gives web apps an advantage over mobile apps is that when you release your content on the web, you are free to do it. There's no one to reject it from getting uploaded, until and unless someone reports it or your content is offensive as per the guidelines.
However, that's not the case with OTT apps. Before the content guidelines, there is a specific criterion set by the mobile app stores that must be met in order to get published. That's why it is recommended to hand over your project to an experienced development company who are well-versed with all such guidelines.
How Can Appventurez Help You with Custom On-demand
OTT App Development
?
In an industry like media and entertainment where consumer demands change every day, it is extremely important to be aware of all the ongoing market trends. Not only their understanding matters but also the appropriate solutions to deliver the personalized experience to users become the key to success.
With years of experience in on-demand app development and access to robust technologies, Appventurez has been an expert in crafting intuitive mobile apps. Our development team has successfully delivered a plethora of app development projects both locally and globally.
Besides OTT app development services, we also help our clients with advanced market and competitor analysis to develop a unique yet demanding product. With the best app-building practices and a distinctive app idea, the chances of success will be definitely high.

FAQs
Q. How OTT live streaming platforms and apps can grow your business?
Ans. With OTT apps, you can expect a mass customer reach and create a permanent bond with them. Also, choosing the right business model can help in growing revenue exponentially.
Q. Which VOD monetization model is most popular among OTT service providers?
Ans. It all depends on your company's objectives. If your primary goal is increasing your user base, AVOD models are recommended. However, to get a steady inflow of revenue, the best choices would be SVOD and TVOD.
Q. How exactly does content accessibility work in OTT streaming?
Ans. Since all the content is directly uploaded to the OTT live-streaming platforms, there's no involvement of third-party distributors like cable TV operators or broadcasters to access it.