The unprecedented disruption caused by the coronavirus-induced pandemic has driven companies to the technology tipping point – and transformed businesses forever.
Today, the only thing that is certain is uncertainty. Coronavirus, an infectious disease that originated in China, is the very first global crisis of the digital age. The virus has put the world under conditions of enormous uncertainty. It has forced millions of people to work from home, making salaried or businessmen becoming dependent on digital technology more than ever before. It has made it easier for them to manage their multiple tasks from their smartphones, PCs or laptops.
The usage of digital tools and technologies have made it possible to manage the burden of COVID-19, flatten the incidence curves to quite some extent and promote business continuity.
And since coronavirus is a unique incident that unfolded in adverse ways and the concept of Business Continuity (BC) has helped businesses function and quickly adapt in this event of a major disruption; more like sustainable development.
It is a type of business model that plans, outlines procedures and instructs the organization on the steps to follow at times of such disasters. It covers business processes, human resources, assets, clients and more.
The success of business continuity is the result of the foundation of digital transformation technologies. Let us deep dive into whether business continuity planning really matters or not.
Why does Business Continuity Planning matter?
Hope for the best but plan for the worst.
Big or small – Organizations who are prepared for the worse and adapt to the many changes, survive to thrive. Take for example Zoom – the company struck while the iron is hot and excelled because they were agile and could adapt quickly. It helped mitigate the coronavirus impact on industries by allowing businesses to stay connected from any part of the world.
Though the report states that about fifty percent of the business have a business continuity plan yet planning through technology is the only thing to deal with the challenges that come along.
"Testing your business continuity plan is essential. It is the only way to truly know it will work. Don't go for an easy scenario; always make it credible but challenging. This is the only way to improve. Also, ensure the objectives are measurable and stretching. Doing the minimum and getting away with it just leads to a weak plan and no confidence in a real incident", says Lorraine O'Donnell, global head of business continuity at Experian.
Moreover, the best way to retain current customers is having a business continuity plan, integrated well with digital solutions. This gives a greater resiliency at times of adversity and a leg up on your competitors. But how do you devise a plan that will work when you need it?
Key Features to an Effective Business Continuity Plan (BCP)
To deal with the current and unforeseen crisis, pandemic readiness and business recovery, include these components to build an effective business continuity plan: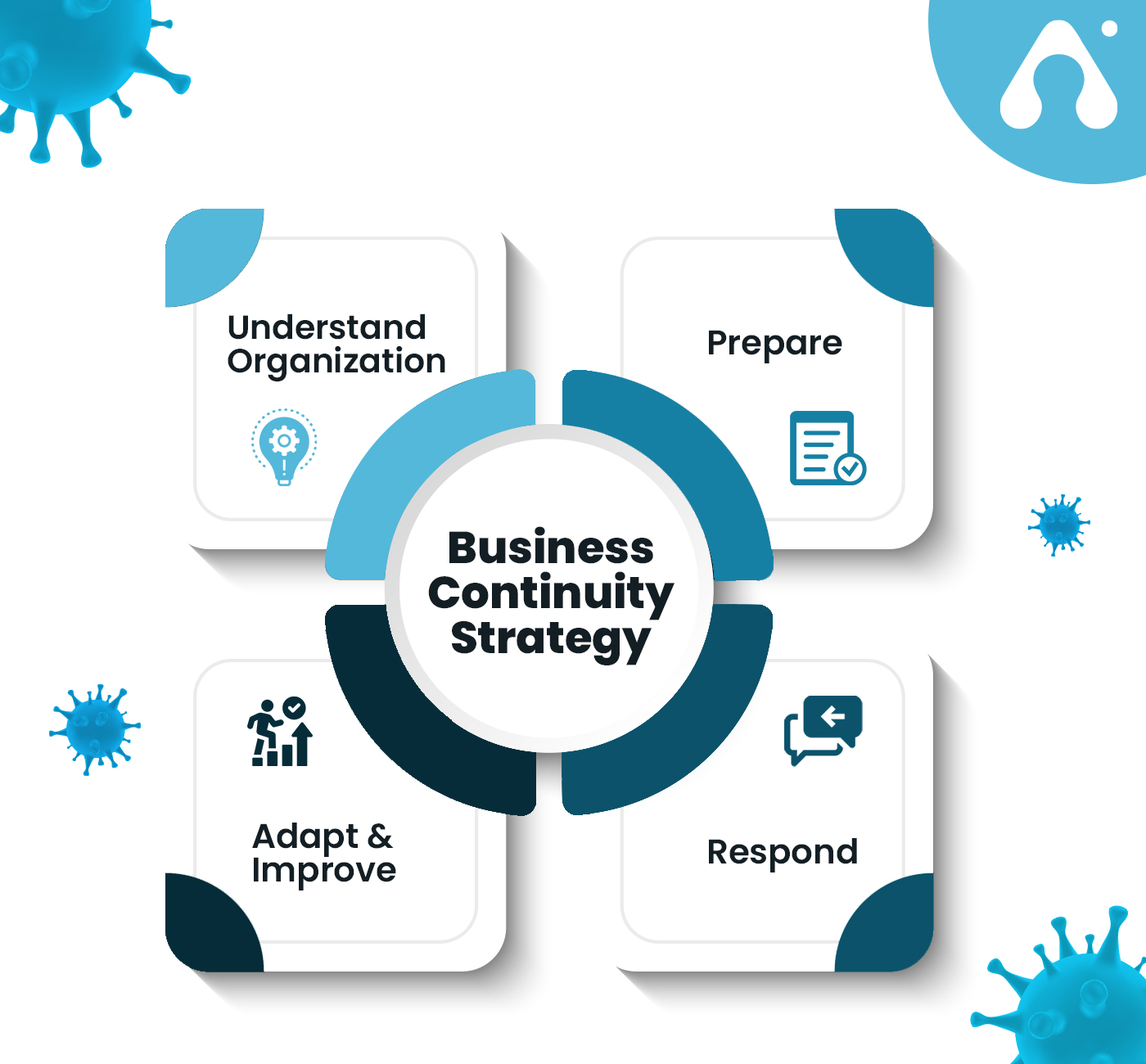 #1 – Strategy
A clear strategy should be able to identify gaps and improve day-to-day activities while ensuring continuous operations. Determine the anticipated time to carry out your defined response strategies. Also, calculate how long each strategy can remain effective.
#2 – Organization
Organize objects that are related to the structure, skills and responsibilities of its workforce and are measurable & stretching.


#3 – Data & Applications
Data and applications are the objects that are related to the softwares required to carry out business operations, as well as provide availability used to implement those software.


#4 – Processes
This involves your critical business and IT processes that are crucial to run the business and ensure smooth operations.


#5 – Technology
As the name suggests, it includes the objects that are related to the systems, network and industry-specific technology that are important to enable continuous operations and backups.
#6 – Facilities
Facilities are the objects that are related to providing a recovery site (as a backup) in case the primary site is destroyed.
COVID-19 has shown us the importance of successful resilience planning that is a company-wide responsibility. By structuring your plan effectively, setting goals and objectives, deciding roles and responsibilities, practicing smooth communication and continually revising your plan time-to-time, you can build an awesome business continuity plan that is all set for any future disruption.  
Also Read | Impact of Covid-19 on business apps
The Importance of Digitalization in the Covid-19 Crisis
Who led the digital transformation in your company? 
the CEO 
the CTO
COVID-19
Of course, the answer is C. Though funny, it's true.
The past year has been grim and difficult for both people and businesses. The pandemic has caused major disruptions to our daily lives. However, one thing that has been keeping us all sane from this grave situation is digital adoption.
As millions of people across the world limit their movement, avoid public gatherings and create a makeshift work-from-home space to slow the spread of COVID-19, businesses are adopting digital tools and technologies to serve customers and protect employees.
"We are witnessing what will surely be remembered as a historic deployment of remote work and digital access to services across every domain", says the CEO of a large tech company. 
The coronavirus-induced pandemic has pushed consumers dramatically towards online channels and compelled businesses to facilitate the transformative power of digital technologies.
"From the very beginning of the crisis, we used technology as an enabler, considering
citizens at the center. Technology and digital tools have been part of every single
task force we have built." mentions Roberta Cocco, Deputy Mayor of Milan for Digital
Transformation
Though the series of technological advancements were already changing the world over the past two decades, the pandemic only amplified the adoption of new technologies and changed the very nature of how we work. 
Here are some facts and stats that prove the same and will help you better assess your digitalization needs. Take a look:
Moreover, the ability to connect online has served as a lifeline to businesses as well as consumers for a safe, virtual social engagement and a way to continue their societal needs.
As a means to respond quickly to the global crisis, companies are implementing digital technology solutions such as cloud computing services, AI/ML development, AI-powered applications and data and cybersecurity for increased visibility, collaborative working methods and home working. 
In these trying and tested times, COVID-19 has highlighted the urgent need for resilience and digital capabilities. Most importantly, businesses need to be prepared for sudden changes. But, sadly, many companies simply aren't there yet. To accelerate your use of technology on covid-19, we present you with some persuasive benefits of digital technology.  
Thinking of adding value to your business via digitalization? Need help? Get in touch with Appventurez – the leading mobile app development company.
Benefits of Digital Technology
Digital technology has changed the way we live, play, communicate and work.
Almost every customer has already migrated to digital and employees are working fully remotely for more than a year now. The hot topic of discussion, digital transformation, that was 'nice to have' has become 'must have' and a subject of interest for business leaders within the dead of night.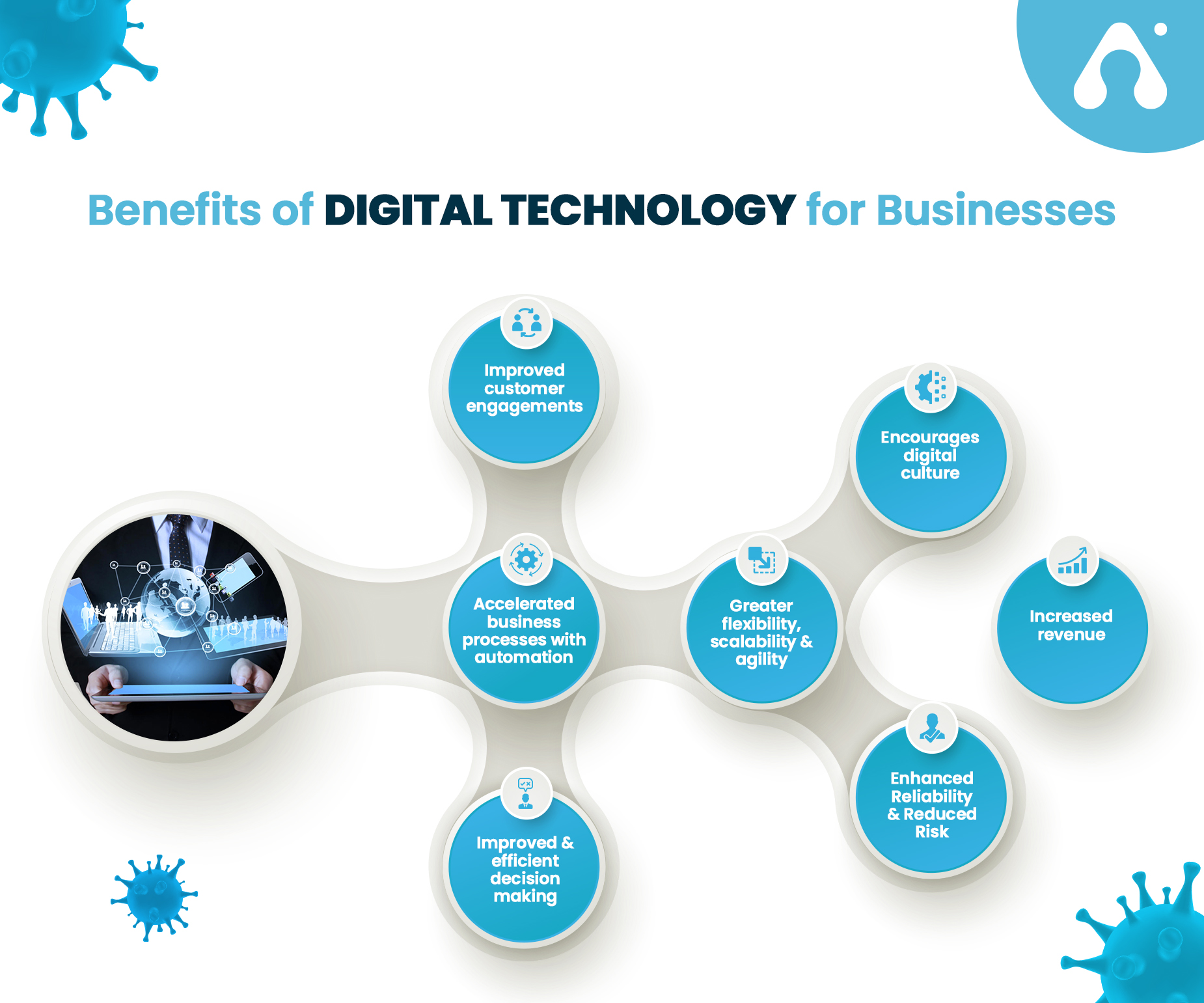 In short, going digital has become paramount. On that note, here are some of the top benefits of digital technologies transformation:
#1 – Better Customer Experience 
It is a well-known fact that a company that embraces digital transformation stands a higher chance of serving its consumers efficiently. Automating tasks improves both customer and staff experiences and this results in faster turnaround times.
The better the customer satisfaction levels, the faster the turnaround times and the higher the digital transformation success rate will be.
Read – Digital transformation lifecycle explained
#2 – Improved & Efficient Decision-making via Real-time data collection
One of the main benefits of digital technology is that it eliminates time-consuming manual labour that further results in cost-saving via process automation.
With the data analytics tools, data collection and analysis has become a lot easier and further, helps to enhance business strategies by allowing businesses to study the online habits of their consumers.
More data leads to faster, more accurate decision-making. Also, automating tedious tasks like data collection reduces human error.


#3 – Greater Flexibility, Scalability & Agility
A major advantage of digital transformation is leveraging modern, scalable solutions to provide greater scalability, agility and flexibility. 
Manual processes often create bottlenecks when workload strikes. Also, there are chances some manual processes might not scale as expected. That's when modern software and processes easily integrate with your business workflow and accelerate the process manifolds – without manual intervention.
#4 – Enhanced Reliability & Reduced Risks
According to the McKinsey report (Digital risk: Transforming risk management for the 2020s), "Improving the efficiency and effectiveness of current risk- management approaches, digital risk initiatives can reduce operating costs for risk activities by 20 to 30 percent."
As businesses continue to advance, the old technology might not be a wise choice to rely upon. And this makes your business prone to failure and susceptible to cyberthreats. Therefore, as your business expands and grows, the technology and processes have to evolve. 
Now, you see how digital technologies are essential not just to survive but also to thrive even during challenging times. The only thing you need to keep in mind is business and objectives.
To get detailed insights and decide whether you should outsource your digital transformation project or not, contact us.
How is Digital Technology Aiding Business Continuity During the COVID-19 Crisis?
The pandemic has proved to be an eye-opener for business owners who were, earlier, hesitant to adopt digital tools and now find themselves struggling to use technology to deal with the crisis.
Now that we know how digital technology is enhancing customer experience, let us know-how, even in the time of crisis, people are closely connected to each other virtually while practicing social distancing.
#1 – Work From Home
After facing a huge 'NO' for all these years, Work from home has now become the new normal. Addressing and embracing collaboration technology and digital channels have maximized workforce productivity and are maintaining company culture.
According to a report by Workhuman, 'Merely 1/3rd of the population in the United States worked remotely before the pandemic hit. But now, almost all businesses are operating virtually.'
Also, employees working from home are helping save an economic meltdown. Companies that once relied on manual work are leveraging top digital solutions during covid-19 to get things done digitally. 
#2 – Cloud or Edge Computing
IoT or Internet of Things devices are becoming more powerful and widespread. Companies are utilising top IoT trends for businesses to transform how data is handled, processed and delivered. 
Moreover, companies can avail cloud benefits by integrating edge computing with centralized cloud computing. This results in the maximisation of latent qualities while minimizing constraints. 
#3 – Robotic Process Automation
Robotics are cost-effective, quick to implement digital bots that are programmed to perform multiple repetitive, rule-based software tasks (data entry, CRM data management, data normalization, etc.) efficiently with high levels of accuracy. The system is known to benefit different facets of your business, freeing up your resources for higher engaging, valuable work.
RPA has proved itself to be a promising business-saving value amidst the COVID – 19 scares where employees find themselves restricted when it comes to performing all the tasks remotely.
Similar to RPA, drones are potentially used to carry essential items and medical supplies, saving time and improving response time. In fact, in some countries like South Korea and China, drones are increasingly being used to spray disinfecting chemicals in public spaces and infected areas. 
Also Read | Why should IT Companies switch to Automation Testing?
#4 – Technology/Automation 
Artificial Intelligence and Machine Learning have been used for better performance for years now. These digital transformation technologies empower companies across various industries to leverage value from customer data easily.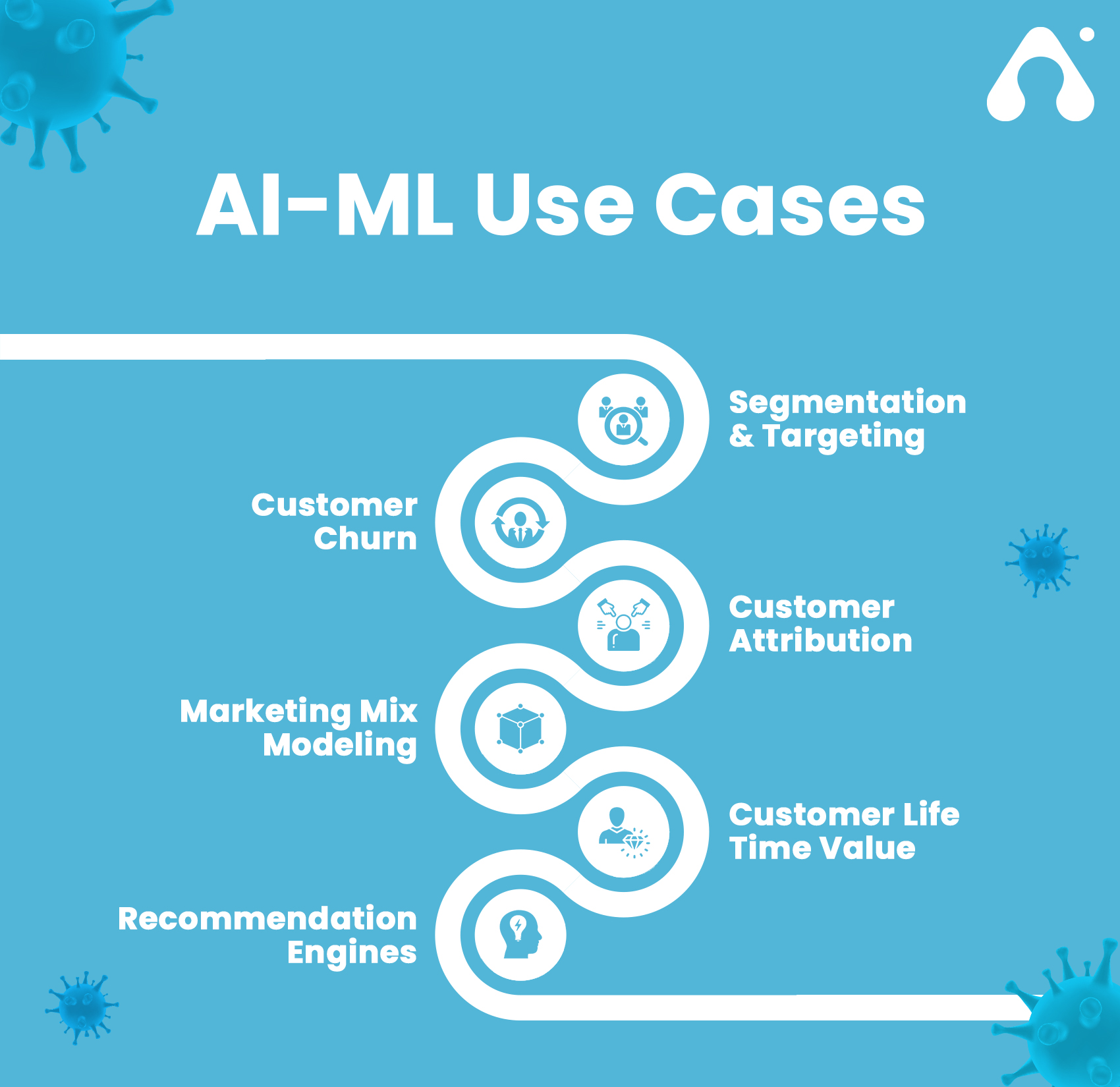 In the present scenario, these technologies are utilised in detecting the spread of this pandemic. Several mapping platforms are launched that are used to collect data from multiple sources and provide timely updates. 
New technology is being rolled out every now and then for easy detection of viruses so that the infection can be contained. Companies that leverage Artificial Intelligence technology can apply predictive analytics to map the real-time data. This prevents failures before they occur.
#5 – Virtual Events
With the lockdown, quarantine, social distancing and the ban on all types of events, the industry has been suffering a lot lately. But every cloud has a silver lining. 
With the development of remote work and no human congregation, virtual events have become the best solution during the pandemic. The acceleration in the usage of digital platforms waives the crowd limit, saves cost and allows thousands of participants to attend the same event from all over the world, at the same time.
#6 – Video Conferencing
Video conferencing solutions have been a life-saver for companies. With little to no chances of offices resuming anytime soon and travel being restricted, video conference and cloud meetings have kept businesses from falling apart and operating seamlessly. 
So these were some of the ways how companies across the world are keeping up with top digital solutions during covid-19 to support their business. With changing times, companies can empower themselves by adhering to different digital tools and have business continuity in times of crisis to keep up with the pace of the world.
How Appventurez can Assist your Company with Business Continuity? 
Though the coronavirus pandemic is concerning and disruptive, the way we act now will definitely make a difference in the future and eventually lead to successful business recovery.
There will be no "return to normal", at least anytime soon. That is why wide-scale digital solutions adoption becomes our only choice to outlast the pandemic. In order to stay competitive, organizations need to respond to these changing times to meet emerging customer demands.
Having trouble staying afloat? Appventurez can help!
Our bespoke digital solutions are enabling customers to automate workflow, enhance asset management and improve decision-making for business continuity. We have helped many to navigate through challenges, we will help you too by building stronger resilience solutions. Contact us today!
---
---