Even the educational sector is now a platform seeing tech innovations from the last few years. The innovations are once again popularising the concept of self-education. 
With just a smartphone and educational app, the tech is not just limited to kids, or students but also a great platform for adults too. What was once majorly used for communication, games, messaging and others is now also a platform for studying and teaching. 
And due to lots of good things integrated into the best educational apps, studying is no more boring and tedious, in fact, it is more interactive. 
On the other hand, to make the experience flawless, a leading mobile app development company is working hard for robust results. 
Therefore, there is no denying that today, apps and smartphones are not limited to communication, entertainment, gamification, and others, it is now a medium for educating the masses too. 
Here, in this blog, we will be explaining to you how to develop an educational app and what it all requires for expected results and a more user base. 
Let us begin with some quick facts about the educational domain and the factors behind its popularity in the educational app development guide. 
Educational domain facts and statistics
As per Statista, the worldwide e-learning market is forecasted to surpass 243 billion U.S. dollars by 2022. Around 65% of teachers are in the support of open teaching educational resources whereas 63% showed interest in a competency-based education system. 
The number of e-learning mobile apps approaches 600K to-date – 275,210 on App Store and 308,438 as per Google Play statistics.
About 92 percent of students worldwide are interested in personalized support and information on degree progress. 
During the first quarter of 2020, the COVID-19 pandemic caused a surge of downloads of educational apps. 

Statistics and the popularity of top educational apps are on the rise and so do the development and competitiveness of it too. Let's understand every aspect of educational apps for reaching the list of successful apps. 
Types of educational apps
Educational apps are generally divided into 2 categories- Apps for teachers and Apps for students. For getting started with educational apps, you need to be sure of where to invest in. 
Get clarity of both the types of applications- 
Educational apps for teachers
Apps for teachers are different from the apps meant for students. Educational apps for teachers are meant to ease their process of teaching. These apps are capable of tracking student's performance and progress along with the ease of sharing the grades and reports to parents. 
Furthermore, these apps can schedule classes with students while gaining feedback from students too. 
Here are things a best educational app for teachers can do-
Gamification
For making the overall process of education fun and interesting, gamification has been added to make the classes fun and engaging. Take the example of- Kahoot. The app lets tutor and teachers prepare questions and answers and then convert them into the form of games. 
Another example is Monster Math, it also makes the understanding of mathematics through cool games.
Tracking progress
There are features in educational app that allow teachers to track and monitor students' progress while sharing their grades and results with parents too. 
Seesaw is one such application that provides the learner's portfolio and lets teachers share the grades with their parents. Additio's study app features managing notes, attendance, and grades of the students with timetables too. 
Learning materials
The cloud-based platforms are a great platform for sharing and storing huge amounts of learning material. Through the saved data, getting solutions are easy and convenient for both. 
Know- Top cloud computing trends 
An app called Schoology, allows teachers and students to make notes and highlight them in the form of text. Another app by Google called Google Classroom works with Google Documents, creating a copy for each student, or making a folder on Google Drive.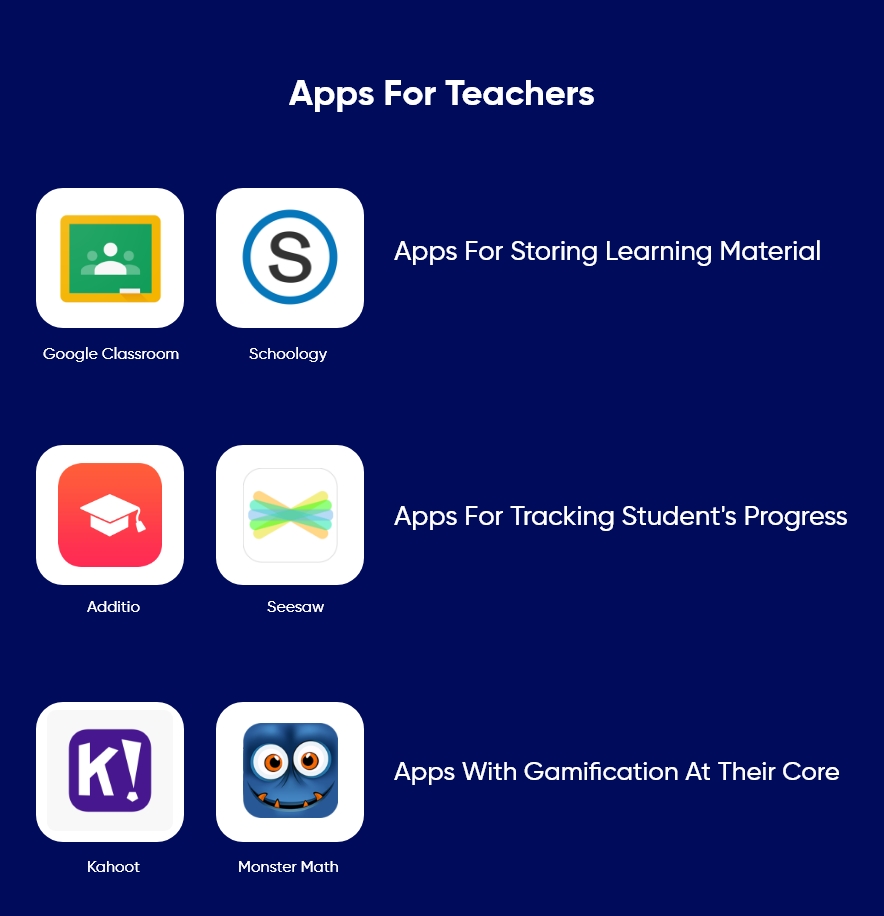 Education apps for students
Students require apps for getting information about various different subjects. And hence, there are a lot of top educational apps already available in the market. 
For learning language
There are students and people who are willing to learn foreign languages and thus require constant practice. Also, a lot of top educational apps are in the market for teaching people to learn new words in a fun way along with videos too. 
Take for example- Duolingo. It is an app that provides users with testing their level of language knowledge. Thus, the app provides a course based on the data collected. Meanwhile, another app called Memrise that offers short videos with native speakers. Using the video, users can simply learn the language via videos. 
Apps for kids
Educational apps are not just limited to adults and students, there are apps for kids too. Through the best educational apps, kids can learn lessons via games. With such applications, kids can learn writing, reading, or counting. 
The best educational app called Poptropica English. It is an app that offers children solving mysteries for practicing English lessons. 
For online courses
Universities and colleges are also coming up with best educational apps for letting adults(students) pick courses as per their choice. 
An app called Coursera which is widely known for online learning. The app offers numerous courses related to various industries along with working with many major universities and colleges. 
Another app known as Udemy offers tutors for multiple topics. This platform comes up with great search capabilities and filtering systems. 
Preparing for exam
There are numerous apps available like GradeUp, ExamPrep offering great solutions to students. These solutions offer quizzes, test papers, memorizing chapters, flashcards, and others. 
Another app called Maximum provides solutions related to K12 school subjects, IT, English languages, programming courses, etc.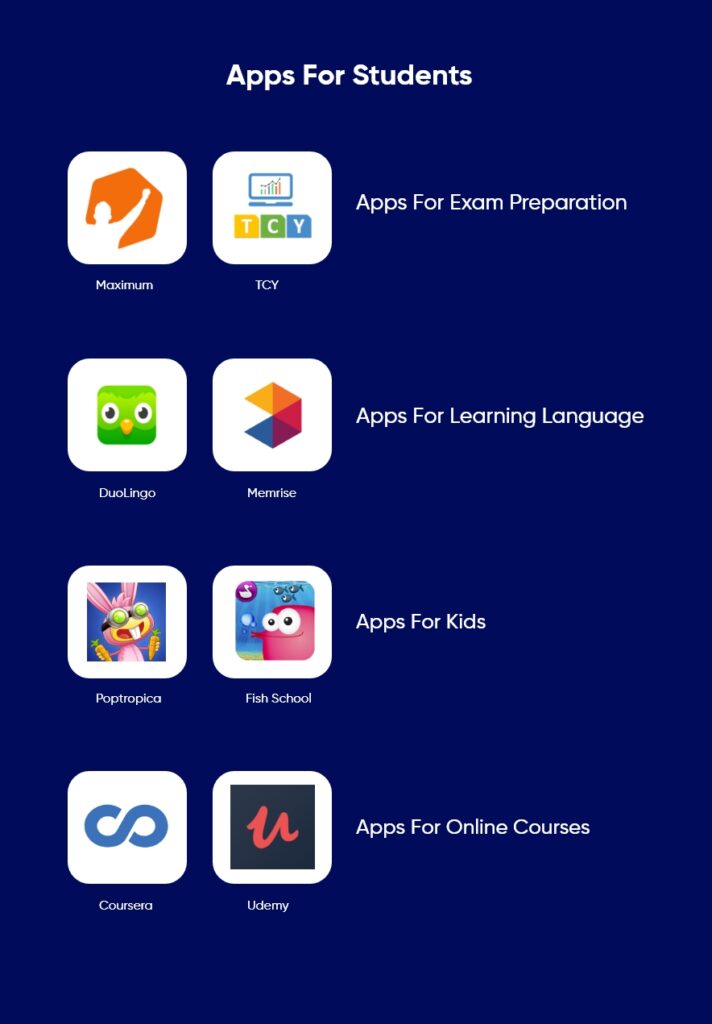 So, these are the types of educational apps you can get started with. Hence, in order to get started with the app, let us now figure out the features in educational app that are the core requirements of educational apps. 
The next few scrolls are elaborating how to develop an educational app. 
Top must-have features in educational apps
Video-based content
Education apps for students are the platform that allows students to read, write, and listen along with letting students listen to the pre-recorded lectures and chapter wise lessons by teachers. 
Also, students can gain access to the classroom anytime, anywhere. Apps that are based on video-based content allows students to zoom in a particular image with options for fast-forwarding/rewinding whenever possible. 
No doubt, video-based content is going to revolutionize the study pattern in the educational app industry. Hence, the demand for such content is surging high. 
Interactive content
Content that is interactive can gain more momentum as compared to content which is not. Apps that are widely interactive, defined nicely, with elaborative images catches more attention than apps that are only about information. 
Also, as we are saying interactive, it means the content should be filled with engaging content too. Here are the factors that can help:
The written content should be mobile-friendly. 
Each and every content of the app should be based on the target audience. 
For more engagement, the content should be filled with fun & interesting facts and statistics.
Ensure, the content should always be understandable and worth reading. 
Live sessions and tutorials
The educational apps for teachers and students should have the potential to host interactive live sessions along with daily tutorials for students. On the other hand, live tutorials can have live interaction with tutors and teachers for solving queries. These tutorials can also be used for answers on many different topics. 
For a more enhanced experience, the virtual environment can be made using the "chat now" feature. This will help students with a better experience. 
Knowledge testing
In order to check out the progress of the students, hence, tests are required for the same. Hence, your education app should offer mock tests, quizzes, test papers, etc based on subjects, topics, and languages. 
Using these test papers, students can easily test their progress level based on capabilities, topics, chapters, subjects, and others. For more enhanced interaction, adding videos, audio clips and others can be added to let students gain more tips and knowledge. 
Offline mode
Internet connection availability is an important thing and apps usually work upon the internet. But the internet can be a concern for many students, therefore, the best education app should offer an offline mode. The offline mode thus lets students offer the capability to download and access chapters. The offline accessibility of the app will attract more students and people. 
Gamification
Any app that comes up with gamification attracts more number of students with enhanced user experience. Through fun learning and gaming experience, students can simply understand topics that require in-depth understanding. 
Read also- Top UX techniques to follow
For a more healthy gamification experience, digital classrooms with digital badges can attract more students for a longer period of time. Apart from that, gamification also helps in student cognitive development through the app. 
Push notifications
There is no better way than push notifications to inform teachers and students about newness in the app. Topics, chapters, and others can be notified to the people via notifications. 
These types of educational app notifications thus help users to be engaged with the content they might be missing. 
Social media integration
Social media platforms are the best way to connect with users. Through social media integration, information and content can be further shared on social media channels like- Facebook, Twitter, LinkedIn, Instagram, etc. 
Also, through the YouTube channel, where uploading tutorials, contents, classes can be done. This way, you will always be connected to the existing users wherein getting the chance to connect with new users. The overall process will then encourage users to remain connected with the app. Meanwhile, ensure you are offering great video quality and decent content. 
Personalization
App personalization is important in the best educational apps for a better user experience. By gaining user insight and other required information, the personalized home page, and other recommendations can be given to the users. 
Feedback, corrections, tests, and others can surge the learning curve too. This way, users can simply gain their level of understanding and experience, while getting exact solutions to their problems. 
 App localization
Learning is universal but languages are different. The majority of students are dependent upon the best educational apps for gaining knowledge. The situation is crucial in times of coronavirus. 
For every student, it is crucial to offer them knowledge in their own language. Here, app localization plays an important role. A detailed guide to mobile app localization can help you gain a deeper level of understanding. 
Payment options
How to earn money by developing a mobile app is what every startup or organization thinks about before investing in an app development project. And thus, some apps are free whereas some are free for particular segments and later ask for a subscription fee. 
Apart from that, ensure you are offering users a secure payment gateway as they will be filling their personal financial information too. The future of payment industry thus will be more secured, robust, and intelligent. Ensure you are also taking the leverage of it. 
Feedback
Feedback is important, they help in redesigning the overall process and correcting what is bothering users. Similarly, when it comes to educational apps, offering the option of feedback is important. It will help in sharing the thoughts of both parties- Teachers and Students. 
By analyzing the feedback, further corrections can be made into applications for more comfort. 
With it, here in this educational app development guide, let us check out educational apps in the market that are being used by millions. 
Top Educational apps in the market
Duolingo
The perfect platform for all those who are interested in learning foreign languages. Duolingo offers a range of lessons for popular languages like Italian, German, Spanish, English, and many others. 
It also gives convenience to users as they can select their native languages making the learning experience comfortable and easy. 
Udemy
For better experience and high-quality lessons, Udemy is one of the top educational apps for the same. It offers high-quality lessons from individual tutors. 
Also, the app is popular for offering various courses to adults too. The available categories are business, accounting, software development, personal development, and many more. 
Photomath
For all the maths wizards, Photomath is the right app solving high school algebra questions. All you need to get a solution is to snap the image of the question or type it, the app then breaks down the solution into different steps. 
edX
edX apps allow everyone and anyone to learn things from known institutions like McGill, MIT. One can also gain a certificate from the institution too. 
This one of the top educational apps gives ease to one by letting them access online lectures, quizzes, and assignments. Meanwhile, a few of the certification courses demand extra cost too. edX is worth a try for higher education.
Periodic table
Periodic Table app from the Royal Society of Chemistry is equipped with podcasts to videos about elements. The app offers to learn about periodic tables while showcasing different levels of data for everyone starting from novice to AP chemistry students. 
GradeProof
GradeProof is an app that helps students to improve their writing, one sentence at a time. Its AI offers ways for improving style, originality checkers along with identifying the complex grammatical issues. 
Though the app is free, after paying some fee, you can unlock more advanced features in the app with options like eloquence, plagiarism checker, grammatical errors, etc. 
And there are many known apps offering great services and lessons to each student. But developing apps that solve complex equations or related complex things are challenging as compared to other apps with chapters and topics. 
This is the reason, by choosing the right tech stack and the current technology, educational app development guide can solve complex problems in seconds and can become a little less challenging. 
Let us now check out the mechanism or the overall technology stack for developing educational apps behind. 
Technology stack for developing educational apps
For developing a robust mobile application, there are tools that are required for e-learning mobile app development. Cross-platform vs Native app development is the first thing that has to be chosen along with choosing between iOS vs Android is also important. 
Along with that, native mobile apps work on programming languages like Kotlin and Swift. On the other hand, cross-platform development, Flutter is used. 
Know- The ultimate guide to Flutter mobile app development 
For the mechanism behind developing mobile applications, the technology stack  is the utmost important thing to use. 
Here is the technology stack for developing educational apps –
Android app
Networking: OkHttp 3
Programming language: Kotlin
iOS app
Networking: Alamofire
Programming language: Swift
Back-end development
Database: MySQL
Programming language: Node.js
Framework: Express 4
API: Swagger
Check out- Essential mobile app backend development guide
Tools
Push notifications: FCM
Signup: Amazon SES, Amazon SNS
Payment: Braintree
Emails: Elastic Email
Search: Elastic search
Storage: Amazon S3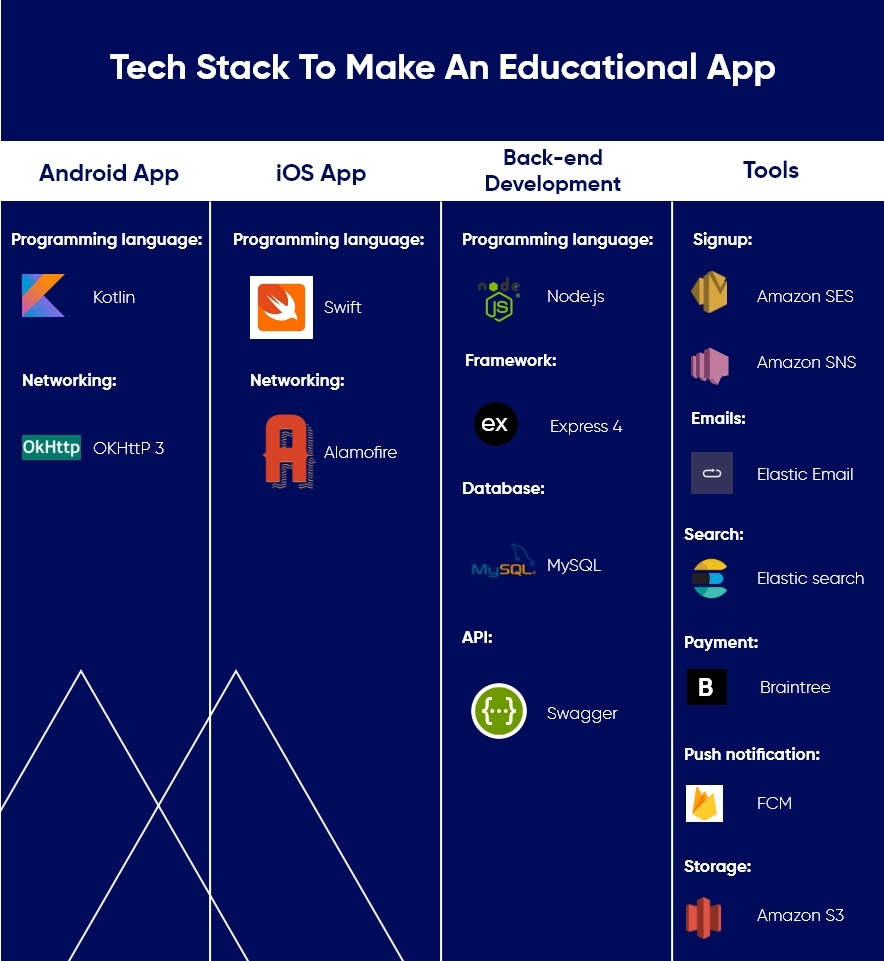 Factors affecting the cost to develop an educational app
Content
Content is the first thing in an educational app that catches the attention of the users. This is the reason, the content should be nicely placed and clearly explained. 
Also, educational apps are filled with various types of content as per the topics and subjects. The new medium of educating students is now focused through text, images, video, and audio along with online streaming. 
Here are a few things that matter in how much does it cost to make an educational app- 
Traditional contents are usually straightforward and generally take the time of 2 months by developers and designers for implementing images, text, video, and audio. 
Combined content needs to be clubbed with many stuff together. Thus, the combined content development required 3 months. 
The third time of content is custom content calls for more development time. Custom content usually takes 6 months to get completed. 
Such kinds of content are required for different kinds of educational content. Thus, these kinds of content demand a certain amount. 
The teaching and learning process
There are types of procedures that are involved in teaching and learning. Thus, there are different flows common to educational apps-
Downloadable content– Downloadable content is simple as it leaves the process of learning outside. For that matter, students are required to download lessons, learn them, and be done! Such educational apps can be made in a month and majorly depends upon the graphic design. 
Testing– Keeping an eye upon student progress report is one of the features in educational apps. But this kind of online testing though is tricky and risky. And such type of online testing app takes more time of around 6-8 months. 
Teacher and student collaboration– There are types of educational apps that are designed for direct student and teacher communication. Students via the app can resolve their queries by communicating with the teachers and on the other hand, teachers can further send lessons and answers to the students. These applications take around 4-6 months of time. 
Content and licensing
Content and licensing is a part of how to develop an educational app divided into 3 different sections-
Paid content– Paid contents are a little simple and consist of the monetary plans of the applications. Such applications provide students a pack of paid lessons that can be used and marked whenever required. These kinds of educational apps take around 1 month to complete. 
Subscriptions– For more information and elaborate content, subscriptions are offered to the users. Payment plans thus require an additional 1 month of time to complete. 
Licensing- There are types of educational apps that are made for particular schools and institutions. Such an app platform requires a further licensing approach that can allow schools to start using the app. The practice might include the involvement of third-party licensing providers too. Here the process is a little more challenging and thus calls for 2-4 months of time as per third party service providers.
Meanwhile, content duplication and theft are common as the content is accessible to any users. Thus, content protection is also important but in the midst, do not forget to pain your users or deprive them of accessing content they want. 
Gamification
Turning education and chapters in the form of games and fun activities are the new trend of educational mobile applications and are part of how to develop an educational app. And this is the reason, many educational apps do come with the feature of gamification for easy and advanced learning. 
Also, gamification is a great source of tool to elaborate and make students understand things in a visual manner. Developing gamification takes quite a long time to complete. 
These are some of the factors that affect the cost to develop an educational app. So, let us now figure out the cost of educational mobile applications.
How much does it cost to develop an educational app
Educational apps' costs are divided into different parts. So, here is how much does it cost to make an educational app
MVP features
MVP is important when it comes to finding out what features are being liked/disliked by the users. Also, through reviews/ratings, organizations can simply analyze how to enhance the user experience along with getting insights about what feature to be added next. 
Here is how the MVP features that affects cost to develop an educational app-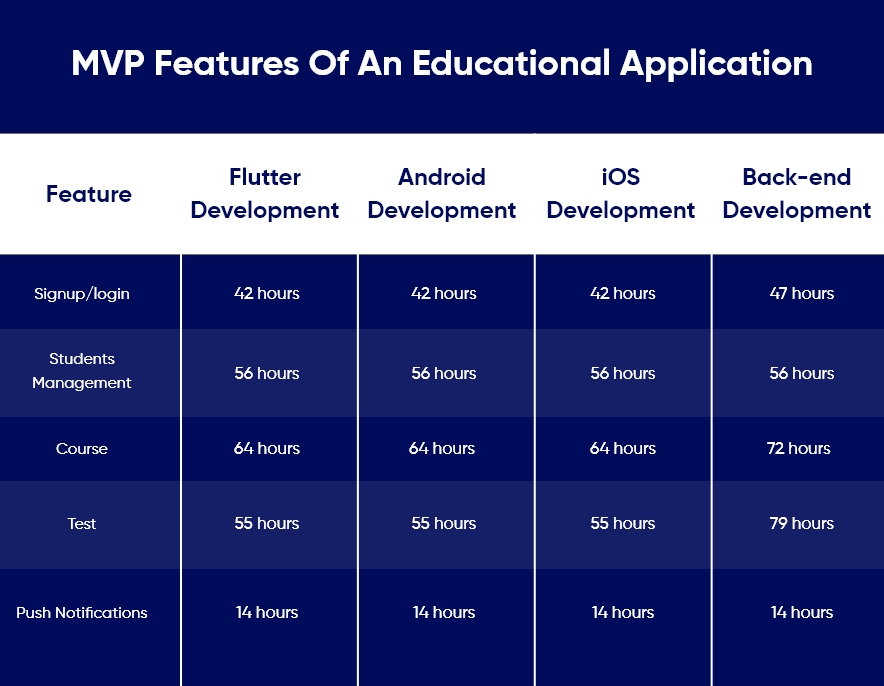 Meanwhile, you can simply add a little more advanced features like- 
Additional features
Platform– There are 3 platforms for how to develop an educational app- iOS, Android, Windows. So, in order to get started with educational app development, you need to choose either native or cross-platform which means, either iOS, Android, or iOS and Android, or windows. 
Developer's location– The developer's region also plays an important role when it comes to the costing part.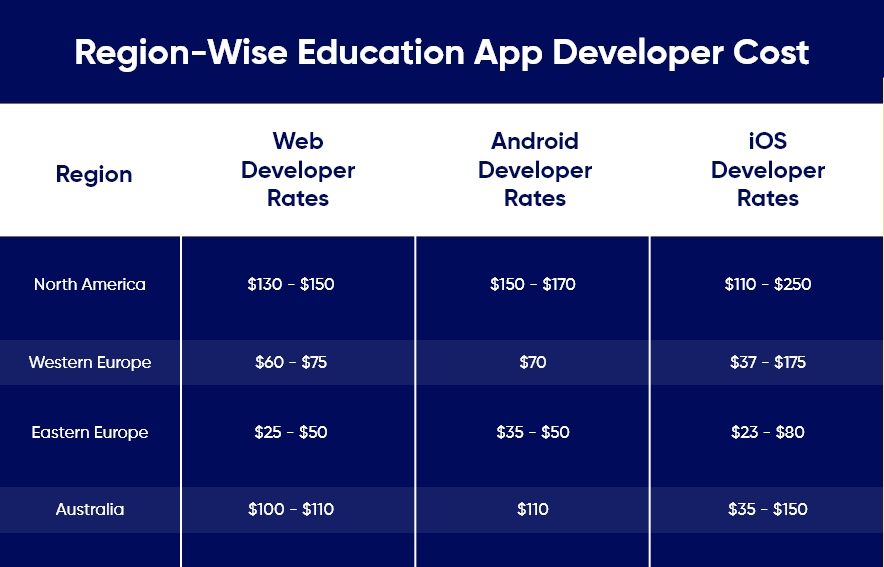 Design– Designing is the most essential part of any application that answers how much does it cost to make an educational app. Failing to serve the app as per the app requirement can turn off users to use the app. Also, at the same time, it is essential to make the designing thing freely navigating. 
Meanwhile, the Admin Panel, QA time, DevOps Time, are quite common and calls for a certain amount.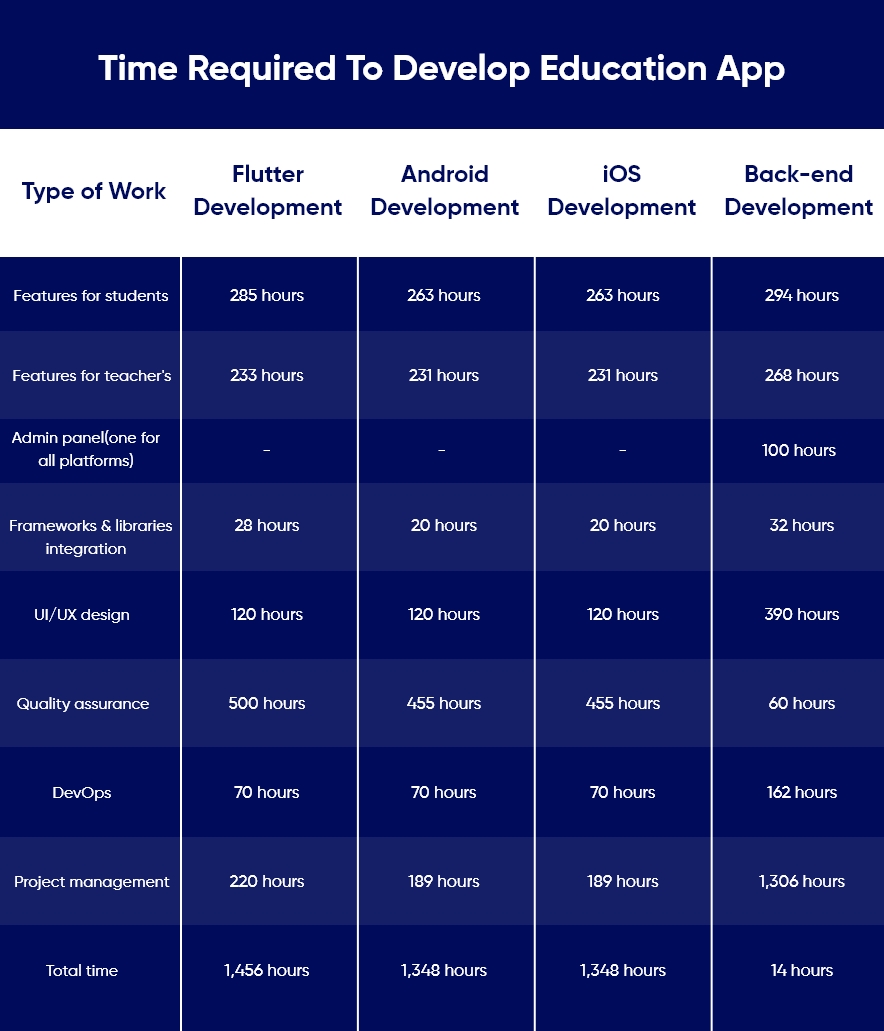 Furthermore, the platform-based cost somehow looks like this-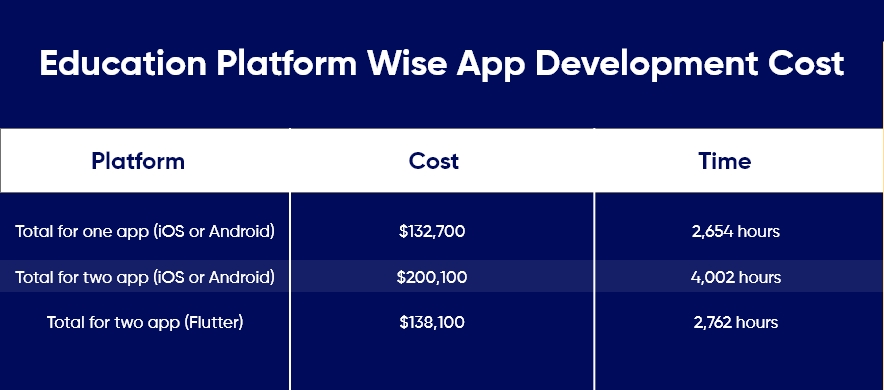 Monetization model for educational app
Here are the monetization models for an educational app that are divided into different categories- 
Freemium
Advertisements
Paid apps
Freemium
One of the mobile app monetization models is freemium which offers users free access to the educational app. 
Advertisements
Ads are one of the monetization models for educational apps that help organizations earn additional revenue. By using nice strategies, the leading mobile app development company can greatly work.
Paid apps
You can develop your app by letting users pay for accessing some or many features of the application. 
These are the methods of monetization model for educational app that can be opted for educational mobile app development. 
So, now that we have reached the final part of the blog- are there more trends related to educational mobile applications? 
Well, there are still a few are in the list used in educational apps. 
Let's have a look at them-
Top educational apps trends in the market
AR-Based Education app
Every day new technologies merge for the betterment of every day. When it comes to educational apps, by integrating AR into the app can explain students' concepts about various different subjects. 
Flashcard apps
Apps like StudyBlue that work on the mechanism of Flashcards are based on simple ideas. Flashcard apps help in noting down the points of things about a specific subject. Using the app, students can simply create custom flashcards along with options for exploring built-in libraries.
Vocabulary apps
Vocabulary apps are meant for letting users learn words every day. This way, students can enhance and strengthen their knowledge too. 
These apps can be further used through word games, puzzles, and quizzes, for more elaborative learning. You can also use this section in your educational app as an additional feature. 
Personal tutor app
One of the top ideas for educational apps is a personal tutor app. 
Some students need guidance every time they study. Thus, on-demand tutorial apps allow students and children to find qualified teachers for themselves from any corner of the world. 
This can be another educational app idea you can get started!
Game-based education
Education can also be taught using game-based fun facts. Game-based education can actually enhance the overall experience of the kids and students in an elaborate and fun way. 
Apps for disable
For better convenience and to cover each aspect of the educational domain, you can develop your app for disabled students too. Through the app, students can simply learn and educate themselves irrespective of their disability. 
This is not the end, there is much more to be known about how to develop an educational application. We, the topmost mobile app development company, can let you succeed with your educational mobile app using the best of technology, expert mind, and current demand of the market. Using the agile methodology, we can transform your educational app idea into the right business.
For more clarity and information, connect with our experts today!
---

Ajay Kumar
CEO and Co-founder of Appventurez
Ajay Kumar has 15+ years of experience in entrepreneurship, project management, and team handling. He has technical expertise in software development and database management. He currently directs the company's day-to-day functioning and administration.
---