"Meditation is the Best Medication for a Stressed mind."
We live in a world that is continually changing and where individuals lead economic lives. We are always occupied with a variety of obligations. Everyone is responsible for something, whether it is taking care of the family or working.
As a result, stress has evolved into a 21st-century sickness that necessitates the use of mindfulness tactics, therapists, and dedicated meditation practices daily. We had never before encountered such high levels of anxiety. As a result, we must use current technology, such as smartphone applications, to reduce everyday stress and improve our mental health.
Creating your own meditation app is currently in great demand. Mindfulness app creation appears to be a popular service when it comes to attempting something new to relieve stress. The first meditation applications to provide this service were Headspace and Calm.
Many people disagree on the effectiveness of meditation, yet developing meditation software like Calm or Headspace makes it logical. If you agree, our recommendations can help. You can accomplish the same thing with a few tweaks and enter the lucrative and important meditation app developed by a meditation app development company.
Table Of Contents
Meditation App Market Growth
Benefits Of Meditation App
Things to Consider for Creating a Meditation App like Headspace and Calm
Must-have Features for Trending Meditation Apps
Popular Categories of Meditation Apps
Top 5 Meditation App
How Much Does it Cost to Develop a Meditation App?
Why Approach Appventurez for your Dream Meditation App?
FAQ's
Meditation App Market Growth
Calm began by assisting individuals in meditating and living a stress-free existence while putting their phones away. As a consequence, according to the most current statistics, the meditation app's worth, which was $189.64 million in 2018, is expected to rise to $4377.95 million by 2027, with a CAGR of 41.3 percent.
Experts foresee that meditation apps will make a super duper hit with splendid growth, resulting in approximately USD 4,377 million in 2027.
Users rely on meditation apps to deal with anxiety & cognitive issues. The surging popularity of apps for meditation inspires entrepreneurs to know how to create a meditation app.
North America holds the biggest market for meditation apps with a 3-fold increase in the count of meditators from 2012 till the present.
The US meditation app industry will generate over $ 2.08 billion by the year 2022.
In the Android vs iOS comparison, users choose iPhone over Android devices to access popular meditation apps for self-care.
Many healthcare mobile app development guides for startups & medical service providers are looking forward to investing in the best self-care apps for meditation not only to maximize their profits but also to simplify the life of their target customers. The stats on the success of meditation apps give us the best reality check on their growing prominence in everyone's life.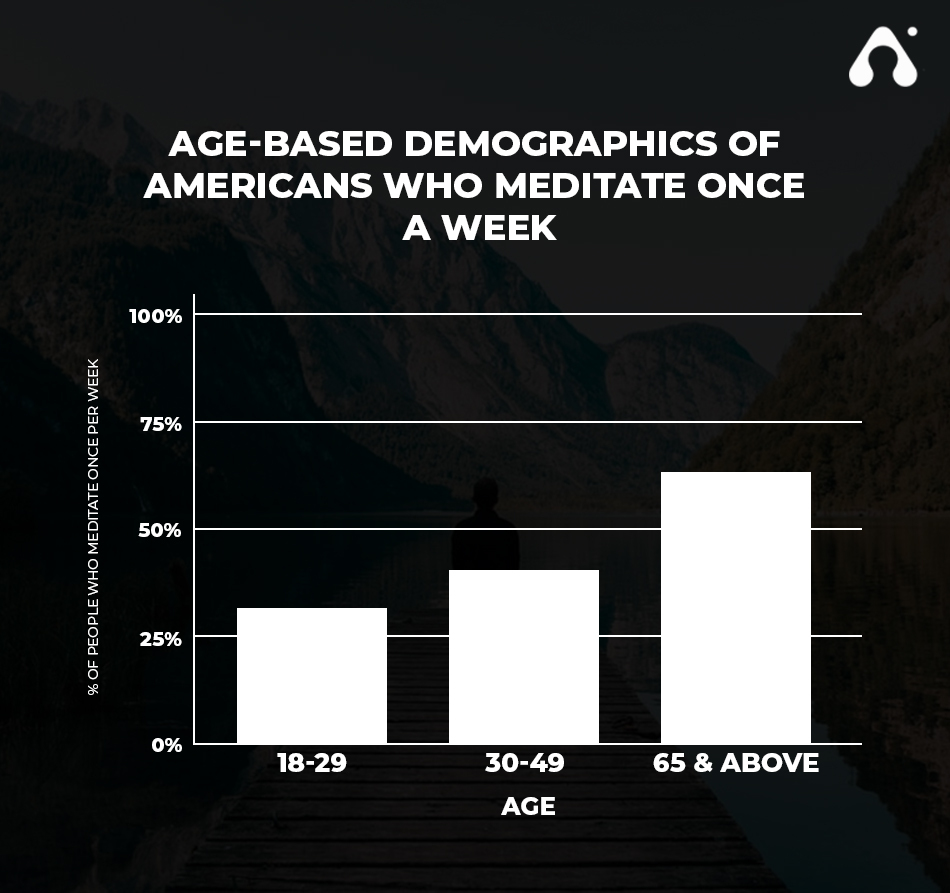 Benefits Of Meditation App
There are several meditation app benefits for practicing. Some examples are:
1- Reducing stress
One of the most common reasons individuals meditate is to reduce stress, and meditation accomplishes precisely that, according to scientists. Meditation can assist to reduce psychological stress and improve general well-being.
2- Improving sleep
If you suffer from insomnia, research suggests that those who meditate can improve their sleep patterns.
3- Helping with addictions
Because meditation often necessitates a high level of self-awareness and discipline, it demonstrates that the practice can assist in recognizing and avoiding triggers.
4- Decreasing blood pressure
Meditation is extremely soothing, and this relaxation may aid in blood pressure reduction. This is because your body does not respond to stress as frequently during meditation as it would normally.
Things to Consider for Creating a Meditation App like Headspace and Calm
Here are the most vital aspects to consider while designing a meditation app if you want to be successful:
1- Clarify Your Business Idea
Before engaging an app development team, you must first settle on an app concept. There are  various trending app ideas of meditation applications available:
Yoga app
Mental health tracker app
Meditation music app
Guided sleep meditation app
Weight loss meditation app
Meditation app for beginners
Walking meditation app
Breathe meditation app
2- Choose the Right Mobile App Platform
Your mindfulness and meditation app might run on both Android and iOS devices. It will almost probably raise the cost of app development. So, if you're on a tight budget, you can just make an Android or iOS app. After that, you may improve your service so that it can run on several platforms.
3- Use AR/VR Technology
AR/VR technology in development immerses users in a virtual environment that effectively reduces anxiety and dread. This is how they may relax faster and improve their mental wellness.
As a result, considering the integration of such cutting-edge technology when preparing to construct an app like Headspace or Calm is a fruitful strategy to improve outcomes.
4- Choose the Right Approach To UI/UX
You should create a program that will assist customers with anxiety in order to create an app like Calm or Headspace. In this instance, the appropriate design is critical. You can't make a meditation app the same way you can make a music app or a fitness application.
The following are some UI/UX design guidelines for a meditation or yoga app:
Avoid overcrowded patterns and pay attention to the subtleties.
Instead of using bright hues, choose pastel, palette colors.
Incorporate some animated motions.
5- Consider Gamification to Engage More Users
When a meditation app includes a gamification aspect, it increases user engagement. Users will be motivated to complete a training session and earn a badge, for example. The desire to preserve the score will naturally expand the KPIs and finally lead to the purchase of premium membership.
Several people look forward to achieving new goals and excelling in the app, which is a fantastic benefit for your meditation app development.
6- Provide Meditation Programs
Your app's core features are meditation programs. To keep your customers interested, you should provide a huge library of meditation programs for diverse things that you can update and improve on a regular basis. This will set you apart from your competitors.
7- Consider Monetization Strategies
To allow users to make purchases, you may employ a variety of app monetization tactics. Subscriptions and purchases are two ways to monetize your app. You can also think about monetizing with advertising. Consider that while creating the app leave some room for them.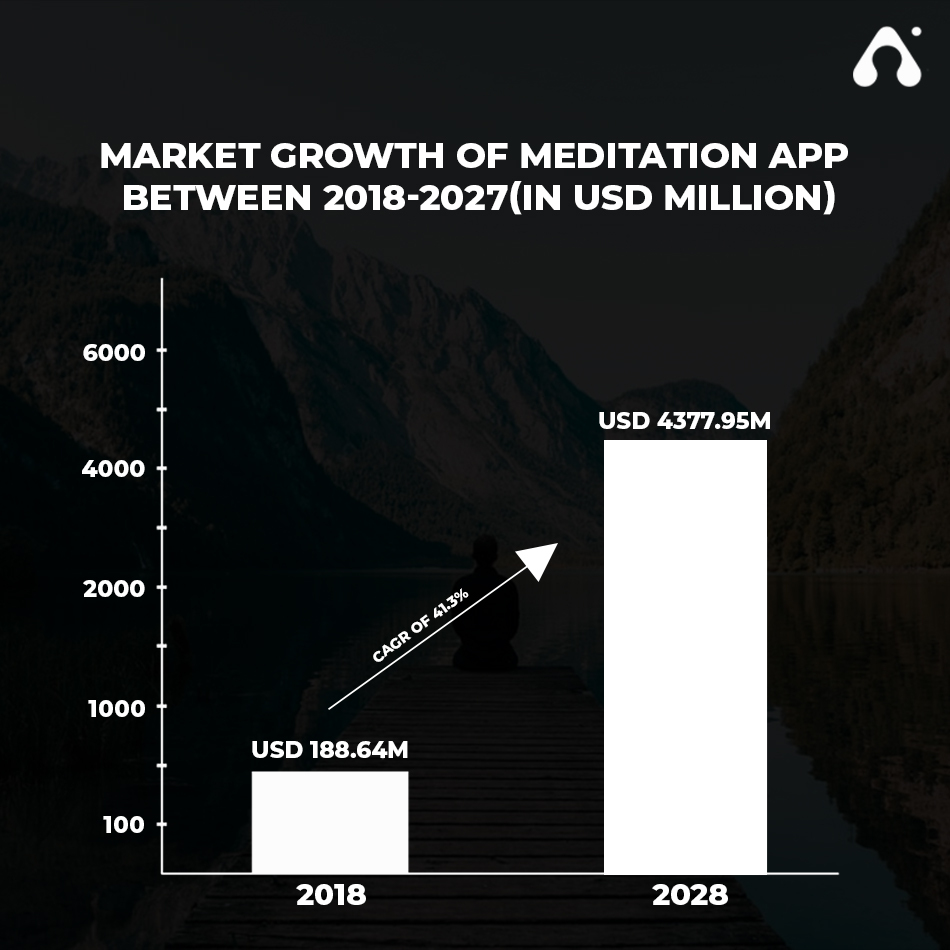 Must-have Features for Trending Meditation Apps
Users will discover the below-mentioned functionalities that are marked as top features to include in your meditation app:
1- Sign Up/User Registration
It all begins with user signup or login. This page must enable users to simply signup/login using their email, social media account, or contact number to signup & get registered in one go. Regardless of the platform defined for meditation apps, mobile app developers must ensure that the signup or login process is quick & easy. 
2- User Profile & Details
Once a user gets registered on your app, the next step demands profile creation of users with personal details, settings, subscriptions, preferences, personalized meditation sessions, & other information. Be sure that you are not forcing users to add details that are unnecessary from the perspective of the app's purpose.
3- Introductory Tutorials
The list of most important features based on digital transformation trends for meditation app development includes introductory courses & programs to assist beginners. These kinds of onboarding tutorials highlight the basics of meditation & related exercises along with stepwise guidelines to make the best use of this app. Such introductory tutorials must be visually appealing & concise to deliver quick responses to the app users.
4- Sets Of Courses & Programs
Once a user gets familiar with the best ways to use your app, it's the right time to present multiple courses & programs associated with the meditation & other services you are providing.
Usually, most apps like Headspace offer free meditation programs & courses with around 10 chapters to new users. As soon as a user qualifies or completes free courses, one can continue to the next levels or programs meant for experienced users.
5- 'Explore More' Button
A screen with the 'Discover More' tab will showcase top meditation programs & courses popular among users. All the latest updates & news regarding a user's interests will appear on this screen.
6- Push Notifications
A push notification will increase intensity by notifying users with every single update on new add-ons, offers, subscription plans, & features. Create your own meditation app
Popular Categories of Meditation Apps
There are no such criteria to categorize the types of meditation apps available in the market. Users can find multifarious features combined in a single app for all personal health & meditation activities. However, the majority of meditation app features are limited to stress-busting practices & programs dedicated to bringing mental calmness & mindfulness.
All those aspiring appreneurs intending to invest in mobile healthcare applications can consider these popular categories to shape their mobile app strategy for the creation of meditation apps:
1- Basic Guided Meditation App (for starters)
Before you start seeking answers to what is the best app for meditation, you must spare some time to know more about this basic yet competitive category to create your own meditation app. The demand for agile mobile app development for guided meditation apps is soaring high in the concurrent healthcare industry.
Such apps comprise real-time features to track your meditation cycle, they bring in-built tutorials to guide users on selective topics of stress-reducing practices & tricks to counter anxiety regularly.
Apps like Headspace use interesting animations & videos to run short-term courses & programs for beginners to provide meditation lessons to new users.
2- Mindfulness & Meditation Apps (for experienced users)
The real benefit of switching to morning meditation apps comes with a blend of soulful sounds & vibrations. Such types of meditation apps run mantras & calming music to soothe the minds of users who've been meditating for a while.
Apart from timers to track the duration of meditation & related exercises, these morning meditation apps are filled with a couple of brilliant features such as sleep stories, regular reminders, session history, and online communities to socialize on Twitter, Facebook, & Instagram.
3- eLibrary Meditation Apps
To bring a descriptive set of lessons & details regarding benefits & tips to users. Some types of meditation apps are integrated with features to impart knowledge about the knows-hows of effective meditation. It brings user-generated content from professionals to help users who are new to the world of meditation.
The business that desires to earn money by developing mobile apps must invest in meditation app development to present the best-suited set of details & information to the interested users.
4- Social Networking Meditation Apps
The vast community of social media users also connects like-minded people who depend on meditation apps to live a stress-free life. Such apps allow users to join live sessions & conferences with top meditation & healthcare experts to guide millions of app users together at once. That has been made possible to reach worldwide users together by inviting them on popular social media channels & sharing their personal experiences or techniques they're applying to manage stress.
Top 5 Meditation App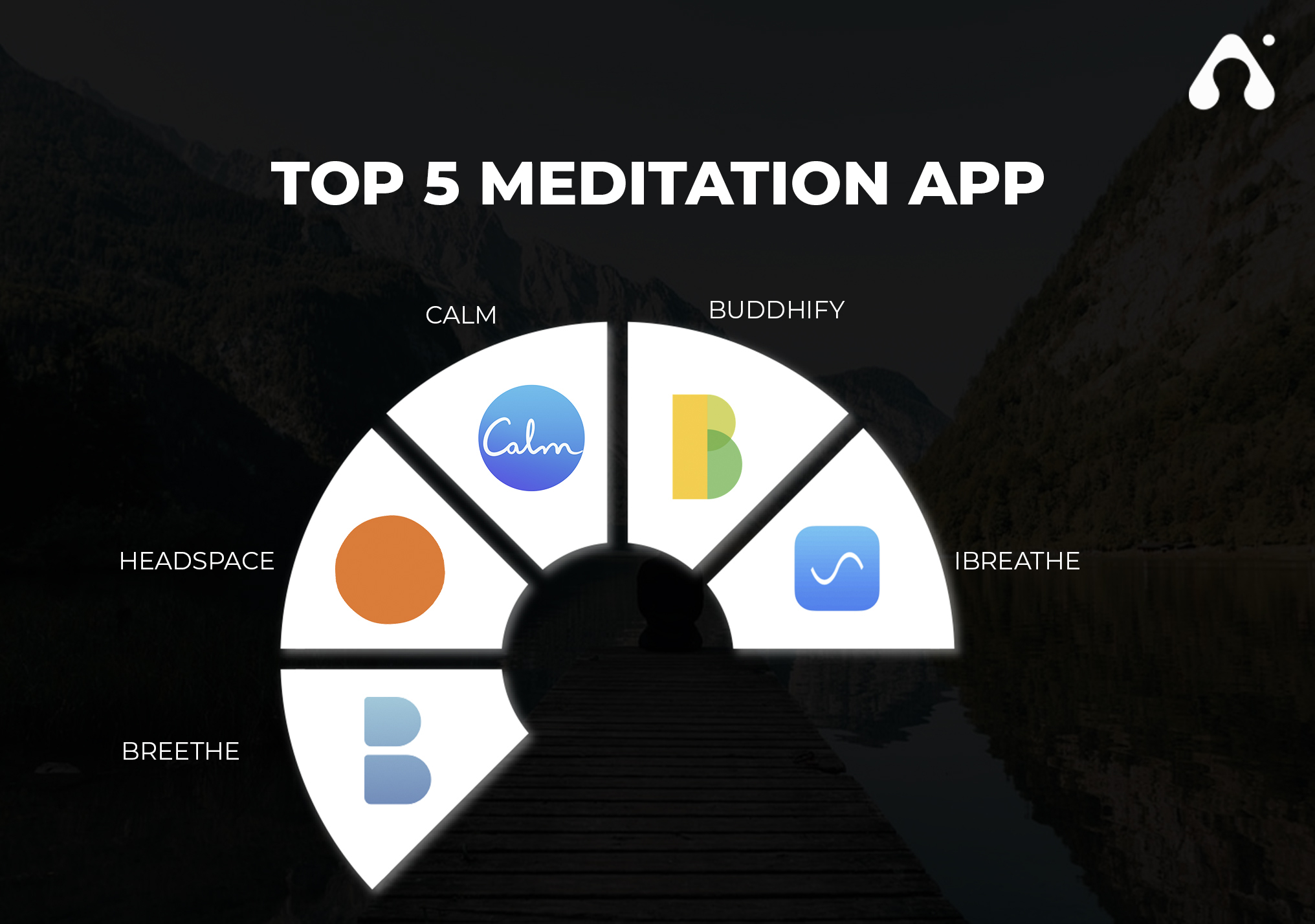 How Much Does it Cost to Develop a Meditation App?
The meditation app development cost for meditation & healthcare varies with complexity, features, resources, tech stack for meditation apps, timeline, & types of meditation app you need. Despite knowing that an independent developer will charge you less than a professional mobile app development service provider, experts will always suggest you hire a prestigious Android & iOS app development company to get custom mobility solutions to bring meditation & mobile app healthcare advantages to users.
Tech Stack – The cost of developing an app like Calm or Headspace is influenced by the tools, programming language, and other technological stack employed.
Development Team – The expenses of developing an app like Headspace or Calm vary depending on the experience, skill, location, and size of the company you choose.
App Features & Specifications – The cost value of your program is directly proportional to its complexity and size. As a result, if you want to create a full-fledged application, you'll require a substantial budget.
Why Approach Appventurez for your Dream Meditation App?
Our closing thoughts for the creation of successful meditation apps like Headspace & Calm enlisted all keynotes on the history, development, features, types, & all aspects of impactful monetization. Android & iOS app development is a big investment as it takes long hours of research, planning, designing, coding, and deployment, till the final delivery. Hence, you must know what added value can a software development company deliver to a product owner. 
The name of Appventurez healthcare app development company shines in the arena of delivering high-end mobility solutions for startups as well as small & growing SMEs around the world. Our product engineers are fond of new technologies & methodologies to curate your top trending ideas for businesses & strategies to further transform them into live apps.
FAQ's
1- How to develop your meditation app?
You should first evaluate your meditation app concept with a mobile app development company like Appventurez. You should double-check your idea and inquire about the scope and expense of developing your app.
2- What are the must-have features for a meditation app?
Registration, sign-in, user profile, introduction course, onboarding tutorial, push notifications, search, app localization, meditation library, live streaming, and other features are required in your meditation app.
3- What are the challenges you might face while developing a meditation app?
You might face some challenges while developing a meditation app like maintaining simplicity and speed, localizing app content, transparency, higher subscription rate, etc.
---
---