What do you think is going to be the user interface in the coming decade?
It definitely won't be a user sitting on the desk while using the screen or a smartphone in the pocket. We are already a part of the augmented and virtual reality world. In the coming years, we will be in real-world technology while mixing the physical and digital world. 
Extended Reality will diminish the line and enhance the quality of the digital world with technology. However, many people are not even aware of mixed reality, forget about extended reality XR. 
However, the surge of augmented and virtual reality is increasing with time. As per the prediction of Statista, by 2022, the amount of these techs will reach $209 billion.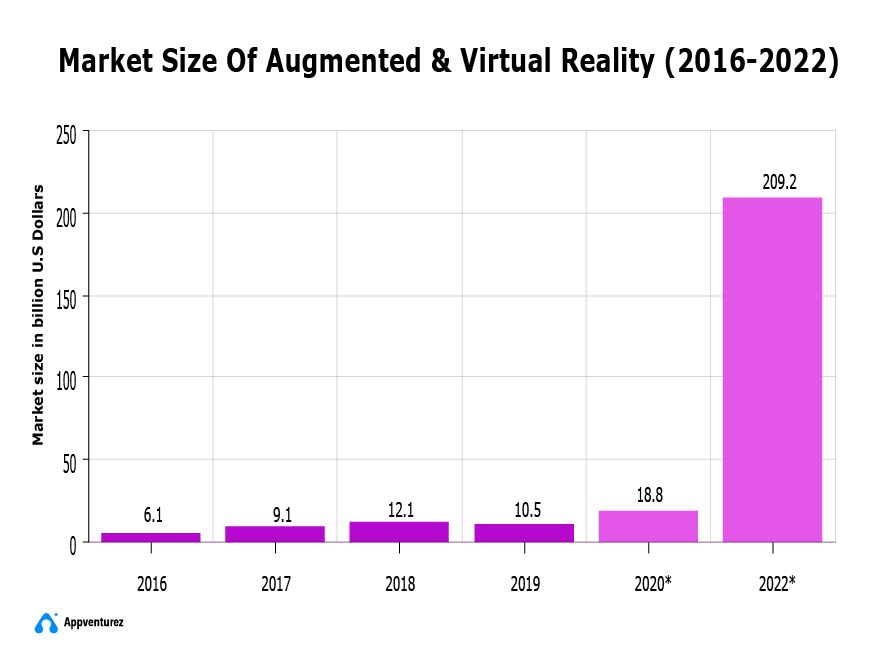 This is not it, with the addition of Extended Reality in the industry, the popularity is increasing. It is affecting numerous processes and gaining steams in events as well. Before going any further, let us give you an insight into what this technology is.
What is Extended Reality?
Extended Reality Technology is the combination of three technologies – Augmented Reality (AR), Virtual Reality (VR), and Mixed Reality (MR).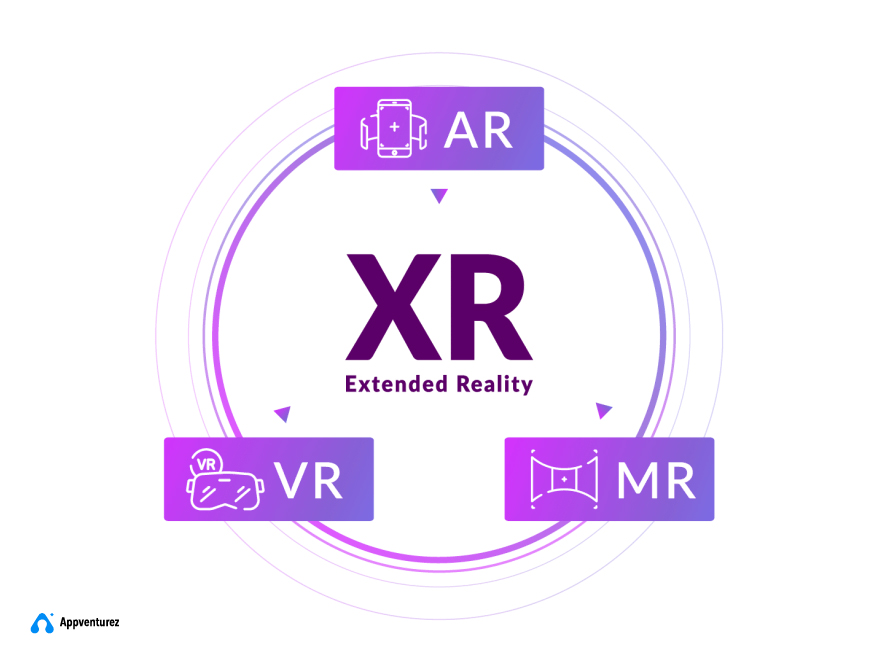 However, don't get confused with the fusion of these top techs while understanding the Extended Reality platform. Let us go through it individually.
Read More: AR/VR Market Trends
This reality technology includes the one with world similar to the real-world. Nevertheless, the existing physical environment is enriched with specific features to form virtual demonstrations in the form of sounds, video, graphics, and other data.
The augmented reality technology is the "on top of" tech for the realities that include attributes without altering it. However, there is no interaction of users and synthetic environment, it is just an overlay.
The headsets and mobile devices camera are an example of overlaying reality. The augmented reality technology is widely used in the gaming industry to enhance the experience, for instance, Pokemon Go.
Virtual reality technology simulates reality with a computer that develops a virtual world or replicated reality. The real-world is replaced with the virtual world or digital reality. 
This offers an environment including sounds and realistic images with specific headsets. Whereas with a comprehensive VR environment, one can work around their five senses as well such as touch, taste, and smell.
This virtual reality technology is a great way for humans to gain experience and expand their learning horizons. Entertainment and gaming industries are implementing this tech making the animations realistic.
This type of reality technology includes the virtual and real environment. It integrates synthetic and physical objects in a way that they can interact with each other. This works as a real-time where objects can act and react.
The mixed reality technology includes the best attributes of the digital and real-world making it flexible. It includes virtual and augmented reality using virtual objects to anchor real points. The virtual elements work as the real objects in the MR world.
#4 Extended Reality (XR)
These phenomena come together to give rise to extended reality technology. These three – AR, VR and MR – work as a pillar to develop XR that includes all the interrelated phenomena and core features. 
Extended Reality includes the virtual and real environment powering up the machine and human interaction. This leads to XR experiences with innovations and underlying technologies. 
Now, the question arises, why are extended reality applications gaining a lot of popularity in business operations and verticals? 
This is due to the fact that Extended Reality XR has managed to get rid of the barriers. It is able to address the issues that and geographically distribute the operations. 
Extended reality technology can enhance valuable insights, work well with 3D environments and XR solutions. Humans can easily obtain new data that can be difficult with naked eyes, intelligence, and imagination.
In simple words, extended reality technology is only limited by our intelligence and imagination. It is erasing the boundaries of the physical and digital world.
Pros of Extended Reality
Extended Reality XR is an opportunity to go a step ahead in the corporate and personal world while giving ways to new interactions. The business world has so much to leverage from this reality technology to connect and enhance communication quality with customers. 
Read More: Designing For a Wearable
To get proper insight, here are the major pros of Extended Reality for the business world.
Better Connection – Extended Reality Applications allows companies to interconnect with employees in a better, direct, and effective manner all around the globe. This helps in easily solving complex tasks while bringing the team together. 
Customer Interaction – Solidworks extended reality can enhance customer interaction while connecting brands with emotional possibilities. 
Accessible & Contextual Information – The extended reality technology allows employees to gather seamless information easily as per the requirement. 
Training – Employees can understand the danger and learn the task process easily with the help of this reality technology. One can get an insight into the harmless environment, actions, and take necessary decisions. 
Unusual Experience – Extended Reality XR can offer a remarkable experience to companies while allowing users to explore different events in the confine of their homes.
Cons of Extended Reality
Since Extended Reality XR is an evolving technology, it has some temping opportunities that lead to its drawbacks.
Limited Social Engagement – There are numerous entertainment scopes in Extended Reality that decrease the chance of social communication and losing interactions with others.
Compromised Privacy – There is theft of cyber-attacks due to the volume of data available in extended reality technology that can cause serious damage.
Cost of Implementation – This reality technology is extremely expensive due to the requirement of a lot of devices and solutions to implement it that can cause a lot of money.
Physical Harm – XR technology can cause nausea, eye disorders, headache, and faintness if used for a longer period of time.
Applications of Extended Reality
The business world is slowly depending upon the reality technologies whether it is in terms of virtual, augmented, mixed, and now extended. There are numerous companies that are taking a step forward in their respective sector to include Extended Reality technology.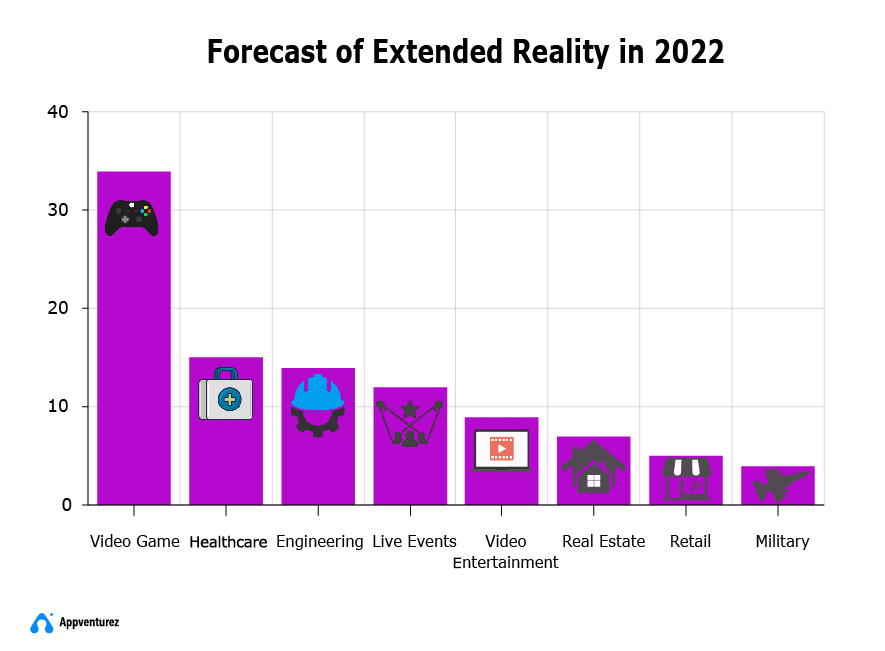 However, what is in XR that can help the respective sector to thrive? Let us give you an insight into the sectors.
Healthcare – The extended reality in healthcare has a wide influence on the CT scan and MRIs of patients. The 3D representation of such scans is easy to study for the doctors and medical team. It shows the human bodies in 3D form instead of 2D imaging that was famous traditionally. 
This has simplified the diagnosis making it much more efficient. Therefore, the extended reality in healthcare is expanding and moving towards a virtual patient's practice to train students.
Entertainment – The customer experience has taken the front seat for the companies. Due to this, they are implementing extended reality in android and iOS devices games and entertainment. This offers a full-fledged experience to the customer with immersive technology aspects.
The entertainment industry is not behind gaming in representing events, exhibitions, and concerts in the real form. For instance, users can enjoy the Louvre museum without visiting the place while immersed completely in the tech.
Manufacturing – Extended Reality technology is shaping the manufacturing sector as well with the operators to train the employees. Along with this, training with utility, mining, and construction equipment are also a way to move forward in the field. 
The best thing is that it saves a lot of money in training since there is no need to invest in the purchase. The operators can distribute the work and improve efficiency while gathering data.
Read More: Role of Artificial Intelligence in Retail Industry
Retail – The extended reality technology is expanding the retail sector for enhancing customer experience. The customer can try on the products before purchasing it without even visiting the store via their smartphone.
Real Estate – This sector uses reality technology to experience the project setup without the need for physical appearance. The tenants and customers can check out the property saving a lot of time. For instance, interior designers and architects can implement this tech to get a comprehensive view.
Marketing – The potential consumers and customers can easily engage with companies to understand the products. In brief, it is a great way to leverage the Extended Reality potential for companies' benefits.
Remote Work – Employees can work remotely from anywhere in the world and attend meetings giving an aspect of being in the same room.
What To Expect From Extended Reality?
XR is covering different technology spectrums that can accomplish digital overlays and simple immersive structure. There is so much about Extended Reality that people are not aware of. It is unlocking different powers of tech including the Internet of Things and Artificial Intelligence. 
Here are the major spectrums that one can expect to achieve with XR.
#1 Unlimited Potential
The mobile app developers are expecting a lot from XR that has the ability to reshape, bent, and stretch the world. Not only this, but Solidworks extended reality has a lot of potential in terms of repairing jets, experiencing products, and even envisioning the architecture.
The head-mount display is essential to learn, hear, seem and explore the possibilities while sitting at home. There is no longer a need to watch a slide presentation and learn new events in the form of a dynamic and immersive way. 
Therefore, this has replaced the tedious manual wading that was time taking the traditional way. The reality technology offers value to the companies and customers giving a clear picture of things.
The augmented reality technology is integrated amazingly well with the virtual reality technology to view physical objects and collaborative workspace. 
#2 X-Factor
Pokémon Go introduced customers with reality technologies and has gained popularity over time. Above all, this game broke all the records of the global world and revenue reached USD 3.9 billion in 2017.
As per Statista, the market rate by 2022 will reach USD 209 billion as mentioned above. That is to say, the Extended Reality impact is going to soar while learning, buying, and doing things while interacting with enterprise and consumers flow.
#3 Unlocking Business Opportunities
The new business opportunities are unlocked over time that is difficult to get hands-on in a cost-effective manner. The consumers and experiential marketing interactives, service technicians collaboration, remote working, and simulation of product and training are just a few examples.
Extended Reality XR is unlocking different opportunities in a seamless manner, unleashing possibilities to enhance experience and productivity. Also, XR helps in boosting customer satisfaction, new business models building, identifying revenue streams, and retention.
The potential is slowly unleashing while supporting the IoT and AI infrastructure to give an extended flow to the tech world.
Read More: Stats for IoT Market Trends
What Next?
Extended Reality holds a lot of potential for the business world. However, the above-mentioned points are just an outline of what the tech is and how it will affect the future of the business world and customer experience.
There is so much about XR that will take time to explore and be part of the market. However, XR is no longer the concept of Hollywood movies or sci-fi concept anymore. It has evolved and reached a stage of building real solutions, real experiences, and real results.
Extended reality technology is disruptive, transformative, and plainly open to enhance the workflow. It is a unique tech for customer experience and business applications. Also, the novelty is going to be much more interesting in the coming years.
Even the top mobile app development company is going to include the Extended reality tech flow to give the users a new experience and mix the virtual and real world.
---
---