In the financial sector, buy now pay later(BNPL) has become a hot topic. In January 2021, Assure a BNPL provider went public.
The "Buy Now Pay Later" function provides consumers with financial flexibility, bridging the gap between their budget and the cost of any item. Pay later apps that are popular in the United States to include Afterpay, Quad Pay, and PayPal Credit, among many others.

They have also revealed details of a buy-now, pay-later debit card. Consumers are increasingly shopping online and discovering new payment methods. As a result of the loss of income and the uncertainty of their financial situation, the USA is saving money and looking for other ways to borrow money.

The Ascent polled 2,000 Americans in July 2020 about their buy now, pay later preferences. We accompanied with another survey in March 2021, and the findings reveal an almost 50% increase in less than a year.

Consumers who fall behind on payments are charged a late fee after an initial grace period, and they are barred from making future purchases until they pay back what they owed.
Purchase now and pay later The essential components of most services are the same:L
Core components of buy now, pay later platforms
Loan terms
Purchasing power
Repayment frequency
Convenience
Paperless
Impact of Buy Now Pay Later Apps in US Market
Why is it getting more popular to Buy Now, Pay Later?
Benefits of Buy Now, Pay Later
Increased affordability
Secure Payment
Quick access to credit without hefty paperwork and documentation
Ease of repaying the amount at a later date
Conversion of bigger purchases into no-cost or low-cost EMIs
No hidden charges
When to use Buy Now Pay later app Vs a Credit Card
To sum up, the future of buy now pay later apps is bright
Core Components Of Buy Now Pay Later Platforms
Buy now core component the basic components of services are:
1- Loan Terms
These are subject to the provider's and retailer's discretion. Loan periods might range from a few weeks to six months for modest products. Customers can pay for large items over two years or more.
2- Purchasing Power
It is usually determined by the service supplier. Loans of up to $30,000 are available from buy now pay later providers.
3- Repayment frequency
Consumers typically pay back credit in weekly or monthly installments, whereas retailers are typically paid in full upfront.
4- Convenience
Everything is completed fast and without difficulty. Customers can apply for loans at the point of purchase and receive approval in a moment.
5- Paperless
Everything is done electronically, from the application procedure to loan management. Customers who buy now, pay later don't have to print or sign anything.
Impact Of Buy Now Pay Later Apps In US Market
According to data released on "The Ascent" 27.42 % of consumers believe that BNPL services can replace their credit cards and that is most likely to occur in the future. However, 34.95 percent of users believe it is likely to occur, but they prefer to maintain their credit cards regardless. Furthermore, 37.65 % of users are confident in their decision to utilize credit cards rather than BNPL services. The most intriguing part is that, even when credit cards are available, 43.73 % of users prefer to use buy now to pay for later services.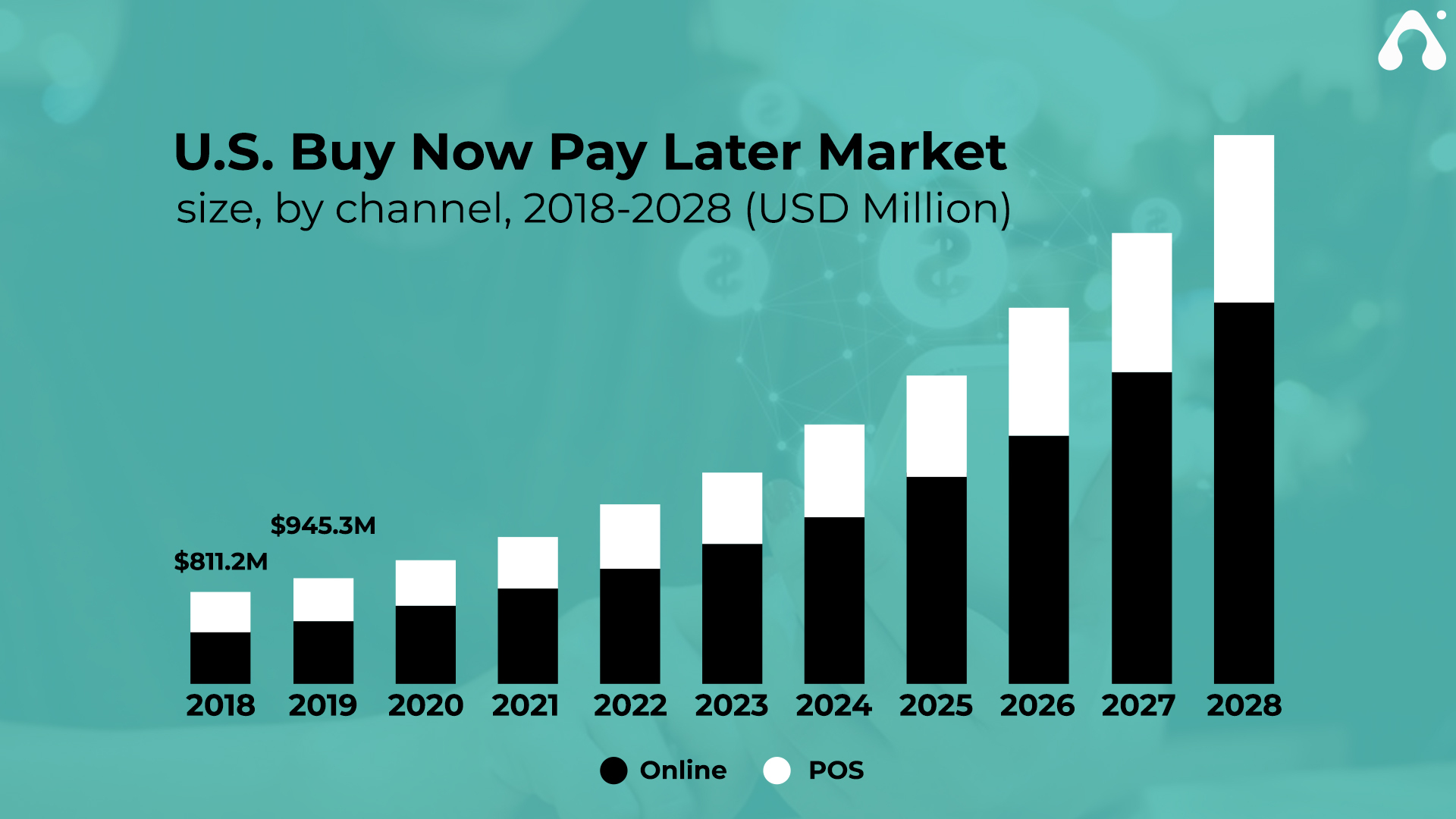 The chart above depicts the sharp rise of the buy now, pay later market in the USA. While the number of monthly users was limited to 962K in January 2021, by September 2021, the number had risen to 1.4 million. These numbers now show how the shutdown had a permanent influence on growth.
Why Is It Getting More Popular To Buy Now, Pay Later?
In the last several years, Buy Now Pay Later (BNPL) apps and other technologies has transformed the payments sector. While the new payment method first gained traction in Europe, it has gradually gained traction in the United States as startups such as Affirm went public and found success, and Square, a San Francisco-based financial services and digital wallet trends, purchased in USA Afterpay for $29 billion to benefit from BNPL's growth. Mastercard is the latest corporation to launch a BNPL offering, joining Visa, PayPal, and others.

In these difficult circumstances, the BNPL facility stands out for several reasons.
It enables businesses to provide their customers with a seamless buying experience.
It enables a one-click checkout procedure.
BNPL is typically a no-cost or low-cost financing solution for consumers with a flexible payback method (depending on the lender's terms).
It employs a fully digital onboarding procedure.
It enables consumers to obtain short-term credit for immediate purchases and pay for them later.
Consumer protection from cyber threats is a challenging task, such as zero liability fraud protection and the opportunity to challenge unacknowledged claims, which will be built into the BNPL product.

According to Mastercard, users will be able to utilize the BNPL service at more than 70 million retailers via their lender's mobile banking app or through quick approval during checkout. Pre-approved installments can be utilized on a company's website or kept in digital wallets.

Benefits Of Buy Now, Pay Later
The increased demand for BNPL facilities beyond pre-Covid levels is due to a number of factors. The top banking apps are appealing alternatives for young or new-to-credit consumers who don't have credit cards.
Affordability will increases
Payment security
Quick credit approval without a mountain of paperwork and documentation
Repayment of the debt at a later date is simple
Converting larger purchases into no-interest or low-interest EMIs
There are no hidden fees.
How To Select The Most Appropriate Buy Now Pay Later App?
When purchasing goods and services, there are numerous BNPL apps to pick from. However, most stores only work with one BNPL app, theirs may be the simplest to use to make your purchase.

If you have a choice, here's how to pick the best buy now, pay later app for your purchase.
1- Credit card score
If you have terrible credit or short credit history, choosing a BNPL app that does not check your credit score may make sense.

2- Will the credit bureaus be notified?
If the BNPL app transmits its activities to the major credit agencies, people who are working on their credit will profit from their on-time payments.
3- How does the BNPL app accept?
When applying for a BNPL account, select one that is approved at a large number of the stores you frequent to avoid having to open numerous accounts.

4- What is the credit limit that you will be given?
BNPL app credit limits differ from one company to the next. A higher credit limit may make the difference in being able to complete your transaction or not, depending on the magnitude of your purchase.

5- What fees and interest rates do you have to pay?
Examine the account data to see if there are any fees associated with using the service, making a payment, or doing other actions. Also, if you complete your payments on time, would you be charged interest? What are the costs if that's the case?

When To Use Buy Now Pay Later App Vs. A Credit Card
While buying now, pay later apps and credit cards are similar, they each serve a purpose for today's consumers. You'll have to choose which method to utilize to finish your purchase during checkout. Here are a few scenarios in which one method of payment would be preferable to the other. The future of the payment industry is changing due to BNPL services where digital payments will be used.
When to use a BNPL app:
Purchases can be made without a credit check.
For new credit, fill out a simple application and get a decision right away.
Interest is not levied if you pay over time.
Make minimum payments on your purchases to pay them off.
Get a secured credit card without getting a secured credit card to build credit.
When to use a credit card :
Use of a store-branded retail card entitles you to exclusive savings.
On your purchase, you can get cashback, miles, or points.
To qualify for a welcome bonus, you must spend a certain amount of money.
Benefits are calculated based on your annual spending totals.
Benefits of price, return and purchase protection
You'll get a free extended warranty.
Lower minimum payments with more flexibility.
Because not all credit cards offer these perks, check your card's benefits booklet or call customer care to see whether yours does. Otherwise, it would be time to switch to a new credit card with better rewards.

To Sum Up, The Future Of Buy Now Pay Later Apps Is Bright
Another set of data from the Sensor Tower provides a quantitative look at the buy now, pay later trend. According to the data, buy now pay later apps in the United States grew rapidly in September 2021 compared to December 2019. The proportion of growth might reach up to 74 percent.

The above information is now sufficient to comprehend the future of these apps. Appventurez is an organization that will help to launch or build new apps regarding the BNPL (Buy Now Pay Later) market.

It's critical to offer as many payment options as possible and to allow your customers to make their own decisions. Integrating a buy now, pay later solution can increase sales, reduce cart abandonment, and increase trust.

FAQs
Q.1- How Do Buy Now, Pay Later Apps Work?
The BNPL apps function in tandem with the business you're buying from. Most don't charge interest if you pay on time. If you don't make a payment on time, you may be charged interest as well as a late fee. The merchant pays the BNPL app a charge for processing the transaction, much like a credit card transaction. The client receives their product today, the merchant makes a sale that would not have happened otherwise, and the BNPL app earns a fee for processing the financing.
Q.2- Can Apps that allow you to buy now and pay later help you build credit?

Your positive payment history can help you boost your credit score if your BNPL app reports to credit bureaus. Customers that use Perpay, for example, see a 39-point boost in their credit score. However, because many of these BNPL loans are short-term, they don't build up enough payment history to be reported to credit bureaus.
Q.3- What is the process of buying now and paying later?

You purchase at a participating shop and choose to pay now and pay later at the checkout. If you're authorized (which happens in seconds), you put down a small deposit, such as 25% of the total purchase price. The remaining balance is then paid off in a series of interest-free installments.
---
---