"Failure is feedback, it is just the beginning to come up later with no errors in planning and execution!"
The people who are running the best of business today once began with the basic idea of thought. These thoughts made them fall 100 times and stand only one time, but the will power and confidence over their idea was enough to make them stand one more time until success.
There are an ample number of books written with the failure and success stories and mistakes lead to success for the biggest of people today. Go to a seminar or a talk show, and you will listen to the best of stories of people who have gone through their darkest phase to arise like sunshine. 
Thus, for every single person, even for top billionaires, failure has its own definition. For some people, failure is not getting things right, for others, failure is explained as not getting the results expected even if the product is excellent enough to beat the competition. In short, failure is feedback that teaches everyone differently and makes them come up with a plan B if A doesn't work. 
However, failure never means that it can break your willpower, the determination should be strong enough though!
On an individual level, failure is different, but when it comes to business, those who are cherishing the greatest heights, got some excellent stories to motivate anyone around the globe. 
Here in this article, we will be sharing with you the top 5 billionaires today, how they made a comeback and left failure behind. Though, the list is unending to share the knowledge and their success story with you all. 
Let's begin- 
Top 5 Billionaires With Their Multi-Million Dollar Stories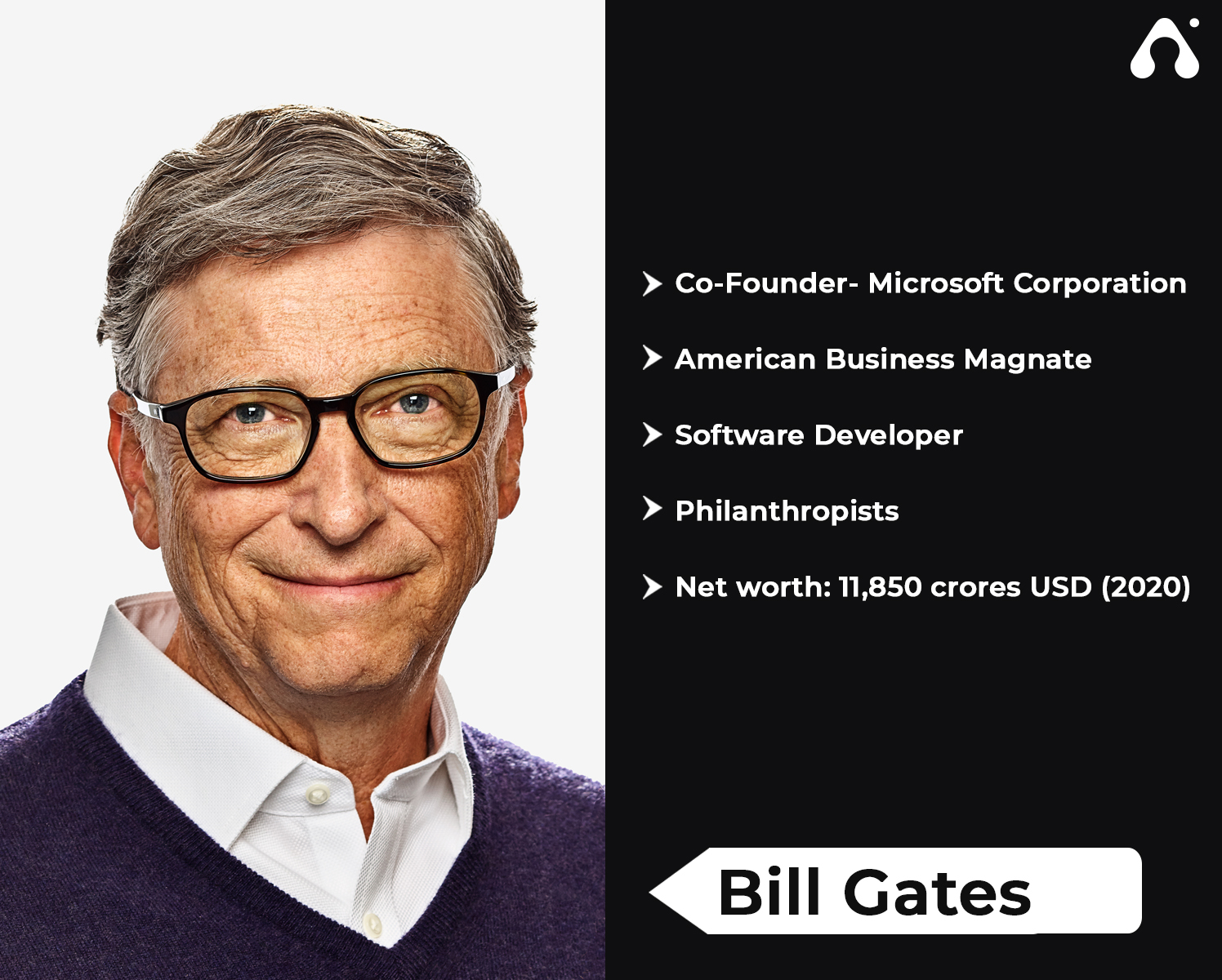 Co-founder- Microsoft Corporation
American Business Magnate
Software developer
Philanthropists
Net worth: 11,850 crores USD (2020) 
Bill Gates is one of the top billionaires and was a dropout from Harvard University and now is the well-known name and co-owner of the failed Traf-o-Data idea. Traf-o-Data reads and analyzes data straight from the roadway counters. This helps in creating reports for traffic engineers. They tried selling their idea to South America but nothing fruitful came into their bag. 
"It's fine to celebrate success but it is more important to heed the lessons of failure."
The idea they have behind the project was good but the model was not. They went straight to the product ending with no market research, and no scope of difficulties of capital commitments. Around $3,494 was the net loss experienced by Traf-o-Data.
Another failure experienced by Gates was not to capitalize on the opportunity offered by the internet. He wanted to protect Windows and this is why he didn't create a strategy to keep Microsoft and Windows systems. The result next came opposite, the positioning of Microsoft declined at the very beginning of the new millennium.
Despite all the failure and one of the  billionaires who failed at first, today's worth of Bill Gates is $90 billion!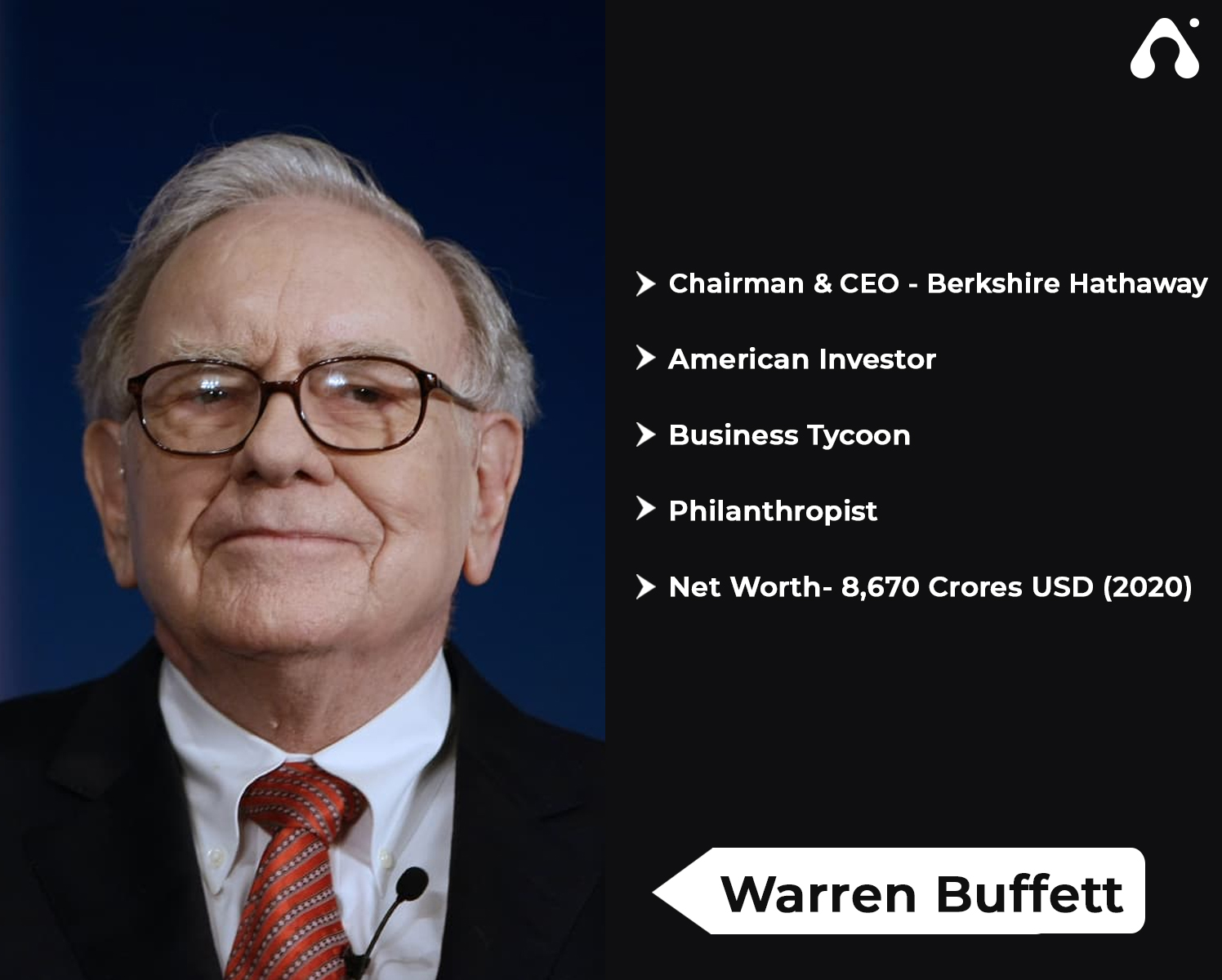 Chairman & CEO- Berkshire Hathaway
American Investor
Business Tycoon
Philanthropist
Net worth- 8,670 crores USD (2020)
Top billionaires, Buffet for firing the CEO bought a controlling interest in the company and later regretted the idea of it as he had wasted a lot of time, money on a textile mill, and he had no capital to use funds on profitable ventures.
"I always knew I was going to be rich. I don't think I ever doubted it for a minute."
For a common man or other billionaires who failed at first, this might not be a failure but Buffet insists that he shouldn't spend money on Berkshire Hathaway and could have purchased a company that sells insurance. This might result in double down the returns. 
Berkshire got today is now one of the greatest investment success stories. This makes Buffet realize a lot about his arrogance which made them fail.
After learning a lot, his confidence and persistence made him eliminate failure and emerge even more successful. Though he was not able to use his original business model for Berkshire, however, he used it from a textile company to an investment company. 
He is today one of the wealthiest people and one of the top billionaires in the world who has turned Berkshire Hathaway into the biggest holding company.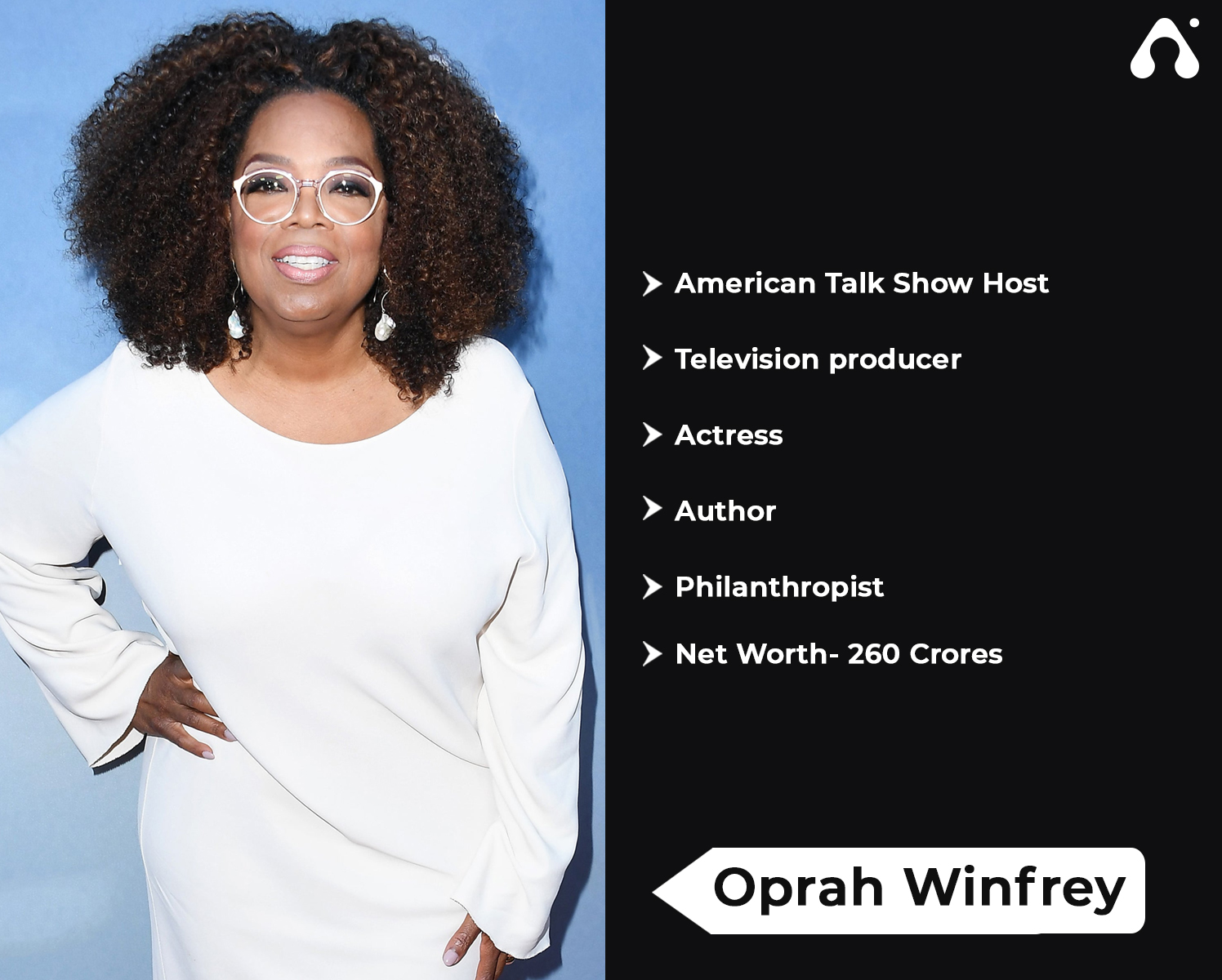 American talk show host
Television producer
Actress
Author
Philanthropist
Net worth- 260 Crores
Hustle entrepreneur meaning Oprah Winfrey. She got some inspiring stories to inspire people across the world. Cutting down the idea of masculinity and the man dominating the world, she is a woman who achieved success by going through some major setbacks in her life and became a shining star of the world today. 
"Think like a queen. A queen is not afraid to fail. Failure is another steppingstone to greatness."
After some hardships at a tender age, she started participating in the debate and won a state-level beauty pageant too. She used to read news for a radio station and eventually earned a scholarship too.
She was given a PG job in Nashville, life goes on, she got the opportunity to work as a primetime news co-anchor. Unfortunately, the shop flopped and she was blamed for it. With all the ups and downs continuously going on in her lie, after some time, her show took off, superseding the success of Phil Donahue.
Her show ran for 25 years which made her one of the most influential and the wealthiest women in the US.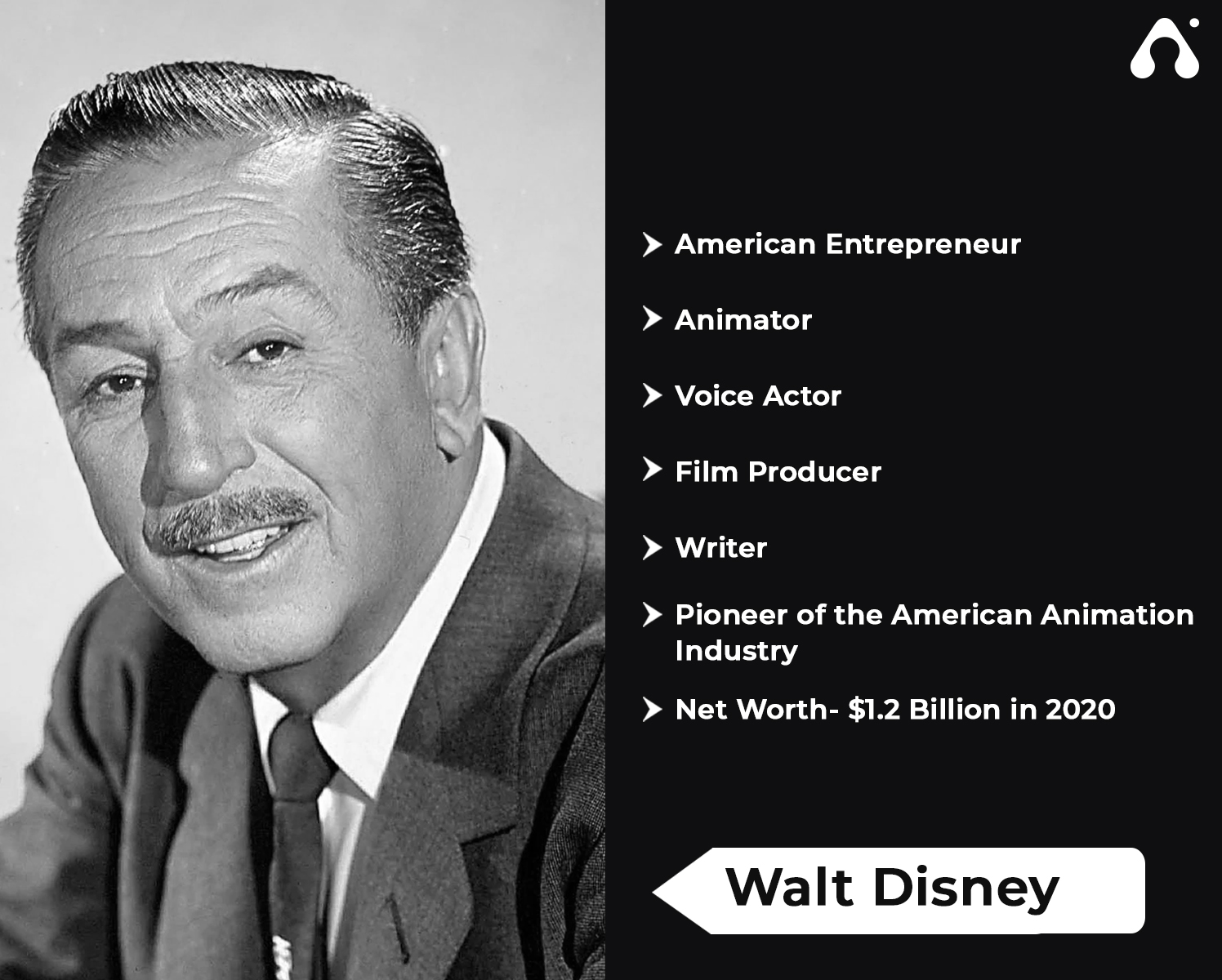 American entrepreneur
Animator
Voice actor
Film producer
Writer
Pioneer of the American Animation industry
Net worth- $1.2 billion in 2020
The pioneer of the animation industry, listed in the top 5 billionaires and a well-known animator, Walt Disney is the founder of Walt Disney Company. He was rejected by the Army, stripped from his intellectual property, thrown out of a number of jobs, and was later bankrupted. This made him focus his goal towards an idea, i.e- The beloved Mickey mouse.
"All our dreams can come true if we have the courage to pursue them"
However, to his disappointment, Mickey Mouse was rejected by MGM studios. Walt Disney was already going through personal and professional losses long before his company named Laugh-O-Gram Corporation. Within the span of 2 years, the company was declared bankrupt. In short, whatever he tried on, he failed miserably every time. 
After a lot of thinking, working, and hard work, Walt Disney today is one of the known names behind several numbers of the cartoons we enjoy. He showed that if you are determined to work and succeed in the market, no one can ever take the charm of success away from you. All you need is to believe in yourself and the efforts you are putting to make things happen!
Steve Jobs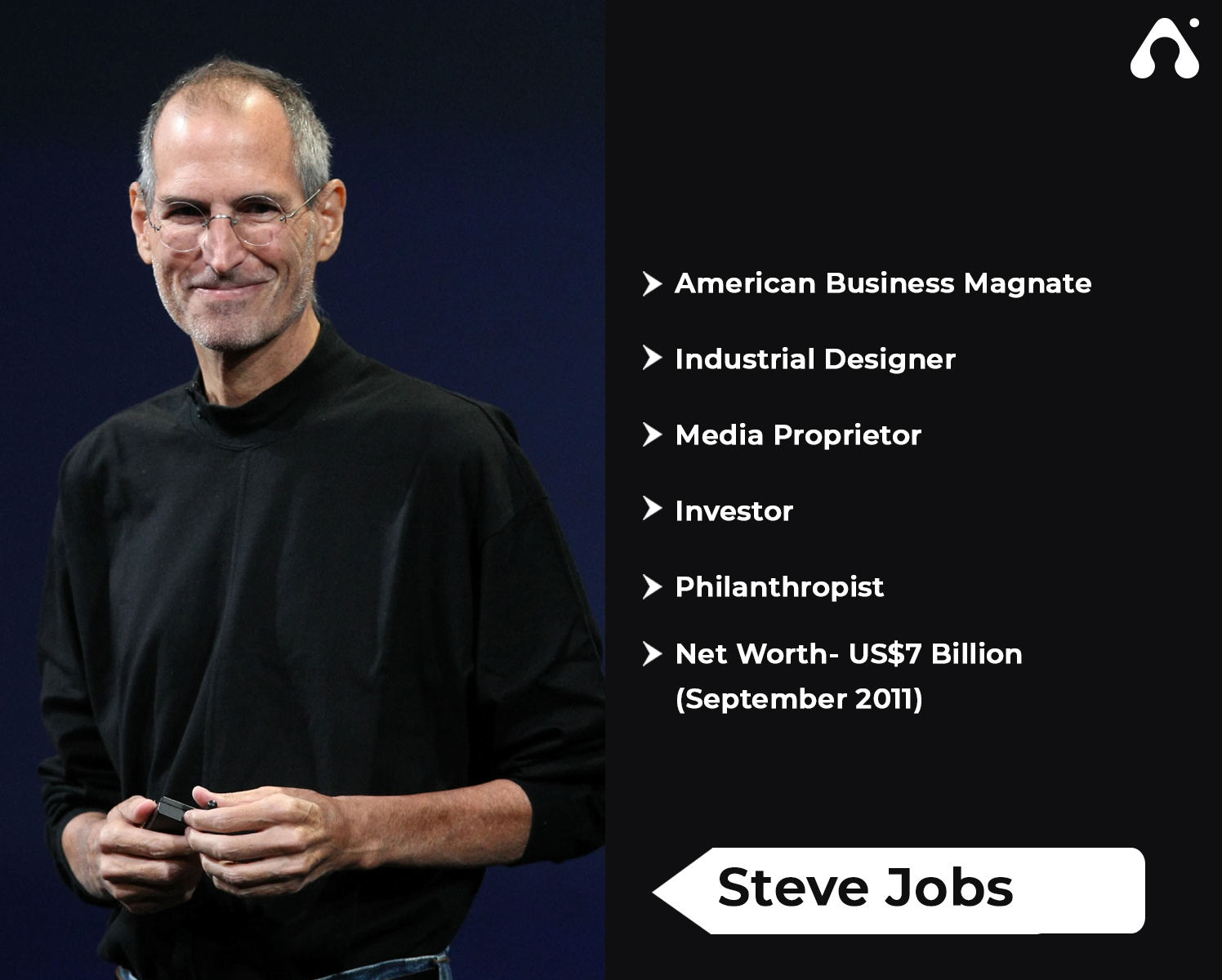 American business magnate
Industrial designer
Media proprietor
Investor
 Net worth- US$7 billion (September 2011)
Who doesn't know the name of Steve Jobs today! One of the billionaires who failed at first  met with a lot of hardships, failures to actually reach the success graph. He was a dropout of Reed College in Oregon after a semester. After that, he quit his job and indulged in psychedelic drugs. He contributed all the experiences as an inspiration for the branding. 
"I'm as proud of what we don't do as I am of what we do."
He experienced some failures too. He did create some of the best commercials which were showcased during the Superbowl, however, the product didn't entice people a lot. The Apple Lisa was a costly product that sees no return.
Steve Job also invested badly in purchasing other companies. Then there was a time he was frustrated with the bad decisions and failures but those incidences were something that was making him even more determined to push forward. He lost a lot for Apple and took decisions without listening to the people's side too. In the 1980's he was ousted from Apple. 
However, in 1997, he made a comeback to Apple and helped the company see major results and growth. And you can see the level of Apple today. 
His story was about the fall and then rising back once again. He showed that no matter how many times you are failing, but if you are determined, no energy can take you back from success. 
Conclusion
These are the top 5 billionaires and their tales of how they overcame their fears and failures and emerged victoriously. If being optimistic, failures are nothing but are incidents that made you realize your actual self-worth. 
So, if you are failing and falling, you are actually strengthening your place where you actually belong to!
---
---