Artificial intelligence (AI) in the workplace is revolutionizing the way organizations operate. AI in business is being integrated into operations to save money, increase efficiency, produce insights, and open up new markets.
As support, AI is meant to tackle relatively large and simple tasks ranging from document flow to rudimentary communication. These AI capabilities alone save firms millions of labor hours throughout the world. Already, 72 percent of businesses that use AI claim it helps them execute their jobs better.
According to Fortune Business Insights, the global AI market was estimated at $27.23 billion in 2019 and is projected to reach $266.92 billion by 2027, with a 33.2% CAGR over the forecast period.
The use of ai in business companies is fundamentally altering the way firms operate. Companies are implementing artificial intelligence (AI) technology into their company processes in order to save money, increase efficiency, provide insights, and create new markets.
Table of Content:
1- What is AI? How does AI work?
3- Why is AI important in business?
4- Artificial intelligence impact on business
5- Benefits of AI in the enterprise?
6- Steps for implementing artificial intelligence in the enterprise
7- How Appventurez will help to implement AI into Your Business
What Is AI? How Does AI Work?
Many duties in the workplace are not automated and need some level of intellect. It's difficult to narrow down what constitutes intelligence, particularly in the workplace. Intelligence, broadly defined, is the ability to absorb knowledge and use it to attain a goal; the action conducted is tailored to the circumstances rather than being performed by rote.
Artificial intelligence & Machine Learning development is defined as the ability of a machine to perform in this manner. However, as the National Science and Technology Council points out in this comprehensive study.
"AI is defined as a computerized system that demonstrates behavior that is typically associated with intelligence. Others describe AI as a system capable of solving complicated issues logically or taking suitable steps to achieve its objectives in any real-world situation."
Furthermore, the authors emphasized that what constitutes an intelligent machine is a moving target: Once an issue that requires AI is solved, it is rapidly referred to as "routine data processing."
Learning, reasoning, and self-correction are the three cognitive processes that AI programming focuses on at its most fundamental level.
The learning of Python for ML & AI programming is concerned with gathering data and formulating rules for converting that data into useful knowledge. The rules, also known as algorithms, provide computers with step-by-step instructions on how to execute a task.
The capacity of AI to pick the best relevant algorithm from a set of algorithms to apply in a given scenario is referred to as reasoning.
The capacity of AI to gradually tweak and enhance a result until it reaches the intended objective is referred to as self-correction.
What Is The Impact Of Artificial Intelligence On Business?
Many organizations are turning to artificial intelligence (AI) technologies to cut costs, boost efficiency, raise revenue, and improve customer service.
By implementing the correct AI technology, your company may be able to:
By automating and optimizing common procedures and tasks, you may save time and money.
Boost productivity and efficiency of operations
Create quicker business choices based on cognitive technology outputs
If AI systems are correctly set up, they may prevent blunders and "human error."
Use data to anticipate client preferences and provide a more personalized experience.
To produce excellent leads and expand your consumer base, mine a large amount of data.
Increase income by spotting and exploiting sales opportunities.
Enable analysis and provide intelligent guidance and help to build knowledge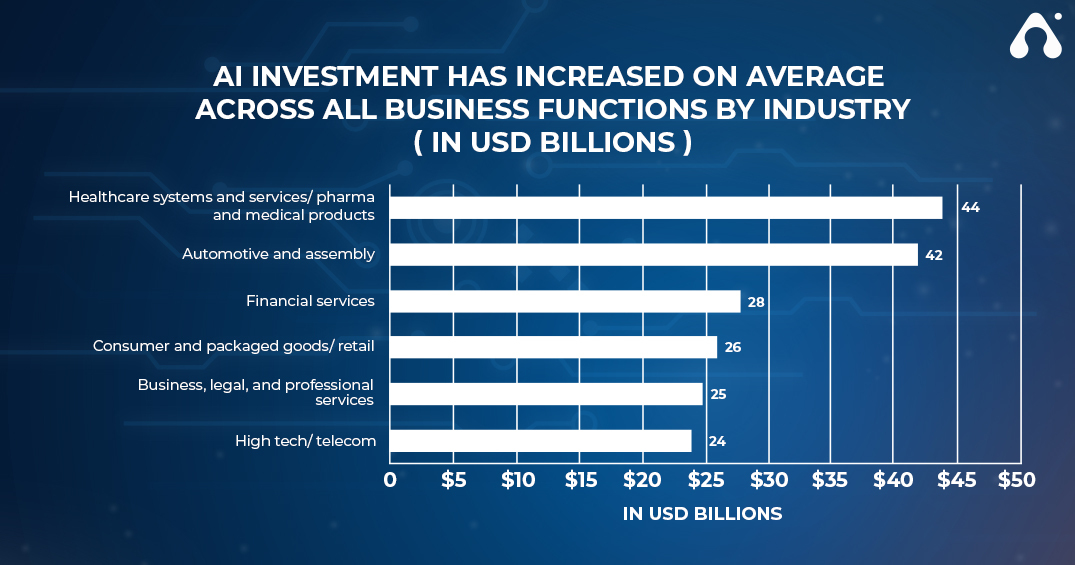 What Are The Types Of AI?
The sorts of AI that exist today, such as AI that can drive automobiles or beat a world champion at Go, are referred to as limited or weak AI. These AI types succeed at specific tasks but lack general intelligence. The role of AI in business that exhibits human-level intellect and consciousness is still in the works.
Here are the four types of artificial intelligence described in and a synopsis of their characteristics:  
1- Reactive AI
The algorithms utilized in this early sort of AI have no memory and are reactive, meaning that the result is always the same given a certain input. Simple categorization and pattern recognition tasks benefit from machine learning models based on this sort of AI. They can process large amounts of data and appear to be clever, but they are incapable of assessing scenarios that incorporate incomplete data or need past knowledge.
2- Limited Memory Machine
The basic algorithms of restricted memory machines are meant to mimic the way our neurons interact and are based on our understanding of how the human brain operates. This sort of deep learning computer can perform complicated categorization tasks and make predictions based on past data; it can also do complex jobs like autonomous driving.
Limited memory machines are classed as having narrow intelligence since they lag behind human intelligence in other ways, despite their capacity to vastly outperform ordinary human performance in particular tasks. They need a lot of data to learn jobs that people can learn with only a few instances, and they're subject to outliers and hostile examples.
3- Theory Of Mind
This form of as-yet-unrealized future of AI in business is characterized as being capable of comprehending human goals and reasoning, and hence delivering individualized outcomes depending on a person's motivations and wants. Theory of mind AI, also known as artificial general intelligence (AGI), can learn from fewer instances than restricted memory computers, contextualize and generalize data, and extrapolate knowledge to a wide range of issues.
Artificial emotional intelligence, or the capacity to recognize and sympathize with human emotions, is being created, but existing systems lack a theory of mind and are a long way from self-awareness, which is the next step in AI's growth.
4- Self-aware AI, Aka Artificial Superintelligence
This sort of AI is aware of not just the mental states of other creatures, but also of its own. Artificial superintelligence (ASI), artificial intelligence in the retail industry, is described as a computer with intelligence on par with human general intellect that is capable of far beyond human cognition by constructing ever more intelligent copies of itself.
Currently, however, we don't know enough about how the human brain works to create an artificial brain that is as clever as, if not more intelligent, in general.
Why Is AI Importance In Business?
According to IDC, the volume of data generated globally will exceed 175 zettabytes (or 175 billion terabytes) by 2025, a staggering 430 percent increase from the 33 zettabytes produced in 2021.
The explosion in data will be a windfall for organizations devoted to data-driven decision-making. Large data sets provide the raw material for producing in-depth business intelligence that improves existing company operations and leads to new business lines.
Simultaneously, the importance of AI in business is capable to produce meaningful predictions — that is, to get to the reality of a situation rather than duplicate human biases — necessitates not only large amounts of data but also high-quality data. Mobile cloud computing platforms have aided the impact of AI in business by offering not just the processing capacity required to handle and manage large amounts of data in a scalable and flexible architecture, but also by allowing corporate users greater access.
Steps For Implementing Artificial Intelligence In The Enterprise
Machine learning, deep learning, predictive analytics, natural language processing, computer vision, and automation are all examples of AI in business. Deriving value from AI's multiple technologies necessitates firms to handle difficulties connected to people, processes, and technology, as outlined in this in-depth guide on using AI in your business that acts as a service.
Knowing how to apply AI in business rules with implementation is still being developed, as they are with any developing technology. Uses of AI in a business highlight that a "big bang approach" will not produce better outcomes than an experimental attitude. Begin with a theory, then test it and meticulously quantify the outcomes.
Build data fluency.
Define your primary business drivers for AI.
Identify areas of opportunity.
Evaluate your internal capabilities.
Identify suitable candidates.
Pilot an AI project.
Establish a baseline understanding.
Scale incrementally.
Bring overall AI capabilities to maturity.
Continuously improve AI models and processes.
Benefits Of AI In business
At this point, most businesses are focusing on using AI to improve existing processes rather than dramatically changing their business models. The most frequently touted AI benefits in the business of integrating application AI in business strategy and the workplace are the previously mentioned increases in productivity and efficiency.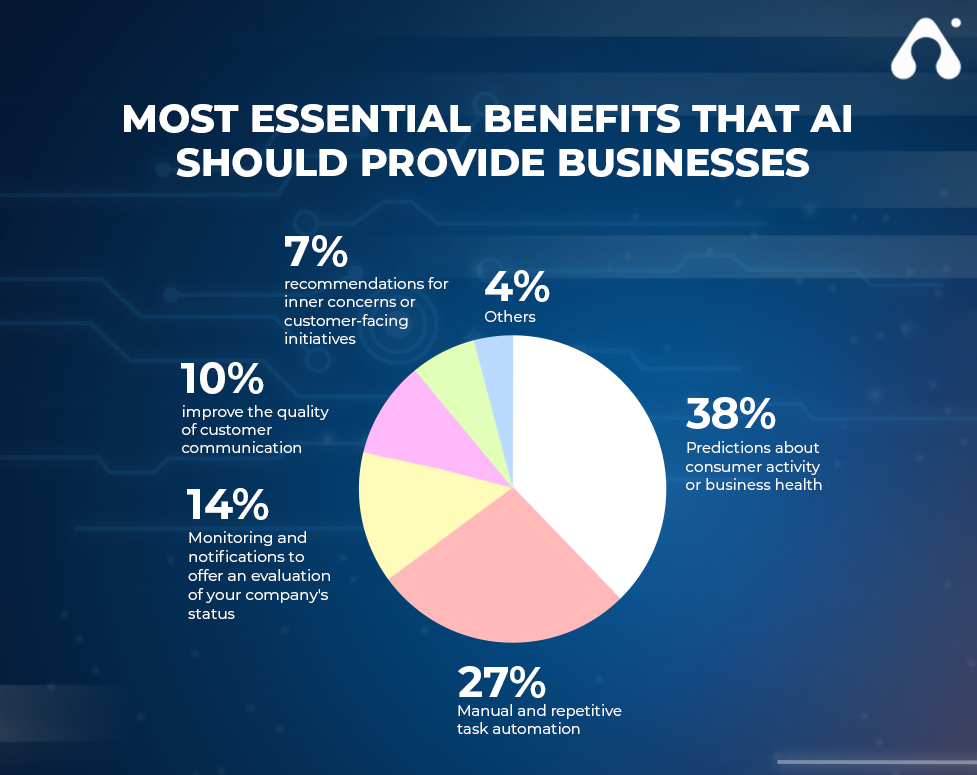 1- Improved Customer Service
According to a 2022 research report by MIT Sloan Management and Boston Consulting Group, the capacity of AI to speed up and customize customer service. Everyone has to know how to improve customer service, which is one of the top benefits firms hope to enjoy from AI, ranking No. 2 among AI payoffs.
2- Improved Monitoring
Organizations may use AI in business operations to process data in real-time to perform near-instantaneous monitoring; for example, factory floors use image recognition software and machine learning models in quality control procedures to monitor production and highlight faults.
3- Faster Product Development
Artificial Intelligence helps for shorter development cycles of mobile applications that will have a shorter period between design and commercialization, resulting in a faster return on investment for development costs.
4- Better Quality
AI on operations formerly done manually or with traditional automation technologies, such as extract, transform, and load is expected to reduce mistakes and boost adherence to compliance requirements. Machine learning, for example, has significantly decreased costs, time, and mistakes in financial reconciliation. 
5- Better Talent Management
By screening for top-tier applicants, companies are utilizing enterprise AI software to improve the recruiting process, eliminate bias in corporate communications, and increase productivity. Chatbots may now deliver personalized assistance to job hopefuls and workers thanks to advancements in speech recognition and some other guides to natural language processing (NLP) capabilities.
6- Business Model Innovation & Expansion
Amazon, Airbnb, Uber, and other digital natives have all embraced AI to help them execute new business models. According to Andrew Ng, a pioneer of AI development at Google and Baidu who is now CEO and co-founder of Landing AI, traditional organizations may find AI-enabled business model change difficult to market. He outlined a six-step process for using AI in traditional businesses.
How Appventurez Will Help To Implement AI Into Your Business
AI in businesses may now use tried and true strategies to accomplish greater business goals due to the implementation of AI into the market. AI development services are continually giving start-ups a competitive advantage, while established corporations are offering the infrastructure on which to construct novel solutions.
Appventurez is a mobile app development company that specializes in the creation and deployment of AI algorithms for businesses. Assume you're ready to implement AI technology in your company but can't settle on a development team. In such a case, we are an ai development company prepared for a great collaboration and eagerly await your arrival!
FAQ's
1- Why is Artificial Intelligence important for today's business?
Artificial intelligence improves human efforts in terms of speed, precision, and effectiveness. AI approaches may be utilized in financial institutions to predict which transactions are likely to be fraudulent, implement rapid and accurate credit scoring, and automate labor-intensive data management chores.
Q.2- What are the positive impacts of artificial intelligence?
Artificial intelligence has the potential to significantly increase the efficiency of our workplaces while also augmenting the job that humans can accomplish. When AI takes over mundane or risky duties, it frees up the human labor to focus on tasks that need creativity and empathy, among other skills.
Q.3- How does Artificial Intelligence support the enterprise management process?
Customer service, sales, cybersecurity, supply chain optimization, freeing workers from monotonous chores, improving existing goods, and pointing the way to new products are all possible with AI-powered corporate apps.
---
---