NFTs are tokens that may be used to represent the ownership of one-of-a-kind goods. They make it possible to tokenize items like antiques, art, and even real estate. They can only have one official owner at a time, and they're protected by the Ethereum blockchain — no one can modify the record of ownership or create a new NFT.
The term "non-fungible token" refers to a token that is not fungible. You may use the phrase "economic term" to describe what's going on. Non-fungible items include music files, computers, and furnishings. Because of their unique features, some objects cannot be exchanged for other items. It's said to generate an investment of a whopping $12.5 million.
In this article, we'll look at non-fungible tokens, including what they are, how to get started with them, and how they got their start, as well as their popularity among the general public, how to create non-fungible tokens, the characteristics that distinguish them, their benefits, risks, and the future.
Table Of Content
What is NFT?
Non-fungible tokens are unique digital assets whose ownership can be traced on NFT blockchain technologies like Ethereum. Fungible assets or fungibility describes an item or an asset that may trade or be swapped with a comparable sort of asset or value.
NFTs, or Non-Fungible Tokens, are digital assets or a sort of digital certificate for possessing things or an asset that symbolizes a wide range of intangible and tangible commodities such as paintings, virtual real estate, postcards, films, and so on. Because each non-fungible token asset is unique in its own right, NFTs cannot be copied or equated with a comparable asset. More information on the creation and cost of the NFT marketplace may be found here.
Non-fungible Tokens Examples
The advantages of owning a digital collectible versus a real item like a stamp or rare coin are several. Each NFT contains distinct information that distinguishes it from other NFTs and facilitates the authentication of a collectible's authenticity.
For example, it renders the distribution of imitation collectibles pointless for an artist because the actual object can be traced back to its lawful owner. You also can't swap NFTs directly with anyone, unlike other NFT crypto coins, for the same reason – they're all non-identical/dissimilar. Even if two NFCs on the same platform are part of the same collection and have the same size and color, they will not be identical. 
Let's look at a few NFT project examples:
1. Blockchain Heroes
It's a unique trading card series that draws parallels between people in the crypto and blockchain industries.
2. Decentraland
In this game, people may purchase the virtual worlds held by other players. The virtual space owner may monetize their world by setting up stores, advertising, and so on.
3. Prospectors.io
It's a blockchain-based game in which players' assets are supplied to them in the form of a blockchain, and they earn NFT depending on their gaming.
4. Gods unchained
It's a digital collectible card game or an online collectible card game in which the cards are in the form of non-fungible tokens (NFTs) that may be freely purchased and traded.
History of NFT – How & Why Did it Start?
There are some debates on when NFTs originally appeared. The initial NFTs are thought to have been colored coins. Colored coins are blockchain with trending technology representations of real-world valuables.
Colored Coins were first mentioned in a blog post by Yoni Assia in early 2012, titled "bitcoin 2. X (aka Colored Bitcoin) – first specifications." Colored Coins are thought to have encouraged innovation and paved the way for NFTs.
Then came the trading of Rare Pepes on Ethereum, followed by the launching of Crypto Punks, the first-ever NFT Token.
Following that, Rare Bits, a marketplace and trading gateway for NFTs, was founded and secured $6 million in funding. The NFTs' mindset allowed for the creation of a collectible card game known as Gamedex, which raised almost $800,000 in its first few days. Beeple, a digital artist from the United States, just released his piece "Every Day. The First 5000 Days," which sold for $69 million (42329.453 ETH). It's one of the first NFT works to be featured in some of the world's most prestigious auction houses.
Working Methodology of NFTs
NFTs are one-of-a-kind blockchain-based crypto tokens. As a result, the blockchain serves as a decentralized ledger that tracks the ownership and transaction history of each NFT, which is identified by a code and a unique ID, as well as additional metadata that no other token can match.
How do non-fungible tokens work? To answer this, let's read below:
With the right tools and assistance, the process of building NFTs can be done on contract-enabled blockchains. Ethereum was one of the first widely used EOS, and it currently contains NFT standards as well. The tokens, in conjunction with their smart contracts, allow for the addition of comprehensive information such as the owner's identity and other details.
When combined with digital media, this method gives NFTs the characteristics of scarcity and royalty that make them appealing:
1. Scarcity
When we talk about scarcity, we imply that the owner is in charge of determining how scarce their assets are. If we consider a ticket to a sporting event or a concert, for example, the owner determines how many tickets will be sold. In the same way, the designer of the NFT token market can select how many duplicates are needed. As a result, numerous duplicates exist, each with a little variation.
Another example of how to make non-fungible tokens is when the owner can only make one NFT token, making it a unique and uncommon item. In any event, each NFT will have its distinct identification, such as a bar code on every fabric or ticket that appears to be identical but is not.
2. Royalties
NFTs are programmed with software code (known as smart contracts) that regulates aspects such as ownership verification and NFT transferability. Also, like any software product that combines a range of applications and capabilities, NFTs may be developed beyond the basics of ownership and transferability (which also involves the linking of NFTs to other digital assets management).
Uses of NFTs (Non-fungible Tokens) Cases Across Multiple Industries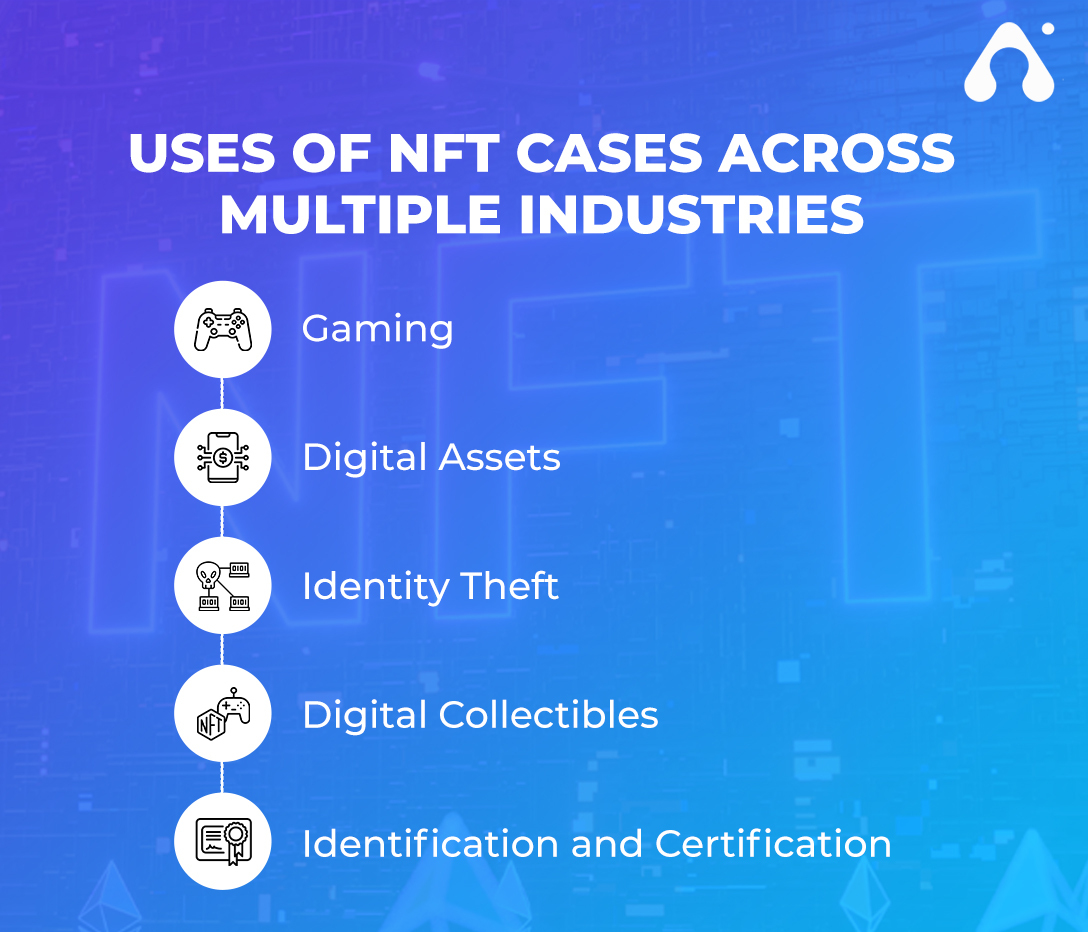 1. Gaming
The majority of games have virtual money built into their ecosystem to aid gamers in their advancement. In an ever-expanding unregulated market, accounts with a large number of acquired commodities are in high demand. Players will be able to quickly exchange in-game items with sufficient validation and security thanks to the many applications of NFTs.
2. Digital Assets
NFTs are an excellent choice for digital assets such as home blueprints, mock-ups, themes, and domains. Furthermore, digital real estate is becoming increasingly popular in games such as Decentral Land. They let gamers buy and create a virtual world's worth of areas. The inclusion of NFT ensures that the objects' original producers can be identified.
3. Identity Theft
NFTs can be used to prevent identity theft in objects that symbolize identity and can be digitized, such as medical data and academic degrees. Furthermore, digital artists may utilize non-fungible tokens to transform their artworks and generate unique copyright for them, demonstrating the relevance of non-fungible tokens. It also aids in the differentiation of counterfeits from genuine items.
4. Digital Collectibles
NFTs are scarce, and they're mostly used in collections and art. The validity and ownership of a collectible or artwork may be readily verified with the inclusion of this token. This also protects an artist's work from being copied or misused. NFT is already being utilized in greeting cards and goods.
5. Identification and Certification
NFTs are encoded with a unique collection of information about an asset or a commodity. As a result, they're ideal for granting certificates, identities, credentials, and licenses. To make it traceable back to the source, the identity or certification can be issued directly over the blockchain as an NFT.
Risks Associated With NFT
1. Valuations
If you're wondering where to get NFT, you've come to the right place. Then you should be aware that, like any collectible, buying an NFT is a dangerous proposition as its value rises. Unlike Blockchain asset tokenization trading cards or purchasing a real asset, NFTs are a new market, therefore there is no assurance that demand for digital wallet assets will be similar.
If there is no market for the NFT you purchase, you risk paying an exorbitant price for something that depreciates or is just unsellable. You could even create your own NFT, but there is no guarantee that you would find a customer, resulting in a waste of effort and money.  
2. Storage
NFT sales are tracked using blockchain technology & know how its works, which establishes ownership. Marketplaces and platforms like Open Sea and Rarible are where genuine NFTs are created and kept.
If these sites are shut down, there is no guarantee that you will still be able to access the work. This makes it less secure than real paintings on a wall, game tickets, or trade cards that aren't going to vanish.
3. Regulation
Because NFTs are not regulated, a high level of trust is necessary. You must think that the NFT you are buying is a one-of-a-kind piece of art or work that hasn't been duplicated elsewhere, otherwise, you risk a copyright issue.
4. Hot Potato Effect
NFT games have the potential to be a "hot potato" situation. The players acquire an asset to sell it for a profit, but if the market crashes, they might lose a lot of money.
For example, suppose you own a gaming sword and want to sell it for a better price than before. Now, as long as someone is willing to buy, you will make a profit; however, if no one is ready to buy the non-fungible item or if the market crashes, you will lose money. 

Future of NFTs
Whatever the hazards, NFTs have a bright future ahead of them, since the overall market for them is expected to reach $100 million by the end of July 2022. Experts in the crypto business even predict that NFTs will be the entrance point for 40% of new crypto users.
With the decentralized finance sector already worth over $4 billion, it's clear that the NFT field is going to explode in the next few years.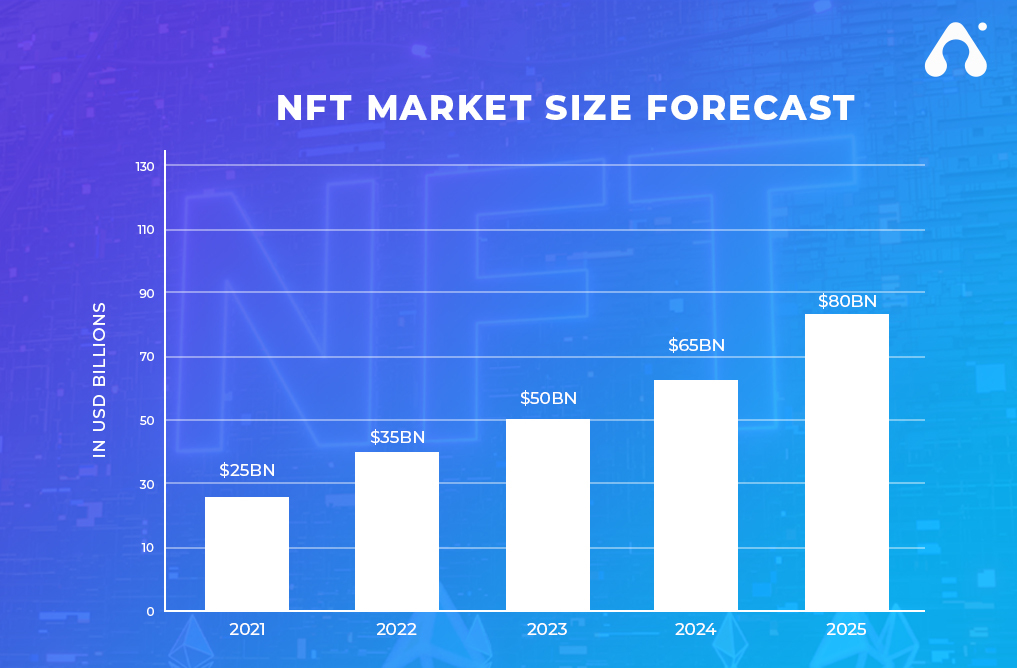 How Appventurez Will Help You With NFT?
Appventurez, a mobile app development firm, offers white-label NFT marketplace development solutions that may be used as a successful crypto business opportunity. Businesses are now preferring white-label NFT marketplace solutions above anything else since they are more cost-effective and time-consuming. These white label NFT Platforms let businesses get on board with the NFT movement while also reaping the benefits of Blockchain technology.
Our NFT development companies have expert and skilled NFT developers that can help you create your NFT platform for producing, minting, and trading digital assets.
This would mean a plethora of potential for a new-age entrepreneur to emerge and dominate the space blockchain development services business. Appventurez an NFT development agency is here to assist you. Send us your NFT-based project ideas.
FAQs
1. How to invest in NFT?
If you want to invest in NFT, you will need a cryptocurrency such as Ethereum (ETH) or Bitcoin. Once you have the bitcoin in your wallet, you may use sites like Rarible or super rare to find and purchase the greatest digital artwork.
2. How to buy NFTs?
You may get them from a variety of internet markets. OpenSea is a significant company. Consider it an online gallery where you may peruse digital paintings, trading cards, and other mementos.
3. What is NFT crypto?
NFTs, or Non-Fungible Tokens, are digital assets or a sort of digital certificate for possessing things or an asset that symbolizes a wide range of intangible and tangible commodities such as paintings, virtual real estate, postcards, films, and so on.
---
---