Nike's fitness training club needs no introduction to fitness freaks. The brand has already established itself as a reputed name in the world of strength training & fitness management.

With more than 180 free workouts, the Nike fitness training app calls for muscle-strengthening sessions and physical activities from low to high-intensity exercises for fitness-minded individuals. All those athletes & sports scientists of every level admit the dominance of Nike as a premium brand to meet fitness goals beyond satisfaction.

Nike's revenue share spiked by 84% in the November of the last year & reported a 9% growth in total profits of $11.2 billion. It indicates the evolution of digital-based experiences led to the rise of on-demand fitness training apps particularly during pandemic days.
Table of Contents
–All about Nike training app & its success strategy 

–4 Pillars that shaped the success of Nike Training App for digital fitness 

Freemium membership drove Acquisition
Revenue-focused monetization
Personalized member experience boost retention
Direct syncing with NikeFuel band
– Why count on Appventurez to drive digital revenues with fitness training apps like Nike?
–FAQs

Well, it sounds good to hear that Nike's high-end branding & pricing strategy is a secret behind its rapid growth.

Even if a venture is new in the industry, it's really imperative to watch out for the competitors' business strategy to stay on the right track of impending entrepreneurial success.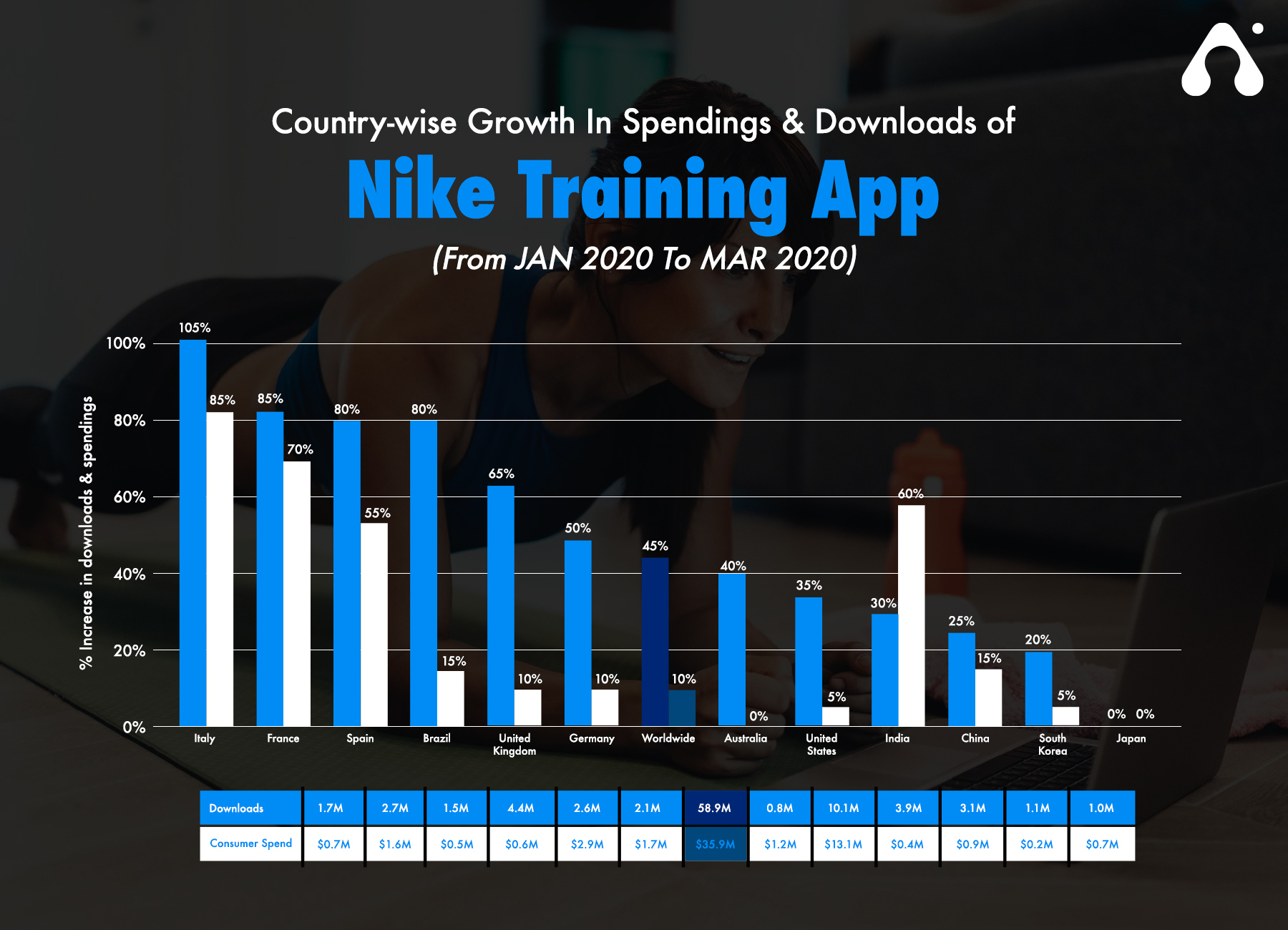 No wonder the Nike fitness training app is a fabulous idea to bring your post-covid business back on track with a mobile app. From being a sports apparel giant to one of the top leading fitness training platforms, Nike's journey is a hot topic of discussion among businesses planning to enter the industry.


All About Nike Training App & Its Success Strategy
As one of the top trending app ideas for businesses, Nike's fitness training app is a perfect source of exercise & tips to boost fitness. During lockdown days, the brand made its training club membership free to users including the paid content. 

The outcomes of releasing free subscriptions for paid services benefitted both Nike as well as their customers. Wondering how Nike's business strategy for enterprise mobility app development & marketing embarked its success among other big rivals existing in the market? 

Before we elaborate on the business strategies implemented by Nike to guide startups opting for mobile app development, let's brief you on some key pointers of different fitness training apps that are already popular under the banner of this reputed brand:

Here are premium apps that most fitness enthusiasts are using to perform specific fitness training & workout activities:
Nike+ Running
This is one of the most preferred apps for service industries that drive on-demand economy. It helps users to monitor fitness levels with easy tracking of distance covered, calories burned, walking speed, & other activities. The app allows users to compete with other users or friends & compare their fitness status at the best time.

Besides sharing data in numbers, this Nike fitness app reflects personalized content in the form of heat maps & visuals in different colors to let users analyze their speed or any fitness format at one place.
Nike+ Training Club
It's true that on-demand apps are shaping the world of fitness up to a great extent & Nike training app justifies this point.
One interesting application by Nike is completely focused on fitness training & strength building. Users can pick any workout plan from more than 100 training sessions, introduced by professional trainers.

The best part of using the Nike fitness training app is the flexibility to mark your goals & stay consistent to reach them without any snags that usually create major challenges for businesses from the fitness world. Users can stick with the desired exercise plans that are categorized for beginners, intermediates, & advanced levels, according to their personal preferences & stamina.  
Nike Soccer App
Another trending app from Nike that survived the impact of covid-19 on fitness apps is designed for soccer athletes who find it useful to connect with other players in the world & stay updated with the latest news, trends, & events happening around the globe.

Nike has also launched similar apps for skaters (Nike SB app) & golfers (Nike Golf 360 app) to let them track their games and progress to stay ahead of their competitors. Here are more apps from Nike that one must explore: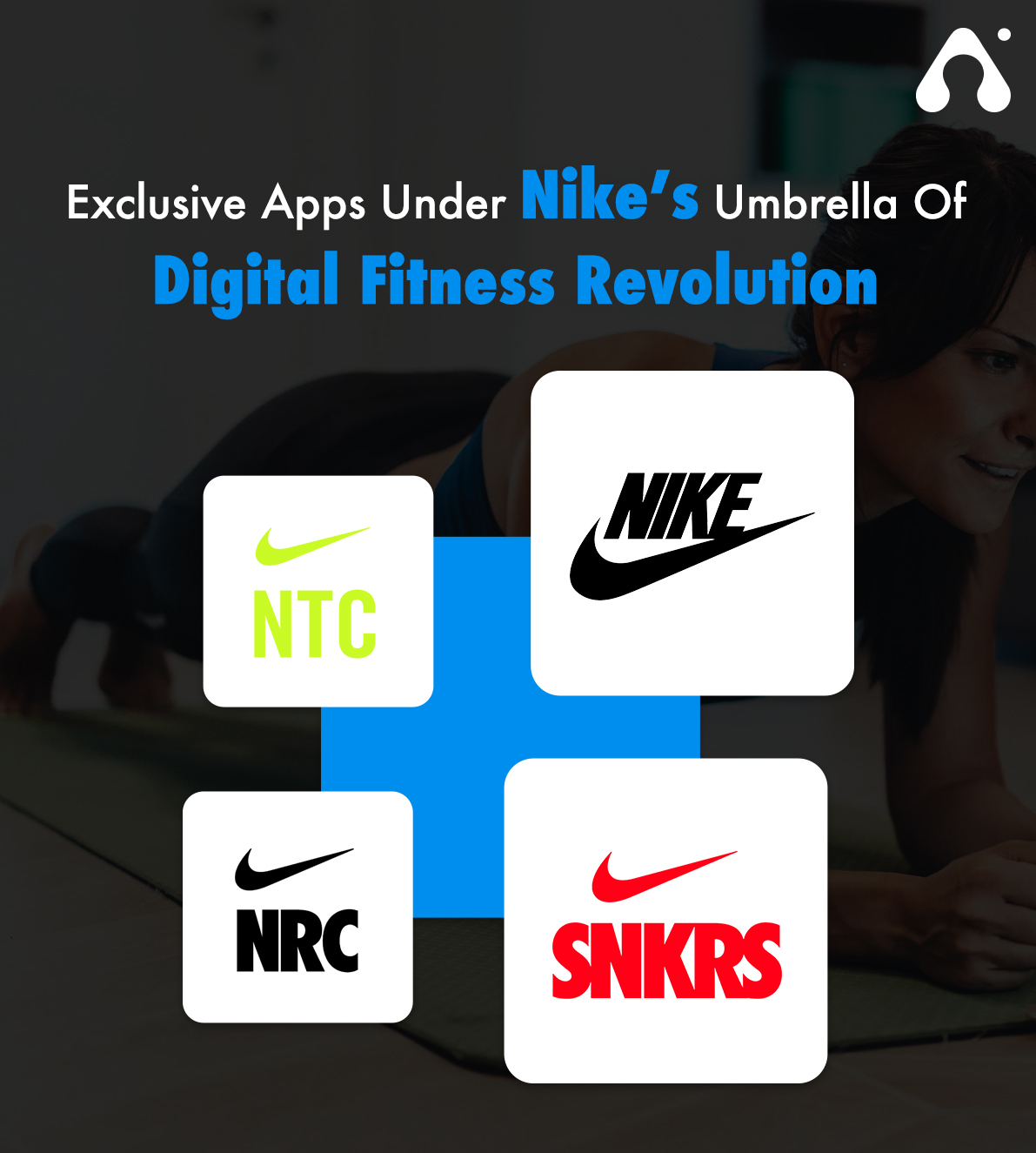 It's undeniable to say that the Nike fitness training app attracts users from different demographics & perspectives for overall fitness and sports. There is no doubt that the brand has successfully managed to stretch out its customer base with the release of such innovative custom mobile apps for businesses that stand out for their unique features & usability. 

While the users are amused with fitness platforms, most businesses are eying over Nike's success strategy to make money by developing mobile apps. 

Now the wait is over as the next section to discover how Nike made it to conquer the on-demand economy for fitness training & development.
4 Pillars That Shaped The Success Of Nike Training App For Digital Fitness
Well, the fact is that Nike's decision to make all in-app workouts on its fitness training app was indeed a masterstroke that drove its overnight success. The number of active users surged by 60% right after the moment Nike announced to make its services within the fitness training club free.

It seems that Nike's brand strategists know exactly what their customers desire when a pandemic led them to adapt in-door workouts & exercise regimes as they can't hit the gym.

Experts say that these four pillars of success can take credit for the rise of Nike fitness training apps.
#1 Freemium Membership Drove Acquisition
Nike is trusted by a good count of loyal customers who bank on the brand not only for fitness or workout reasons but also for their sports love.

Almost every athlete aiming to explore Nike's commerce store for sports equipment & products ends up making purchases to keep the gear on. There is a lot of speculation about the success or failure of Nike's decision to introduce freemium membership for the subscribers on the Nike training club. 

Believe it or not, Nike's freemium strategy for membership plan is now marked as top tech upgrades for businesses as it garnered $170 million profits with these exclusive benefits & addons:  

Users can check out a small session of free workouts along with options to upgrade to the premium membership for $14.99 for a month. 
Nike's training club leveraged a systematic approach to learn customers' fitness objectives & habits to provide a personalized experience for strong acquisition.
Expert recommendations for a fitness training program as well as best-fit products for workout-based gear.
The app features more than 100 intelligent fitness training workouts designed by the world's best trainers & sports athletes. 
Personalized workout plans with options to either go ahead with the automatically generated sessions or add manually from the list. 
Perfectly redesigned fitness training app for users of all ages, genders, preferences, & fitness needs.
Weekly stories of 'featured athletes' to inspire Nike fitness club members. 
Enhanced photo sharing feature to encourage other users via social media or any other platforms & more. 
Unlike existing competitors of Nike such as Peloton, Mirror, & Apple Fitness+, the Nike fitness training app refrains from monetizing through subscription revenue. It's clear that Nike's business model & mobile app pricing strategy to make more money are both completely different from other top brands in the market.

Wait! we're yet to discuss monetization in the next section.
#2 Revenue-focused Monetization 
When it comes to fitness training, Nike is one of the early adopters of revenue-focused monetization to earn money through an app with a personalized commerce experience. Nike fitness training club comes up with the potential to attract more product sales by encouraging its active members to make purchases within the app.

For instance, the app automatically showcases connected experiences & journeys to match users' interests for yoga workouts along with suggestions for selective yoga apparel & equipment.

In this context, Nike's marketing strategy for fitness training clubs was greatly influenced by two rewarding strategies: personalization & curation that eventually shaped a powerful & profit-driven mobile app monetization model to benefit the brand.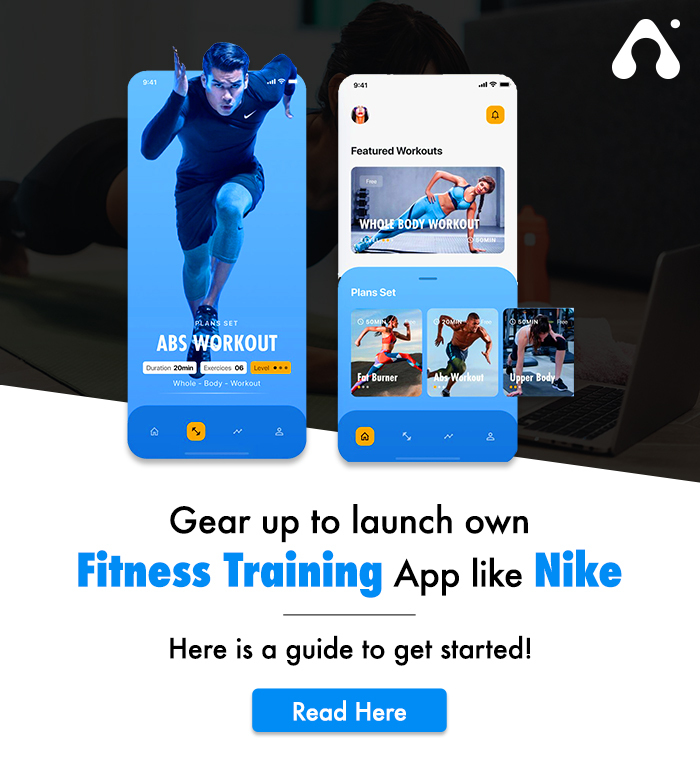 #3 Personalized Member Experience Boost Retention
Now the question arises what Nike is doing to keep new customers engaged with their fitness training app? It's pretty understood that personalized member experience is a critical factor behind the excellent retention rate of users connected to the Nike fitness training club that serves as a sensible explanation of how free apps make money.

With a vast library of over 185 online workouts based on diverse fitness levels, the app users tend to stick with quick exercise sessions that usually vary for a course of 15 to 16 minutes.

While the majority of fitness apps are restricted to a specific workout or category within a selective discipline, the Nike fitness training club brings a room full of options to provide a High-Intensity Interval Training facility from master trainers.

In fact, all Nike training apps made the most out of next-gen mobile app development technologies to present variations with different kinds of workout programs dedicated to sports-centric skill development.
#4 Direct Syncing With NikeFuel Band
Although it's not necessary to connect to the NikeFuel band to use Nike fitness training club benefits, doing so will be a great experience for every fitness enthusiast.

Let's take an example, whenever a user is simply performing a workout activity on the app, he/she can use the NikeFuel band to add the session that will sync with the Nike fitness training app.

There will be no need to mention daily activity on fitness training club as the data gets updated directly through NikeFuel band.

Hence, whether a user desires to track calories or running time, the NikeFuel band enables you to measure each & every workout activity by capturing valuable data with direct syncing.
Why Count On Appventurez To Drive Digital Revenues With Fitness Training Apps Like Nike?
Nike's strategy to run mobile-driven campaigns during the initial days of the pandemic outbreak also led to the constant spike in digital sales across the world. The brand's overall revenue growth surged by 11% to reach $10.6 billion with the inclusion of profits generated from its Nike fitness training club.

No excuse could give you a reason to neglect the success story of the Nike fitness training app that continues to dominate the on-demand economy of fitness & sports industries. Since the global fitness app is evolving to implement new digital transformation technologies, businesses are set to ideate innovative digital products & services to meet the ever-changing demands for fitness and strength training. 

Crafting a unique & useful fitness training app like Nike needs result-driven strategy, business model, & adeptness to meet the quality standards of designing and development. Appventurez is the best technology partner for emerging brands, startups, & industries investing in on-demand mobile app development to establish their name in the competitive place. Let's take our discussion ahead to give you some clarity on our mastery.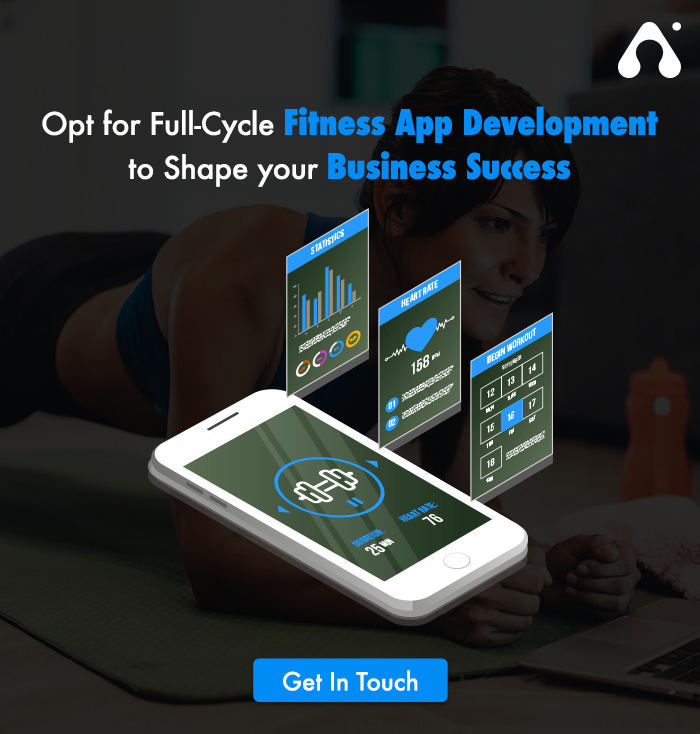 FAQs
Q.1- How much does the Nike training app cost?
The cost of building a fitness training app like Nike greatly varies from typical on-demand fitness apps existing in the market.

However, it would be a smarter approach for a business to get in touch with a reputed mobile app development service provider to get some clarity of the estimated budget for fitness app development. The rough budget for getting an app developed like Nike will stay b/w $20,000 to $30,000 for native app development. In the case of cross-platform apps, this pricing will increase by $20,000 more.
Q.2- How does the Nike training app work?
The Nike training app is an all-inclusive & free personalized workout plan from master trainers to help users meet their fitness goals. Here is how the app works to facilitate Nike fitness training club members:
User sign up/login process to get started 
Details of users' fitness regime or activity to suggest beginner's plan
Initial workout suggestions & fitness plans to begin
Options to set a training plan from a list of customizable program
Access to a series of exercises from the recommended list of workouts
Activity tab to track the status of regular fitness level & achievements
Q.3- Is it worth investing in the Nike fitness training app from a business perspective?
Obviously yes. Popular fitness apps like Nike made a great hit during pandemic days as they became a key source of body fitness & strength training when people are restricted to stay indoors due to infection risks. From yoga to intense workouts, the app is a home for fitness freaks who look for personalized workout plans to stay in shape.

The dominance of fitness training reflects their importance among the fitness enthusiasts & hence, investing in on-demand fitness app development is the need of the hour for the businesses appearing in the fitness world.

---
---