Technology is constantly evolving at an unprecedented rate and many of its developments including Artificial Intelligence, Virtual Reality, and Machine Learning continue bridging the gap between real and digital work and thriving the digital ecosystem.

Augmented Reality is among the powerful technologies and engagement tools that have seen an incredible rise in mobile app development and technology. Though the term 'Augmented reality (AR) apps' sounds too futuristic and a distant dream to many, people are catching up to the trend more quickly than you might think.

Though popularized in entertainment technology, augmented reality has been flourishing in several industries including eCommerce, healthcare, architecture, education, real estate, and a lot more. According to the global Augmented Reality market statistics forecast, the augmented reality market value is projected to reach at least $136.55 billion by 2025, growing at a CAGR rate of 56.32% from 2017 to 2025.

Table of Contents

How Augmented Reality Is Boosting the Scope Of Mobile App Development?
How Do You Integrate Augmented Reality Into Your Business?
Challenges in Way of Augmented Reality App Development
How Appventurez can Help you with Augmented Reality App Development?
What is Augmented Reality?
Augmented reality (AR) is a technology that combines computer-generated virtual information with the real world after stimulation.

Though still in a nascent stage, Augmented reality is used in eCommerce that is used for garnering a lot of attraction and helping businesses innovatively improve customer service. It includes the usage of multimedia, real-time tracking, 3D-modelling, intelligent interaction, sensing among others to enhance the real world.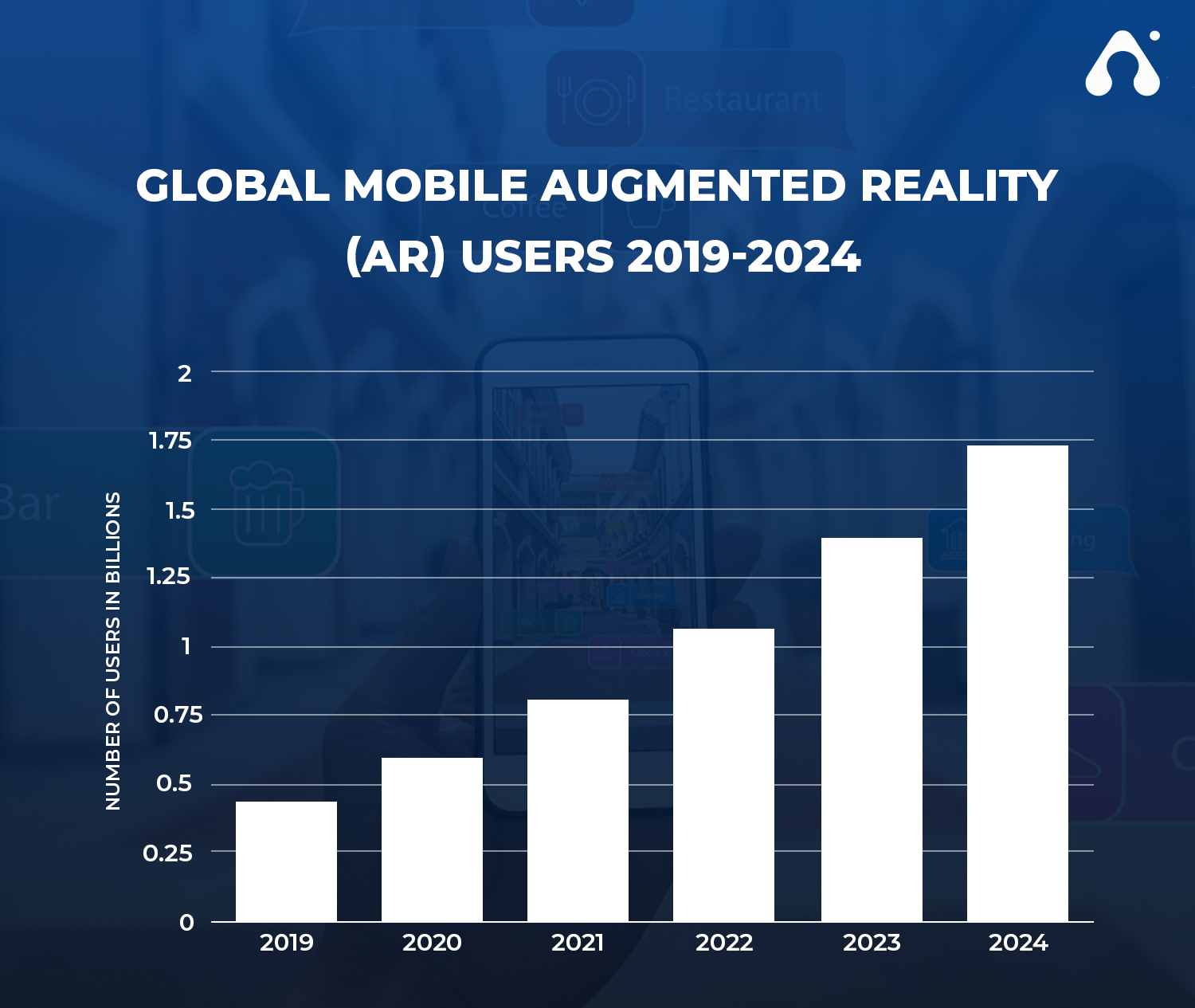 Types of Augmented Reality
According to an AR report in 2022, 'There will be around 4 billion AR users by 2023. The same report revealed that around 83.1 million people are expected to utilize augmented reality at least once in a month.'

There are several types of augmented reality in use today. In this section, we walk you through the different types and a brief understanding of each one of them.

1 – Location-based AR
Location-based AR takes advantage of mobile's GPS/location detection capabilities to use your location and create augmented reality objects.
If you're a traveller, apps built with this technology can be used like maps. The benefits of using geolocation on your apps are well for formulating interesting locations to visit based on your current location.

Pokemon Go is the perfect example of location-based AR. Technology brings our favourite Pokemon (in a virtual form) into our world through the smartphone.

#2 – Projection-based AR
One of the simplest types of AR, Projection-based AR projects digital images, objects and light on a surface. A light is shone onto a surface and interaction is done by touching the projected surface with a hand.

#3 – Superimposition-based AR
Superimposition-based AR means the superimposition of the objects. Like augmented reality games will recognize the object in the real world and enhance the entire or partial view with an augmented view of the object.

For example, in the medical line, a doctor can use superimposition-based AR to superimpose the X-ray view of a patient's broken bone on a real image to gain a clear understanding of the bone's actual damage.

#4 – Recognition-based AR
Whenever you scan a QR code or an image and it comes to live, you use a recognition-based AR. Also, when your words are translated in the language of your choice through the camera is another type of recognition-based AR technology.

Recognition-based AR makes use of image recognition to detect patterns or major pattern detections or image markers.

All in all, Augmented Reality bridges the gap between the digital world and the real world & is providing people with a new way to apprehend and experience the things around them.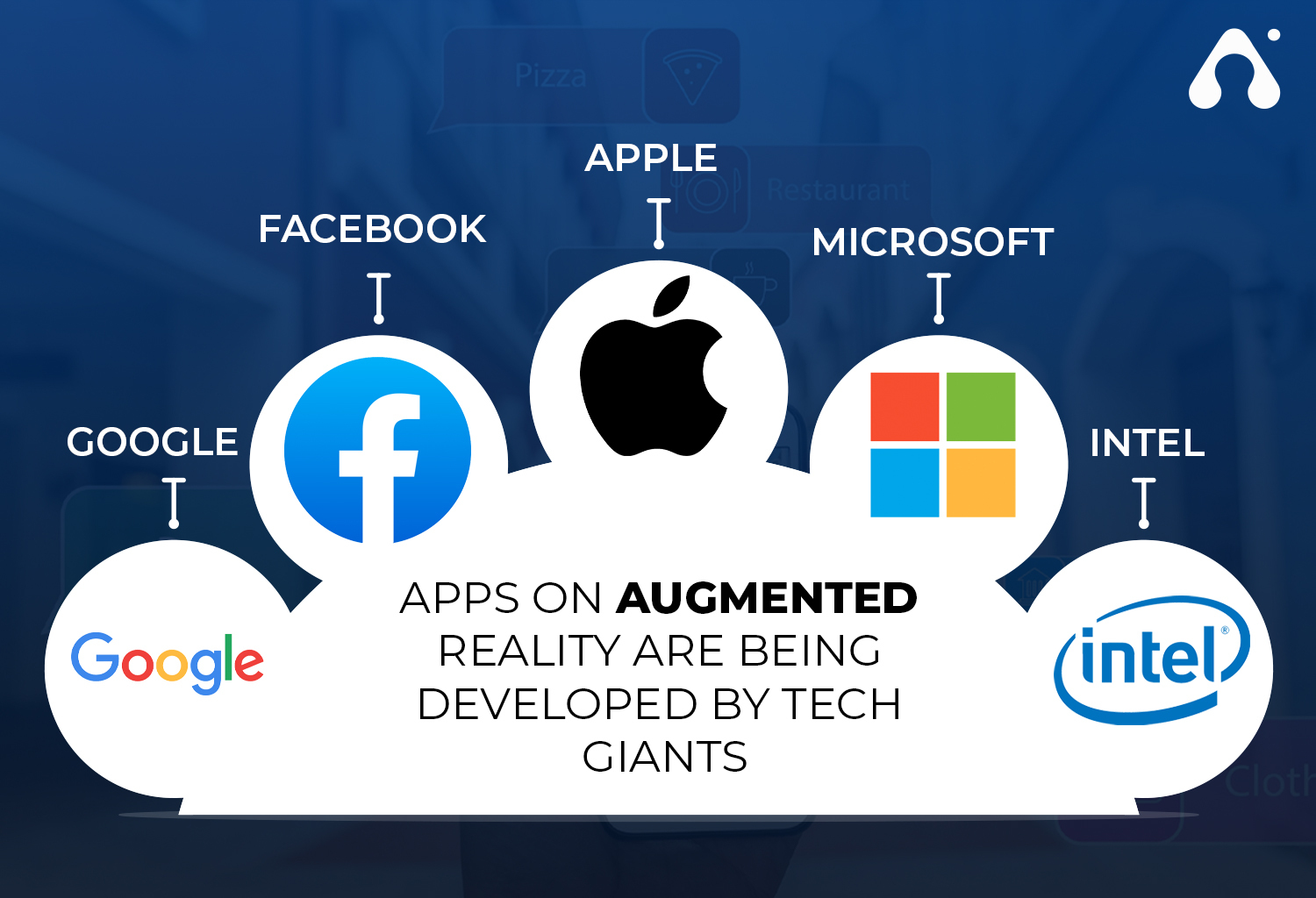 How Augmented Reality Is Boosting the Scope Of Mobile App Development?
By now you would have understood how and why AR is becoming more widespread and effective.
Here is a brief of how augmented reality mobile apps are transforming businesses (sectors that would benefit from AR) and customer experience today and some thoughts of future value: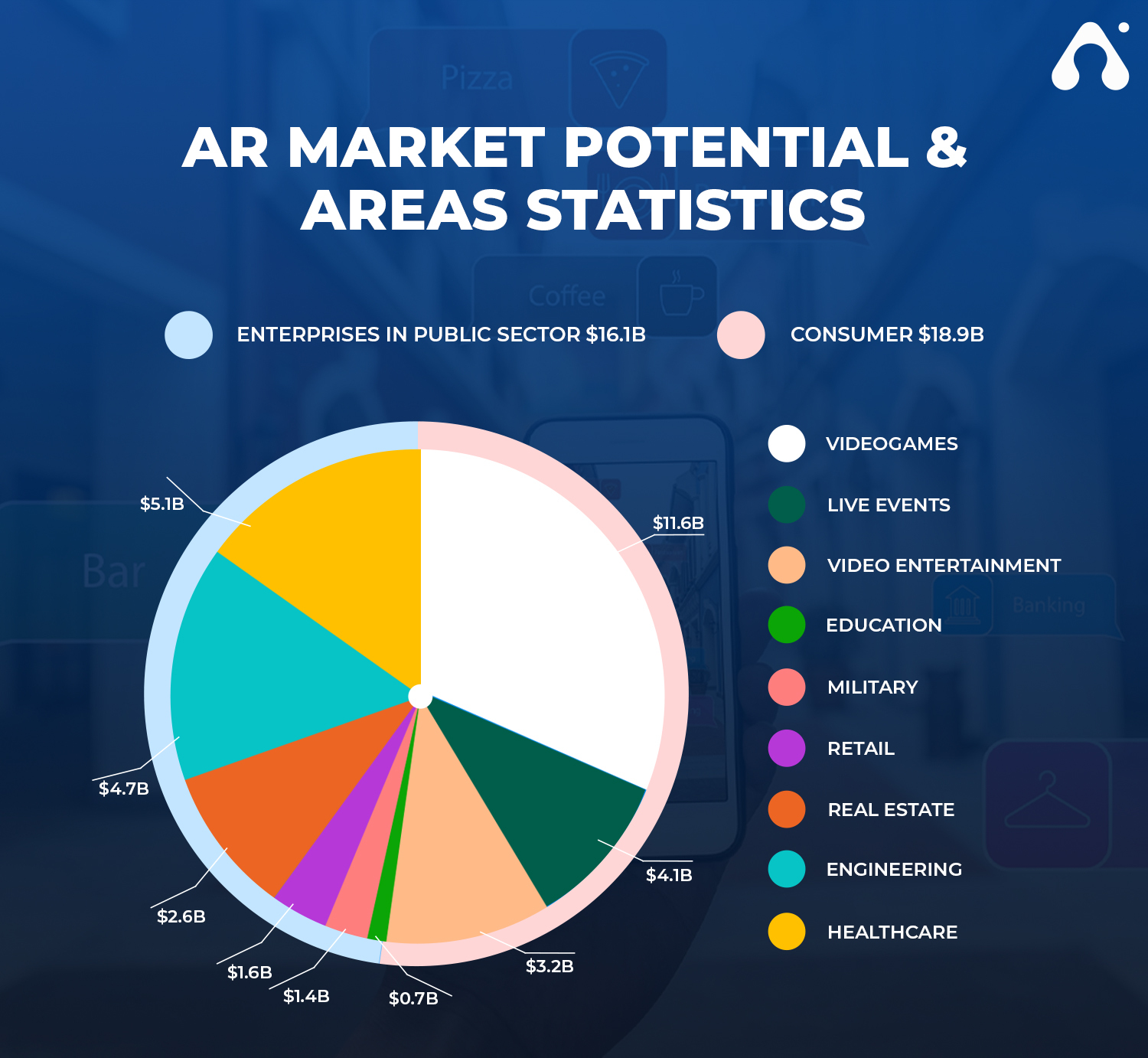 1# – Healthcare
This technology offers an augmented setting for healthcare professionals, medical students, and others to run through the virtual process via AR to improve the quality of treatment and safety for patients when performed in real-time there are top technology trends in the healthcare field.

AR head-mounted displays (HMD) for surgery, AR for diagnostics and minimally invasive surgery, and Home-based AR for rehabilitation are some of the several branches of healthcare AR adoption.

2# – Real Estate
Realtors and real estate agents are using the AR app in real estate trading as well as in architecture & construction to enable their users to see a 3D image of the property, interact with it and meet their expectations. The products can be moved from one place to another to see how the home would look like.

Not only this but the app also smoothens the process of measuring the dimensions (size) of the property in real-time. All this helps a buyer make a decision easily, in less time, and without compromising at any point.

3# – Education & Training
How is AR being used in applications? Teachers can use virtual graphics/animations in real-time while interacting with their students to make learning fun, engaging and intriguing.

The augmented reality app development services in the education and training sector give learners/trainees hands-on learning experiences in simulative environments with the implementation of technology in education. Some of the successful AR apps for students are ZooBurst, Google Expeditions, Human Anatomy Atlas, Curioscope, Catchy Words AR, and Chromville Science.

4# – Advertising & Marketing
AR is redefining the concept of showrooms and product demonstrations with the help of mobile app marketing. Augmented reality has become a valuable marketing tool that lets customers virtually see how their products will look or operate in a real-life setting before they decide to buy them.

To put it simply, the experience eliminates any sort of uncertainty a buyer might feel about his/her choice and shortens the sales time cycle. The shorter the time shoppers spend thinking, the more money they will spend.

5 – Social Media
Snapchat, Instagram, and Pokemon Go are the biggest hits in apps that are already using augmented reality. The technology for social media app development is letting users bring their updates to life with catchy AR filters and on the other hand, offering brands an opportunity to give their users an unforgettable, immersive experience to their targeted user base in the form of AR-enabled stories, videos, ads, and games.

How Do You Integrate Augmented Reality Into Your Business?
Since augmented reality guides are helpful in new and noticeable ways, businesses can attract more and more attention to their products and services. Here's the roadmap to integrating Augmented Reality into your business plan:

#1 – Do Thorough Market Research
Don't follow the herd. Instead, deep dive into your business market and narrow down your requirements accordingly to use the AR technology. It is a must that you get familiarised with augmented reality and its market with competitive analysis as well before investing your time and efforts.

#2 – Review Internal Business Challenges
Before getting into how others are leveraging the benefits of AR, figure out the limitations of your old-school business processes. For this, you need to look through the different segments of your business and work in close collaboration with the internal teams to get a clear picture of what challenges are causing hindrance and ways to eliminate them via AR technology.

#3 – Hire an AR Application Expert
Once you have evaluated and formulated the possible solutions, the next thing to do is to pick the right AR/VR development company like us.

Also, if you are sceptical or not sure of how to give shape to your idea, we also provide you with sound advice on the best Augmented Reality app features you should focus upon. We will even help you to market your product later on!
Challenges in Way of Augmented Reality App Development
Obstacles in the Development of Augmented Reality Apps. At this point, there are two major obstacles to integrating AR into the app development process:

1# Location Tracking
Let's be honest. For AR-based apps, location monitoring is confined to a defined scale. In busy places or interior venues, for example, pinpointing a precise position is difficult. For exploiting position tracking in AR mobile apps, GPS and location-related technologies must be taken to the next level.

2# Privacy Protection
In AR apps, privacy is a key concern. These applications save a person's important information, which anybody may access with ease. The user's private information and other confidential data must be protected using AR technology.

With the advancement of AR technology and its global adoption, we may anticipate that all of these issues will be overcome.

How Appventurez can Help you with Augmented Reality App Development?
Make yourself count in the digital world by giving your users a beautiful AR app experience. Step into the future with our Augmented app development services, hold your users like never before, and win the technology game.

If you are looking for the best mobile and web app development company to develop addictive mobile applications using Augmented Reality, Virtual Reality, or even Mixed Reality for smartphones, tablets, and headset devices, contact us today!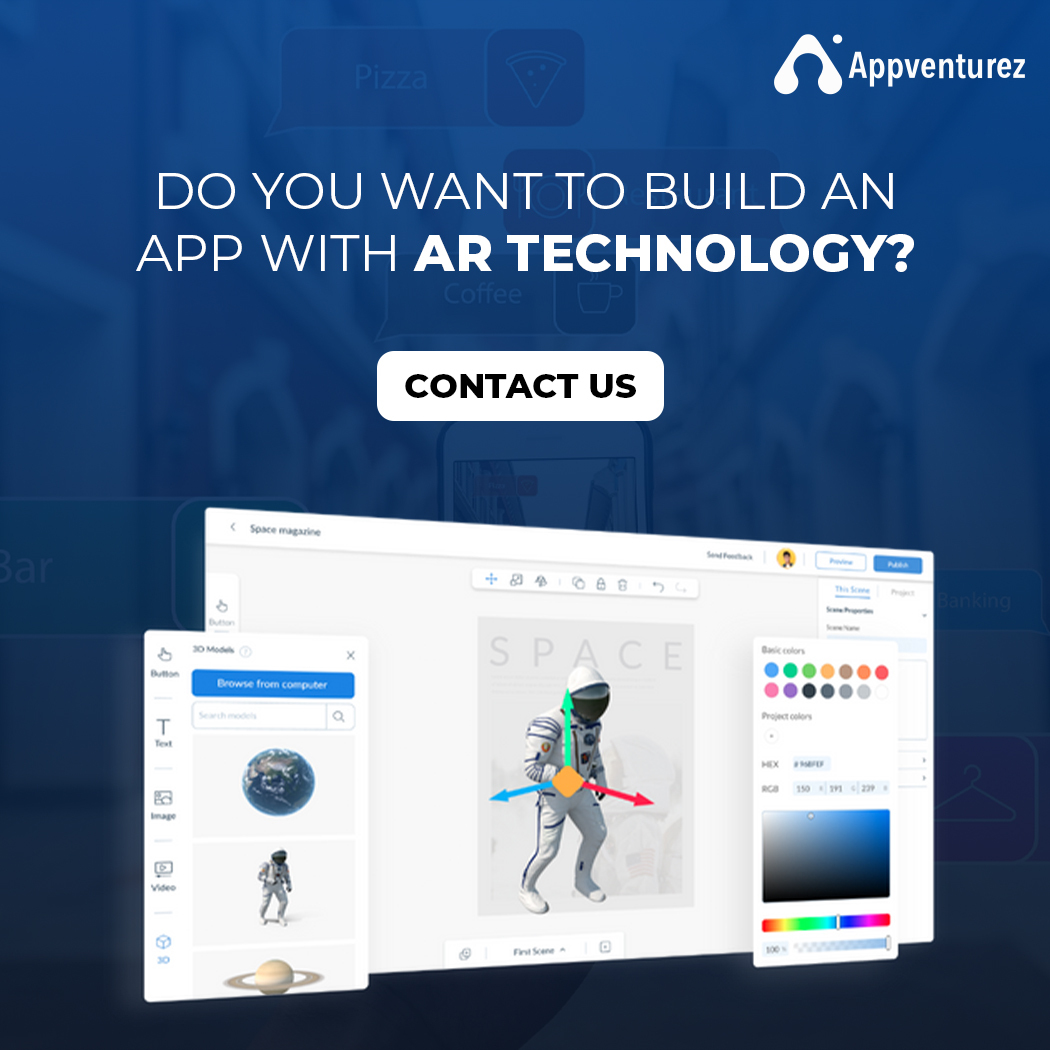 FAQ's
Q1. How is augmented reality used in businesses?
AR helps firms to provide consistent training for each individual, allowing them to gain competence and confidence in their roles. For instance, a corporation may create an AR application to swiftly onboard new staff and teach them with no danger to the employee or workplace operations.
Q2. Why is augmented reality important?

Augmented reality has the potential to be superior to reality since it allows consumers to preview goods more quickly and simply than in real life. Swiping between numerous cosmetic looks, for example, is significantly faster than continuously washing your face to try the next shade.
Q3. How efficient is augmented reality?

According to CISCO research, hands-on experience, such as using AR, enhanced installation efficiency by 30% and first-use accuracy by 90%. AR-based training may also collect real-time user feedback. This feature enables a personalised experience for each learner.
---
---