Technology has changed the face of education by introducing engaging ways of learning, especially after the COVID-19 pandemic. Here is how technologies are revolutionizing the education sector. 
Over the past few years, technologies have become an essential part of education. Nowadays, the mobile revolution is changing education dynamically like never before, especially after the COVID-19 pandemic. It is expected that the mobile market will be worth $32 billion in the next four years as per the study, and this figure is enough that it is here to stay for long. 
The global pandemic COVID-19 and quarantine have changed almost all of our familiar life processes. Many industries have been profoundly affected by this pandemic, from fashion and retail to healthcare and transportation. However, the education industry undergoes one of the most radical changes. 
The modern educational sector has adapted the latest technology to make the learning process easy for students and faculties. From digital classrooms to virtual classes, the modern education system has seen many changes positively with advanced technologies. 
Impact of Technologies In The Education Sector
Since the end of December 2019, the world has been faced with unpredicted issues due to COVID-19. This incident has made online learning more critical for the education sector. Statista report shows that worldwide eLearning app spending is projected to reach $37.8bn US by 2020, up from 3.4 billion US dollars in 2011. Mobile learning is a growing EdTech trend, and it has been expected that mobile learning will achieve $70 billion by 2020.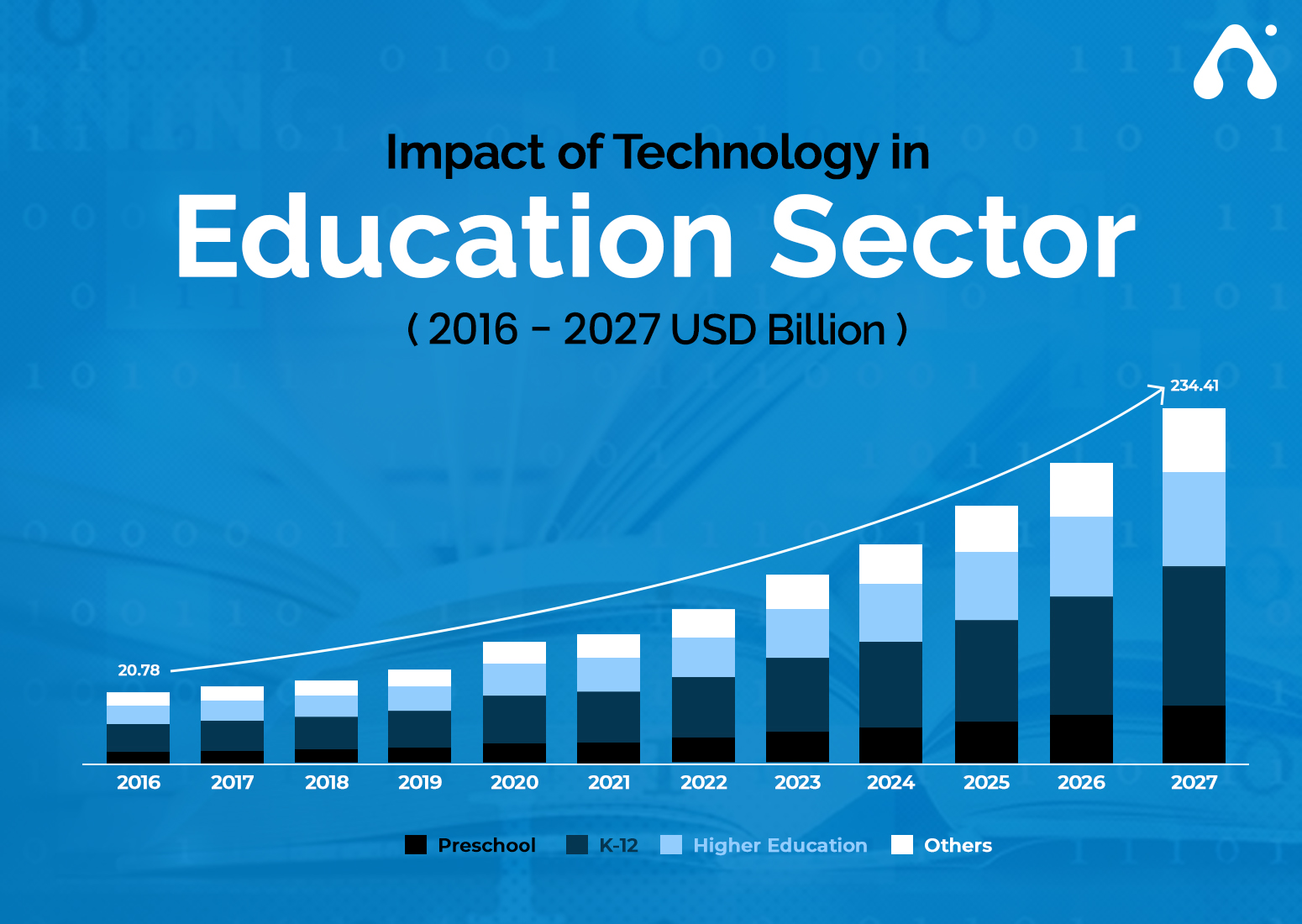 Also, you can read about the impact of e-learning apps amid Coronavirus.
Ultimate learning, less learning cost, sustainability, enhanced communication, and varied functions are the sweet spots that make technologies more popular among students and teachers. 
How Have Technologies Changed The EdTech Sector?
Here are some ways how technologies are beneficial to education.
Way # 1 – Improving Interaction & High Engagement
Interaction and engagement are essential factors in the education sector. Technology in education offers a vast, intelligent user interface to help students get a lot of information about different areas. Its easy-to-use interface and alluring plan improve communication between students/teachers. Other creative games offer a chance for students to release their creativity. 
Way # 2 – Entertaining Learning Mode
Technologies make learning fun with the features of entertaining graphics, imaginative illustrations, and different games. They encourage systematic learning and allow students to learn with a new perspective and explore their interests at their own pace. These applications keep everything organized and arranged to enable students to follow their stream with great energy and curiosity. Besides, it is a one-stop answer for many student issues, so both students and teachers can grow their reach and information. 
Way # 3 – Ease of Communication
Communication is one of the most significant instruments in the education industry. Education apps help build up a simple communication framework between students, teachers and parents, increasing the effectiveness of the educational system. Their advanced features allow guardians to monitor participation, appraisal reports and different parts about their children, advancing transparency in the framework. Apart from this, they enable parents to track attendance, assessment reports and other remarks about their child. 
Way # 4 – Customization
Another way mobile apps are revolutionizing the modern education system is customizability. Each education organization has its training modes, goals, teaching methods and objectives. By using advanced technology in the education sector, you can tailor their apps and teaching methods in different unique ways. 
Way # 5 – Easy Assessment of Projects & Assignments
Those days are gone when faculties needed to check hundreds of assignments and projects. However, mobile e-learning applications make this complicated task hassle-free for teachers. These apps allow teachers to efficiently conduct tests & assessments in different formats like long-answer, short-answer, objective questions and many more. They support the concept of saving paper and even you don't need to collect any hard copies, manage them and do everything manually. 
From 24/7 availability and systematic learning to limitless learning and sustainable education, there are many other ways how technologies are changing the education sector. So, if you want to make your education business thrive in today's competitive world, you need a reliable and professional education app.
The Growing Role of Technology in the Education
The infographic below represents the different ways technology is transforming classrooms and how technology shapes the EdTech sector. 

Let's talk about game-changing technologies,
Top 6 Game-Changing Technologies In Education
# 1 – Smartphones & Tablets
Gone are the days when teachers and parents saw smartphones as disruptive in the classroom and home. Nowadays, many children have smartphones and tablets. These devices promote cooperative activities, encouraging the development of cognitive skills. In today's digital world, the education system has replaced traditional methods with advanced technology resources that enhance motivation and learning. Smartphones & tablets allow students to get digital skills. Even you can get information instantly through these new digital devices. What's more, these new learning and teaching resources attract students' attention more strongly and help develop their visual memory and motivation, strengthening their creativity. Making the education system fun and exciting for both students and teachers is the main use of this game-changing technology in the education sector. 
# 2 – Google Classroom
When it comes to game-changing technologies, Google classrooms play a vital role in the education system. This digital classroom is a platform that connects together Google's collaboration tools, softwares and products for teachers and students. Excellent flexibility and seamless integration with Google's popular tools make this technology one of the most popular edtech tools. Everyone – whether students or teachers or parents – can get benefits from this game-changing technology in education. It saves teachers time, aids students to stay organized & motivated and enables real-time feedback. 
# 3 – Audiobooks
You can also go with audiobooks – a famous game-changing technology in education that advances children's literacy skills. Also, experts revealed that when children listen to books instead of reading, they notice a significant improvement in their comprehension and vocabulary. It doesn't mean students should avoid reading. Reading books continue to be critically essential and all education institutions should have well-stocked classroom libraries to encourage this activity. But the fact is that audiobooks are critical resources to an excellent literacy program. 
# 4 – Gamification or Gamified Learning
Undoubtedly, fun & games help students thrive, and even they actively participate in classroom games. Game resources help create an entertaining learning environment for learners. Keeping this idea in mind, Gamification technology has launched in the market. It is the best way to turn your learning into a more fun and engaging process for your students. This trend is prevalent in the K-12 education sector as kids are quickly engaged in games. It doesn't mean that higher education or corporate training doesn't need fun elements to improve learners' engagement levels. Here are the top five gamification tools for education in the image below.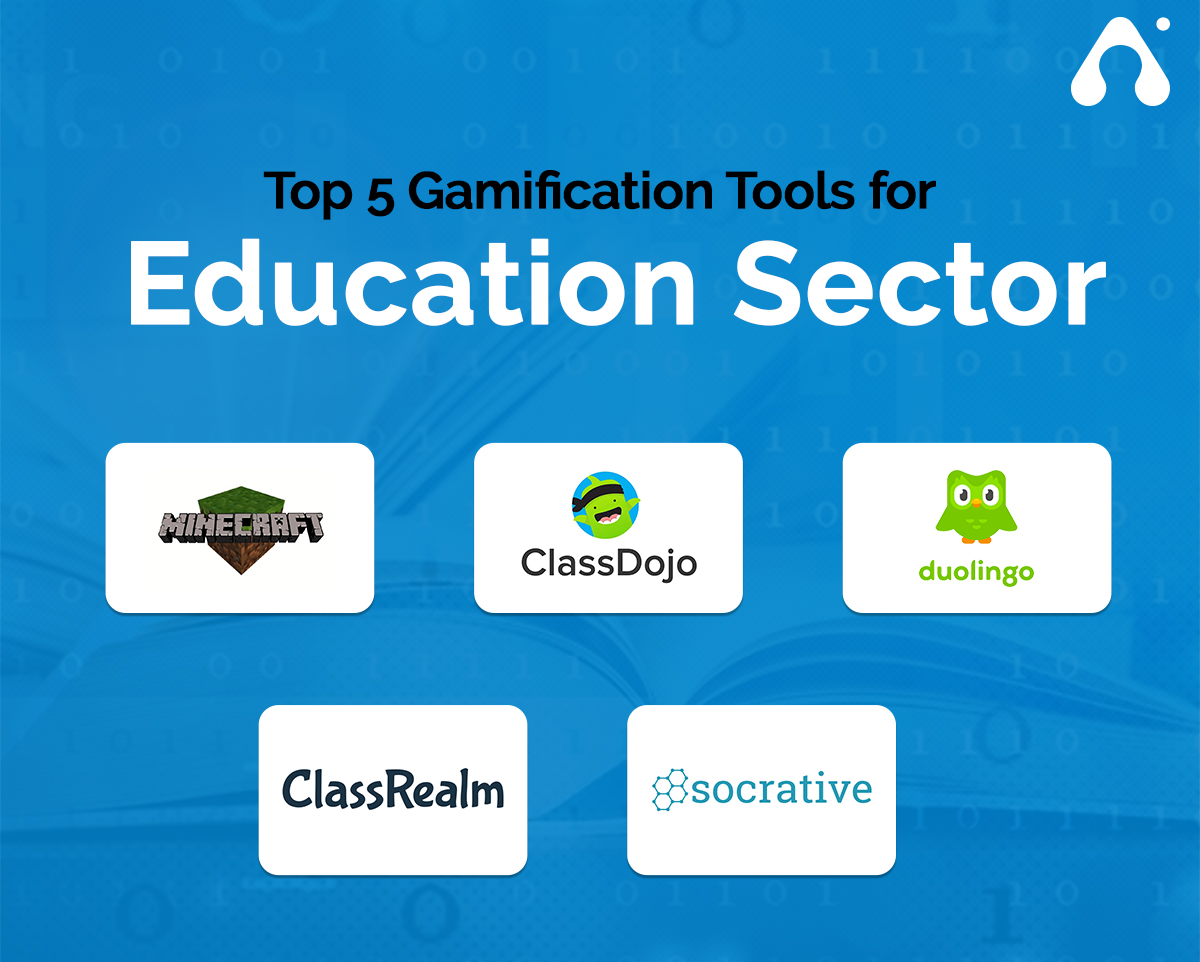 # 5 – Virtual & Augmented Reality (AR & VR)
The learning experience has undergone a massive change since Virtual Reality (VR) and Augmented Reality (AR) came to the education sector. These technologies provide students a platform where they can learn interactively like never before. They can enhance both learning and learner engagement. As its name implies, Virtual Reality offers a constructed reality, while Augmented Reality gives an improved view of an actual image. AR & VR app development can help solve the most significant issues of education via innovative teaching methods. 
# 6 – Cloud Computing 
Nowadays, students can get education elements from any part of the world thanks to cloud computing technology. Students, teachers and administrators can get help from this technology in the education field. But how? It allows students access to written assessments through an internet connection, teachers to post learning materials and administrators to collaborate with another and save money on data storage easily. With cloud computing, you don't need to carry tons of books. Plus, it allows students to chat live with their tutor. 
No matter which technology in education you are considering, developing a reliable and professional app is essential for a successful education business. But, how to develop an education app? Hire a dedicated application development company! 
How Can Appventurez Help In The Education Sector?
Many game-changing technologies play a vital role in today's modern education system, from smart classes to gamification. These technologies are part of mobile applications, so mobile apps have become the central part of the EdTech sector in a nutshell. Education apps help students reduce the boundaries of classrooms and schools and learn everything at their own pace. 
Appventurez is one of the leading mobile app development companies helping in your education business, developing reliable mobile apps. If you are looking for the best mobile apps for your education business, we are here to help you! We have a dedicated team of professional Android developers and iOS developers who have many years of experience building creative and user-friendly apps for gamification, AR & VR and Artificial Intelligence in the education sector. 
Want to make your education business thrive with technologies? If so, get in touch with our experts and get more sales and productivity.
---
---