Since you want to comprehend the development cost of apps like Naukri, it is evident that you are interested in having a job portal or app for your recruitment firm. However, don't you think it would be advantageous to know how job portal search apps like Naukri work and the whole business model of such identical apps? Well, I think it would definitely be and therefore, have brought valuable insights to you.

In this technologically advancing era, where getting something off the ground in full swing, whether it comes to looking at the communication aspect or user experience, has become easier than we could ever have imagined. Paying a visit to the organization, dropping your CV, and waiting for days to get an update from the company have now become things of the past. Digitization has streamlined the recruitment process and made the journey of finding a job an enjoyable task for candidates.

The surge in job portals like Naukri has taken the recruitment industry by storm. While the organizations want to hire the best employee for their company, a job seeker, on the other hand, wants to be a part of a company he has always dreamt of getting into. Naukri is admirably bridging the gap between recruiter and job seeker and establishing feasible communication. Owing to the advent of technology, companies no longer use traditional methods of advertising about the vacancies in their firm. This is ultimately resulting in an increase in the demand for job portal apps like Naukri.

The startup has been mainstreamed ever since it has come into play. More than just being in vogue, it is springing up as a smart choice for budding entrepreneurs. Many young minds who are looking forward to investing in a recruitment firm are seeking an answer to "How much does it cost to develop a job portal app like Naukri?" And why they should not be. After all, investing in a job portal app is one of the most fired revenue-earning business ideas.

In this article, I will thoroughly discuss how does Naukri make money which will include the business model as well as the benefits of using job portal app for users.

Check this post – How Much Does it Cost to Develop an Application?
Significant Job Search Stats For Business Owners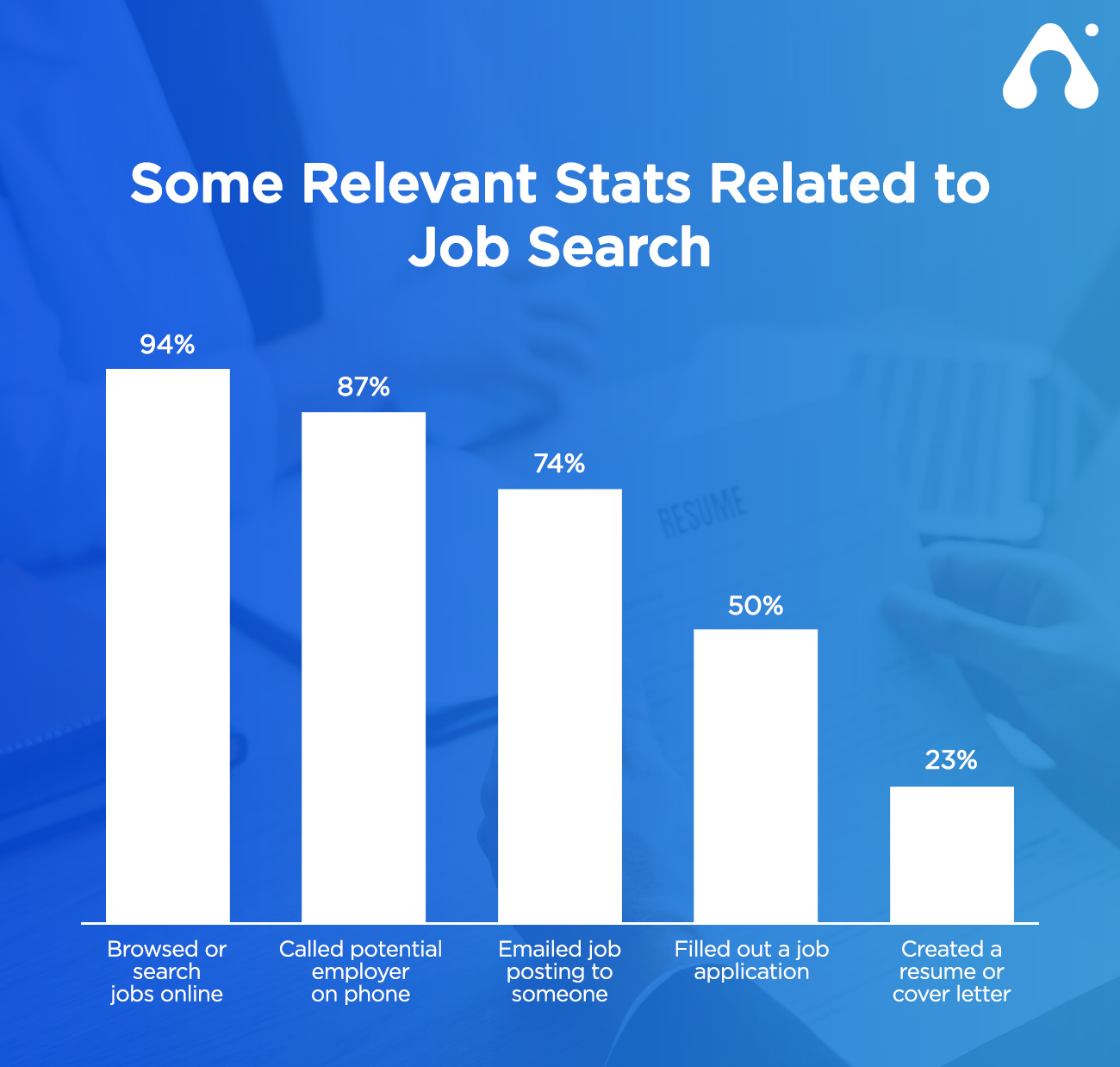 What Is Naukri?
Naukri, translated as a job in English, is an online job portal operating in India and the Middle East where the platform is famous with the name of Naukrigulf. It was founded in the year 1997 by an Indian businessman, Sanjeev Bikhachandani. Naukri.com is a pioneering employment website that is touted as one of the most successful Indian startups. Being a million-dollar industry, Naukri.com is now a company that upstreams its position and steadily competes with other companies functioning in the same domain. One of the leading websites reveals that the estimated value of Naukri.com is $30,839,400.
An Interesting Story Behind the Idea of Naukri.com
When you work towards accomplishing a goal, understanding the business model and metrics plays an indispensable role and Mr. Sanjeev hit the right chord by doing exactly that. He sighted an opportunity and chased it with courage. During his time in HMM, he observed that everyone around him used to read Business India magazine which used to have appointment ads in every issue. While people used to discuss job opportunities, nobody actually wants to leave their current job because of the comfortability and risk element. There he noticed an interesting thing and spotted an elephant in the room. He realized that even if people are not looking for a job, they are still talking about it. And this is where he got an idea of bringing a job portal that does more than just the talking.
Factors That Influence the Cost of an App Like Naukri
When it comes to developing a job portal app like Naukri or any employment boarding app, there's no tried and true budget that can be concluded by a business. The budding entrepreneurs who want to capitalize on the recruitment industry with an avant-garde job portal app need to examine the market and different factors that affect the cost of developing an app like Naukri. The cost of an app depends upon the features and functionality that will be implemented. Apart from that, there are developer's locations, design, etc. that come into play. Here I have mentioned some common prominent factors that affect the job portal app development cost.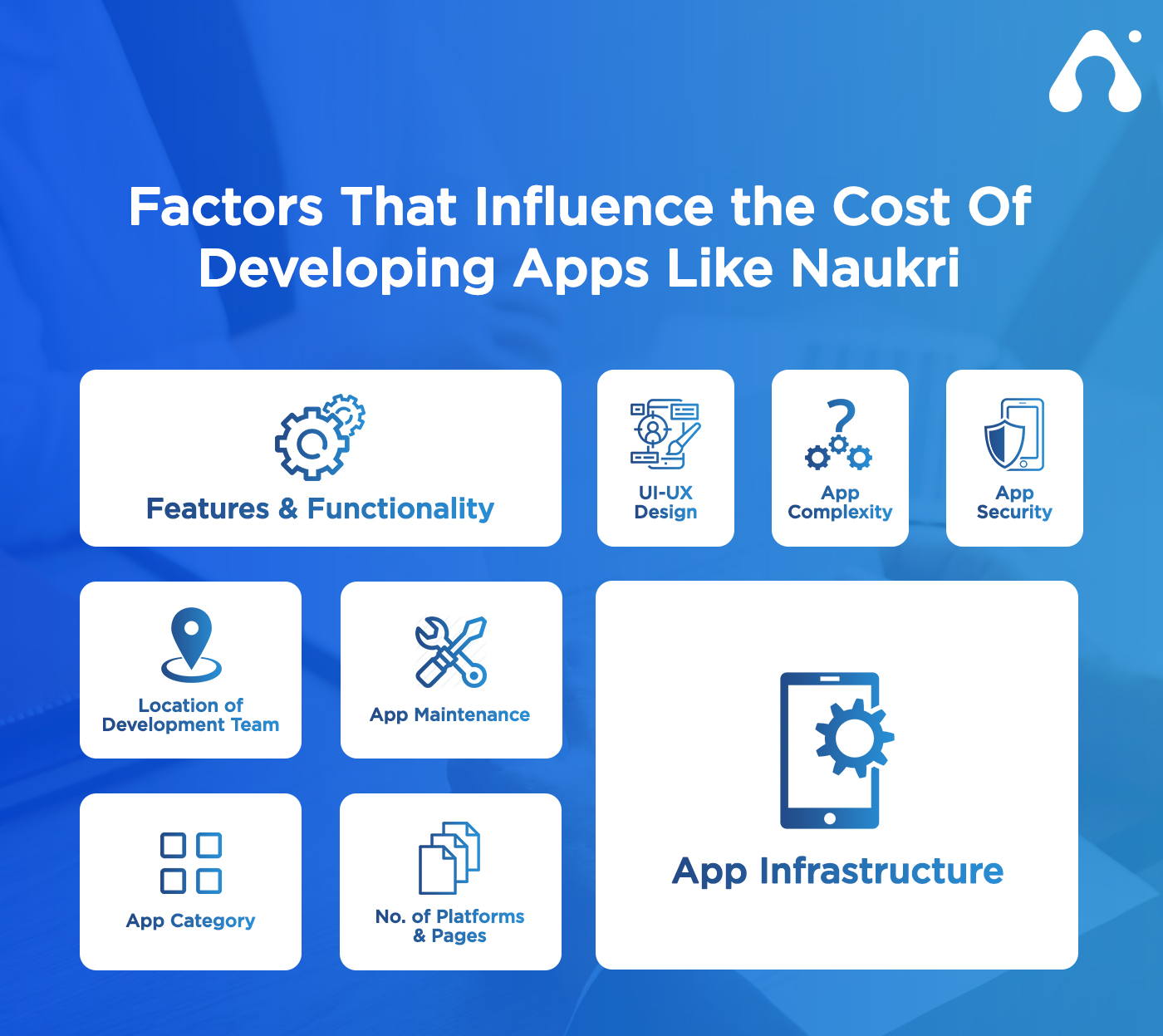 1- Feature & Functionality
One of the substantial things and the development cost deciding factor could be the feature and functionality. The more features you would employ in your app the more convenient it would be to operate for your users. However, it will increase the budget of app development eventually.
UI/UX increases the visual appeal of the app. On top of all, it bestows users to be friendly with the functionality and ability of the app to get things done quickly.
3- App Complexity
Can you say that all the projects in your company are equally complex? Like every project has its own set of complexity. Similarly, not all apps are simple and job portal apps like Naukri fall in the medium complex type which is quite challenging for developers to build.
4- App Security
Every organization dreams of having a fully secure app that is difficult to crack by the phishers. Nonetheless, the integration of security in the app upsurge the development cost.
5- Development Team Location
How experienced the development team is? From which location you are hiring the developers? These are some of the aspects that are considered significant in analyzing the budget of apps like Naukri.
6- App Maintenance
App development process does not just end on launching. There are post-development phases that need to be accounted for, commonly known as the app maintenance phase. Looking after your app post-development with the scope of improvement is important.
Also, Read – The Ultimate Guide to Mobile App Maintenance Cost
7- App Category
There are different types of apps available in the business space catering to the needs of different objectives. It is considered that building a gaming app is the most costly one, developing an app like Naukri is neither easy on the pocket.
8- Number of Platforms
The number of platforms for which the app is expected to get developed for such as Android, iOS, or both, is one of the factors that influence the development cost to an extent. 
9- App Infrastructure
When we say app infrastructure, there is not one or two but plenty of things get included such as computational and operational infrastructure along with components that are necessary to manage the development.
How Much Does It Cost to Develop an App Like Naukri?
We have discussed the factors that possess the power of influencing the development cost of an app like Naukri. These components are significant to keep in mind when it comes to developing a job portal app because these are going to influence the development cost ultimately. Now if you need an estimated figure for your long-hailing question – how much does an app like Naukri cost, I would say that the overall development cost would range from 5000 to 15000 USD (approx).

It may cost higher, or lesser depending upon the features and functionalities you are integrating into an app and the elements that we have discussed so far. Also, I presume that when, being a budding entrepreneur, you are trying to enter the market and seize the recruitment industry, you will definitely be zeroing in on making an app grander than Naukri itself. Hence, it would help you make a decision when you understand the overall business model of job portal apps like Naukri. Refer to the image to comprehend the Naukri business model.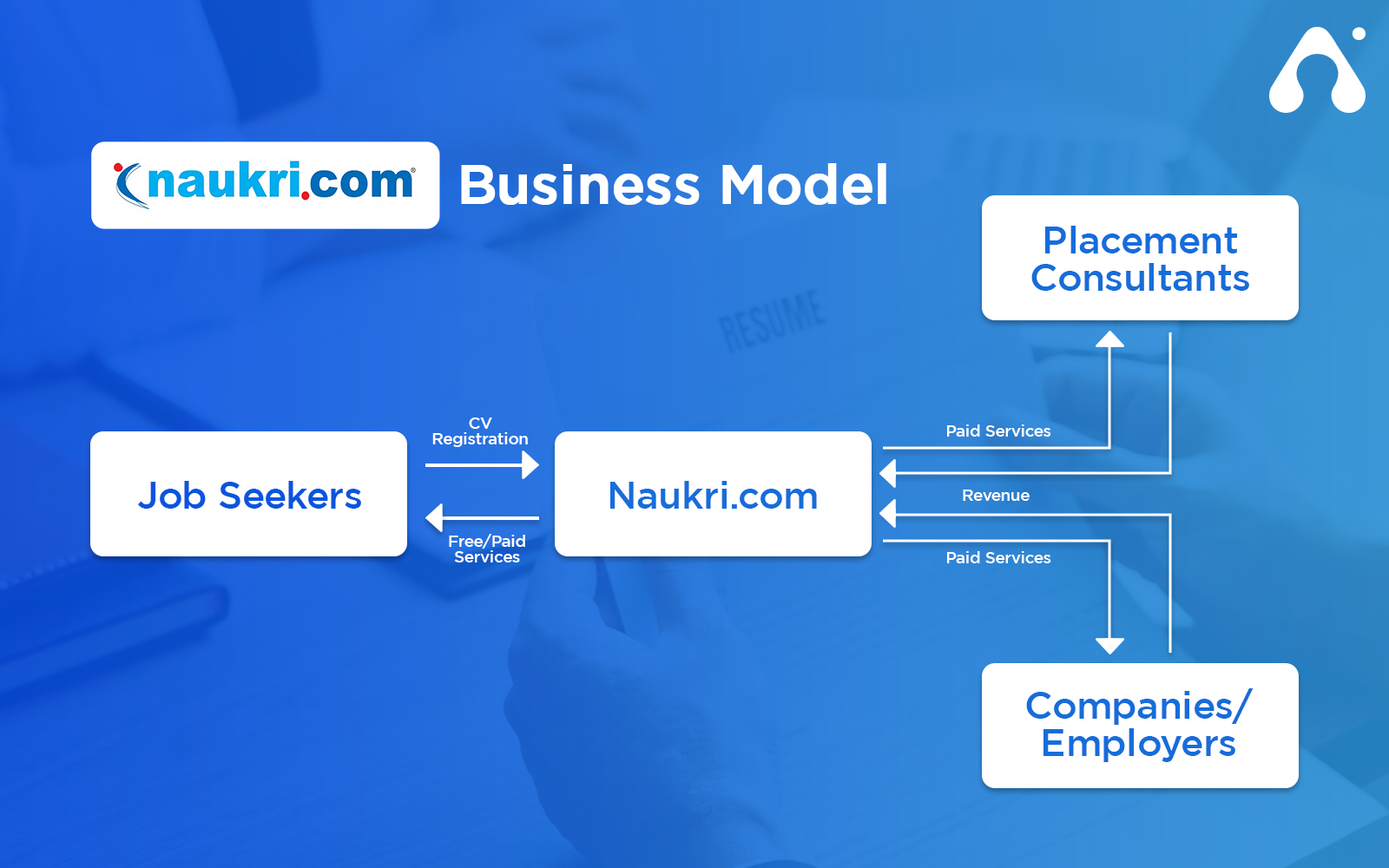 Since an inspiration to develop a job portal app like Naukri truly lies in how successful the business has got with times, the advantages it bestows are another remarkable element that needs to be taken into account more seriously than anything else. Here, we have discussed the benefits of using a job portal app for business. Let's pore right over.

Also, read – How Much Does It Cost To Develop An On-Demand Delivery App?
What Benefits Does Apps like Naukri.com Offers?
There are so many aspiring industries that strive to dominate the recruitment business by emerging as a tower of strength to recruiters and candidates. However, the idea soon gets busted due to improper planning. This results in creating a space where landing up a perfect job for employees and making companies recruit the right talent for their teams becomes easy, seems like a distant dream.

Hence, the situation demands a technology that can be proven a boon for both recruiters and job seekers. That's where job portal apps like Naukri come into play. These job portal apps bring everything in one place with many leverages. Look at the benefits of using job portal apps for recruiters as well as job seekers.

For Recruiters

1- Save recruitment time for companies
One of the major benefits of conducting a recruitment drive via job portal apps is it saves time. Moreover, viewing job applications in the app allows recruiters to free up more time to get to other tasks.
2- Using job portal apps is convenient for recruiters
When you can check most of the applications using a device that you use the most, what can be more feasible than that. With job portal apps like Naukri, companies can track applications, reply to candidates' applications from the smartphone as well.
3- Better screening of resumes
The employment portals allow candidates to provide in-depth detail about everything including their work experience and job responsibilities they have been a part of to date. This gives an edge to recruiters to know about the job seekers in detail and screen the resumes productively.
For Job Seekers

1- Regular job alerts
The scarcity of jobs or rather I say the unawareness of recruitment drive leads many candidates to let go of the opportunity that could turn out as the most prestigious for them. Job portal apps elude such limitations by sending regular job recommendations and alerts to the seekers.
2- Easy access to top employers
Gone are the days when finding the open positions in top companies were nerve-wracking. With the rise of job search portals and apps, the job-seekers can easily know about the esteemed companies that are accepting applications for prominent roles.
3- User-friendly dashboard
Ease of navigation and the overall user experience are all very important not just for job portal apps but any other app. In apps like Naukri, it becomes easy for users to filter the job search with different categories. Therefore, those who want to employ job portal development costs in the right manner should be thinking about integrating the app with an enhanced user dashboard.
Also, read – 7 Enterprise App Development Challenges & The Best Practices In 2021
Essential Features of App Like Naukri
The wicked impact of epidemic Coronavirus on the employment sector last year is no alien to the world. However, if you feel that the job layoffs have become the thing of yesterday now, you are overly mistaken. The recent data reveals that the forthcoming years, in terms of employment, are going to be unprecedented for many industries. And the situation of unemployment might again paint the same picture in this and approaching years as it did for last year.

Amidst the pandemic, the one thing that came as a sigh of relief for many job seekers is the virtual drive which ultimately increased the demand for job portals. Foreseeing the market situation before investing in a dedicated job portal could be a wise choice and this is why when it comes to deriving the idea of building an advanced job portal, the features should not be overlooked. Here is the list of some prominent features a job portal like Naukri must endure.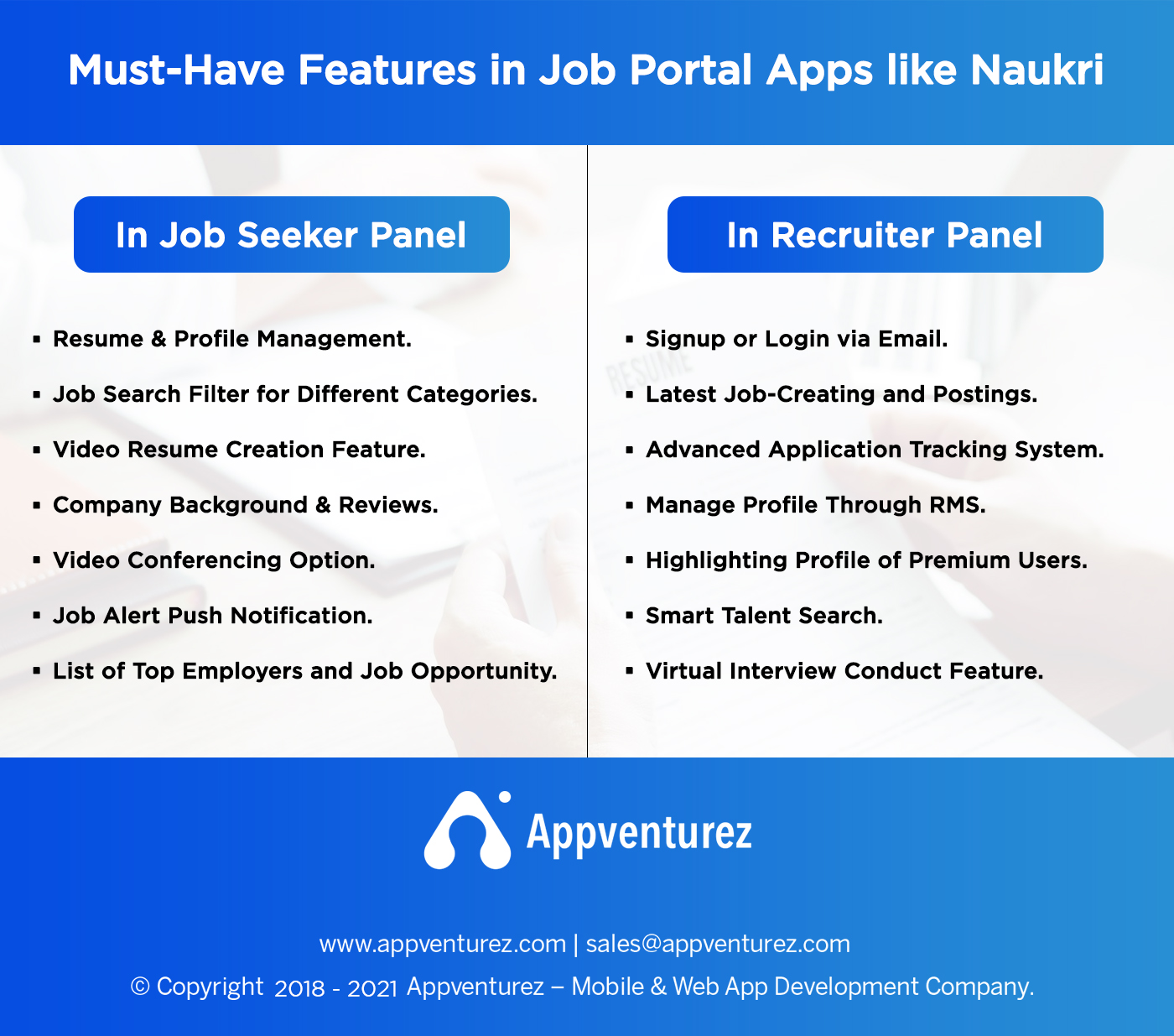 Check this post – How Much Does It Cost To Develop An iOS App

Monetization Strategies For Job Portal Apps Like Naukri
Besides questions of job portal app development cost, another query that is doing rounds on the business space is the monetization strategy apps like Naukri follow. Unlike other business models, the employment portal follows a completely different approach when it comes to monetization. Since job portal apps connect employers and applicants together, they earn money by doing what they are good at – matchmaking. But you might be wondering what their sources of income are? How does Naukri make money? Here I have mentioned some well-known monetization strategies apps like Naukri follow.

1- Selling Premium Membership:
One of the most common monetization methods that are picking up steam among the businesses that have job portal apps is charging employees for extra services. The subscription-based revenue model follows a customer-centric approach and offers incredible customer experiences.
2- From Job Postings
Job board websites like Naukri charge a decent amount of money from the recruiters who want to post openings on their portal. The basic objective of the employer is to hire talent without hustling a lot. Job portal apps provide them the opportunity to quench their thirst for hiring the best for their company.
3- Email Selling
The employment portal apps have a strong database of those who are seeking a job. Therefore, these portals sell the emails of the job seekers to the recruitment companies who require them. This monetization method is completely legal and typically represents an opportunity to generate purely incremental revenue for the company.
4- Database Selling
Similar to email selling, database selling is another way of monetization for job portal apps. It is one of the most prevailing ways of how these job portals like Naukri make money these days. Therefore, if you are thinking of kicking off an entrepreneurship career with apps like Naukri, database selling could be an easy way, to begin with, monetization.
Check this post – How Much Does It Cost To Develop An Android App?
7 Job Portal Apps Similar to Naukri
Though Naukri has been revolutionary in the field of job portal apps, there are many other apps that are identical to Naukri and provide promising features to job seekers as well as recruiters. Therefore, those who are looking forward to beginning with their job portal app development can also seek inspiration from these apps. Here is the list of seven job portal apps.

Linkedin
Monster
Cutshort
RobertHalf
CareerBuilder
Glassdoor
Indeed
How Appventurez Can Help You Develop a Job Portal App Like Naukri?
Various industries are acknowledging the rising advancement in technologies and therefore, moving towards mobile. There is seldom any industry that does not want to invest in building an app as it gives them the opportunity to connect with a wider group of audience. However, when it comes to choosing the right app development company, there are plenty of factors that come into play. And the responsibilities even get doubled when the app is giant and complex like Naukri.

Being a leading mobile app development company, the team of Appventurez gets a clear concept of client needs, market requirements, and business challenges whenever they take the project development responsibility under their kitty. Hence, in order to form a clear picture of what your would-be job portal app looks like post-development or how much does it cost to develop a job portal app like Naukri, reach out to our developers and discuss every requirement thoroughly.

---
---