DoorDash, a startup founded by Evan Charles Moore, Stanley Tang, Andy Fang, and Tony Xu in 2013, has taken the on-demand world by storm. 
Apart from being a prominent on-demand food delivery platform, DoorDash has not solely made its services available from 600 to 4,000+ cities but also gained the limelight of the market by undergoing partnerships with nearly 80% of U.S. restaurants including popular food chains like Chipotle, Cheesecake Factory, Denny's, and non-restaurant brands like Walmart.
It's a brand that exists for the past 8 years to create a bottleneck competition for other players like GrubHub, Zomato, UberEats, and Swiggy & has gained a net worth of $ 2.886 billion (much nearer to that of GrubHub) in 2020.
All these stats make it nearly impossible for anyone in the business to stop thinking about DoorDash's business model, revenue sources, funding raised, and so on.
Table of Contents
– A Quick Intro to DoorDash: Overview, Stats & Facts 
–Business Canvas of DoorDash App – Different Segments It Encloses
–DoorDash's Business and Revenue Model
–Sneak Peek To The Future of On-demand Food delivery DoorDash with Appventurez 
–FAQs
As per the Forbes survey report, on-demand food delivery is one of those on-demand app categories that survived the impact of pandemic & is expected to generate revenues of over $365 billion by the end of 2030. 
Amongst popular on-demand food delivery companies that received funding, DoorDash has outpaced the competitive marketplace despite being a new entrant in the global marketplace.
A Quick Intro To DoorDash: Overview, Stats & Facts
Before you think about the Doordash business model, it's more important to know what is Doordash & how it earns profits like other apps generate money for businesses.  
So, let's come to the points & dig out answers for all such questions related to DoorDash food delivery startup first.
But, firstly, take a glimpse of a few interesting facts and figures about the brand.
Founded in: 2013
Founded by: Evan Charles Moore, Andy Fang, Stanley Tang, and Tony Xu
CEO: Tony Xu
Headquarter: San Francisco, CA
Net Worth: $6.353 billion USD (2020)
Number of Cities Available in: 4,000 +
Numbers of Restaurants available on DoorDash: 310,000
When it comes to answering what is DoorDash?, it is a tech company that has streamlined the process of how we get food by cutting down the hassle of last-mile logistics in various cities in the USA & Canada alongside facilitating better interactions between local business and customers. 
DoorDash, on one side, has given local businesses an escape from finding a delivery option, while, on the other side, has offered customers an advantage to satisfy their taste buds with a vast range of food items from different restaurants and food outlets.
Today, the DoorDash business model is a part of the growth strategy of numerous service industries that drive on demand economy by constant funding. Now it's time to take a glance over the table of revenue growth as shown below: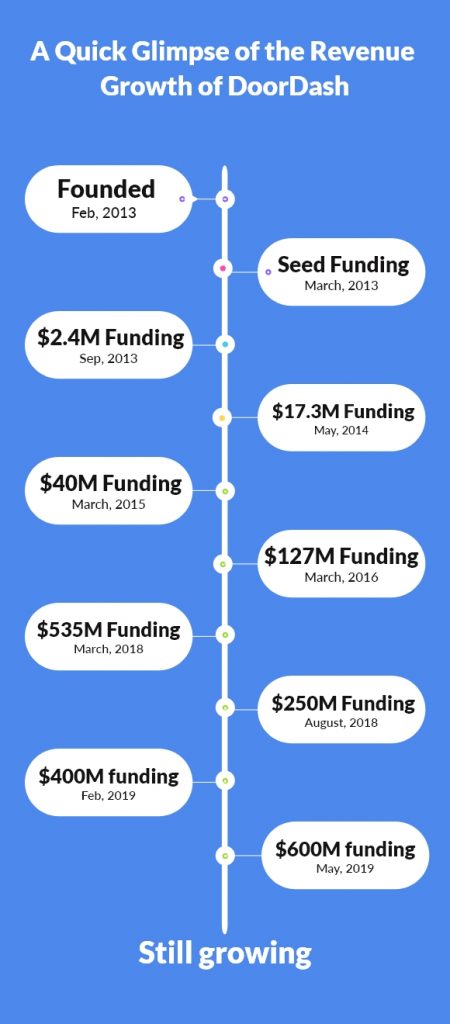 Now as we have gone through the basic introduction of DoorDash and have got a slight idea of how it generates revenue, it is likely that you would be looking forward to determining how to get started with on-demand app development & build a top trending food delivery platform like DoorDash successfully.
But, hold on!
To relish the level of success and revenue it makes, it is necessary that you first have an idea of what Doordash business model is & how it works.
So, taking the same thought forward, let's begin with the former, i.e, exploring the different segments of the DoorDash business.
Business Canvas Of DoorDash App – Different Segments It Encloses
The DoorDash business model reflects the Y-structure. You need to follow a food delivery app development guide that caters to the needs of three different entities – users, drivers (dashers), and partnered restaurants. 
DoorDash not only offers users the opportunity to order delicious food from any local store without delivery service but also provides more business opportunities to restaurants & gives job satisfaction to dashers.
In simpler words, the DoorDash business model is similar to the most popular revenue generating apps that work on the basis of these three segments:-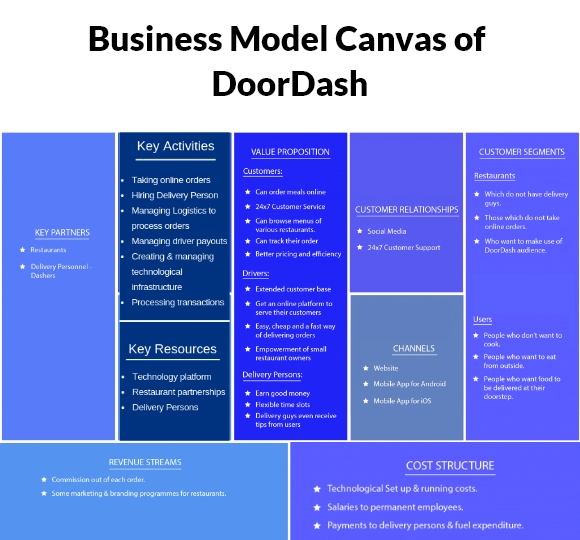 For Users
This segment belongs to a set of people who don't know how to cook, have no time or facility for cooking their supper or are professionals who can't go out for lunch. The DoorDash business model is structured from the perspective of providing these benefits to users:-
Offers the option to choose across a vast number of restaurants across the city.
Avail service 24 x 7.
Provides the feature to track the order placed.
Enjoy exclusive cost-effective and time-saving solutions.
For Dashers
Most entrepreneurs who got filthy rich through an app have outlined this segment of the DoorDash business model in their strategy. 
Doordash's on-demand food delivery application provides dashers with a chance to earn some money, both as a part-time or full-time job. It avails the following perks to the drivers:-
A good source of income (up to $5 per order).
Get more money earned through the app based on the size of the order, driving distance, wait time, etc. 
Chance of getting tips from users for quality service.
For Restaurants
Doordash for restaurants has come up as a medium to extend their service in terms of on-demand delivery, run a business effectively even when they are in a distant location or have poor sitting arrangements.
In fact, the success of DoorDash business model serves as a good example to understand how the industry survived the adverse impact on the food chain industry amid covid-19 pandemic. 
The app provides them with benefits, such as:-
Reach to a wider audience
The cost-effective and profitable customer engagement mechanism
Get a delivery guy from DoorDash itself.
Effective Branding and marketing, especially when using the advertising on DoorDash platform.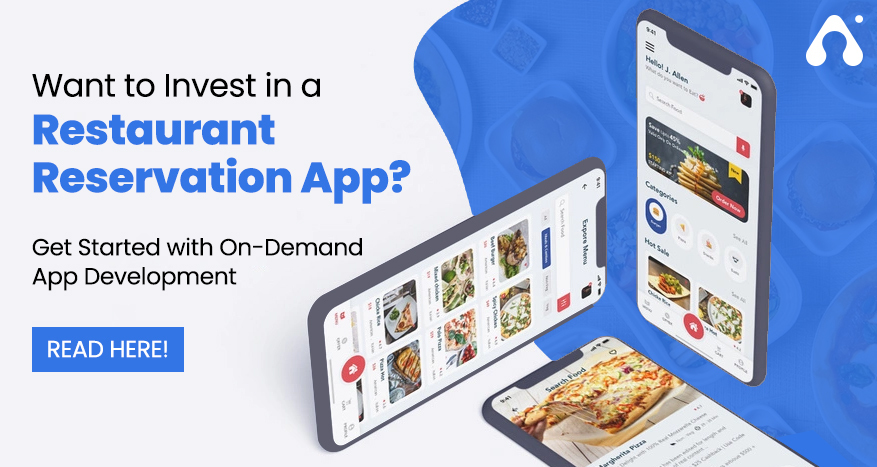 And to interact with all these three segments and reap better benefits, Doordash has worked extensively in building robust customer relationships. They have utilized the power of social media platforms like Facebook, Twitter, and other marketing techniques to promote an app.  
They've opened the facility of good customer support via different modes, such as email, mobile app feedback page, etc. – giving a new goal to companies investing for the cost to develop on-demand delivery apps. 
With this attended to, we are familiar with what are the different segments of the DoorDash business. This implies, it would be the right time to look into how DoorDash works? and thus, make a better strategy for your on-demand food delivery application.
Working Of DoorDash
DoorDash's business model is driven by an idea to introduce a unified platform that connects users, delivery persons, and local businesses who have been closely connected to each other in the food domain. 
DoorDash app stands apart from top food delivery apps as it follows a four-step model to provide the best of services to both users, drivers, and local food businesses:-
#Step 1: Decide What Food Item To Order
DoorDash app provides users with an opportunity to place a customized order from 100+ restaurants using a search filter button. The application also brings an option to favorite (bookmark) the recently selected restaurant to ease the process of making an order for the next time.
# Step 2: Pay For Your Order
Once the order is placed, the next step that users need to consider is the payment process. In this step, one has to introduce the restaurant and delivery location. This is because the DoorDash algorithm will calculate the charges for the order based upon the distance between the pickup and drop-off location.
The DoorDash application will share the charges fee, on which users can pay the bill via Google Pay, credit/debit card, or other available payment options.
# Step 3: Check The Status
When the payment process is executed successfully as per Doordash business model, the user will get a confirmation and the respective restaurant will begin to prepare the food. The food order will then be picked by the dasher to deliver to your doorstep.
To make this process transparent and far convenient, DoorDash app has also added the feature of tracking your food order and getting a real-time status.
# Step 4: Enjoy Delivery
The last step of the working principle of DoorDash business model is to receive your order from the dasher. Now, here, the delivery fee has been paid already. But, you can still pay a tip to the Dasher as per your choice.
And finally, taste the best cuisines at your home while being lazy in the blanket and watching Netflix.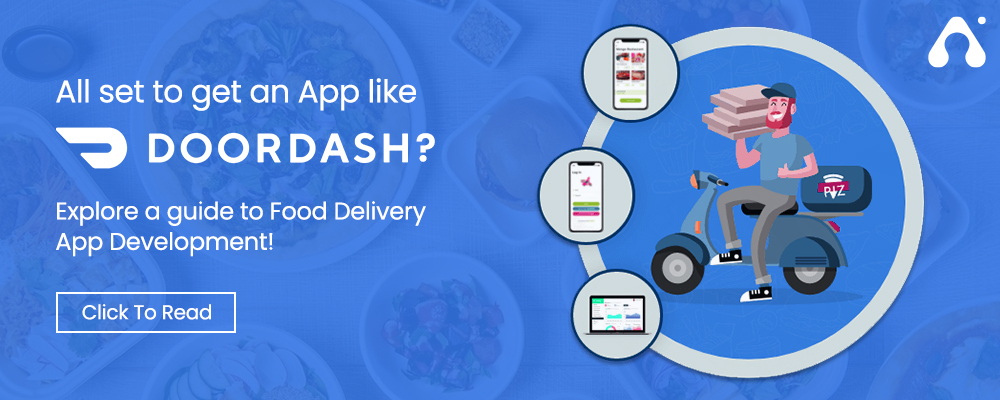 So, this was all about how Doordash works.
All these options come under the latest online payment and digital wallet trends and bring more revenue/options for users and local food businesses, let's look into how the app itself makes money. Or better say, DoorDash's business model to generate revenues. .
DoorDash's Business & Revenue Model
Forget the mystery of how Grubhub makes money for a while & focus on DoorDash's business model to discover its profit-making source.  
When talking about how Doordash make money, it follows three revenue strategies:-
#1 Delivery Fees
One of the most prominent revenue sources of DoorDash is delivery fee. The startup usually takes around $5 to $8 per order. 
However, this value varies depending on different factors, such as time of day, distance between the pickup and dropoff location, relationship with the restaurant, and more. And, in return, they send their own hired team of drivers to deliver the order.
#2 Commission
This on-demand food delivery startup, just like credit-card companies, considers a commission fee from restaurants for every sale as a part of its revenue generation model. There are several mobile app monetization models that are being utilized by companies like Doordash for on-demand app development.
When looking into how much Doordash charges restaurants, the general value is about 20% for every order. However, this varies depending on different factors like location, ratings, food festivals, promotions, etc.
Though the commission fee as DoorDash business model is quite high as compared to its competitors, aka, GrubHub which takes 13.5% on an average and Delivery Hero that asks for 10-11% per order, food businesses pick DoorDash as their delivery partner. That's the secret behind its success strategy for mobile app development for startups.
And the reason behind this is that DoorDash has proven itself to be able to bring more sales, improve brand reputation, and make the customers satisfied – which, in the long run, is a win-win situation for the restaurants.
#3 Advertising Pay
One more core aspect of DoorDash business model involves advertising efforts to improve mobile app performance metrics & increase double-fold revenues. 
The option of advertising on DoorDash platform is the third source of revenue considered by the brand. The on-demand food delivery brand asks for some extra amount of money from the restaurants to show their names on the top of the search list and thus, encourage users to place an order from their outlets.
This advertisement fee again varies depending on several factors, such as the restaurant's location or the type of cuisine they serve.
Besides, the brand has also channelized its services via mobile and web app development for businesses. 
This has not solely introduced a new mode of customer acquisition and engagement, but also contributed to the Doordash net worth and made various businesses take interest in the idea of designing their own such application and look into the fact that how much does app development cost.
Sneak Peek To The Future Of DoorDash With Appventurez For Your Food Delivery App
Doordash, in its 8  years of journey, has stepped into the retail delivery domain with a grocery partnership with Walmart which is one of the most trending mobile apps for retail businesses. As per Credence research report, the global food delivery market is expected to expand with an annual growth rate of 9.8% in the forecast period of 2022-2026. 
The on-demand food delivery startup which is a Doordash business model, with options like 30-minute delivery windows and a comprehensive insight into the customer data, has already surpassed UberEats and GrubHub (in sales), and is expected to become the ruler of the on-demand delivery economy in the coming years.
In short, the future of DoorDash is going to be brighter while following the same business and revenue model – making it difficult for anyone to overlook the glory of the brand and encouraging others to hire experts who're familiar with on-demand app development guidelines to follow.
If you have any idea that can transform your vision, Appventurez is ready to deploy futuristic solutions with utilization of tools to fulfill the demand of any business, leading from the front in their respective industry. 

FAQs
Q.1- Why is the Doordash business model successful?
The DoorDash business model fits well with the surging demands of convenient & fast delivery of food orders right at the doorsteps of customers. It's a unified platform that adjoins a wide network of restaurants to customers with involvement of delivery persons or dashers. 
With help of super-fast logistics & robust operating system, DoorDash emerged as an industry leader with splendid market & revenue growth in a short span of time. 
Q.2- What makes DoorDash different from other food delivery apps?
Doordash is the most popular third-party on-demand food delivery service provider that connects thousands of restaurants, eateries, food brands, cafes, etc. in the USA. 
The DoorDash business model stands apart from other existing food apps with these exclusive features:
Pre-scheduled delivery option: The customers using DoorDash can pre-schedule the delivery of their food orders a week before the desired date. This option is mostly preferred by users to save themselves from last-minute hassles during festive days or peak hours. 
Multiple rating features: Users can rate the quality of food, speed of delivery, & other experiences related to dashers right at one place on the DoorDash application.
Integrated AI: To improve the user experience with automated filters of restaurants, DoorDash utilizes artificial intelligence that makes it more accurate & efficient. 
Real-time tracking: The business model of DoorDash allows users to keep eye on their food delivery orders with live location tracking features. They get notification with real-time location updates of their orders on their device.
Most popular menu: Users can view the most popular restaurants, menus, & specialties of a specific food brand to pick the best one as per their choice. 
Q.3- How much do door dashers/delivery people earn on the DoorDash app?
According to Doordash business model, the door dashers or delivery person gets $1 per delivery & the amount will increase if a person delivers orders during peak hours. 
On the other hand, DoorDash charges restaurants in b/w the range of $1.99 to $5.99 for every order. 
---
---