Gone those days when pigeons were used to carry messages in the form of letters from one place to another. By giving some rest to the old traditional ways of sending messages, technology intervened and offered a much better solution- Courier Delivery Service.

The courier service domain has seen an evolution in the form of on-demand delivery applications. Through these applications, customers can avail doorstep courier delivery service of goods, letters, packages, groceries, apparel, etc. After all, convenience is the jack of all trades.

Because of the ease and convenience, the courier delivery industry is one of the most transforming sectors among many. Earlier, parcels and deliveries often get lost on the way or remained stuck in traffic for hours and hours. Just because of such faults, both the sender and receiver have to bear the loss. And such situations make it dicey for entrepreneurs to invest in the business.

To curb such situations, technologies played an important role and connected customers with the service along with sending real-time notifications. Earlier which was impossible like tracking delivery agents is now easy in a real-time mode via on-demand courier service app. Adding in-app calling and the chatting feature is making the overall usage experience smoother.

Sometimes, decisions are hard, that's why there are statistics proving how impactful the courier delivery service is-

A look at Courier Delivery Market

Last year, courier and express delivery sales increased a spectacular 12% to reach £12.6 billion thereby completing growth of 62% since 2014. Also, volume sales also increased by 14% alone in 2018 and 66% between 2014 and 2018.
According to analysts forecast Global Courier, Express, and Parcel market to grow at a CAGR of 5.77% from 2018-2022.
There was a total revenue of $325bn in 2019 which is showing annual growth of 3.1.% from 20014-2019.
The Global Courier, Express, and Parcel market are expected to reach more than USD 400 billion by 2024, witnessing a CAGR of 8-10%, during the forecast period (2019-2024).
The industry is expected to grow at 17% per annum to Rs. 20,000 crores in the next three years.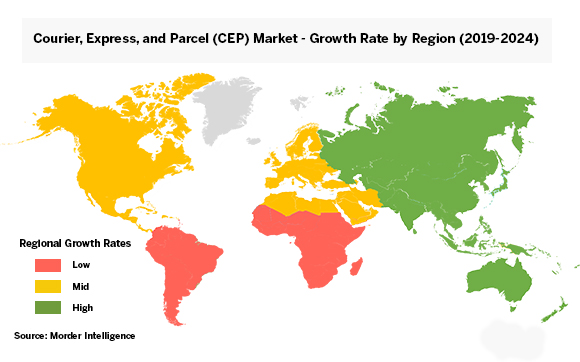 Top Players Delivering Couriers Effectively

When it comes to sea and airmail, DHL is one of the world's top delivery companies. Based on Deutsche Post headquarters in Bonn and founded in the year 1969, it is one of the undisputed market leaders in its domain. The company lends its services to Afghanistan, Burma, Iraq too.

Founded in the year 1971 and headquartered in Memphis, Tennessee, US, FedEx is an America global courier delivery services company. With its services, the company registered itself in the list of top most courier service providers in the World. DHL is its direct competition.

Headquartered in Sandy Springs, Georgia, United States and founded in Seattle in the year 1907, UPS is known to deliver around 15 million packages a day to 6.1 million customers in more than 220 countries around the globe.

One of the most popular courier service providers in India, Blue Dart is known for its excellent and timely delivery. Also, the company has become South Asia's leading courier and integrated express package Distribution Company. The company deals in around 33,739 locations while serving around 220 countries presently.

One of the oldest delivery services in the world with around 176,000 employees, Royal Mail is a government-owned postal service based in the United Kingdom. As per the figures available for the year 2006, Royal mail has delivered around 84 million items every working day.

PostNL was earlier known as TNT N.V. is a mail, parcel, and e-commerce corporation while operating in the Netherlands, Italy, United Kingdom, Germany.

YRC Worldwide
YRC Worldwide is known as the largest company specializing in commercial, retail goods and industrial shipping is headquartered in Overland Park, Kansas.

The company is known as one of the world's largest postal service providers.

Founded in the year 1990, DTDC is India's largest delivery company offering services globally too. The company handles around 11 million consignments per month.

The aforementioned information is just the base meant for the foundation of the whole courier delivery app development. Let us begin with its features-

Features of Courier Delivery Apps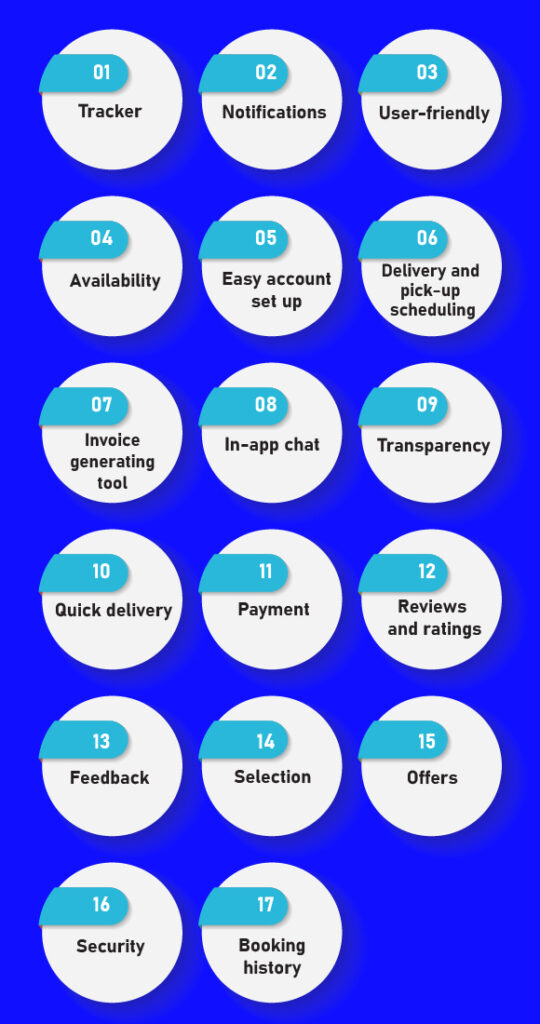 Tracker
It is important to have a tracker feature in the courier app in order to help customers locate their packages and parcels in real-time. The feature gives an assurance to the customer that the parcel is being delivered the right way that too under the estimated time.

Notifications
Notifications are the best way to inform customers about the information on their parcel- dispatching and delivering. The feature in the courier app is important to inform the customers about any new offer along with other related information.

User-friendly
Customers often find it compatible when they get great inbuilt features like profile setting, locations, categories, pick updates, etc.

Availability
24*7 availability is one of the major factors behind the popularity of the courier delivery application. With all-time, any day availability, it becomes easier for customers to request pick-up and delivery any-time, anywhere they wish for.

Easy Account Set-up

The customer delivery app should have space for account settings. With it, customers can create their account by adding essential information about them like- area code, contact details, address, and other details. Also, they should be given the option to link their social media accounts to log in to the application.

Delivery And Pick-up Scheduling
For more comfort, during the courier delivery app development phase, there should be an option added for scheduling the delivery and pick up time as per the user's comfort.

Invoice Generating Tool
The app should have the option of generating a digital invoice or copy which should be directly sent to the email id or mobile phone. Information like order id, shipment charges etc should be present there.

In-app Chat
Instead of calling the delivery agent time and again, the app should have an in-app integrated messaging option too. The ease increases the engagement level.

Transparency
Customers should be offered transparency in order to check their delivery's exact pick-up time, estimated time of delivery, delivery routes, delivery staff, and other information.

Quick Delivery
There should be another feature "opt for quick delivery" added during the courier delivery app development process for those who are willing to pay a little extra for the timely delivery of their parcel. The feature will enable the delivery of the parcel in the minimum time possible.

Payment
Payment option in the courier app is important to offer easy transactions by presenting varied options like mobile wallets, cards and also cash on delivery.

Reviews and Ratings
With Review and rating options, customers get access to rate the service of the delivery agents along with helping admin to know the loopholes if there is any.

Feedback
Courier delivery app should have the option of feedback in the form of scores which can later be analyzed.

Selection
This option is important as this can help the customer select any delivery agent based on the price, rating, and convenience.

Offers
Giving rewards and offers is one of the easiest ways to lure customers along with advertising the business.

Security
The courier delivery service should be secured as customers do send their important things and parcels by trusting the service provider.

Booking History
With the option of viewing booking history, customers can easily repeat their bookings whenever needed.

Courier Delivery Apps Technologies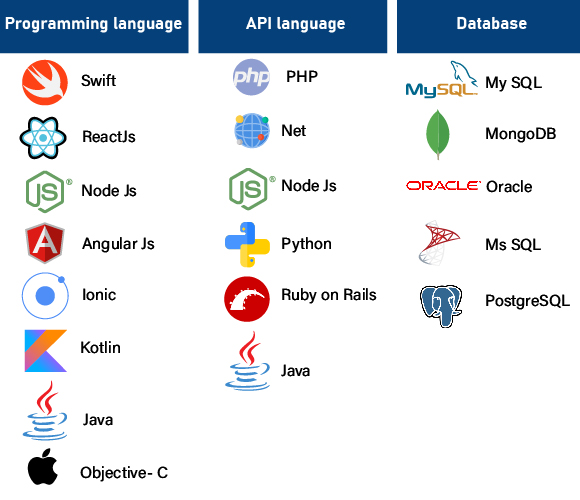 Cost of Developing Courier Delivery App Development

The features and functionalities of the app make them highly-complex, mid-complex, or easy.

Since adding more number of features and functionalities in the app can give a rise in the cost of parcel delivery application development, thus businesses often opt for the idea of MVP app development first. MVP is the best way to understand and know the responses and reactions of the real users regarding the app.

In case you are planning to integrate the above-mentioned points and tech stack along with planning to hire an Appventurez one of the best mobile app development company, the cost range of Courier Delivery App development costs somewhere between 9 to 15 USD.

You might find the rate on the higher side but there is so sure guarantee of getting sky-high ROI. Take a chance with your brand to.
How to Earn Money from Courier Delivery Apps

Choosing Courier Delivery apps can provide you numerous benefits. Few among them are-

On-demand couriers delivery makes decent money, the aforementioned top players are the examples showing how delivery services bring in an up good amount of money per hour.
Serve your customers whatever they want to be it the price of the service, or fast delivery of the parcel. Not offering things they want can make them switch to another app while abandoning yours fully. Hence, be flexible, walk the extra mile and do not forget that offering your customers things they want will directly affect your ROI.
Creativity is the essence of gaining a great response from customers. Advertise your delivery service in a creative manner so that no one can resist themselves from using your app.
Creativity is important but not giving the same level of consideration to the real-world advertisement will affect your ROI. Hence, when creating flyers or print ads for your business, be sure to push the unique benefits of your service while offering incentives to lure new customers.
Always remember that courier delivery service is all about delivering goods and parcels on time to the right person. And customers will only prefer your service when you will deliver them the product timely, hence, always hire qualified great drivers. For creating the best possible impression among customers along with seeing your graph going higher, the right hiring drive is important.
Make your delivery protocol and related services a bit flexible, obviously, not too frequently but timely, keep updating your app as per trends.
Do not forget to opt for MVP app development before developing the final app. With MVP, you will get a rough idea about your customer's preferences and needs.
Be available 24*7 for your customers.
A Quick Recap of How a Courier Delivery App Should Be

Like other apps, the courier delivery app too should be user-friendly.
The app should be integrated with various payment gateway options.
It should be incorporated with easy navigation and tracking in real-time.
The app should highlight details about the vehicles 24*7.
It is important to deliver more value to customers while enhancing their overall experience.
A record of all the bookings and activities should be done online.
It is essential to provide digital invoices to the customers in their emails or mobile phones.
The apps must capture the time-stamped signature from their customers as proof of the successful delivery of the parcel.
The app should be GPS enabled in order to check the status of drivers, details with the exact location.
The app when working both online and offline prevents the drivers to bear with poor cellular connectivity.
The app should allow managing routes for planning and optimizing all routes in seconds.
Are You Ready to Build Your First On-Demand Parcel Delivery App Development/Courier Delivery App?

Courier Delivery is a promising business idea as evidenced by the success of DTDC, Blue Dart and other popular companies. If you are planning to enter the courier delivery world with your idea, contact us for your courier delivery app development process with us.
---
---